USDJPY – Both Descending and Ascending Triangle Broken
USDJPY has broken the top zone of the Descending Triangle Pattern in the Daily Timeframe Chart.
Descending Triangle = Lower highs and Equal lows.
In the 4-hour timeframe chart, USDJPY has broken the top zone of the Ascending Triangle.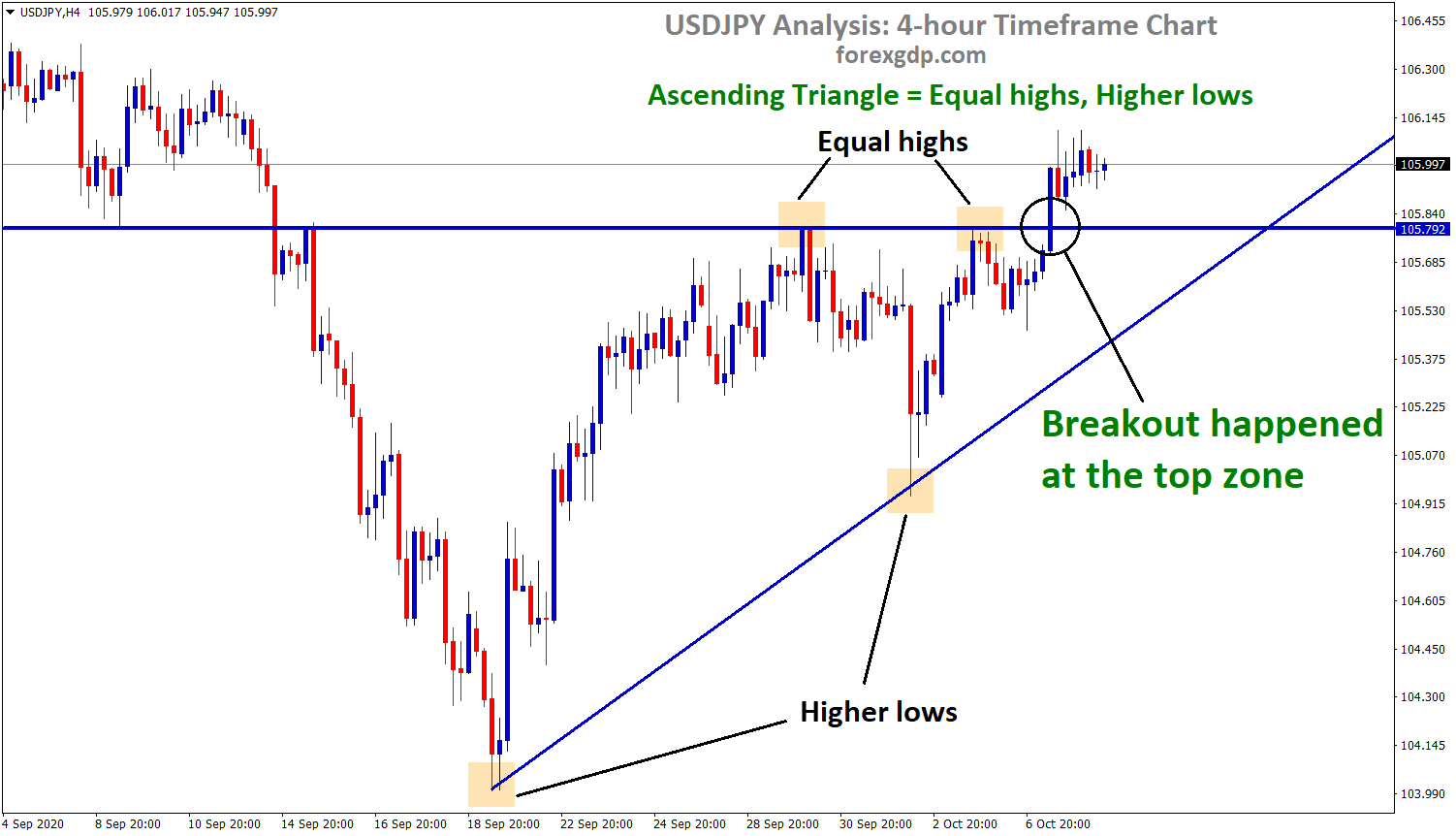 Ascending Triangle = Equal highs and Higher lows.
Both Daily and 4-hour time frame chart broken the top zone of the Triangle patterns. This shows that "Buyers are increasing in USDJPY".
After this breakout confirmation, the USDJPY Buy Signal is given.
But, USD has become weaker due to the expectation of U.S stimulus package release. The US Election is coming soon on next month November 3, 2020. 
Whoever wins in the Election either Trump or Biden, 2.2 to 3 Trillion Dollar stimulus package should be provided to the people who face the worst situation due to COVID-19.
China bought more Japanese Government bonds around 1.46 Trillion yen ($13.8 Billion USD) which was 3.6 times more than the same period last year. 
"Many reserve managers buy JGBs (Japanese Government Bonds) and then swap or hedge the currency back into US dollars, earning an additional basis premium," said David Nowakowski, a senior strategist of multi-asset and macro at Aviva Investors.
This is one of the major reason for "Japanese Yen" to get stronger.
US Dollar seems to be weaker at this time. USDJPY falls down and reached the Stop Loss price.
Get Each forex signal with Chart Analysis and Reason for buying or selling the trade which helps you to Trade with confidence on your trading account.
We always want you to trade forex market safe with care.
Please Don't trade all the time, trade forex only at best trade setup.
It is better to do nothing, instead of taking wrong trades.
We are here to help you for taking the trades only at best trade setup.
If you like to receive more analysis at accurate time, subscribe to premium or supreme signal plan here : forexgdp.com/forex-signals/
If you want to learn forex trading using best trading strategies, you can purchase our forex trading video course here.
Thank you.