NZDCAD Downtrend Analysis
NZDCAD moving in a downtrend forming lower highs, lower lows in Weekly Chart. A Clear Descending Channel is formed on NZDCAD currency pair. Right now, NZD CAD reached the top level of the down trend line for 5th time. Let's wait for the confirmation of reversal or breakout. New Zealand is one of the first countries to win the battle of Coronavirus and reopen its economy. This made New Zealand Dollar stronger continuously and it's looking very attractive to investors worldwide.
Crude oil recovery strengthens CAD currency
Crude oil has recovered and trading around $40 per barrel. If the crude oil price rises, then the CAD currency gets strong. because the Canadian Economy mostly depends on Crude Oil.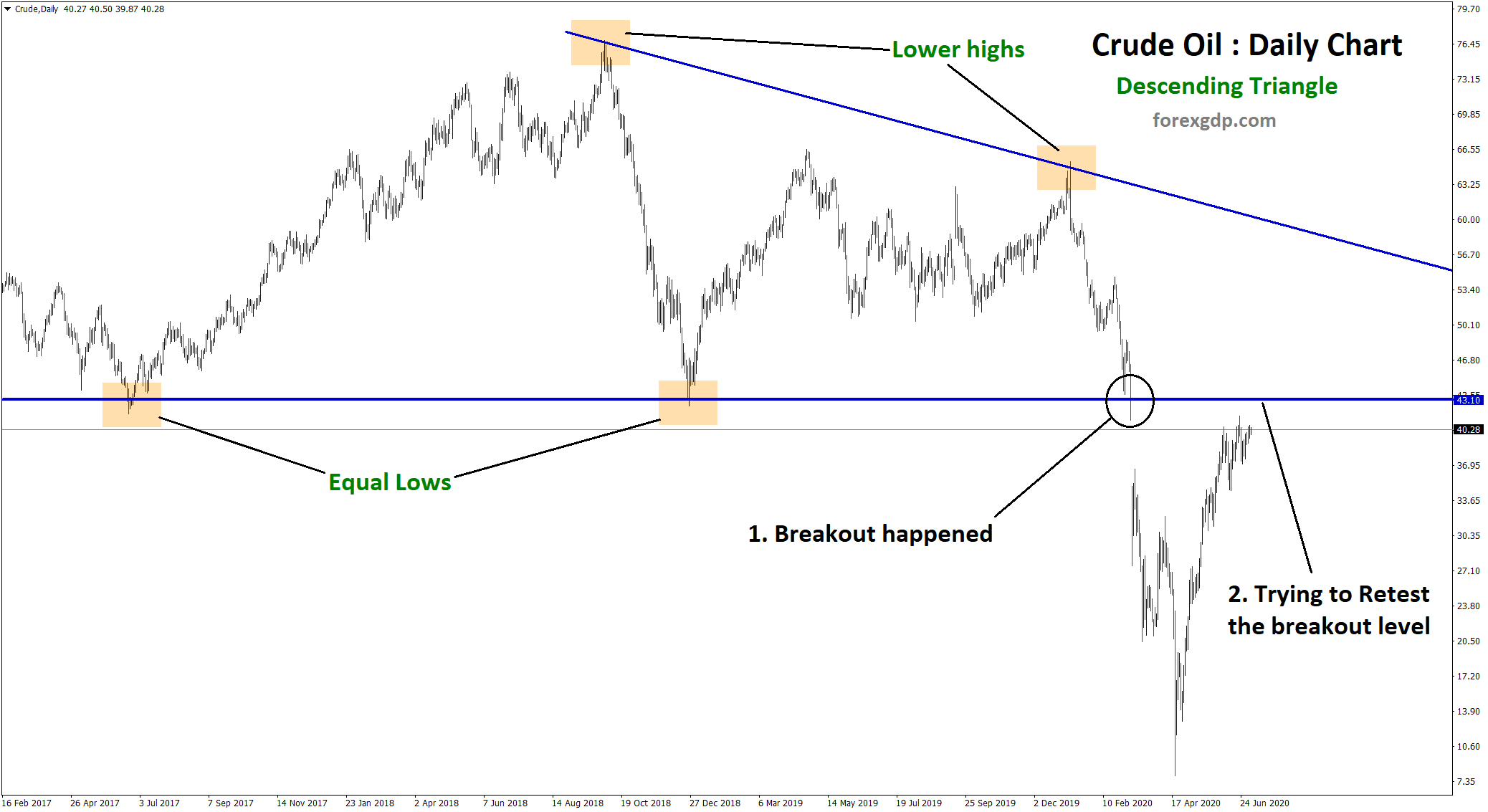 Technically, Breakout happened at the bottom level of the Descending Triangle Pattern in the Daily Timeframe chart. After the breakout, Crude oil market trying to retest the breakout level now. The commodity and China-sensitive New Zealand Dollar might always be expected to do well at the beginning of a new and global business cycle, more so one in which China's resource-hungry economy was the first to begin normalising after also having been the first to contract the coronavirus. The New Zealand government balance sheet that has been left in a far lesser state of disrepair than has been the case in other countries. An earlier budget surplus and lower pre-existing levels of debt-to-GDP have enabled the Kiwi to avoid being shunned in the same way that Sterling has and have helped force the Pound-to-New Zealand Dollar rate lower since April. The NZD outperformance alongside other risk currencies has been tempered by a dovish central bank focused on flattening the curve and easing financial conditions for the domestic recovery. Gains for New Zealand's Dollar have been so swift and significant they've raised hackles at the 
Reserve Bank of New Zealand
 (RBNZ), which has grown concerned about the stifling impact a strong currency could have on the export trade as well as the bank's ability to deliver the inflation target it's mandated to. As a result, the bank has told the world it's contemplating a negative deposit rate as well as the printing of new money so it can dump Dollars on the market. NZD has chances to fall down. but it gives a great buying opportunity for long term traders. Let's keep an eye on New Zealand currency pairs.
Save your time on analyzing the market and take your trades only at good opportunities available in the market.
If you want to receive forex trading signals at best trade setup with chart analysis, subscribe now to our forex signals.