How to trade USDZAR? Best Trading Strategies and Tips are explained with real USDZAR charts.
Identifying USDZAR is easier or harder?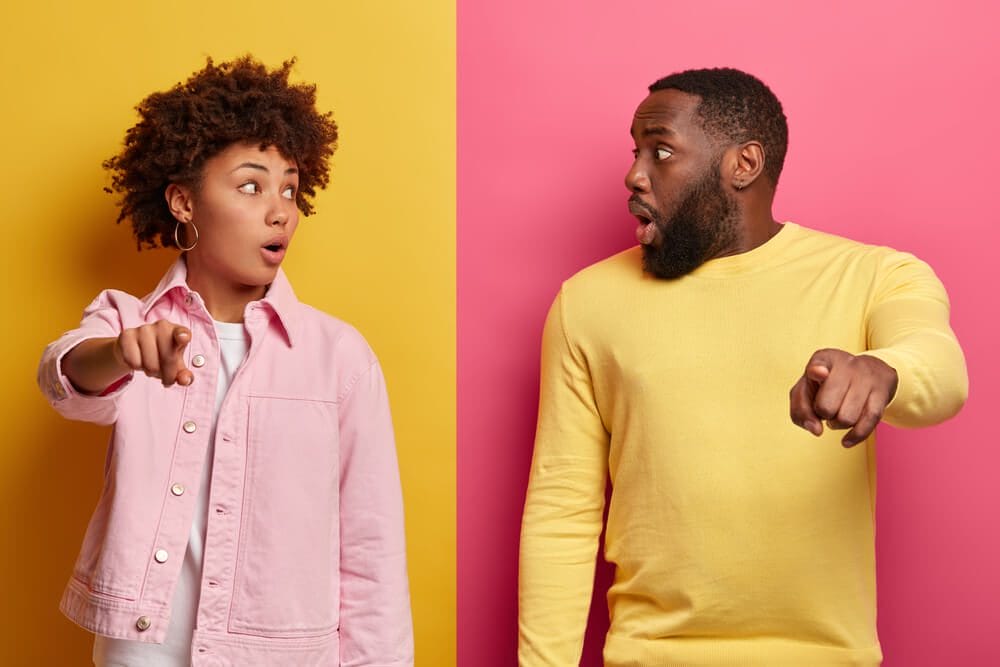 Of course, it's easier if you know how the USDZAR market behaves. Let's see how to make profits in USDZAR step by step.
USD/ZAR: What you need to know
USDZAR is an Exoctic currency pair in forex trading, as the South African Rand (ZAR) is a developing country currency which carries less liquidity when comparing to other developed countries currencies.
Exotic currencies mean low liquidity currency pairs than major most traded market currencies (the US dollar, Swiss franc, euro, British pound, Japanese yen, Canadian dollar and the Australian dollar).
Exotic currency pairs have high spread which leads to a higher cost to trade. Due to the low volume, there is less number of buyers and sellers in exotic currencies. This lower liquidity does offer high volatility which leads to higher reward (or) loss opportunity on offer.
The South African economy is more developed than a number of its emerging market peers and in turn, the liquidity is considered higher than many of these competitor economies. This is one of the reason, USDZAR is traded by a good number of traders.
USD/ZAR trading strategies
The Most used technical chart analysis strategies in USD ZAR is Support and Resistance, Trendline, Fibonacci Retracement, Fibonacci Extension, Chart patterns like Triangle, Flag, Pennant, Rectangle, Head and Shoulders, etc.
Let's look out USD ZAR historical chart view.
USDZAR Historical Analysis – Support and Resistance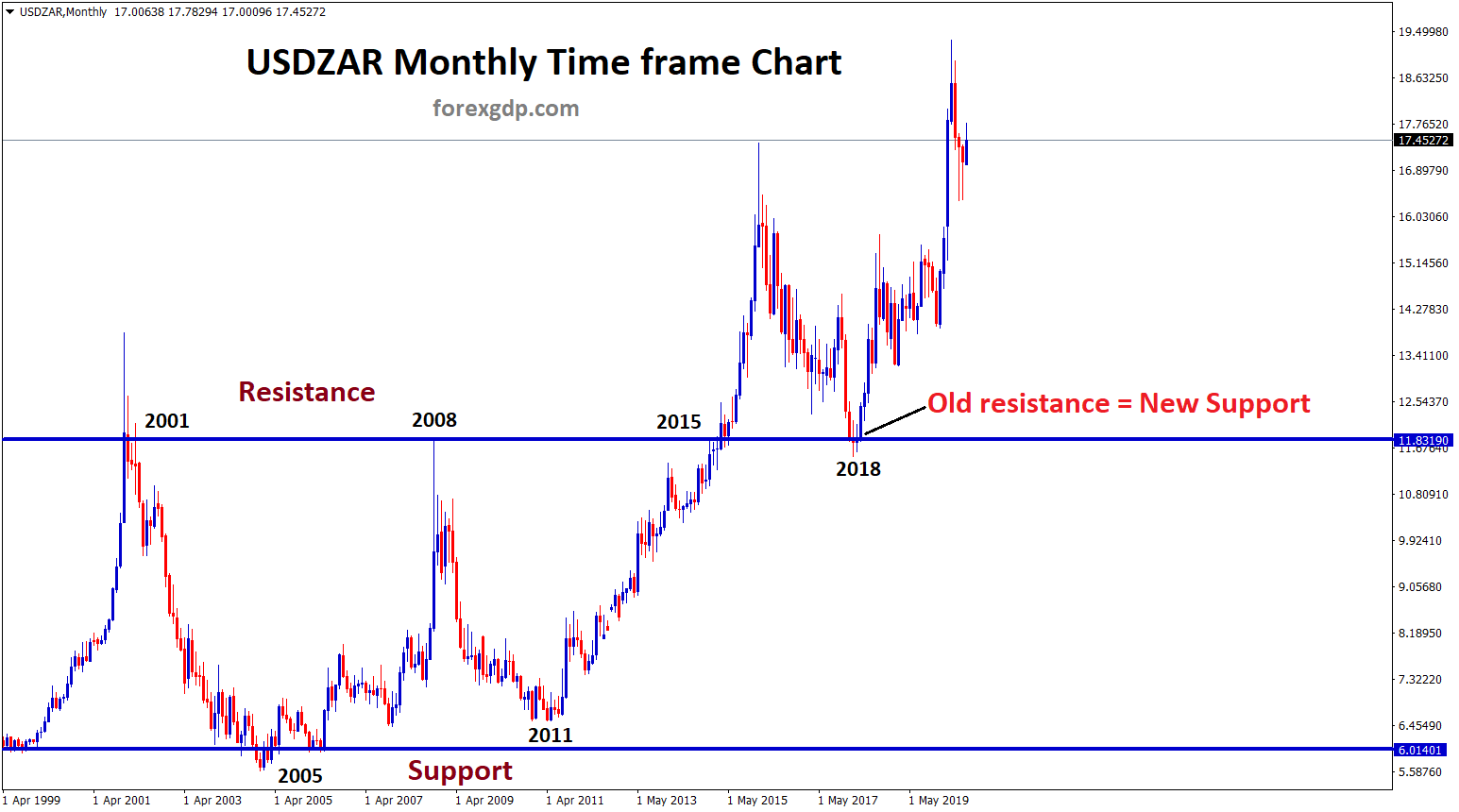 USDZAR is moving up and down between the resistance and support levels for more years. As per the support and resistance strategy, After the market price breaking the resistance zone, the old resistance becomes a New Support zone as shown in the chart image.
USDZAR Trend analysis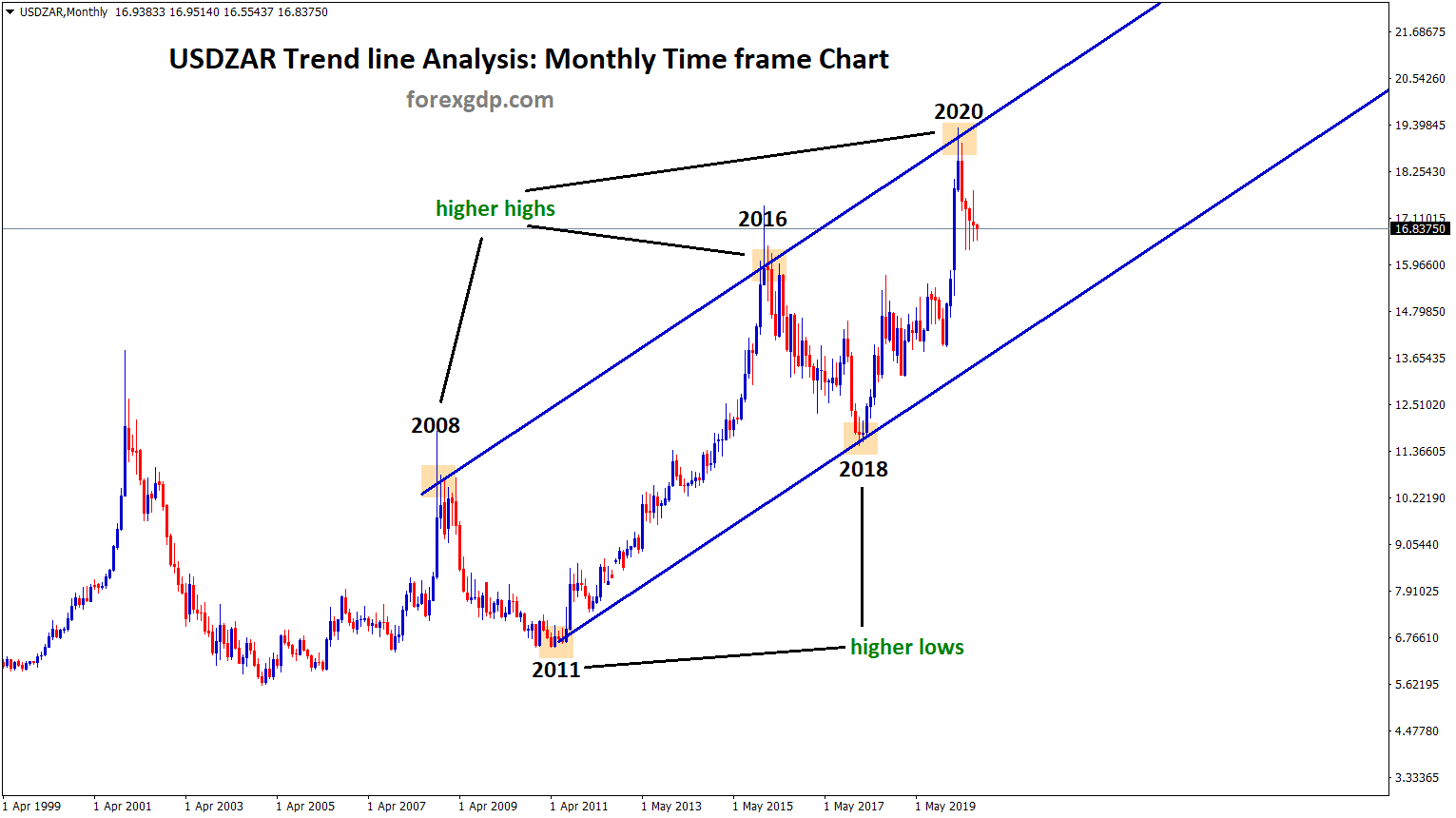 USD ZAR respects the Trend line more accurately. As you can see the USD ZAR is moving in an up trend line by forming higher highs, higher lows in Monthly time frame chart. Since from the year 2008, USD ZAR is moving in an Uptrend. This proves that the trend line strategy works well on the USD ZAR market.
Fibonacci Retracement Analysis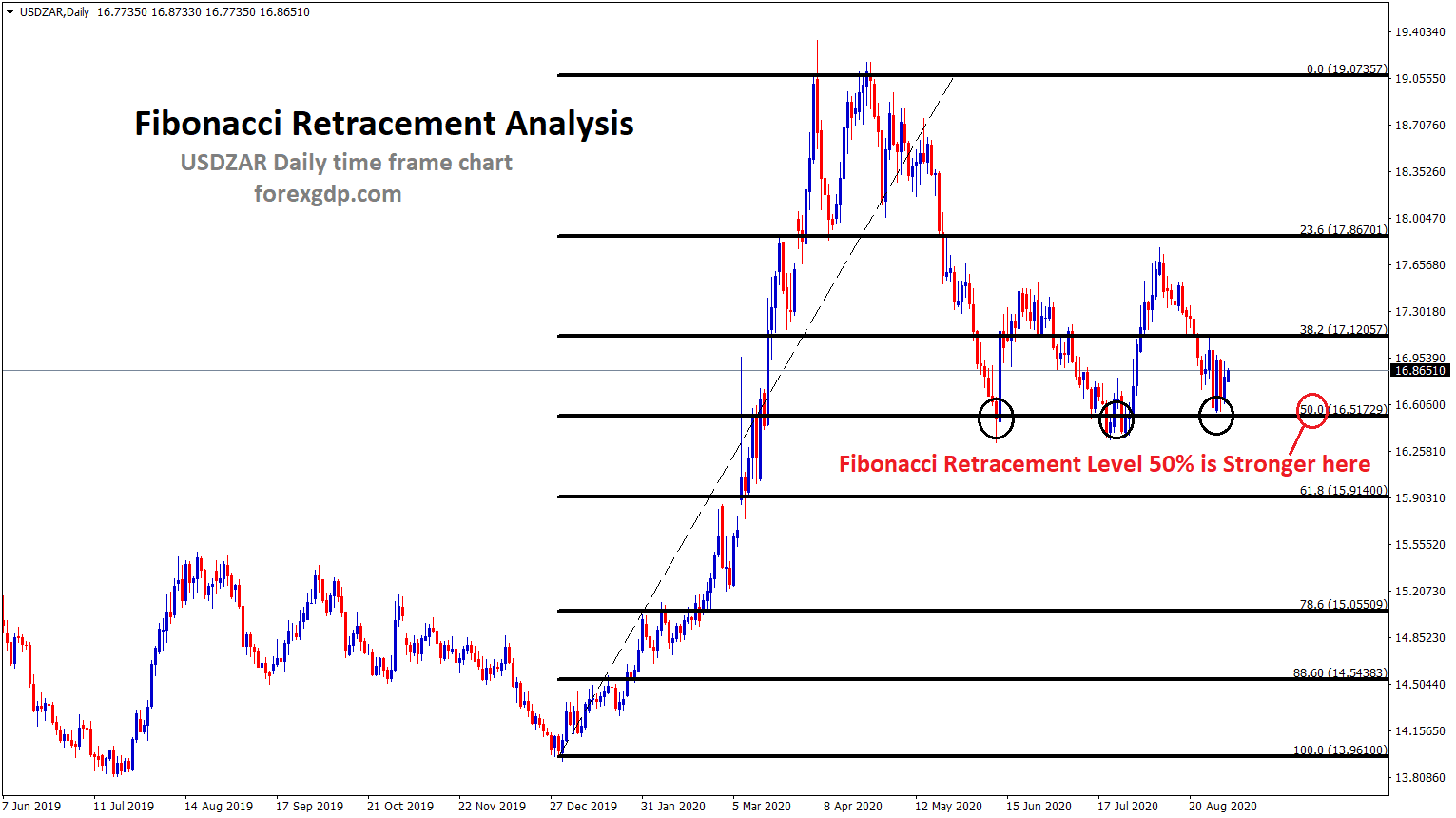 USD ZAR strongly respects the Fibonacci retracement levels. In the daily time frame chart, USD ZAR market bouncing up from the 50% Fibonacci retracement zone. This shows that the "Fibonacci retracement" tool is one of the important USDZAR trading strategy.
Chart Pattern Analysis
Chart patterns such as Triangle, Rectangle, head and shoulder, flag, pennant, Wedges, Double top, Double bottom, Triple Top, Triple bottom are all working well on this USD ZAR currency pair. How to trade USDZAR using chart patterns? Read here the Chart Pattern strategies that work 95% of the time.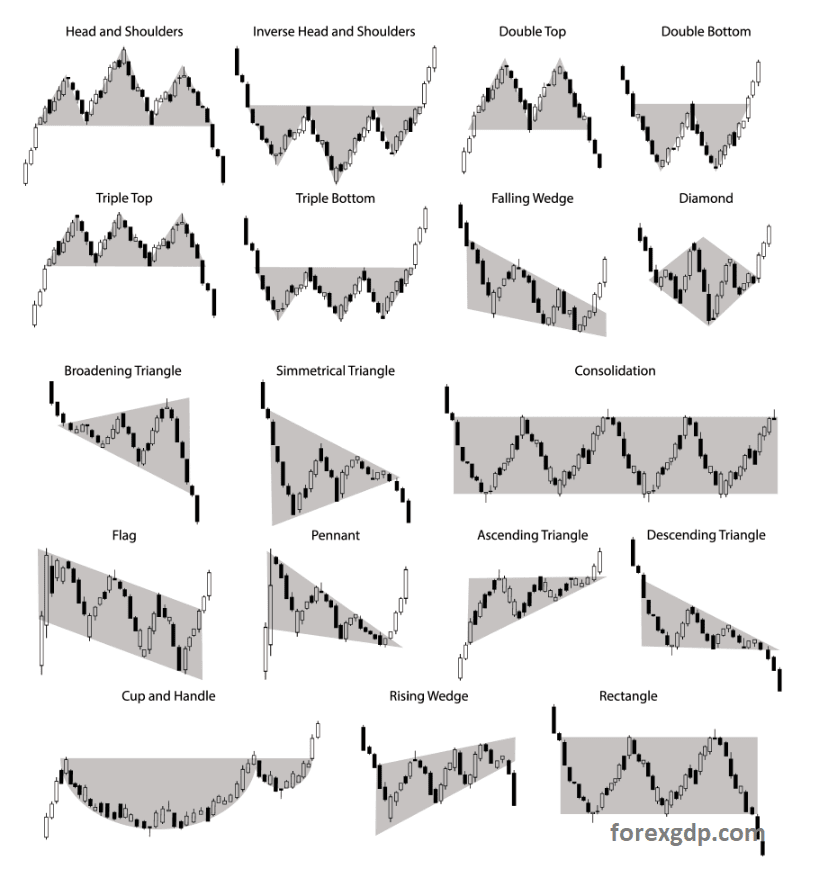 Whether you are a day trader or short swing trader or long term trader on this currency pair you should always be aware of chart patterns to trade with care.
USDZAR Fundamental Analysis
How Economic News Affects USDZAR?
Economy news
Traders might desire to keep a watch out for the financial calendars, as large effect news possess the capability to tremendously affect the USD/ZAR money. Knowing if these catalysts will happen gives us an anticipation of if large motions could possibly be realised at the forex market, giving the trader the chance to react.
When investing in the USD/ZAR, traders will probably concentrate on either the high leverage US and South African economic statistics points whilst the money pair has been reflective of both markets. Gross domestic product (GDP), consumer price inflation, and trade/current balance and unemployment statistics are on the list of critical data points to see in this respect.
There really are numerous places, including the Forexgdp News department, where you're able to find this particular data. Traders will fret about the expectations for all these data points and whether the realised result is either worse or ahead compared to the consensus estimates.
Monetary Policy
Currencies are sensitive to fiscal policy by central banks. Rising interest rates in a market are predicted to possess a strengthening effect in the national currency while lowering interest costs are anticipated to own a damaging effect.
News like inflation statistics (particularly ) will generate the anticipation of perhaps the book or central bank will probably soon be seeking to loosen or tighten fiscal policy. It is that anticipation of financial coverage that's perhaps the main to traders since markets price now, the things they expect to take place in future.
In the Event of this USD/ZAR, We'll Examine the management of this fiscal policy in Both US and South Africa. Traders can trace Betatrader's news and trade suggestions to continue to keep an upgrade on the fundamental banks' movement.
Avoid Loss by Hedging Strategy
Due to heavy price speculation on USD/ZAR. South African currency Rands keep changing their price value faster. In order to escape from these price fluctuations, South African peoples keep doing hedging on USDZAR forex trading market.
Example: 1 USD = 20 Rands
If I'm a South African, who bought 20,000 Rands which equals to 2000 USD. I fear that Rand price may fall in a few days. So, In order to avoid these price fluctuations, I'm simply opening an online forex trading account and selling the same amount 20,000 Rands. Now, I have 20,000 Rands in my hand and Same quantity of Rands sold in the online trading account.
Whether South-African Rand (ZAR) price increase or decrease, my Rand holdings value will never get decrease. Because I have done Hedging. (Bought ZAR physically and Sold the same amount of ZAR in my online trading account)
If ZAR value increase, I will make profits on physical holdings of Rands.
If ZAR value decrease, I will make profits on Online holdings of Rands in my forex trading account.
This is how hedging works in all financial markets.
Hedging strategy is popular among USD/ZAR. Some traders may possibly want to make use of the USD/ZAR set to hedge their currency exposure for an advantage purchase or funds earned in USD. This permits them to lock at the present exchange rate plus helps in order to prevent currency changes.
There are more people and traders from Johannesburg who convert US Dollar to their own currency through USD ZAR exchange rate. In the forex trading market, USD ZAR currency pair listed in the forex brokers gives trader the opportunity to make money through less risk and more gain. because traders who trade rand should be aware of volatility risk and gold opportunity to make big money in the market.
Important Strategies to follow while trading USD/ZAR
Support and Resistance Strategy
Trendline Strategy
Fibonacci Retracement Strategies
Hedging Strategies (US Dollar Vs ZAR)
Day traders mostly trade depend on Breakout and Reversal of USDZAR price chart.
Economic news calendar events such as Interest rate, GDP growth, Unemployment rate, Monetary policy gives a clear idea of the fundamental outlook of the USDZAR market.
Whether you trade long term or short term, there's low risk, high reward opportunity to make big profits based on the above technical trading strategies that would work forever on this currency pair.