Gold: US FED Chair renominated drag down Yellow metal prices
XAUUSD Gold price is moving in an Ascending channel and market reached the higher low area of the channel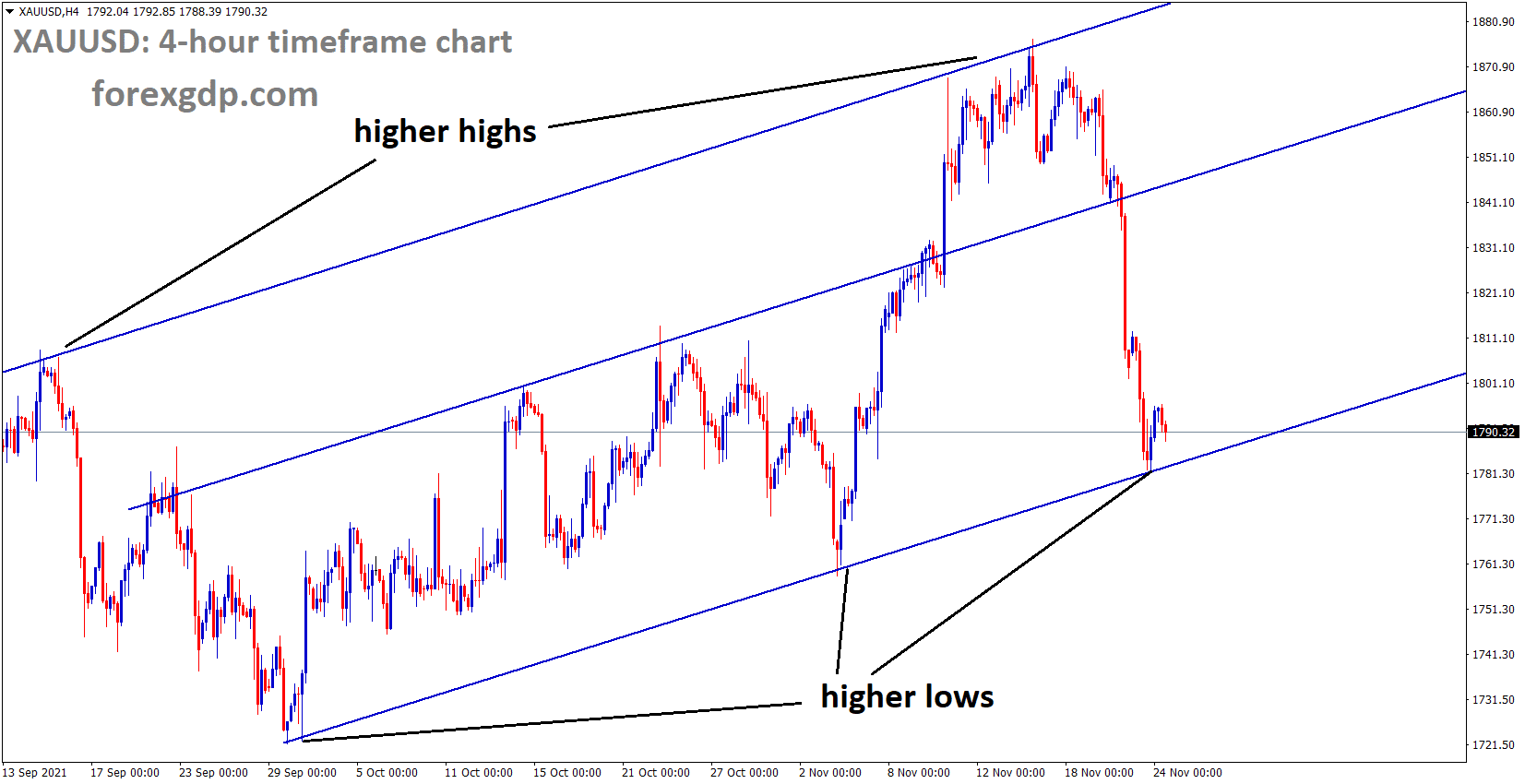 Gold prices fell by 100$ from highs in 2 to 3 days this week, and the main reason was FED Chairman Jerome Powell renominated as the Second term.
As Jerome Powell is Hawkish on interest rates in his first four-term period, but the pandemic crisis caused him to bring down the rates.
Now, after Post pandemic, the US is recovering from Lows and Covid-19 cases; FED will take the rate hike tool in hands to hike in 2022.
And Tapering of Bonds purchases had done in the previous meeting as 15Billion per month for tapering.
Demand for the US dollar boosted by yields on US Treasuries went up and dragged down the non-yielding assets like Gold and Silver to downfall.
As the US Government Wakes up from the pandemic, yellow metal demand has been getting lower in recent months.
US Dollar: PCE data and US GDP forecast
USDCHF has reached near to the previous high of the Symmetrical triangle pattern.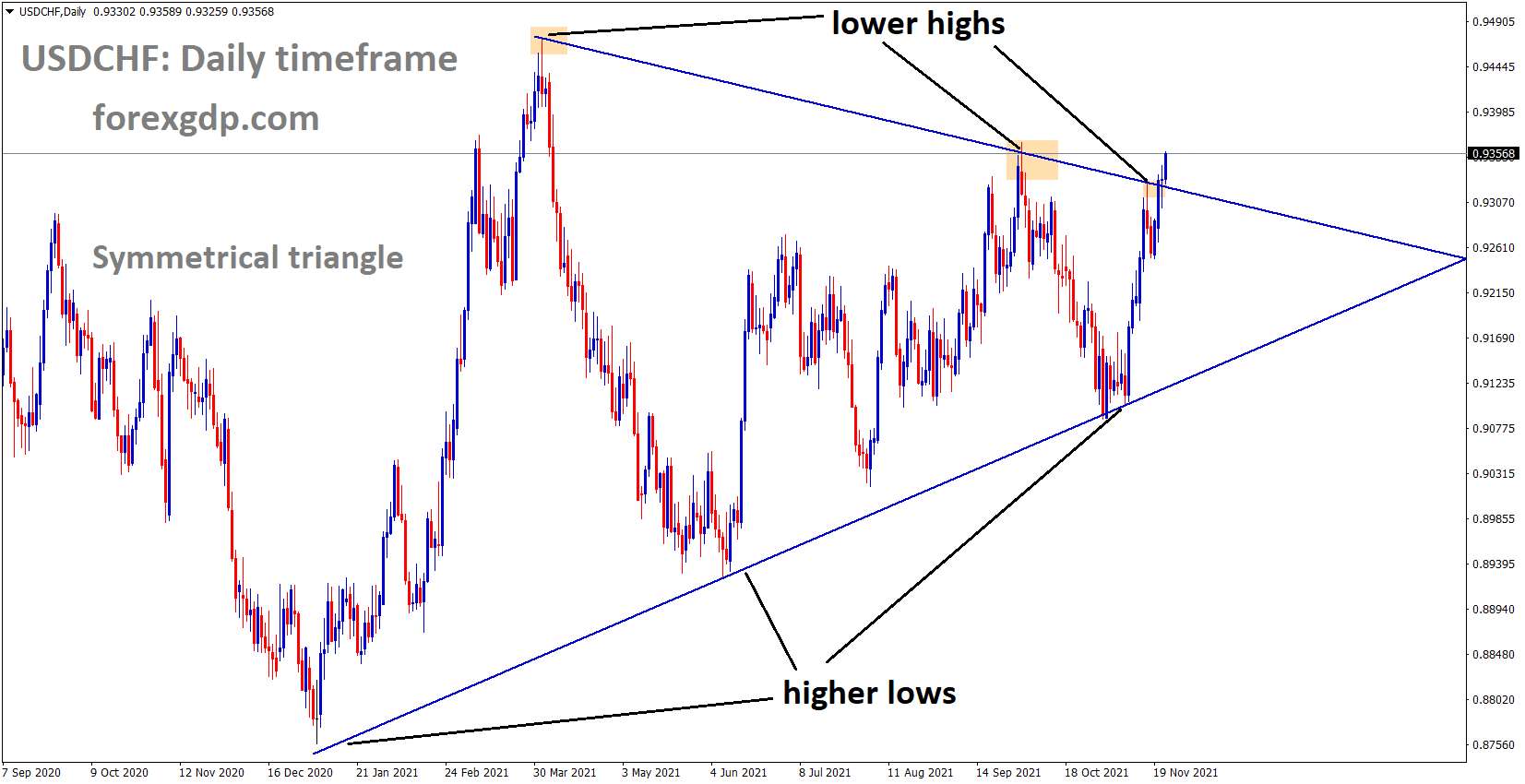 US Dollar index moves higher and hits multiyear resistance area last day as 96.50.
TODAY, the US's economic data is much waiting on PCE index, US GDP data, and Initial Jobless claims.
The more positive news will push the US Dollar higher; Yields on 10 years and 5 years, the short term is moving higher after Jerome Powell renominated as the second term.
And the Atlanta Fed's R. Bostic said faster pace of tapering made way for quicker rate hikes in coming quarters.
And the US plans to open strategic petroleum reserves to compensate Oil prices.
EURO: Covid-19 cases spread fast in the Euro zone
EURCHF is moving in the major Descending channel and the market has rebounded from the higher low area of the minor ascending channel
Eurozone faces covid-19 cases surging in Austria and Germany. This is spread due to lack of Vaccinations caution in People minds.
Now Unvaccinated People suffering from covid-19 increases will give way for another tightening lockdown in Germany and Austria.
Due to this scenario, the Euro currency further weakness is seen in the market and third wave of Lockdown in many parts of the Eurozone.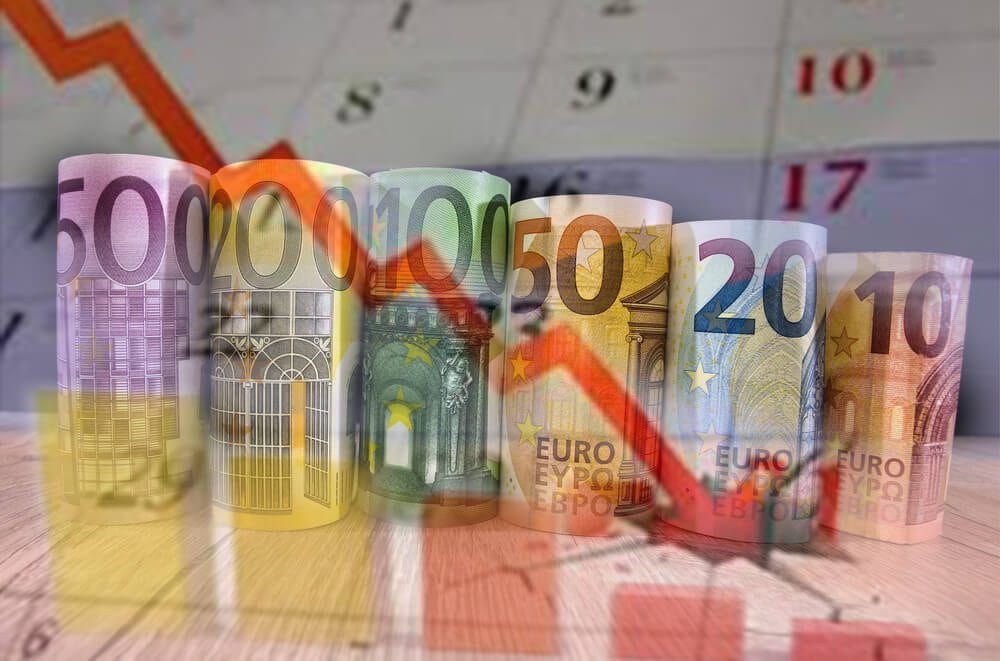 The German IFO climate survey is yet to publish, and positive readings may support Euro and reverse if negative data is printed.
EUR and UK find more talks on Northern Ireland protocol, but nothing positive outlook seen in recent meetings.
The UK have stubborn in its plan, there was no profit on the post-Brexit deal.
UK POUND: EU Brexit minister Sefcovic speech
GBPCHF is moving in an Ascending channel and the market now stands at the Horizontal resistance area..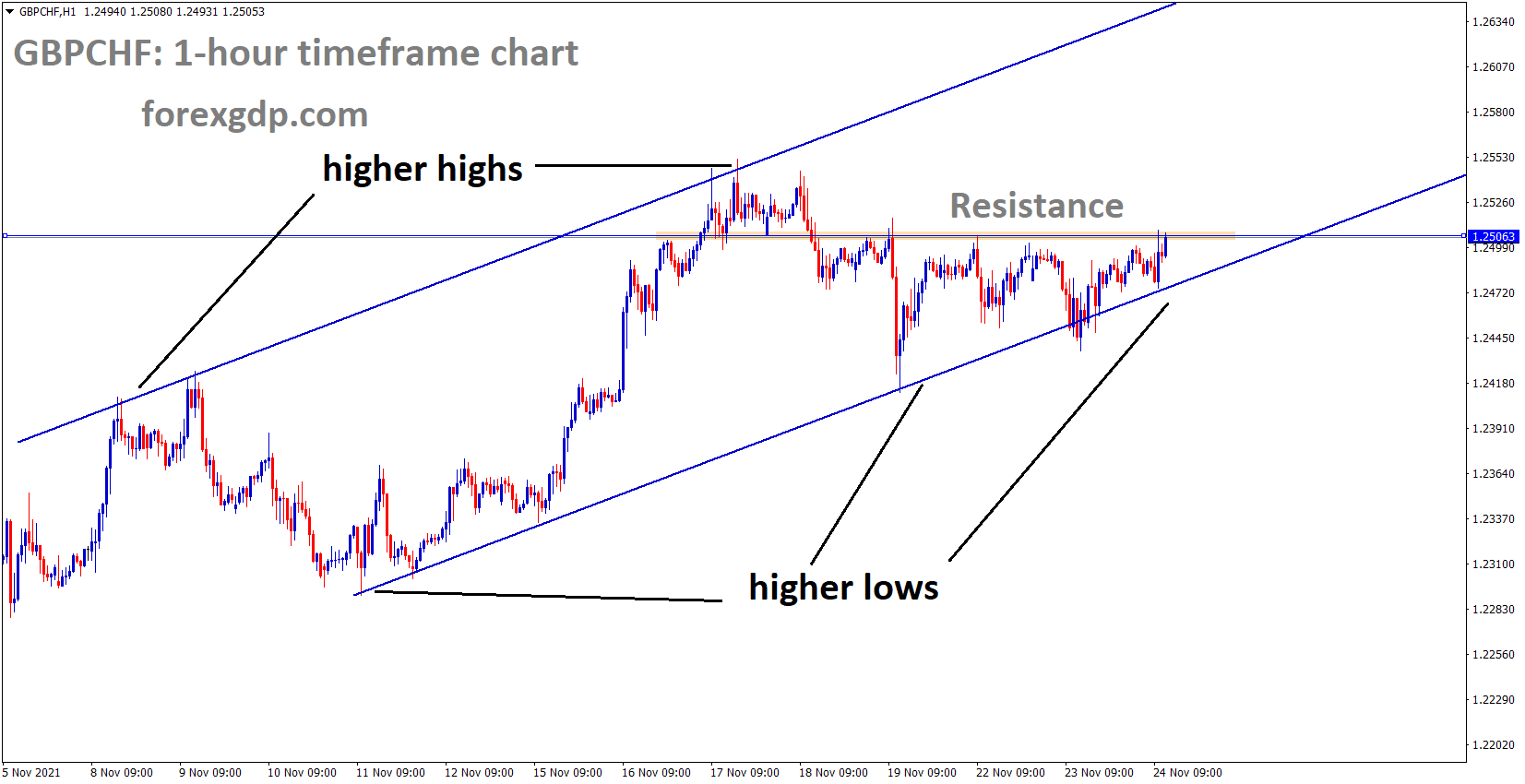 EU Brexit negotiator Maros Sefcovic said the UK will not compromise with Brexit talks before 2022.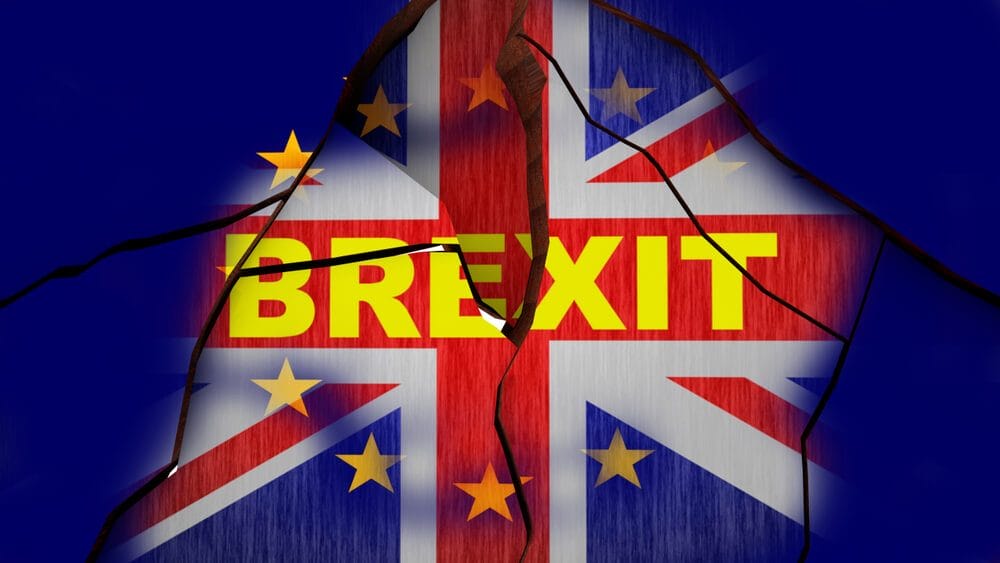 But Medicine trade between the UK and Northern Ireland was generated positive momentum on talks.
Due to this, UK Pound remains lower at the recent support area of 1.3350, and the market is now waiting for the Bank of England monetary policy meeting next month.
And UK manufacturing PMI rose than expected today, but UK Pound became silent after the news was released.
And US Dollar plays a Dominant role on UK Pound in all areas of the economy compared to the UK.
Canadian Dollar: Global nations planning for sharing Oil reserves
Crude oil is moving in the Descending channel and the market fell from the lower high area.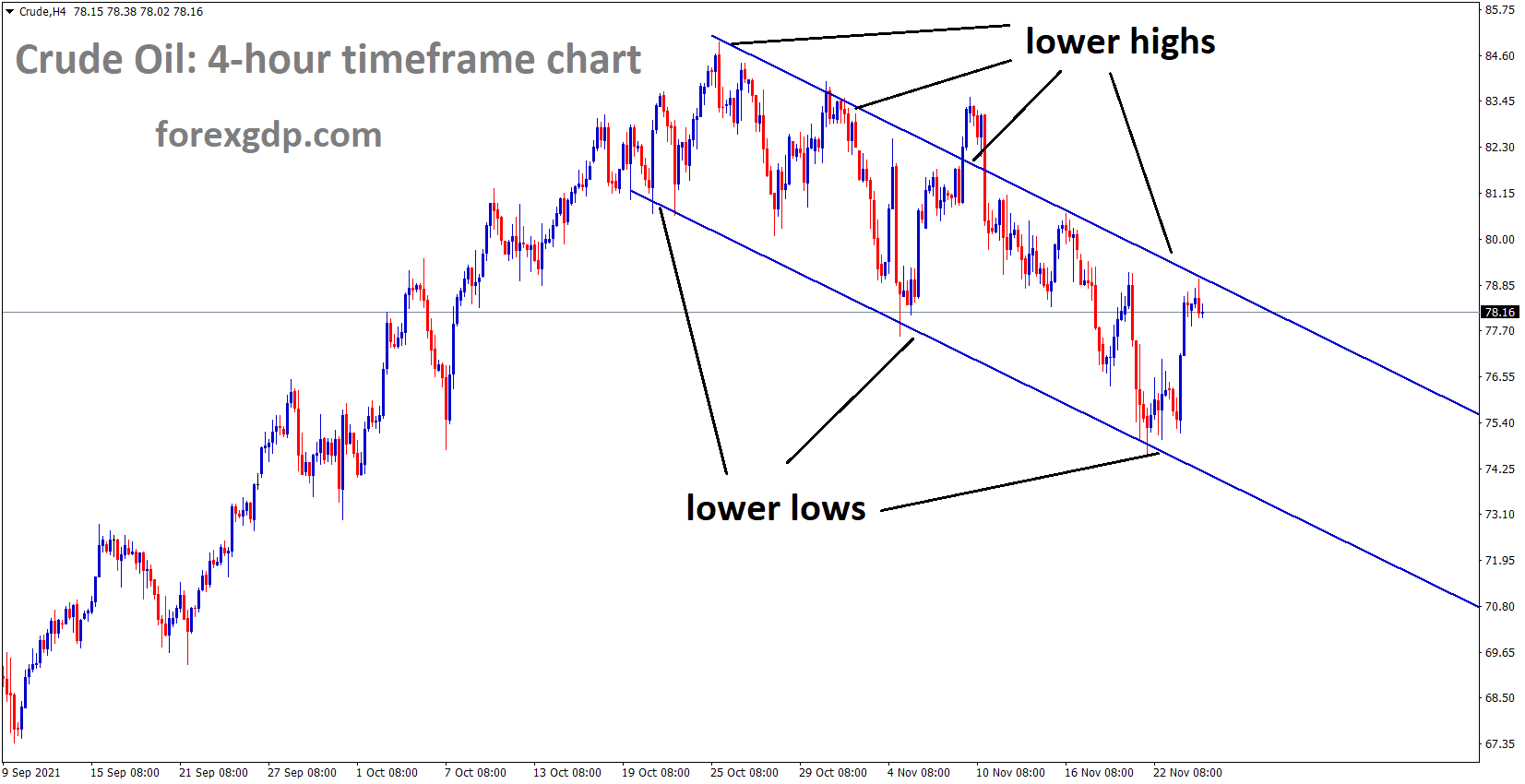 Crude oil prices surprisingly recovered from corrections last day, Plans of Global countries to decide to release the Strategic petroleum reserves from each nation.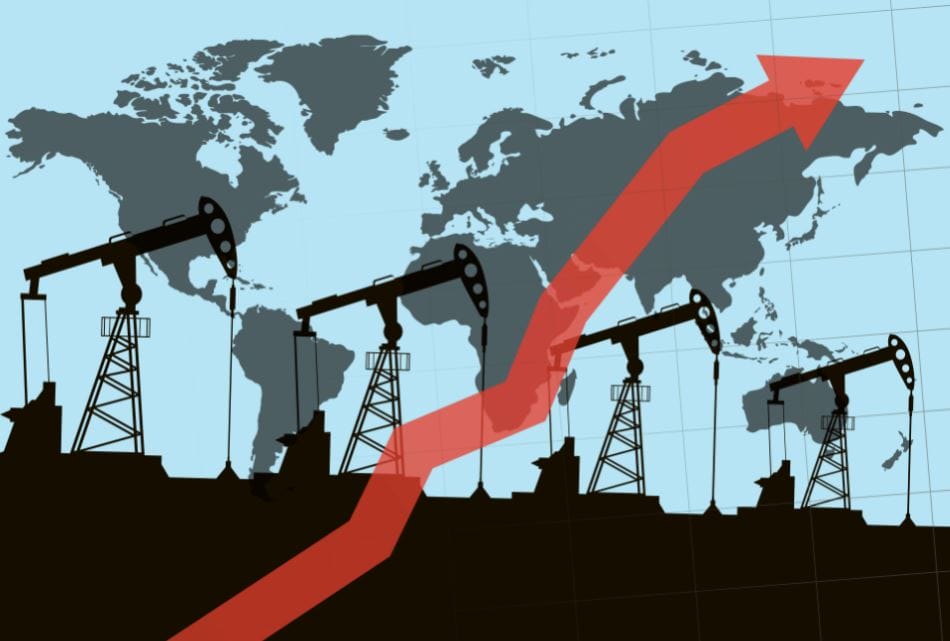 US, China, UK, Japan, South Korea and India finally agreed to release Oil reserves to fulfil Oil demand.
The US offered 50 million, the UK has 1.5 million, India and China have 5 and 7 million respectively is a sample expectation on Global survey, which was quite a compensation for current Oil demand.
Due to this Canadian Dollar started to Correction from last month, and Oil prices correlations with CAD currency; oil revenues are quite low after Oil prices are slightly down for now.
Japanese Yen: Japan PM Kishida Speech
GBPJPY is moving in an Ascending channel and the market consolidated at the higher low area of the channel.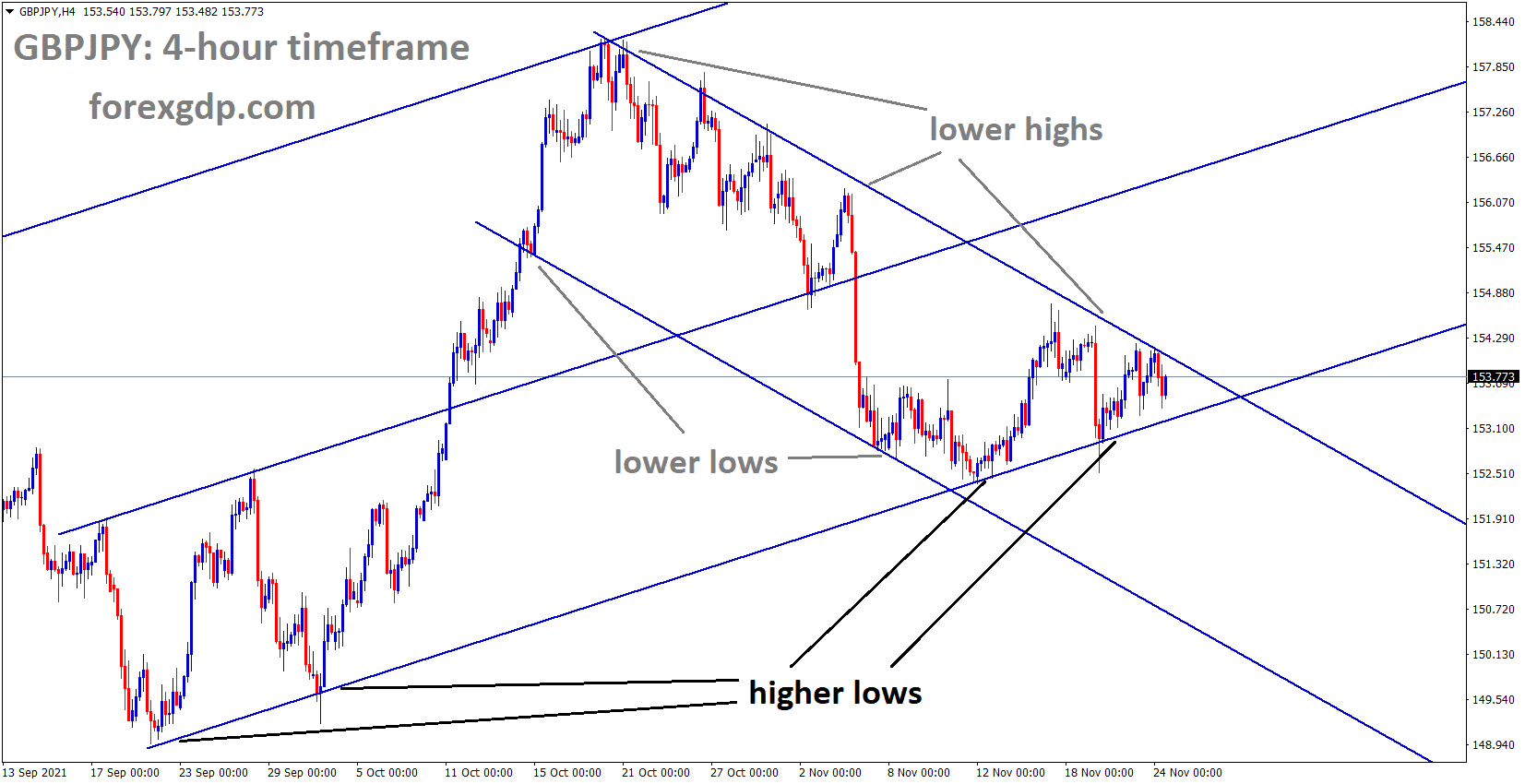 Japan PM Kishida said the Japan Government is planning to release oil from reserves to joint support with the US and Other countries.
And this releasing of Oil reserves does not affect domestic usages.
The US is planning to release 50 million barrels from Oil reserves, and the Japanese Trade minister will soon announce the plan of oil released from reserves.
And Japan must talk with Oil-producing countries to help for increasing production to stabilize the oil prices.
Now Japanese Government is more cautious about Oil prices surging and industries being affected by the Shortage of electricity, Oil and Chipsets.
Australian Dollar: RBA have more divergence from FED policies
Australian Dollar shows weakness in markets after the US Appointed Jerome Powell as the second term for Fed Chair.
More lockdowns were eased in Melbourne, Sydney and various populated areas.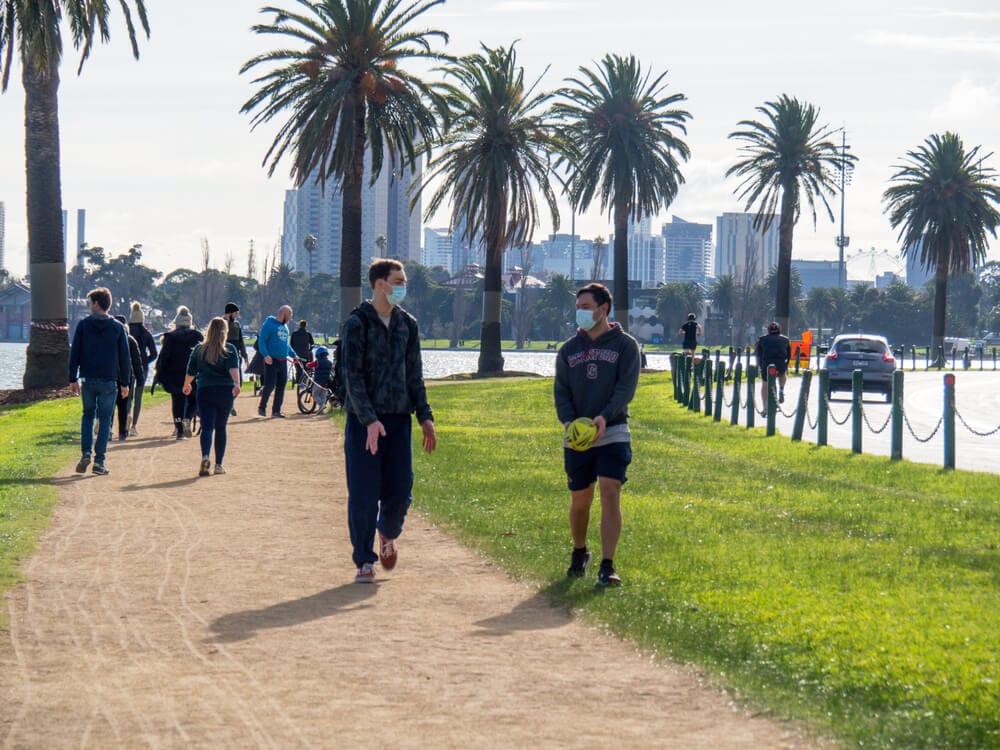 And RBA shows a more dovish policy than US FED. There is no rate hike until 2024 is a very clear statement by RBA.
The Domestic data performed well in Australia after lockdown restrictions were eased.
China's crisis of Energy, real estate, electricity would impact Australian Export revenues is huge.
US Dollar continues to strengthen and drag down the Australian Dollar much more.
New Zealand Dollar: RBNZ hiked 0.25Bps benchmark rate
AUDNZD has broken the Descending channel and market price near to the previous high of the channel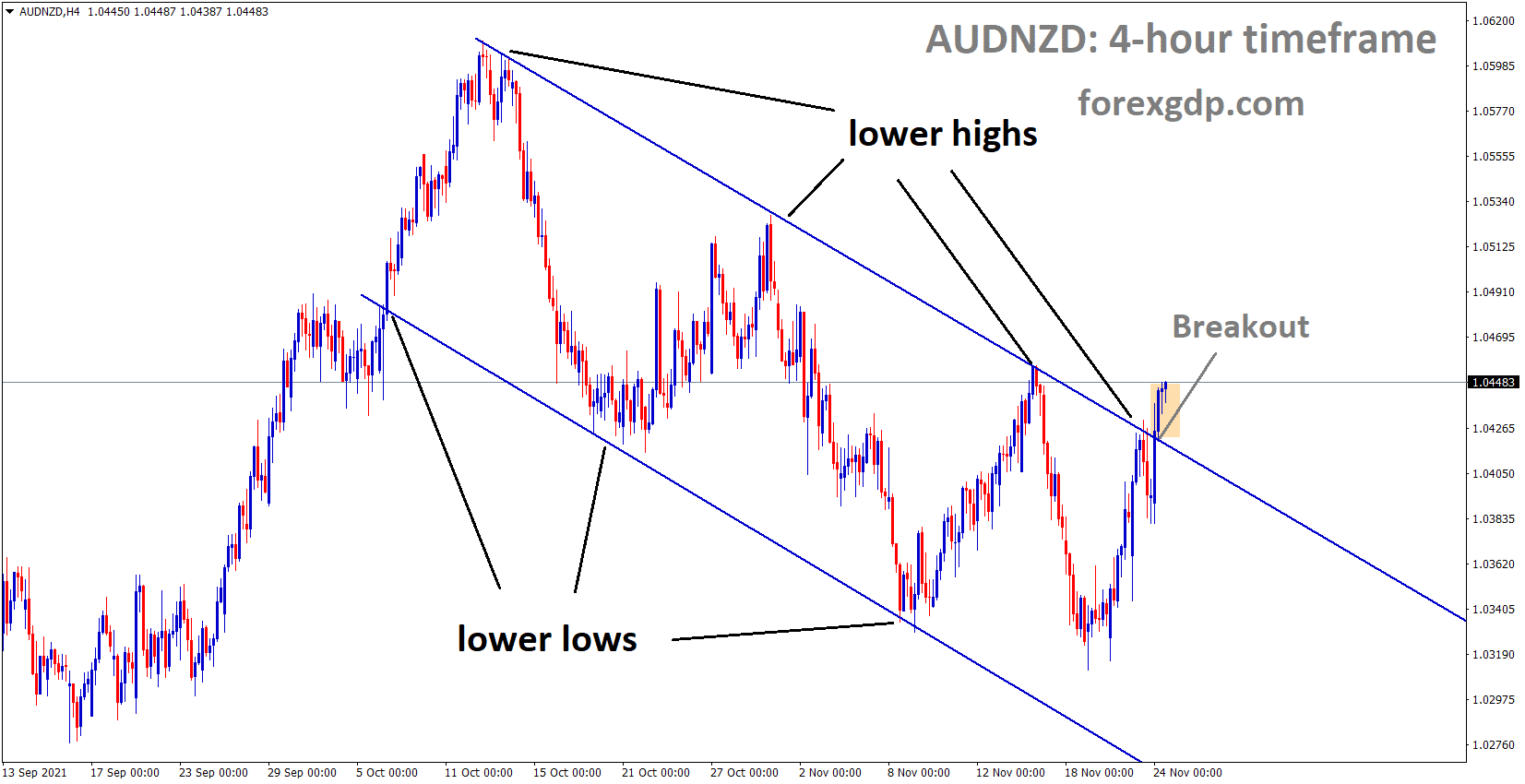 Reserve Bank of New Zealand increased its bench market rate to 0.75% as the 0.25Bps rate hiked today.
This was a 0.50Bps rate hike since the post-pandemic low.
And RBNZ decided to set a target of a 2% rate hike until October 2022.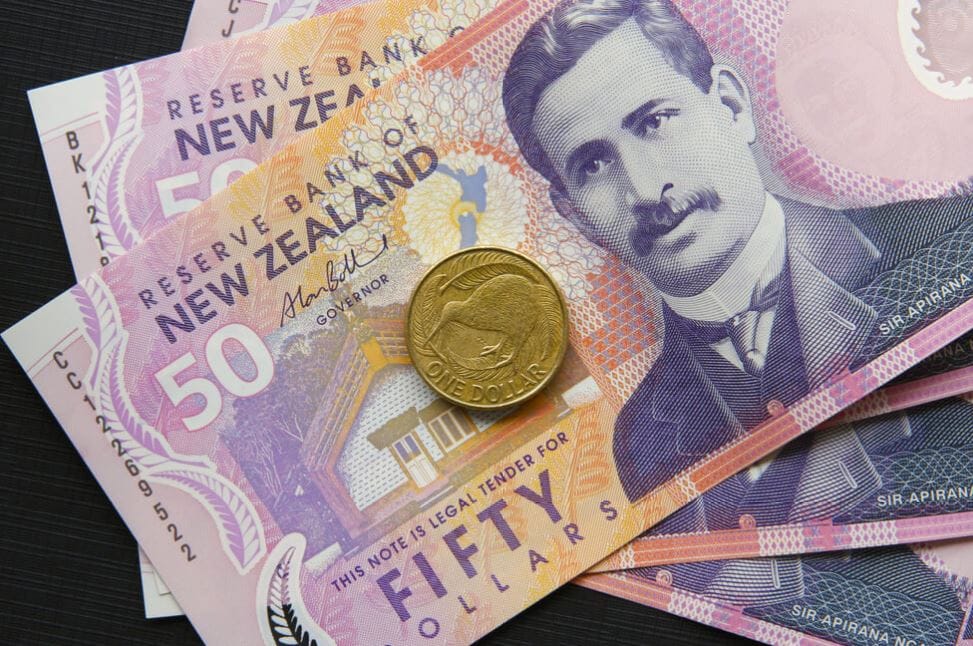 Now Next meeting will be February 2022 only, so now more Housing loan rates; mortgage rates are suffering from Higher lending rates.
And RBNZ said inflation prices hit 4.9%, so rate hikes needed gradual increases concerning Inflation prices.
Inflation prices hit at ten years high in New Zealand.
NZ Covid-19 minister speech
New Zealand Covid-19 minister Chris Hipkins said New Zealand is easing its broader restrictions from the end of April 2022 for All Travellers.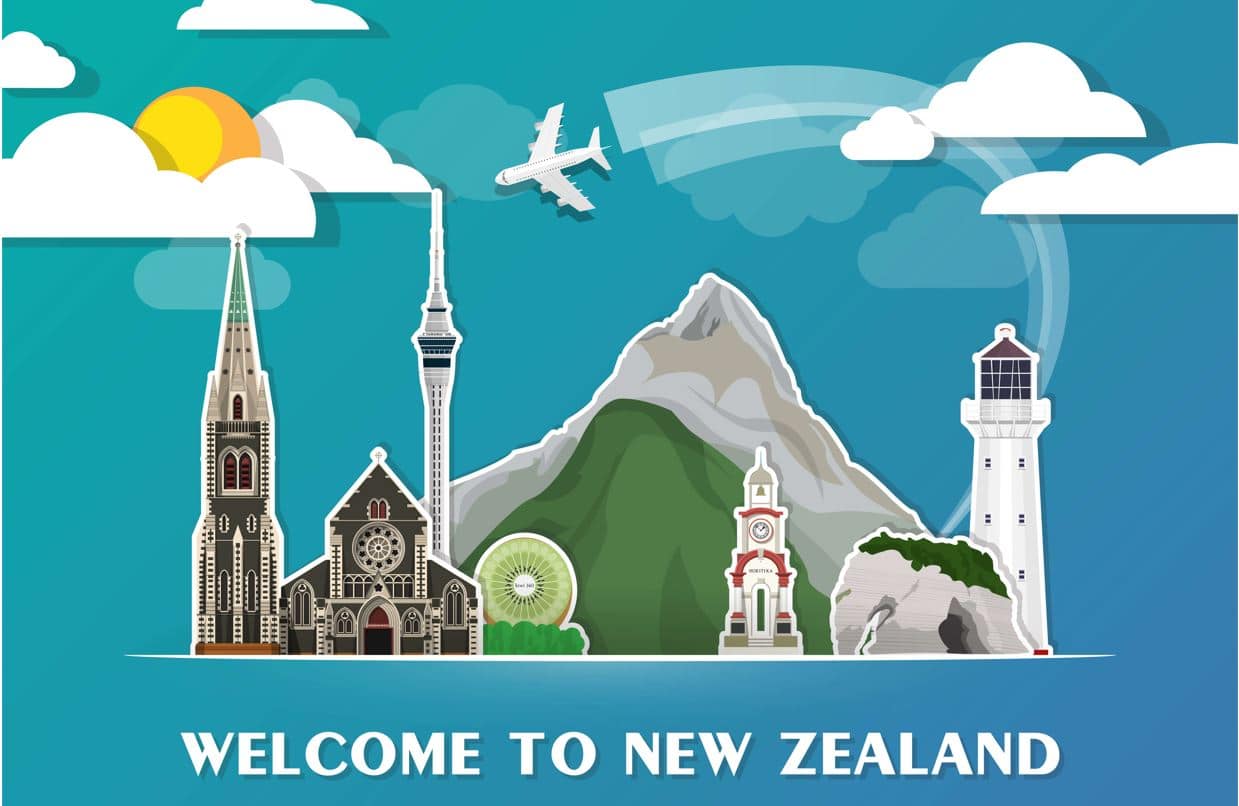 From January onwards, Fully vaccinated people from Australia are allowed to New Zealand Visit; from April 2022 onwards, all people who have been fully vaccinated are permitted from all other nations.
New Zealand nations followed simple, safe and clear steps for Covid-19 isolation to dismiss the widespread of Covid-19 from starting period.
Swiss Franc: Swiss inflation makes its Currency value lower
CADCHF is moving in an Ascending channel and the market has rebounded from a higher low area.
Swiss Franc made lower after Swiss inflation hits 30 years high at 0.30% from 0.20% this was a worry for Swiss national Bank.
The More loosening of monetary policy and easing interest rates will suffer Domestic currency value in the current situation.
Due to this scenario, the USDCHF pair makes higher and near to yearly high as US Dollar Dominance against Counter pairs.
And Today, US GDP data is expected to come on a positive note and Swiss to fall more once again.