Gold: FED's Vice Chairman Clarida Speech
Gold price hits the support zone again breaking the higher low of uptrend line.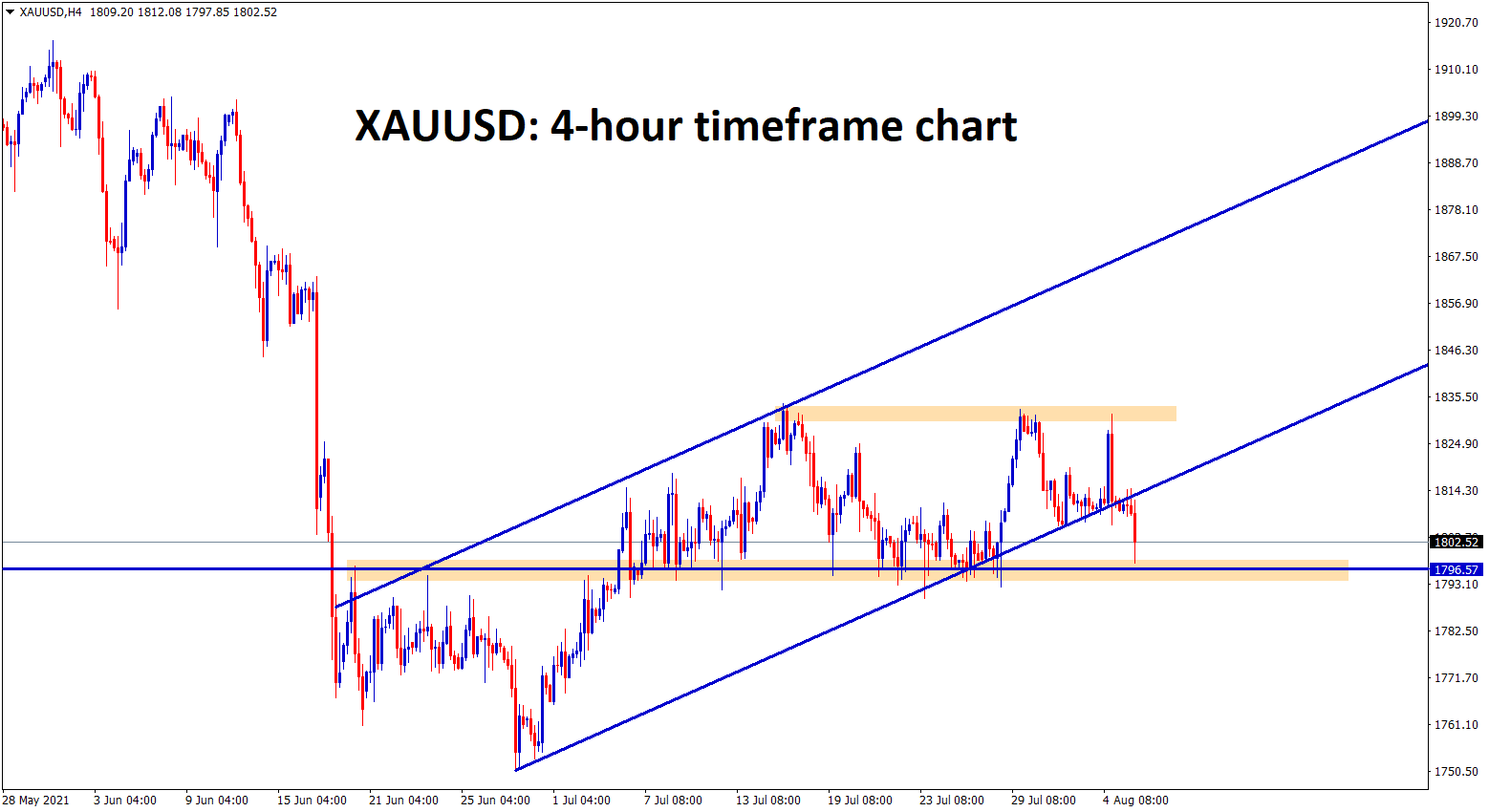 Gold Prices tumbled as FED's Vice Chairman Richard Clarida said, tapering soon by the end of the 2021 year.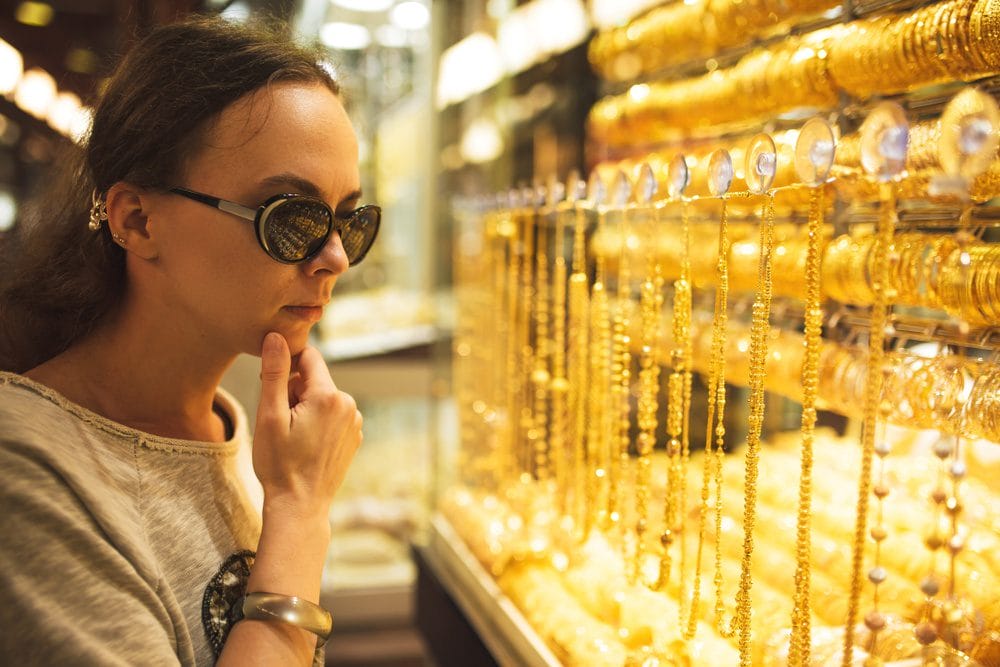 Tapering bets is hope for US Dollar investors and creates fears for Inflation hedging holding of gold investors.
Gold is traded purely based on US Dollar price action. Delta Variant is increasing moderately but not more affected like the previous one.
FED Dovish stance only made US Dollar dipped to 1%. Yesterday FED's Clarida statement on Tapering soon is boosted the US Dollar by 0.50%.
Still, Non-Farm payrolls data scheduled tomorrow and August 27-28 Jackson Hole symposium meeting will happen, which will help in the direction of US Dollar.
US Dollar: ADP data result
USDCAD is consolidating in an uptrend range.
US Dollar index rebounded to 92.200 level after last week dipped to 1% fall from 93 levels.
FED's Clarida joined hands with Daly, Waller, and Bullard for tapering bets by the end of 2021.
This formed major hopes for US Dollar investors to keep patience with FED Policies.
But Inflation numbers running hot, and this news was seen as Coldwater pouring to investors.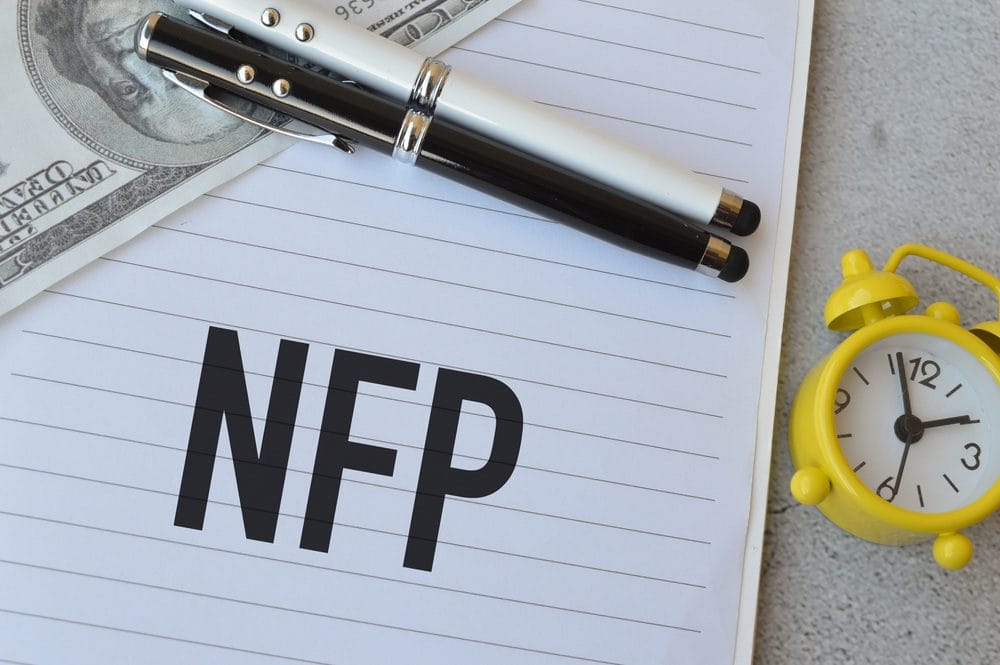 DXY index this week may reach previous resistance of 92.500-93 level as Past weeks declined.
And Tomorrow, NFP data will decide the Dollar index to decline further or Rising nature bases on data released.
ADP Private jobs report shows 330k printed versus 695K expected and Previous of 680k Printed.
EURO: US Services PMI data
EURGBP at the lower low level and the recent support zone. wait for breakout or reversal.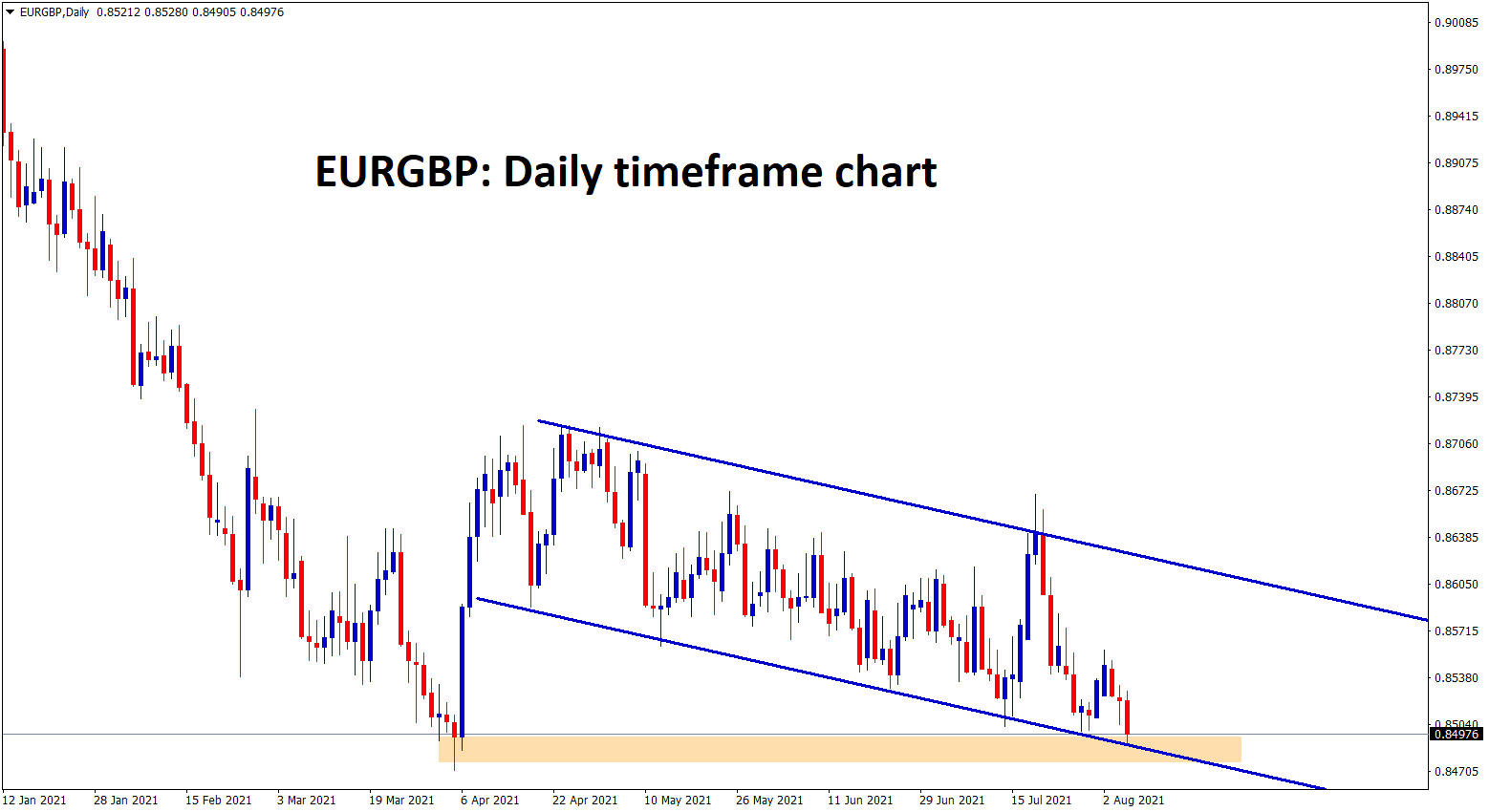 EURNZD starts to fall from the lower high zone of the descending channel.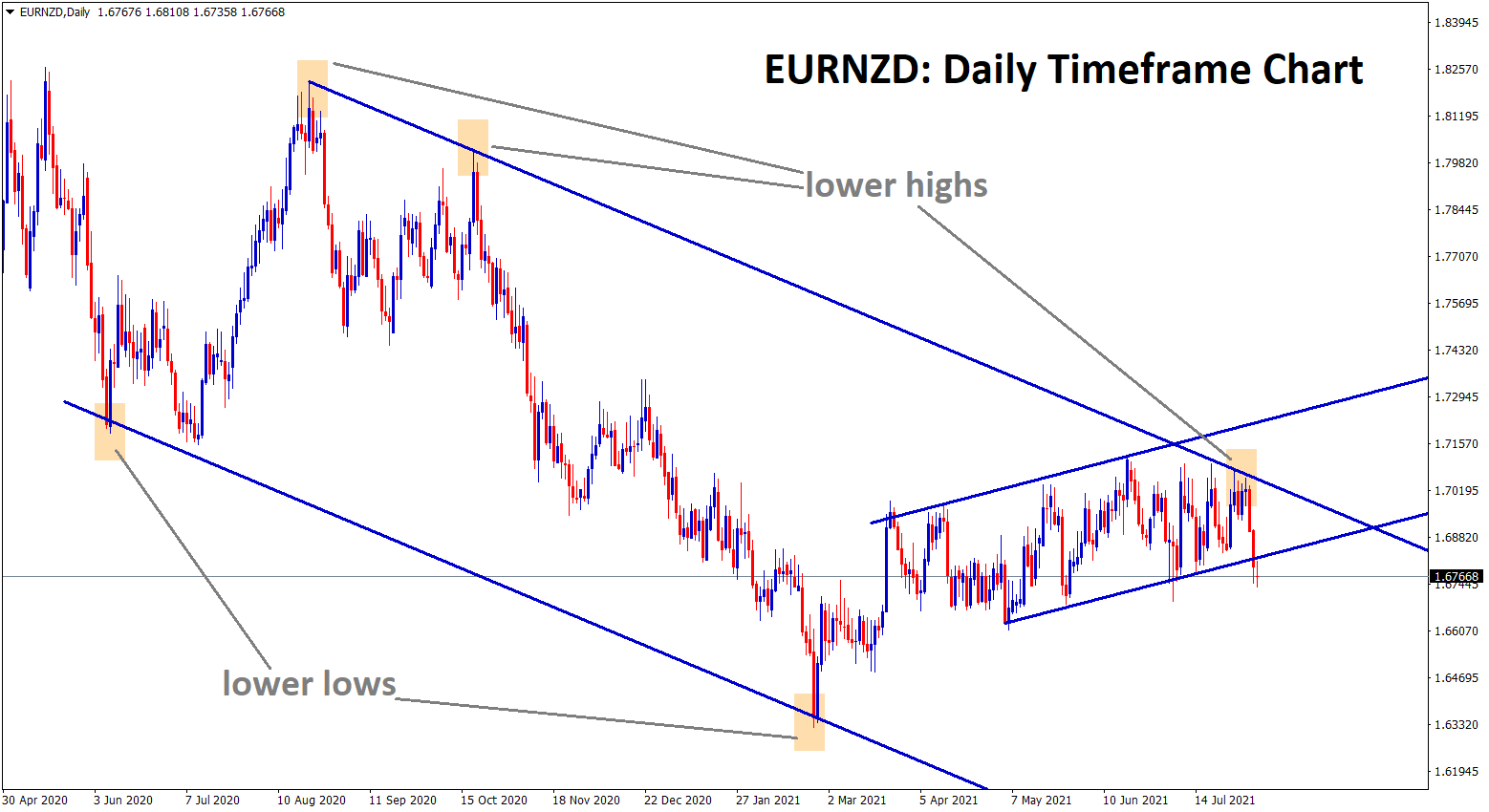 EURUSD yesterday fell by 0.70% from Previous highs to 1.18300 level as US Services PMI printed at 64.1 level as highest reading.
FED's Clarida comments on hopes of tapering soon by the end of the year.
Eurozone faces more delta variant cases and mixed output of Germany factory orders data.
And now all waiting for NFP payrolls data and unemployment rate scheduled tomorrow.
UK POUND: Bank of England Vote members supports for 6-2Scrapping asset purchases
GBPUSD is moving in a descending triangle pattern.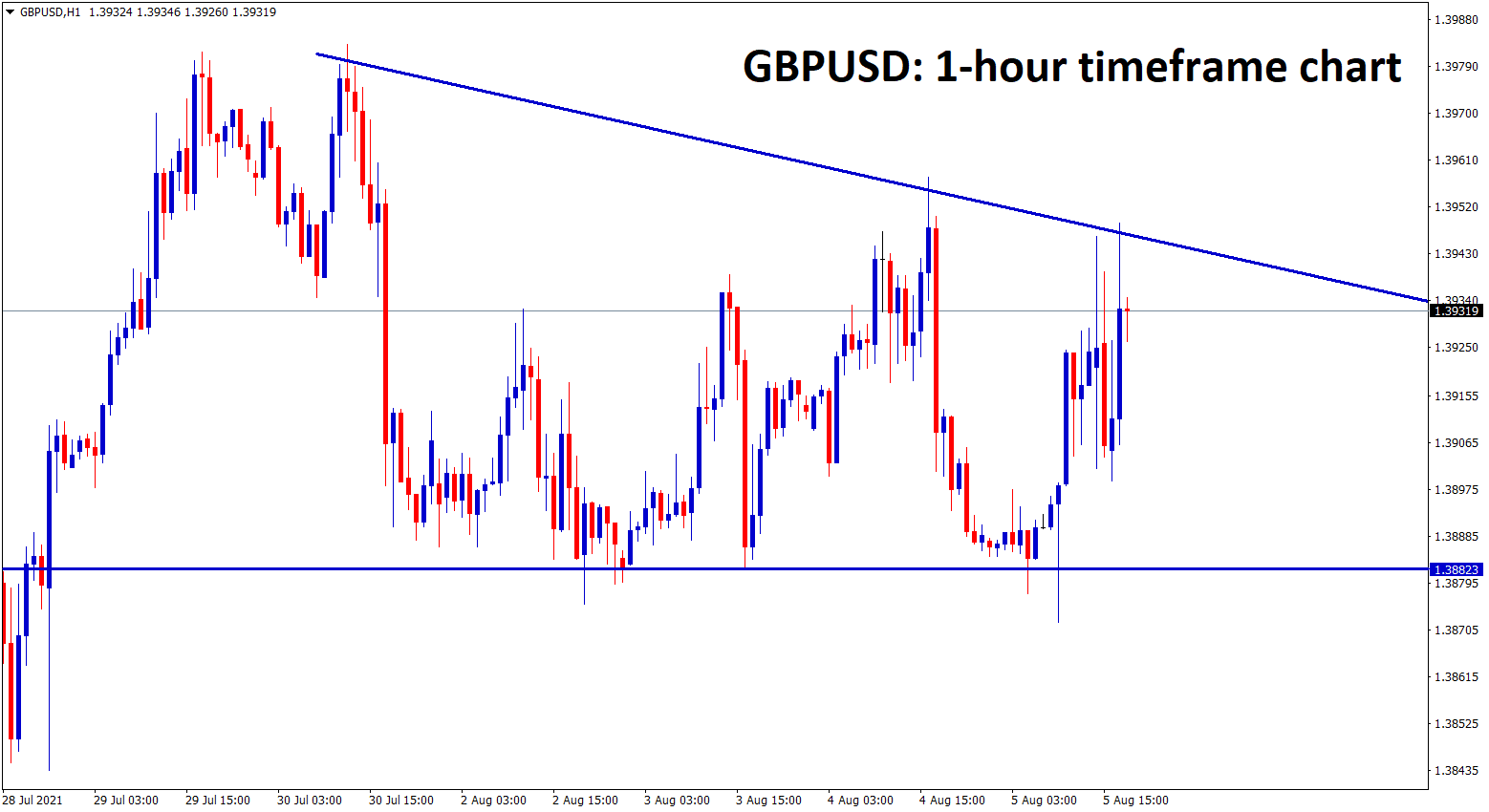 GBPCAD is moving in an Ascending Triangle Pattern – wait for the breakout from this pattern.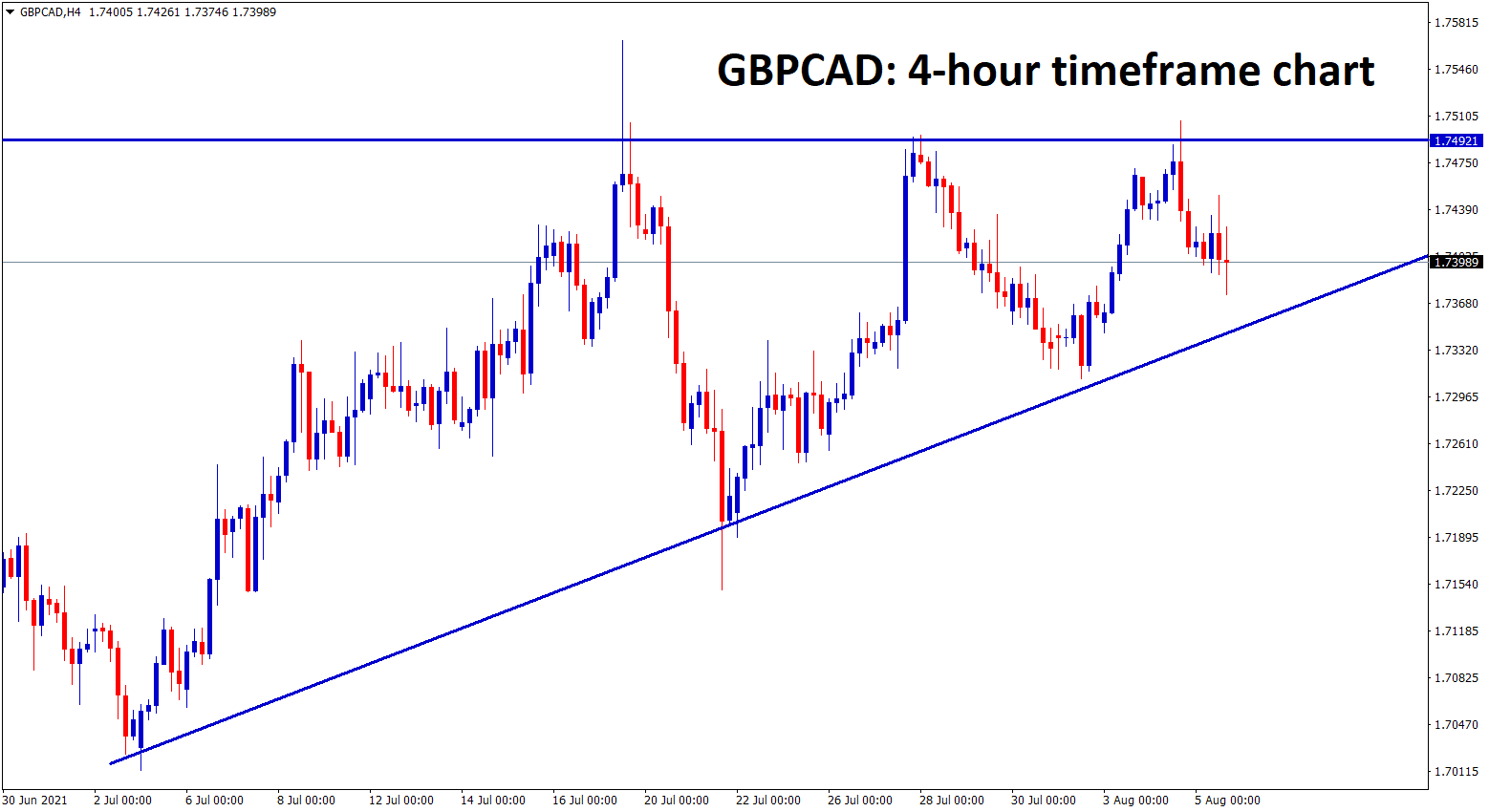 UK Pound will make higher high today waiting for Bank of England monetary policy meeting happened Today.
BoE members 6-2 vote for non-scrapping stimulus and no rate hikes.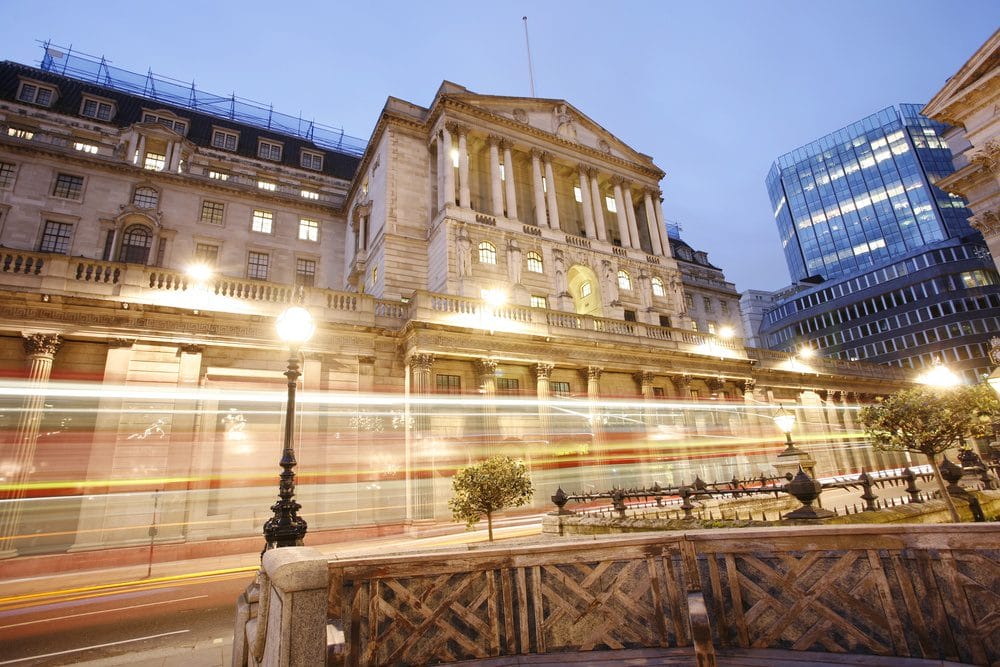 And BoE members Ramsden and Saunders vote for Scrap Pound 50 billion assets due to the economy recovering and inflation rises.
Currently, the Bank of England making asset purchases of the UK Pound 850 billion and 0.10% rate maintaining.
And Reducing assets purchases will impact the economy more if Delta Variant spread higher.
Canadian Dollar: China Covid-19 resurgence impacted Oil Markets
EURCAD fall again to the recent support.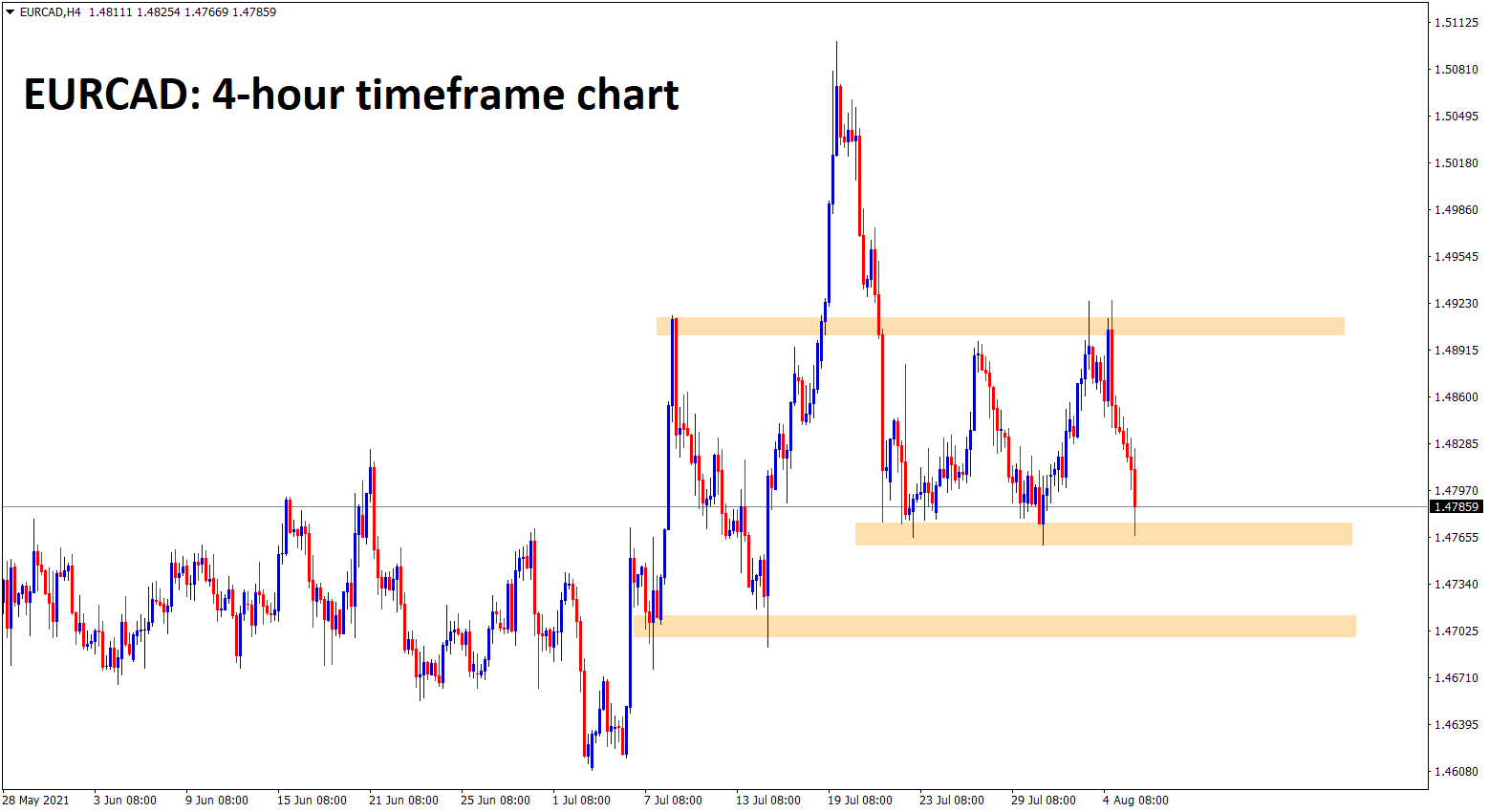 Canadian Dollar shows correction to 87 levels and then forms to wait for Swing higher high in the market.
Yesterday ISM Services PMI printed at 64.1 Level regarded as the highest level since 2019.
USDCAD was slightly higher after data was released. Anyhow Canadian Dollar now got a 6% correction from Higher highs.
Now this month may be started for Trending market as Possible.
Oil prices get tumbled as Supply concerns on Global impact, and China faced tough lockdowns to avoid the spread of Covid-19.
Japanese Yen: Delta variant 90% spread
USDJPY bounces back after hitting the higher low level of an Ascending channel range.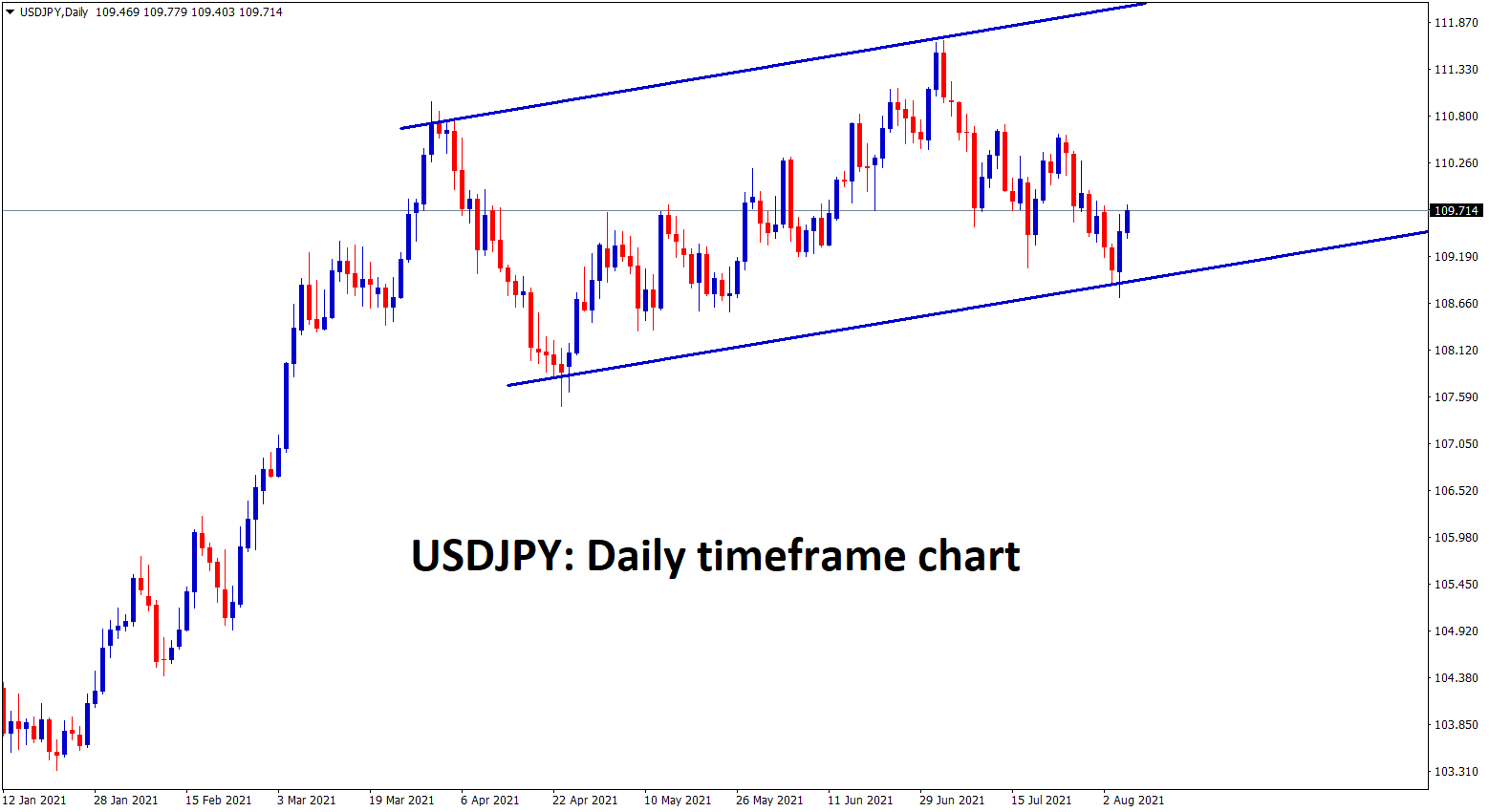 Japan faced 90% of Delta variants of Covid-19 and announced tough lockdown. More fiscal stimulus is not a solution for a comeback for the economy; vaccination is the only solution to cure all patients with no affecting of Delta variant.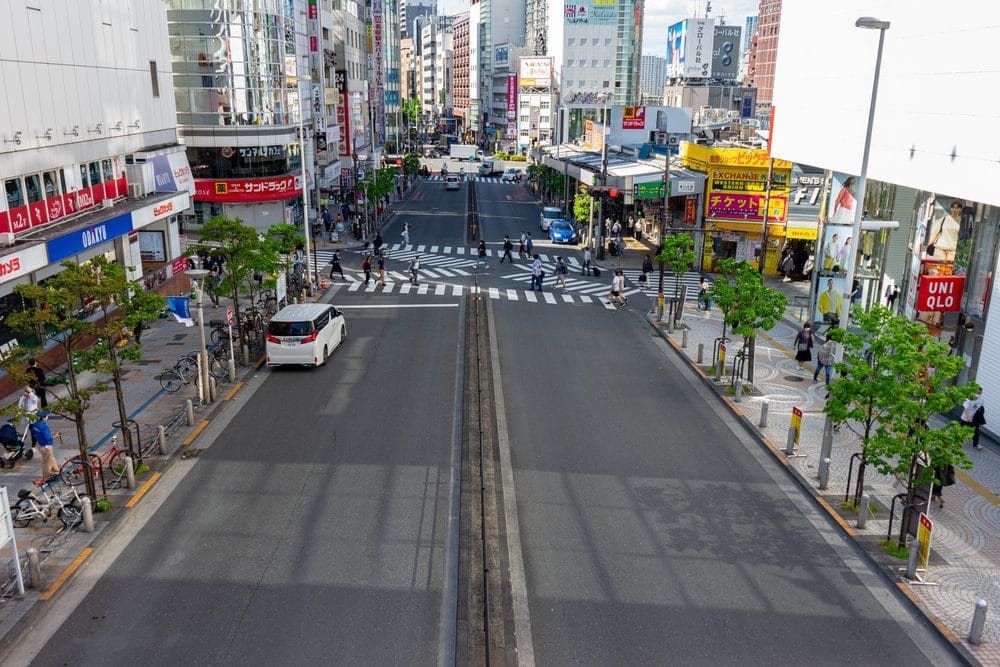 US Dollar rises as ISM Services PMI printed at 64.1 reading, and USDJPY has risen by 1% from the lower low.
FED's Clarida speech on tapering bets and ADP numbers makes positive for yesterday Dollar gains.
Australian Dollar: China and Australian Relationship worsens
EURAUD has broken the bottom of the Ascending channel, retested the broken level and starts to fall now..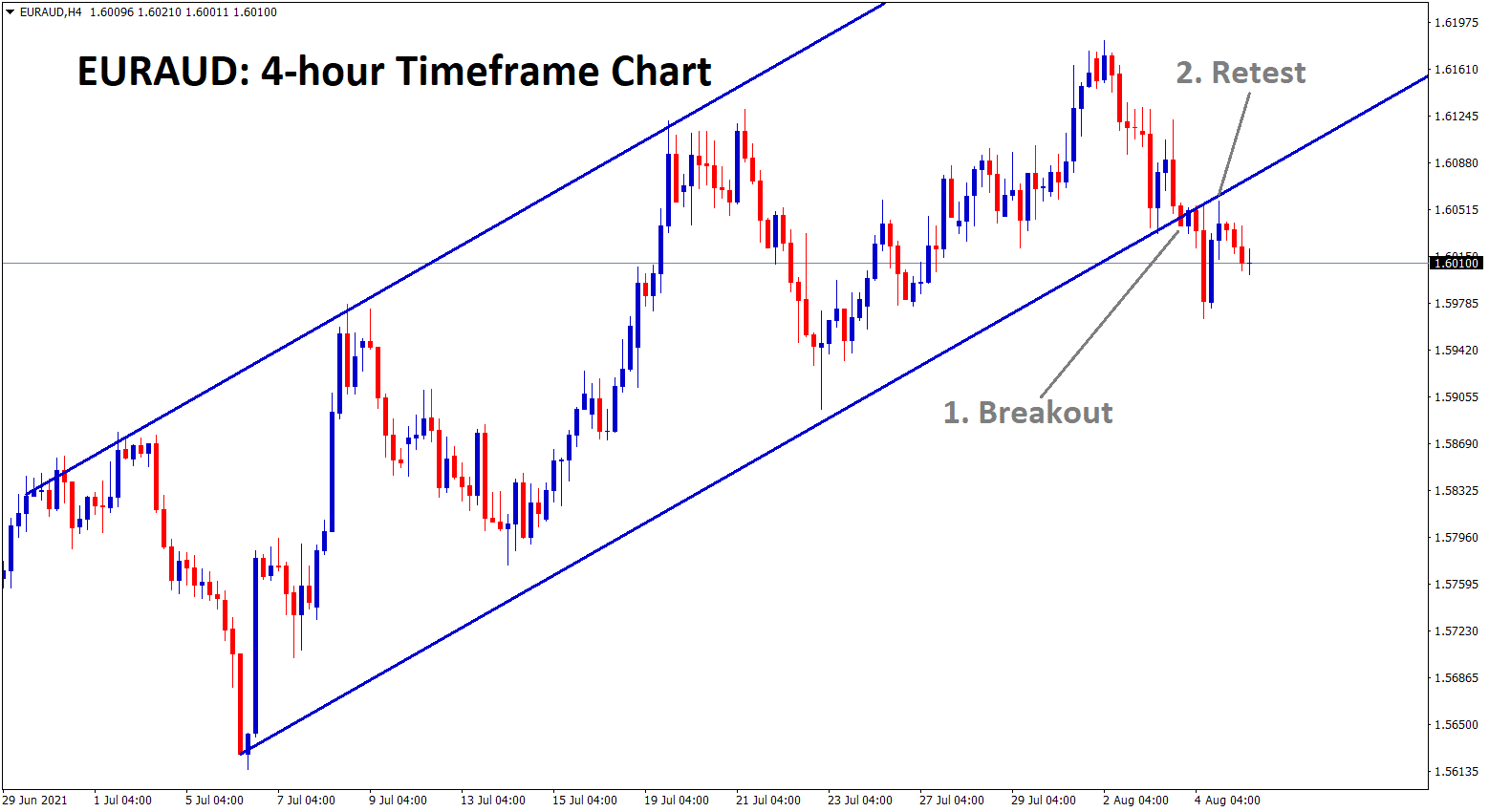 Australian Dollar under Risk as Delta Variant spread is more Globally.
Even Vaccination rate increases, Vaccines may cure the Delta variant if needed; otherwise, 2 doses or 10 doses is waste for injecting to people. Vaccine doses are the only cure for people and not to spread again.
China and Australia relations made hot as Investigations rising to China for the Spread of Covid-19 Origin from China.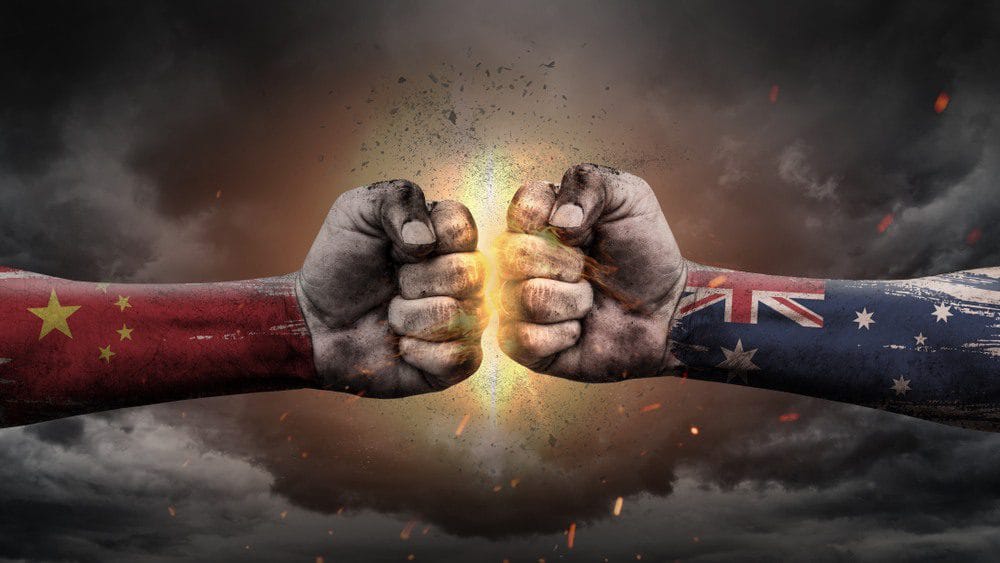 RBA meeting will be supportive for Australian Dollar to higher, as Tapering begins.
Whatever delta variant spread increases, RBA has made the right decision for tapering assets to reduce Hot inflation.
China regulations do not affect recovery
Regulatory headwinds do not impact the Chinese Overall economy.
Technology, the internet, E-commerce facing a good comeback from Covid-19. Chinese Monetary policy tools helped to restructure the economy more.
The Chinese economy came back from the pandemic, and regulatory bodies will help to boost for Corporates.
New Zealand Dollar: Unemployment rate results
NZDUSD has retested the broken channel line and moving up.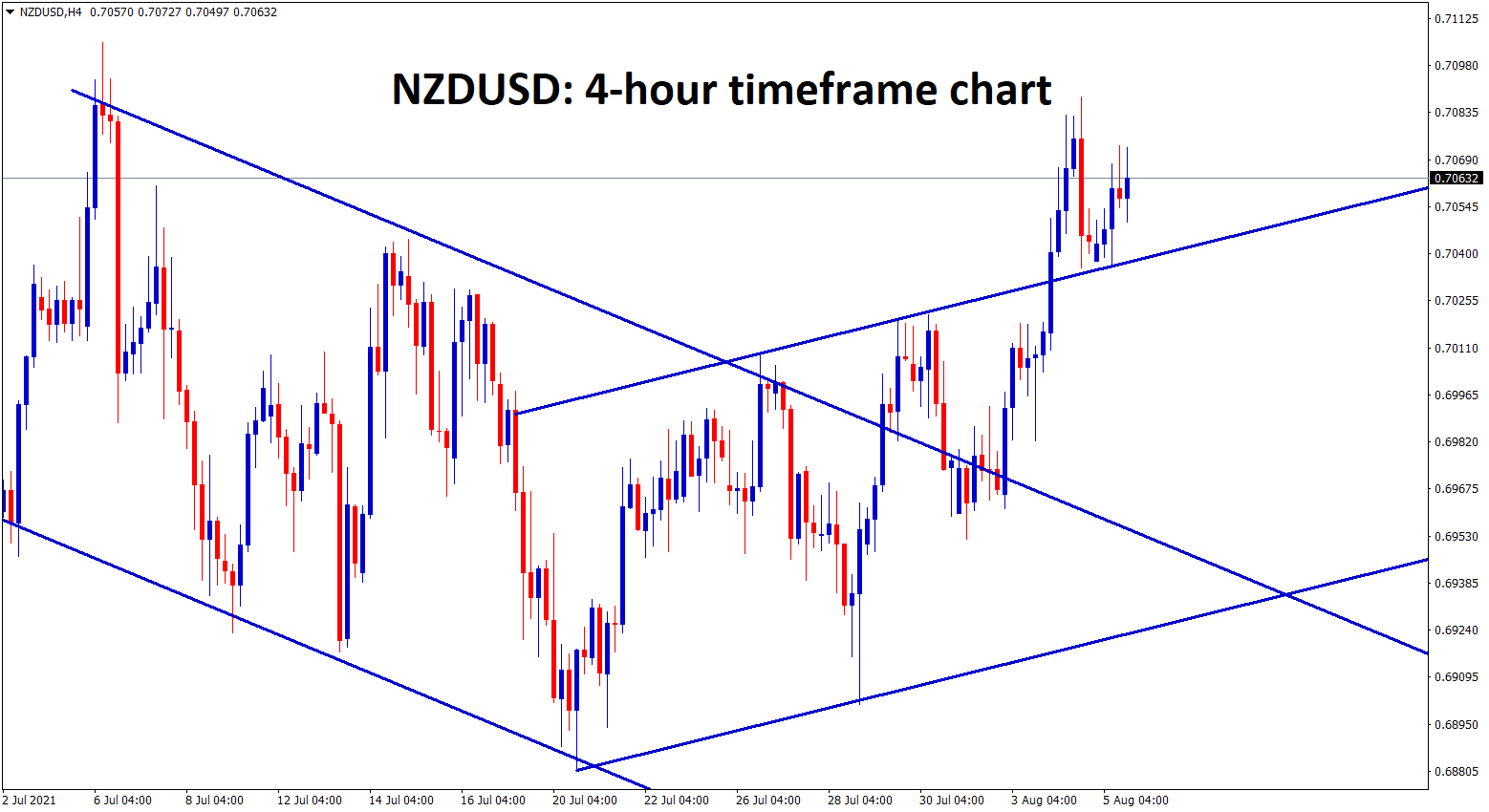 New Zealand Dollars gain by 1% from low on the last day as the Unemployment rate reduced to 4% from 4.6%, and employment change arrived at 1% compared to 0.7%.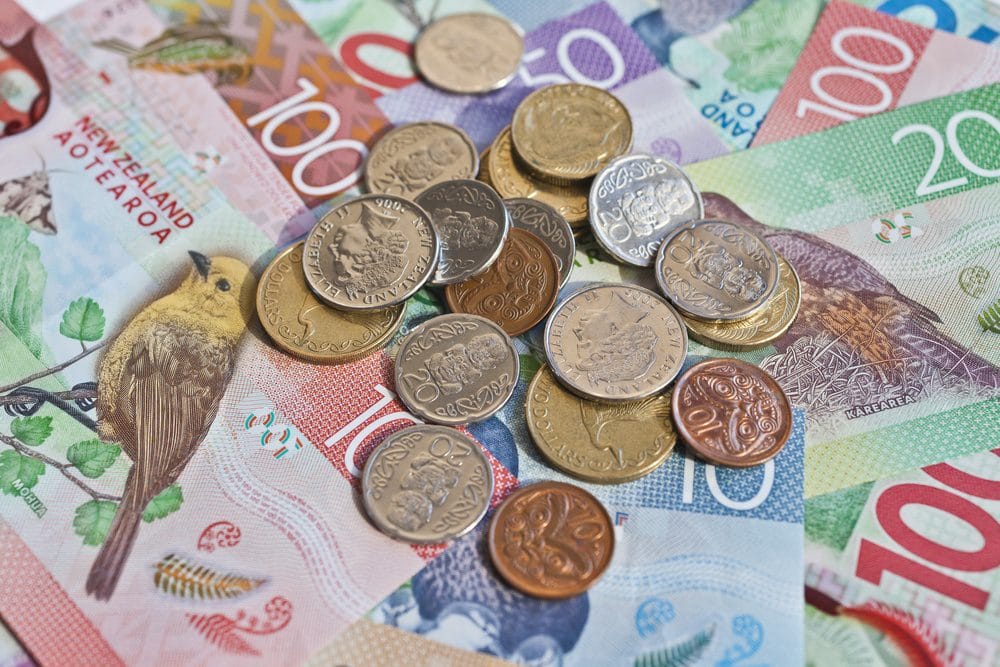 US Dollar yesterday gains as FED's Clarida tapering speech and Services PMI data show robust reading.
Yesterday ADP employment data showed 330k posted versus 695k expected; disappointment numbers make US Dollars higher.
Swiss Franc: Swiss Consumer Confidence
CADCHF formed a descending triangle pattern.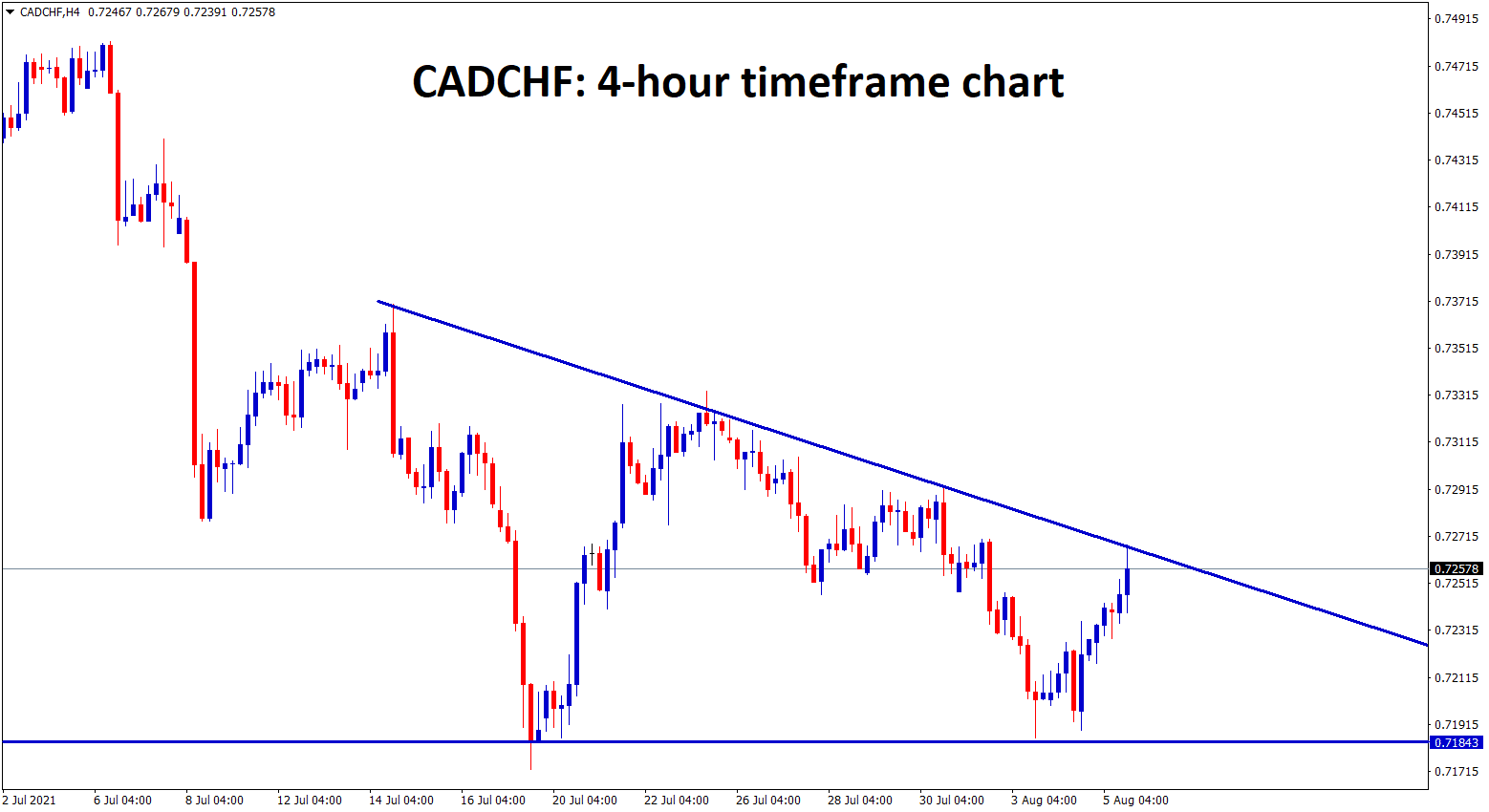 Switzerland Consumer confidence shows jumped in Q3 as 7.8, and it is the highest reading since 2010.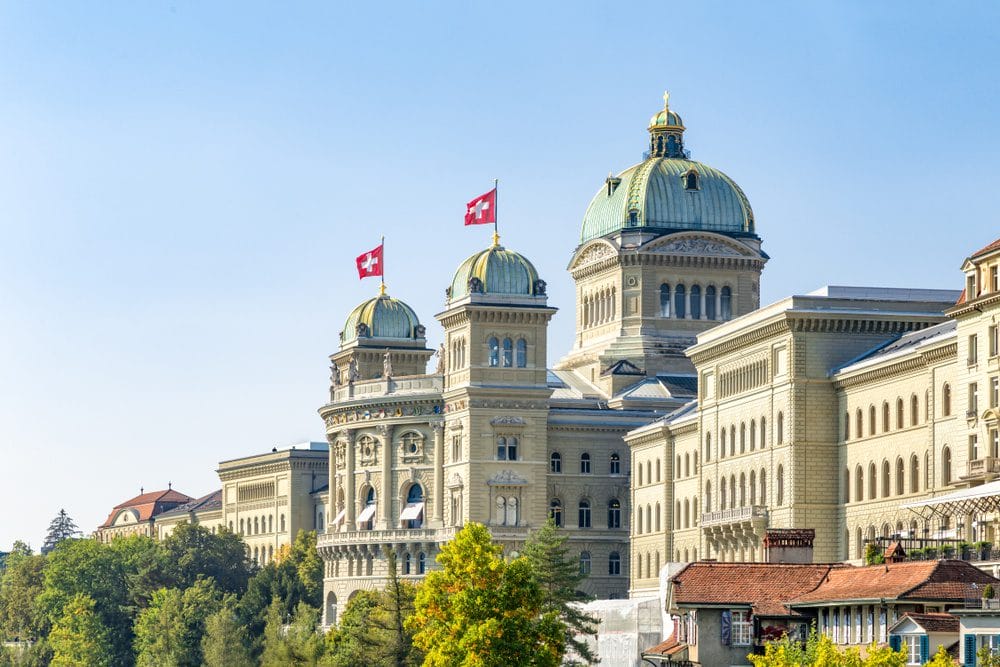 Swiss Franc made ranging market versus Japanese Yen as 121-119 level, and Any big news will breakout this ranging level.
USDCHF yesterday up by 0.70% after a FED's Clarida Speech on tapering soon by 2021 end.
Now waiting for NFP data and Unemployment rate of US scheduled tomorrow.
Trade forex market only at the confirmed trade setups.
Get Each trading signal with Chart Analysis and Reason for buying or selling the trade which helps you to Trade with confidence on your trading account.
Want to increase your profits in trading? Get the best trading signals at an accurate time. Try premium or supreme signals now: forexgdp.com/buy