Gold: US CPI data
Gold XAUUSD old resistance converted into the new support and recent high was broken today.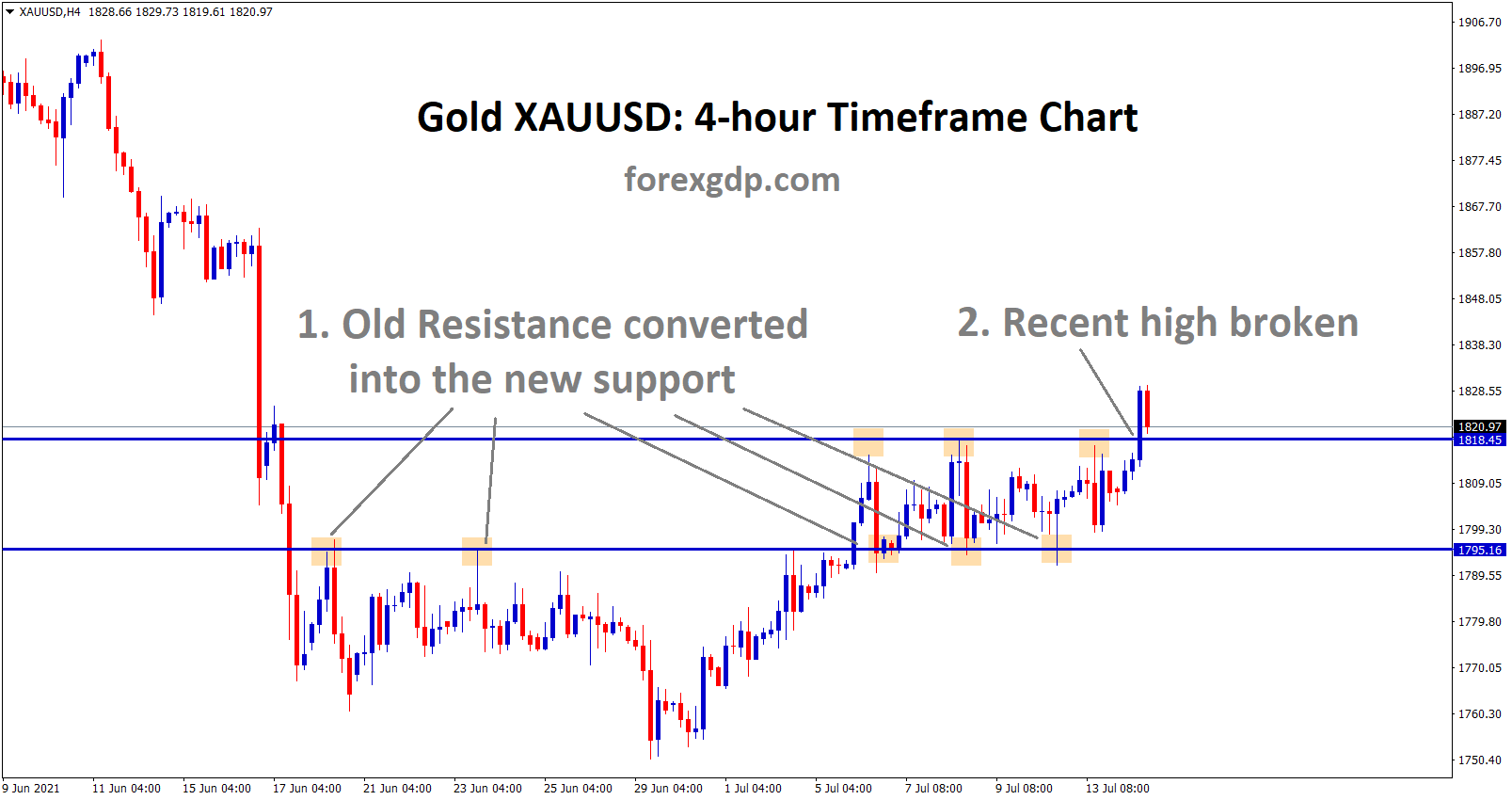 Gold Prices remains a ranging market after US CPI Data came at higher numbers. Inflation hedge asset Gold is seen by investor view and accumulation more in lower prices.
US Dollar now in trouble manner as Inflation numbers makes higher and a greater number of USD to Print at the treasury.
And tapering of assets or hike rates is the only solution to bring Back US Dollar to Higher prices.
Gold Prices remains demand in Globally as inflation numbers increasing month on month.
US DOLLAR: CPI DATA
USDCAD bounces back after hitting the previous broken resistance which might still acting as a new support.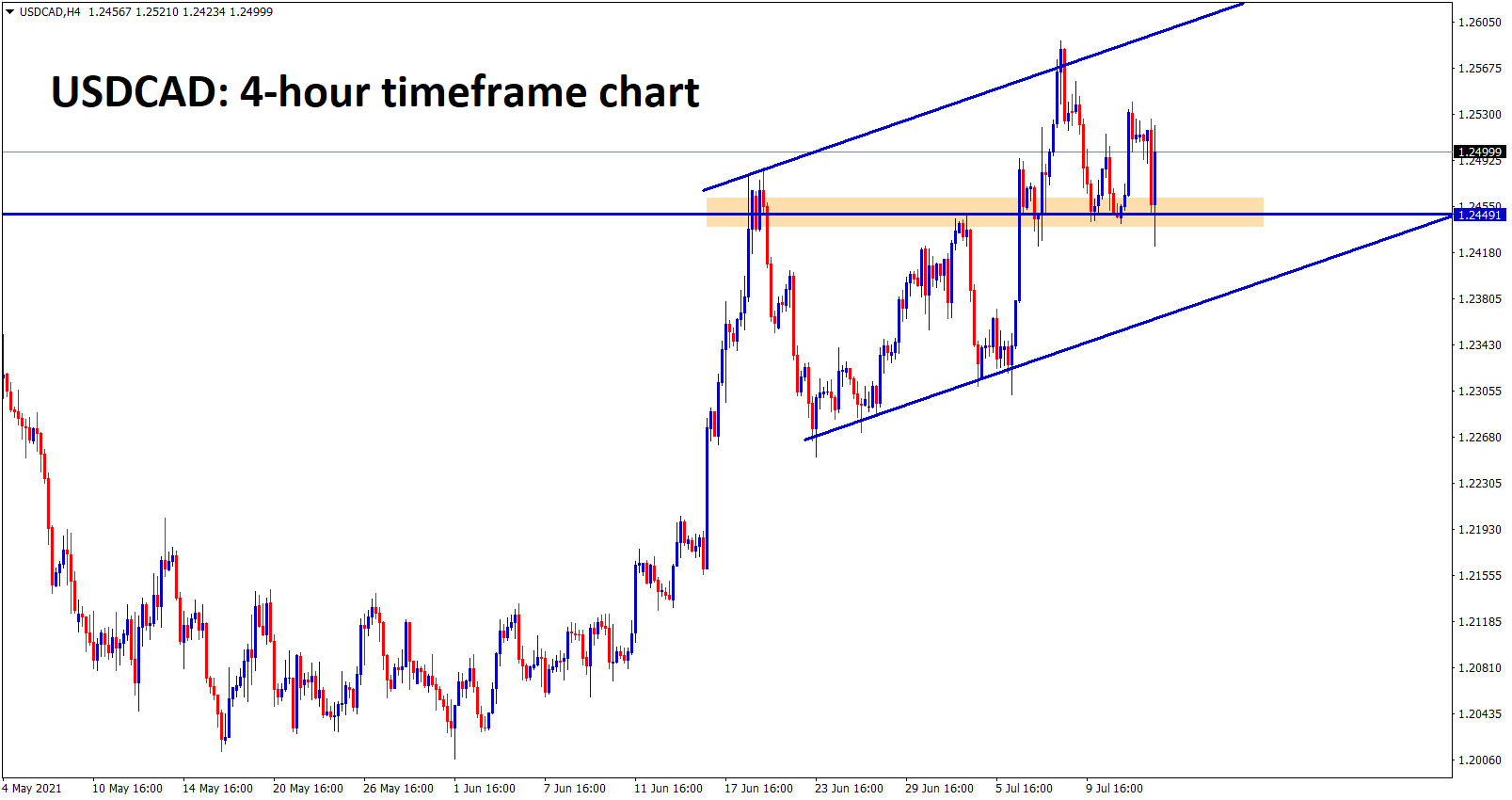 USDCHF made a breakout and retest in the Ascending channel pattern.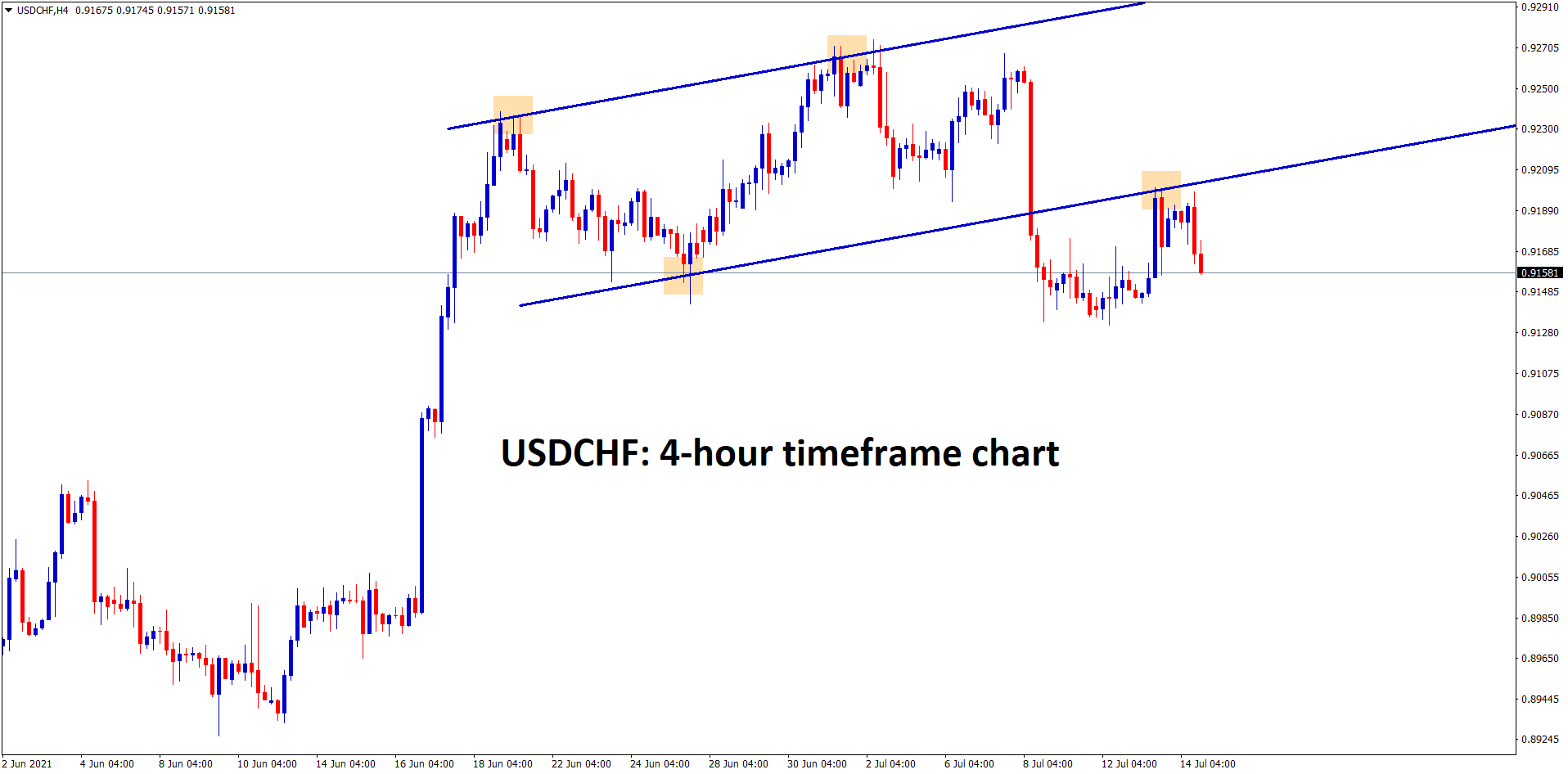 Jerome Powell conducted a Testimony meeting today; all eyes on tapering assets in US Treasury is expected.
Yesterday CPI Inflation data came at 5.4% versus 5% expected. Inflation data produces higher prices since 2008 is markable Now, more consumption on Food and Energy makes the Inflation rate higher.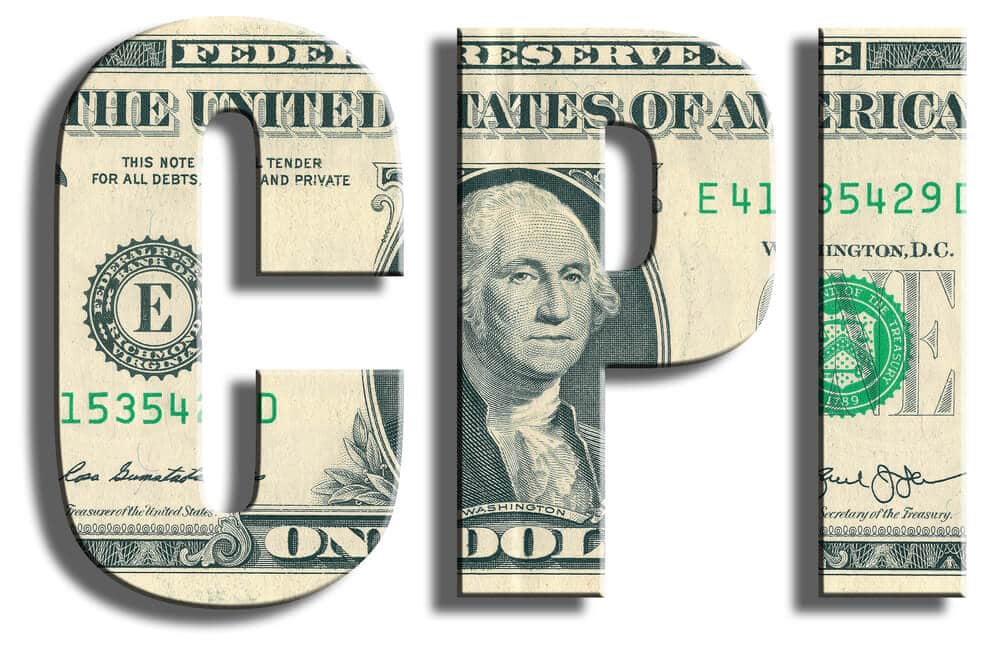 US PPI data is scheduled this week, and Now Eye on Producer Price index.US PPI data came at stable numbers than China and UK.
In coming quarters, US Dollar may dip as Profit Booking; Reason US Jerome might make changes in policy setting.
US Dollar: San Francisco Governor Speech:
San Francisco Federal Reserve President Mary Daly said Inflation rising is temporary and transitory in the current situation.
Goals of inflation to 2% target achieved in long-term prospects only. Once the Unemployment rate and Jobless numbers achieved in the target level, Then FED started to talks about tapering assets and hikes rates.
But now it is time to start tapering assets as CPI inflation data higher since 2008.
EURO: Industrial Production
EURUSD inside the symmetrical Triangle pattern.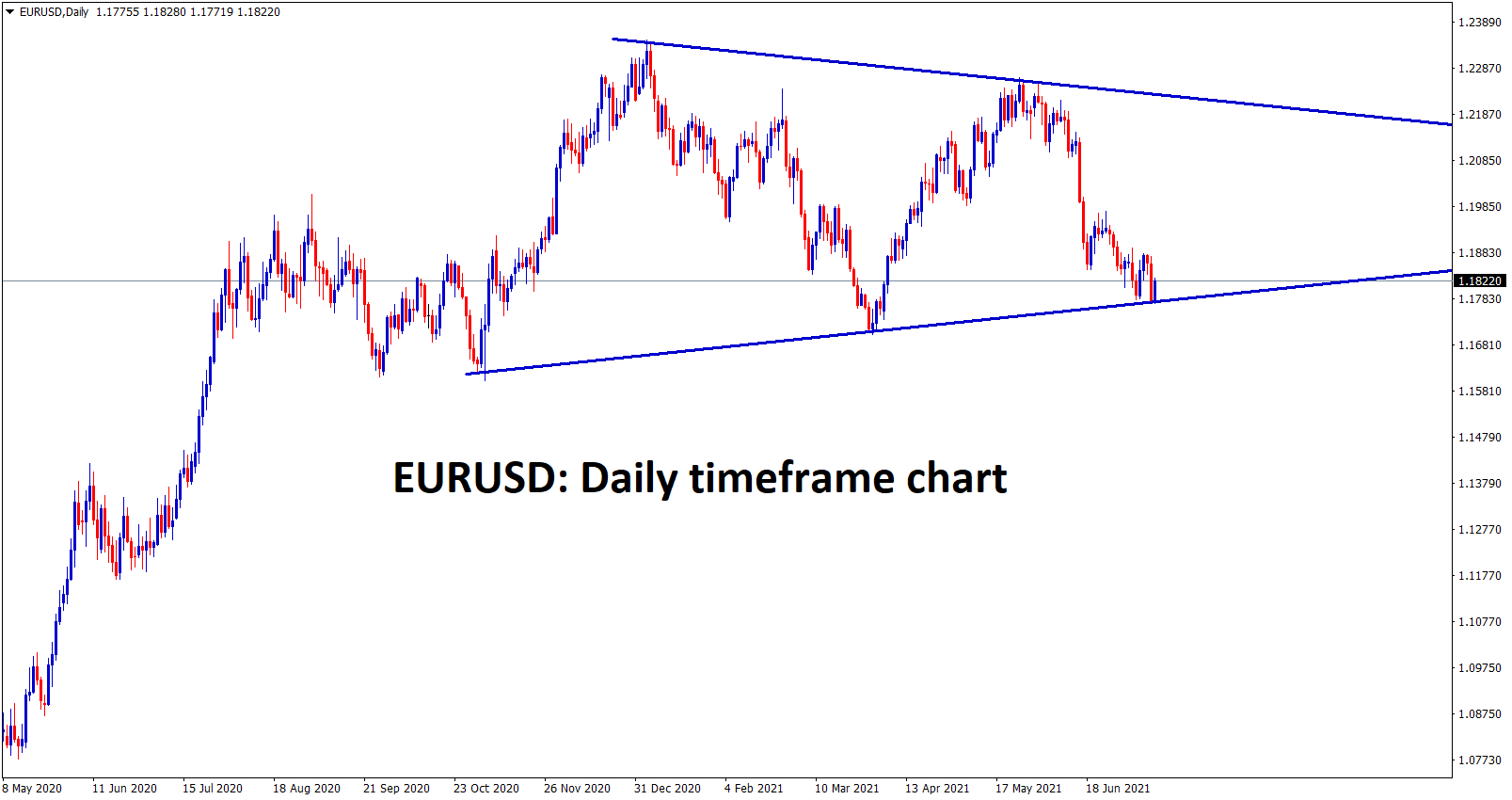 Eurozone Industrial production in Germany's downfall was -1.0% from -0.20% expected in May as the Euro statistics board revealed the report. This is the biggest drop in industrial production, and recovery in the manufacturing sector is losing its momentum.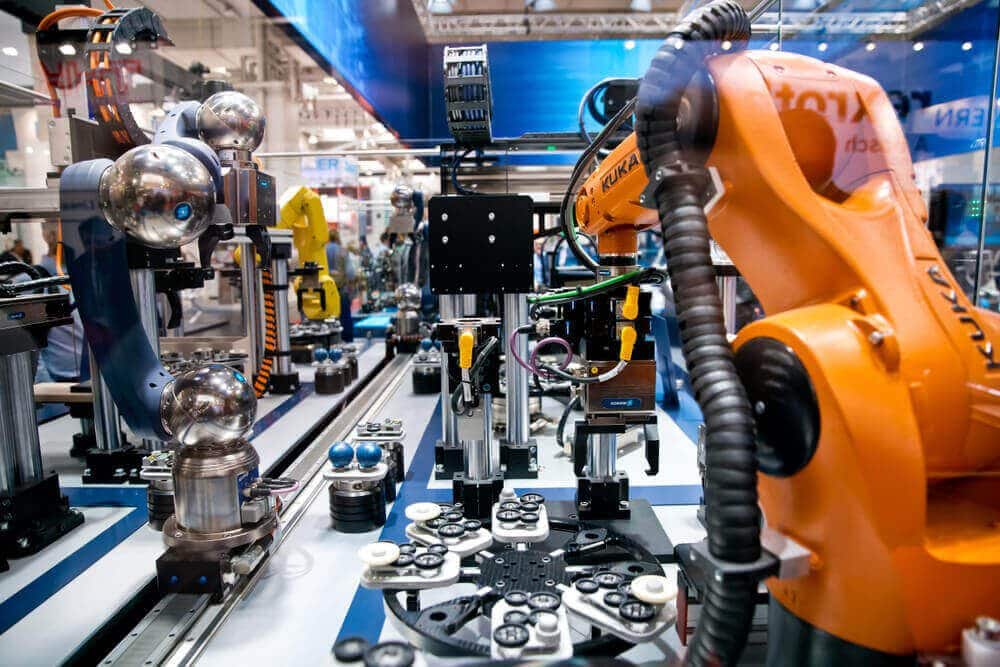 Annualized Basis industrial output jumped by 20.5% in May month versus 22.2% expected compared to April 39.4% printed.
Lower Industrial output in Germany shows a poor outlook in economic recovery; by Considering these situations slowing asset purchases is not possible in ECB and No rate hikes until 2025.
UK POUND: CPI Data
GBPCAD is consolidating at the higher highs zone, wait for the confirmation of breakout or reversal.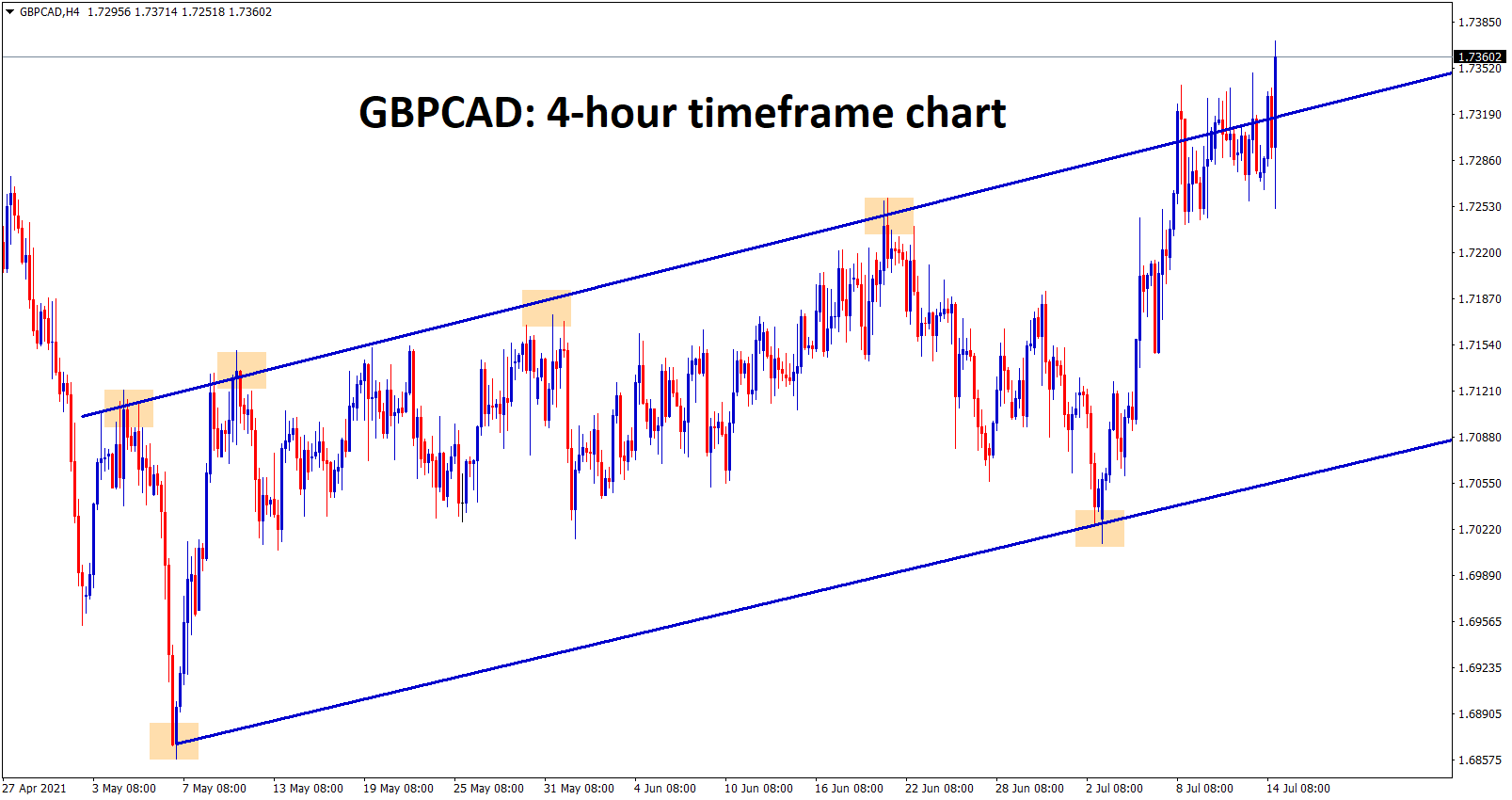 GBPNZD fall down from the strong resistance zone.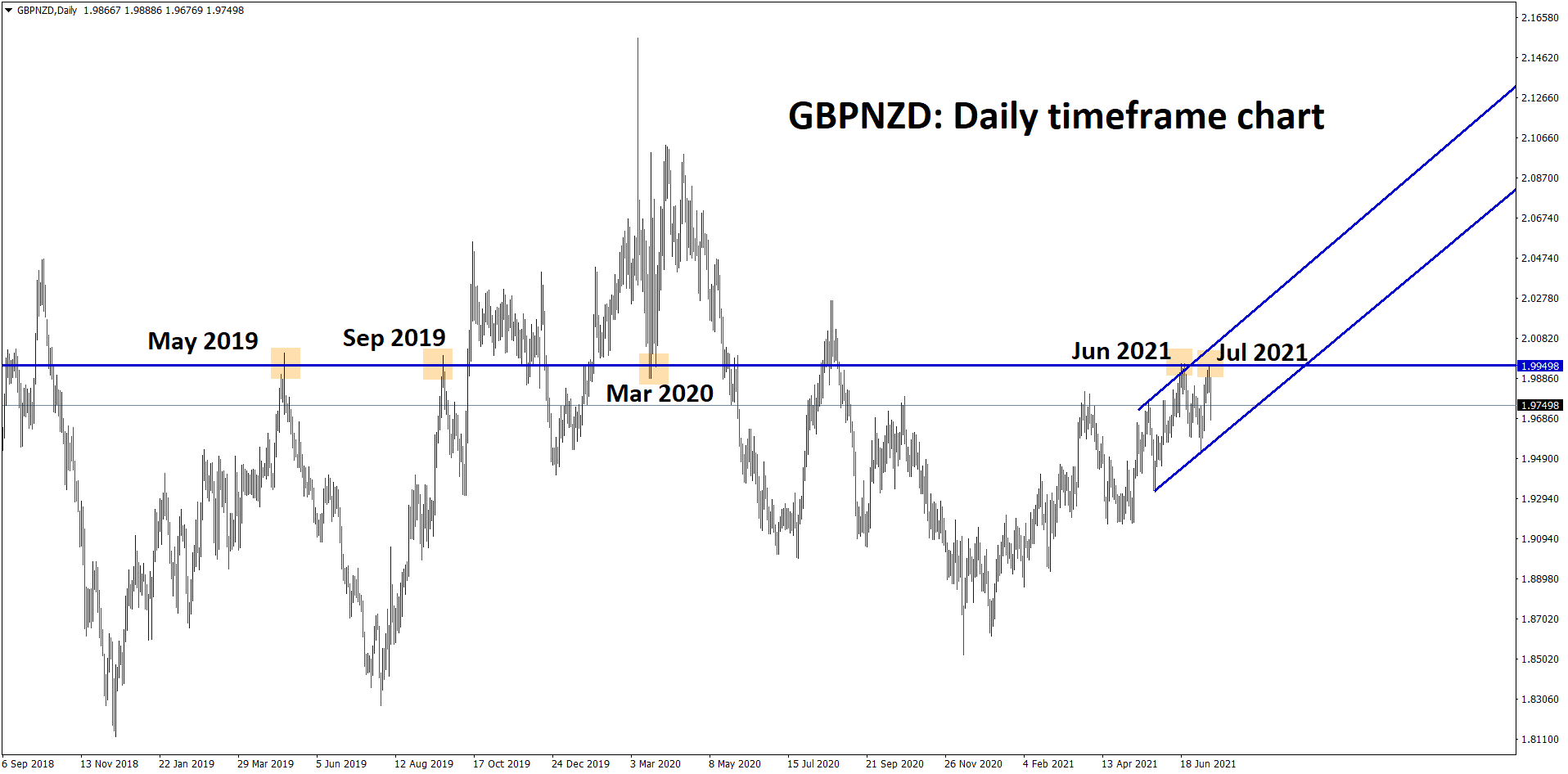 UK CPI inflation data for June Month came at 2.5% YoY versus 2.2% expected.
And inflation data may be lower in coming quarters when Producer Price index numbers get lower. If Input Costs of Production comes to lower then Output cost of Consumer end also came to low.
Bank of England goals of inflation target 2.0% reached and now eye for sustainable above 2% is monitored.
UK Pound shrugged off on yesterday US CPI data and now again go for higher mode after the UK Inflation rate came higher.
Canadian Dollar: Bank of Canada Policy meeting
EURCAD bounces back after making 75% retracement from the recent high.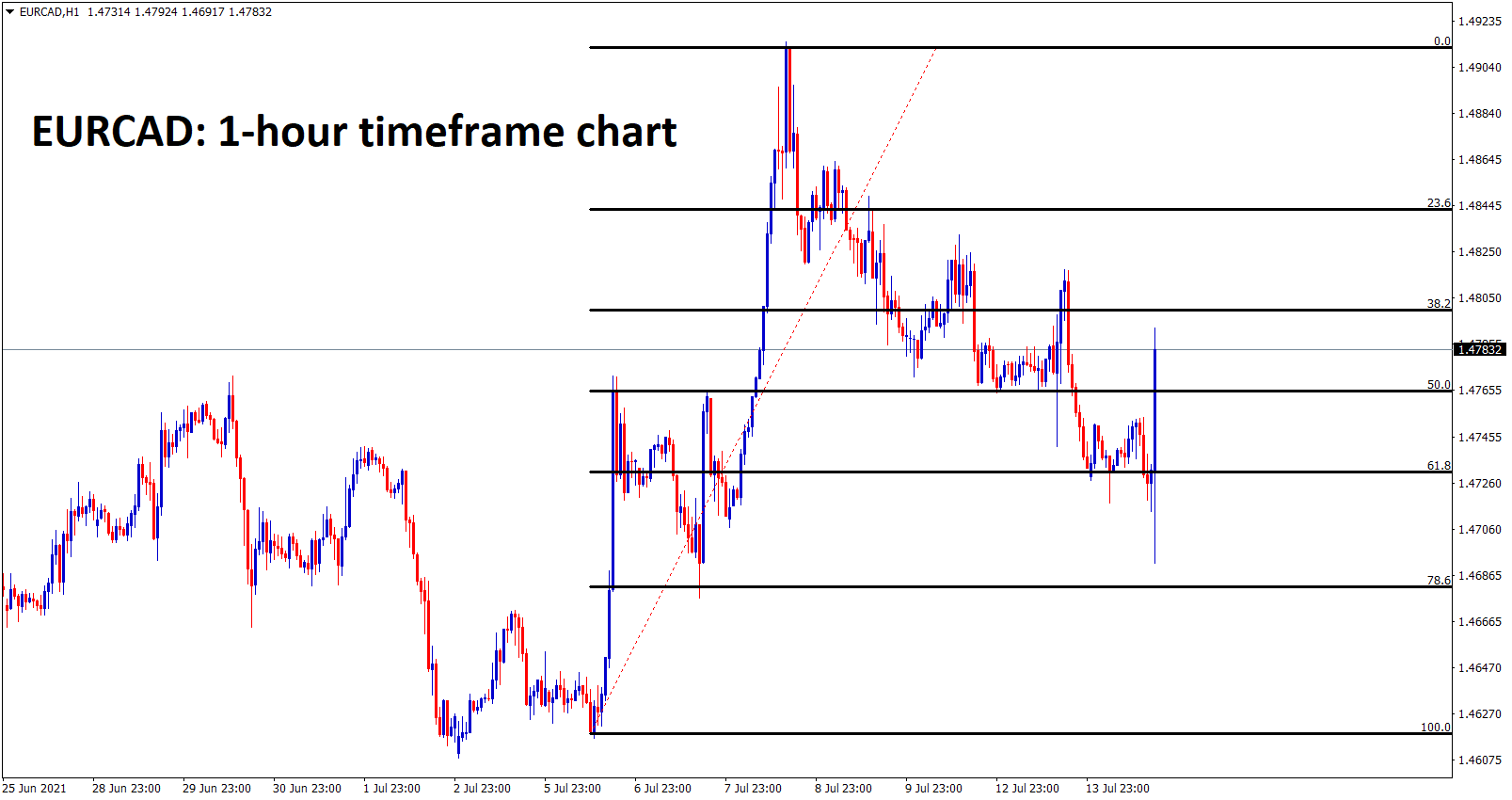 Bank of Canada Policy meeting scheduled Today evening, once more tapering assets to C$2 billion per week from $3 Billion per week in current pace.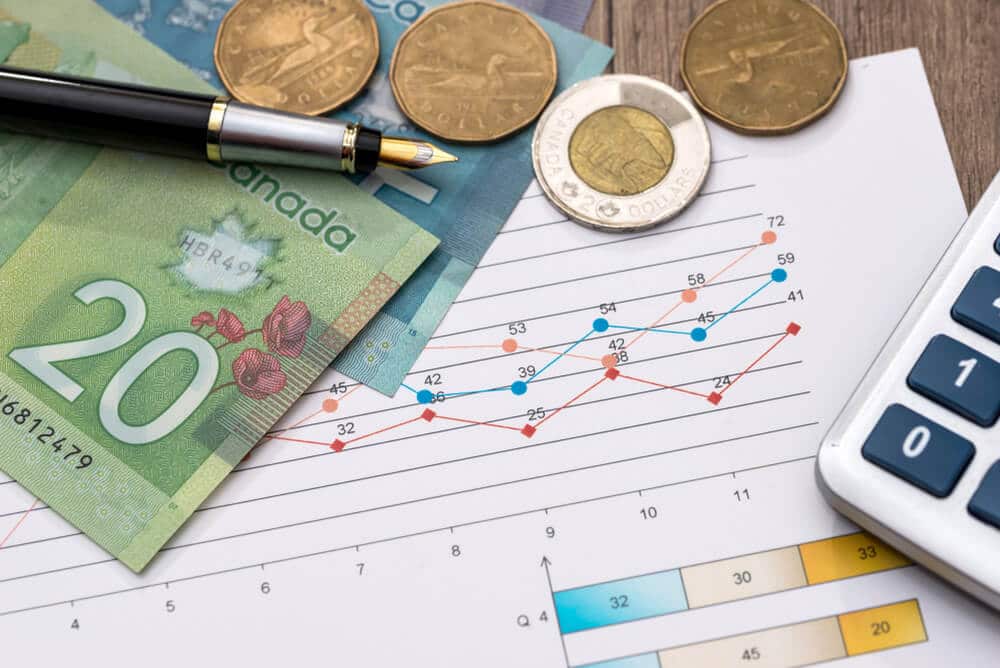 US Dollar rises as CPI inflation data for June month makes higher and Canadian Dollar much waits for Tapering assets purchases made by Bank of Canada this week.
Delta variant much lower in Canada and lockdown little impact in Canadian Domestic economy.
Once Delta Variant rises, it creates trouble for the economy, and tapering assets cannot pick up the pandemic economy.
So Bank of Canada might play an accommodative stance in the Current monetary policy meeting.
Japanese Yen: Tankan business confidence
USDJPY has broken the bottom level of the ascending channel and Retested the broken level on this week (4-hour timeframe chart).
In the smaller timeframe (30 minutes chart), USDJPY has broken the bottom level of the Ascending channel which confirms the selling pressure on USDJPY.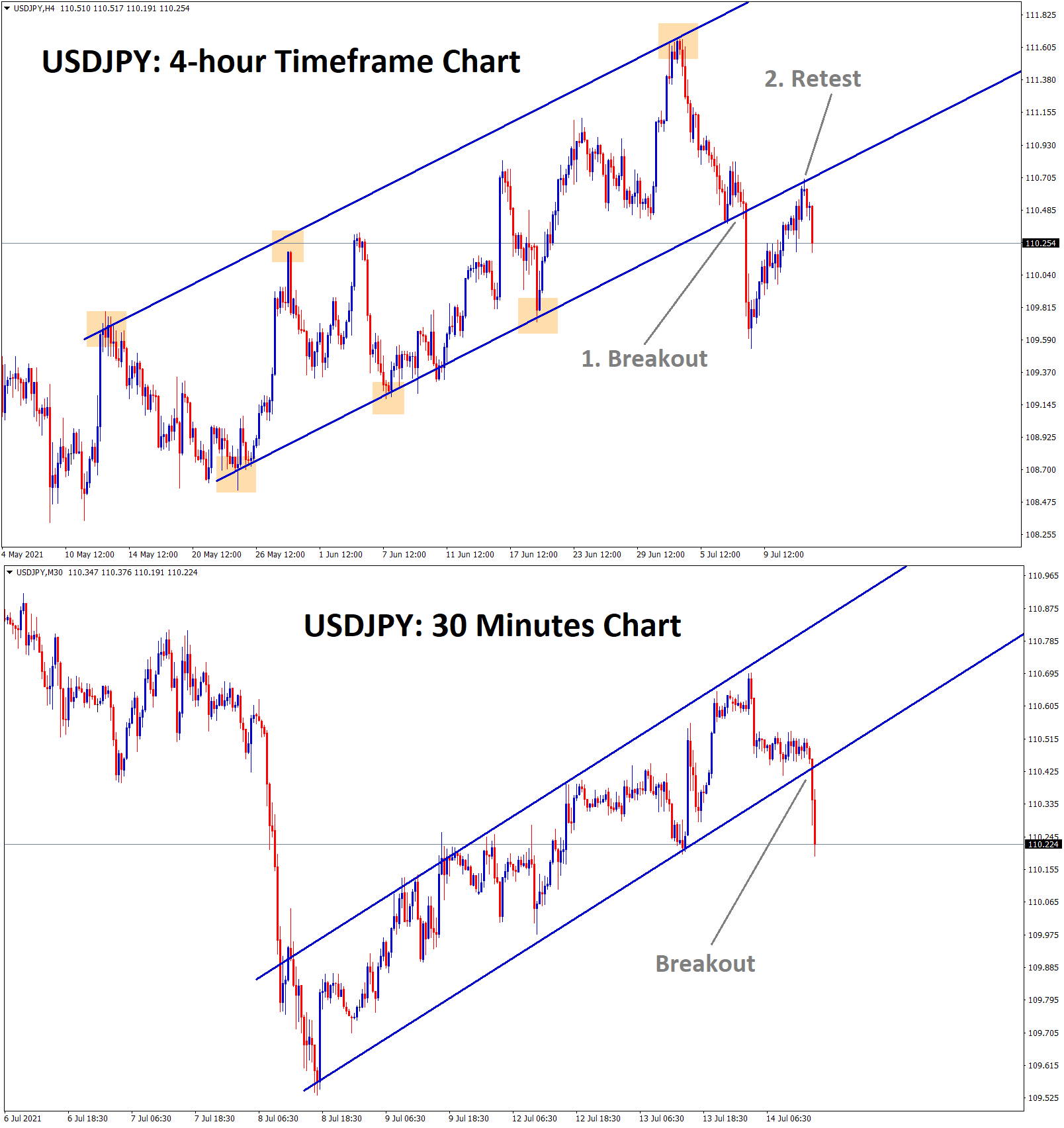 Japan's Factory data in July hit the highest since 2018, as a report showed. As per Reuters news, Tankan Poll data for the Last 2 weeks Business confidence data rose to 25 from 22; this is the highest reading since 2018.
Country export-driven in positive territory as Solid Global demand created.
The services sector diminished after the Coronavirus hits the worst in the economy and Service sectors take little bit positive moment in last 5 quarters.
Japan announce 2 weeks lockdown in Tokyo makes the worst hits to all sectors, and the economy takes more time to revive the original economy from crisis.
Wage rises to 3%
Japanese Health ministry recommended raising wages 3% or 930 Yen Per Hour, as Kyodo News agency reported on Wednesday.
Japanese Prime minister Yoshihide Suga repeatedly said his goal to raise the national average minimum wage to 1000 JPY per Hour.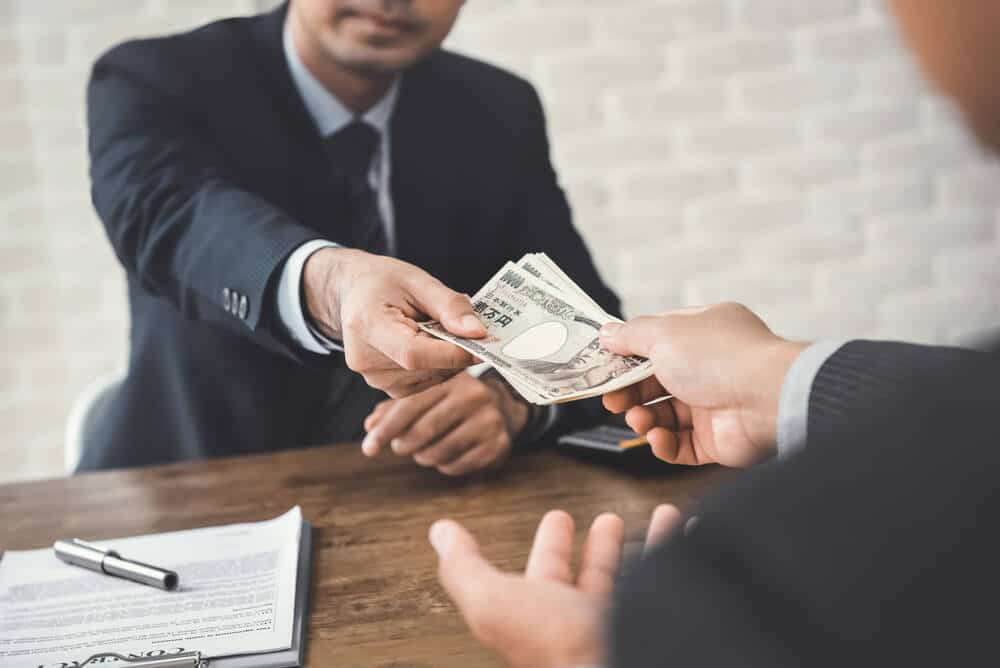 Once Crisis gets settled by the stimulus injected into the economy, the unemployment rate and inflation goal is achieved; the wage for Every people employed must be increased.
Australian Dollar: US CPI data
AUDNZD symmetrical triangle is trying to break, wait for candle close. If it breaks market will hit the lower low of descending channel.
Australian Dollar now waiting for tapering assets as, like New Zealand Government, done large scale tapering assets.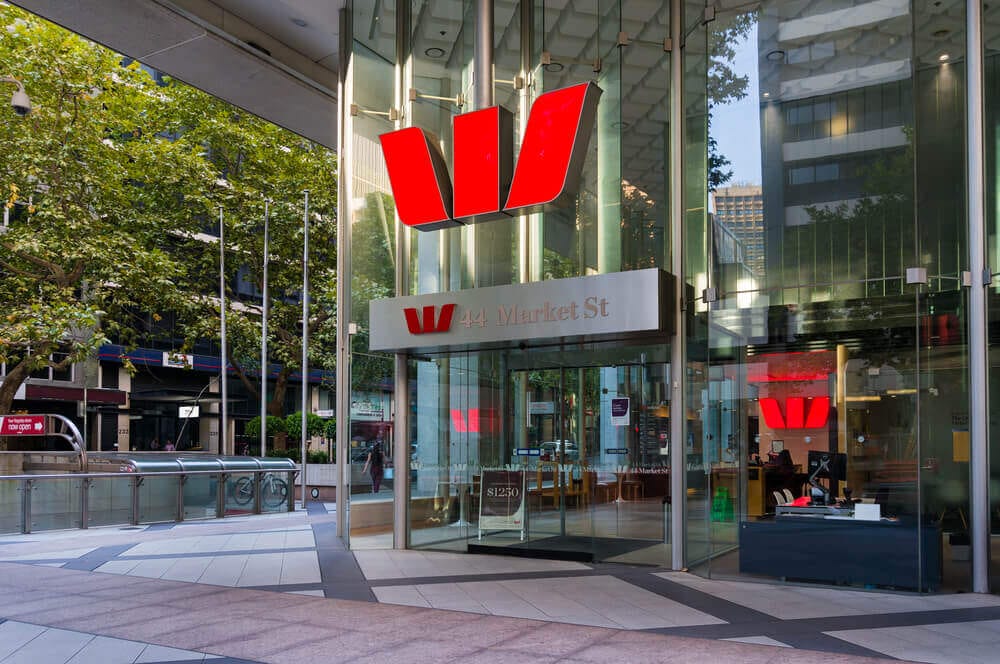 Westpac consumer confidence scheduled this week, and Now eyes turned to the June employment report.
30k Jobs added in June and Unemployment rate dropped to 5.0% is expected in July monthly meeting.
China's export over imports is slower than previous data, and China also gets struggled in the economy.
Australian Dollar now moved under ranging market-0.74-0.76 as Correction range.
AUDUSD Corrected towards lower against US Dollar after US CPI data Disappointed AUD Dollar.
New Zealand Dollar: RBNZ meeting outcome
NZDUSD bounces back due to RBNZ Interest rate decision – Newzealand dollar becomes stronger now.
Reserve Bank of New Zealand Policy meeting happened Today and Makes interest rates 0.25% unchanged.
But Large-scale asset purchases halted by July 23, as announced by RBNZ. This was made a big impact on the New Zealand Dollar to hike more. In Single Day, 0.50% to 1% movement happened in NZD pairs.
And New Zealand is the First G10 country. Central banks made tapering asset purchases to withdraw stimulus from the economy.
Once Withdrawal done economy has to recover in a normal way as before the Pandemic hits.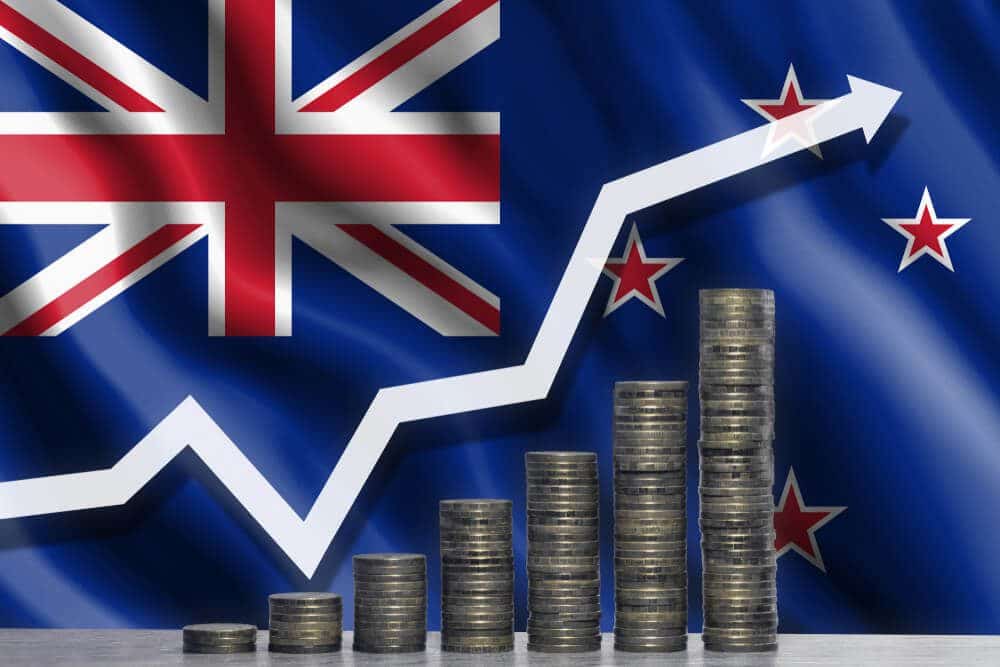 New Zealand Dollar normally at a good pace as economic data of Jobless rate and the Inflation rate is looking positive.
So, New Zealand Dollar shoots up to more against other currency pairs.