Crude H4 Time Frame Analysis Market has broken the Descending triangle pattern.
Where is Crude Oil Today
Over the course of this past week, the crude oil charts have been showing a consistent upward trend. The crude oil prices have been sharply on the rise and it looks like it has no intention of slowing down. The market even hit one of its high points at just under 108 earlier today. The main reason for this increase in crude oil prices is the shortage of demand due to losing Russia as a supplier and now, even a Libya firm has been shut down.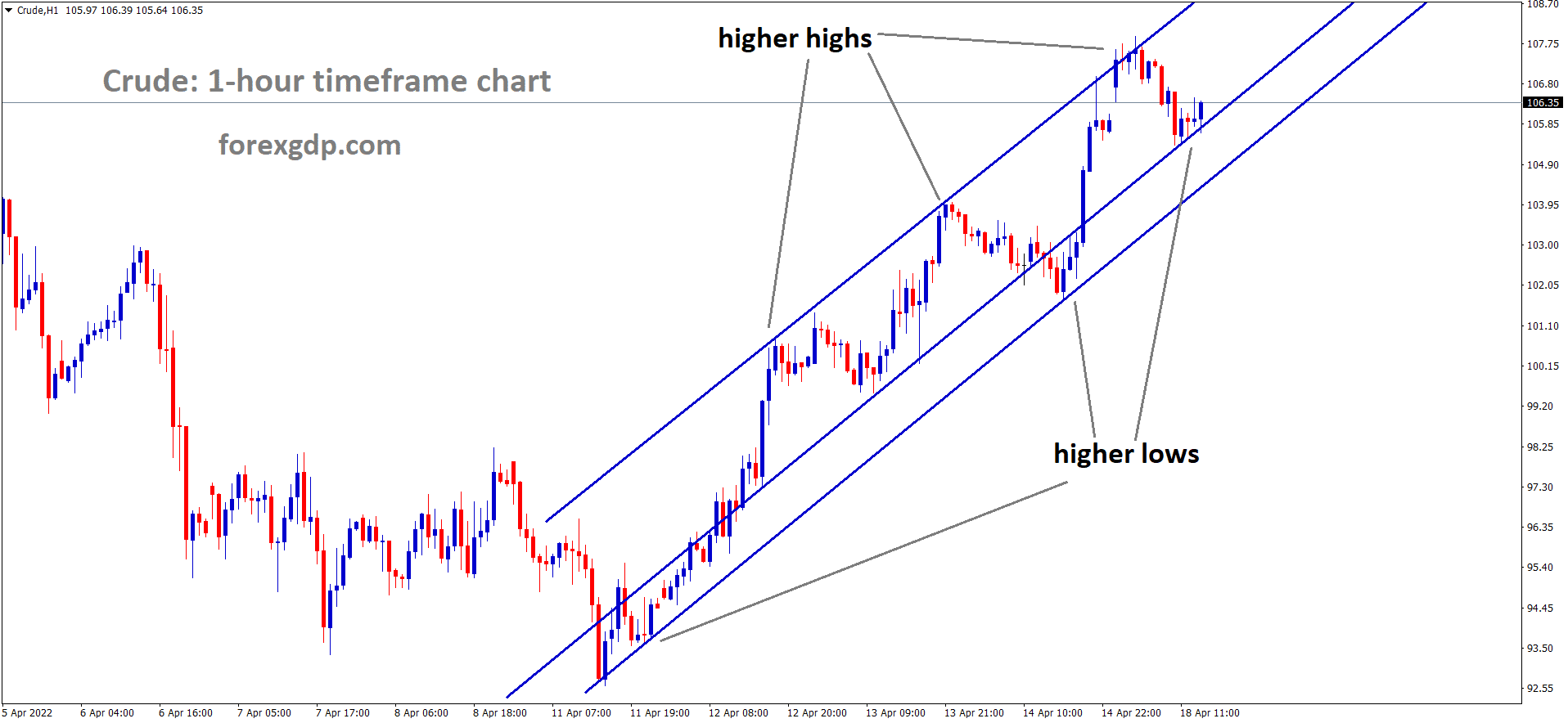 Crude H1 Time Frame Analysis Market is moving in an Ascending channel and the market has rebounded from the minor line of the Ascending channel
The US is working on making more mines to extract oil but until that happens the prices are going to be painfully high. Crude oil is currently teasing around the 106 region but it seems as though it may still continue climbing the charts till the end of the day.
US Oil Development
When Biden was running for president, one of the many promises he made to the citizens of his country was that he would bring a stop to the land development for the purpose of oil and gas production. This was said in order to gain the trust of several environmentalists in the country. Drilling into the land to extract oil and natural gas is one of the most polluting tasks ever. It releases several pollutants into the air which isn't great for the environment. Despite making a promise to never allow such a task to occur, we are witnessing reports that the US has once again begun its land development process in order to extract oil. This comes after the global supply shortage is causing oil prices to shoot through the roof. The US is hoping that this land development will help them produce more oil to meet global demands.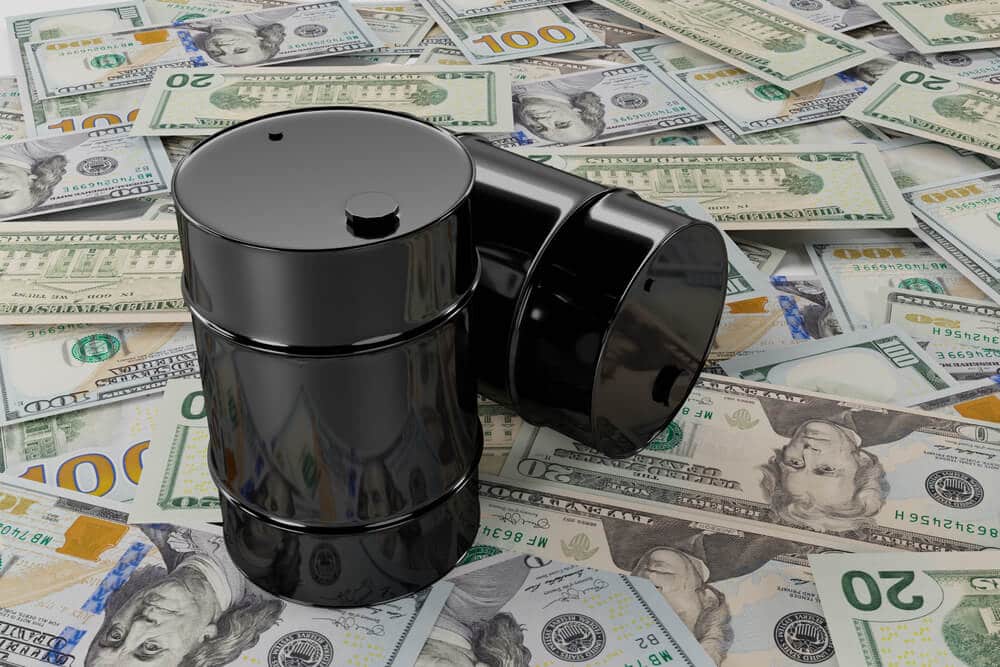 Deb Haaland, Interior Secretary, has come out in a statement regarding this ongoing ordeal. Haaland states, "How we manage our public lands and waters says everything about what we value as a nation. The move would begin to reset how and what we consider to be the highest and best use of Americans' resources for the benefit of all current and future generations." Randi Spivak, Public Lands Director for Investing, is not happy about the current situation. He states, "The Biden administration's claim that it must hold these lease sales is pure fiction and a reckless failure of climate leadership. It's as if they're ignoring the horror of firestorms, floods, and megadroughts, and accepting climate catastrophes as business as usual." Anne Bradbury, Head of the American Exploration & Production Council also reveals, "To really unleash American energy, the Biden Administration should continue to hold ongoing lease sales pursuant to the Mineral Leasing Act, issue permits more expeditiously, and provide consistent regulatory certainty."
Green France
France is currently in election season and it is currently a very tight call between either the current president, Emmanuel Macron, and his opponent, Marine Le Pen. In order to bring more voters towards his side, Macron is now claiming that once he's reelected, he's going to make France the first green country in the world. He plans on doing this by completely stopping the use of coal, oil, and natural gas in the country. He is now becoming more environmentally conscious in order to gain the votes of the younger crowd who are very eco-friendly and care much for the environment. The feasibility of this is questionable since much of everyday tasks involve the use of these energy sources.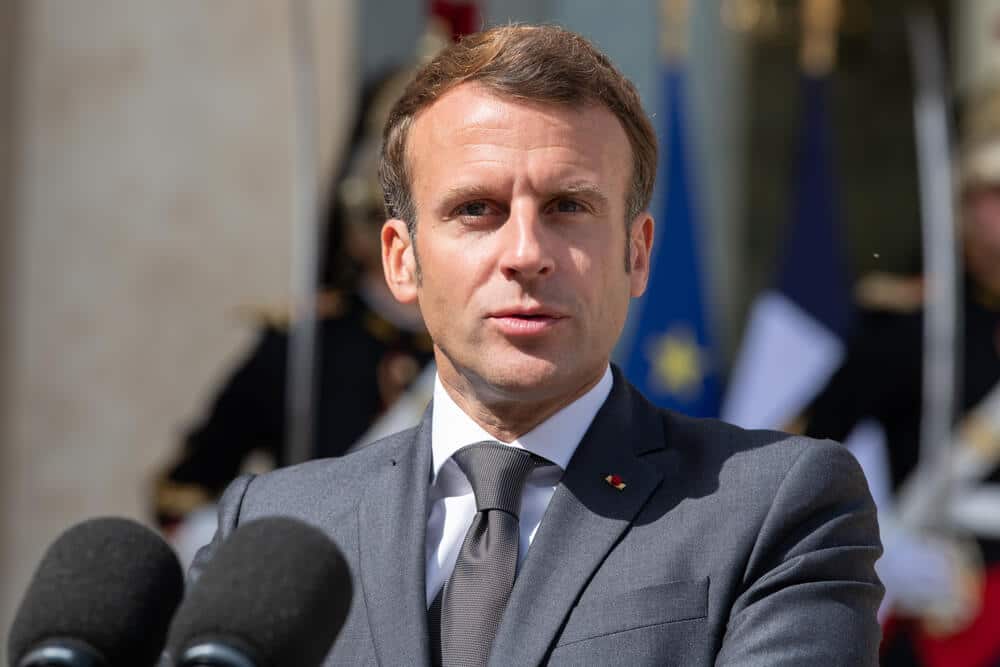 In his speech, Macron states, "I have heard the anxiety amongst our young people. This prime minister's mission will be to make France the first great nation to exit gas, oil, and coal. It's possible, and we'll do it. Between coal and gas on one hand and nuclear on the other, I choose nuclear. I want to create a national day of nature in May every year. Le Pen is a climate skeptic who will only work against the nature of the environment. She will bring the country into a much more polluted state." Voters who are opposed to this candidate have stated, "I think that's a mistake. I can understand that not everything suits him. But we forget what's on the other side: a camp that's extreme, with very negative values, and that's not the France I want for tomorrow."
Libya Oil Firm Closure
Over the weekend, it was revealed that one of Libya's oil firms had faced a forced closure after a group of extremists entered the firm and forced all activities to shut down. This was not the first time this has happened as they did the exact same thing a couple of weeks ago. This has severely disrupted the country's production of crude oil which was previously about 1.2 million barrels a day. Due to this reduction in the oil supply, crude oil prices have skyrocketed. The demand for this valuable energy resource was already not being fulfilled and now it is going to be even harder to meet the demands.
The National Oil Corporation of Libya had come out in a statement revealing the details of this incident. They state, "On Saturday, April 16, 2022, at 18:30, the Al-Feel field was subjected to arbitrary closure attempts, due to the entry of a group of individuals and the prevention of the field's workers from continuing production, which was totally shut down on Sunday, April 17, 2022, making it impossible for the NOC to implement its contractual obligations. The NOC regrets the situation and demands that the language of reason and wisdom prevail and to keep the oil sector away from conflicts, in order to preserve the remaining dilapidated infrastructure, due to the consequences of arbitrary closures and the scarcity of budgets over the previous years."
Oil Demand In China
Oil investors are becoming slightly concerned as the oil demand has been consistently dropping in China. This is causing the crude oil prices to face slight declines for the first time in quite a while. The main reason behind this fall in demand in China is that they have reimplemented the lockdown around the entire nation due to the surge in COVID-19 cases. Due to the lockdown, citizens are not traveling as much so fuel isn't being used. Businesses are also in closure so they aren't using any energy resources either. This has caused the oil demand in China to drop temporarily. Satoru Yoshida, an Analyst at Rakuten Securities has even stated, "Some Asian investors booked profits as they became worried about slowing demand in China."