EURAUD Support Zone Analysis
In 4 hour chart, EURAUD hits the strong support zone after a long time of 4 months.
In 30 minutes chart, EURAUD is forming higher highs higher lows.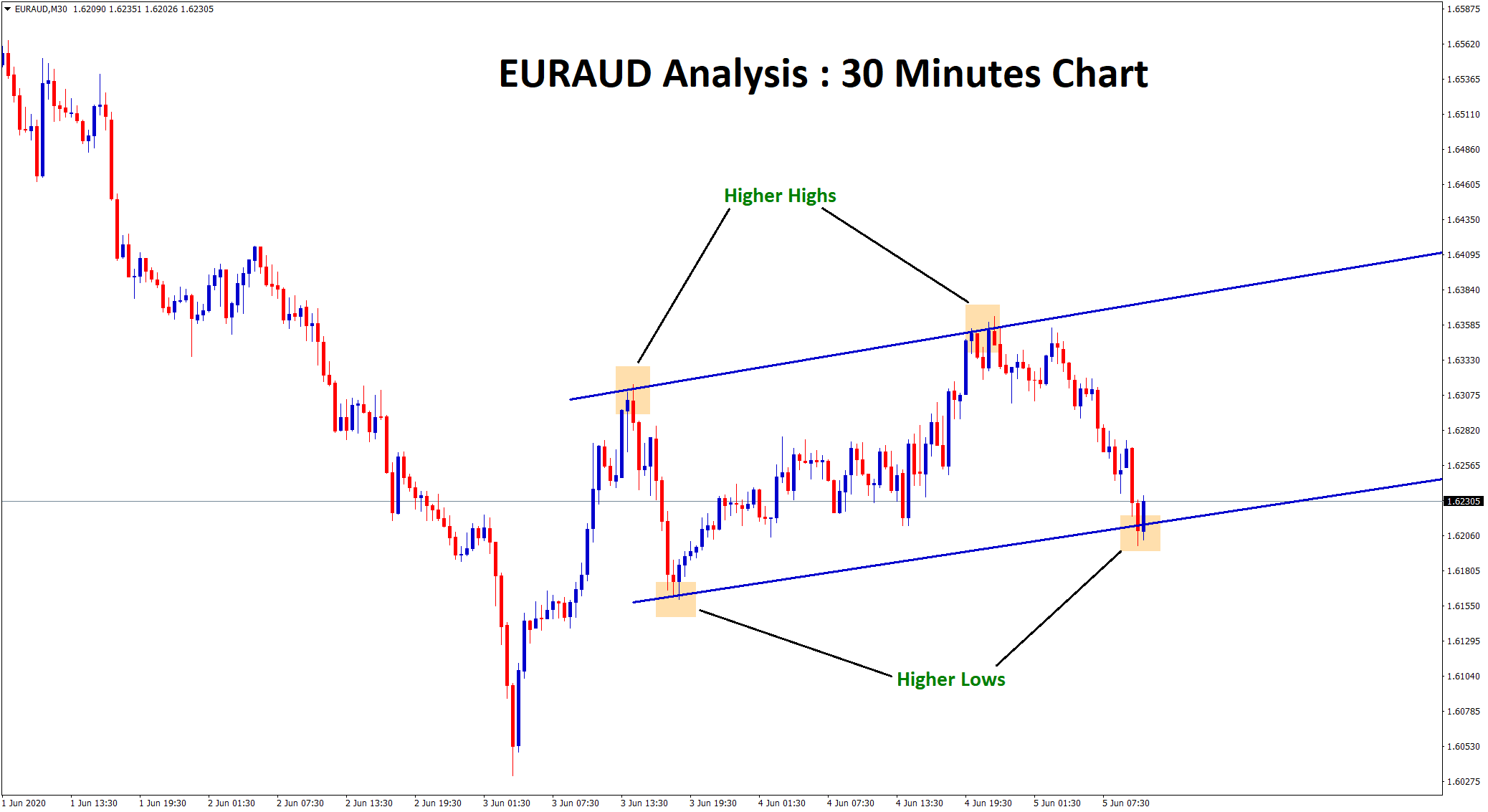 Yesterday ECB pandemic emergency funds of  €600 Billion EURO allocated which makes EUR currency more stronger. 
EURUSD reached the high of 1.1360
After the Symmetrical Triangle breakout, EURUSD Went up +5000 Points in short time.
EURJPY reached the high of 124.00
EURGBP surge up to 0.9000 from the support zone (check EURGBP Analysis)
Yesterday, ECB clearly announced the purchasing continue till June 2021, deflation fear increases because this year expecting output decline of 8.7%
The ECB aggressive decision of stimulus package came after German announced large package of €130 Billion Euro to Economy, Europe economy supposed to shrink by 7.1% in 2021, factory output orders plunged by 25.8% worst reading in April according to central bank report.
According to MAY month report lose of eight million jobs in US is worst scenario with unemployment rate of 20%
Wage growth is high due to many low earning candidates lost their jobs, 40% of earning below $40k as commented by FED.
Today we can see a better payroll number than worse expected in April, due to economy reopening.
If EURUSD falls, it's another good Buying opportunity for the investors.
As you know from our previous updates Since from 1978, EURUSD moving in an Uptrend. EURUSD is standing now at the bottom level of Ascending Channel in Monthly Chart. 
Check EURUSD Historical Analysis for seeing the full picture of EURUSD.
If you like to receive the best forex signals at good trade setup, you can Try free forex signals. (or) if you need additional important trade signals with high accuracy, Join now in Supreme or Premium forex signals plan.
If you want to learn trading from 20+ years expert traders, Join forex trading course online now.
Thank you.