EURUSD This Past Week
EURUSD has been the most discussed major forex pair these past few months. Credit for this popularity has to be given to the recent major world crisis occurring in Europe between Russia and Ukraine. It also has to be given to the several meetings and speeches being held by the U.S. officials in regards to the growing inflation crisis in the country. These are just some, among many, recent developments which have been causing this major currency pair to take the brunt of the impact. Although we can only hope for stability, it is highly unlikely to occur any time soon considering the circumstances that the economy is battling at the moment.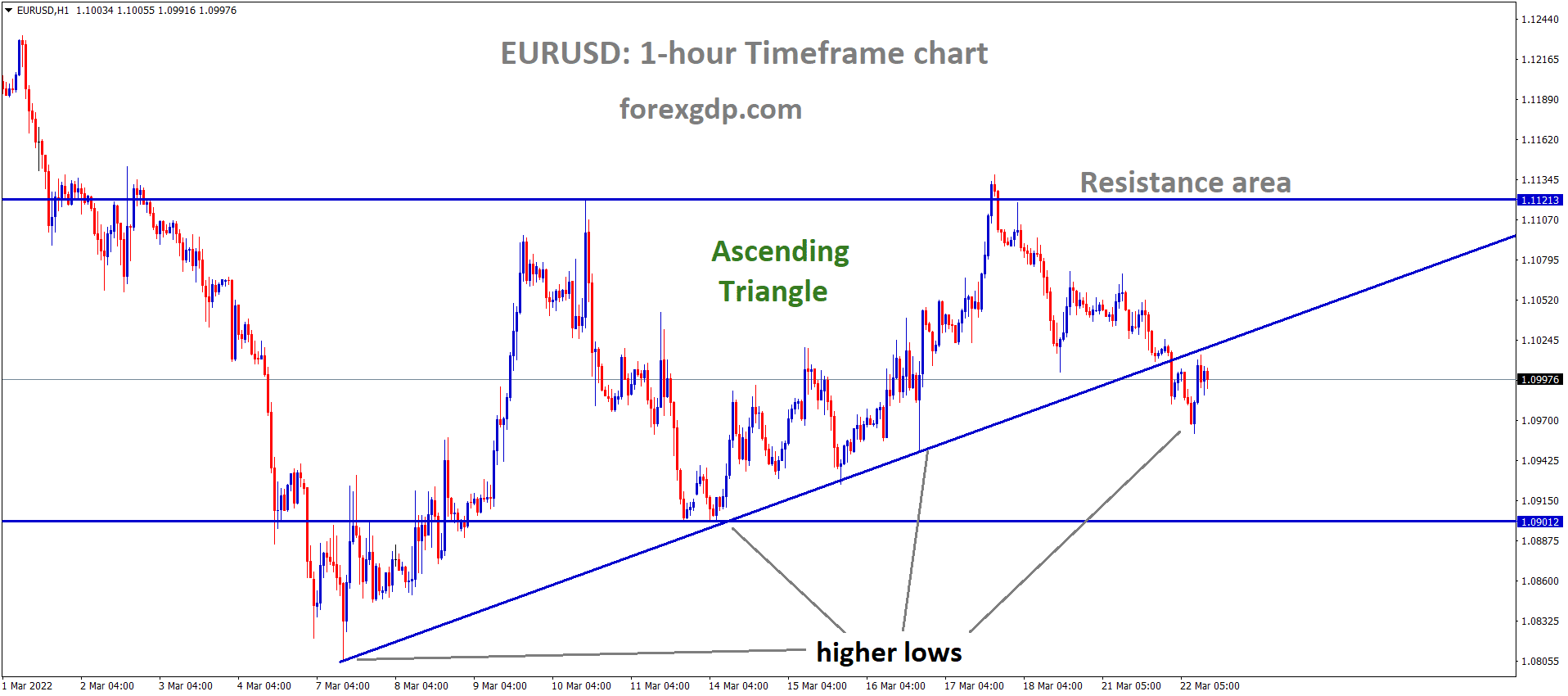 There were quite a few fluctuations being seen in the weekly chart for EURUSD for this past week. This currency is highly unstable. There's always something tugging at it from every corner. When you think this unstable currency is descending, it will only stab you in the back and perform an upwards trend instead. This is exactly what can be seen in the EURUSD charts for this past week. The only major uptrend was seen after Ukraine and Russia held a peace meeting which turned out to be unsuccessful as they couldn't reach a mutual agreement. It was only downhill from there with slight attempts to rise above the waters.
Russia's Diplomacy
These past few weeks, Russia has been really struggling to keep its economy under control considering the large number of sanctions placed on them by the international community. Russia had previously been following a more military approach towards trying to attack and occupy Ukraine. They had an offensive strategy and were consistently bombing the capital of Ukraine, Kyiv. This did not sit well with most of the rest of the world who upon finding out of these events, they had immediately put a strike on the use of Russian products and services. Their main goal by doing so was to hurt the Russian economy to a point where they'll have to put an end to the war in order to bring their economy out of hot waters.
One of the ways Russia responded to these sanctions was that they had started to instead hold peace talks in order to solve matters more diplomatically. They wanted to show the international community that they've changed their strategy so that they may be relieved of some sanctions. Russia presented Ukraine with a 15-point peace treaty in order to end the war but this was refused due to not being on the grounds of neutrality. Russia then demanded control of their port city, Mariupol in exchange for an end to the war. This was also refused.
Ukrainian President, Volodymyr Zelenskyy, later came out in a statement saying, "Late Monday was prepared to discuss a commitment from Ukraine not to seek NATO membership in exchange for a cease-fire, the withdrawal of Russian troops and a guarantee of Ukraine security. It's a compromise for everyone: for the West which doesn't know what to do with us with regard to NATO, for Ukraine which once security guarantees and for Russia, which doesn't want to further NATO expansion. Kyiv will be ready to discuss the status of Crimea and the Eastern Donbass region held by Russian-backed separatists after a cease-fire and steps toward providing security guarantees."
Feds Hawkish Outlook
Early on Tuesday, the Feds Chairman, Jerome Powell, came out in a speech where he was discussing the short-term monetary plans for the country. These plans are crucial in determining which direction the market would be headed towards this week. According to Powell, in order to properly combat the inflation crisis in the country once and for all, the interest rates would need to be raised greater than ever before. If we look at the pattern of interest rate hikes previously, the Feds have only ever really raised them by 0.25%. This time, Powell wants us to expect an increase of at least 0.50%. He believes without this huge increase, there is no way that inflation would come under control, especially not with the current crisis occurring in Europe.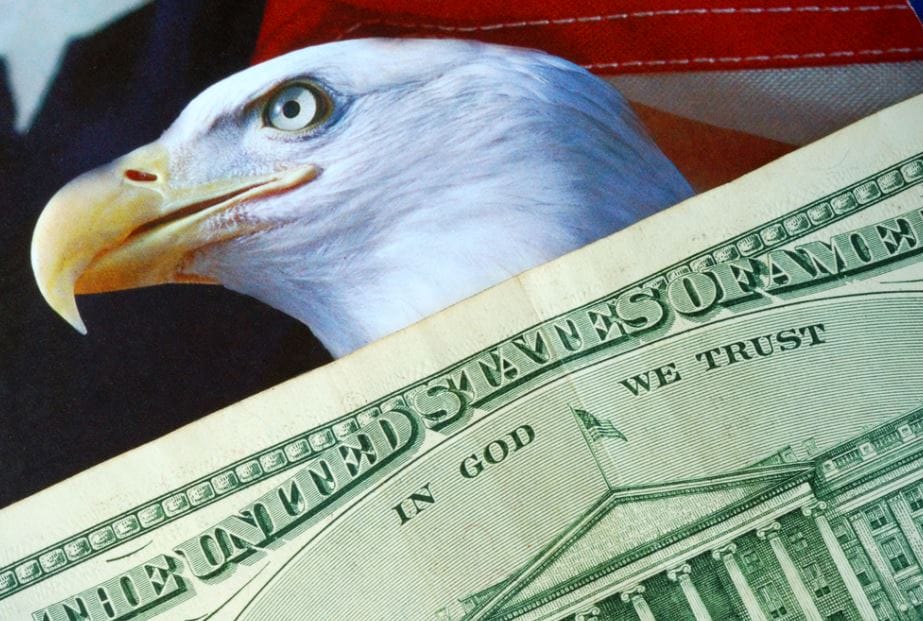 Jerome Powell narrated in his speech, "It continues to seem likely that hoped-for supply-side healing will come over time as the world ultimately settles into some new normal, but the timing and scope of that relief are highly uncertain. In the meantime, as we set policy, we will be looking to actual progress on these issues and not assuming significant near-term supply-side relief." Powell further adds, "We will take the necessary steps to ensure a return to price stability. In particular, if we conclude that it is appropriate to move more aggressively by raising the federal funds rate by more than 25 basis points at a meeting or meetings, we will do so. And if we determine that we need to tighten beyond common measures of neutral and into a more restrictive stance, we will do that as well."
EURUSD Today
If we take a look at the EURUSD chart today, it is struggling to hold above the 1.099 mark. It would stand itself back up but end up falling down the charts once again. It only makes sense that this major currency pair is being tugged at from both ends which is why it is showing the price movements currently displayed in the charts.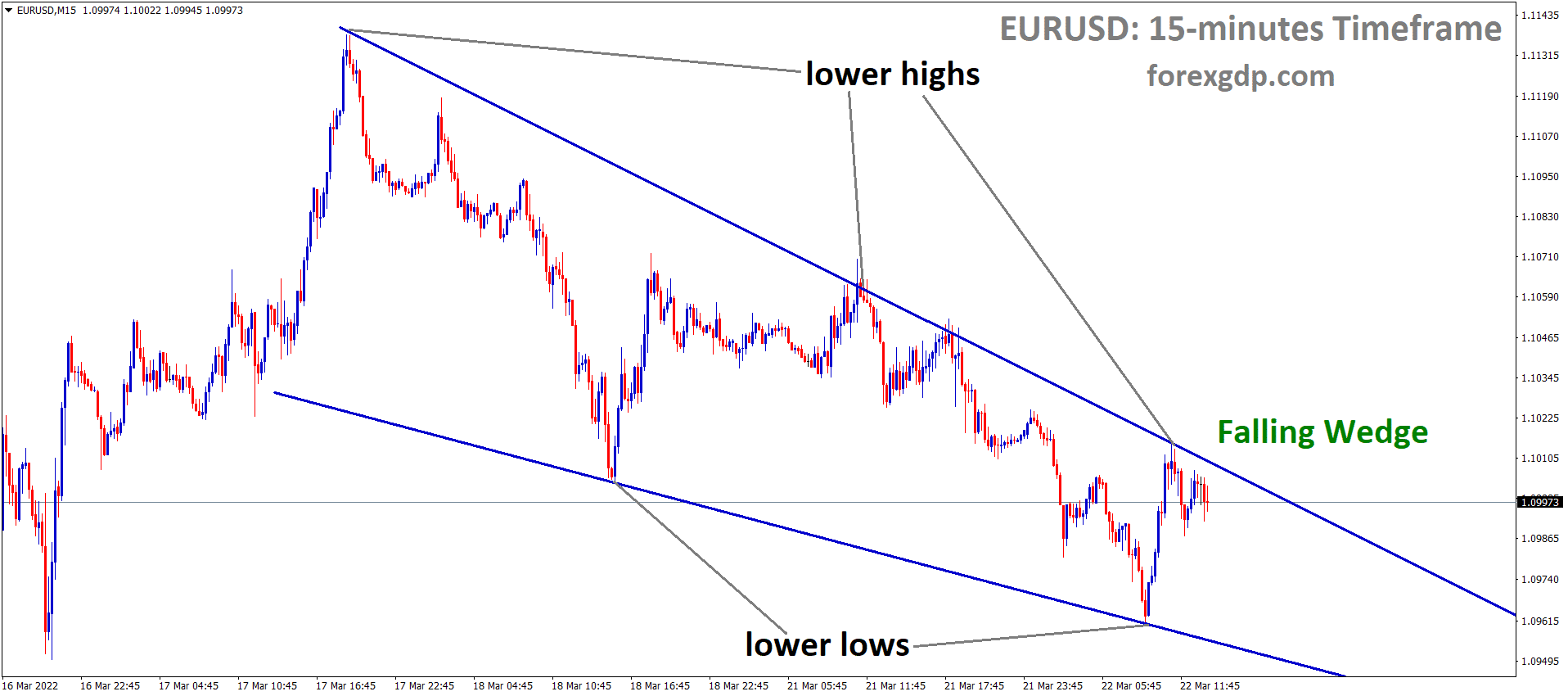 The European crisis which is now trying to be solved diplomatically has caused this pair to stand back up against the market. However, the increase in dollar value following the Feds speech is pushing it back under the waters. We can't know for sure yet which side is going to win in taking over this popular currency pair but it is only a matter of time before this pair either drops or shoots back up.
Upcoming Important Events
Right now the only major event we need to look forward to which is coming up later today is the speech by ECB's President, Christine Lagarde. She will be discussing monetary policy changes which is crucial in determining the direction of the forex markets in the short-term.