GBPUSD Market has rebounded from the higher low area of the Ascending channel.
GBPUSD This Past Week
This past week has been pretty hectic for this major currency pair as it has seen both the highs of the charts as well as the lows. Looking at the weekly view for GBPUSD, we can observe that it has been trying to follow an ascending pattern but keeps on failing the following day. This currency has been highly unstable and hard to read due to the constant policy changes and updates that it has been having to face around it. On Tuesday was when it was at its highest mark, teasing around the 1.329 region. This came following the release of the Feds speech on stagflation, as well as the peace conference held between Russia and Ukraine.
UK'S PMI Report Results
The UK's PMI data was released just moments ago which showed some mixed results. The UK Services PMI came out to be 61. This is greater than the expected 58. However, the UK Manufacturing PMI came out to be 55.5. This is dangerously low and was lower than the expected 57. Overall, the Composite PMI turned out to be 59.7 which is greater than the expected 58.7. The low levels in the manufacturing sector and high levels in the service sector have caused the GBPUSD market to show mixed reactions to these results.
Chris Williamson, Chief Business Economist at S&P Global, had a few thoughts on these numbers. Williamson states, "The UK PMI surveys indicated a sustained robust pace of expansion in March as the further reopening of the economy from COVID-19 containment measures helped offset headwinds from the Ukraine war, Brexit, and rising prices. However, the outlook darkened as concerns over Russia's invasion exacerbated existing worries over soaring prices, supply chains, and slowing economic growth. Business expectations are now at their lowest for almost one and a half years, pointing to a marked slowing in the pace of economic growth in coming months."
FEDS Powell On Stagflation
Feds Chairman, Jerome Powell, held a speech on Tuesday where he discussed the monetary changes they plan on executing in order to bring inflation under control. Powell gave hints towards a possible 0.5% increase in interest rates during the next term instead of the usual 0.25%.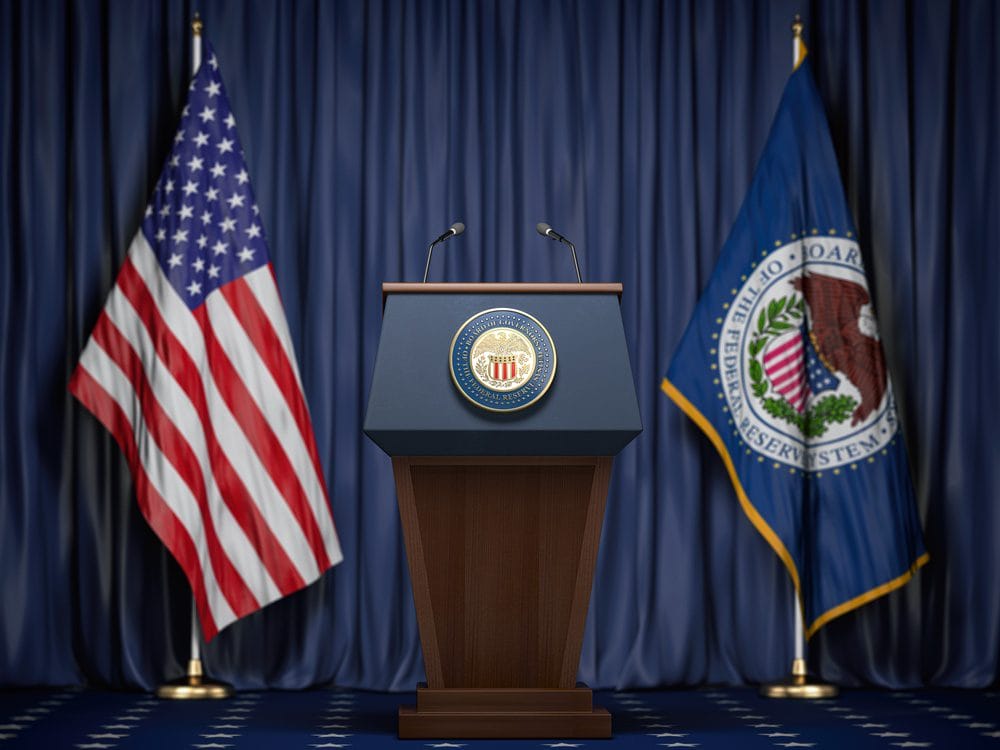 He believes the economy is currently in a major stagflation situation where the inflation rate is increasing but the economy is slowing down. He believes in order to combat this crisis, they would have to double down on interest rates once and for all. This is the only way to stay one step ahead of the inflation crisis. This speech was a major factor towards bringing the dollar rate back on track after it had been facing a couple of weeks battling support.
BIC Powell And Bailey Speech
Feds Chairman, Jerome Powell, and BOE Governor, Andrew Bailey were both panelists at the BIC International Summit held on Tuesday. They were part of the same team and were there to discuss "Emerging challenges for central bank governors in a digital world". Having these two industry leaders hold a public discussion among each other is huge for the financial space. It combined two great minds and therefore brings great opportunities for more knowledge.
Andrew Bailey had some great points during his speech at the conference. Bailey states, "While the Bank's public objectives of safeguarding public interest remain unchanging, it also needs to understand how new technology may affect those objectives. We're devoting a lot of time to understanding the consequences not because we reject them, but we need to understand what they mean for our public policy objectives."
Jerome Powell also spoke on this issue in hand by stating, "Our existing regulatory frameworks were not built with a digital world in mind. Central Bank Digital Currencies and Defi more generally will require changes to existing laws and regulation or even entirely new rules and frameworks, under the principle of the same activity, same regulation."
Rishi Sunak On Tax Cuts
UK's Chancellor of the Exchequer, Rishi Sunak, is under hot waters once again after his speech on tax cuts held early on Thursday. Sunak tried to sympathize with the lower and middle class in his speech where he narrated how he understands how difficult the recent monetary policies must've been for them.
Throughout his speech, he kept mentioning the situation in Russia and Ukraine and it quickly became evident that he was going to put the entire blame of the falling economy on someone else. Sunak claimed that he was going to cut the fuel prices by 5p a liter for one year. However, no one takes him seriously anymore given his track record of false promises which he hasn't been able to fulfill. He further promised £500m to help the lower class households but the citizens aren't willing to trust him until he shows some actual results.
GBPUSD Today
After reviewing different events like the ones we just went over above, it is clear that this major currency pair has a lot on its plate and that it is definitely bound to be facing some instability. GBPUSD is currently teasing around the 1.319 mark as it struggles to stay above 1.320.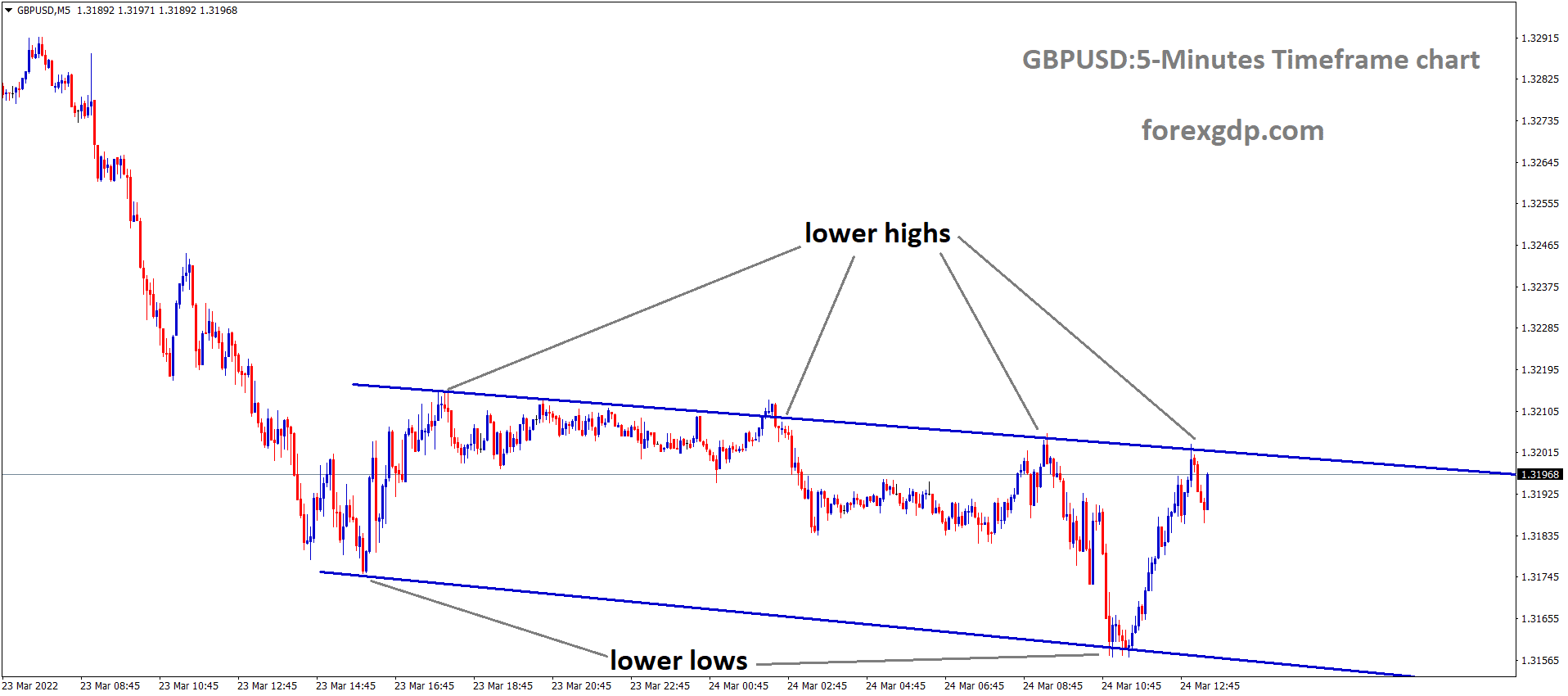 GBPUSD  Market has fallen from the Lower high area of the Descending channel.
The mixed results from the UK's PMI report, Sunak's speech, and a couple of speeches held by Feds Powell and BOE's Bailey have definitely been the major factors contributing to this pair struggling to stay above hot waters. We can't say for sure which direction the market will turn due to there being several factors that could shift it in either direction. Holding positions and waiting for the economic events to clear up slightly is probably the best move to make.
Upcoming Important Events
There are a few events coming up that need to be under our radar. The first is the several EU Summits that will be held among different top international bodies in order to discuss the game plan moving forward in terms of bringing an end to the war between Russia and Ukraine. Also coming out later today is the U.S. Core Durable Goods report and the Initial Jobless Claims report. Both may cause the markets to shift depending on the results.