THE ONGOING EUROPEAN CRISIS IS SENDING GOLD AND CRUDE PRICES SOARING THROUGH THE ROOF. Gold price rises +18,697 points from the higher low area of the symmetrical triangle.
Gold made a big spike and touched all the resistance areas making a total gain of +10,000 points from 1870 to 1970. Check our previous Gold analysis update here.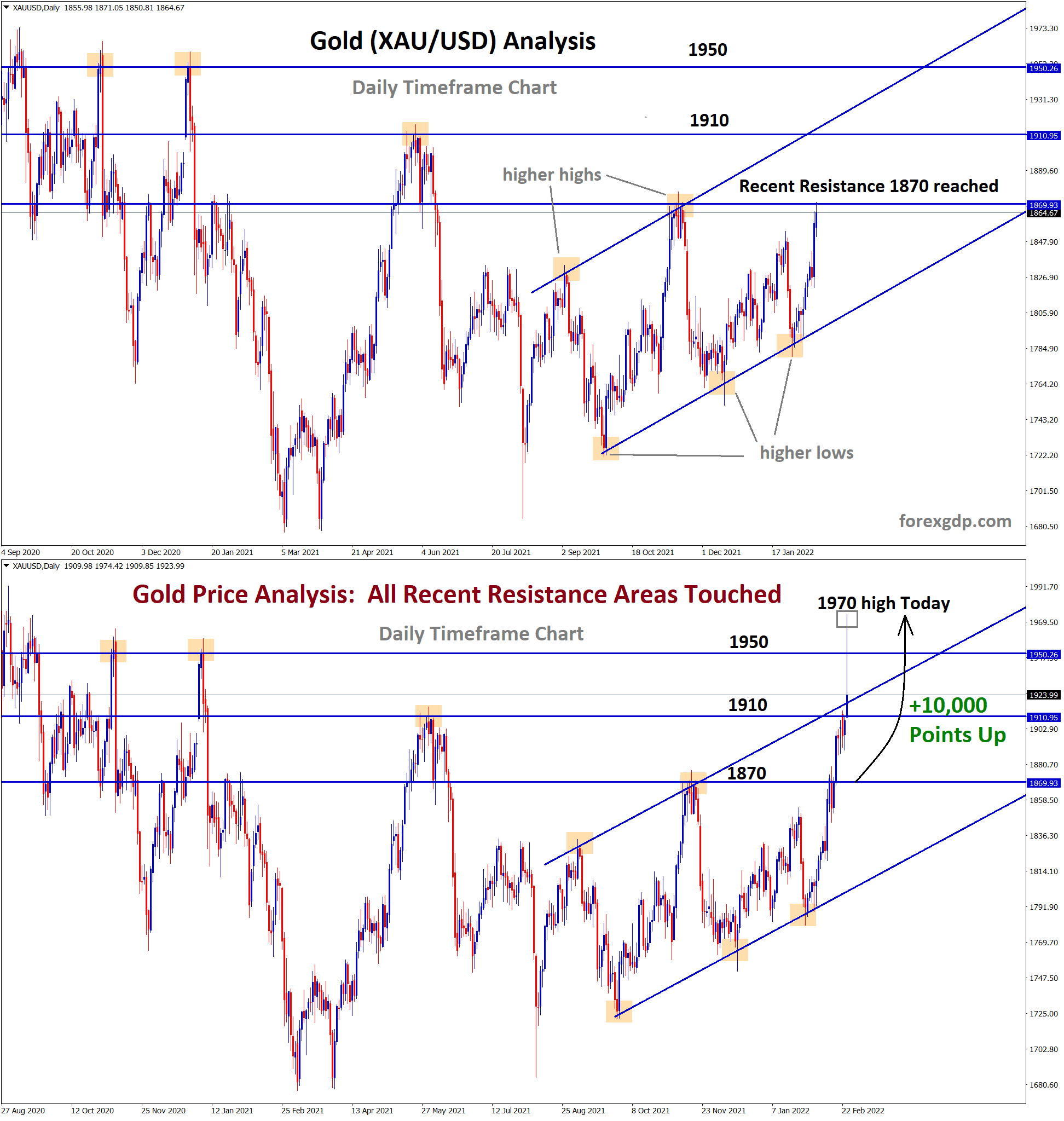 75% FLAT SPECIAL OFFER for forex signals OFFER GOING TO END 😮 Get now: https://www.forexgdp.com/offer/
BRIEF HISTORY BETWEEN RUSSIA AND UKRAINE
The Ukraine-Russia conflict is currently the most talked about issue around the world. It first started in 2013 when the President of Ukraine rejected a deal with Russia. This rejection was disliked by the public and caused the president to flee the country.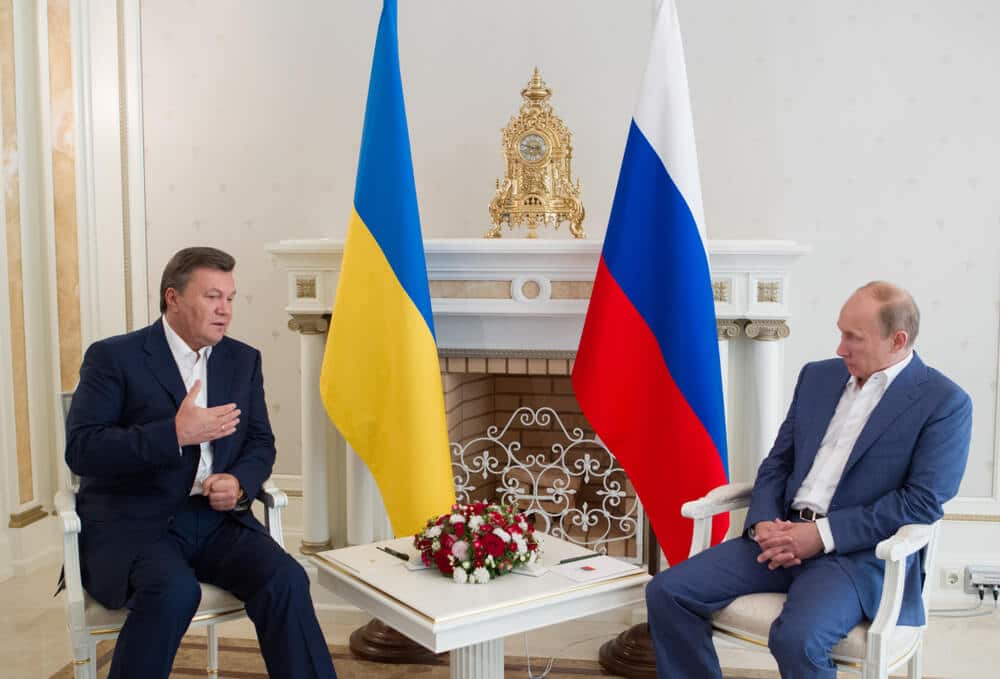 The tensions rose even more when Russia took over a piece of Ukrainian land called Crimea in 2014. The land originally was part of Russia but was given to Ukraine by the Soviet Union as a gesture of brotherhood.
Once the Soviet Union was demolished, Russia decided they wanted to take back Crimea. After this land was taken by Russia, Donetsk and Luhansk regions of Ukraine also took independence.
This conflict finally became an international issue when a Malaysian Airlines flight was shot by a Russian missile while crossing above Ukraine in 2014. In 2015, Ukraine and Russia tried to end conflicts by signing a peace agreement with each other however they couldn't reach any agreement. Russia and Ukraine have been trading partners for a very long time. Russia relies heavily on Ukraine for the supply of gas. Russia is currently building their own gas pipeline to connect them to Germany. Once this pipeline is built, Russia will no longer need to hold any good relations with Ukraine for the supply of gas and thus they will have more leverage in the case of a conflict.
IMPACT OF THE WAR ON XAU/USD
The ongoing war crisis has had a huge impact on the forex markets, especially on gold. This valuable commodity has been seeing new heights that it has not witnessed in several months. Due to the crisis between Russia and Ukraine, people have started buying gold in bulk as they believe it to be one of the few assets whose value will not depreciate due to any critical political movements. The war happening in Europe will significantly impact the value of several currencies in a negative way. Several currencies are, and will be, seeing huge depreciation as a result of the war. However, gold is going to instead benefit from this scenario.
Every time we witness a major economic change or economic event, XAU/USD can be seen following a consistent upward trend. Although the market can become quite volatile during certain trading hours, we can always count on this valuable commodity to act as an appreciating asset in difficult times. Looking at the XAU/USD trading chart, we can witness a consistent upward trend since the start of the first week of February. This comes as no surprise as this was also when matters started becoming serious between Russia and Ukraine. Currently, gold has broken records by touching $1974 earlier today. Although it has slightly composed itself and returned back to $1955, analysts believe that it doesn't have any intention of slowing down and will definitely start pushing upwards once again.
IMPACT OF THE WAR ON CRUDE OIL
Crude oil has also seen major price increases as a result of the ongoing crisis between Russia and Ukraine. This valuable commodity has been kept an eye on by analysts ever since the recent crisis began. Analysts knew that if the crisis escalates any further, crude oil would become one of the major things to be impacted. And this ended up being true as we are now witnessing crude oil following an upwards trend with no intention of slowing down anytime soon. This can be highly blamed on the fact that Russia and Ukraine play a major role in the production and supply of oil to the United States and rest of the EU.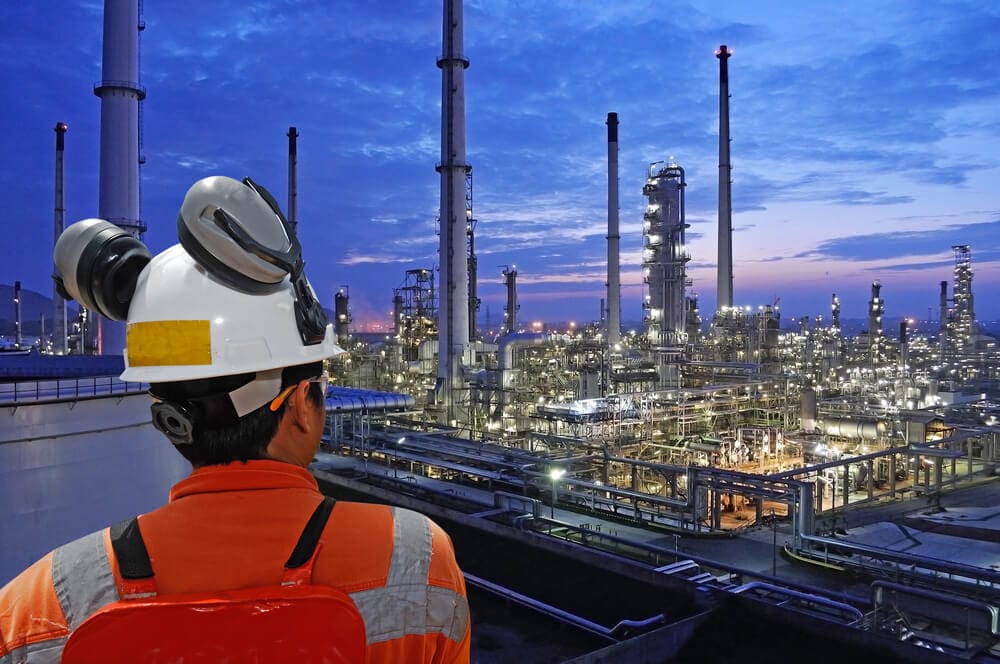 Analysts predicted that if both of them begin a war with each other, production and supply would be ceased and both the EU and the US would face a major shortage of oil. Since Russia has started attack on Ukraine, crude oil prices have crossed the $100 a barrel mark. This is due to the fact that now, oil is in major shortage. So the little oil which is being produced is now in high demand and therefore, its value increased. The price increase was necessary in order to cope with the high demand. Qatar and Saudi Arabia are now facing major pressure to increase production in order to meet the growing demands of crude oil.
IMPACT OF THE WAR ON THE REST OF THE WORLD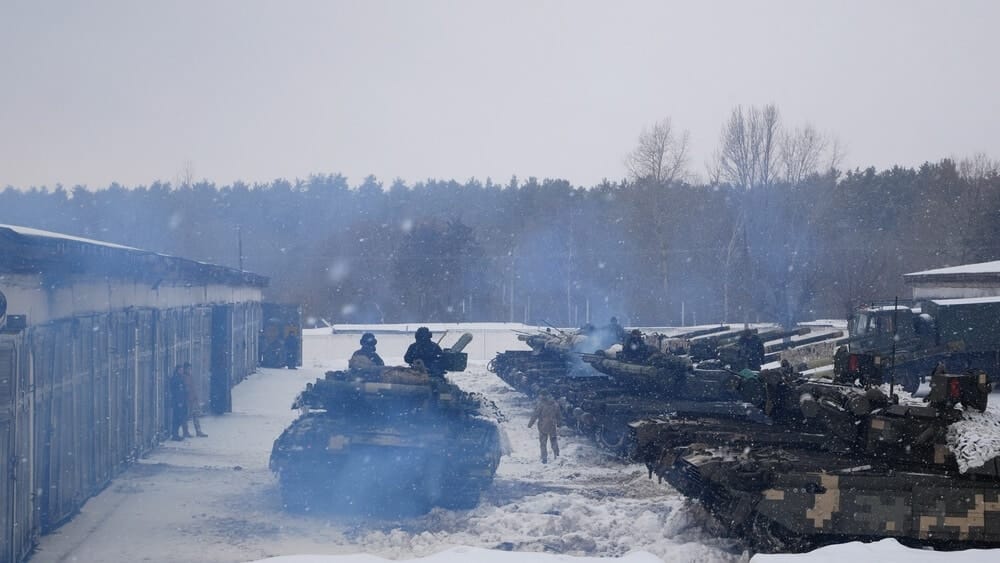 The tensions between Russia and Ukraine is significantly impacting the countries around them as well. Russia and Ukraine produce 28% of the Wheat supply in the world. This would cause a shortage of wheat everywhere. They are also big sources of energy and play a big role of the supply of oil and gas to EU and USA. A war would cause them to stop production and other oil producing countries like Qatar and Saudi Arabia will have pressure to increase energy production in order to meet the demands of the EU and USA. Syria and Libya both have Russian troops on their land in support and providing them with aid and other assistance. If Russia goes into war with Ukraine, the troops would be removed which would make internal tensions increase in these two countries. Israel may also face Jewish immigrants coming from Ukraine in order to seek refuge from the war.
UPCOMING FOREX MARKET EXPECTATIONS
The future of the forex markets seem unpredictable at this point. Although it currently seems as though the war has began due to Russia bombing the capital of Ukraine earlier today, this may just be a tactic to scare the opponent into surrendering. The next couple of days will be crucial in determining what the markets are going to look like in the near future. Analysts are predicting that both XAU/USD and crude oil have no intention of slowing down if the matter continues to escalate. XAU/USD even has the potential to cross the $2000 point for the first time in over a year. Since the US is imposing sanctions on Russia, this could also really cause the XAU/USD rates to soar through the roof. It is recommended to hold all positions for now till we get more clarity on the ongoing crisis.
---
Don't trade all the time, trade forex only at the confirmed trade setups.

Get more confirmed trade setups at Premium or Supreme plan here: https://www.forexgdp.com/buy/