Gold: SPDR Gold trust showed more sellers in the Gold market
Gold is consolidating now at the lower high area of the descending channel.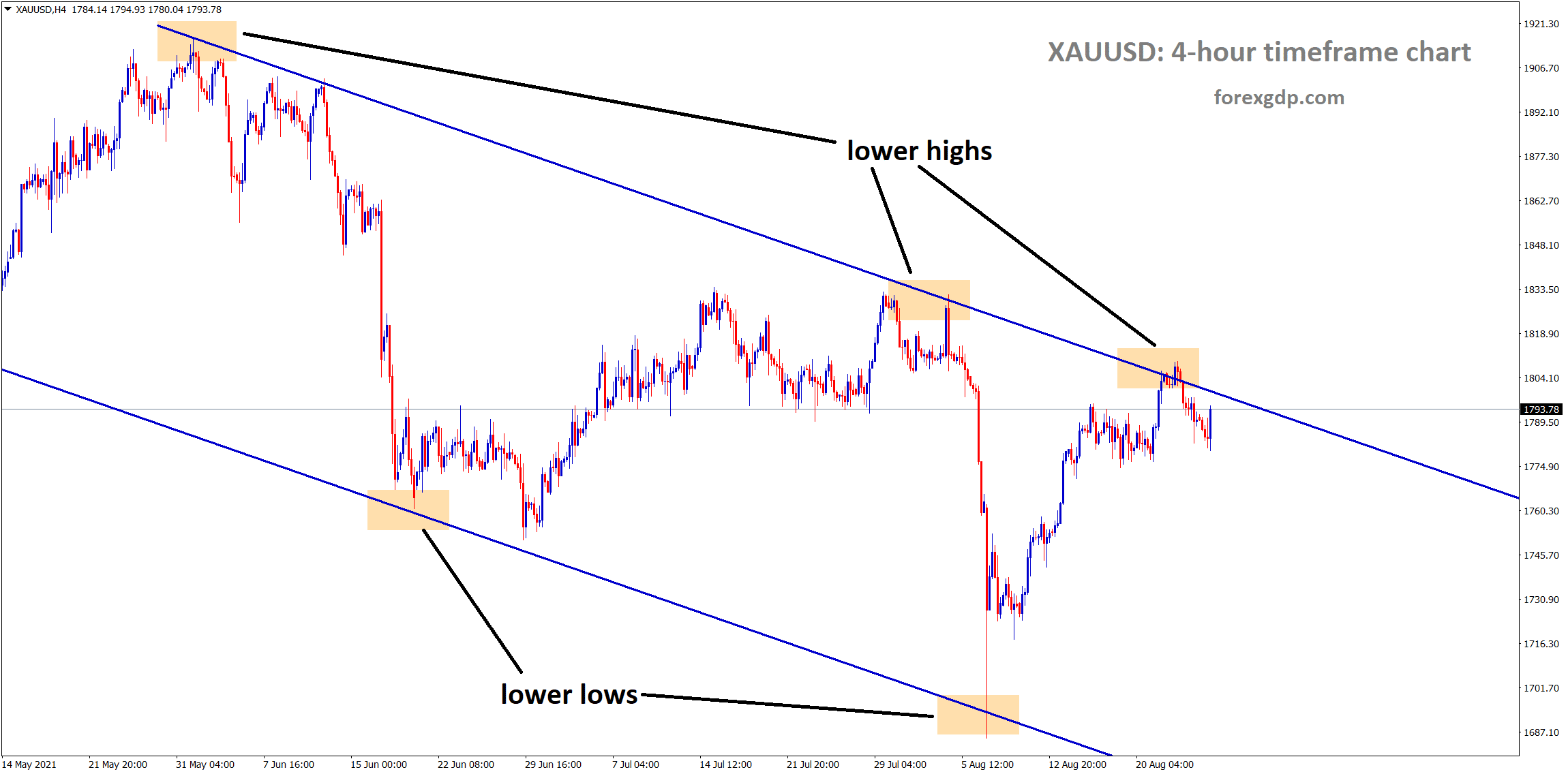 Gold prices are placing lower ahead of the FED Jackson Hole symposium today.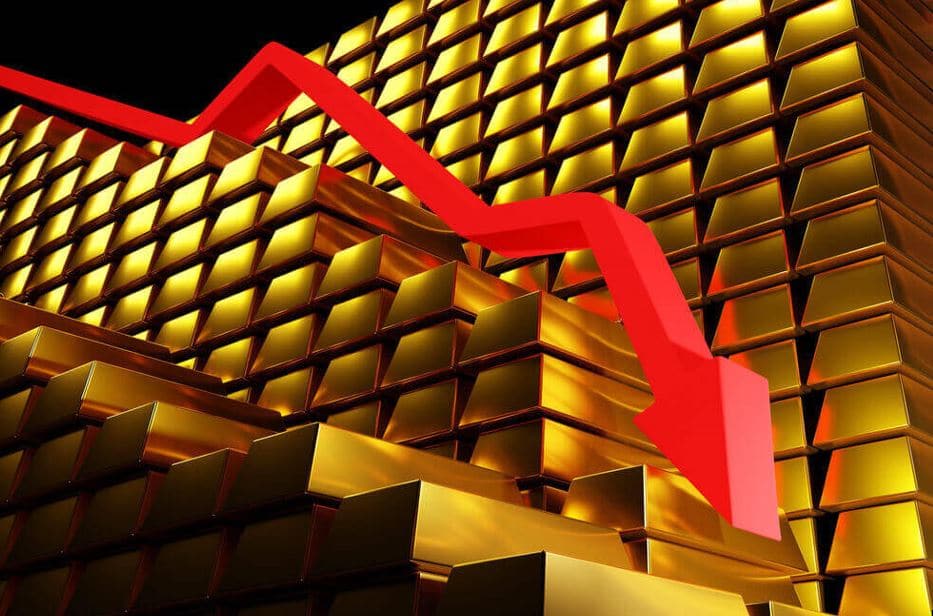 SPDR Gold trust shows more sellers in gold shares come back in August month as Report proved.
GLD shares sold like 4.6 million shares as last 2 weeks reported.
And FED tapering bets are more confident among investors mind keeps inflation hedge gold requires more storage cost and So gold shares are liquidated by Investors and Transfer to 10-year US Treasury bonds.
Rate hike expectations are much more expected by investors to keep US Treasuries bonds purchases higher at a lower rate.
US DOLLAR: FED's Jackson Symposium meeting outlook

USDJPY is moving in an Ascending Triangle pattern.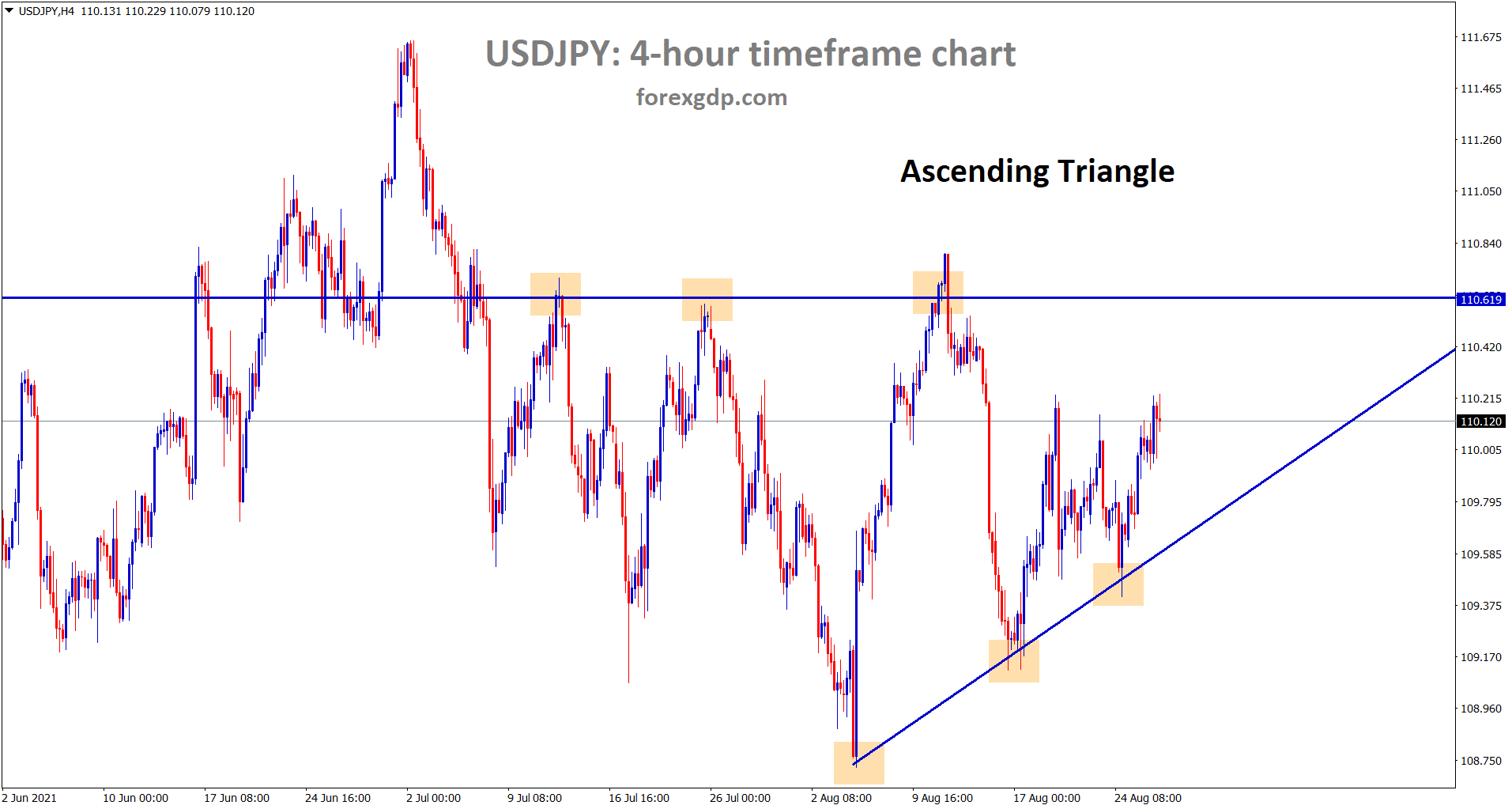 NZDUSD is moving in a descending channel.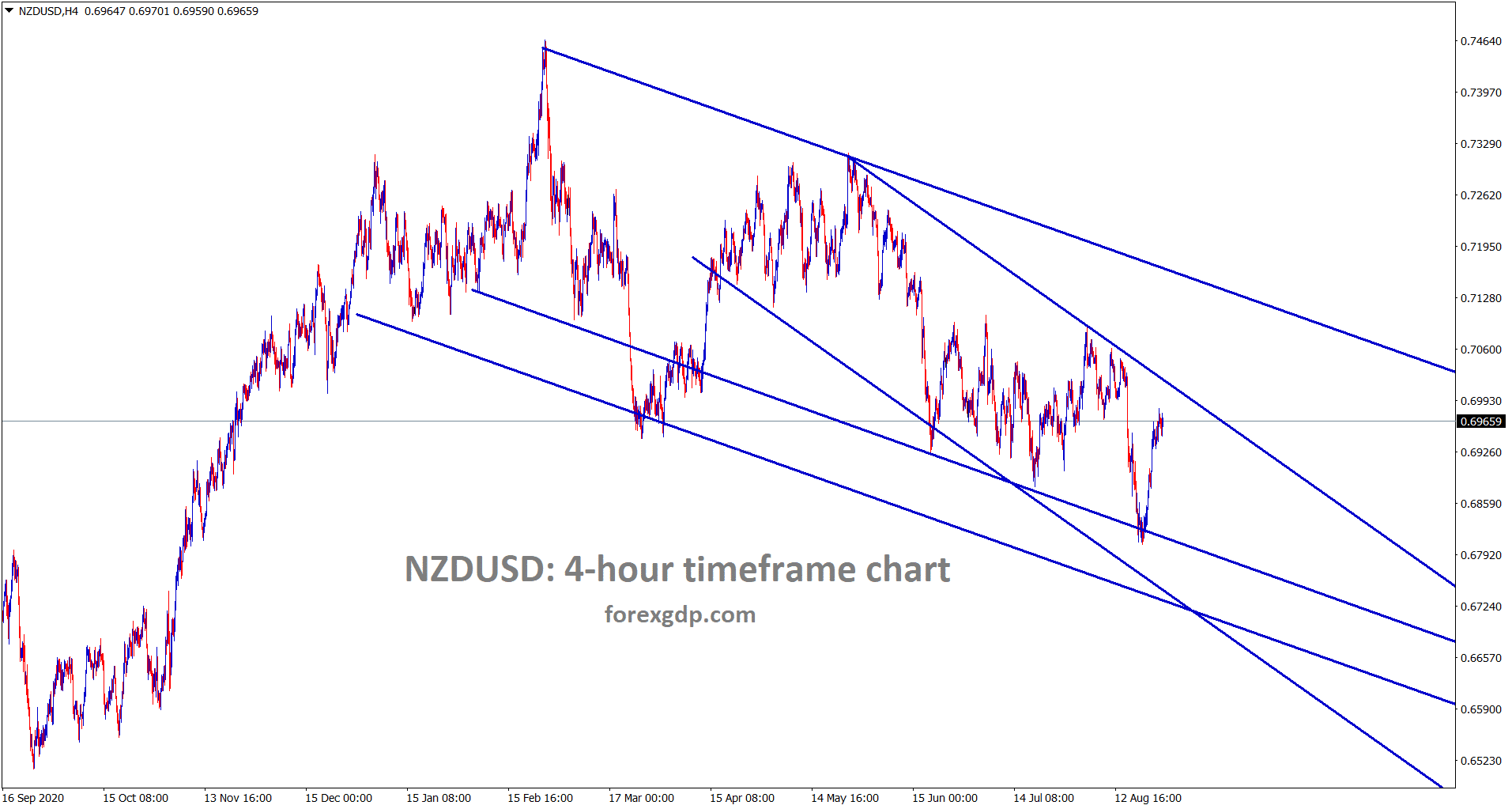 US Dollar keeps rallying after FED Powell hinted officially at the last meeting as tapering may sooner be done in the upcoming meeting.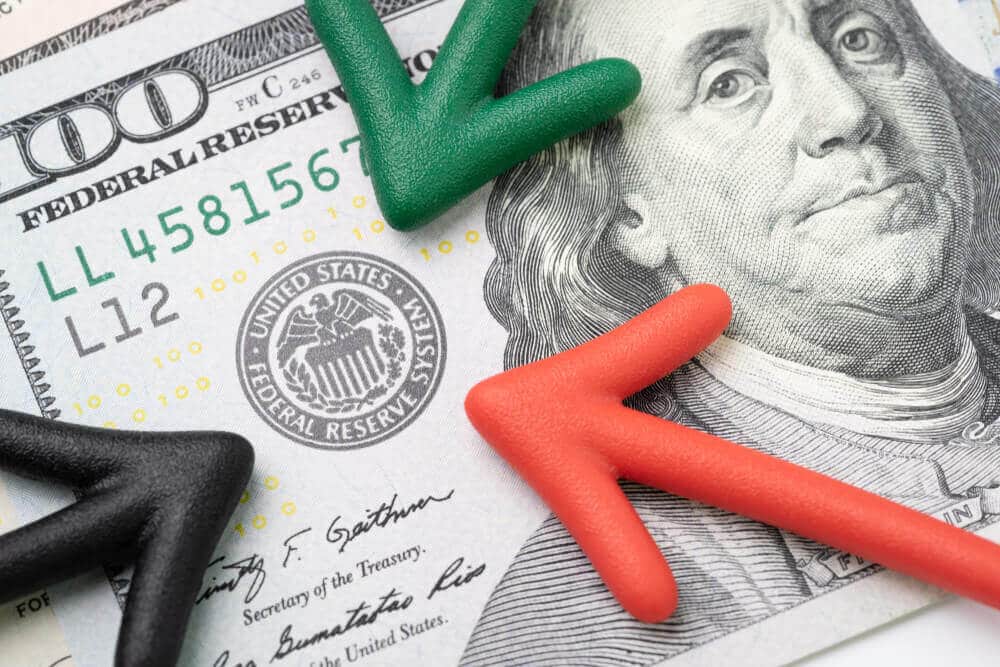 Hot inflation rate occurring in US market, to put Coldwater FED must take proper tapering assets tools or rate hikes in interest rates is benefitted to Economy.
But Rising inflation rate is temporary as in US FED point of view, But investors point of View higher inflation rate leads to Devalue the currency rate of the US Dollar soon if the pandemic long time persists.
And this week, US GDP data and Jobless claims, FED Jackson's Hole symposium meeting is scheduled.
US Dollar keeps stronger pace in markets in coming months as the pandemic of Delta variant keeps harmful in all nations.
EURO: German IFO Business climate report
EURUSD is consolidating in a small channel range.
EURGBP is moving in an uptrend forming higher lows continuously.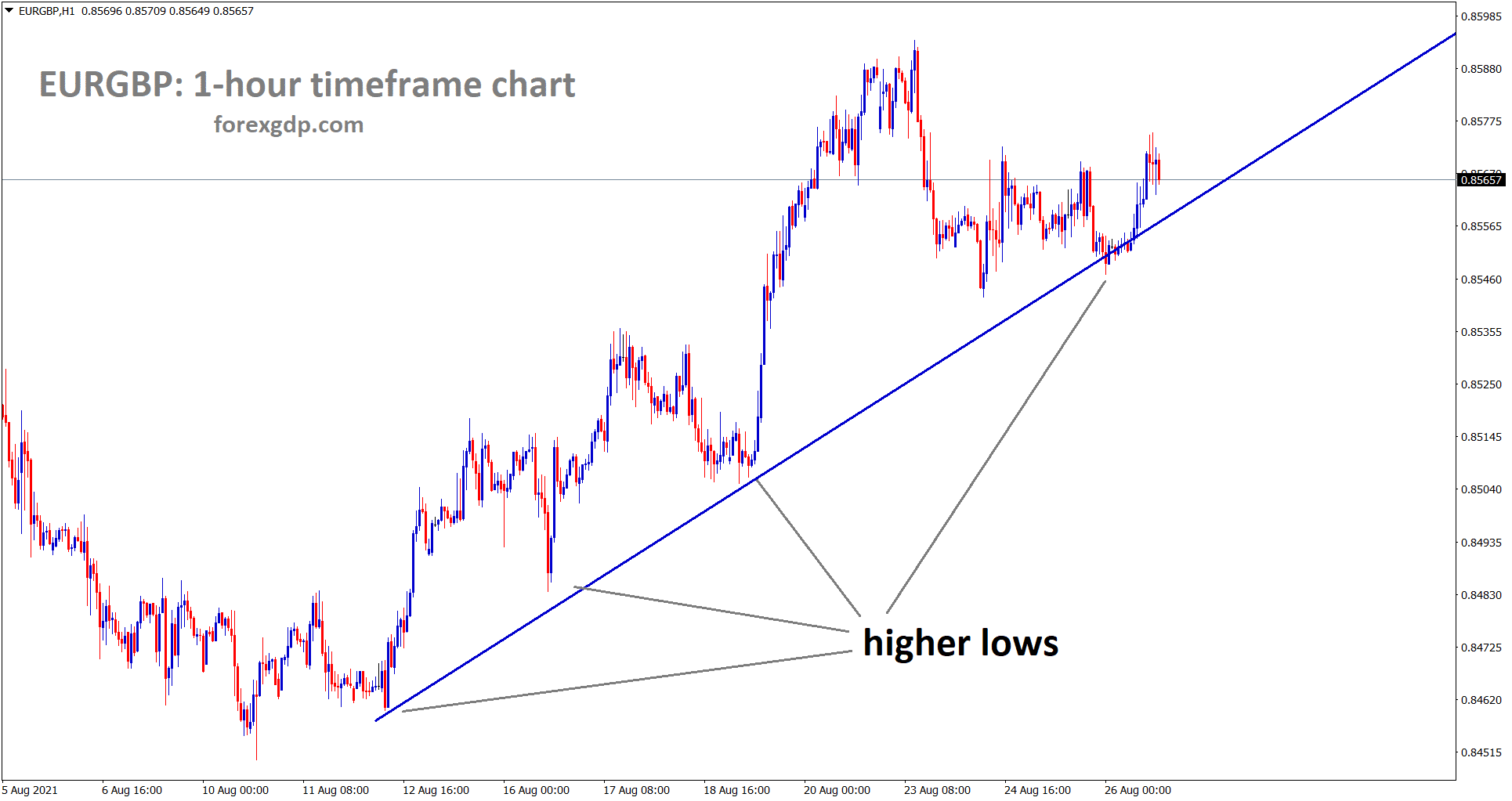 EURUSD moved higher from last week lows to a Lower high level of 1.17500 last day.
And US Jobless claims and US GDP data scheduled today. Along with Jackson, hole symposium meet by FED Powell are going to happen.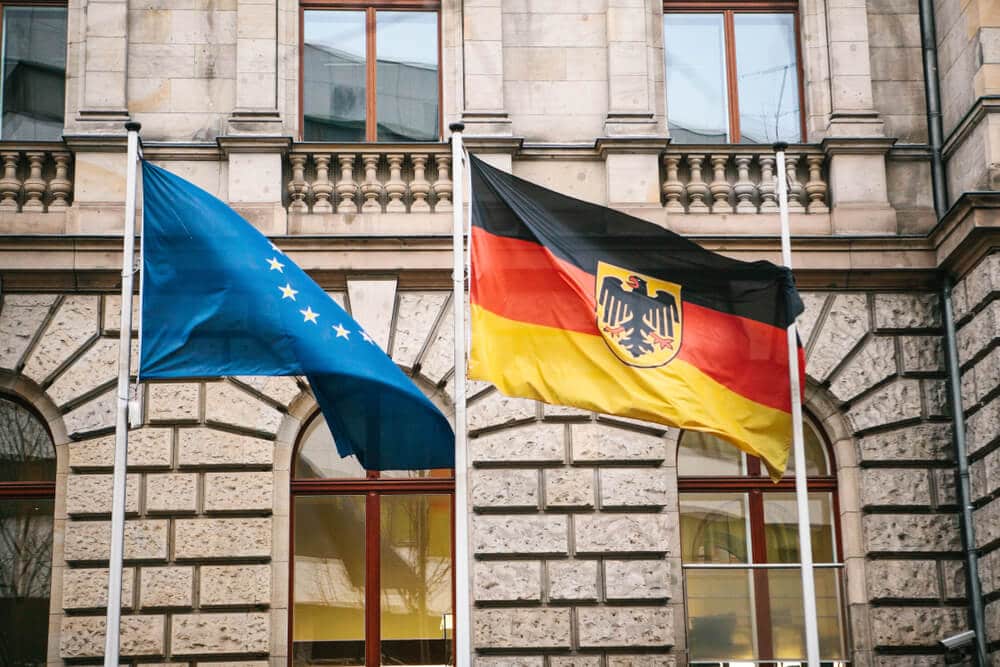 EURUSD may suffer gains or losses based on taper tantrum speech by FED Powell.
And US Inflation rate goes beyond the curve line of 2.35% to 2.50%. This is the difference between US Treasury yields and the Equivalent tenor of Treasury inflation-protected security.
Eurozone has weaker domestic data as German IFO climate came with underperformance reading yesterday as 99.4 printed versus 100.4 expected.
UK POUND: Vaccination of 2nd dose started
GBPUSD is moving between the descending Triangle pattern.
GBPAUD hits the higher low area of the uptrend line.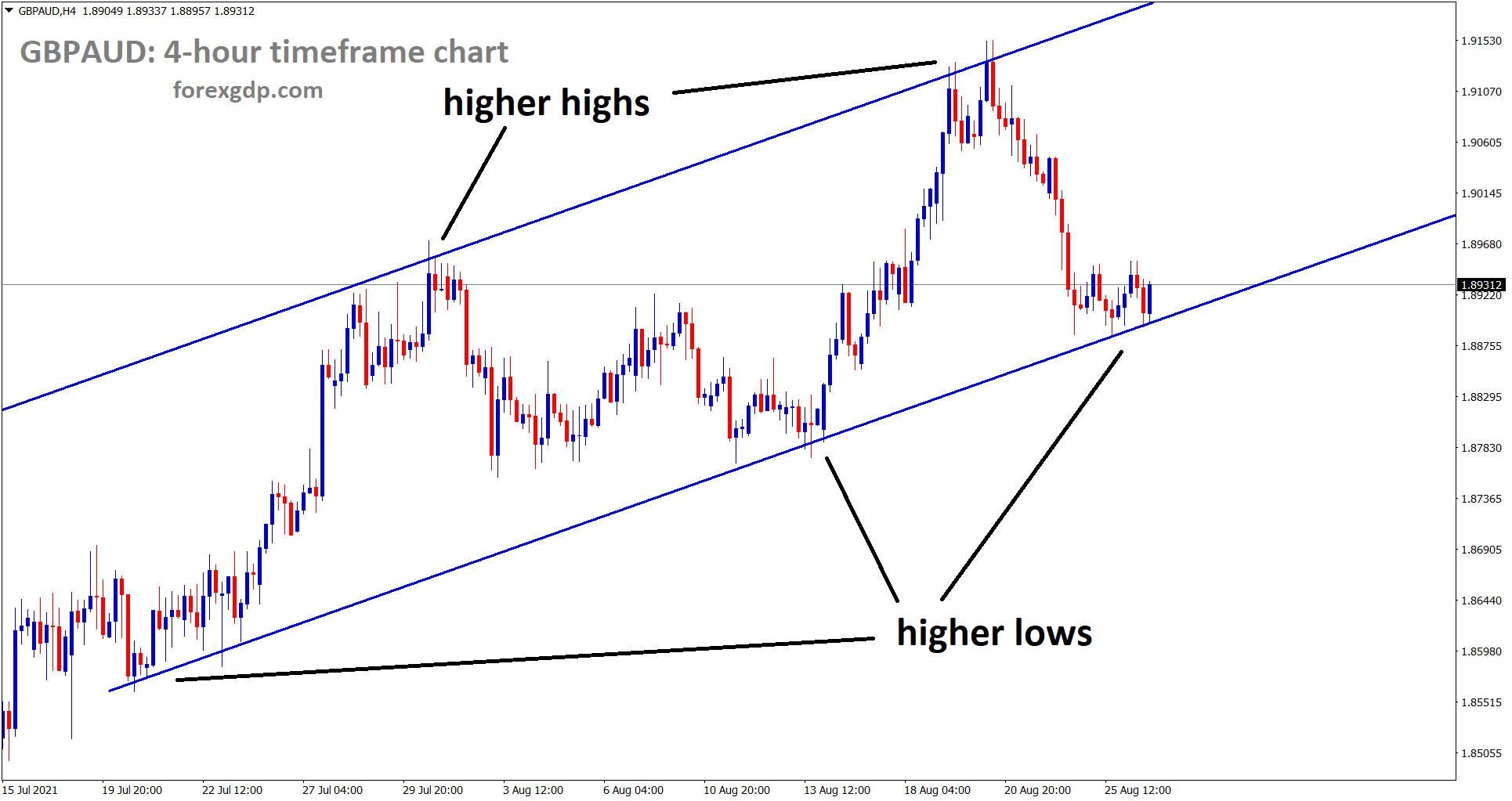 UK Pound moderately higher punch from lows and UK Vaccination program is Full process for 16+ aged peoples.
Now, 1st Dose was completed for 77% and 12% of people Completed for 2nd Dose.
Delta variant cases touched 36K as this week's data, and UK schools were re-opening from September.
237k cases were brought down to 36K cases in the UK, which is a huge success for the UK Government.
And Now, controlling cases is the main view, and in the coming weeks, cases may be higher or lower depending on the Vaccination process in London.
Canadian Dollar: Oil Prices ticked higher
USDCAD hits the support area where previous resistance turned into support and also it is near to the higher low level of the uptrend line.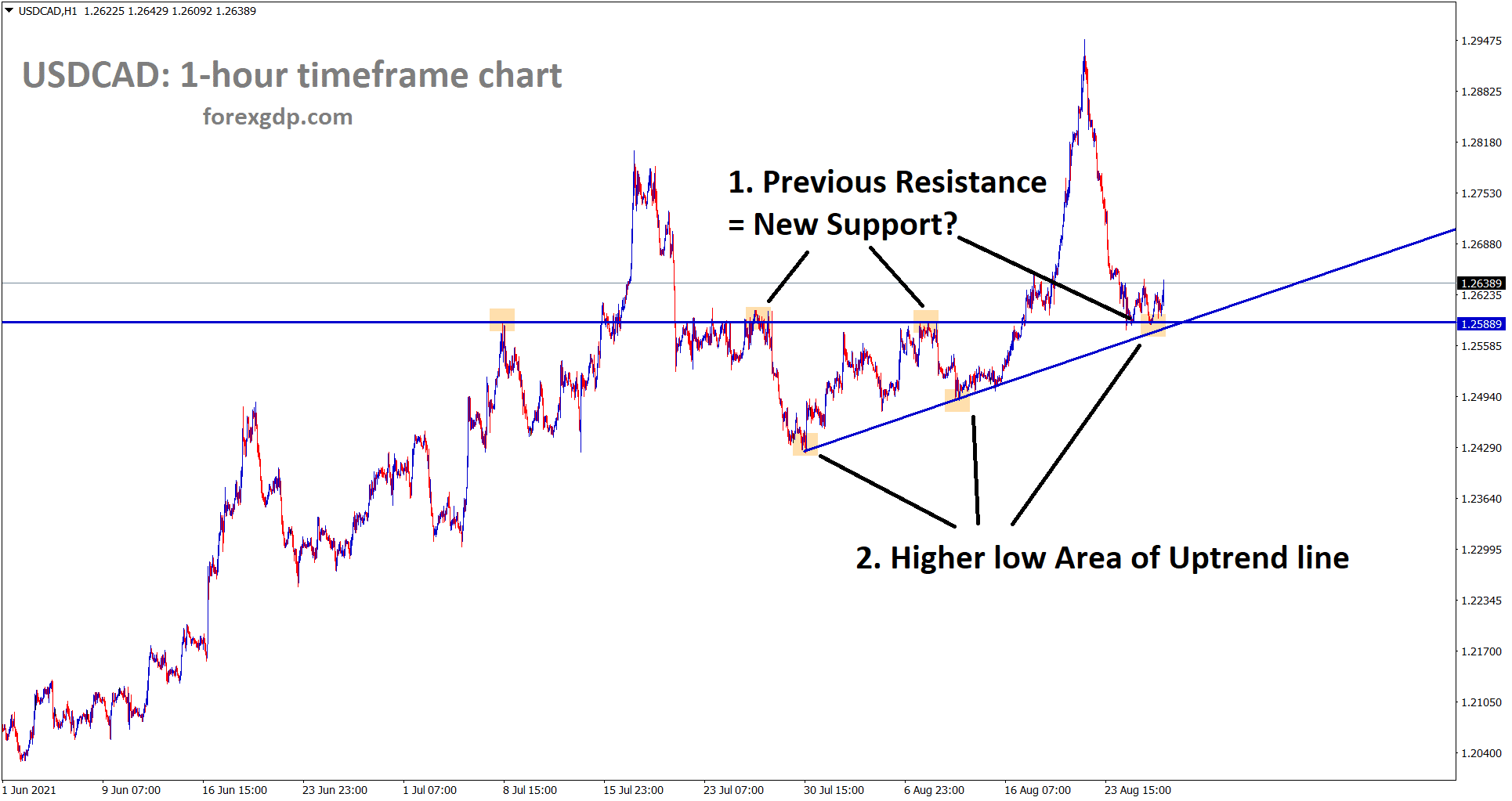 Canadian Dollar pushed higher as Profit booking after declines of the start of the Month.
And now USDCAD moving in a range-bound market ahead of US GDP data, and jobless claims and FED Powell tapering comments may push USDCAD to higher as expected.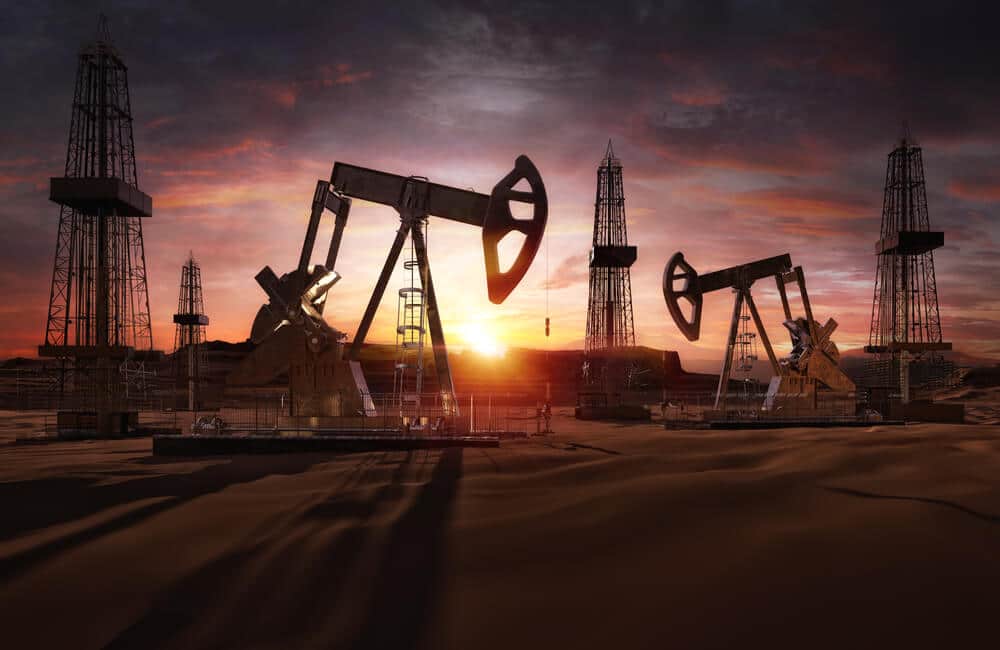 Oil prices seem to Pull back from lows as China assured, they have controlled Delta variant in major cities.
Now renewed Fuel demand concern in rotating around the globe makes Oil Prices pushed higher.
And Canadian Dollar moves along with Oil prices fluctuations, and Demand for the Oil business continues in Favour of the Canadian Dollar.
Japanese Yen: Economy minister speech
EURJPY is moving in a small descending channel range.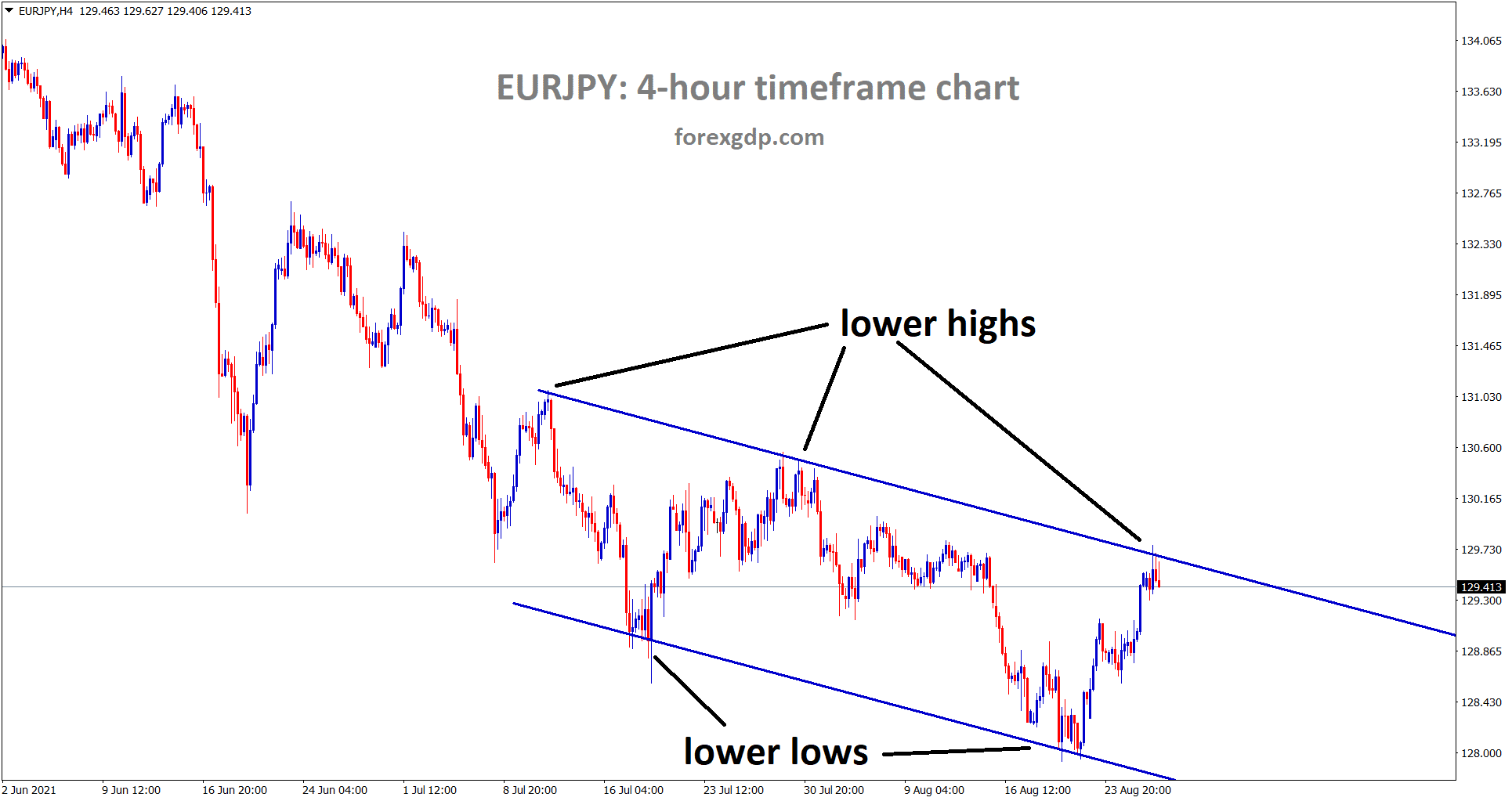 GBPJPY is moving in an uptrend line between the channel chart pattern.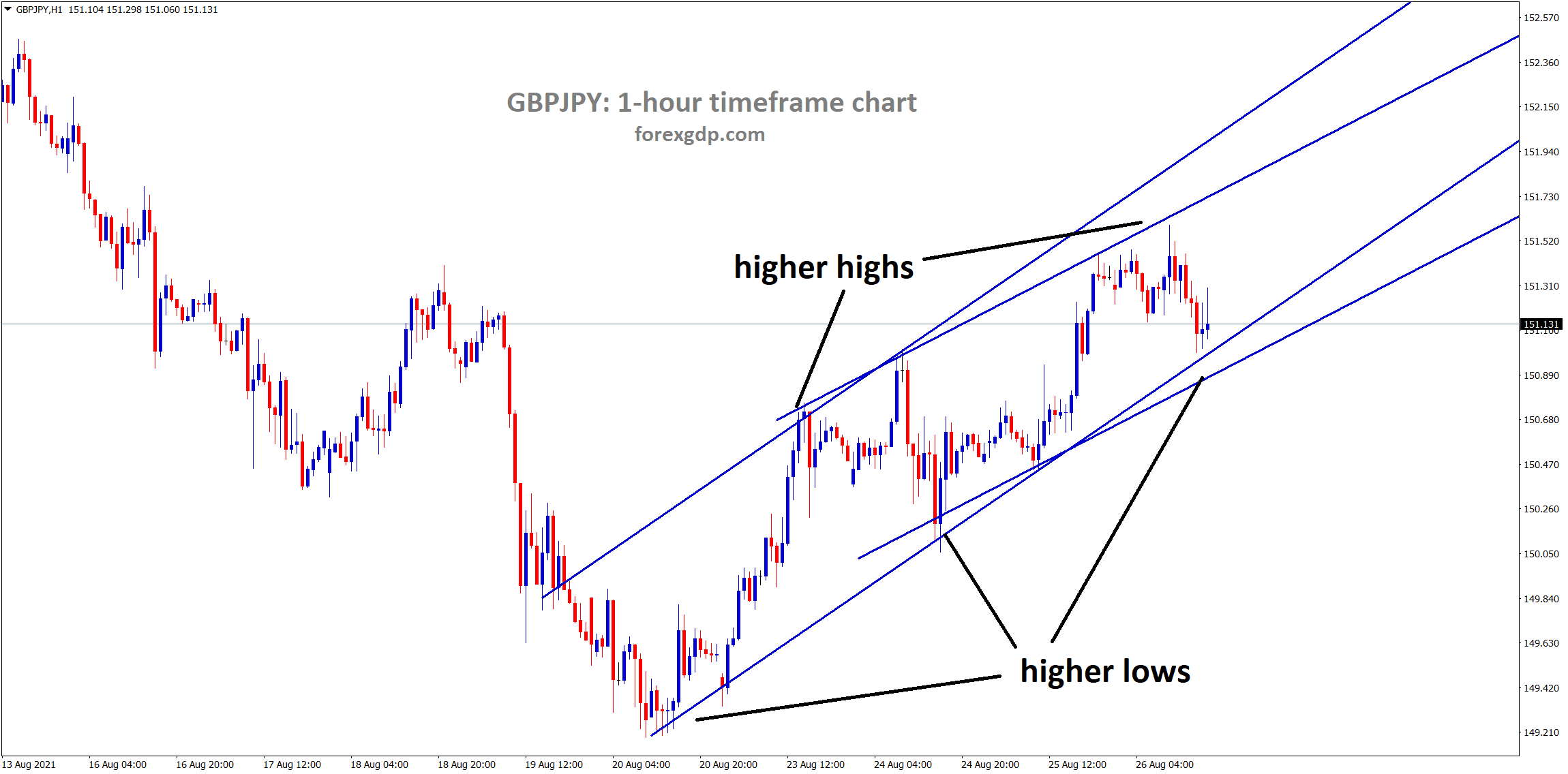 Japan's economic assessment are maintained in August month as Japan's cabinet office reported.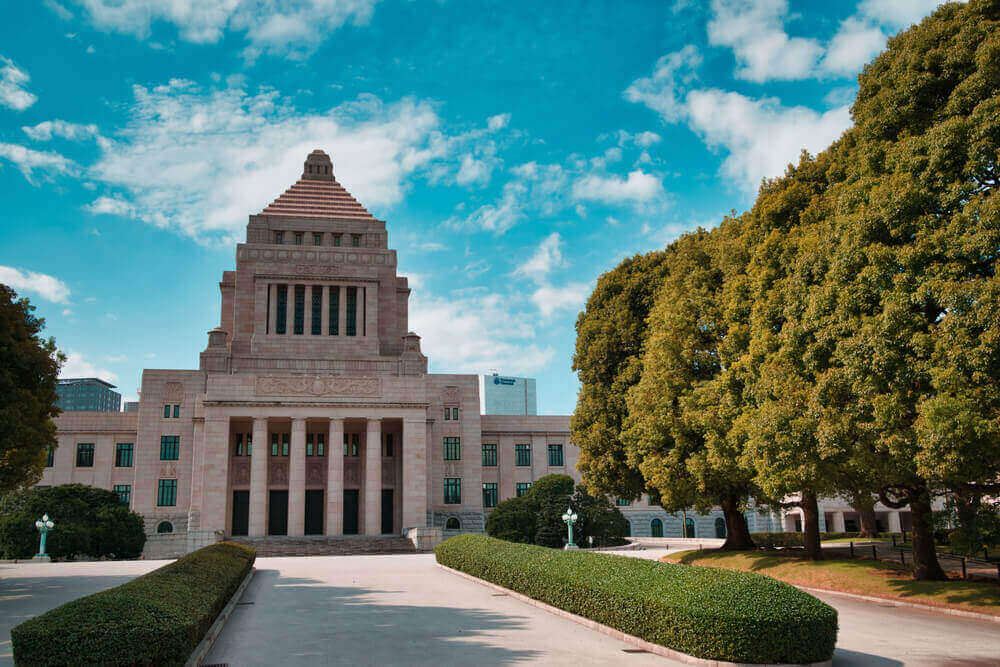 Downgrade views in Imports and Japan's Government view in the economy are not stable outlook.
And Upgrade the views on corporate profits as Economy will do well in coming quarters as hopes.
And also, Japan's economic minister Nishimura said we need to pay more attention to Japan's supply chain firms as affected by the Delta variant issue.
As added, he did not change his path for recovery of Japan's GDP by the end of 2021.
Australian Dollar: Delta variant increased in NewSouth Wales
AUDUSD is going to reach the lower high area of the descending channel.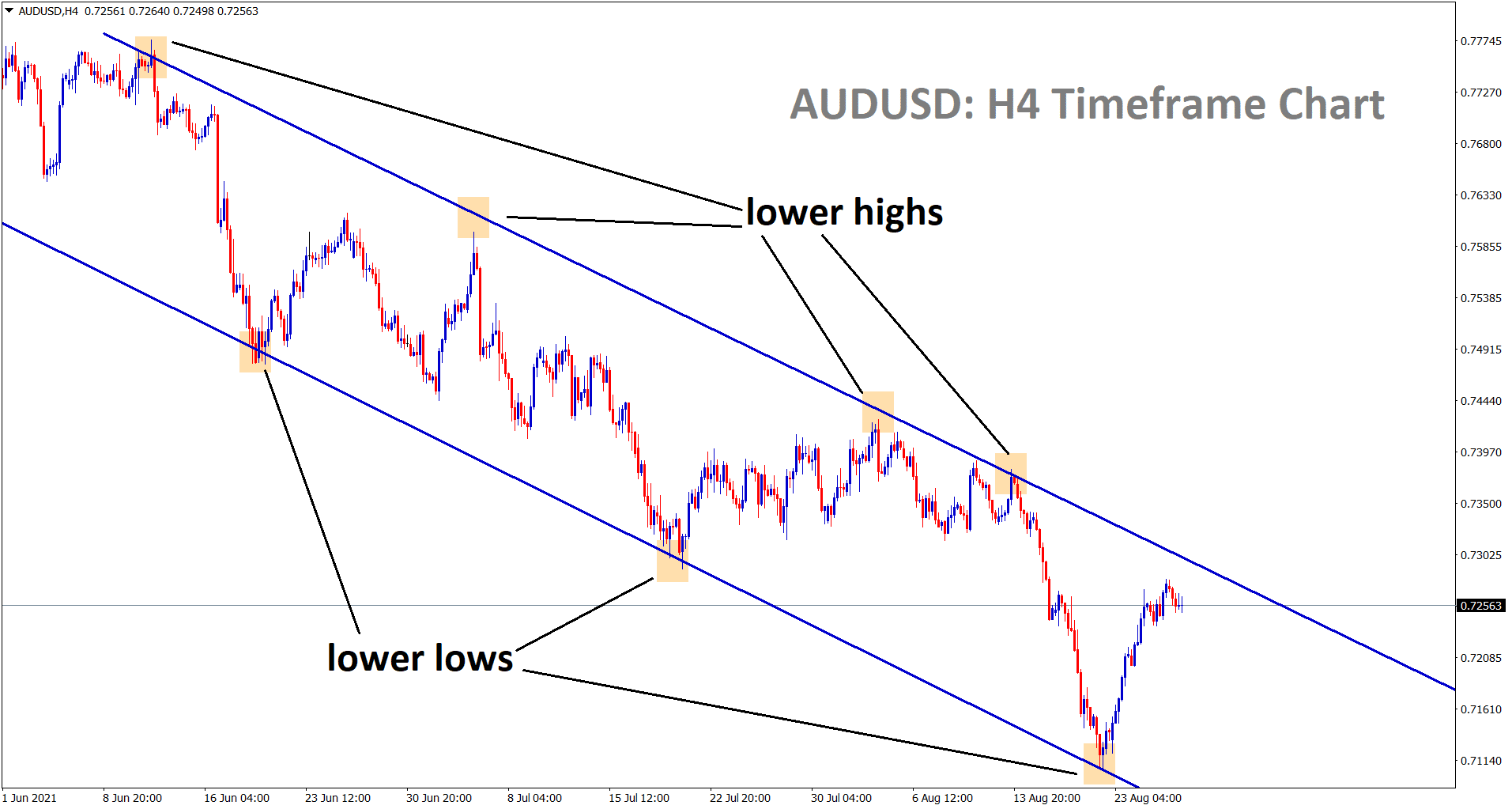 EURAUD is standing at the support area where previous resistance turn into support.
Australian Dollar keeps higher as Correction for seller's profit booking in market.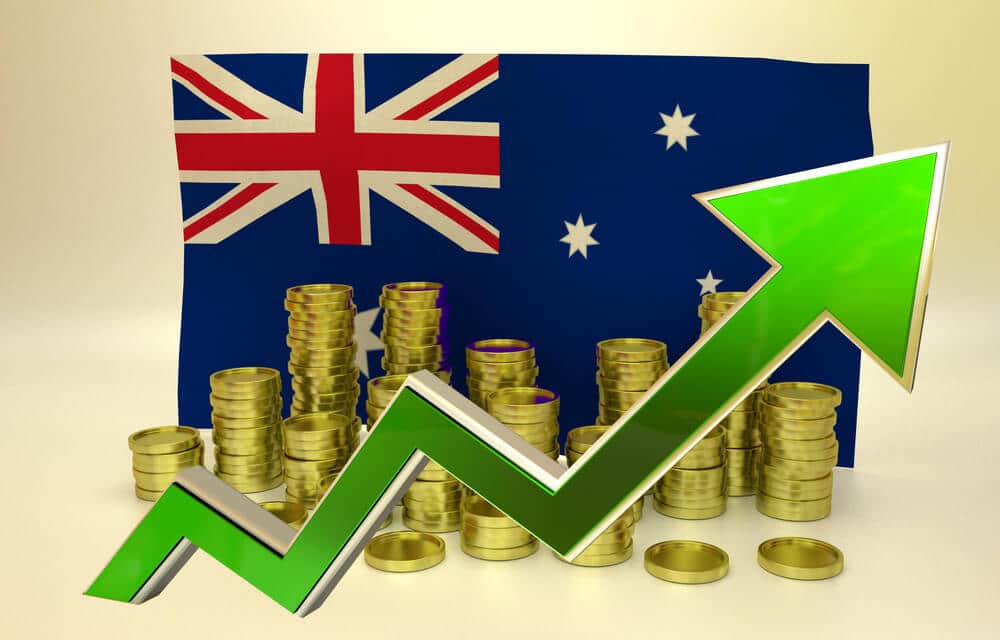 New South Wales shows 919 new infections per day as statistics shown, Hospitality beds were increased and more lockdown imposed in Major cities.
And Once again, we see Covid-19 spread more in Australia, and analysts expected a double Dip recession might occur if not controlled by Vaccinations.
Today FED Jackson's Hole Symposium occurring; any tapering speech happened by Powell, then US Dollar started to fly in the market. If silence keeps in the meeting, then the range-bound market is expected.
Australian Dollar now sees more weakness as Delta variant and China GDP slows in imports area.
Chinese President Speech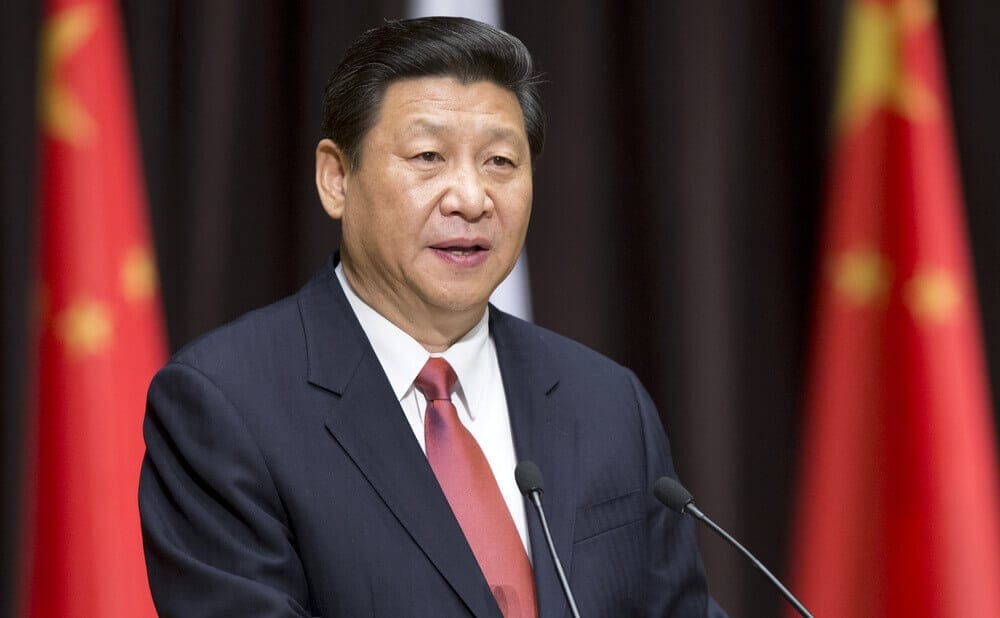 Chinese President XI Jinping said Economic and social developments activities would soon achieve targets this year, and control of the Delta variant is stable now.
And now Full focus on Industrial production to increase and increase the public health systems in rural areas.
And many appointments were given to Rural district officers to maintain Rural infrastructure and Health systems.
To build a modern Socialist country, china must achieve a prosperous country in the coming year.
And China could push for High-Quality development and policies to support the economy to recover.
New Zealand Dollar: Delta variant increases in Kiwi Nation
GBPNZD hits the support area again – wait for reversal or breakout.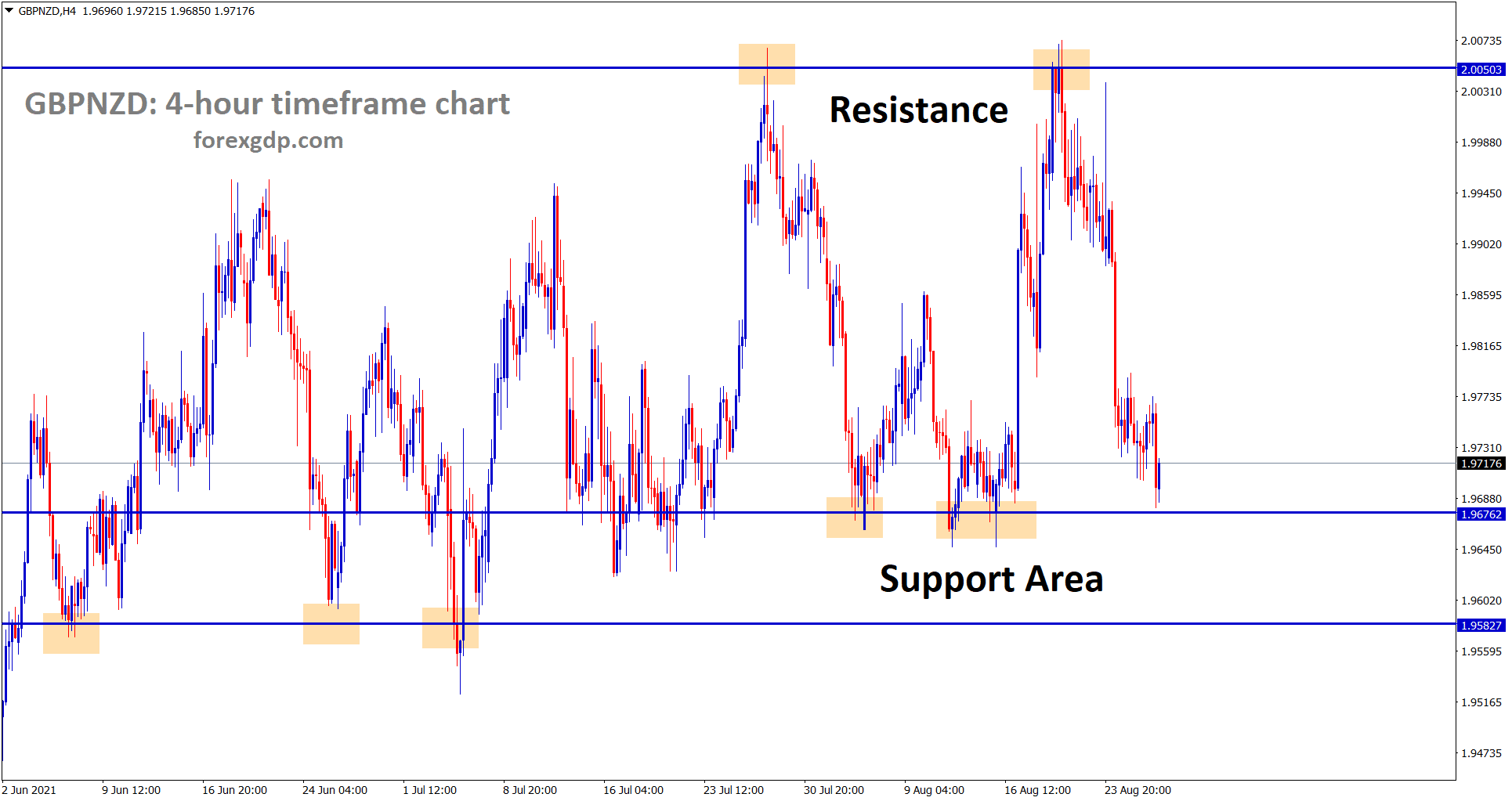 New Zealand Dollar keeps rising as Sellers's profit booking after drastically falling at the month's start.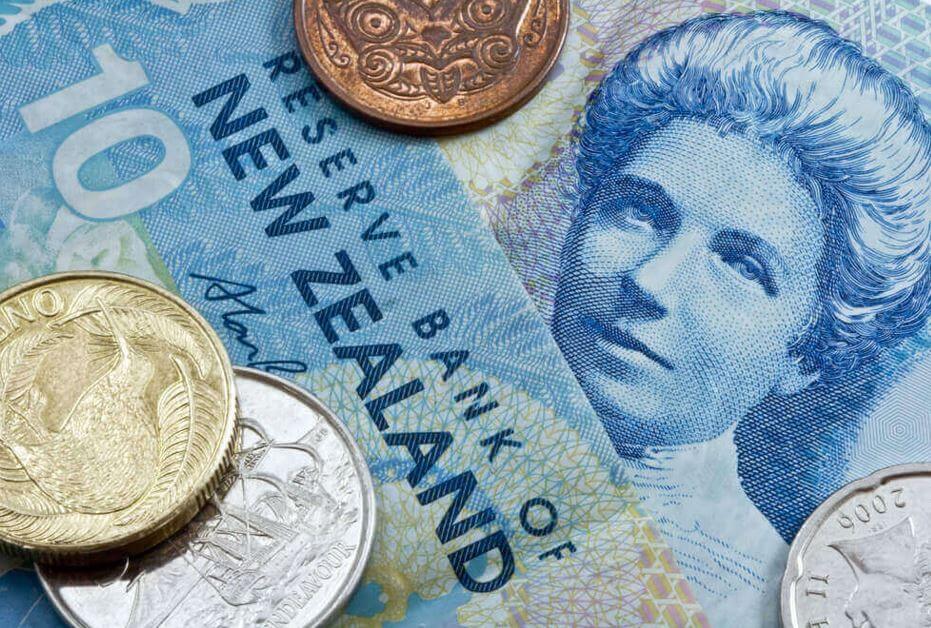 And US Dollar keeps higher as FED's tapering hopes and Delta variant is kept rising in New Zealand.
New Zealand PM Jacinda Ardern announced lockdown until the end of the month to control the Delta variant; China also facing more Delta variants but controlled in hands, as announced yesterday.
Now Business exports were curbed as China is facing slower GDP data this month, which will affect New Zealand GDP growth in the coming quarters.
Swiss Franc: Goldman Sachs View on CHF
EURCHF is moving in a downtrend, now the market has reached the lower high – wait for the breakout or reversal.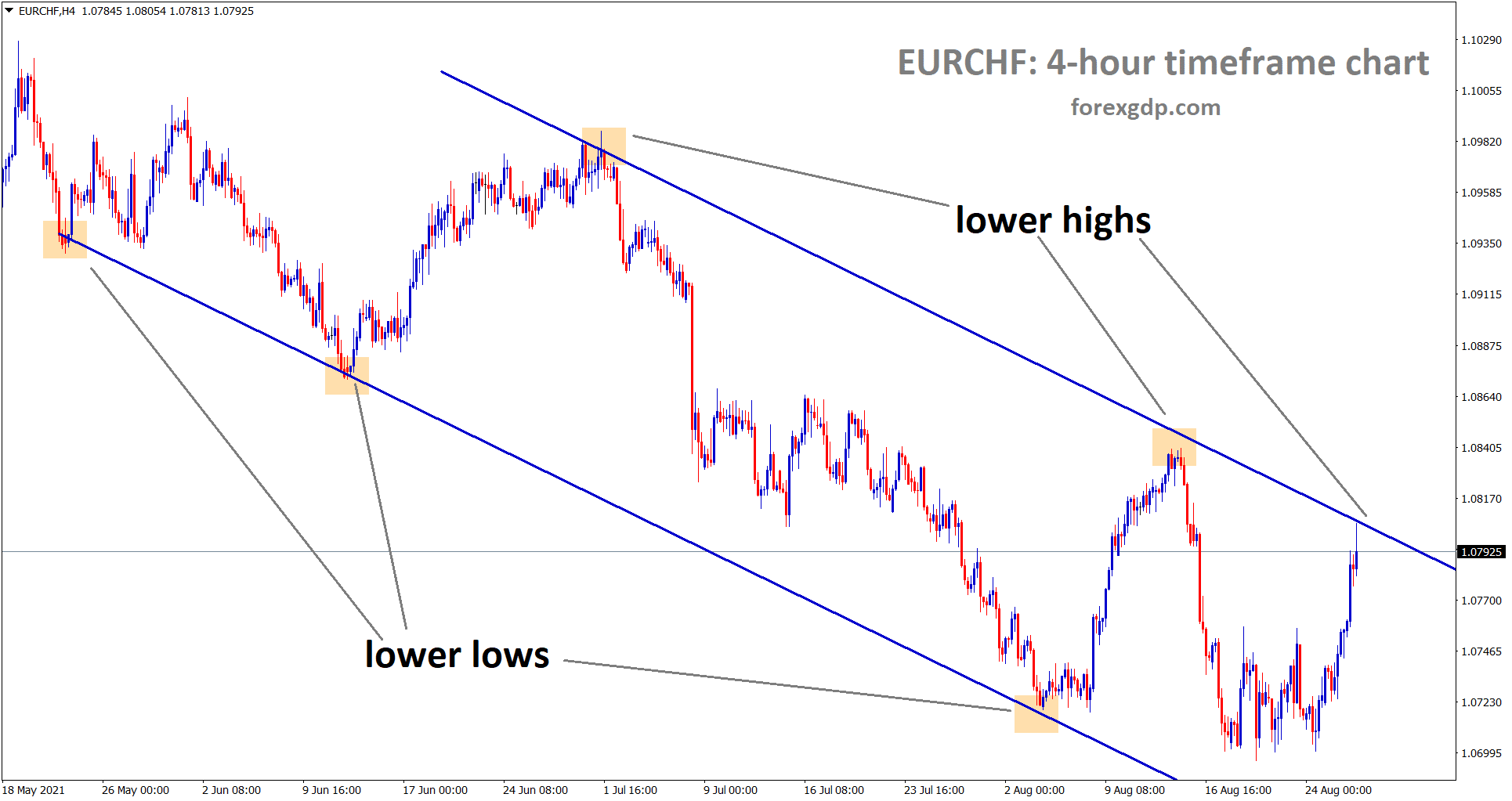 USDCHF has formed a symmetrical triangle pattern – wait for the breakout.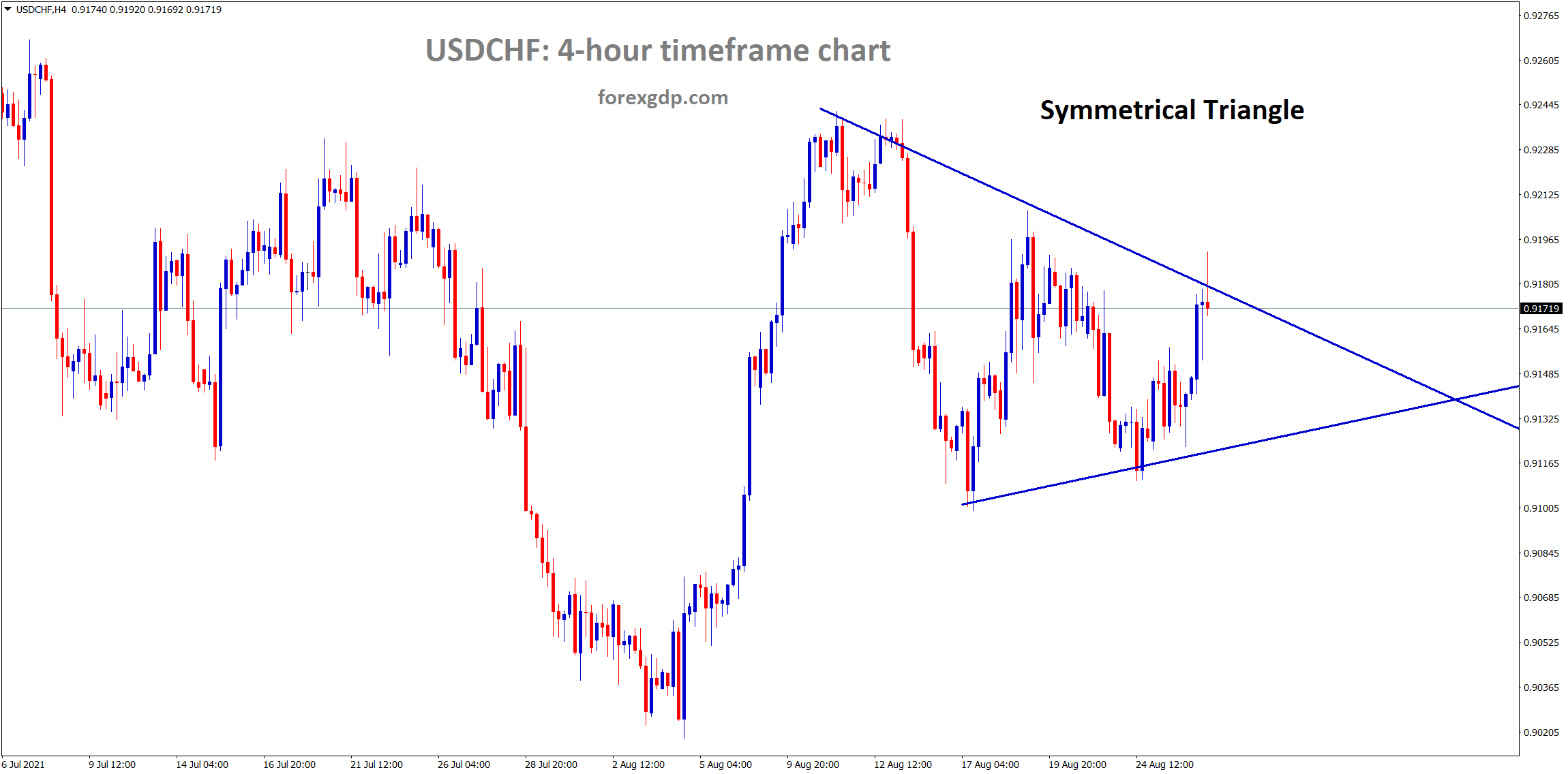 Goldman Sachs view on the Swiss Franc is the weaker point in the coming months.
And Swiss national bank has received more deposits but not evident to see.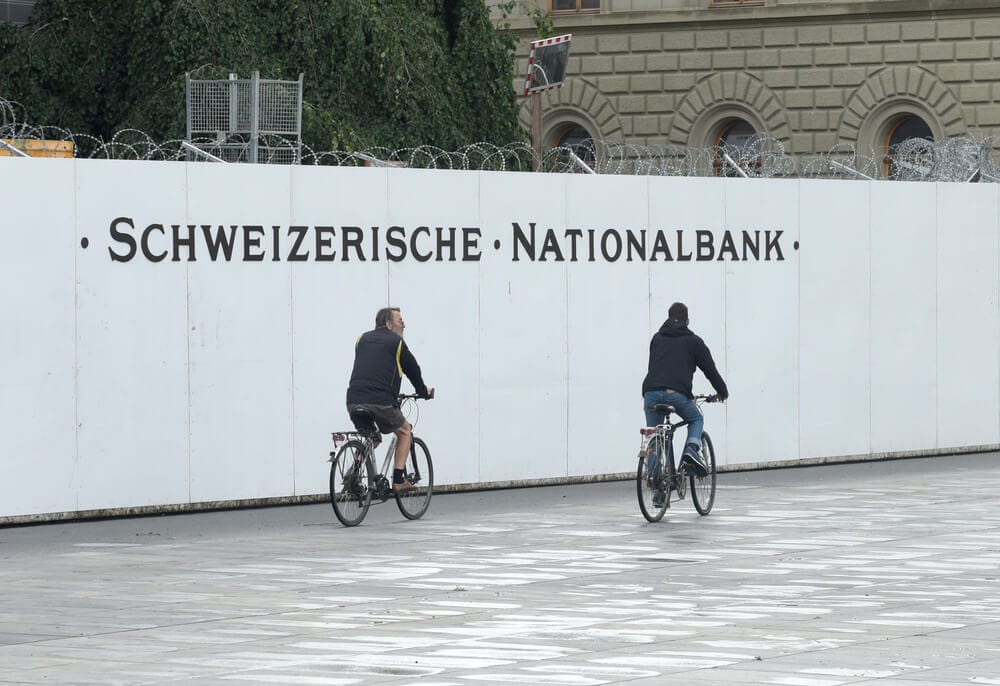 Hopes are continued whether SNB may take steps to curb the CHF currency stronger to the weaker point.
And the fundamental point of the Swiss economy is weaker than expected, So in coming months, CHF may point to a downward trend.
But Global stabilization is also needed to support for CHF currency.
USDCHF traded higher ahead of US GDP and Jackson's Hole symposium.
---
Don't trade all the time, trade forex only at the confirmed trade setups.
Get more confirmed setups at premium or supreme plan here:  https://www.forexgdp.com/buy/