Gold: Delta Variant
Gold is at the support level, wait for the reversal or breakout confirmation.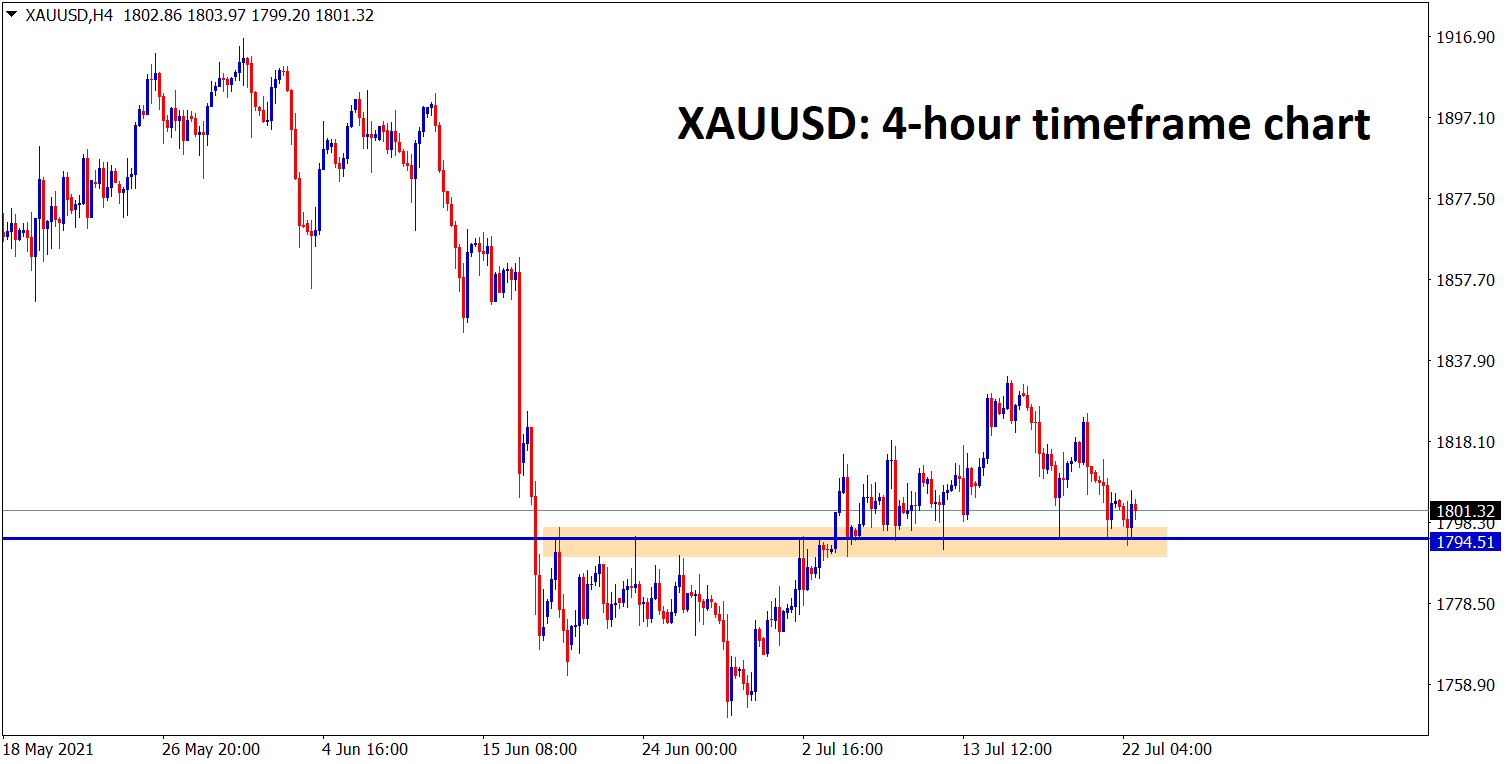 Gold prices move for correction to 1764$ this week as a 61.8% ratio.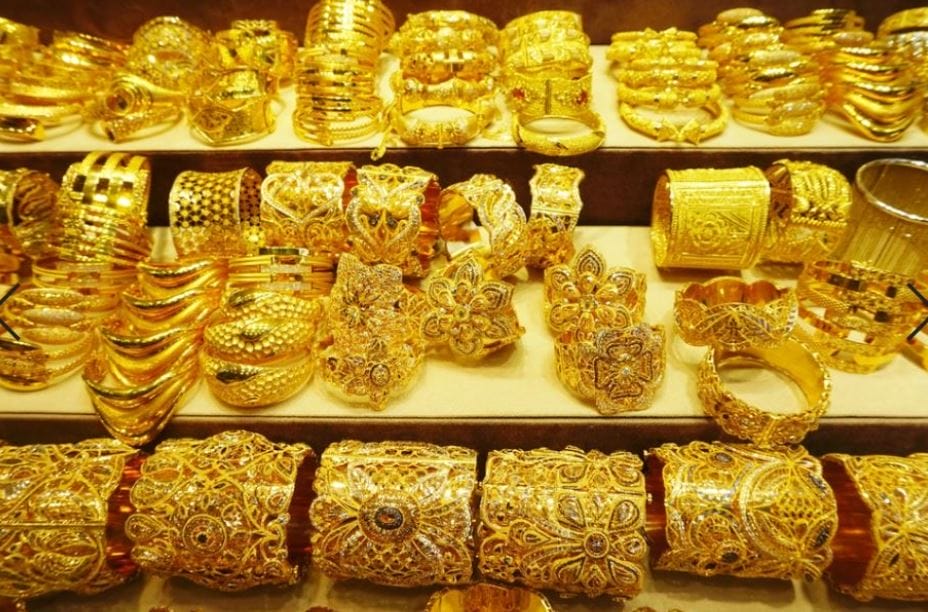 Global Cues made gold prices moved to lower prices, and More sellers came to the Bullion market as per the SPDR Gold Trust report. Demand outlook sluggish as Delta Variant announced more lockdown to all around the world.
China cuts interest rates for Banks and remains money printing is much more in Chinese Government as GDP in lower numbers.
Due to this, Selling Gold more in Global countries as Money Printing is more.
US Dollar: Delta Variant
USDJPY is moving in a channel ranges.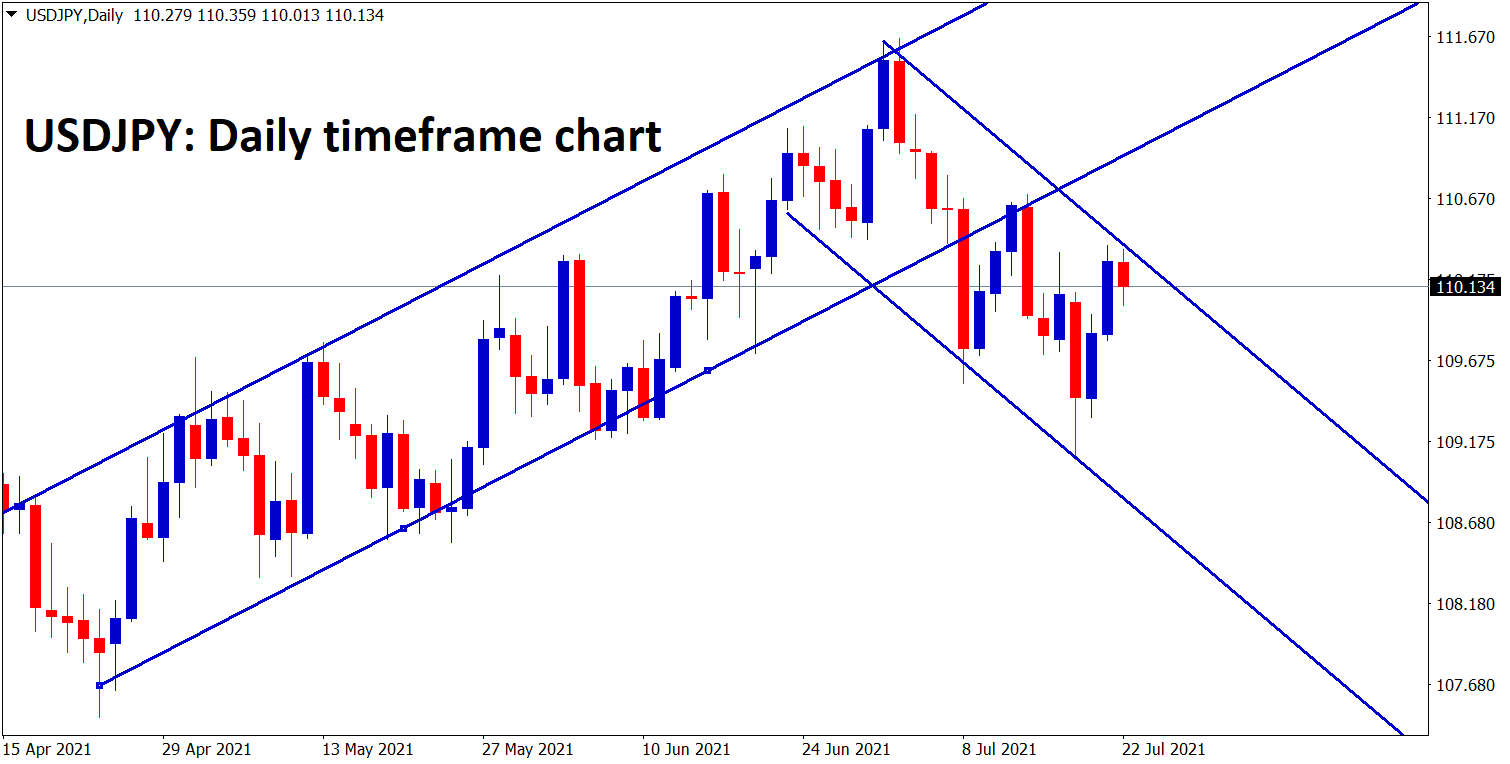 USDCHF is moving in a descending channel range.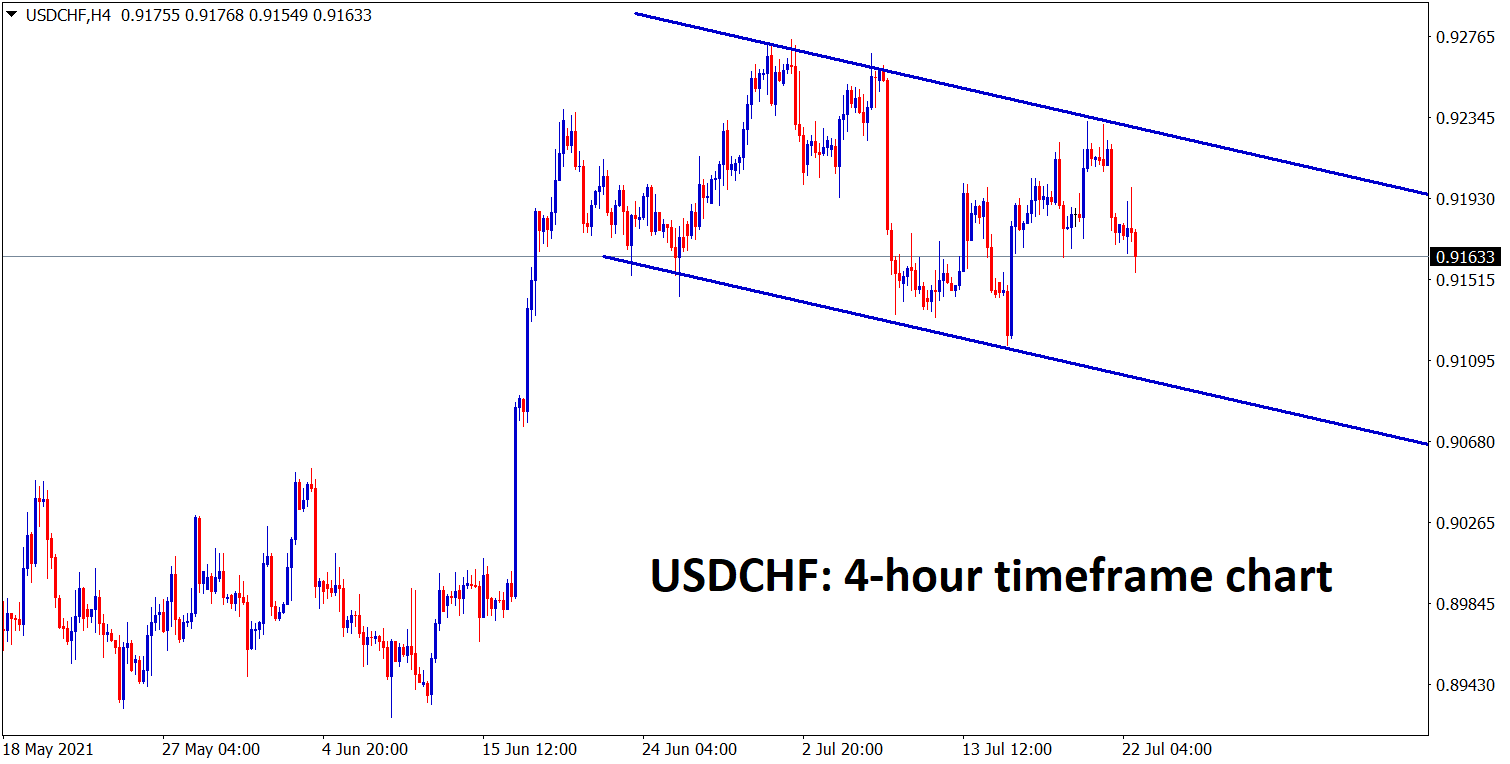 US Dollar index meets slight fell from a higher level of 93 as a correction. Still, the US dollar outlook remains higher for the last 5 years 88-100 level, so the market now stands in the mid-level of 93.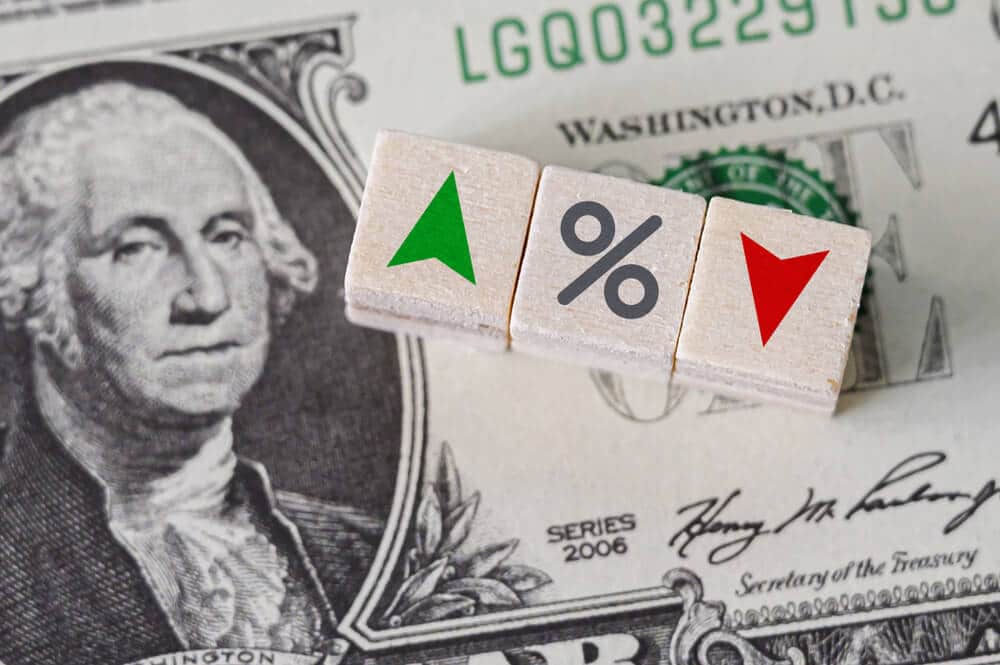 Now FED makes the immediate decision of tapering asset purchases is not possible, and inflation numbers growing high causes US Dollar stronger more.
And Domestic data of US Dollar is proving to be stronger outlook, and Delta Variant causes less effect on the US.
Doses of Vaccination in the US is a more successful ratio, and Wear of Mask is unnecessary for US people.
Vote for passing Infrastructure Bill
US Democratic Senator Joe Manchin says There will be significant Progress in Bipartisan Infrastructure proposal negotiations. We are now Close to an agreement, and Senate Republicans vote for 51-49 votes; push it back to Monday.
Votes will favor Joe Biden infrastructure spending Bill, and soon may US Dollar rise after Bill passed in Senate successfully.
Infrastructure Bill is essential for US Economy to rebuild up in Full area and Makes more Support for the US and to beat China through Proper Infrastructure plan.
EURO: ECB meeting
EURUSD is bouncing back from the higher low zone of a Symmetrical Triangle pattern.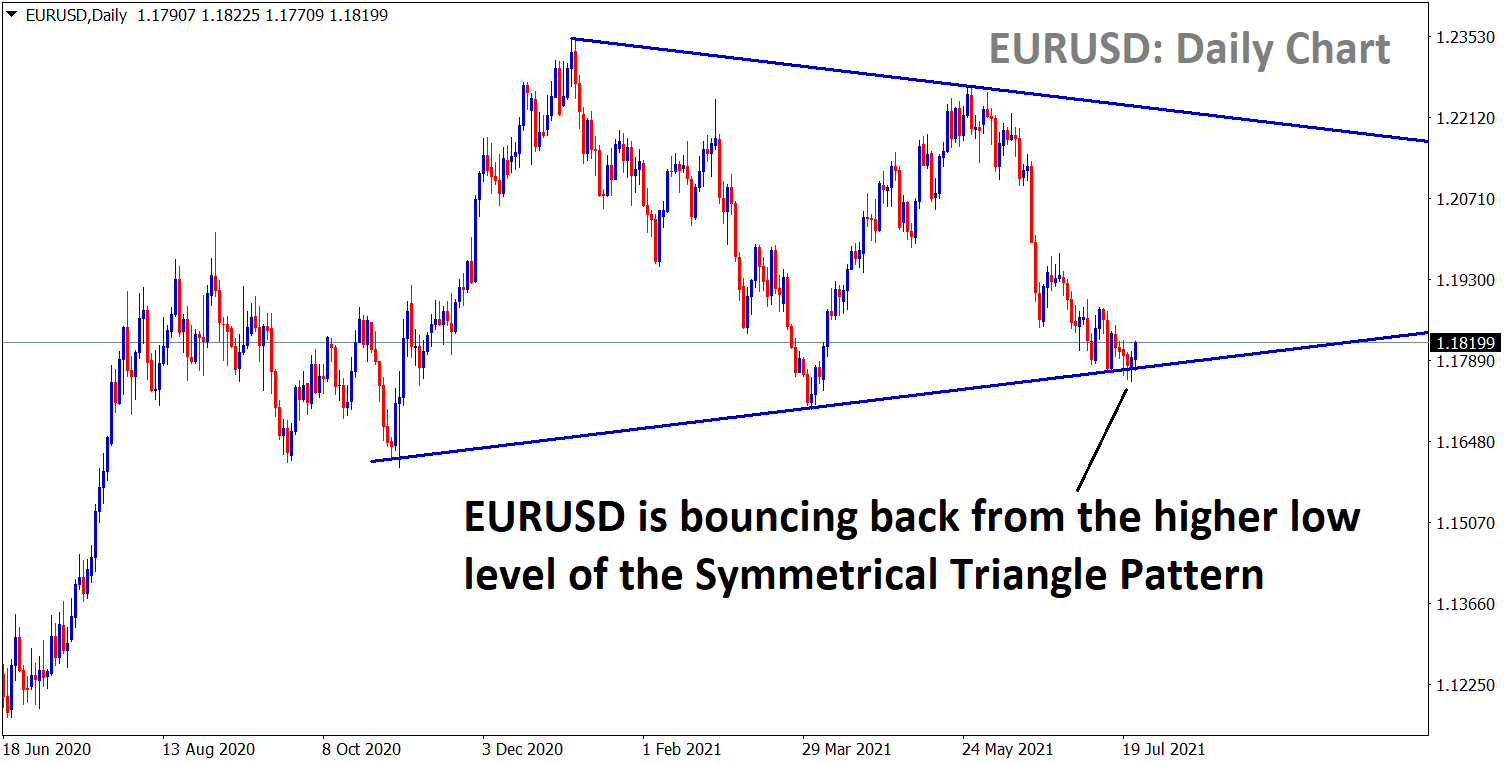 EURAUD has reached the higher low level of Uptrend line.
ECB Policy meeting Happening today and Outcome of ECB policy meeting is Dovish stance only.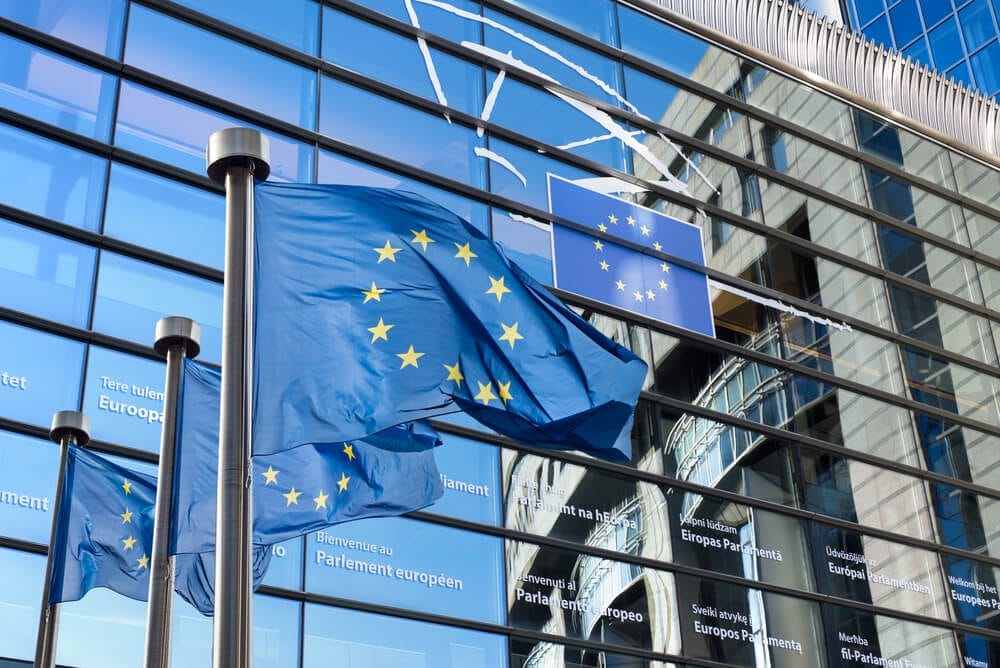 And there are three types of Asset purchases programs are in the table; anyone reducing or increasing will affect Euro prices today.
Delta Variant is a major cause for Eurozone recovery. Vaccination Rollout moves in Healthy play in the market. From March 2020-till now Market feels higher mode as 16% now correction seen in the market as 8% to 1.15 level.
US Dollar moves in stronger momentum as Domestic data shows healthy progress.
UK POUND: UK Deputy Governor Broadbent speech
GBPUSD is bouncing back from the support zone.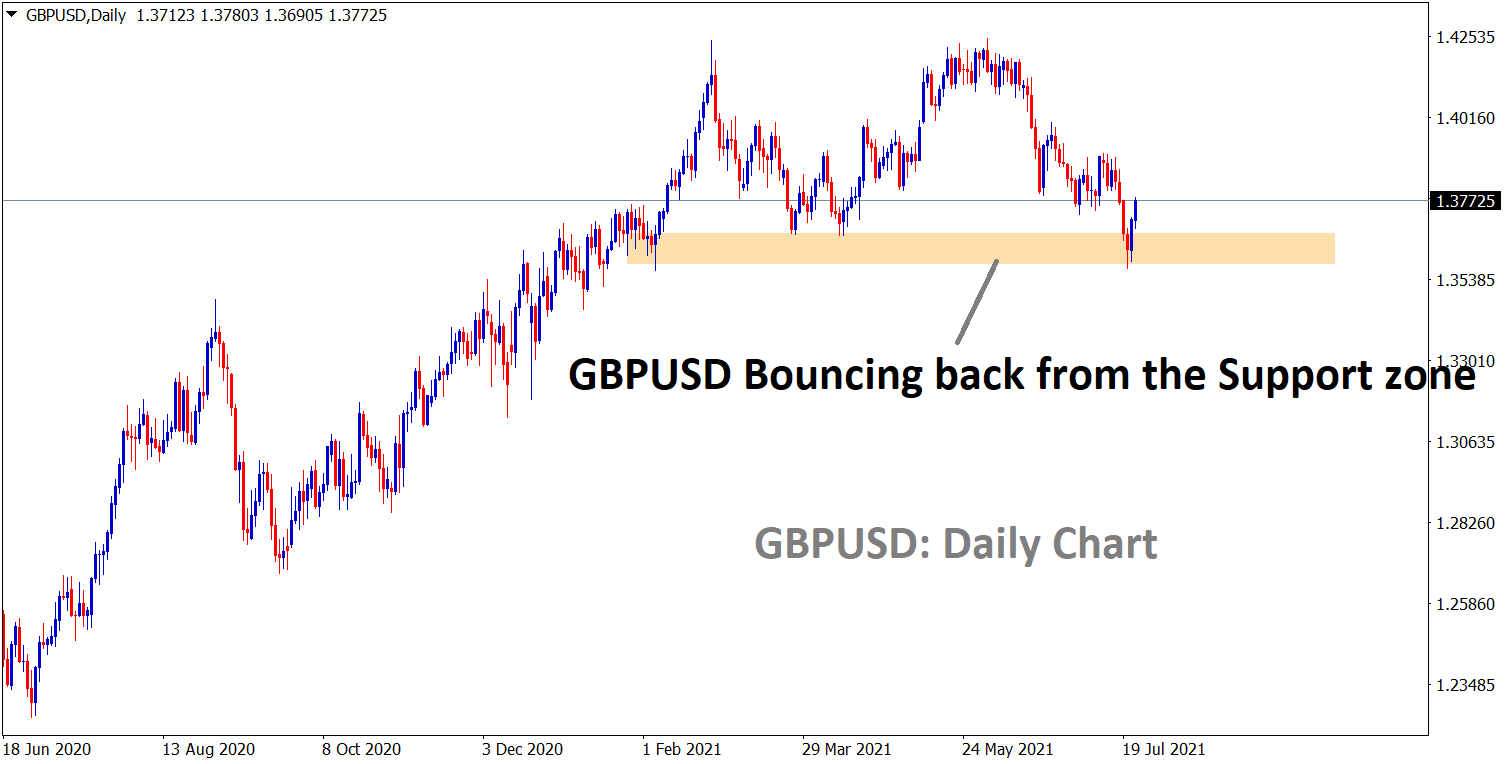 UK Governor Broad Bent said on Thursday inflation rising in the economy is temporary.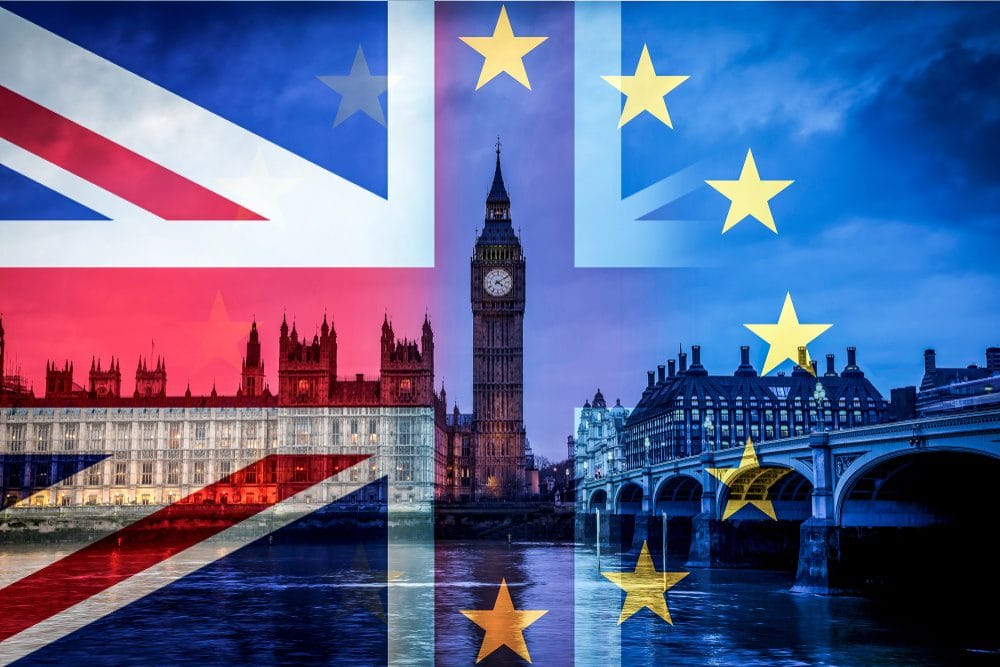 And there is no requirement to adjust tapering assets this time. Due to Delta Variant spread once again and the Economy is suffered from Covid-19, easing monetary policy conditions may be possible once the UK published another lockdown.
Now the UK is free of Mask and Free to live as before pandemic routine, Now GBPUSD moves in Lower high level as USD keeps stronger.
Monthly correction is seen in the market through the market significant rally from March 2020.
Canadian Dollar: OPEC+ Deal
Canadian Dollar set too high for 2% from 85 to 87 level against Japanese Yen. This reflects all Counterparties made fell about 3-4% in Market. GBPCAD, EURCAD, USDCAD pairs fell about 3-4% as US Oil surges as lower high in the market.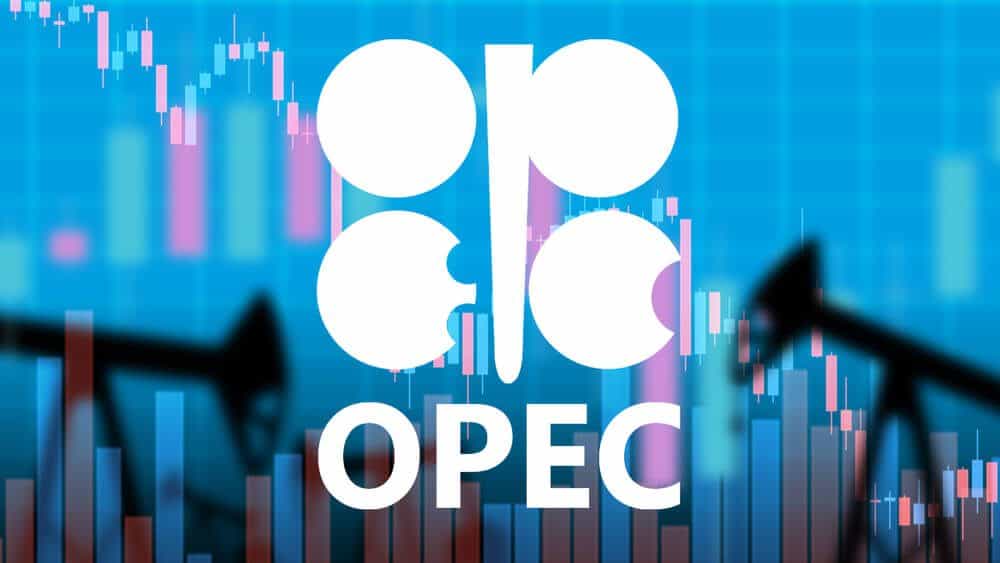 The market is not moved in one side, Day by day moving in swings; Due to this US, Oil made slight profit booking hints higher pace in the market.
Now US Dollar keeps stronger as FED waiting for Adjusting tapering assets once Delta Variant gets solved.
And More Fears in the market is the supply of Oil is increasing from August to control Oil Prices under the stable price.
OPEC+ agreed to increase supply as 4lakhs barrels per day from August month made positive for oil supply.
CADJPY may see a further decreasing tone to 81 levels if the Delta variant plays tougher in the market.
Japanese Yen: Delta variant
EURJPY is bouncing back from the higher low zone of an Ascending channel.
Japanese Yen makes good profit Booking mode after the severe sell-off in Second Quarter of the economy.
USDJPY fell about 2-2.5% after Japanese yen Sellers made profit Booked.
Due to the Delta variant spread across Global level major safe currencies Japanese Yen, Swiss Franc, and US Dollar gets stronger as More demand for safe deposit.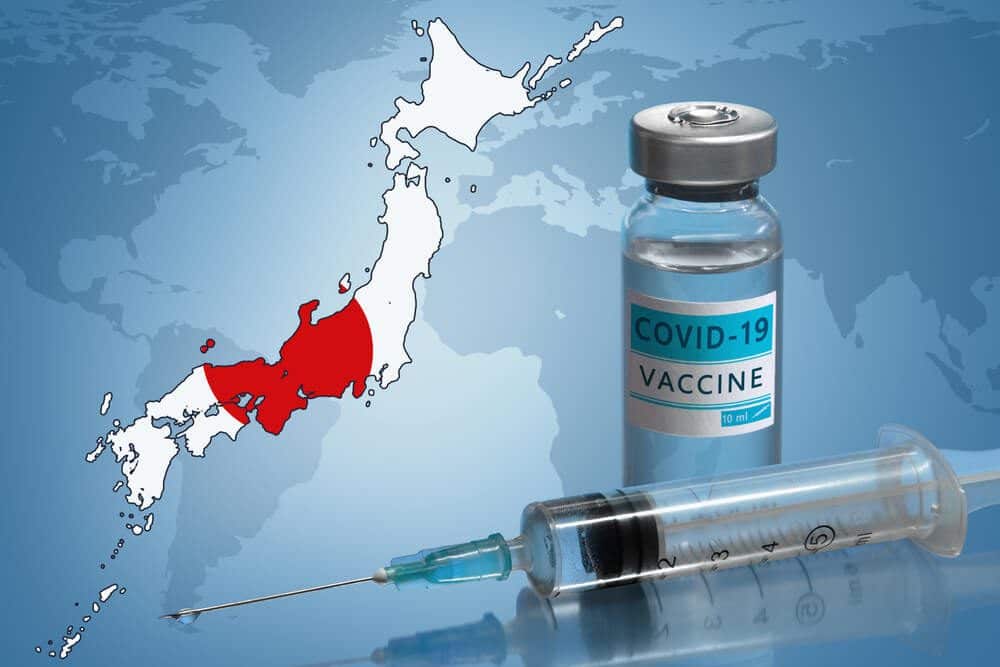 Once vaccination rollout and Delta variant get arrested, then the safety of Funds moved to Riskier currencies like AUD, CAD, NZD, EUR, GBP.
Australian Dollar: Australian Treasury Speech
AUDUSD is bouncing back from the lower low zone of a descending channel range.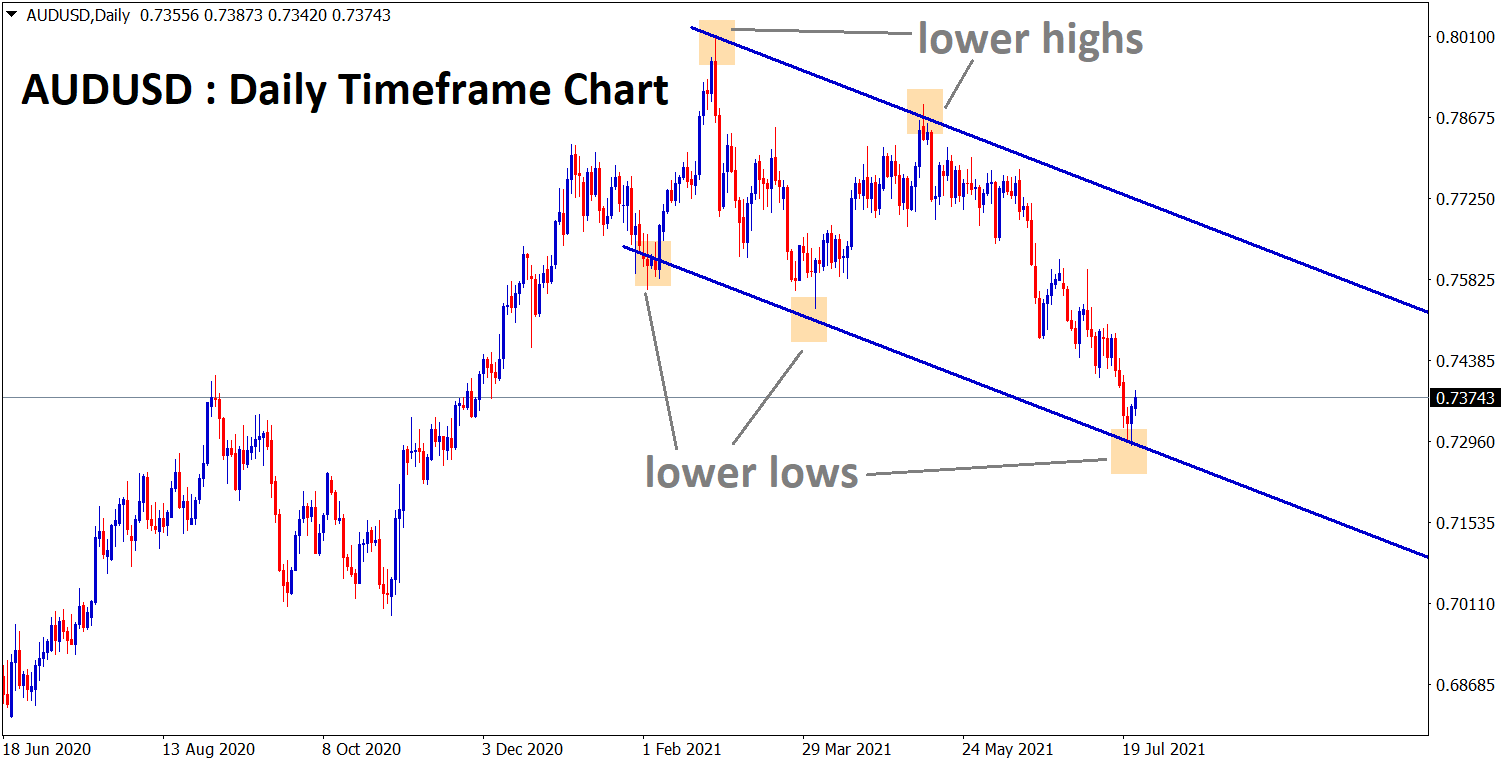 Australian Treasurer Josh Frydenberg said to ABC television as Lockdown in the Australian economy costs AUD300 million per day (USD220 million per day). This affects Businesses to close, and Kids homeschooled, GDP numbers and employment changes.
Due to this, GDP in Coming Quarters will see slower numbers as Lockdown is inserted in more cities in Australia.
And 13 million people under Lockdown causes Productivity and Jobless rates to high numbers.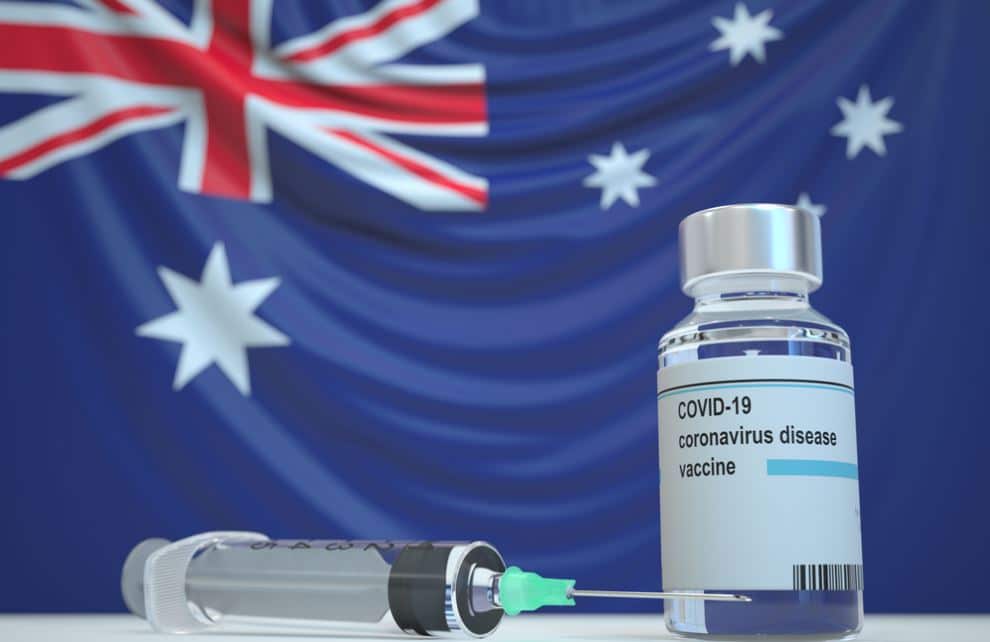 Vaccination slower move only is the major reason behind for affecting Delta variant.
China rate cut review
Deputy Director of Institute of World Economics and Politics Zhang Bin said People Bank of China did rate cuts for Private banks is good for Combating Slowing local demand in China.
Weak service sector and slow investment in Property and infrastructure do the Lower domestic inflation. If these same downtrend symptoms happened then, Exports failed to fill these Gaps of the Downtrend.
The private sector now benefitted from high liquidity lending with Low-interest rates. The monetary policy made boosting for general demand and makes Positive Policy change.
New Zealand Dollar: RBNZ Reducing asset Purchases
NZDUSD is bouncing back from the support zone in a Descending Triangle pattern.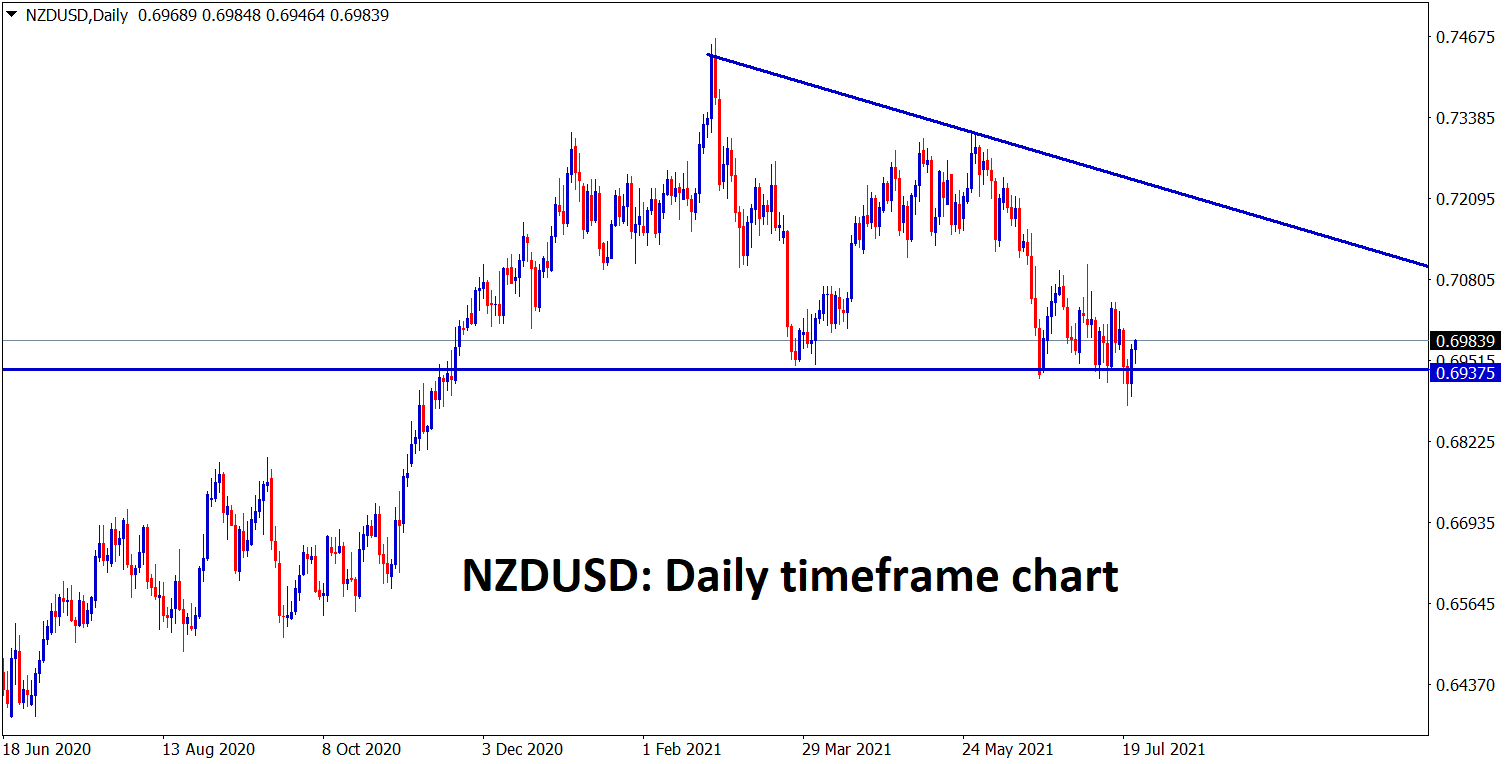 New Zealand Dollar shows a weaker tone and may see another correction next month, Now moves inside ranging market0.69-0.71 is possible.
Reserve bank of New Zealand set for Removing Large scale asset purchases from July 23. This brings the New Zealand Dollar to a slight increment, But Delta Variant causes more impact on Foreign Tourism, much affected between New Zealand and Australia.
The trans-Tasman agreement has been suspended due to Delta Variant being affected both in Australia and New Zealand. More than half of Australia was under lockdown to control spread.
Trade forex market only at the confirmed trade setups.
Get Each trading signal with Chart Analysis and Reason for buying or selling the trade which helps you to Trade with confidence on your trading account.
Want to increase your profits in trading? Get the best trading signals at an accurate time. Try premium or supreme signals now: forexgdp.com/buy