Gold: Gold Prices on Fire as Russian airstrikes on Ukraine Capital Kyiv
Gold prices show more Danger situations surrounding Russia and Ukraine War, maybe lead to the Third World War opening.
XAUUSD Gold price has broken the Descending Triangle pattern.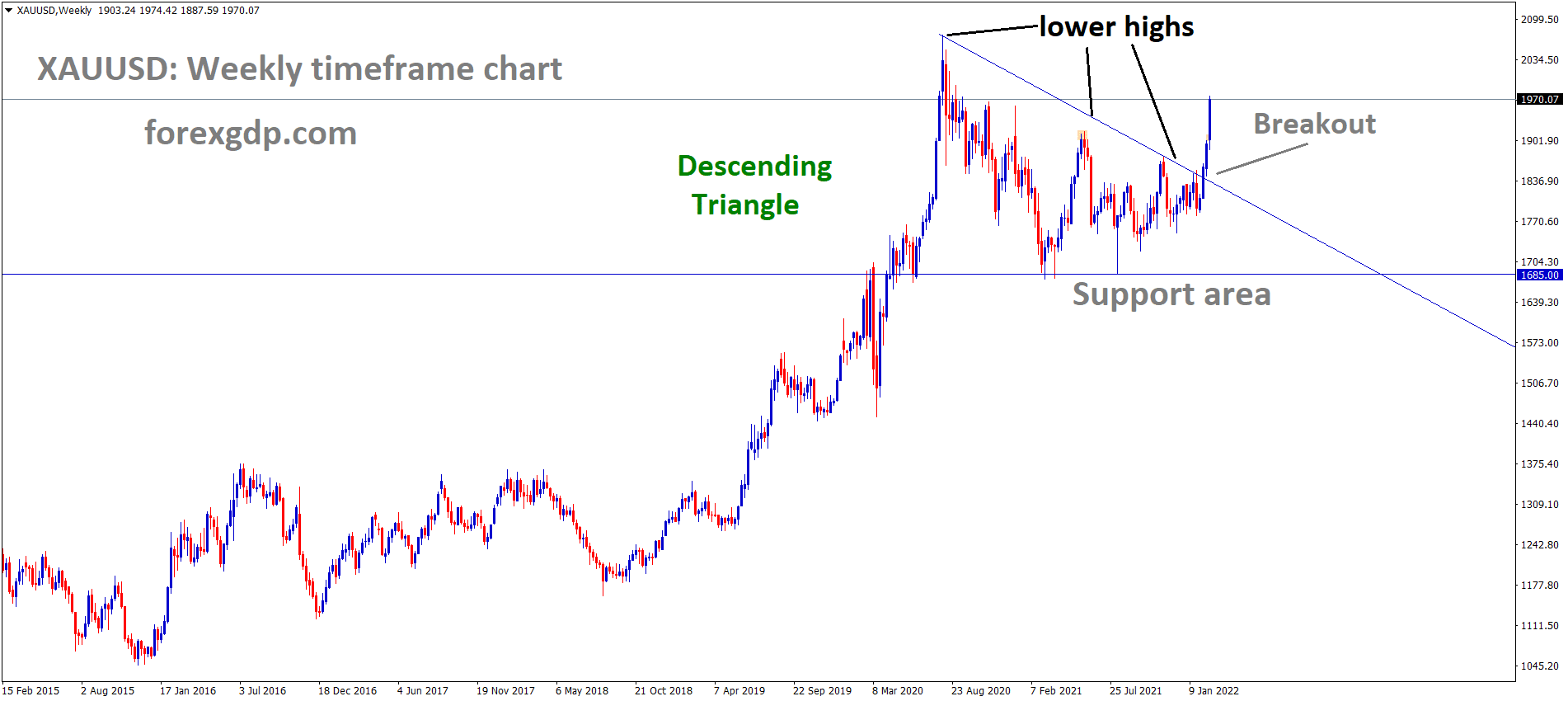 XAGUSD Silver Price is moving in the Descending triangle pattern and the market has reached the lower high area of the pattern.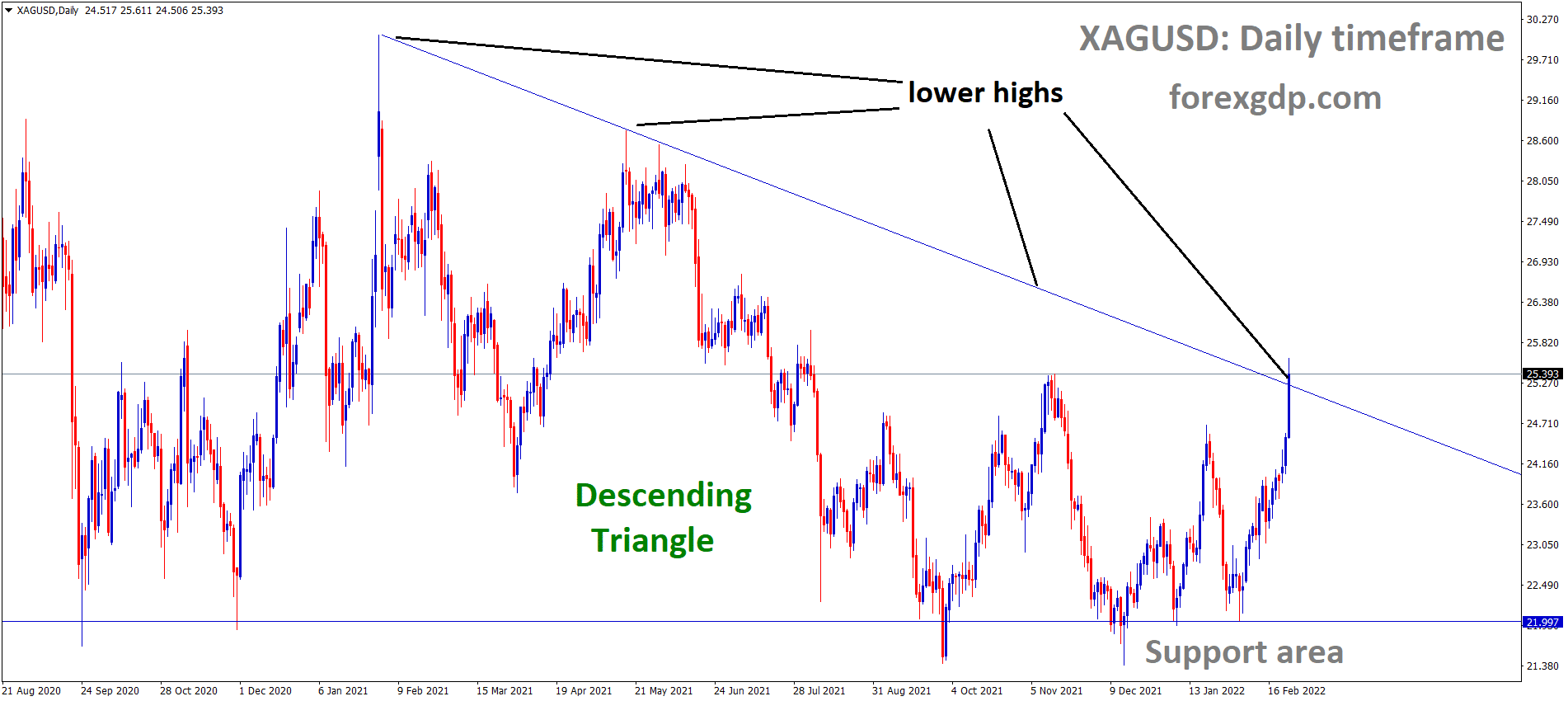 Gold prices are up nearly 3.0% from lows today and hit 1972$ from 1909$ Today low.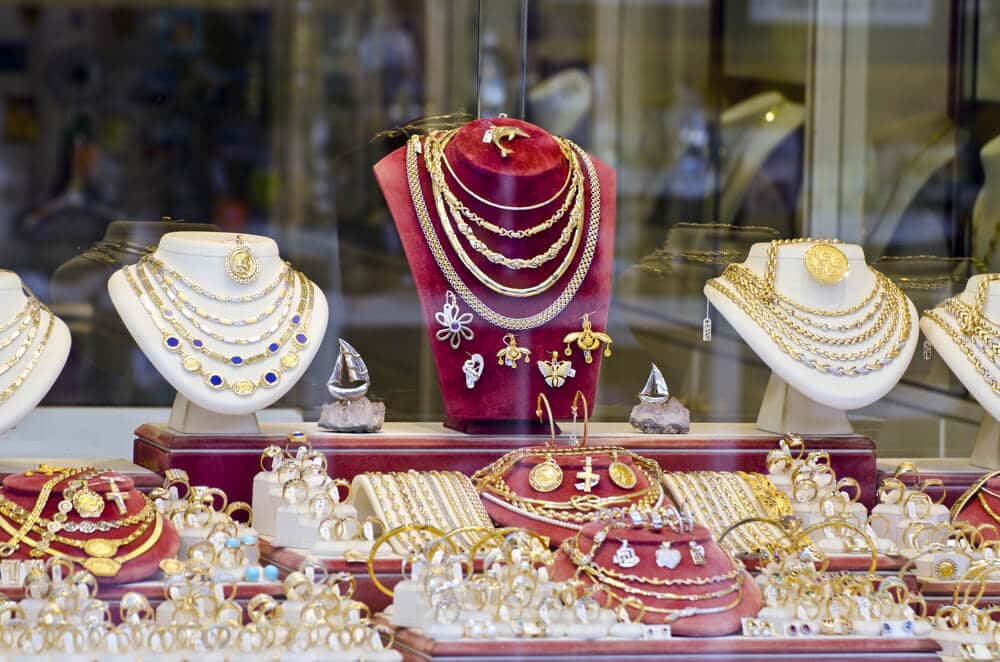 And Russian troops attacked Ukraine's Capital city Kyiv and Told them to surrender to Russia.
Ukraine Forces are surviving against Russian Troops.
Any How Gold prices will hit the 2000$ mark as strong resistance soon if the same situation persists.
US Dollar: Russia started to attack Ukraine
USDJPY is moving in an Ascending channel and the market has reached the higher low area of the channel.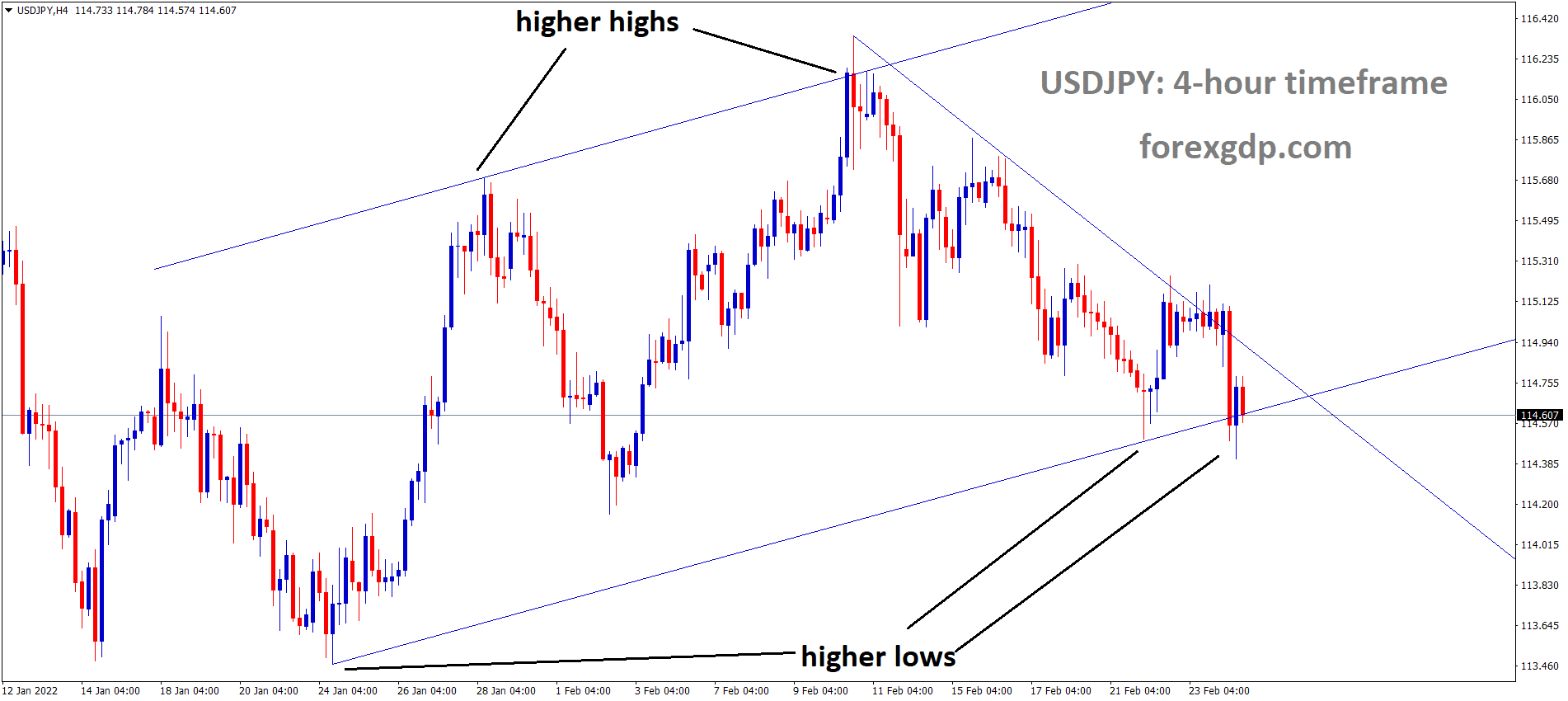 US Dollar index inched higher to 96.70 area as situation happened more than expected in Ukraine region.
And Russia has made attacks on Ukraine to peace the Regions and is independent of NATO military actions.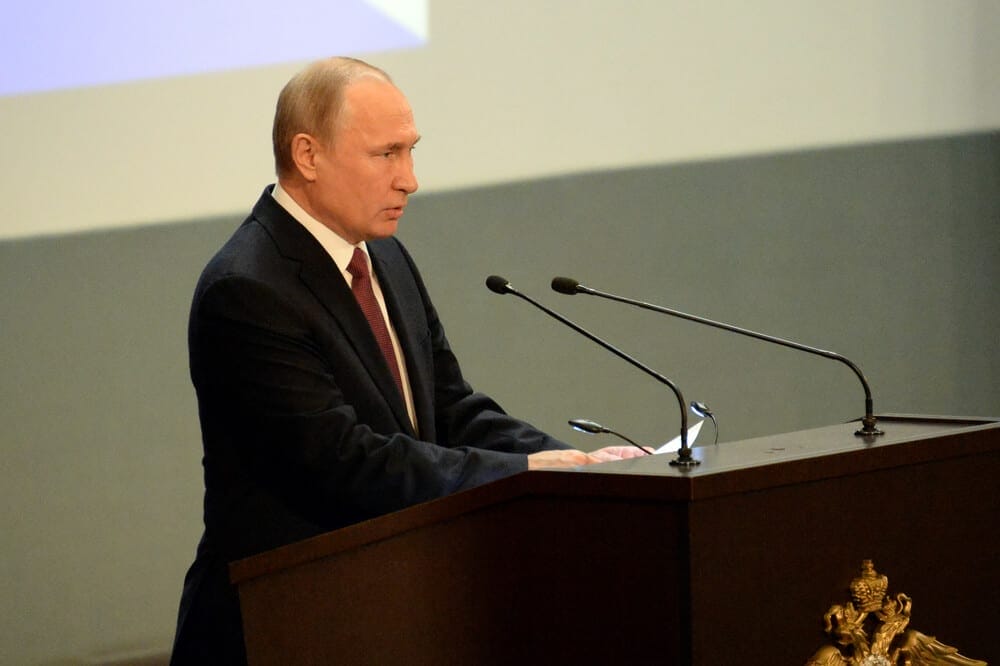 But President Vladimir Putin said it is not an invasion of Ukraine or acquiring an idea, and we keep safety to Ukraine People from Foreign countries.
Anyhow, Attacks started from Russia, and the Whole image appears as War season Begins.
The US Continuously Put sanctions on Russia, UK, Australia, Germany also joined Hands with them and against Russian Activities.
EURO: Euro CPI data seems higher than Expected data
EURUSD has broken the Descending triangle pattern.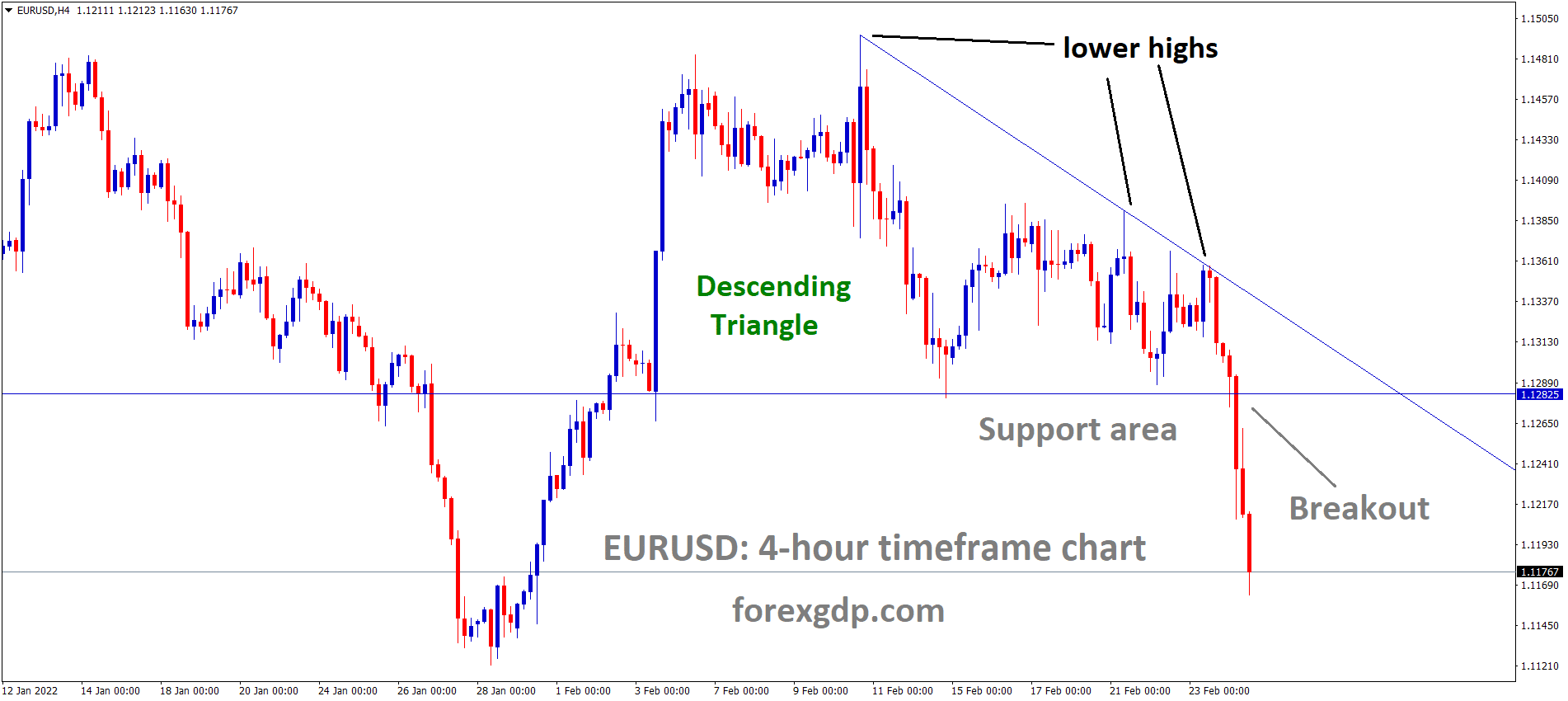 Russia started to Attack Ukraine this morning and Told It is not planning for invasion or Acquiring Ukraine regions; they are protecting Ukraine from NATO Forces.
And the US has started Tight sanctions on Russia for invading Ukraine, and the UK also imposed sanctions on its side.
So, Euro Tumbled 1% last day as Fears surrounding Ukraine Regions very Worst situations.
And Euro CPI data came at 5.1% YoY, which is higher than expected data.
ECB may soon want to take an interest rate Tool to Compromise inflation readings in the Economy.
German Foreign Affairs Committee Speech
German Foreign Affairs Committee said New Gas contracts with Russia are not possible from now and No thinking of gas contracts in the future.
Russia has sent Troops to Two regions of Ukraine, making tensions in the relationship with Germany.
As a result, Now Germany has stopped the Nord 2 Gas contracts with Russia.
This situation made Energy Crisis might come Back to 2022 if Russia did not stop the Invasion of Ukraine.
UK Pound: Rate hike expectations Confidence slower than the last meeting
GBPUSD has broken the Ascending  Triangle pattern.
UK Pound has suffered Losses, and Economists at MUFG Bank said GBPUSD might retest the support area of 1.33 is possible in the next quarter.
And Bank of England's expectations of 50Bps looks dark now as the Russia and Ukraine War started.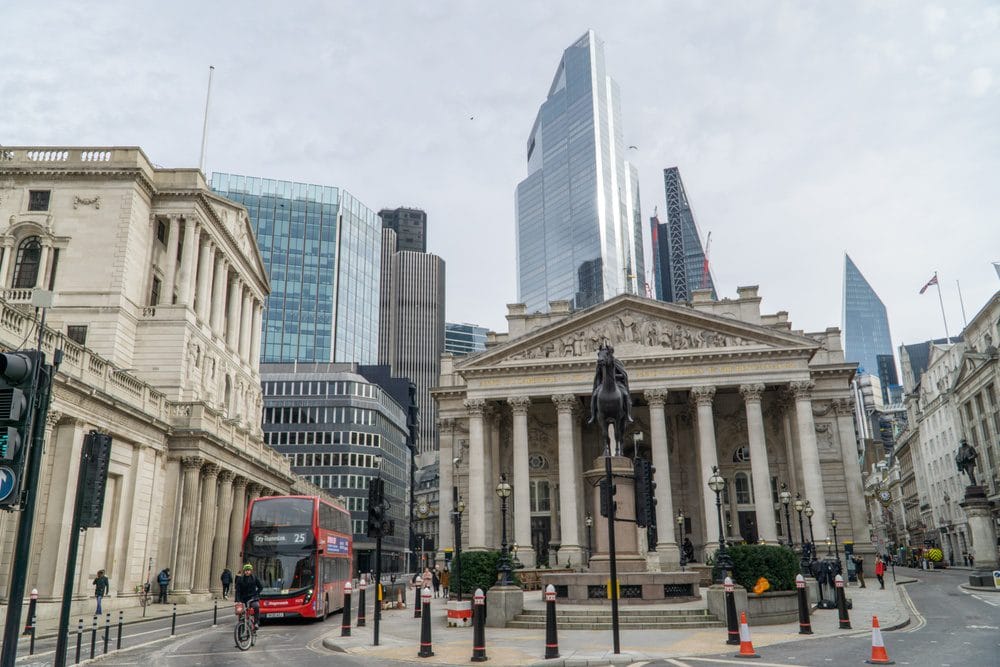 This situation made the Bank of England keep a 25bps Rate hike on the table instead of 50Bps, according to analysts MUFG Bank said.
And the UK might do a 25 bps rate hike expectations in March 17 meeting.
Canadian Dollar: Oil Prices soaring near to 100$ Mark
GBPCAD is moving in the Descending triangle pattern and the market has fallen from the lower high area of the pattern.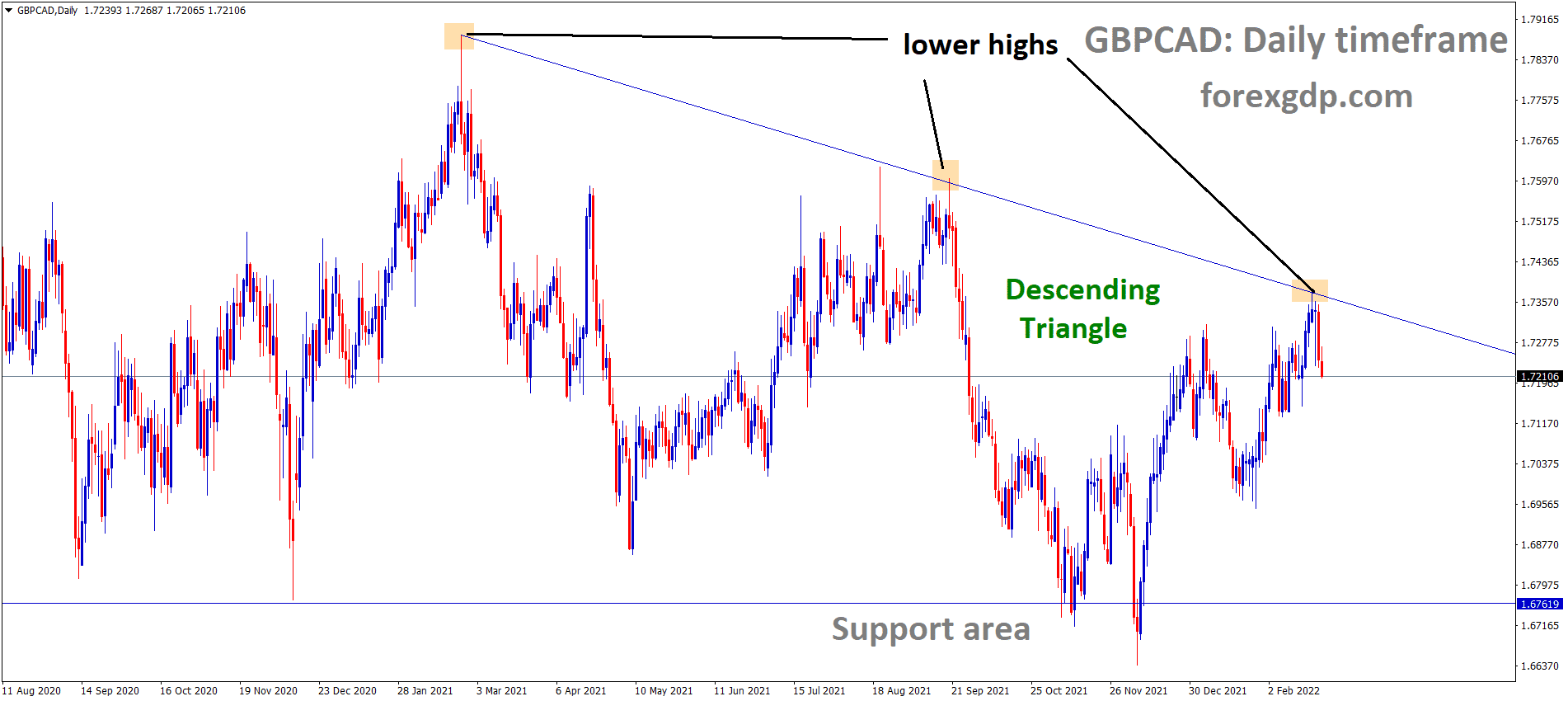 Canadian Dollar shows less strength against US Dollar and Ukraine regions are surrounded by Russian Military Forces.
Bank of Canada may be Do Tapering in the upcoming meeting as expected.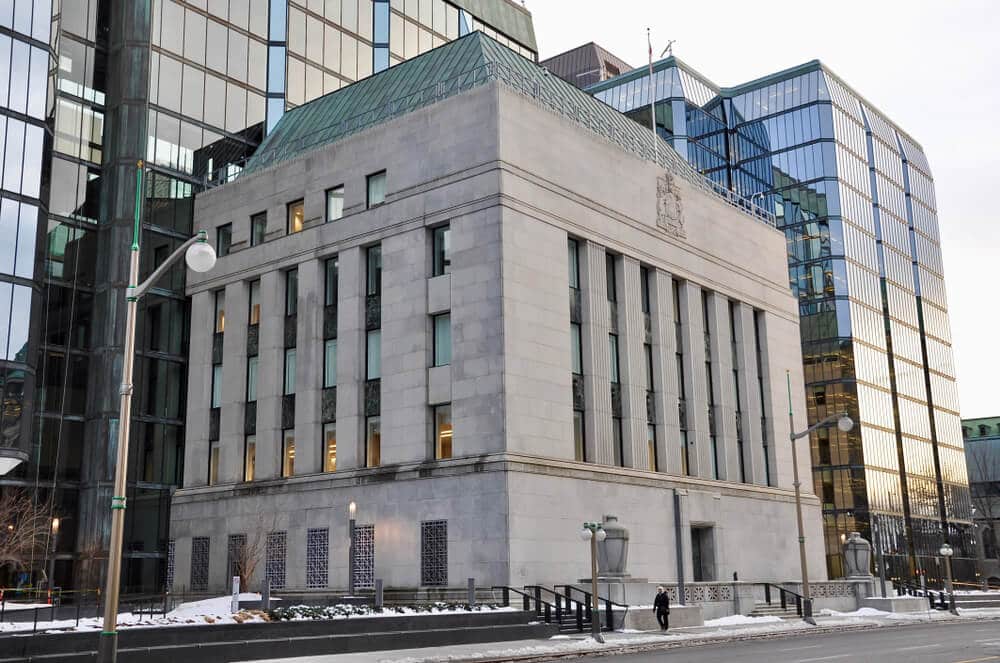 And Australia would impose sanctions on Russia if Troops do not retake their nations.
And Oil prices soaring to 98.0$ this morning due to the Higher Energy crisis would be expected from Global Areas.
Japanese Yen: Safe Haven Assets are higher due to War tensions
CHFJPY has broken the Ascending triangle pattern.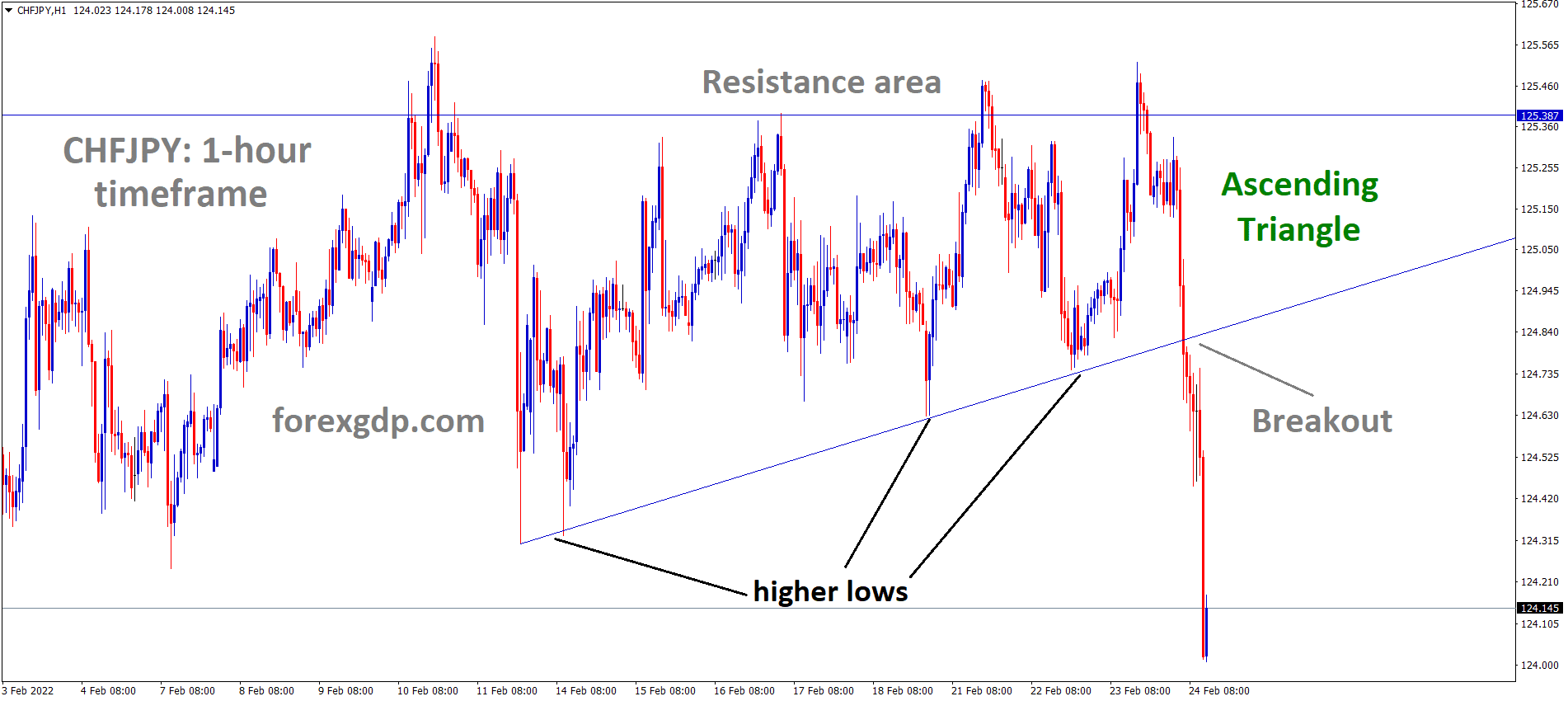 Japanese Yen moving higher as Risks in Russian Invasion heightens up and Troops attacking Ukraine Borders around Belarus area.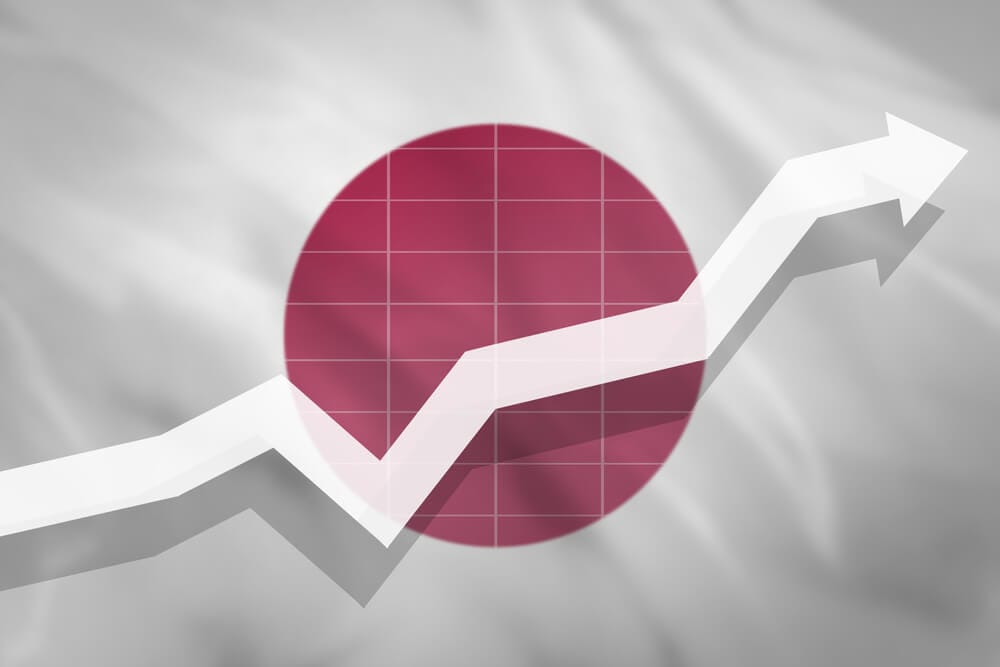 And the US continuously reiterated the Severe sanctions that will face Russia after the attacks on Ukraine.
Any Troops from Germany who support Ukraine is also on the table to order.
US President Joe Biden said Russian activities are unprovoked and Unjustified one, doing failure of Assurances given Before.
Australian Dollar: Commodity prices helped Australian LNG Exports and Revenues
AUDJPY is moving in the Symmetrical triangle pattern and the market has fallen from the Top area of the pattern.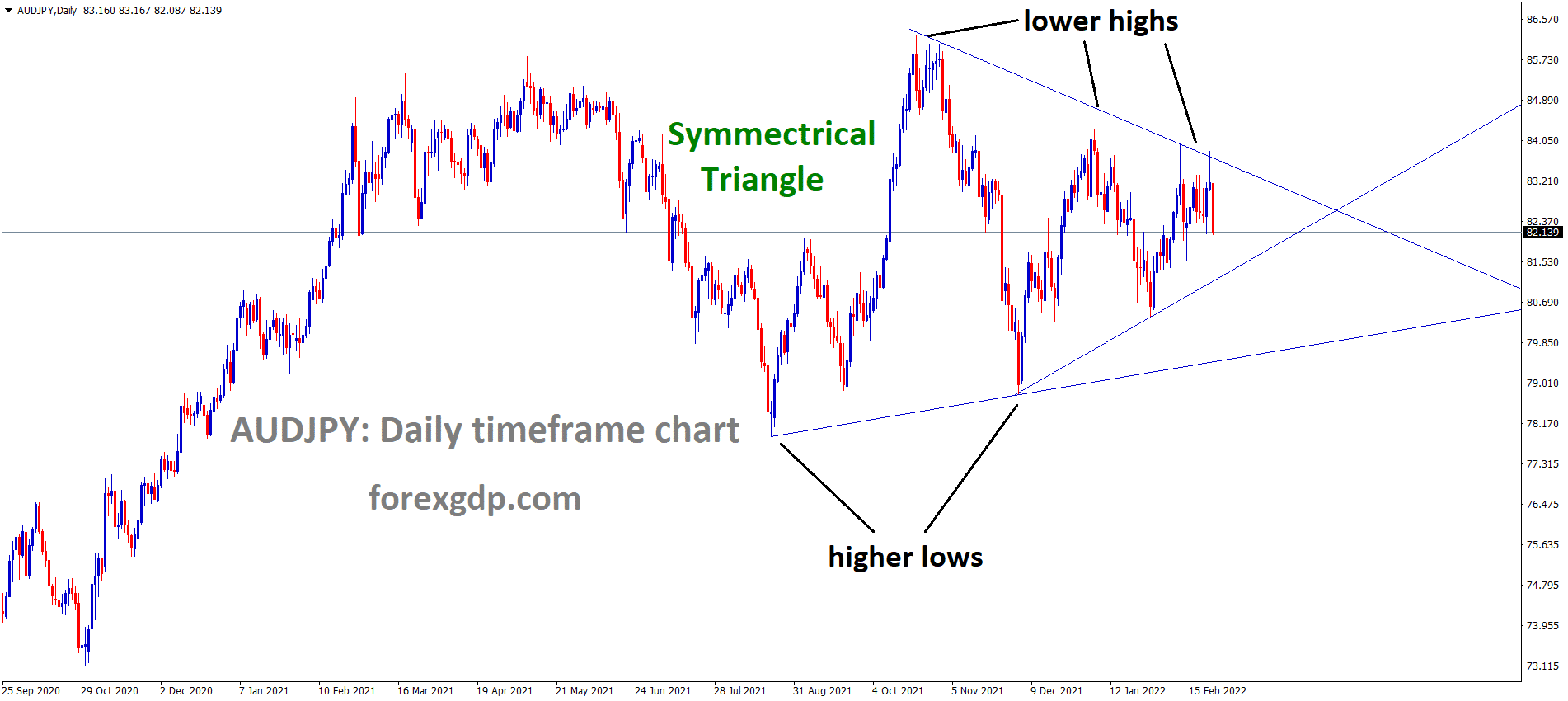 Australian Dollar see-saw between 0.70-0.72 range as Clear path not identified due to Geopolitical tensions survival.
As Commodity prices like Crude oil hit near the 100$ mark, it helped Australian LNG exports more and revenues in higher part.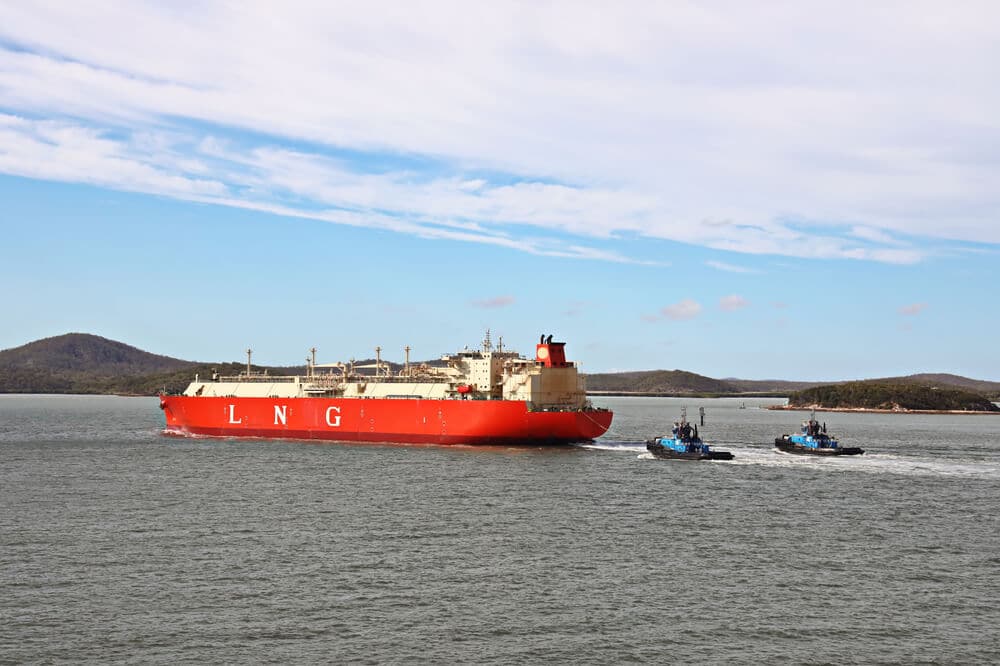 And Australian Wage index came in line with expectations, and the Australian Dollar suffered from Russia and Ukraine tensions.
And Australia also planned for Sanctions on Russia due to these attacks on Ukraine.
RBA still compromise with current interest rates and maybe a second-quarter shift to Hawkish momentum if Oil Crisis happened in Global countries.
New Zealand Dollar: Leaders of G10 countries condemned the Russia Attacks
AUDNZD is moving in the Descending channel and the market has reached the lower higher area of the channel.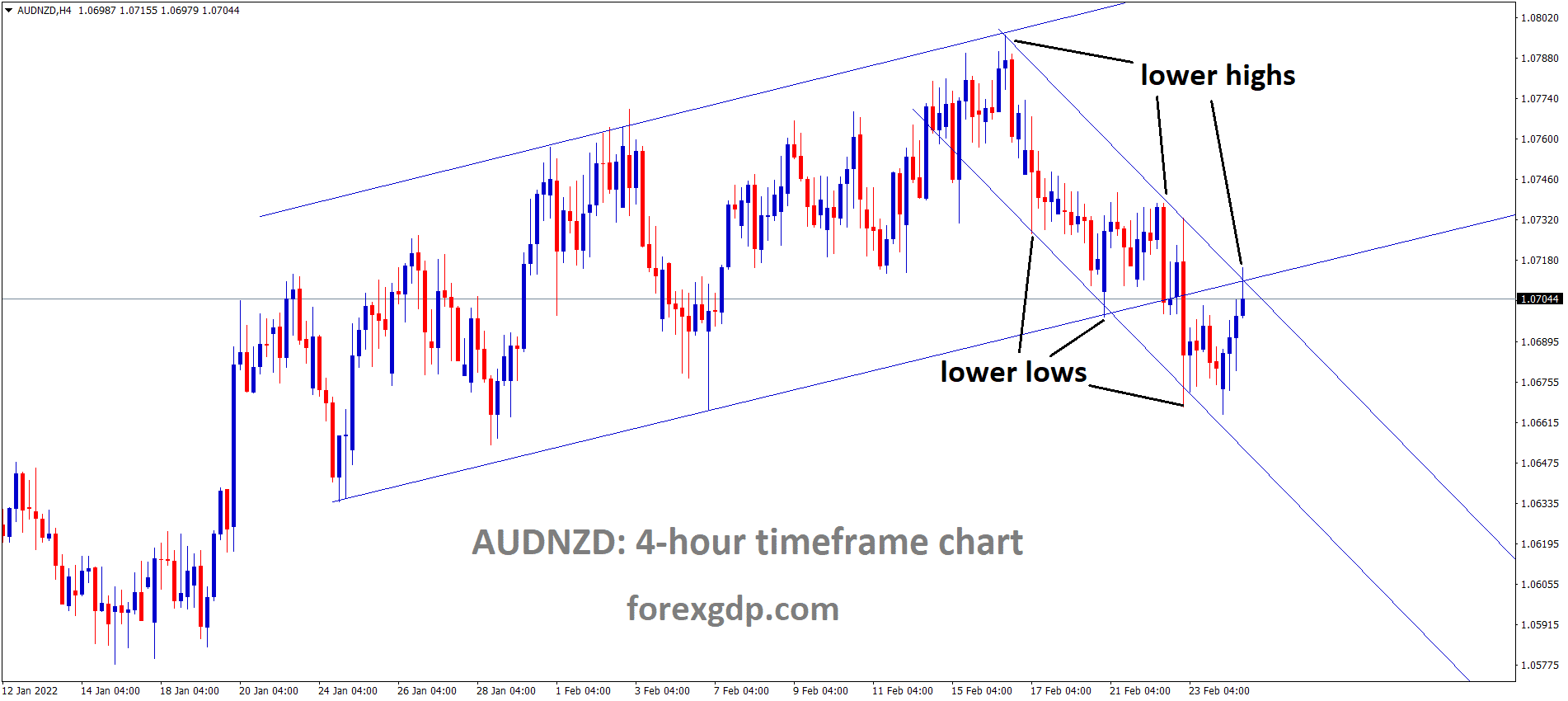 New Zealand Dollar declines from Yesterday's High after Russia attacks Ukraine today.
And already RBNZ lifted the 25bps rate hike on one side; fears surrounding Russia and Ukraine are the most serious situation than RBNZ policy decision.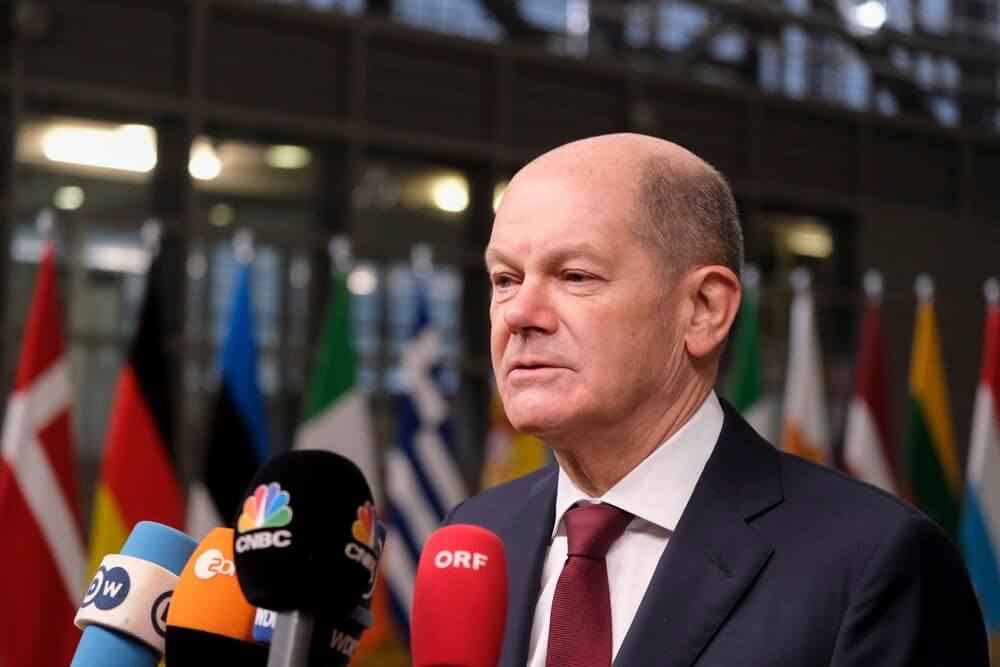 Germany chancellor Olaf Scholz said Russia's attacks show Breach the international Law.
The European Commission President Von Der Leyen said Russia's move is more dangerous and condemned the Russian Moves.
Swiss Franc: Demand For Swiss Franc higher due to Russian Transactions using CHF and Avoid USD
USDCHF is moving in an ascending triangle pattern and the market has rebounded from the higher low area of the pattern.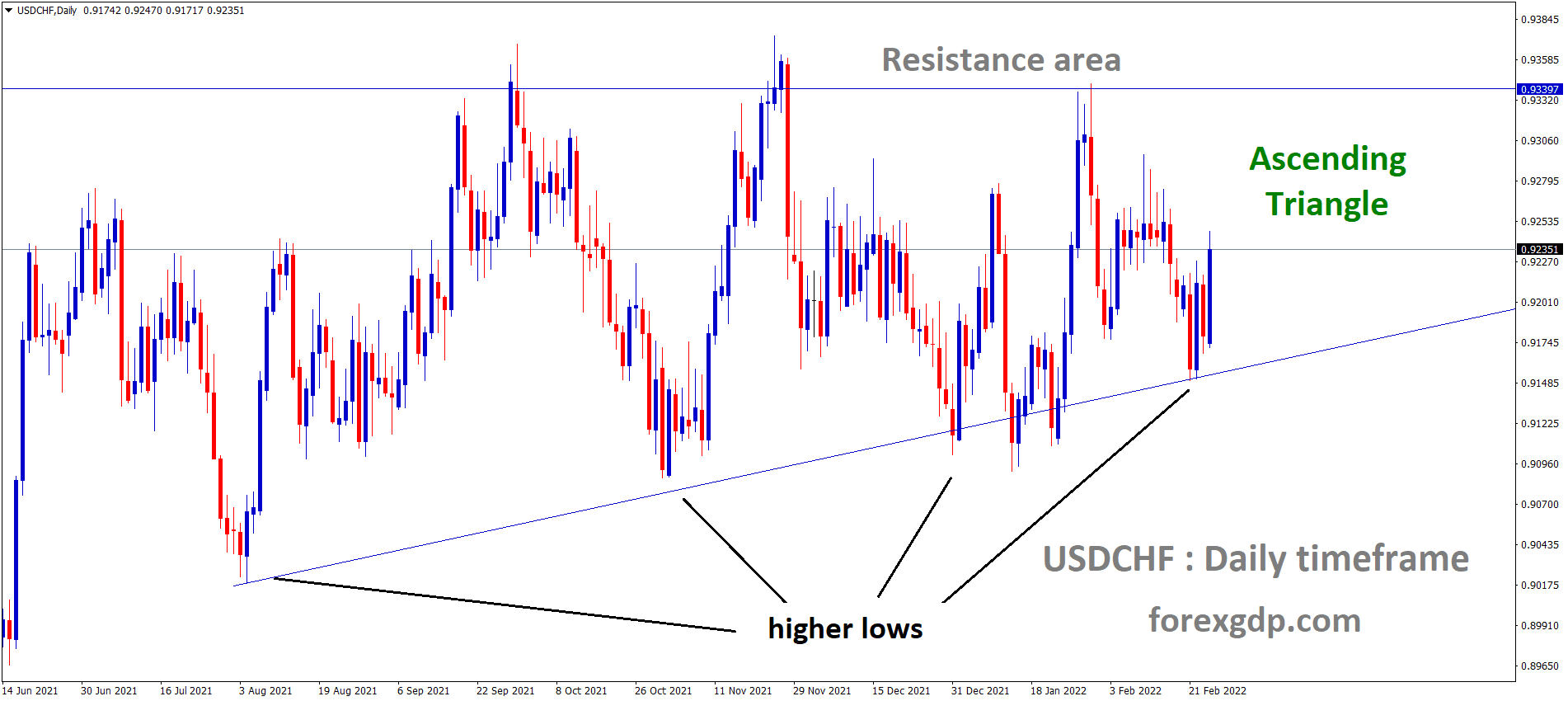 Swiss National Bank would not step aggressively until EURCHF have to reach the 1.00 level in the market.
And Russia now Shifted to Change its currencies in Swiss Franc instead of US Dollar during War times.
Due to this, demand for CHF has created more in SNB, but a Clear statement from SNB is they may not be Adjusted Policy settings until EURCHF touches 1.00 area.
And SNB Tolerance level is 1.00 for EURCHF pair, So Swiss Franc is considered a Haven Asset in War times and Crisis times.
---
Don't trade all the time, trade forex only at the confirmed trade setups.

Get more confirmed trade setups at Premium or Supreme plan here: https://www.forexgdp.com/buy/