Gold: Rising Treasuries keeps Safe Haven Gold rates calm down
XAUUSD Gold price is moving in a Rising wedge Pattern and the market has reached the higher low area of the pattern.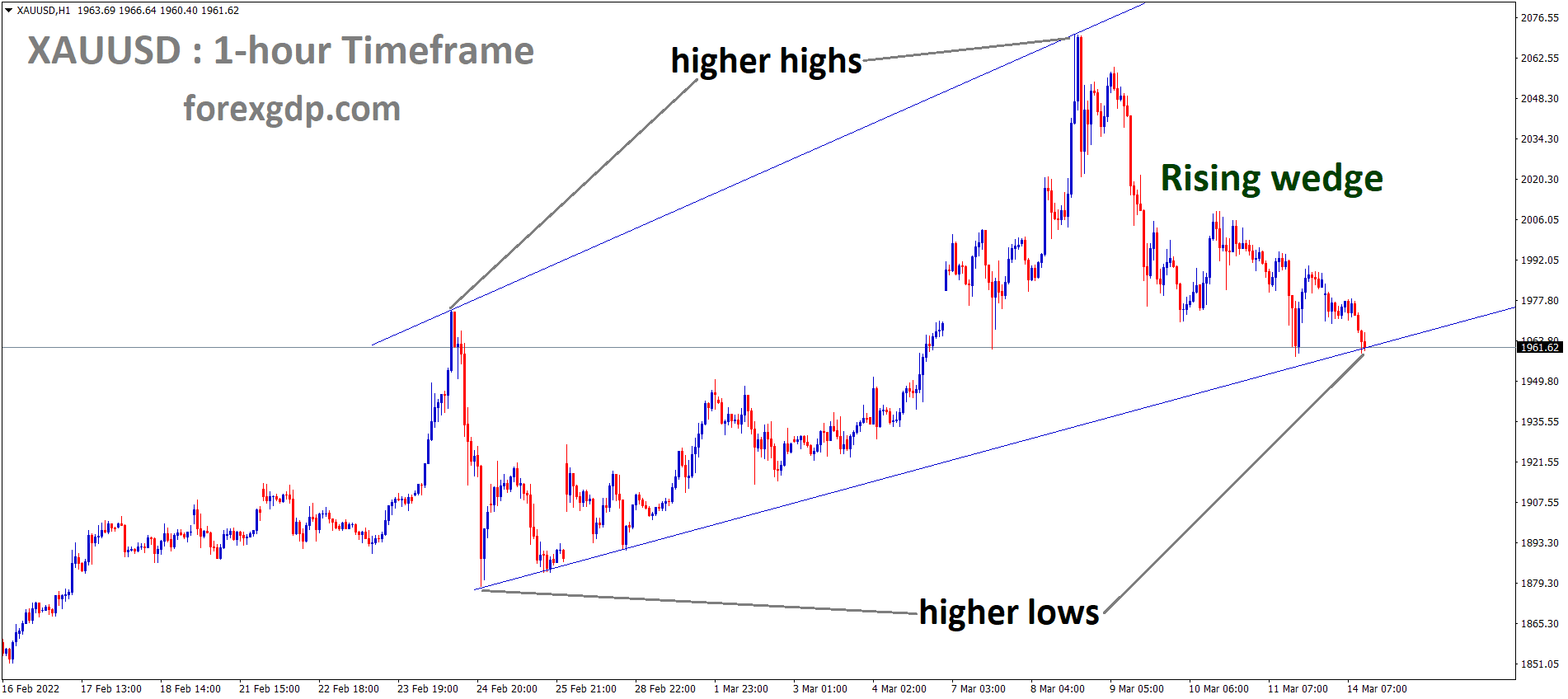 Russia sent positive feedback on the second round of talks to ceasefire War with Ukraine Negotiations.
This news kept calm on Riskier markets than Safe Havens market.
Rising treasuries make higher yields, and Gold keeps fees higher if higher yields.
And 10-year treasuries rate keeps higher at 4bps to 2.036%, which keeps gold rates go to lower from highs.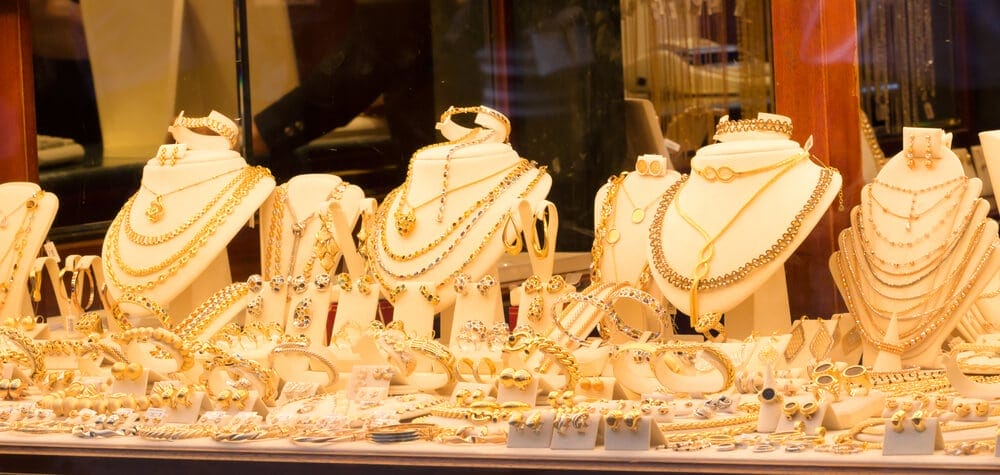 This week's FOMC meeting is more expected to rate hike for 25bps, if done means then gold rate falls further, if not down, then the gold rate rises further.
And SPDR Gold Trust reported 12.2 million recorded inflows since highest in the 2020 year and More inflow funds constitutes More demand for Bullions is still engaged.
US Dollar: US Dollar stayed Bullish and Positive comments from Both Countries in Cease fire talks
USDCHF is moving in the Symmetrical triangle pattern, and the market has reached the Top area of the pattern.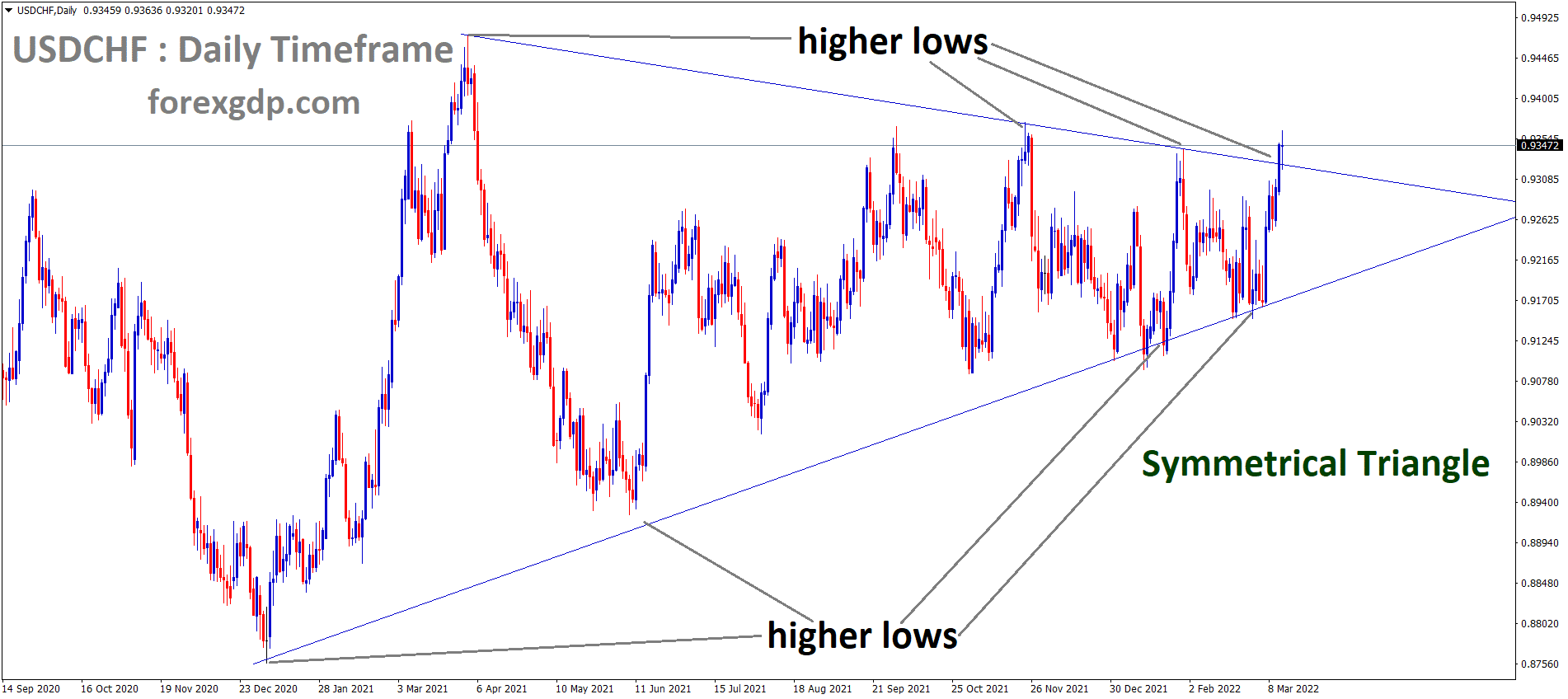 S Dollar index shows bullish momentum after Russia and Ukraine stay in positive talks of the Ceasefire War.
US President Joe Biden revoked Russia's permanent trade relationships to accuse the Invasion of Ukraine nation.
And US banned Russian exports to the US, and a $1 billion loss for Russia Exports to the US.
So many sanctions escalated to Russia, but nothing could the War between Russia and Ukraine.
Last day Russia Bombed attacks near Poland Border of Ukraine, which may lead to Third world war if Bombs misplacing in Poland inner parts of regions.
And more cautious steps taken from the Russian side, if any misplacing of Bombs in NATO countries would lead to big worries for Russia.
US President Joe Biden revoked the Russian PNTR deal
US President Joe Biden announced formally as Revoked the Russia Permanent trade relationships with the US, and this makes ban of Russian Imports of luxury goods, diamonds, Vodka and Seafood.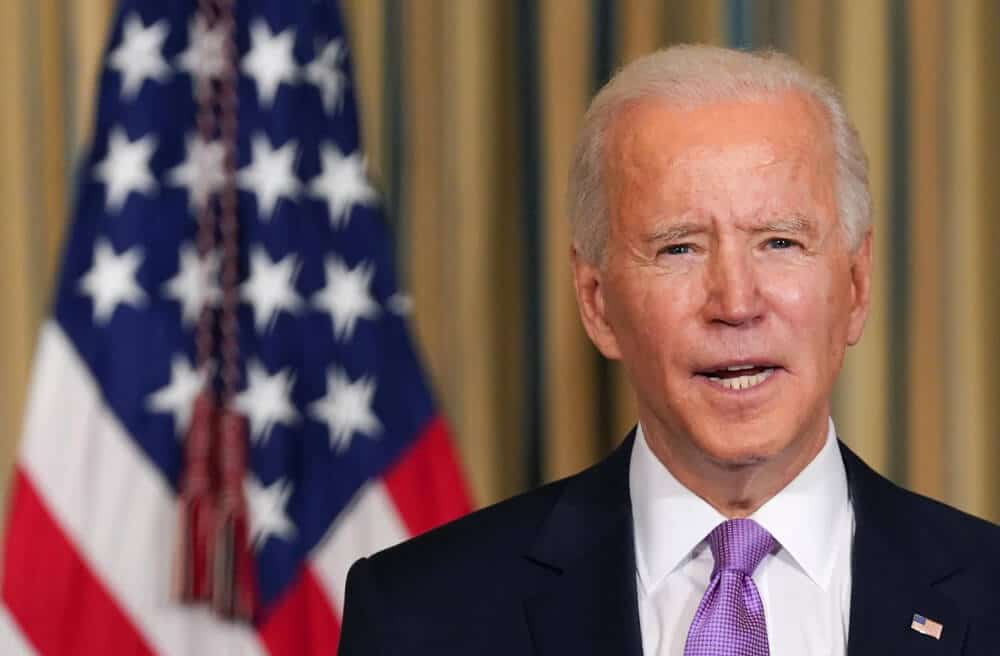 G7 nations also sanction step by step in coming days, as Joe Biden confirmed.
Russia will be more crushing their economy after hefty sanctions from the US.
The US banned imports of Russian Oil and Now imports, which would $1 billion loss in revenue for Russian trades.
Euro: ECB Governing council member Speech
EURUSD is moving in the Descending channel and the market has reached the lower high area of the pattern.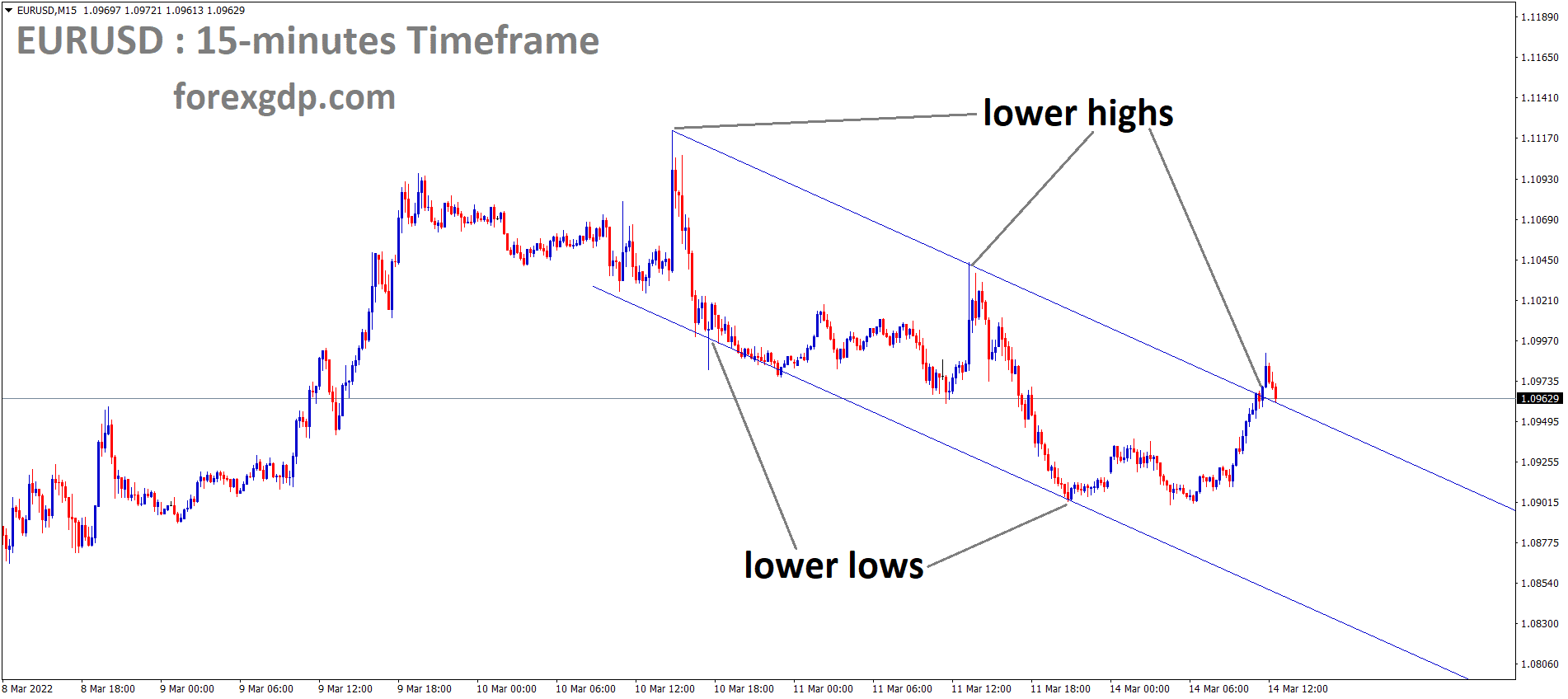 ECB's Governing council member Villeroy said the Ukraine crisis caused more impact on our Euro monetary and Budgetary policies this year.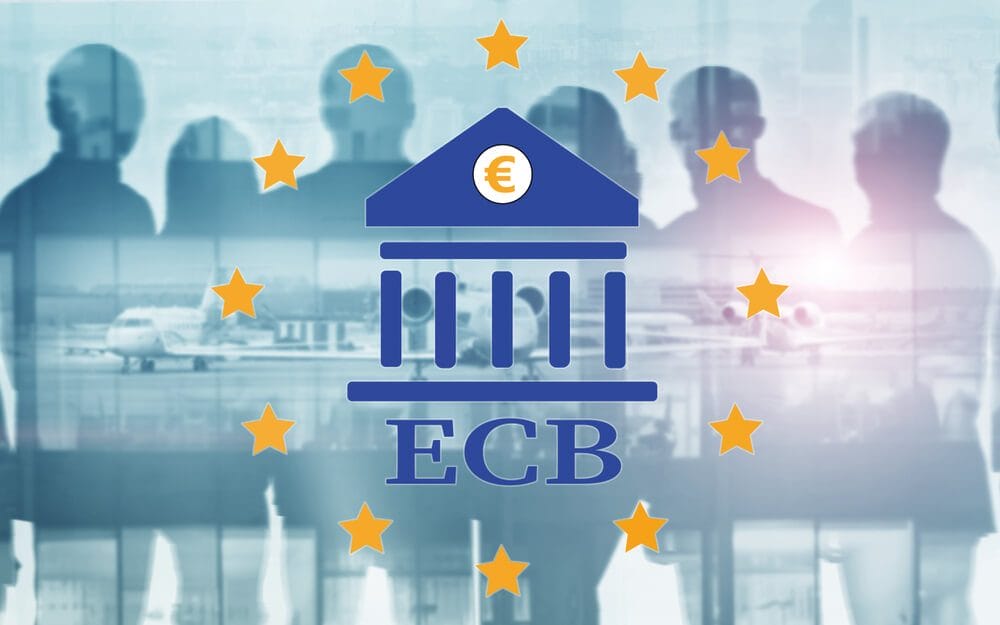 Since the Covid-19 pandemic, the Euro economy has recovered in the medium phase. It is less affected by the Russia and Ukraine war, But Soaring oil prices make energy costs higher in Europe.
This turns inflation much higher than expected; our Goal is visible in the markets.
So, ECB must do tapering and Rate hikes as early as possible before inflation goes above our hands.
UK Pound: Bank of England monetary meeting Forecast
GBPUSD is moving in the Descending channel and the market has reached the lower low area of the channel.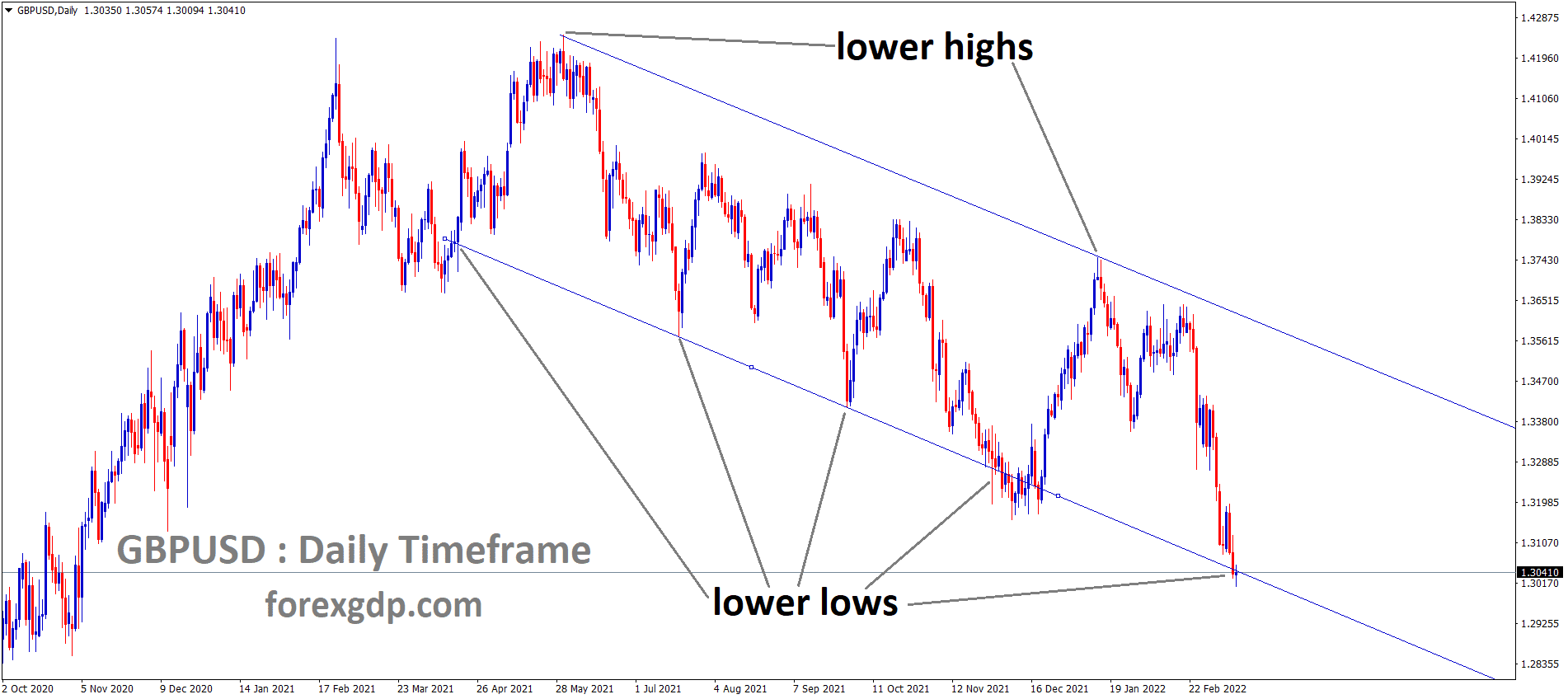 GBPUSD Falling the support area of 1.3050 this week as Energy crisis fears surround the UK.
And Bank of England will do 25bps rate hikes this week after two consecutive rate hikes of 25bps in December and February.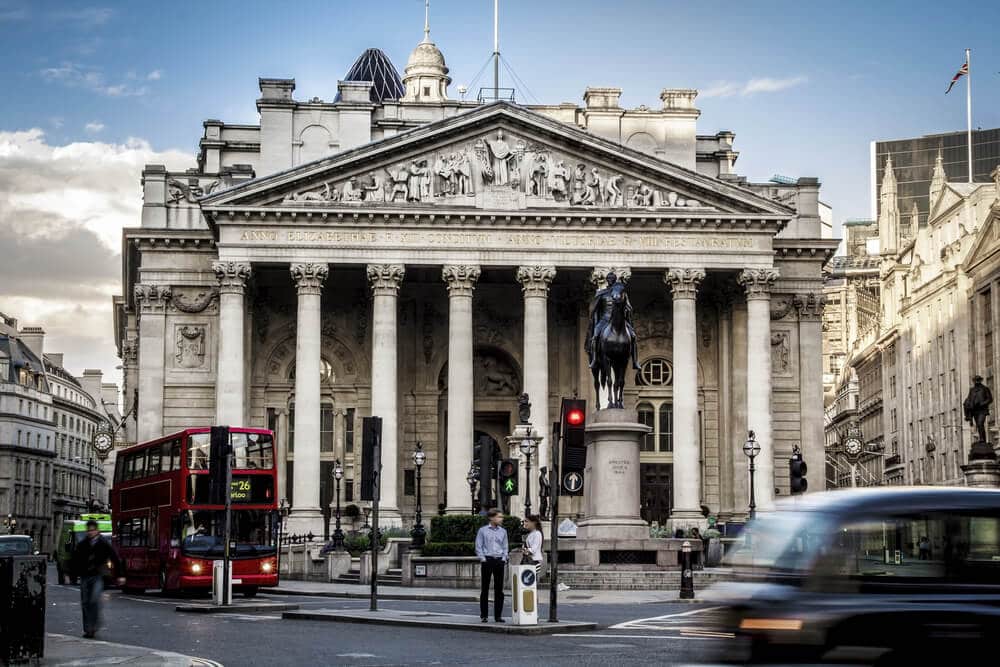 Inflation was at 7.5% in April due to the cost of energy prices being higher after the Ukraine crisis.
Post Russian and Ukraine War crisis Natural Gas and cooking oils prices more,
Due to this, House Hold Energy costs were higher to compensate for this type of inflation; the Bank of England is ready to do a 25bps rate hike this week.
Canadian Dollar: Russian Bombs were blasted near Ukraine Borders of Poland
CADJPY is moving in the Symmetrical triangle pattern and the market has reached the Top area of the pattern.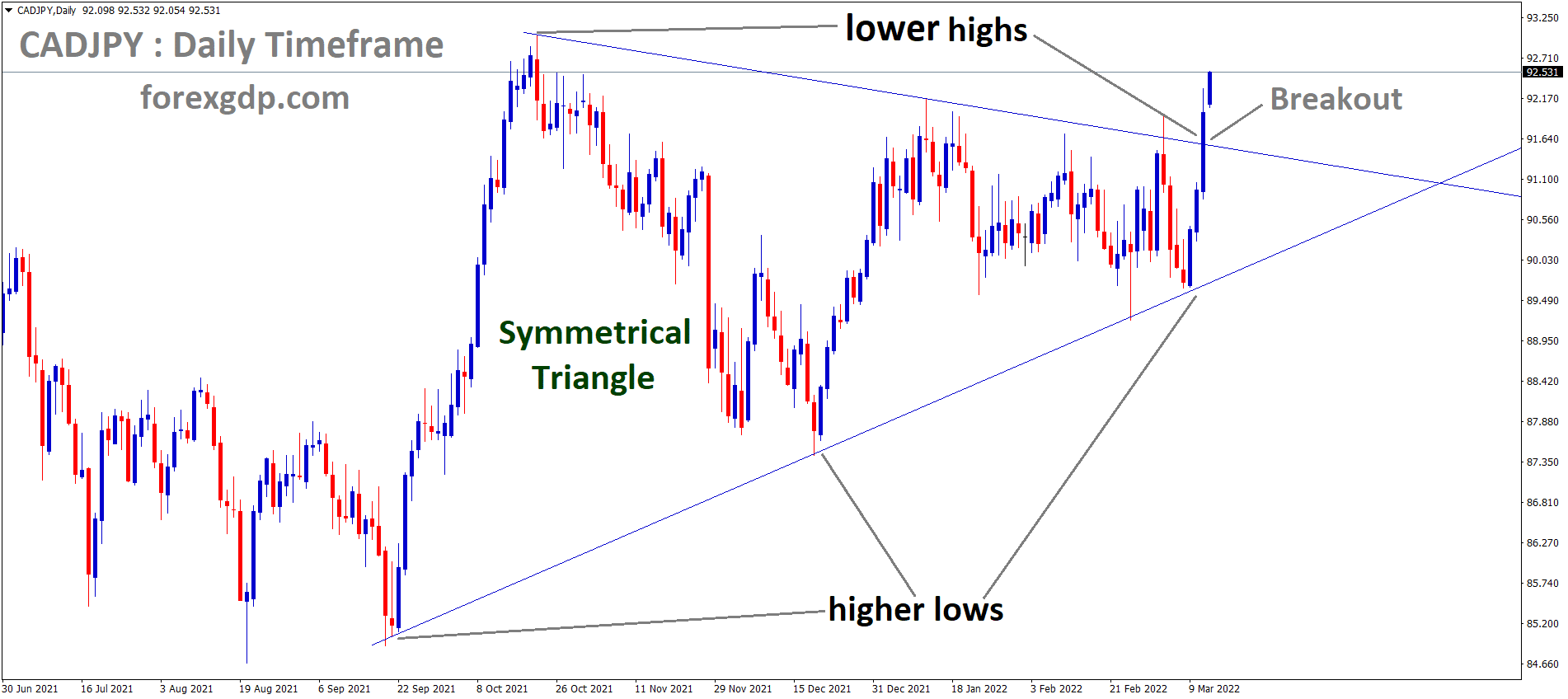 USDCAD rises after Friday Russia Bombed attacks the Ukraine Base near the Border of NATO member Poland.
Suppose anything happened in Poland Border by unexpected Bombs. In that case, it will create like World War 3, because NATO is a member of 40 countries, so one country affected then whole 40 will be united against Russia and Close the chapter of Russia.
So, Bombs near Ukraine Borders of Poland must be cautious actions taken from the Russian side before attacks.
Japanese Yen: Japanese PM Kishida Speech
AUDJPY is moving in the Box pattern and the market has reached the Resistance area of the Box Pattern.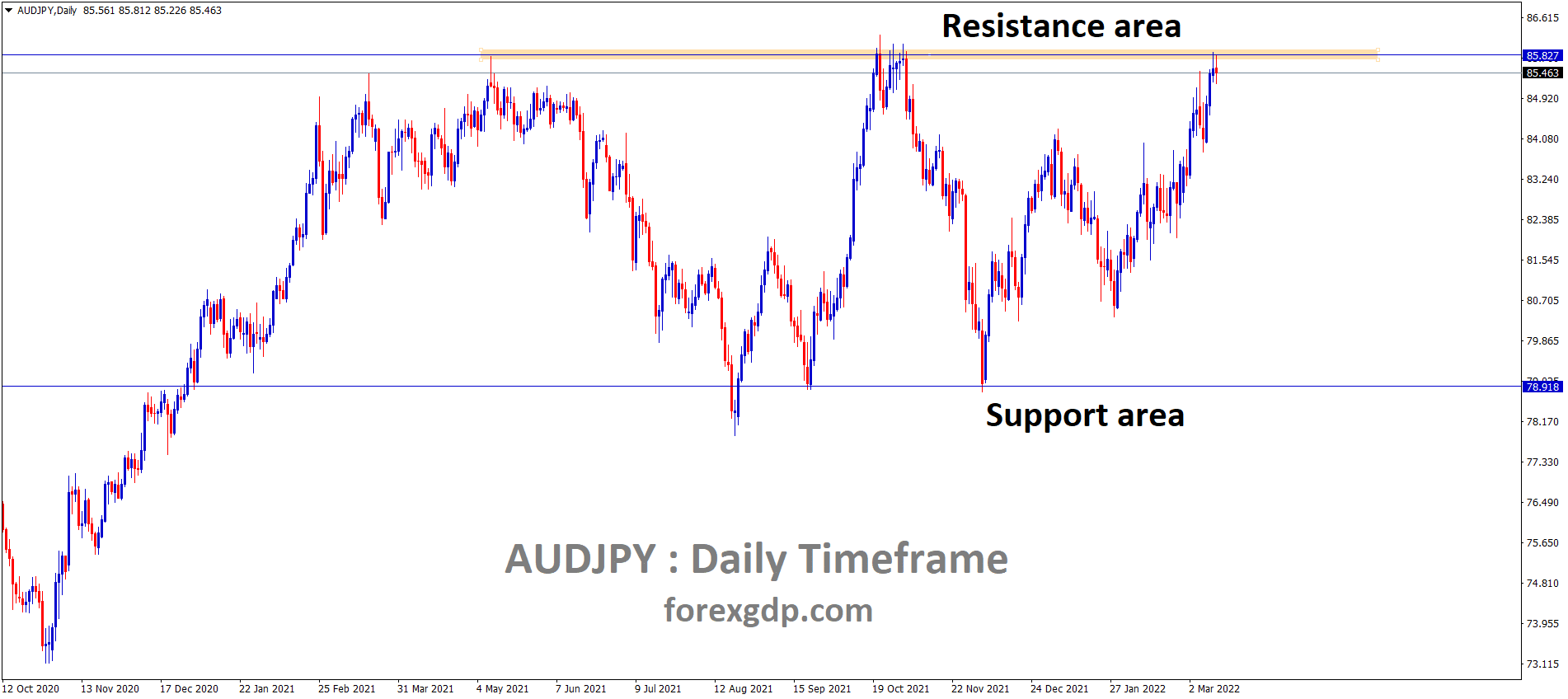 Japanese PM Kishida said Rising consumer prices had been limited till now, and Rising inflation causes more Rising in Consumer prices due to Supply and Demand Mismatch.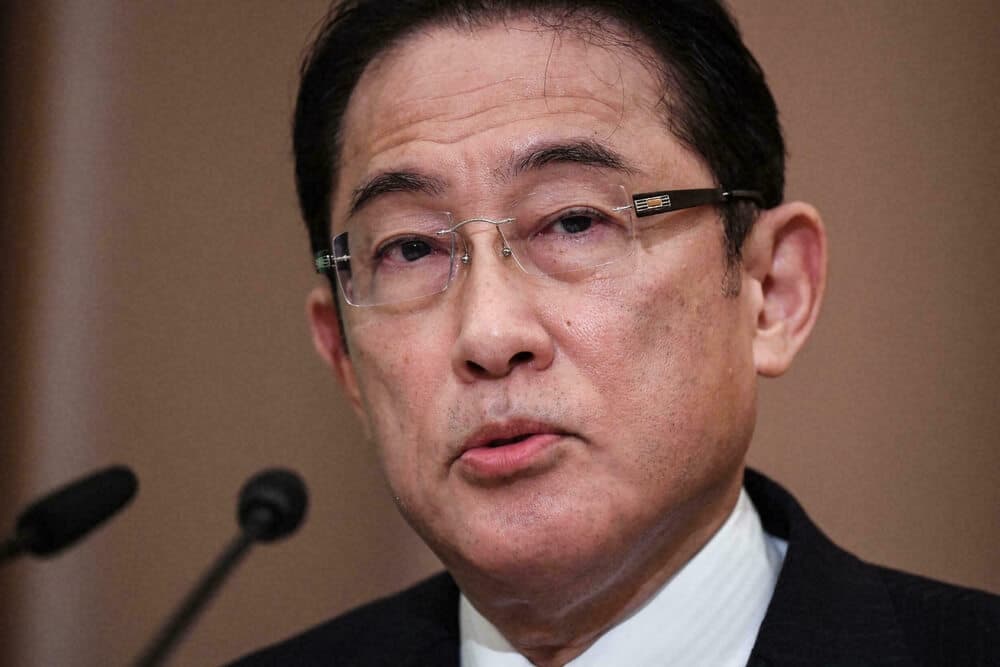 Now Sales tax does not worry about taking, but the Ukraine crisis makes Geopolitical energy demand Heavy, and Prices shot up.
Japanese Government have to face in coming weeks whatever the rising inflation costs to the economy, we may overcome by proper Monetary policy effects.
Australian Dollar: China has reported 3000 Local cases of Covid-19
AUDCAD is moving in an ascending channel and reaching the higher low area of the Ascending channel.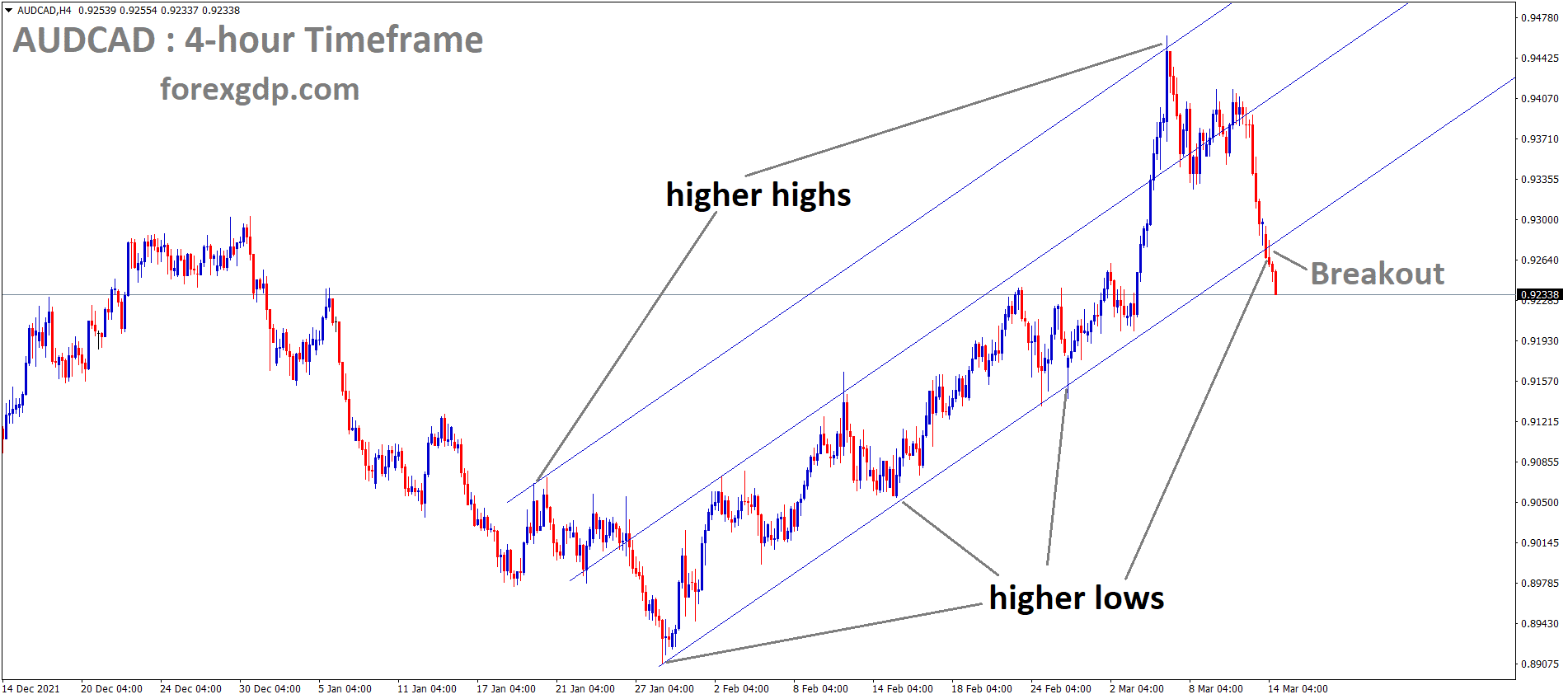 AUDUSD keeps lower after China reported 3000 locally affected Covid-19 cases on Sunday, the highest from 2020.
Due to this scenario, the Australian Dollar drifts lower.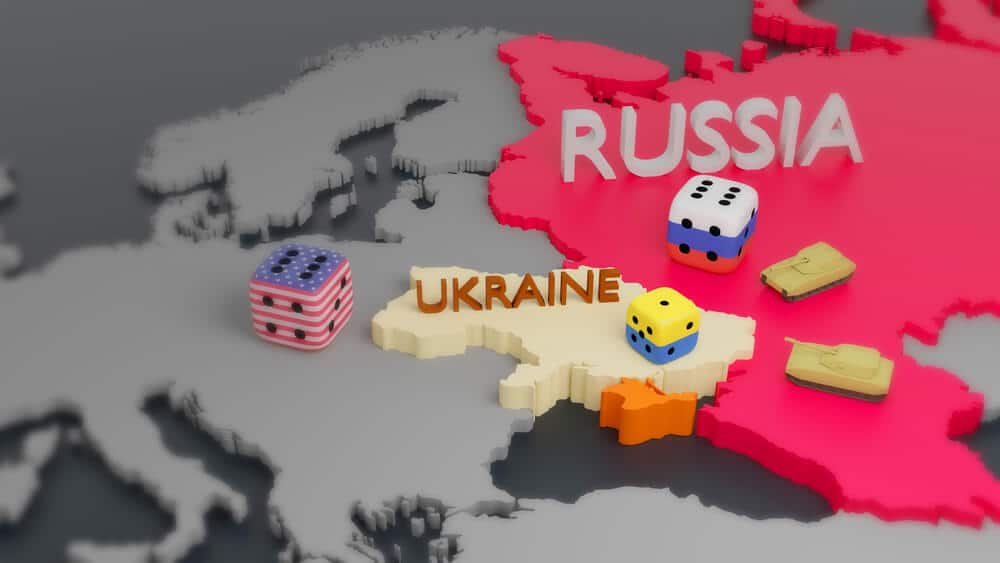 And the good news was Russia had positive talks on Ceasefire War with Ukraine, Said by Ukraine Negotiator Mykhal Ilo Podolak.
We will achieve results this week and More hopes for Positive results from Russia and Ukraine.
On Friday, RBA's Governor Lowe's speech made dovish on Aussie, and They did not respond to the financial market's momentum for rising interest rates.
He stated that they would see the economy's pace of recovery in each quarter, then we will decide on a Rate hike.
New Zealand Dollar: New Zealand Foreign Arrivals slowed than the previous month
EURNZD is moving in an Ascending channel and the market has rebounded from the higher low area of the pattern.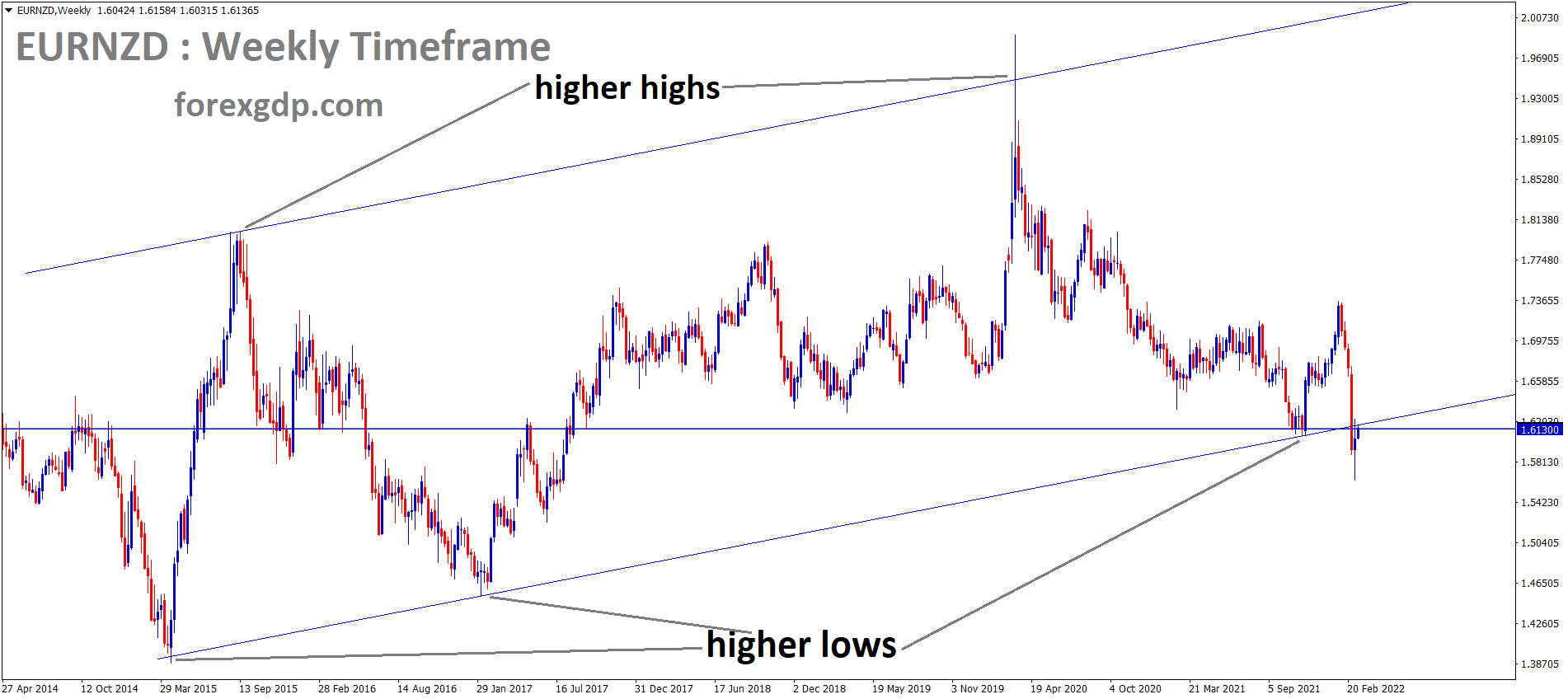 New Zealand Arrivals were slowed to -26% versus 4.4% previous reading makes NZDUSD decline in the market.
Russian Government Warned Western companies in Russia and Seized the assets of the companies that withdrew from Russia.
Ukraine and Russia talks stayed Positive after Russian Leader Putin said positive comments over talks between two countries.
Swiss Franc: Swiss Government Revised forecast for 2022 and 2023
CHFJPY has broken the Symmetrical triangle pattern.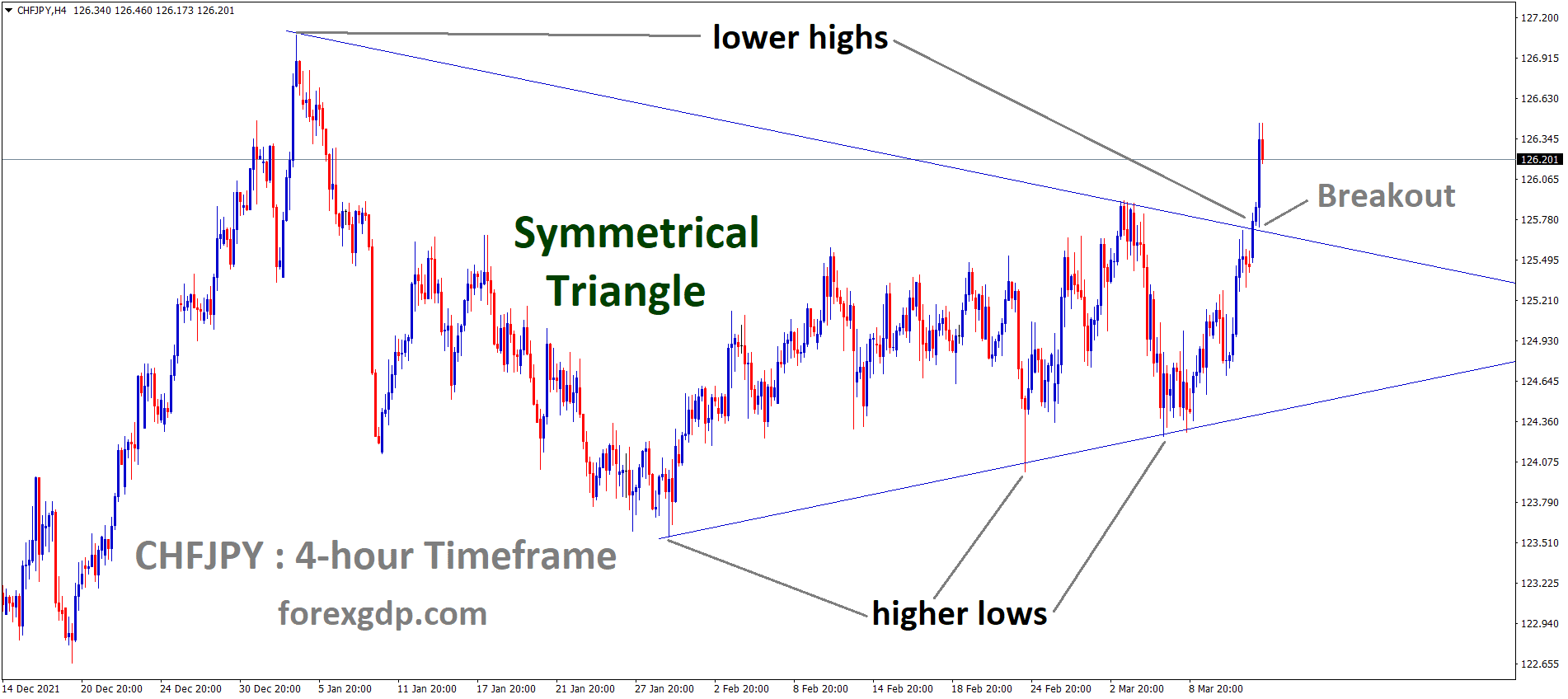 Swiss Government Downgraded the GDP Growth forecast for this year.
And forecasts  for 2022 GDP at +2.8% versus Previous Forecast of +3.0% and 2023 GDP Growth at +2.0% versus +2.0% previous reading.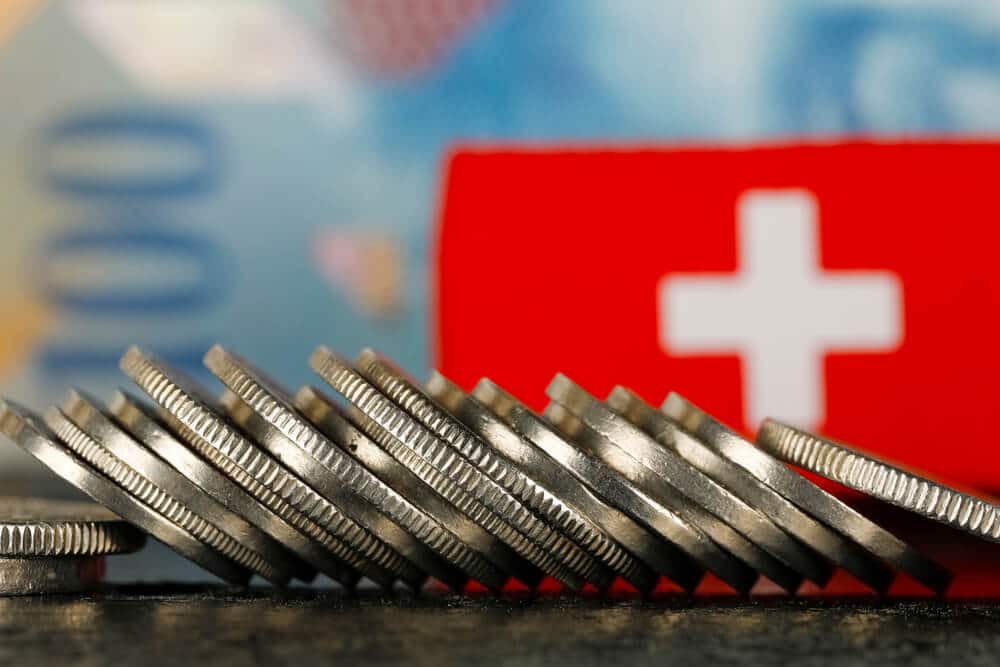 And also, Forecasts of 2022 CPI data at 1.9% versus +1.1% previous and 2023 CPI data forecasts at 0.7% versus +0.70% previous forecasts.
Swiss Government said more inflation and Ukraine crisis made slower growth of our economy.
And the Pandemic situation has improved Faster than expected.
---
Don't trade all the time, trade forex only at the confirmed trade setups.

Get more confirmed trade setups at Premium or Supreme plan here: https://www.forexgdp.com/buy/