Gold: Russia Attacks Ukraine made Volatility of Gold price
US is announcing step by Step sanctions against Russia, and Europe is more dependent on Russia in Energy and Gases.
XAUUSD Gold price has reached the lower high area of the Descending triangle pattern.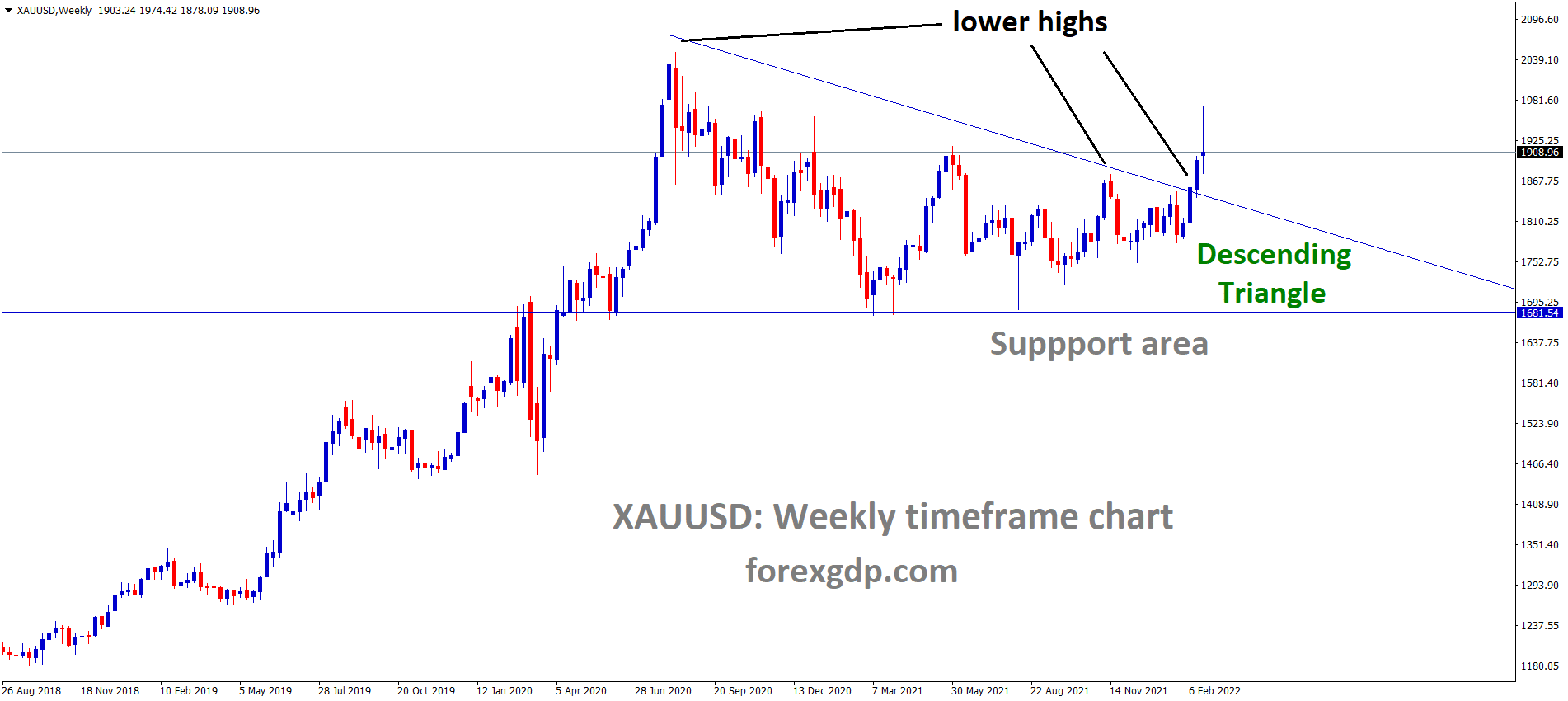 XAGUSD Silver Price is moving in the Descending triangle pattern and the market has fallen from the lower high area of the pattern.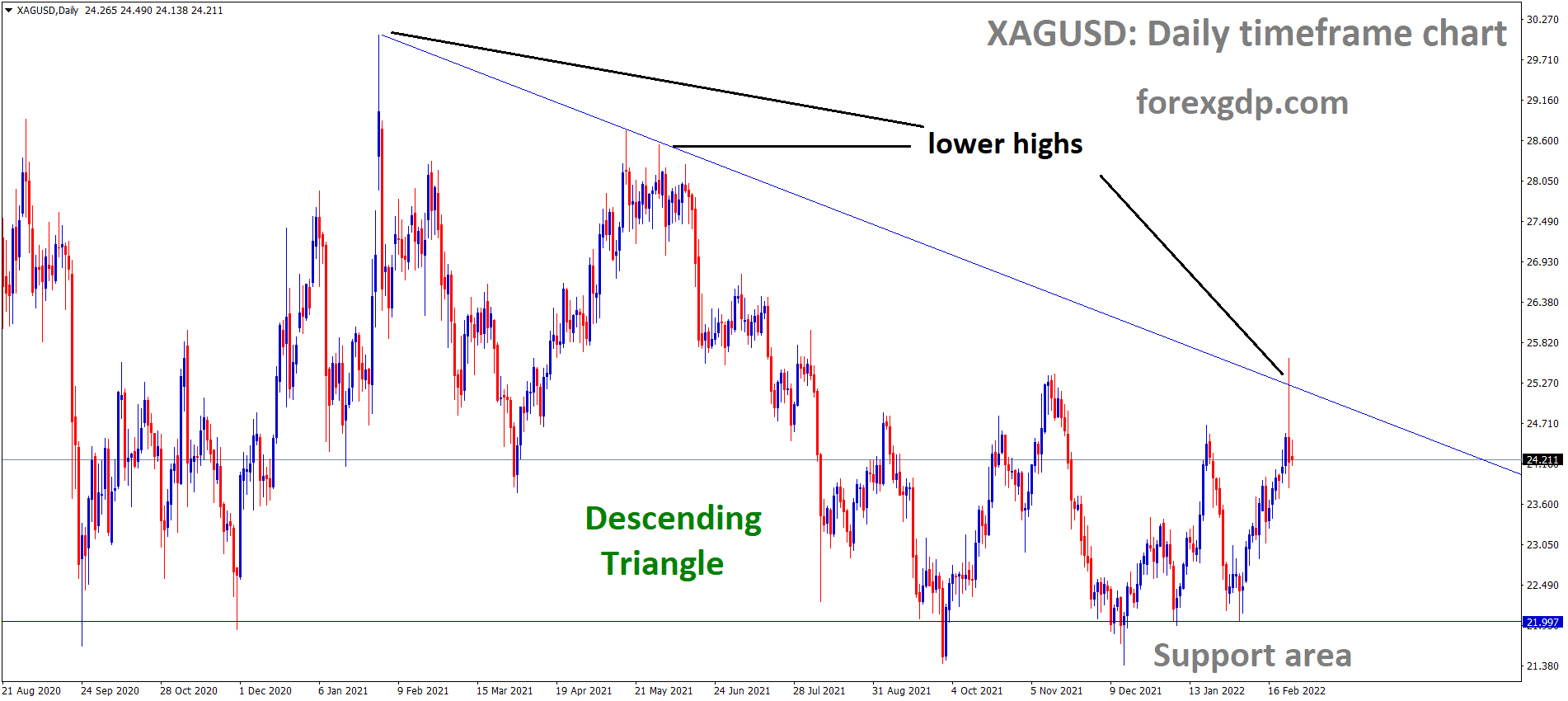 Gold prices last day hits 1974$ from 1908 opened and closed at 1902 which is 96.15$ Move since November 2020.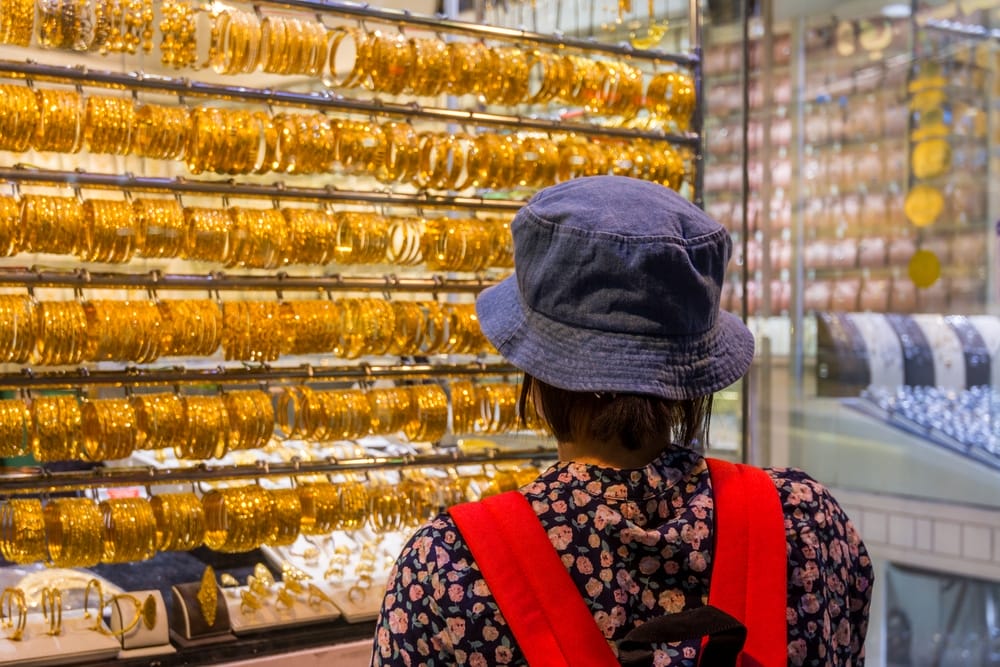 The Intense price movement Happened in Gold but was not Sustained above 1990$ due to Today's US PCE index rate coming at 5.2% y/y, which is a Four-Decade Year high.
And Russia attacked Ukraine makes gold prices move very Volatility Way on the last day.
And US President Banned Some of Russia's Largest Banks and Exports to Certain countries.
Still, Russia has not pulled out from SWIFT Code, and Europe is the only Nation more dependent on Gas and Oil.
Russian Troops were sent to Kyiv Capital of Ukraine, and Half of the place was surrendered to Russia.
US Dollar: Ukraine President Speech
USDJPY is moving in an Ascending channel and the market has rebounded from the higher low area of the channel.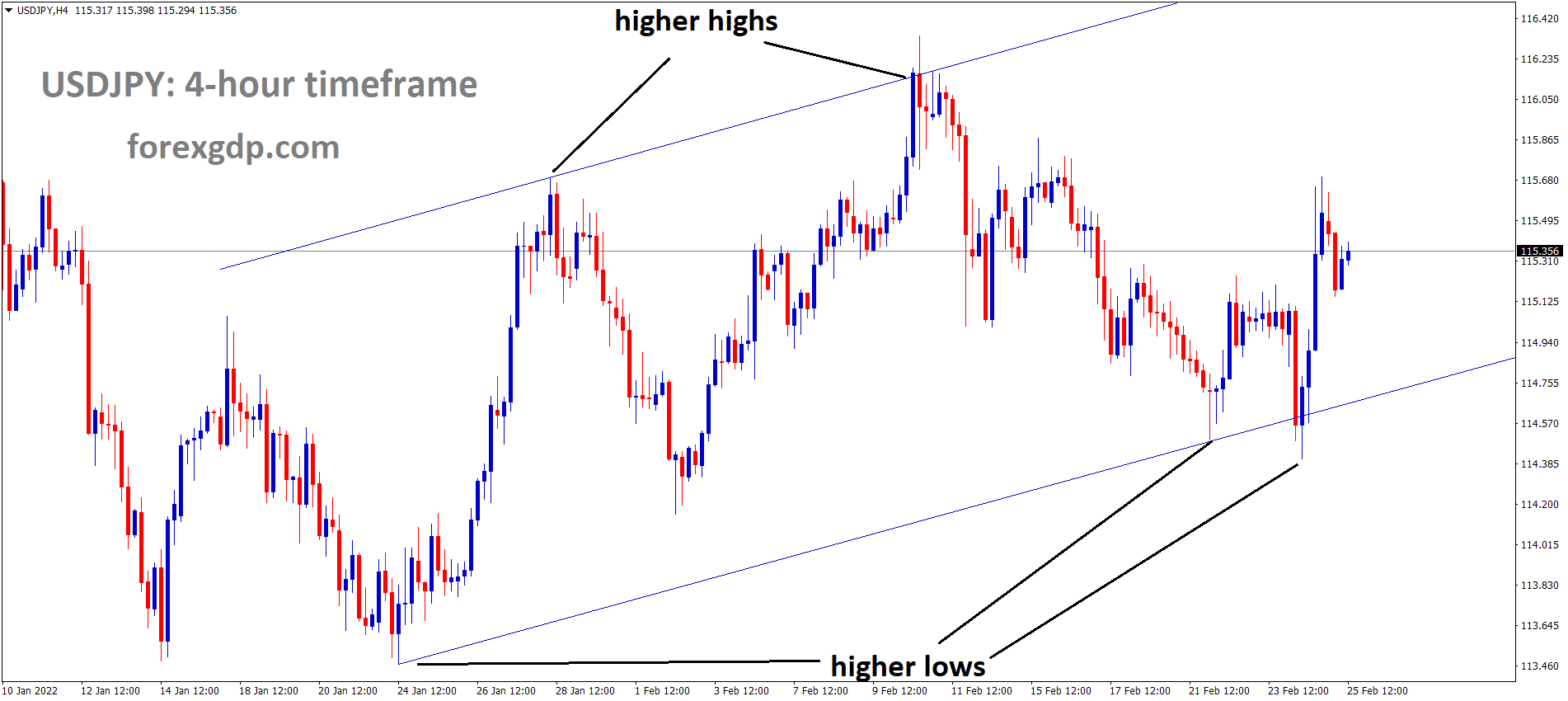 Ukraine President Zelenski said to Reuters in Europe, Russian Troops stopped from Advancing in most directions.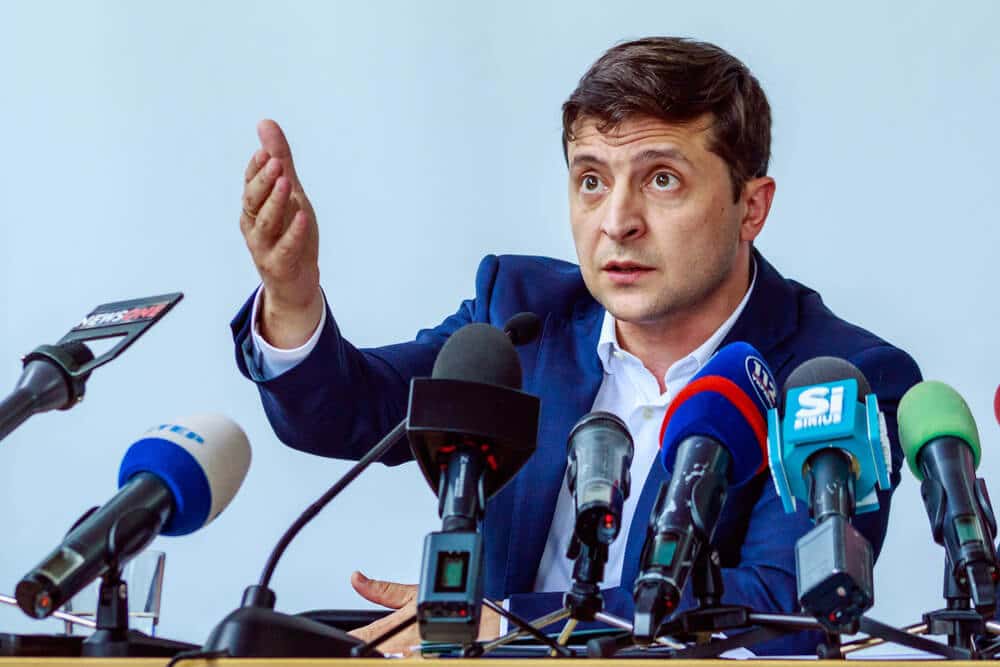 But Russia Resumed Missile attacks in the Early morning.
The world is Watching Russia and Ukraine Wars, Russia mainly targeting Military and Civilian sides.
The sanctions on Russia were not enough, and as of current, sanctions did not affect Russia's activities in Ukraine.
And Today, US President Joe Biden Arranged a meeting with the North Atlantic treaty of Organization (NATO) is essential to take whether counterattacks are possible from the NATO side or not.
US President Biden imposed Hefty of sanctions on Russia
US President Joe Biden announced severe sanctions on Russia; Exports are completely Banned.
And Banking Assets of more than $1 trillion will be frozen, and we will prevent Russia from Doing Currencies like USD, JPY, Euros and UK Pounds.
These sanctions increased Russia's inflation, and long-term sustaining is impossible.
And Biden told US Troops have added in Germany and If any Russian Attacks on US Troops we will attack them.
Russia Did not have the right to increase the oil prices because Biden did not give sanctions on Oil and Gas companies.
And also, Biden said Russia did not remove from the SWIFT code, and maybe the situation worsened we used the Tool against Russia.
EURO: European Commission President Speech
EURUSD is rebounding from the support zone after a big fall.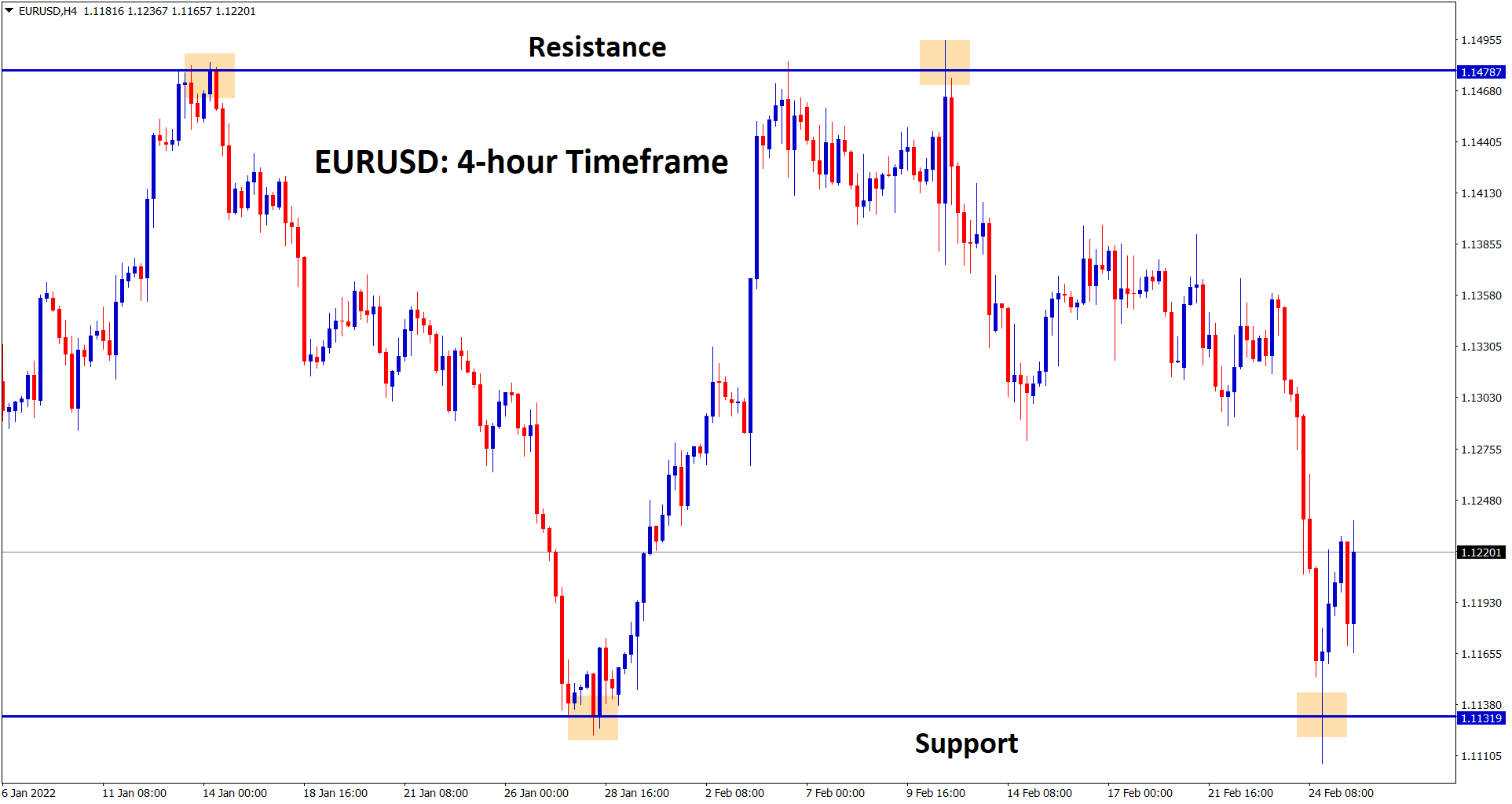 The European Commission President Ursula von Der Leyen said 70% of Sanctions are provided on Russian Banking sectors and Key state-owned companies, including Defense.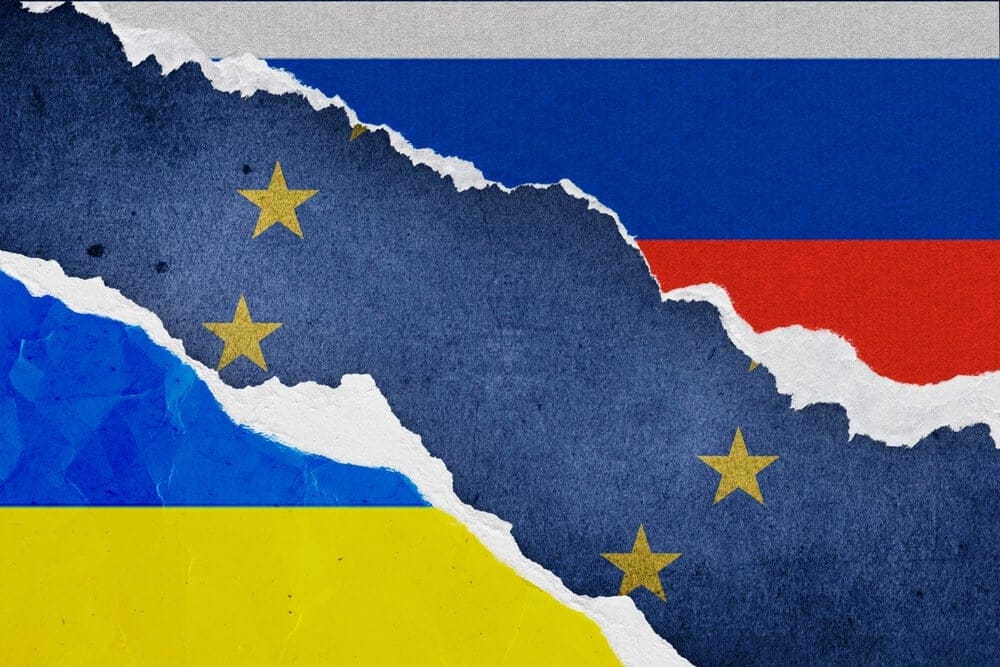 These sanctions make Russia higher Borrowing costs, leading to a further increase in the inflation rate.
And Export Ban will hit Russia failed to Export Oil, and oil refinery expansion will be lost.
And the EU sanctions and ban on Russia exporting semiconductor parts.
Russian Sanctions have been closely planned with US and Others till now, and President Vladimir Putin must, and Will Fail as per EU President said.
UK Pound: UK PM Boris Johnson Speech
GBPAUD is moving in an ascending triangle pattern and also broken the Descending channel within the pattern.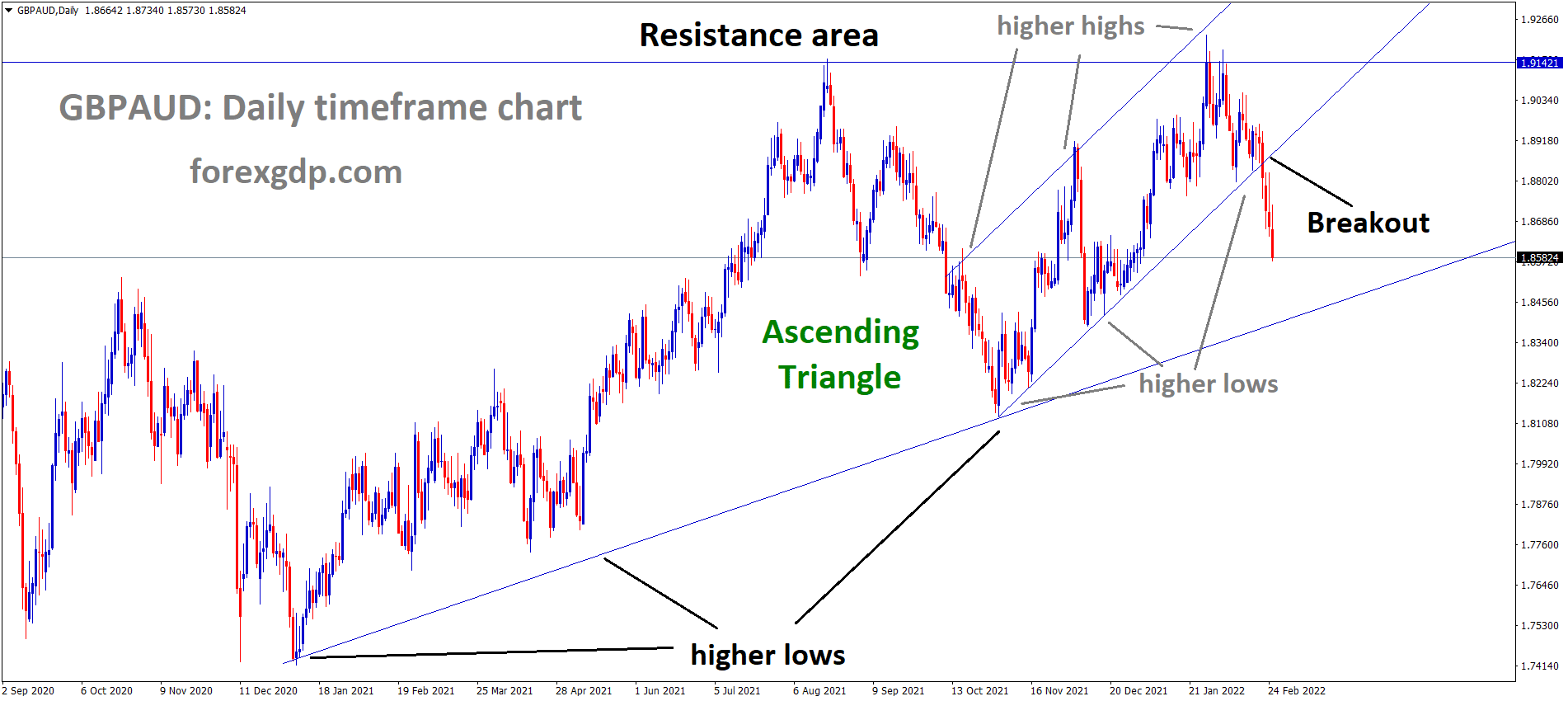 GBPUSD has Fell to 4% yesterday as Russian Attacks on Ukraine, Now Ceasefire between Moscow and Kyiv due to some negotiate speech for Ukraine Surrender.
And UK PM Boris Johnson said Russia has to be removed from the Swift system; it is most hefty of sanctions against Russia.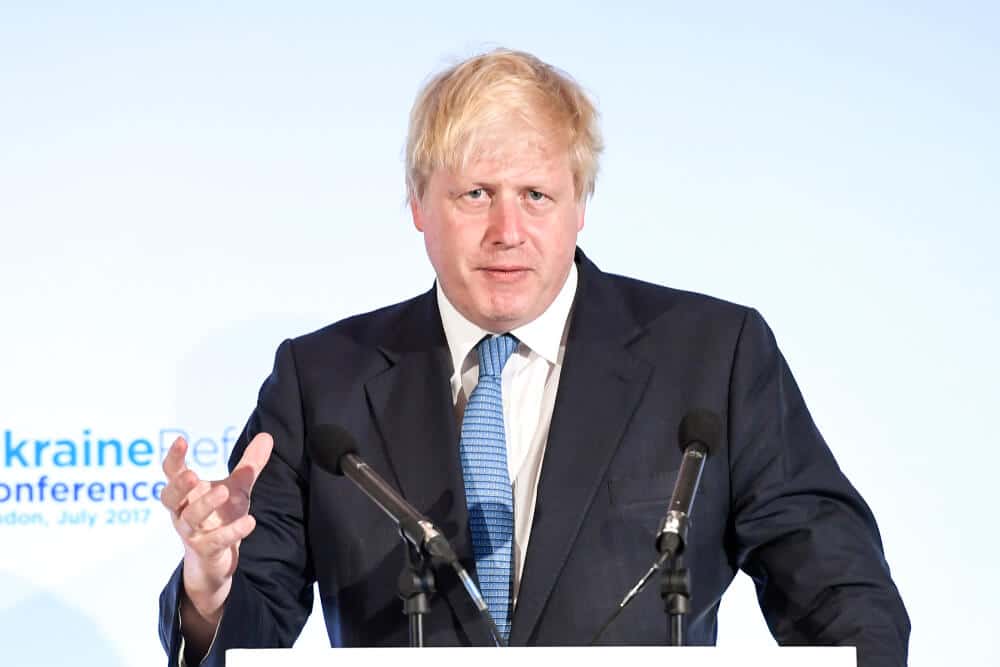 Ukraine's President has already added Current sanctions against Russia is not Enough.
The Guardian News said Brexit news created a Negative impact on the European Court of Justice.
And the Court has Advised that British Nationals does not have the right to stay in European countries and do not keep EU Citizenship due to the UK having left the bloc.
Canadian Dollar: Oil prices rose to 100$ last day
CADCHF is moving in the Descending triangle pattern and the market has reached the lower high area of the Triangle pattern.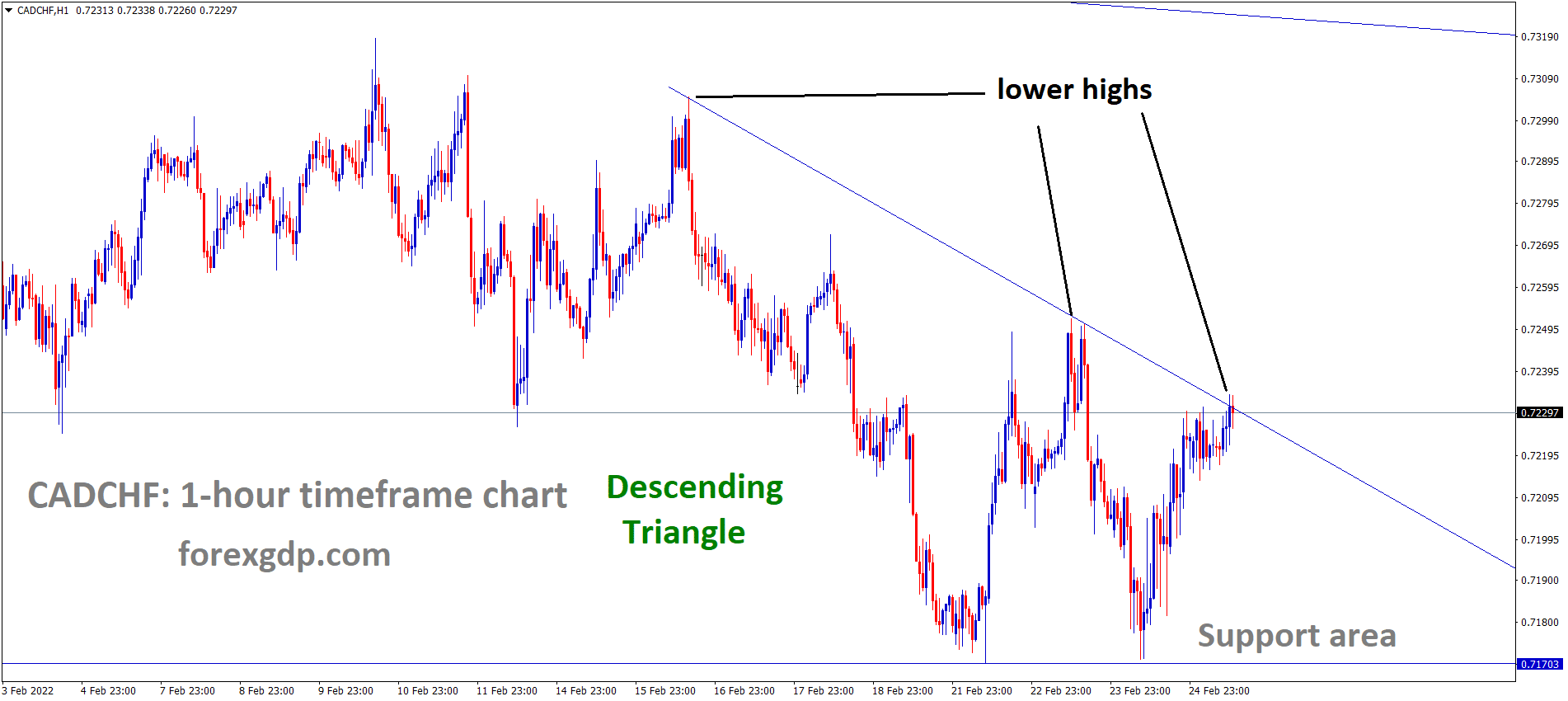 Canadian Dollar rose to higher as Oil prices rose to Touch 100$ mark last day.
And now Russia kept cease-fire to negotiate the terms of Ukraine's Surrender to Russia and Makes a statement there is no missiles or Weapons in Ukraine.
Now Western countries are discussing how to protect Ukraine from Russia, and More sanctions against Russia has been imposed from G10 countries.
Japanese Yen: Japanese PM Kishida Speech
CADJPY is moving in the Symmetrical triangle pattern and the market has rebounded from the Bottom area of the pattern.
Japanese PM Kishida said Japan would impose more sanctions on Russia in terms of Finance and Military exports.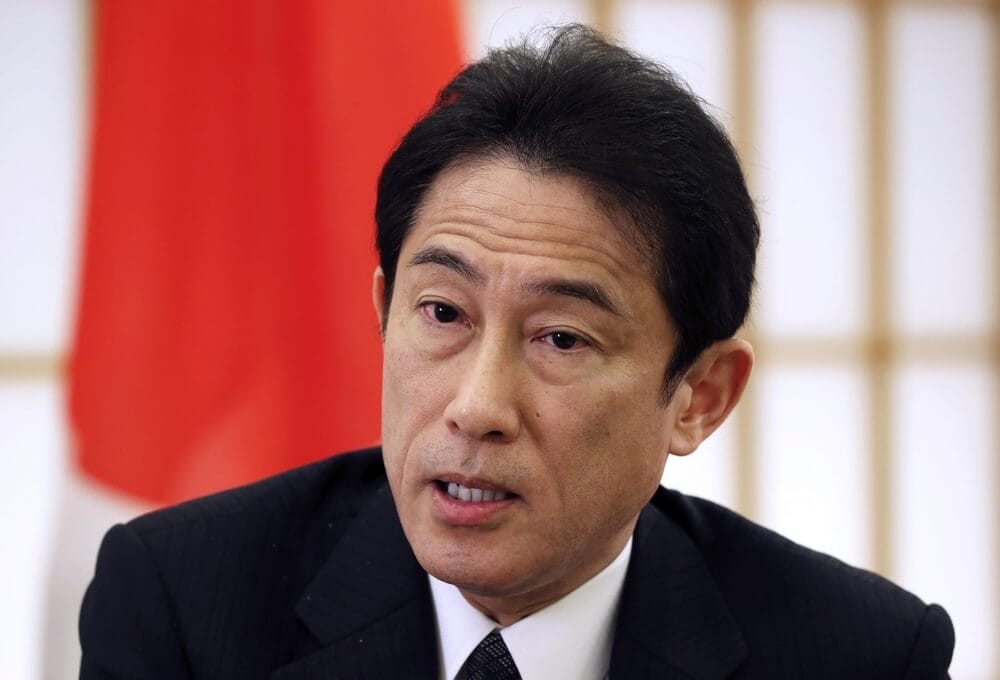 And Poland country will help the Japanese Citizens recover from Ukraine country.
Japan will conclude with G7 and Decided Japan also consider the sanctions against Russia.
And We have 240 days of Oil reserves and 2-3 weeks of LNG reserves.
We won't change our policies against Russian energy companies in current situations.
And Japanese Yen strengthened further as the War program started in Ukraine
Australian Dollar: RBA Monetary Policy forecast
AUDUSD is moving in an Ascending channel and the market has rebounded from the higher low area of the channel.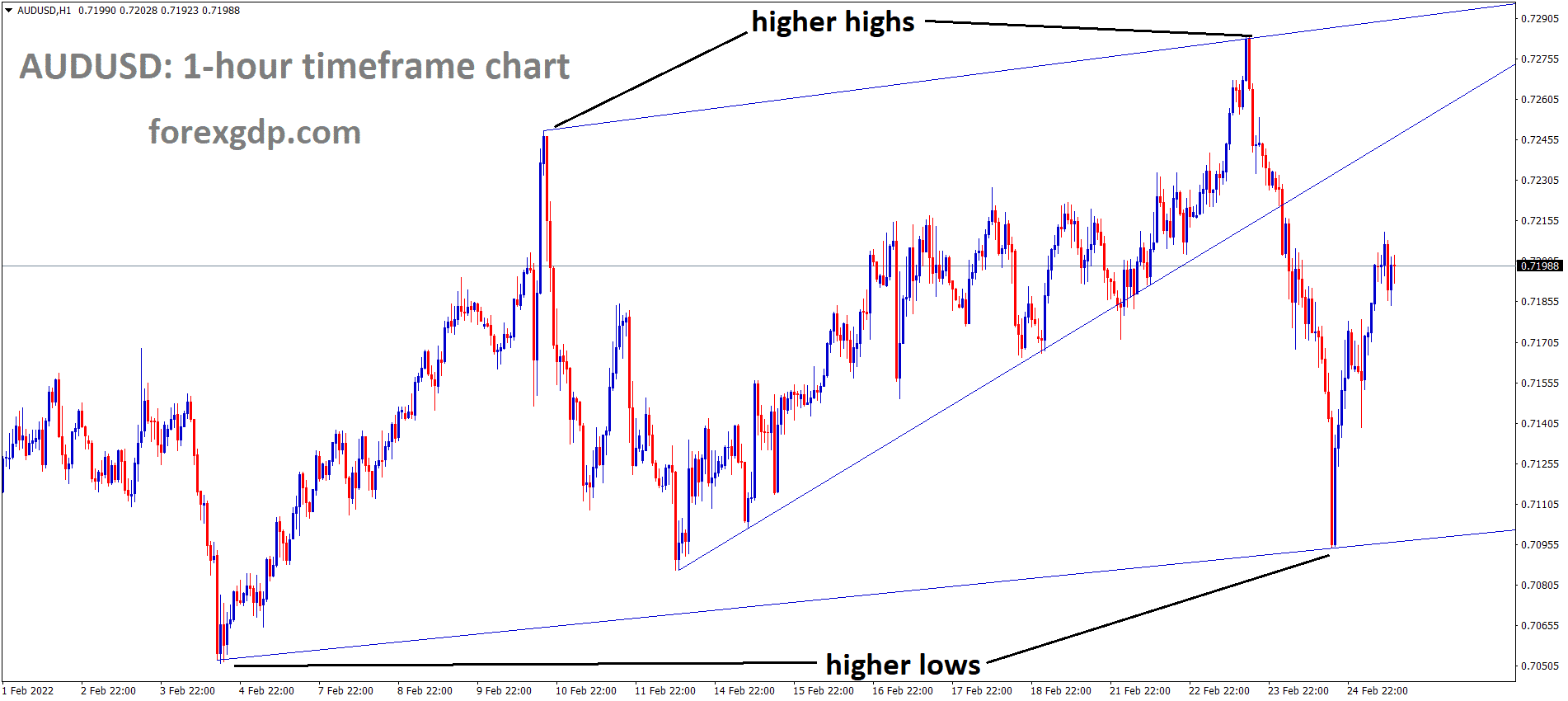 US Core PCE index is expected to increase at 5.2% versus 4.9% Y/Y, which is Forty-Year High.
Today's FOMC meeting Report is on the table.
And Oil prices soaring show Australian LNG exports will be benefitted from Revenues.
And the RBA Interest rate decision will happen on March 1, 2022, and No increase in the Cash rate is possible until the inflation Gauge sustains a 2-3% range.
New Zealand Dollar: NZ Retail sales came above expectations
AUDNZD is moving in an Ascending channel and the market has rebounded from the higher low area of the channel.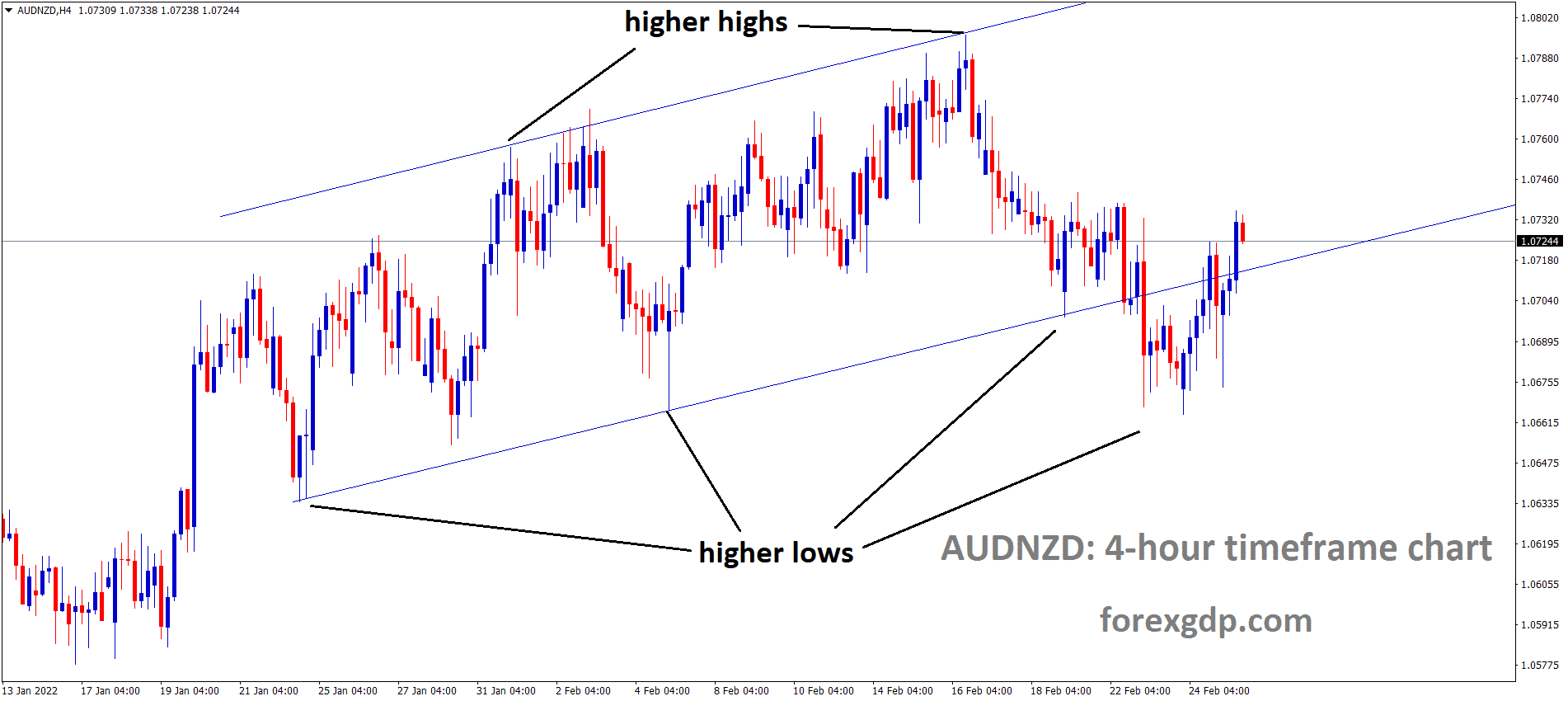 New Zealand Retail sales data came at 8.6% versus -2.2% expected and overcame the 8.1% previous reading.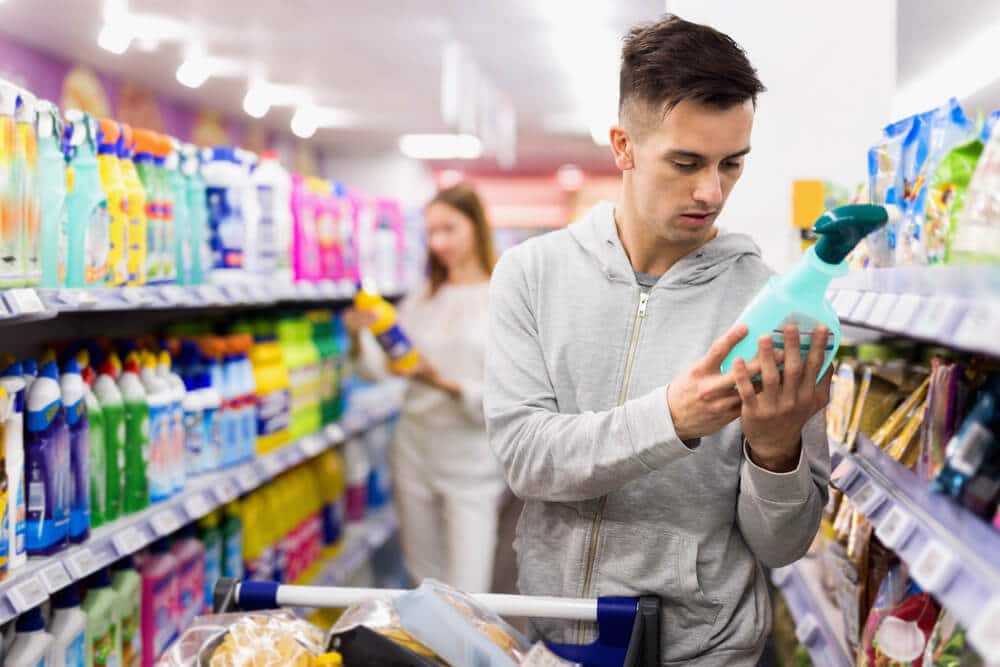 And RBNZ Governor Adrian Orr said if Russia's invasion of Ukraine digs deeper, the Fast pace of Rate hikes is reflected in Monetary policy settings due to the rapid increase in Inflation rates of the Economy.
Today US PCE index report is scheduled and expected to be 5.2% which is a 40-year high report going to publish, and FED will soon do rate hikes and At least 50 bps if the war situation worsens.
Swiss Franc: Russia Attacked Capital of Ukraine
USDCHF is moving in an ascending triangle pattern and the market has rebounded from the higher low area of the pattern.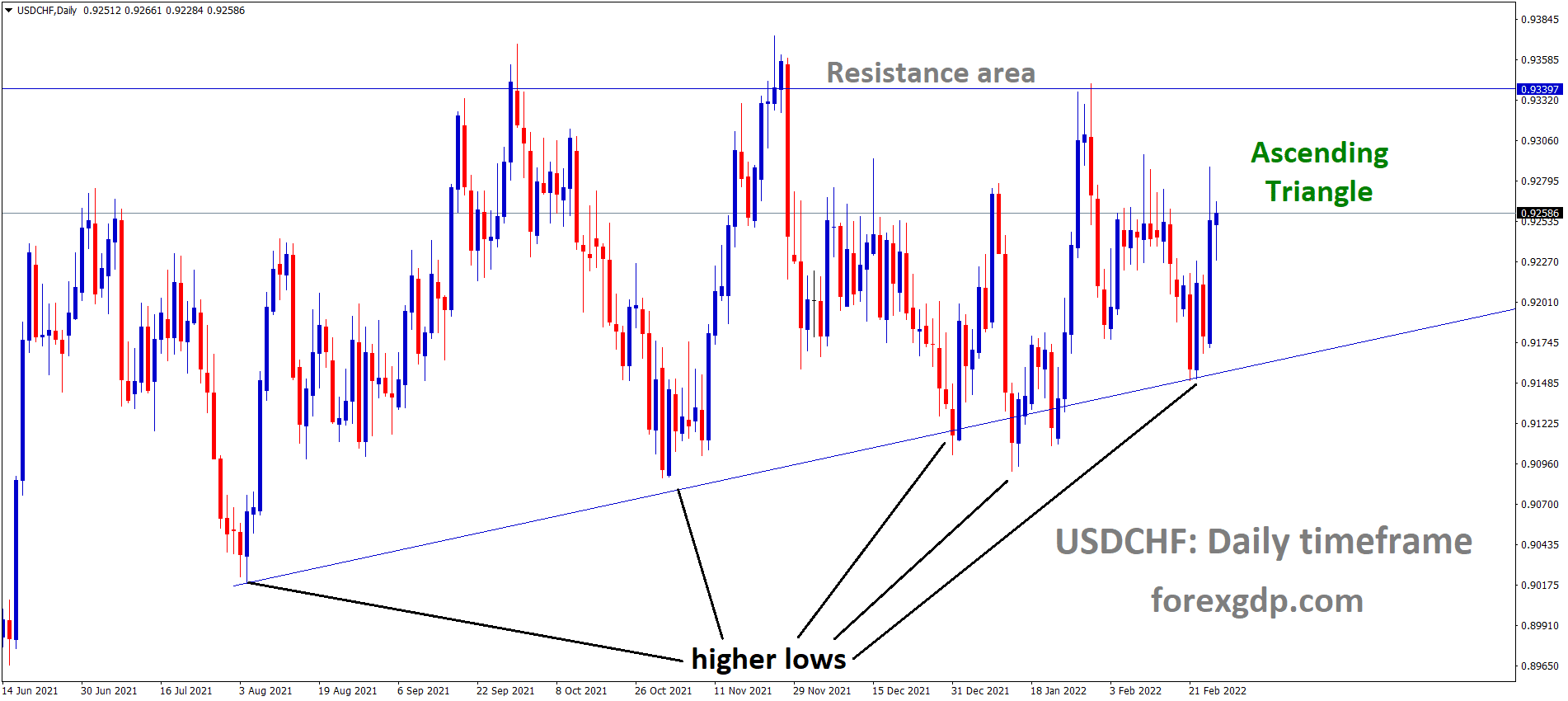 Russia attacks Kyiv capital city of Ukraine, and asks Ukraine to Surrender.
Now US is discussing how to support Ukraine with Finance and Missiles to counter Russian attacks with the NATO team.
And the Counter sanctions from Western countries hasn't affected Russian Attacks.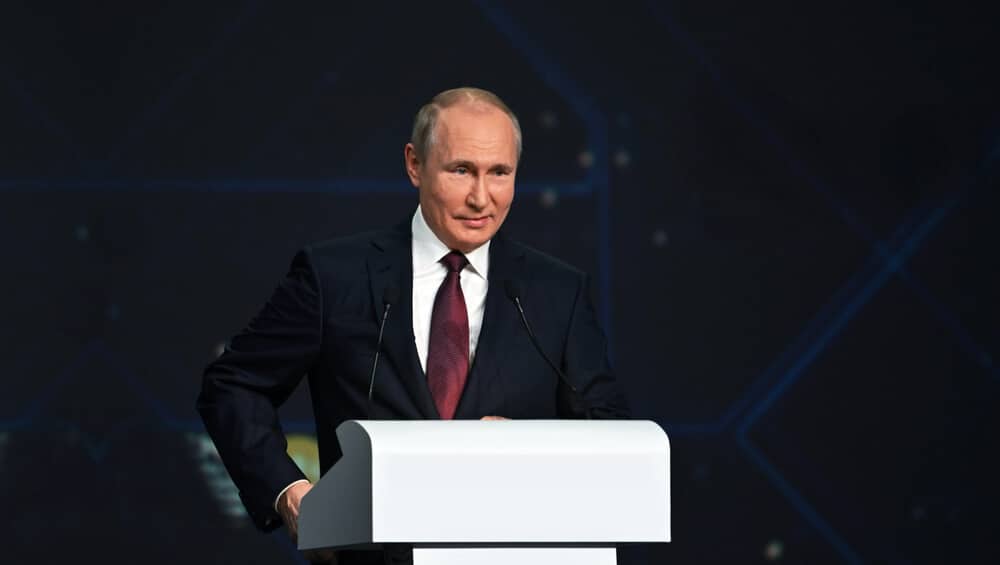 Russian President Putin said the First day of War attacks is completely Good for Russia.
Swiss Franc likes to benefit from Russian Transactions more by Swiss Currency in place of USD.
---
Don't trade all the time, trade forex only at the confirmed trade setups.

Get more confirmed trade setups at Premium or Supreme plan here: https://www.forexgdp.com/buy/