Gold: US NFP reports make declines in Gold prices
Gold prices remain lower after US Dollar was lifted on account of the US NFP & Unemployment rate fell to 4.2% last Friday.
XAUUSD Gold price is moving in an Ascending channel and the market has rebounded from the higher low area of the channel.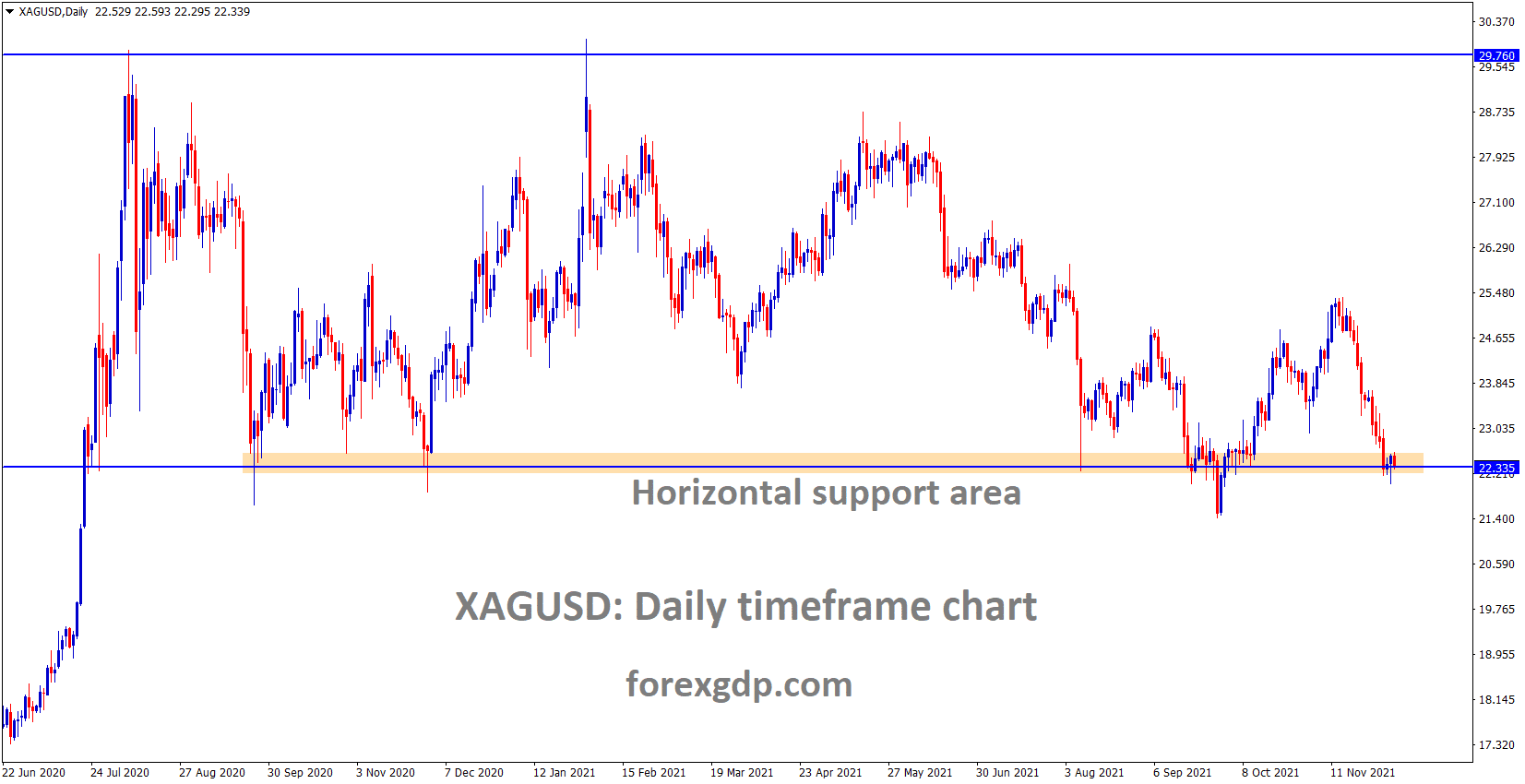 XAGUSD Silver price is moving in the Box pattern and the market has reached the Horizontal support area of the Box Pattern
But the NFP report shows disappointment numbers as 210k printed against 550k Expected.
And Gold remains a non-yield-bearing asset due to a higher inflation rate and lower interest rate.
Once the Global central Bank started to increase the rate of interest, then inflation went lower, and gold rates get negligible highs in the market.
The inflation rate is proportional to the gold rate; whenever the Crisis happens, inflation shoots higher, and gold prices are lifted in a certain month; after some months later, Inflation prices go down slowly, and gold prices react to slow down in the market.
So, in the coming quarters, Gold will be seen as Bearish momentum or consolidation mode based on Central banks hike interest rates and tapering asset purchases.
US Dollar: Omicron Variant spreading and US NFP, Unemplyoment data
USDCHF is moving in the Box Pattern and the market has reached the Horizontal resistance area of the Box Pattern.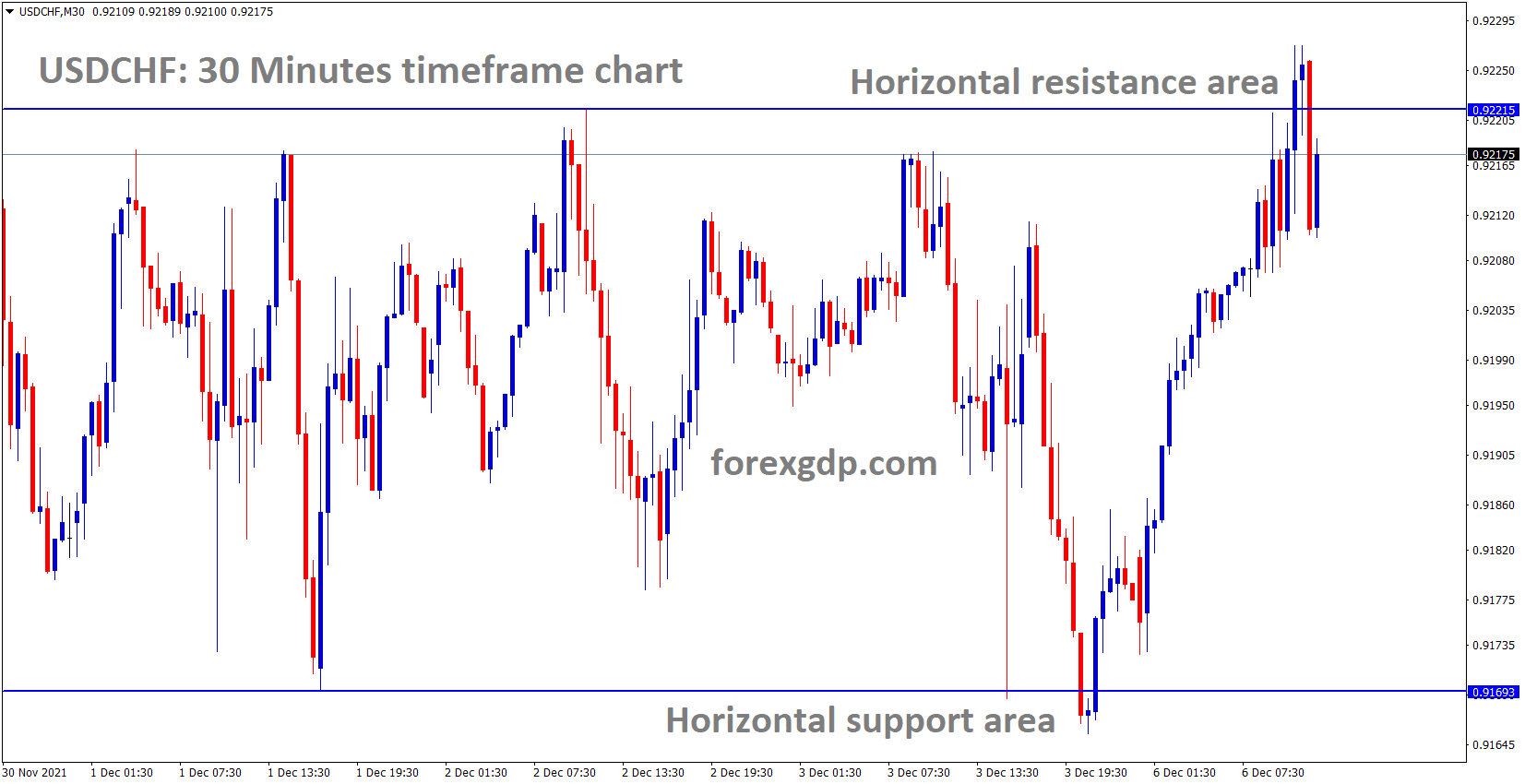 Dollar index resisting to 97 mark due to weekly resistance zone, Friday NFP data makes disappointment, but Unemployment rate makes supported for US Dollar.
So mixed bag of Friday data did not affect US Dollar and Counter pairs much more.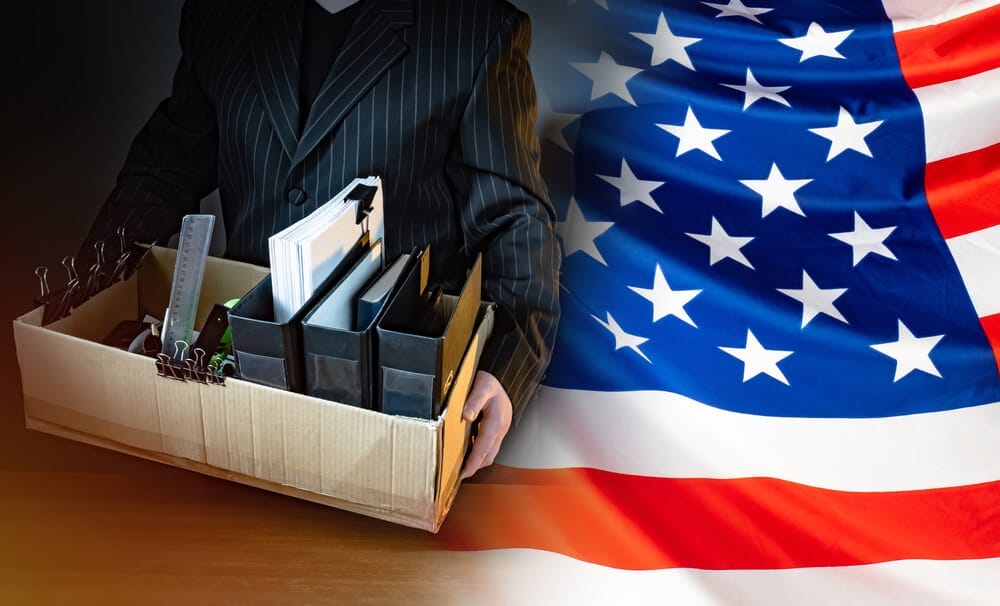 USD, JPY, and Swiss Franc are three dominant safe havens playing a major bullish role in the market after the Omicron Virus spread were announced.
The US has reached 50-100 cases of Omicron; due to this scenario now, the US Government has proposed that Every US Citizen has to be vaccinated in two doses completely.
If completed, 2 Doses is less affected with Omicron Virus; people have no dosage, one Dose level is soon affected.
EURO: ECB won't tighten monetary policy in December meeting
EURUSD is moving in the Descending channel and the market rebounded from the Bullish trendline and near to the lower high area of the channel.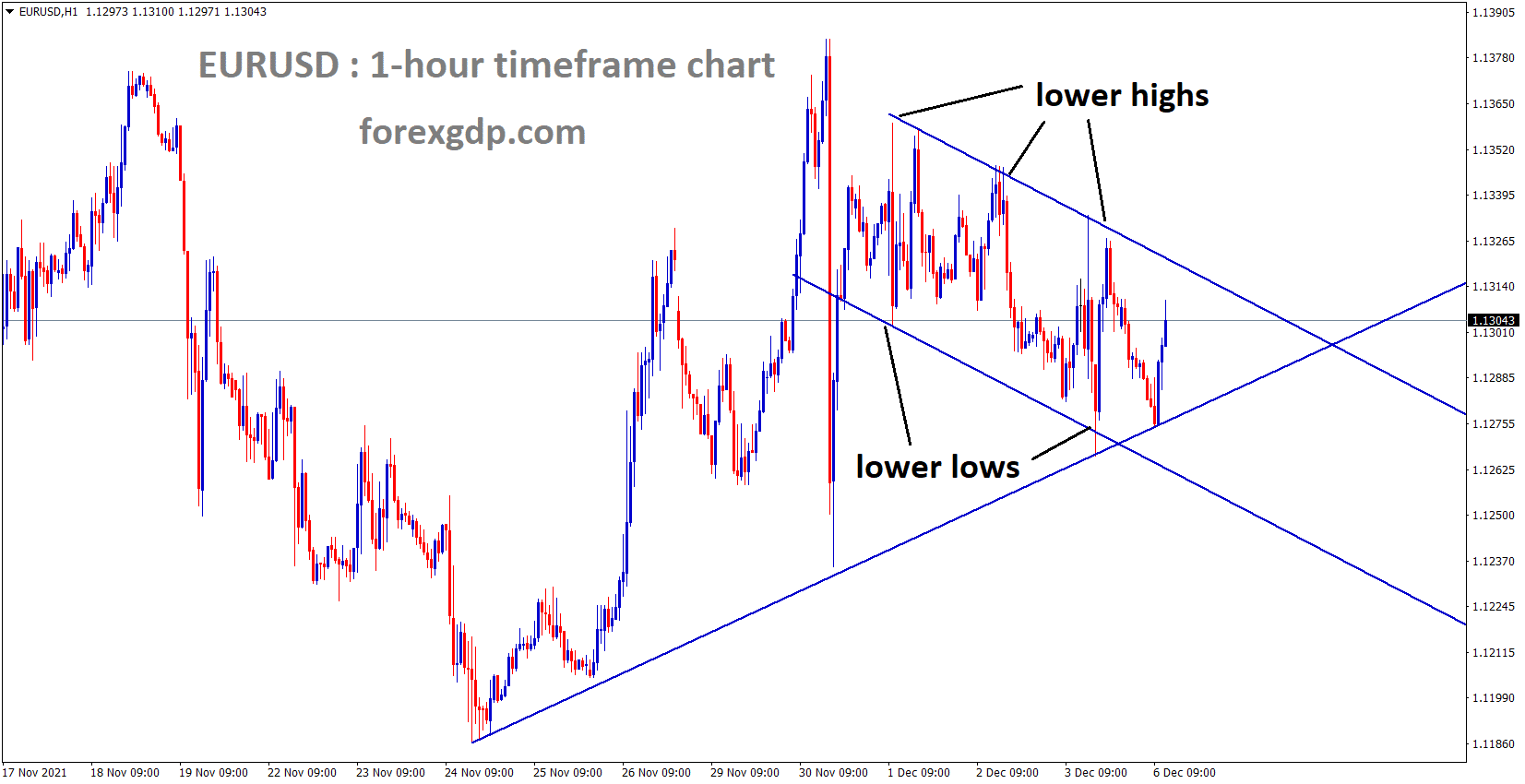 EURUSD shows weaker in the market in last ten months from February. Due to more adamant in inflation is the transitory path and no tightening measures will be needed this time, as ECB President Lagarde told in previous meetings.
And PEPP's Program will end in march 2022 is hopeful, but the standard Asset purchase program may not be tightened until the PEPP program ends.
Eurozone inflation data for November month shows 4.9% from 4.1% in October.
And German inflation data jumped to 5.2% from 4.5%, which shows inflation triggered higher in the Eurozone region.
ECB's Decision on tightening is very dark side not hawkish tone more Dovish tone reflects Euro Currency to weaker against US Dollar
UK POUND: UK Deputy Governor speech forecast
GBPJPY is moving in an Ascending channel and the market has reached the higher low area and horizontal support area of the channel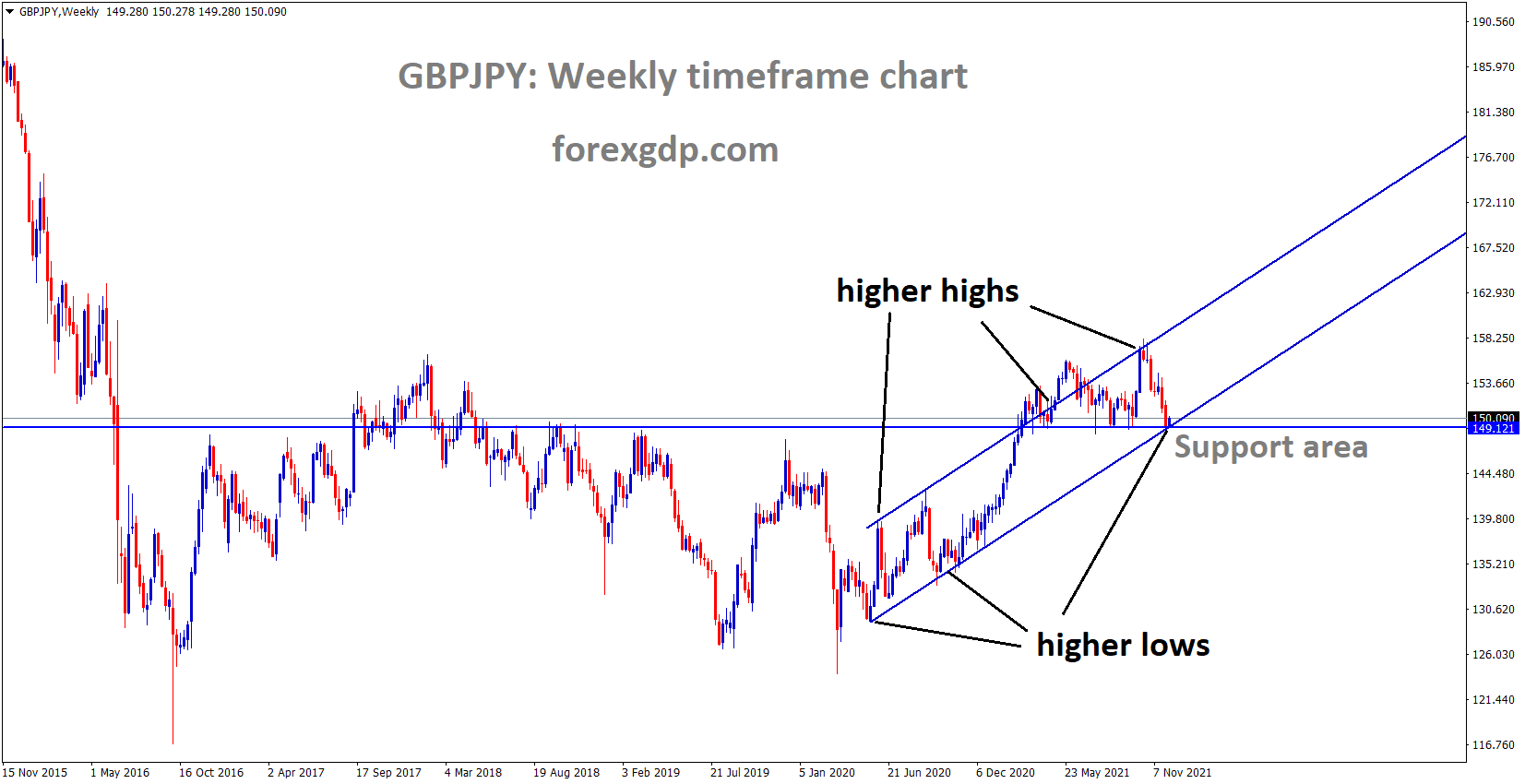 GBPUSD Consolidated at the range market of 1.3350 to 1.3200 area from last month. Due to the firmer support area of 1.3190, the market needed stronger bad News to lift down the support area.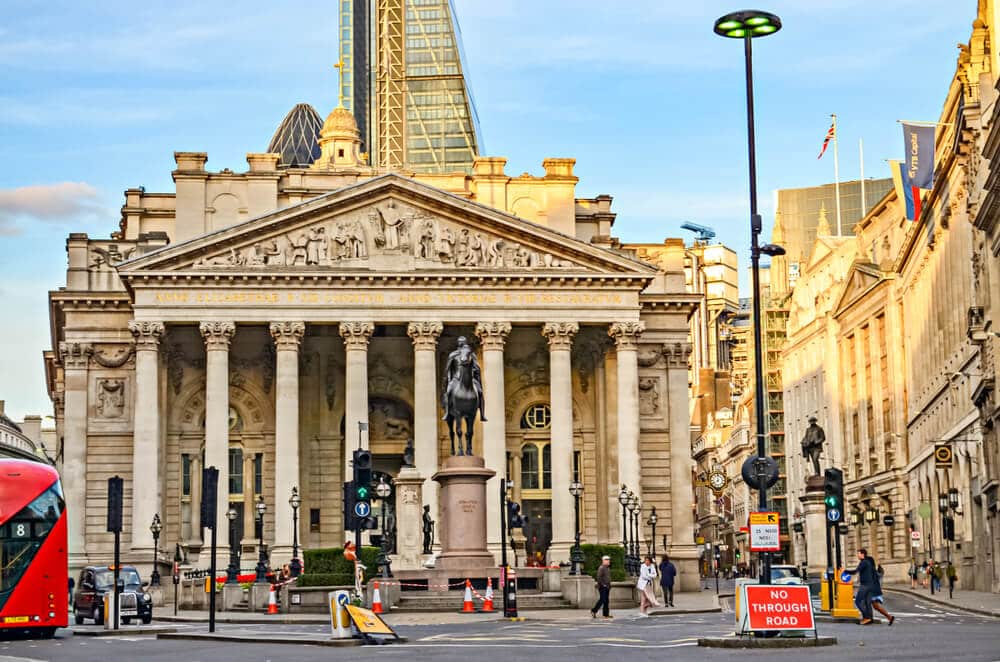 So, UK Pound now hanging on Post Brexit deal on EU, France.
US FED makes a more substantial tapering decision soon than expected; this makes US Dollar cheered.
Now UK Pound makes ranging because of this week Bank of England Deputy Governor Broad bent speech.
And South Africa realized fewer symptoms with Omicron Variant cases, so this News chilled the Feared market around the Global markets.
Canadian Dollar: OPEC+ nation agreed to increase outputs
USDCAD is moving in an Ascending channel and the market fell from the higher high area of the channel.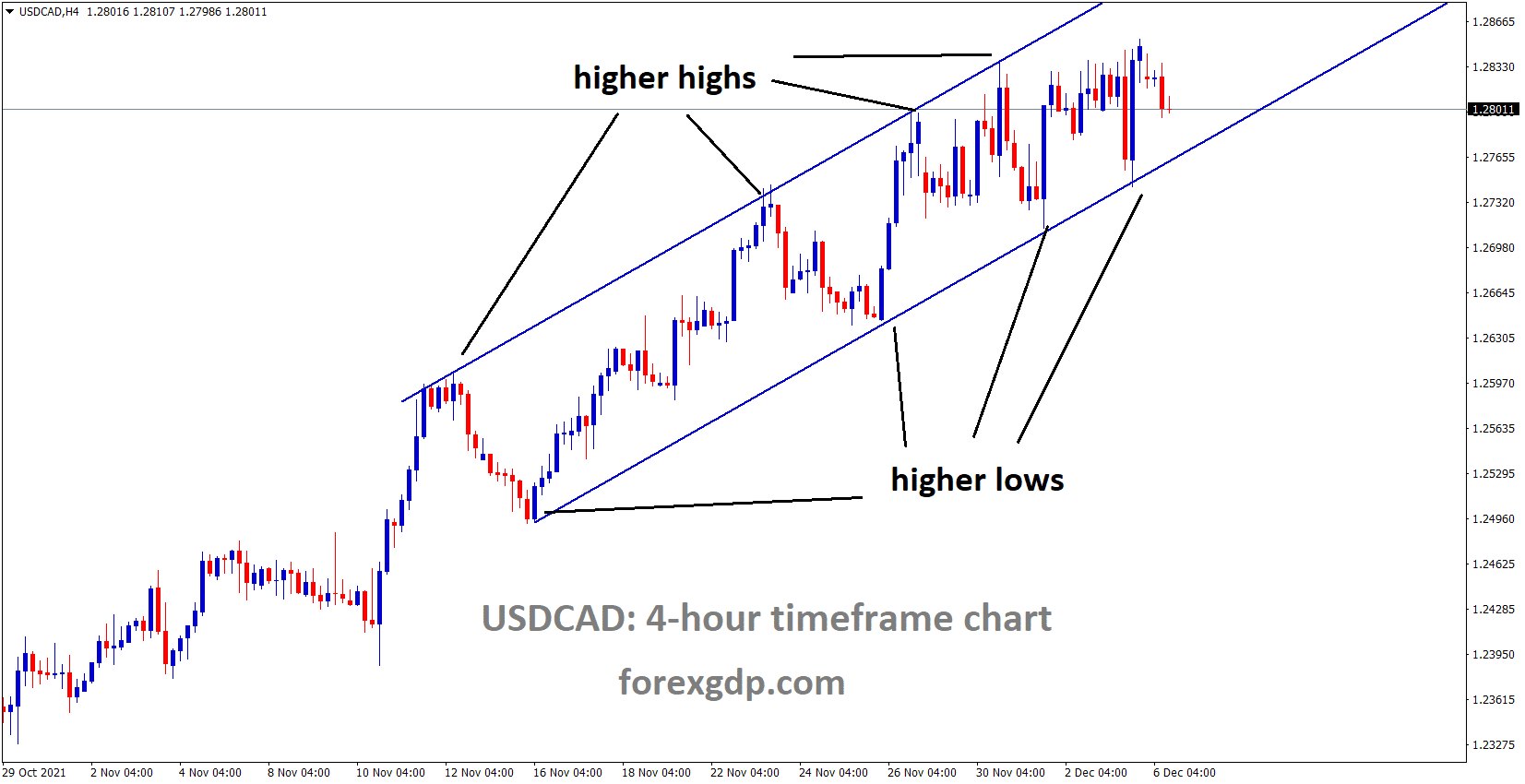 Crude oil shows a slight correction in the market after OPEC+ decided to increase production as 400000 barrels per day.
And the committee agreed themselves adjust the output of Crude oil due to Washington concerns about increasing supply to middle east countries.
Now OPEC+ rising barrels from January and Omicron Virus is giving difficulties to Oil Supply nations.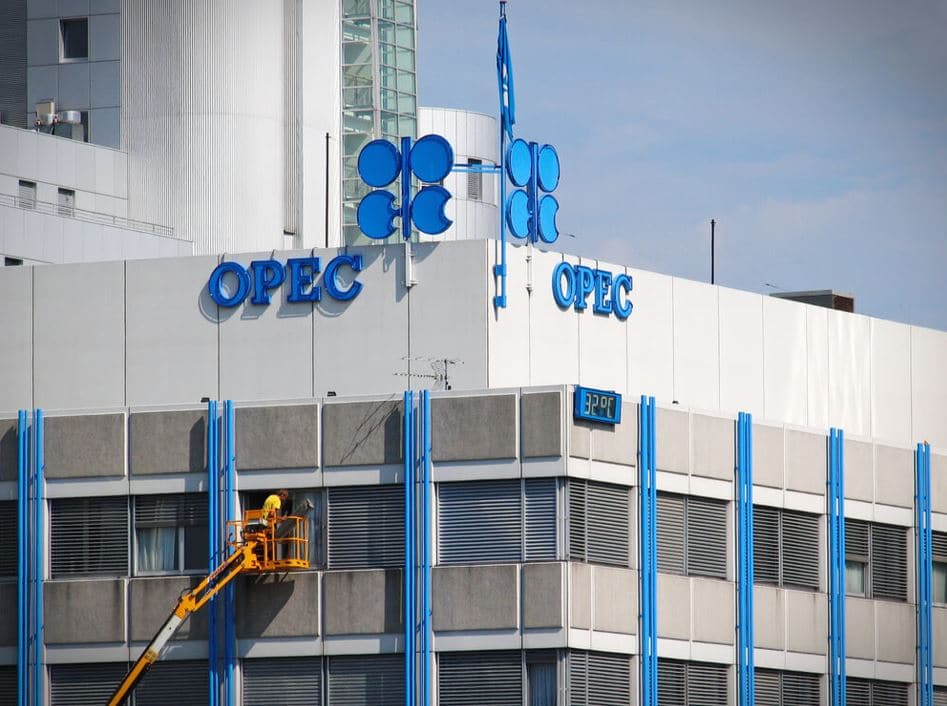 If Increased cases spread in Global nations, OPEC+ nations started to reduce supply once again.
And Canadian Dollar likes to benefit from Oil pricing increasing in the market.
Bank of Canada like to hike rates this month is more expected from investors view.
Bank of Canada meeting forecast
Last week Canadian Employment change showed 153.7k versus 35.0K expected and 31.2k previous reading printed.
And this huge employment addition shows Bank of Canada may be taking into lift up the interest rates this Wednesday.
In G10 countries, only 2 out of 8 countries makes rate hikes; the Bank of Canada is expected to rate hikes as 3rd country in the list this week.
But, Tapering assets once ended, the Bank of Canada may be taken to raise interest rates.
This Week Ivey PMI data set to release, more than expected numbers makes CAD to stronger again.
Japanese Yen: Japanese Government lifted up the Forecast of GDP
EURJPY is moving in the Ascending channel and the market has reached the horizontal support area of the channel and higher low area of the channel.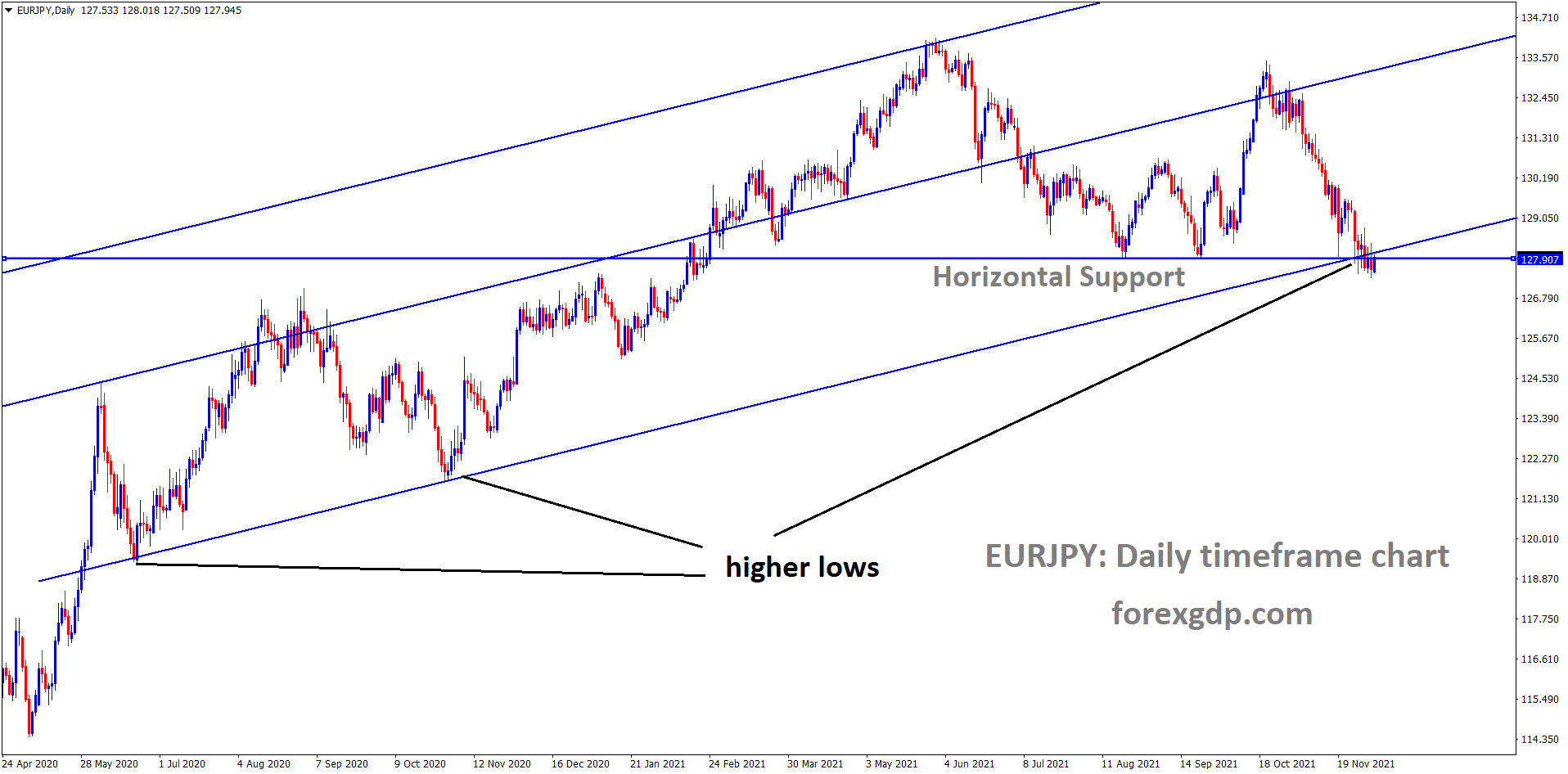 Japanese Government Forecasted its FY 2022 GDP rate to be 5.6% as this year.
In mid-year July, Japan was reviewed as 2.2% in April 2022.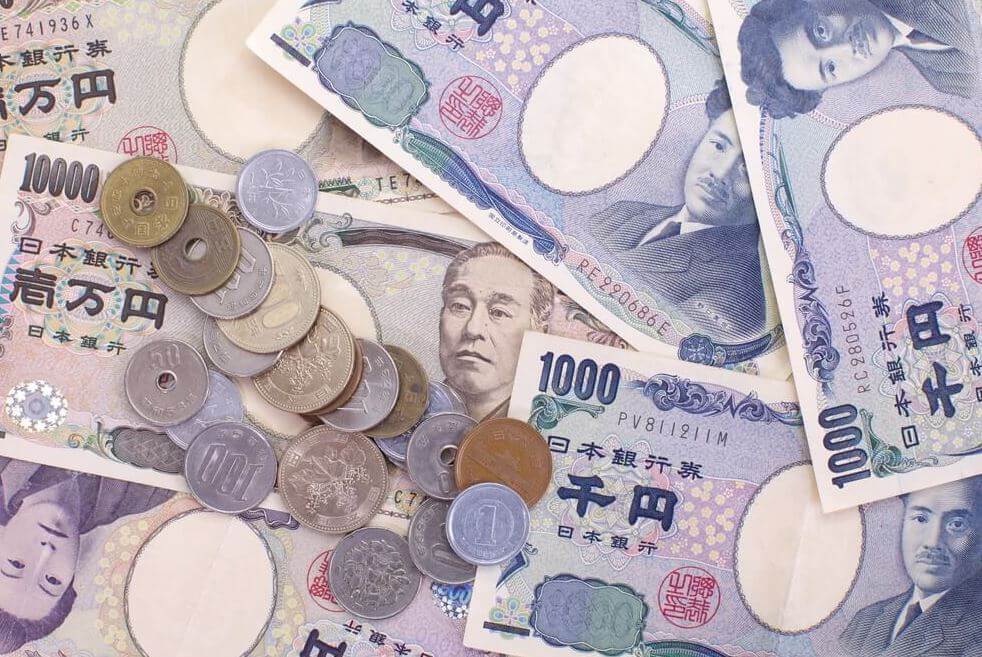 Now Spending data shows more helps in Businesses and Households receiving less pain from Covid-19 remarks the Growth in Japanese GDP.
And Moreover, $490 billion stimuli in the market commonly push the country from pandemic situations.
Japanese Yen showed more robust strength against Counter pairs in November because Domestic data performed well in Japan.
Australian Dollar: RBA Policy forecast
AUDCAD is moving in the Descending channel and market rebounding from the lower low area of the channel.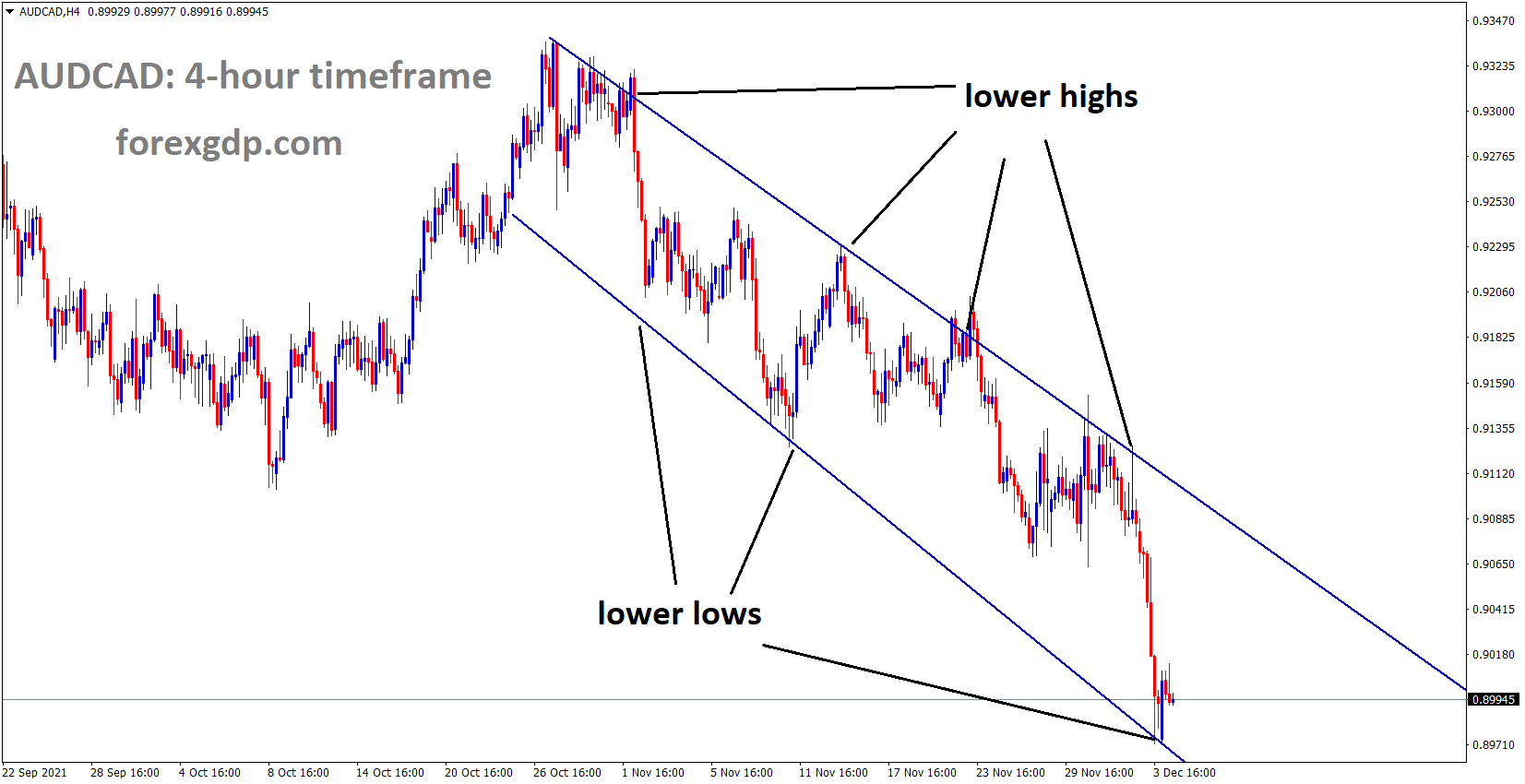 Australian Dollar decline as 5.5% in last two months from highs, this week RBA Policy statement set to announce, and RBA Governor Lowe said there will be no rate hikes until 2024.
So, no surprise from tomorrow meeting, lockdown restrictions are released in many parts of Australia.
And the UK reported 100 cases of Omicron, and Denmark reported 200 cases; the US also have a handful of cases.
So now more cautious on Christmas Holidays to spend in Australian regions, by considering the situation Australian Government set to more cautions on Domestic flights and international flights arriving.
Last week NFP data showed declines, and the US unemployment rate is fell lower in US at 4.2%.
So, US Dollar makes stronger than the Australian Dollar in the market.
New Zealand Dollar: Omicron Variant is not more harmful than Delta variant as News published
NZDJPY is moving in an Ascending channel and the market has reached the higher low area and horizontal support area of the channel.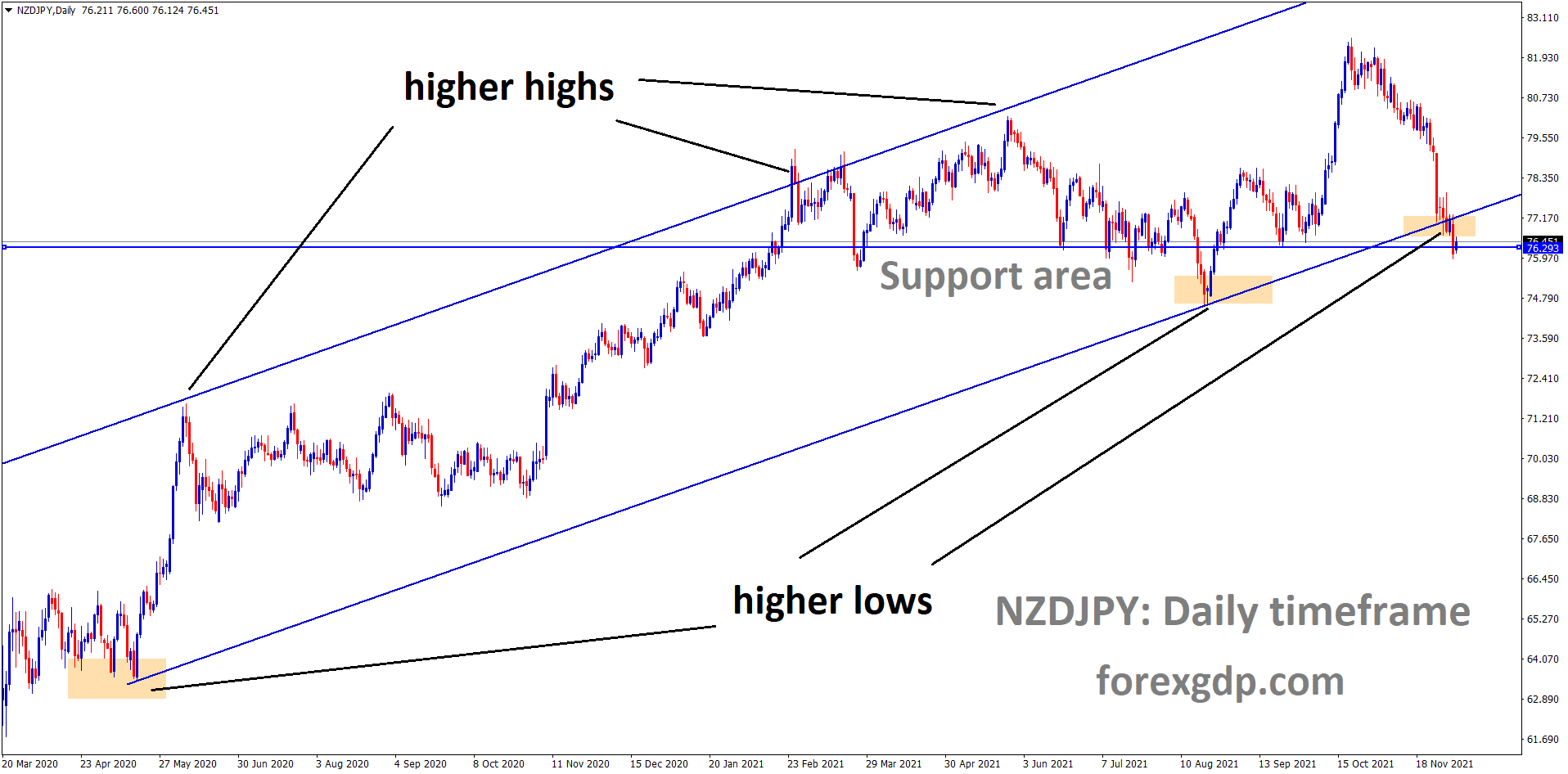 New Zealand Dollar declines continue at 5% from highs in the last two months.
As the Omicron variant shows a less deadly outcome when compared to the Covid-19 Delta variant, So the market cools off with Breathing and Now tilting towards Upside.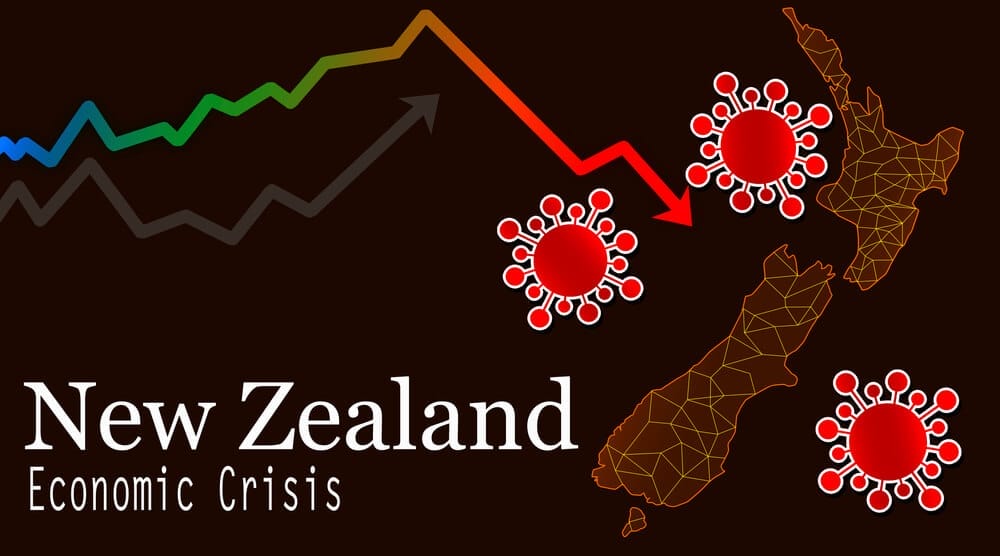 There are no critical Domestic topics scheduled on the economic calendar this week, So US Domestic data will drive the New Zealand Dollar further this week.
And Domestic data in New Zealand makes more support for New Zealand Government.
Swiss Franc: US NFP and Unemployment data drag down the Swiss Franc
GBPCHF is moving in an Ascending channel and the market has reached the Horizontal support area and higher low area of the channel.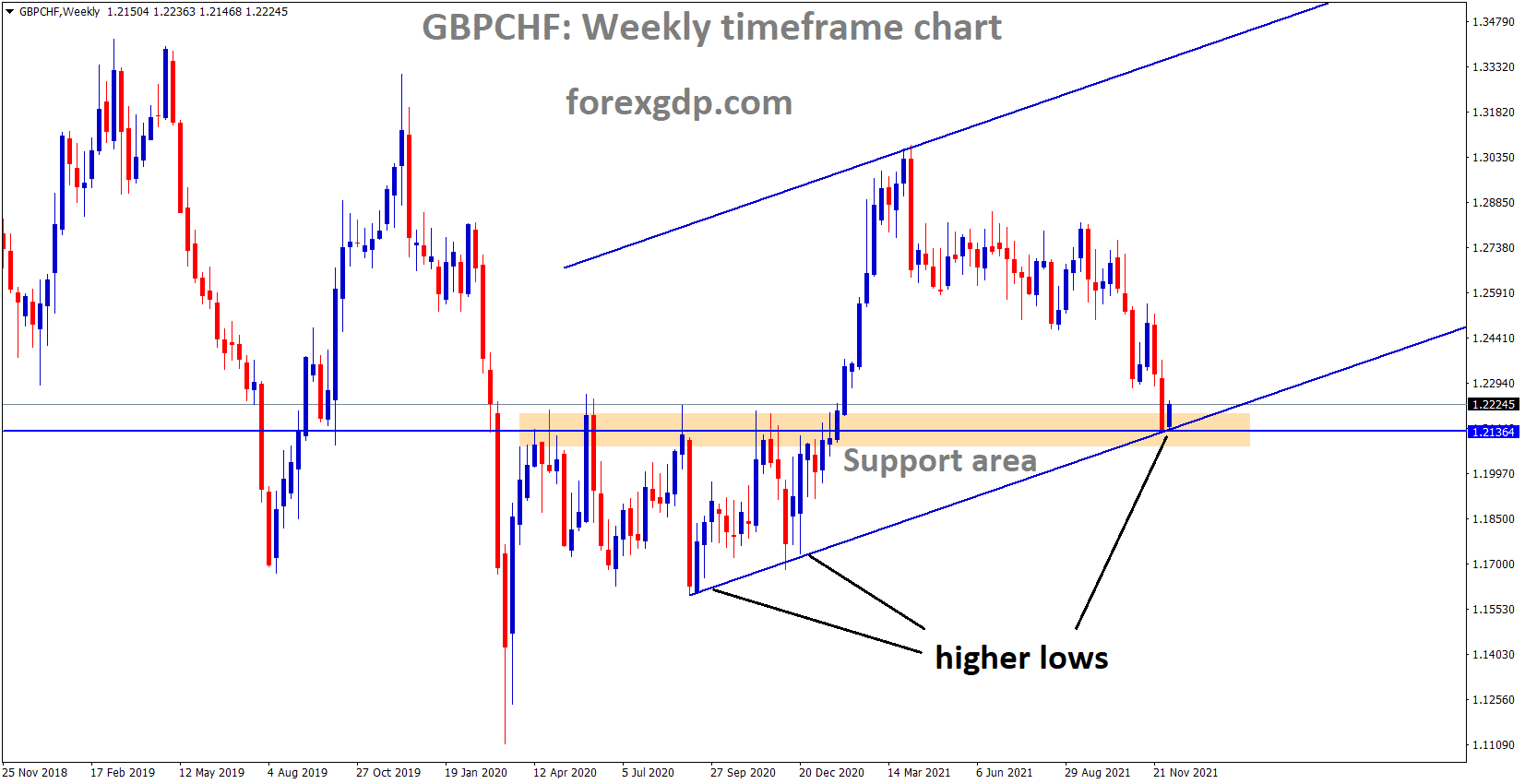 Swiss Franc makes consolidation and down the Counterparty pairs in last one month.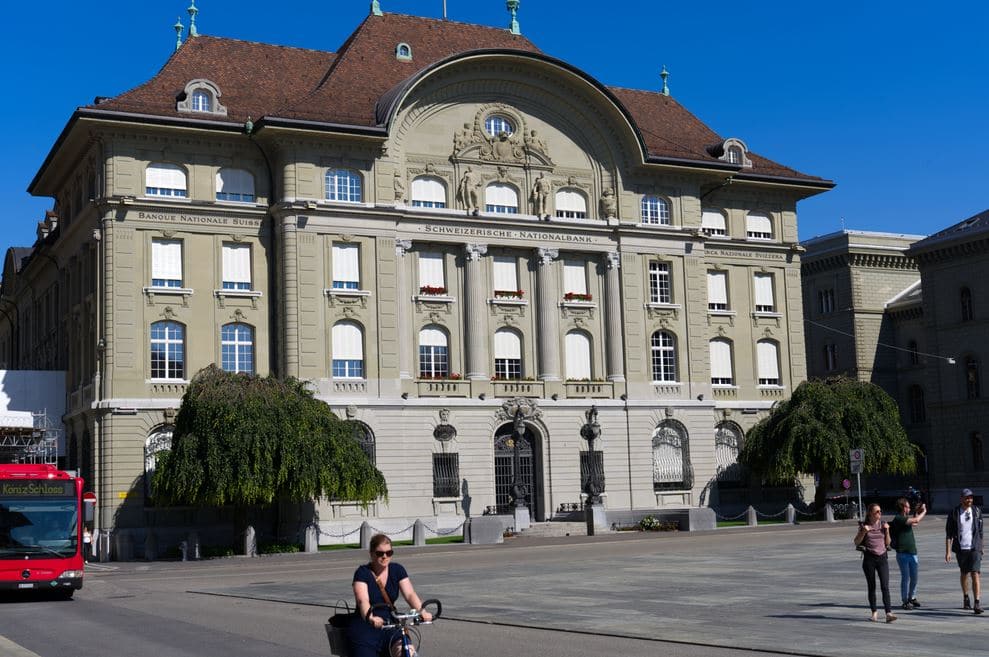 Now risks are slowly coming down as the Omicron variant is less severe when compared to Delta variant.
USDCHF is tilted lower to 2.5% from highs due to fear surrounding the market. Friday NFP and unemployment rate helped to lift the USDCHF to a higher area.
Swiss Domestic data performed well and Swiss GDP shows smart numbers.
But Swiss inflation data shows higher than 30years term makes sluggish on the Swiss currency.
---
Don't trade at your free time, instead trade the markets only when there are confirmed trade setups.

Get confirmed trade setups here: https://www.forexgdp.com/buy/