USDJPY is moving in an Ascending triangle pattern and the market has reached the Multi year resistance area of the pattern.
USDJPY This Past Week
USDJPY is one of the few forex pairs that has gained significantly from the present global economic crisis. This major currency pair has been in a positive trend for the whole last week, with only minor dips that were swiftly recovered. It has constantly broken records, crossing its 6-year highs on many occasions. This is unsurprising given how volatile both currencies have been this week. The previous week has seen many remarks from Fed Chair Powell and BOJ Governor Kuroda. Both of these business leaders are recognized for causing market volatility when they discuss the monetary policies that they want to follow in order to tackle the present economic crisis.
Looking at the weekly chart for USDJPY, we can see that this pair started last week very low, at 119.0. Although this may appear high on its own, it is actually rather small when compared to the heights this dynamic pair has reached in the previous few days. This low point was mostly linked to a decline in the value of the dollar as a result of the country's unmanageable inflation rates. This slump, however, was short-lived as Feds Powell made his address in which he discussed his efforts to fight the issue. Throughout the week, the USDJPY continued to climb the charts, reaching a high of 122.4. This is much higher than its 6-year high, making this duo a real record-breaker.
BOJ Bonds Offer
Early on Tuesday, USDJPY had started a sharp rise upwards towards new record-breaking heights. This had severely alarmed the Bank of Japan. The BOJ had a yield target of 0.25%. This target was becoming harder and harder to achieve as USDJPY continued to follow an upward trend. In order to defend the yield target of 0.25%, the BOJ had made an offer to buy an unlimited amount of 10-year Japanese Government Bonds at 0.25%. This offer is the second of its kind as the BOJ had made this exact offer earlier but it was rejected.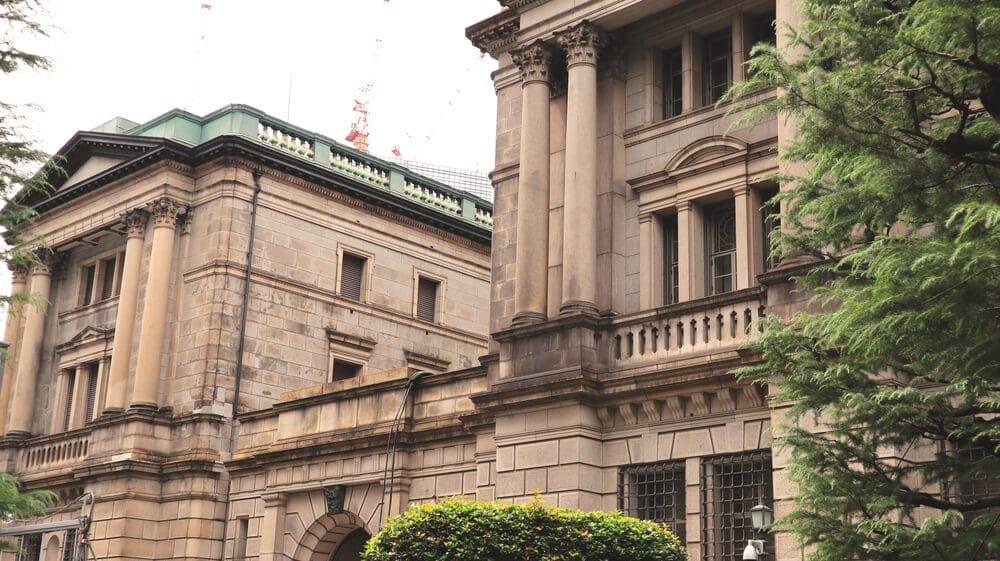 Sources with the BOJ had a few thoughts on this current situation BOJ has placed itself in. They state, "Tweaks to monetary policy that could include a focus on the five-year government bond tenor but not change easy policy, are under discussion to keep the Bank of Japan (BOJ) in step with the government's efforts to ease the impact of high energy prices. BOJ officials see shortening the 10-year Japanese Government Bond (JGB) policy interest rate to the five-year zone may be a better tool than widening the 10-year interest rate range. Any policy action cannot have the unintended effect of making the market think it is meant to signal the unwinding of easy policy. At the same time, the prospect of headline consumer prices reaching near 2% in or after April however has drawn concern from the government ahead of an upper house election this summer with steps already taken including subsidies for petrol and other support measures for households and companies."
BOJ Reserves Decision
Ever since Japan's economy has been drowning under the pressure of inflation and other economic crisis, people have been keeping a close eye on the bank's reserves. Using up these reserves may be a temporary fix to the inflation crisis in the country. It is becoming increasingly difficult for the common man in Japan to afford basic necessities. The government of Japan has been in talks to use up the COVID-19 reserves in solving the inflation crisis in the country. They believe this may solve the issue temporarily while they come up with a more permanent solution. They were also questioned about using Russia's reserves in the country to their own benefit now that Russia is in a bad light. However, Finance Minister, Suzuki stated that it is against the law in Japan to use the reserves entrusted to them by banks of foreign countries.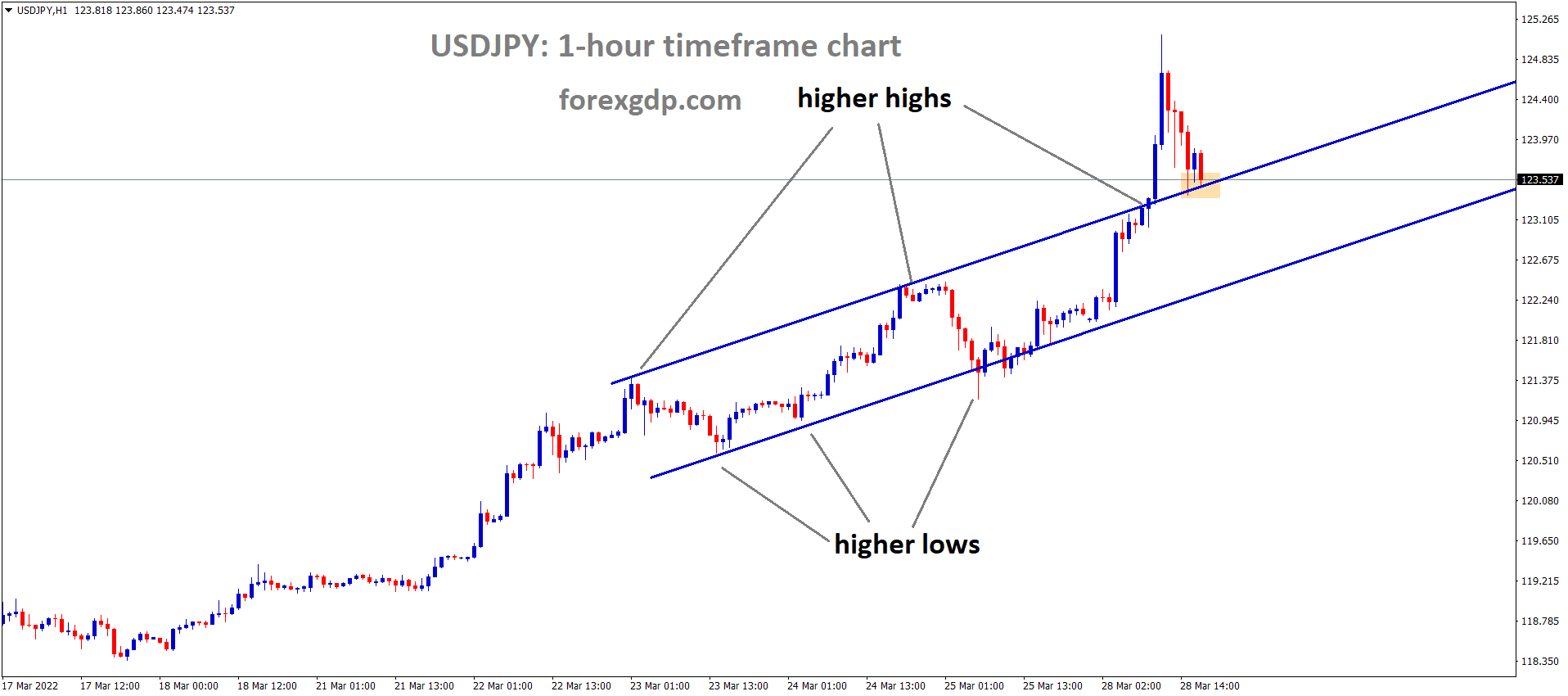 USDJPY has broken the Ascending channel and retest the higher low area of the Top of the channel
Kishida Covid Policy
Japan has just started recovering from the two-year-long COVID-19 pandemic that has impacted the entire world. Their economy has a lot of work to do in order to return back to its post-pandemic state. This coupled with the inflation crisis, shortage of oil, and the ongoing war between Russia and Ukraine has made it impossible for the ordinary man to live a sustainable lifestyle. It is expected that the country will receive an economic package by the end of April in order to help make prices more bearable.
Prime Minister of Japan, Fumio Kishida had a few words to say on this current situation. Kishida states, "We are entering a critical phase of reviving an economy that is damaged by COVID-19. We must take steps with agility to ensure a recovery in economic and social activities from the pandemic and address the impact of surging crude oil and other prices due to the situation in Ukraine. Hirokazu Matsuno, Chief Cabinet Secretary also adds, "Stability in the currency markets is important and rapid movements are not desirable. We will closely watch developments in currency markets, including the yen's recent depreciation, and their impact on the economy."
USDJPY Today
Earlier on Monday, we witnessed USDJPY reach record-breaking heights when it crossed its 7-year high at heights of about 125.0. It had been following a steady bullish trend all day but suddenly shot up really high in the European session. This had caused it to cross the high it previously made in 2015.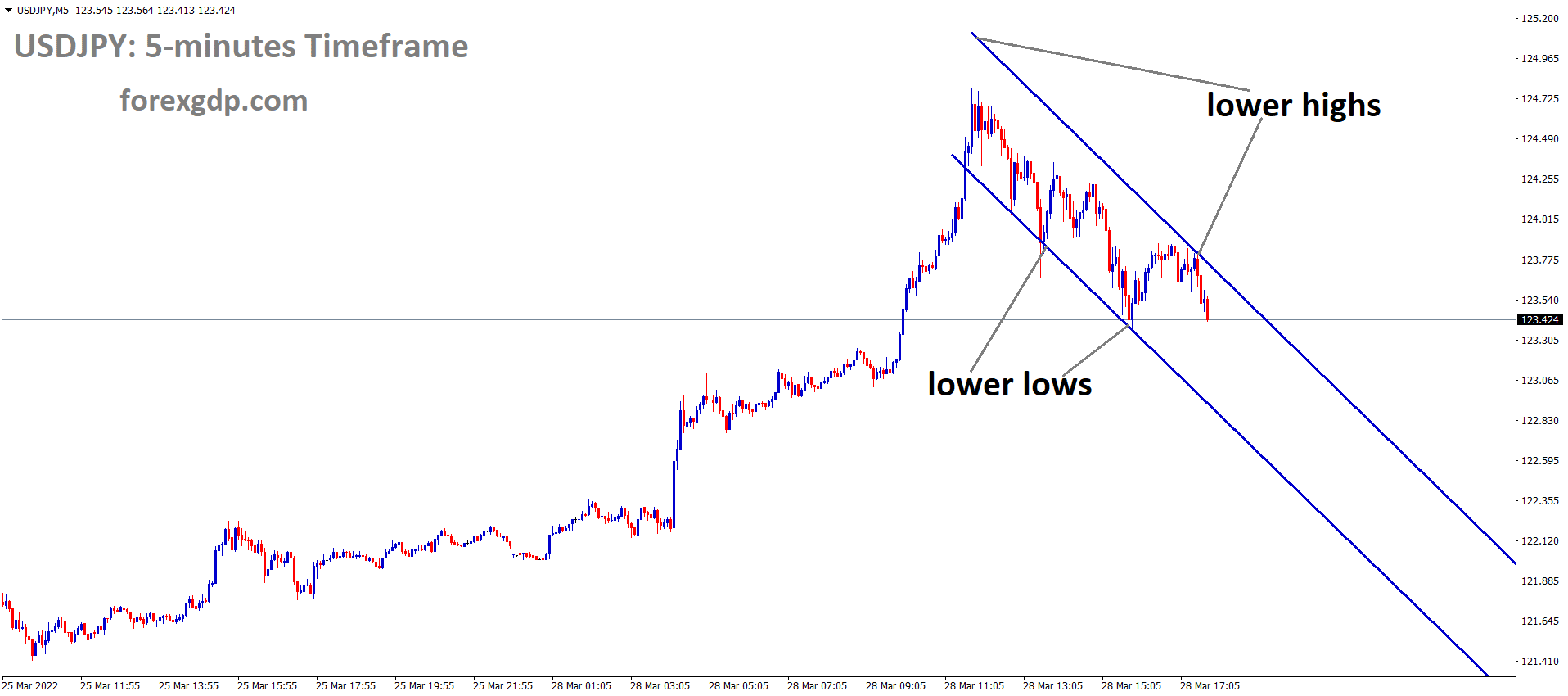 USDJPY has fallen from the lower high area of the Descending channel.
This was an important moment in the economic relationship between USD and JPY. Following this record, USDJPY had slowly retraced its steps and is now around the 123.7 mark. This isn't a large fall and is still higher than the 6-year high it made previously. We don't expect USDJPY to fall any lower any time soon considering that the government of Japan has no intentions of changing its interest rate policy any time soon.