Where Is XAUUSD
Things took a surprising turn for this valuable commodity early on Thursday when it started shooting up the markets. It had previously been struggling to hold above support levels as matters in Europe were seeming like they were progressing towards peace. However, in just a day or two, things between the two European countries had taken a turn for the worst.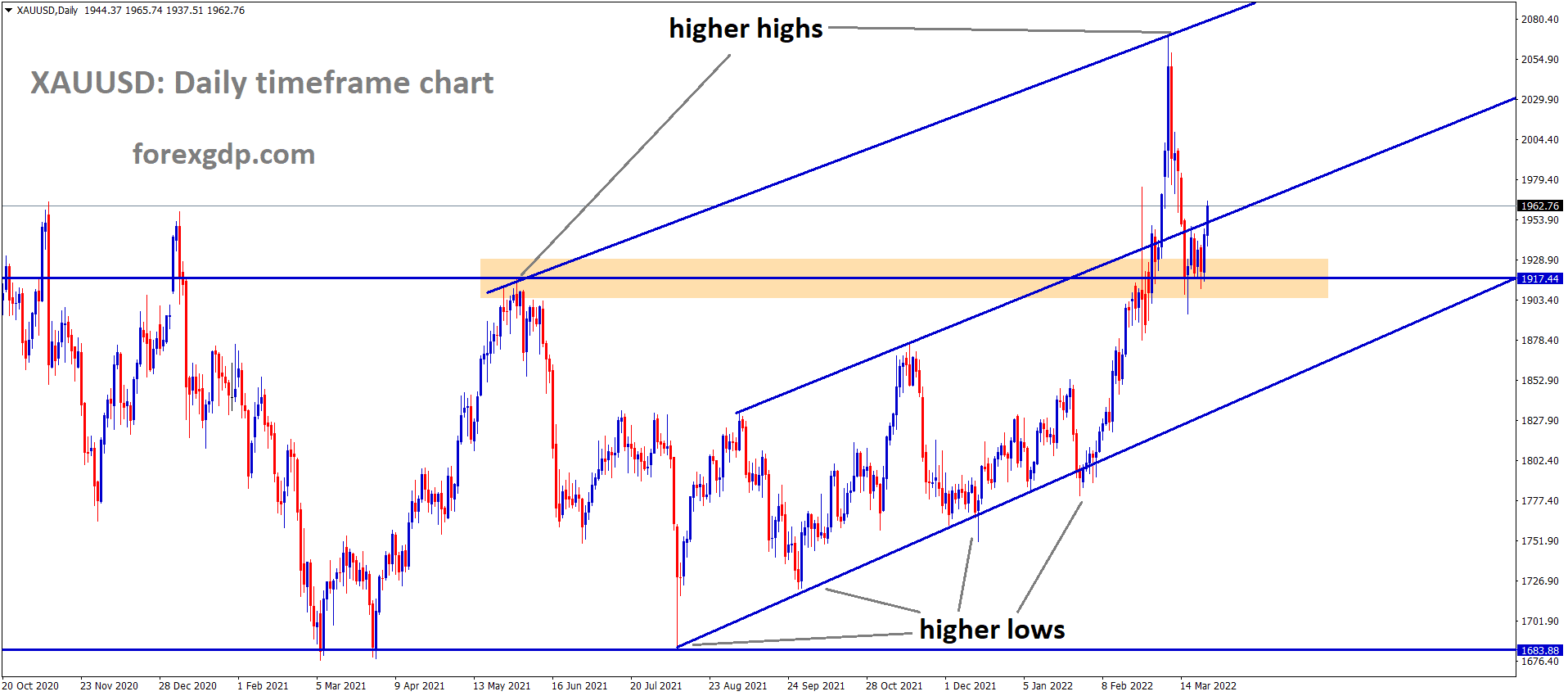 XAUUSD Market is moving in Ascending channel and the market has reached higher high area of the minor channel line of Major Ascending channel.
XAUUSD is now around the 1950s and is showing extremely volatile market conditions. Analysts predict that this safe-haven asset may even reach as high as the 1900s once again within a couple of days if things don't get any better.
Summit Talks In Brussels
There will be three summits held in Brussels which will each be attended by different top leaders. The first meeting will be led by NATO, the second will be led by the G7, and the third will be led by the EU.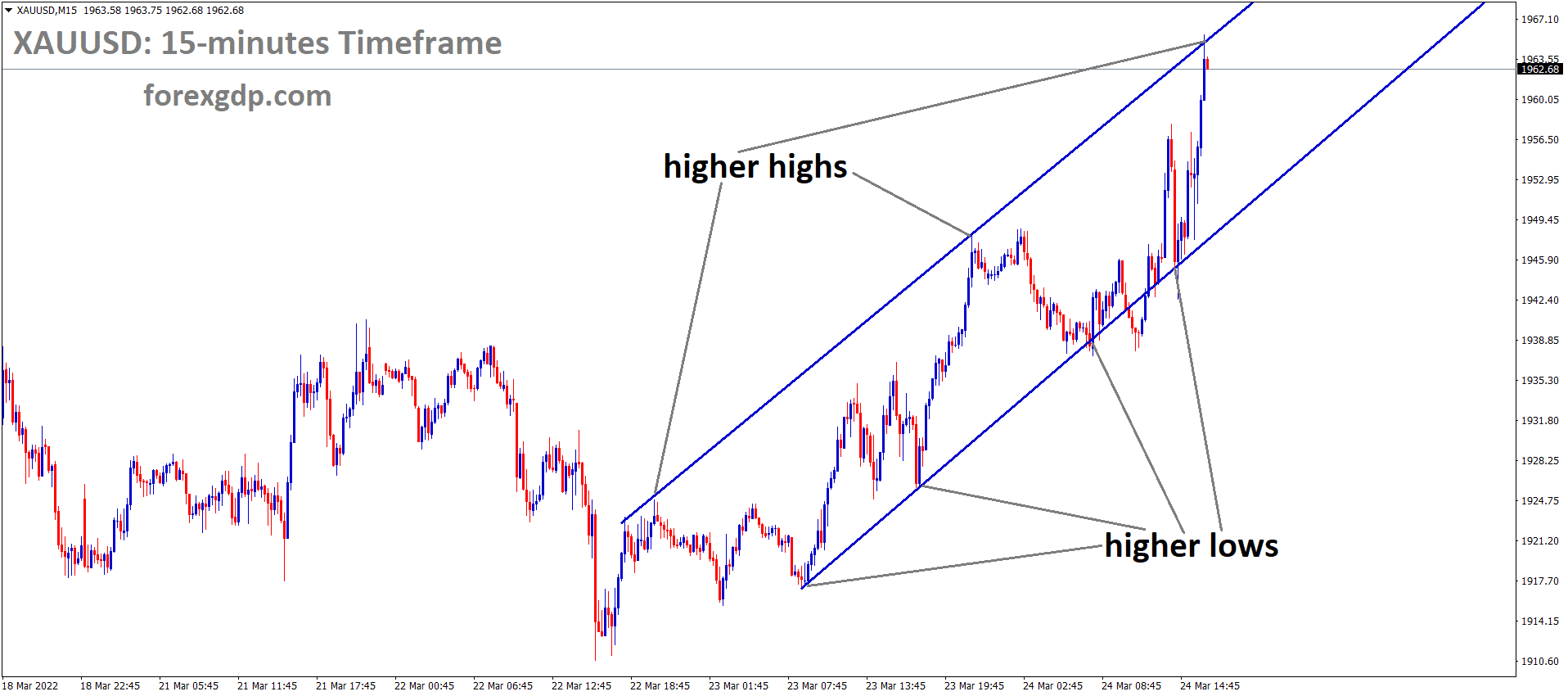 XAUUSD Market has reached the higher high area of the Ascending channel.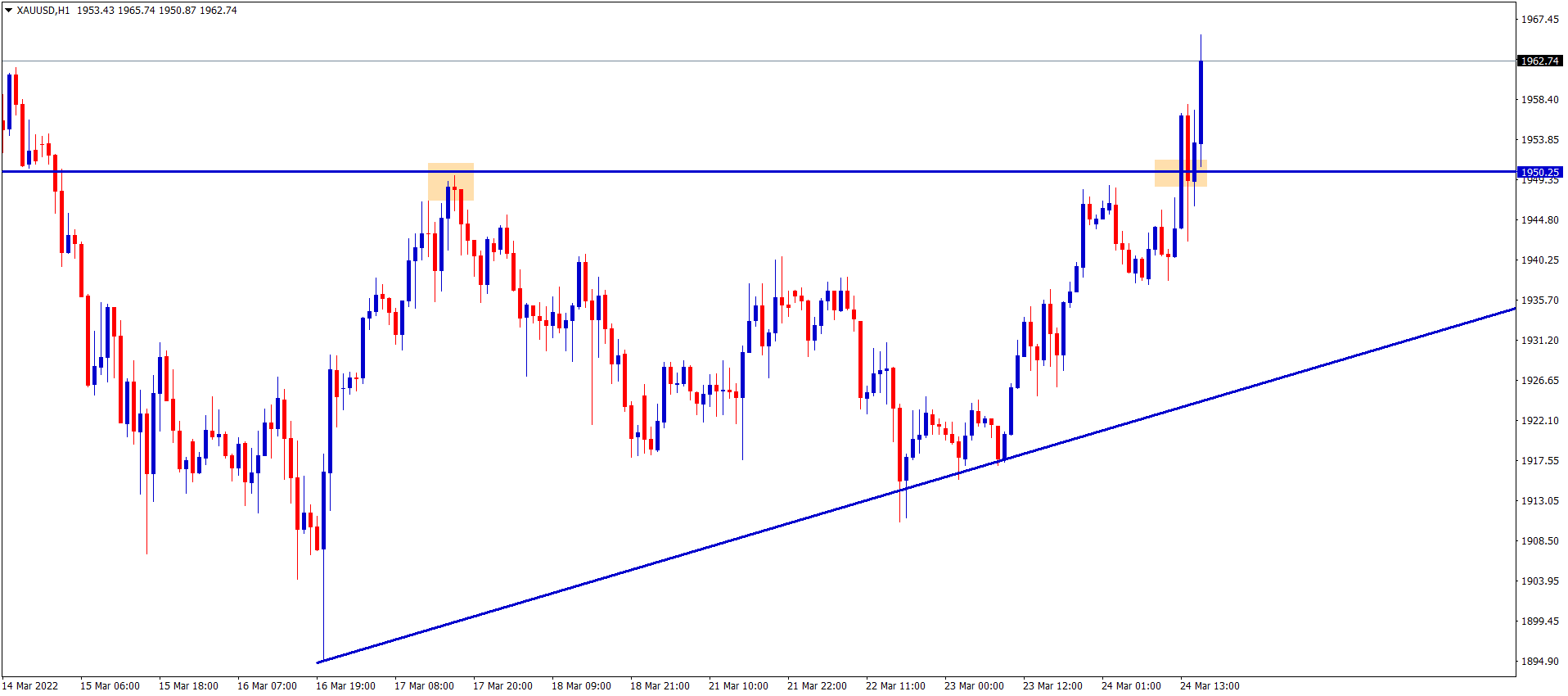 XAUUSD Market has broken the Ascending triangle pattern.
President Joe Biden of the United States will be attending each of these meetings as well. The goal of these meetings is to pressurize Germany and other states into placing sanctions on the importation of Russian oil and gas so that they will finally be completely shut off from the international community.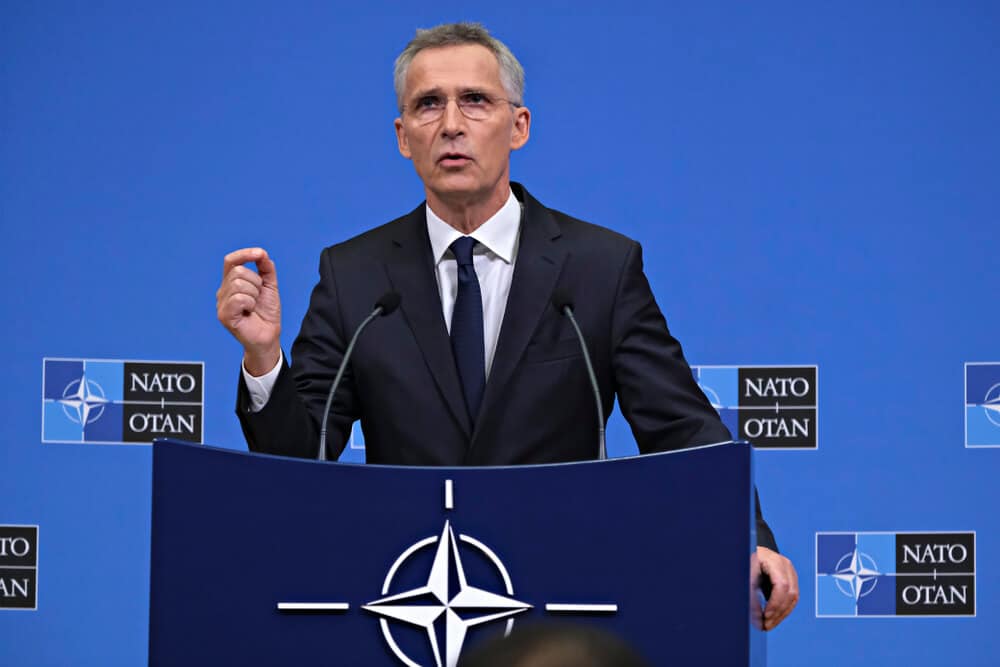 Jens Stoltenberg, Secretary-General for NATO had said in a statement at Brussels, "I expect leaders will agree to strengthen NATO's posture in all domains with major increases of forces in the eastern part of the alliance, on land, in the air, and at sea. The first step is the deployment of four new NATO battle groups in Bulgaria, Hungary, Romania, and Slovakia. I expect allies will agree to provide additional support, including cybersecurity assistance as well as equipment to help Ukraine protect against chemical, biological, radiological, and nuclear threats."
UN – Ukrainian Children In Trouble
The UN has come out with data revealing how severe of an impact the war has made on the children of Ukraine. Over half of all the children in Ukraine have been displaced from their homes since the war began about a month ago.That's about 4.5 million children out of the country's total of 7.5 million children. Of these 4.5 million children, 1.8 million have escaped the country as refugees while the rest are still displaced in different parts of Ukraine. Catherine Russell, Chief at UNICEF has said in a statement, "The war has caused one of the fastest large-scale displacements of children since World War II. This is a grim milestone that could have lasting consequences for generations to come."
Zelensky Seeks Military Aid
President Volodymyr Zelensky of Ukraine has come out in a desperate plea for help as matters worsen in Ukraine. Russia has increased their military effort to take down Ukraine and have been constantly targeting the country's capital, Kyiv, as well as their port city, Mariupol. Several lives have already been lost and will continue to be lost if the international community doesn't step in and provide assistance. Putin has shown no mercy as he continues to double down on Ukraine in order to achieve his military goals.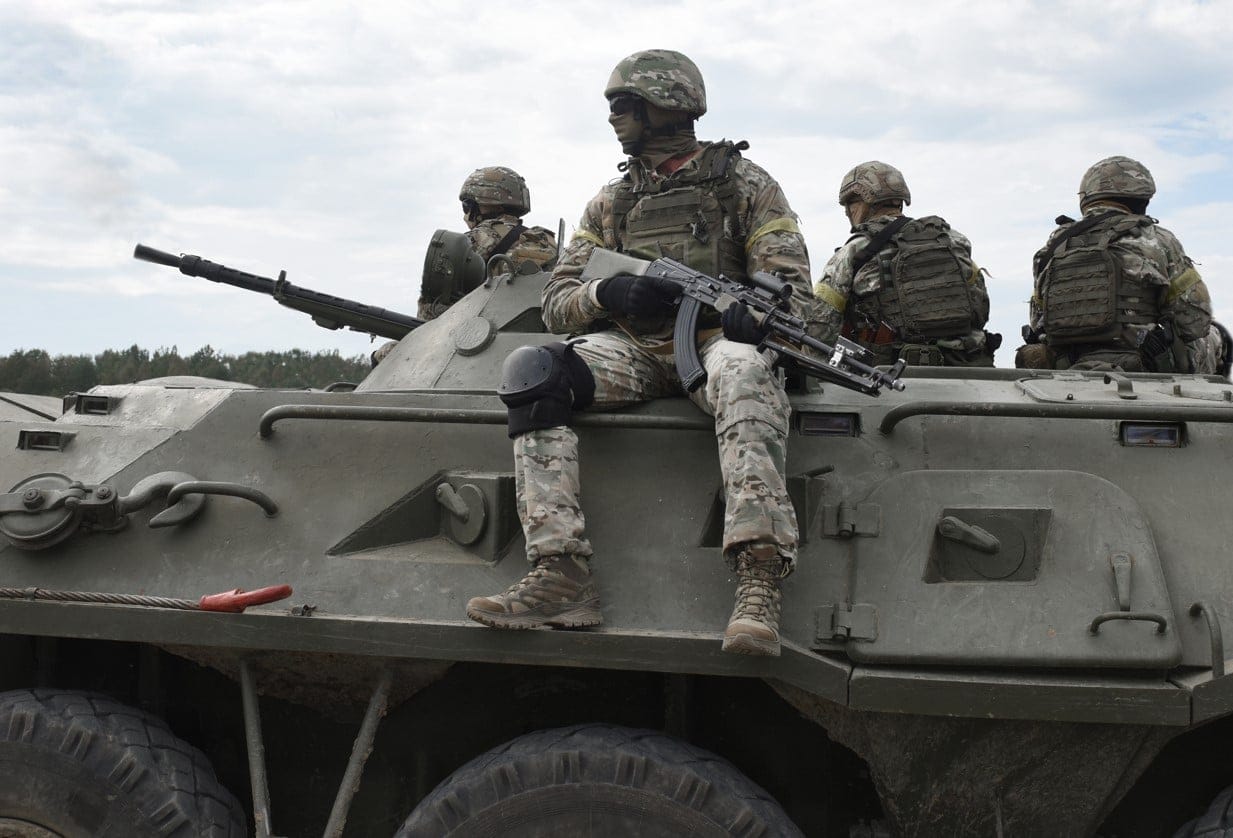 Zelensky had called for help in a video message stating, "To save people and our cities, Ukraine needs military assistance without restrictions. In the same way that Russia is using its full arsenal without restrictions against us. We are not fighting just for the people of Ukraine, but for Europe's security and we have shown that we deserve to be a fully-fledged member of the EU. NATO needs to provide Kyiv with one percent of all its planes, tanks, and anti-ship weapons, among other equipment. When all this finally happens, it will give us, as well as you, one hundred percent security."
Illegal Deportation To Russia
Russia has completely taken control of Ukraine's port city, Mariupol, with their military and has begun displacing the people of Mariupol out of the city. Authorities at Mariupol have come out saying that over 15,000 people have been illegally taken to Russia from Mariupol. They have been taken from their homes and forced into Russia against their will. Rumors say that the Russian military has even seized several passports to prevent the Ukrainians from leaving the country. Zelenskyy states that there is nothing left in Mariupol after it had been a victim of severe bombings, therefore forcing the people to escape if they haven't been illegally deported already.
Refugees Fleeing Ukraine
Reports reveal that ever since the war between Russia and Ukraine began about a month ago, about 3 million Ukrainians have left the country as refugees. Of these 3 million, about 2 million have taken refuge in Poland. The rest have taken refuge in Romania, Moldova, Hungary, Slovakia, and Belarus. A significant number of Ukrainians have even taken refuge in Russia as they believe they'll be safer in the European superpower than their own country. Ukraine is going up in dust and at this rate, if Russia does end up taking over Ukraine, there would be nothing left of Ukraine to even take. It would be all rubble and dust.
Ukraine On Offense
In a surprising turn of events, reports have come in revealing that Ukraine is now fighting back. They are no longer on the defense but are now on the offense. Despite the horrible conditions in Ukraine, the Ukrainians haven't lost their fighting spirit and are ready to fight for their country at every opportunity they get. This comes especially after they've realized that the international community has been pouring in all the love and support they can to this war-stricken country. The people of Ukraine realize they're not alone and that they need to fight back.
Jens Stoltenberg, Secretary-General for NATO had a few words to say on this situation. Stoltenberg states, "The Ukrainian armed forces today, it's much bigger, much better equipped, much better trained, much better commanded. They have much better logistics than they had back in 2014. And, of course, all of this combined with the courage. The high morale is the reason why they are really able to push back and to stand up against the much bigger Russian invasion."