Demat account has become a necessity for share transfers and stock market trading in India, ever since the computerization of the stock market in the 1990s. This has led to a drastic change in the mode of share transfers, from physical form to digitalized form. Demat account or dematerialized account played an important role in this, as accounts are used to store securities like mutual funds, shares and debentures in electronic form.
Demat accounts are generally accessed through the internet using an account user id and password. The digitalization of the shares makes it easier to be transferred and maintained. Each and every transaction is recorded, and you can take statements easily if you want to. Demat accounts have been in existence in the country since 1997 and in the forefront of this is Angel Broking which is a pioneer and has been providing investors with feature-rich Angel Broking Account.
About Demat Account
Demat Account is the concept of storing securities in an electronic form and it is widely used in Stock trading nowadays. It is easier to open an account and all you need is a couple of passport size photos, PAN Card and Government issued ID cards such as Voter ID, Aadhaar card etc. Angel Broking Account could be opened free of charge online with minimum documentation and you can start trading with your account under one hour. Angel Broking is a Depository Participant of CDSL(Central Depository Services LTD) and also offers trading accounts with accounts.
Why Angel Broking ?

Angel Broking was formed in 1987 and is a pioneer in the field of online stock trading in India. The firm offers both online services and at the same time has a Pan India presence with a network of more than 11,000 sub-brokers affiliated to the firm. When dealing with accounts it is necessary to make sure that both demat and trading accounts are with the same firm.
There are certain firms which offers demat and trading accounts from different firms. This may affect the speed of trading and cost you valuable time and money. Angel Broking Account offers combined demat and trading accounts which assures peace of mind to its users. Angel Broking has a reputation of providing the best service at discount rate for its users. The firm also has an experience of over 30 years and great customer reviews garnered over the years.
About Angel Broking Demat Account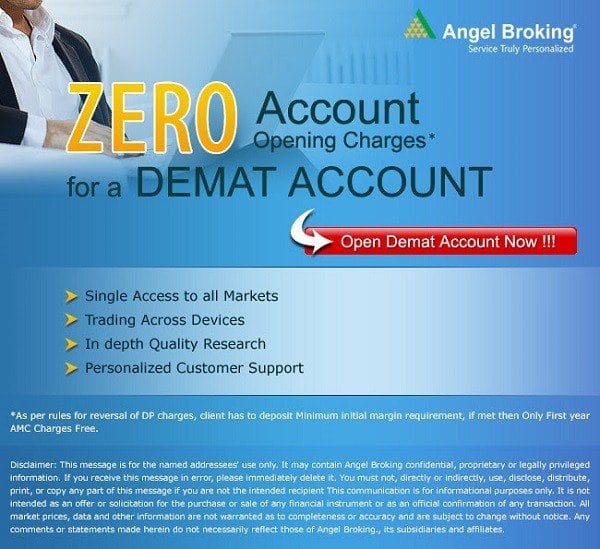 Angel Broking Account is one of the best accounts available in the market and it could be opened both offline and online. You can just visit any of the 11,000 sub-brokers affiliated with Angel broking found in all major cities in India to open an Angel Broking Account directly or could just open an account online through the official site of Angel Broking without leaving the comfort of your home. The process of opening an account is simple and fast with Angel Broking.
All you need is the necessary documents for the e-KYC to open the demat account. You will be required to fill simple application forms and upload the necessary documents to the website. This will be verified by the authorities and you will receive your account within a short duration. You can start operating your demat account within an hour of opening the account. Angel broking does not charge you for opening an account. But you will be charged annually Rs 450 for maintaining your account. The Brokerage rate is also lower than most online stock brokers.
Advantages and features of Angel Broking Account:
Angel Broking offers free accounts to its users that is both easier to open and maintain. Angel Broking also happens to be a Depository Participant for CDSL. It can assist you in any account related issues. It can also can represent you in solving any issues with your demat account.
The firm employs qualified customer care executives and personnel to provide you with around the clock services to  its users.
ARQ is an advanced stock prediction software. It was developed by Angel Broking that is offered exclusively to its users to maximise investment returns.