Crude Oil Price Analysis with Technical Chart
After 2002, latest analysis shows Crude oil hit this bottom price level now in 2020.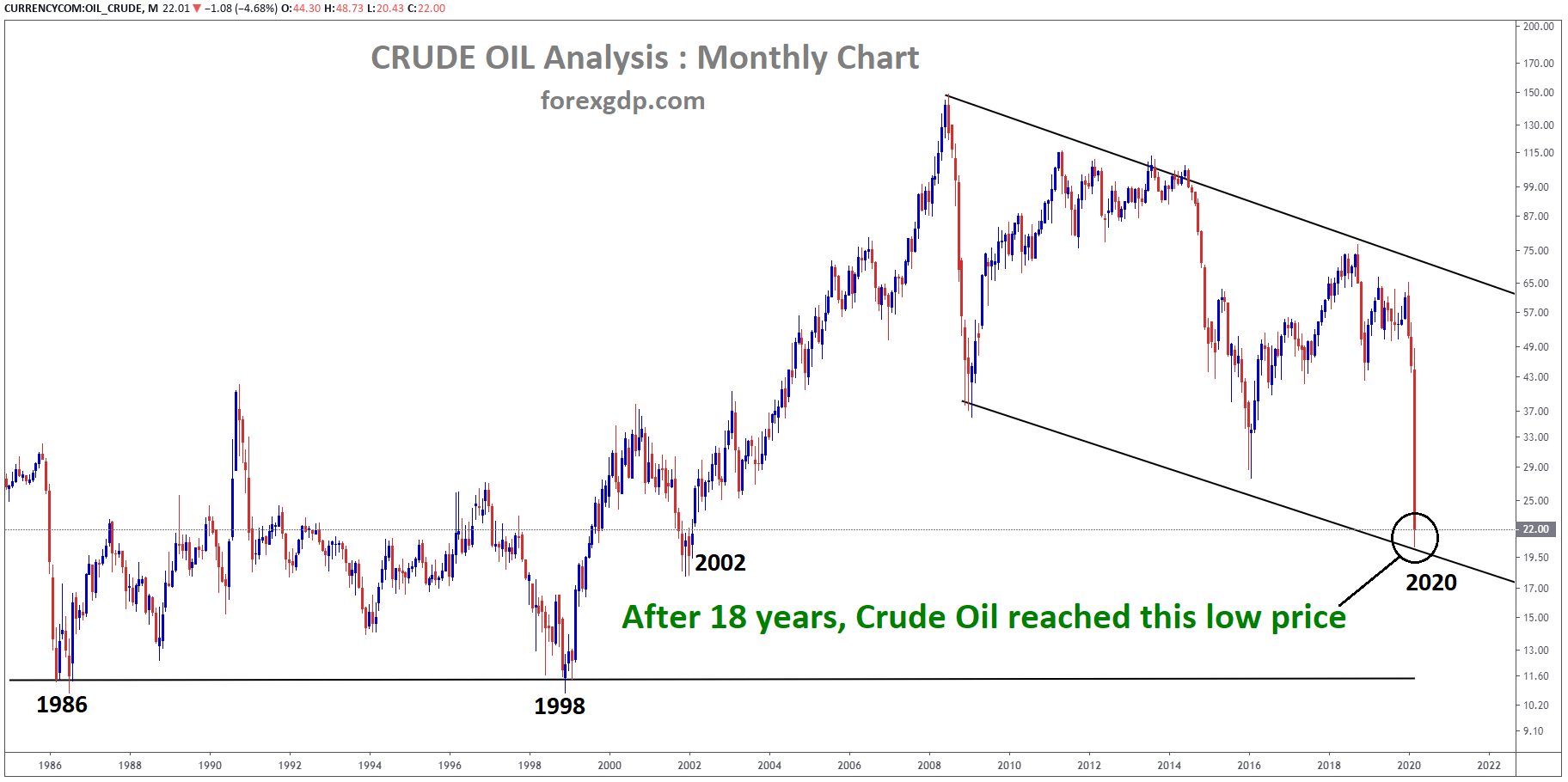 1) Crude Oil faced 5 straight weeks of losses amid fear of more demand destruction as U.S cities and Businesses braced for a greater shutdown after America eclipsed China as the nation with the largest number of coronavirus infections.
2) Adding to the oil market's woes, the international Energy Agency warned that global demand for crude could fall by a whopping 20 million barrels per day.
3) This virus hit energy first, and now you have the IEA Warning," said Phil Flynn, analyst at Price Futures Group in Chicago.
Massive drop due to Oil Price war
4) "The massive drop in demand has even complicated the Saudi plan to flood the market as buyers of Saudi crude are reportedly looking to cancel oil delay shipments," he said, referring to the kingdom's ill-timed production-and-price war with Russian and U.S. shale crude producers.
5) For All of March So far, Crude Oil and Brent Oil lost more than 50% – heading for their worst month on record.
6) Canadian Oil fell below 5$ per barrel, as it shows the worst movement in history.
7) RUSSIA will call back for OPEC members for production cuts for OIL prices to stabilize and drive smooth back to OIL Prices.
8) Oil Demand was shrugged off by US, CHINA and all over the world due to coronavirus impact, which is the worst hit down ever after 2008 crisis.
9) Right time to invest long term in Oil markets is if crude oil comes around 14 to 16$ as normal grocery shopping because of very cheaper price per barrel. 9 to 12$ is a sweet spot for buying oil.
10) As per technical analysis, oil is still in Bearish trend, however market reaches the bottom zone of the downtrend channel in Monthly chart. If market break this bottom 20$, we can expect further fall.
Please note : Most of the forex brokers increased their margins requirement for trading due to the historical crash of oil markets which impacting world wide economy. Please don't use high lot at this time. Trade safe with care.
Please Don't trade all the time, trade only at best trade setup.
It is better to do nothing, instead of taking wrong trades.
We are here to help you for taking the trades only at best trade setup.
If you want more forex analysis and signals at good trade setup, join now at "Premium" (or) "Supreme" Signal plan : forexgdp.com/forex-signals/
Don't trade all the time, trade only at Best Setup. Join Free now. Let result speaks on your trading account. Start to receive the forex signals now: forexgdp.com/forex-signals/