Follow the Simple Steps to Transfer Payment Immediately using Credit/Debit Cards through Skrill.
How to send payment in 2 minutes using a skrill.com account
Step 1: Go to www.skrill.com Click on "Open a Free Account"
Step 2 : Fill your Real Details, Click on Next->Next->Next button->Open account.
Step 3 : You will get confirmation Link to your email. Open your Email, check for Skrill confirmation mail, Then click on "confirmation link to confirm your Skrill registration.
Step 4 : Now Login to your Skrill account using your email id and password.
Step 5 : After you login, now click on "Upload" Button on the Right side of the page(near to balance).
Step 6 : Now you can see some deposit options "Neteller, Credit/Debit Card, Manual Bank Transfer" If you want to add funds using Credit (or) Debit Card, then you need to click on "Add a card" which is shown in the image below. Fill your Credit (or) Debit Card Details, then click on "Save and Verify Card".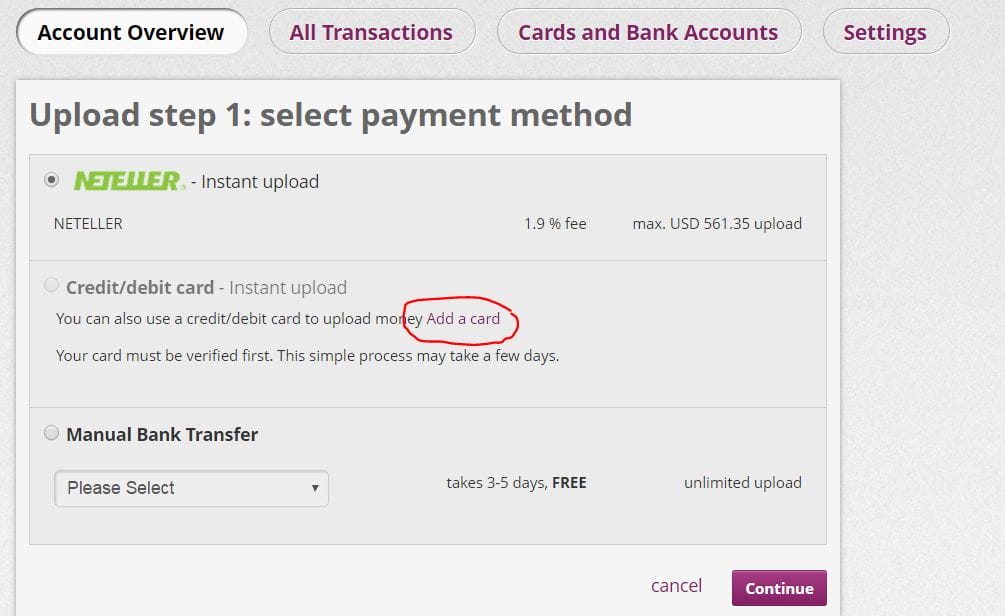 Step 7 : Now, Skrill will deduct a very small amount 0.01$ to 0.10$ from your Card, You just need to type that Exact amount on your Skrill account to approve your Card. it takes only 5 minutes to do this.
Step 8 : Now, you need to submit your ID Document Proof. That's it. Your Skrill account will get Verified within 12 hours.
That's it. Now you can send payment Easier to other Skrill account using your own Credit/Debit Cards.
Check live Free forex signals now.
To increase your trading profits, read this below topics:
How to trade profitably using Chart Patterns?
Low risk, High reward trading strategies
How to get rich trading forex market?
Most predictable Currency Markets
If you want to learn more successful trading techniques with free mentorship support, you can purchase the forex trading video course.
Thank you.