Wall Street ended in a higher note on Monday, DOW JONES closes at 2.32%, S&P 500 at 1.47%, and NASDAQ indices close at 1.20 per cent higher. Aerospace and defence lead a DOW JONES 6.59% contribution yesterday.
Japanese YEN and Swiss Franc fell due to Pound declines, Australian and New Zealand dollar were mixed, Danish Krone and Norwegian Krone traded higher due to crude oil prices higher.
AUD and NZD Dollar much reacted to Chinese PMI data and data positive means dollar will give further up.
EURUSD fails to break the Support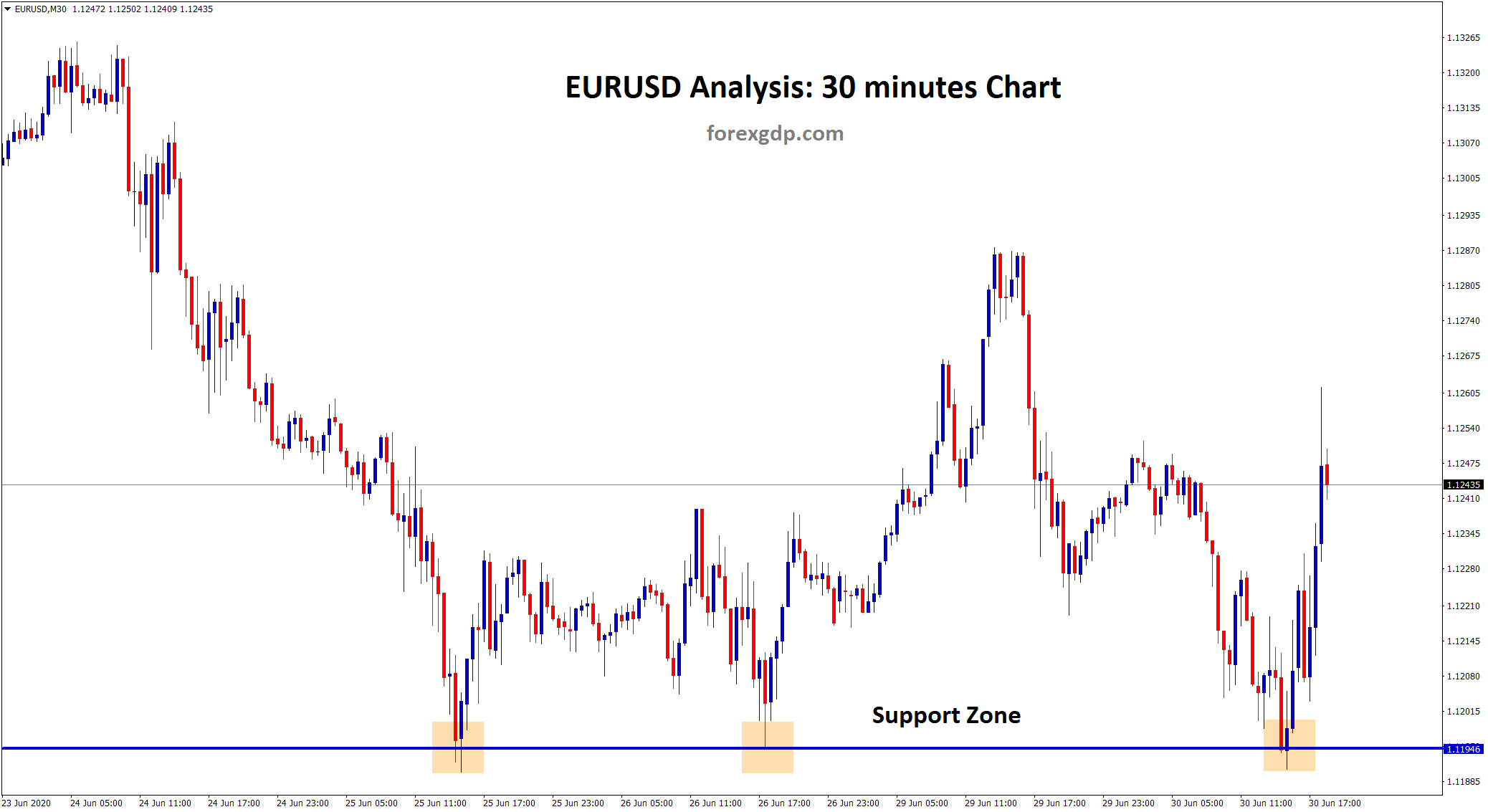 EURUSD failed to break the Support 1.119 in three continuous attempts. It still shows that the US Economy remains weak.
The Second wave of Covid-19 hitting US Economy harder
US housing data pending home sales surged to 44.3 per cent and statistics shows drawback for the US economy.
On JULY 1 and Federal reserve Chairman testifying takes place with treasury secretary Mnuchin in front of House Financial Services Committee.
The second wave of COVID -19 rapidly increasing in the US, see as the economic recovery in the slow pace, FED Powell and Co will put surplus funds to support the economy, and Supports USD to rise higher.
Dollar index technical chart shows a further decline to 93.17$ is possible after FED move.
In July month-end interest rate decision related may speech on Powell testimony on Wednesday if the economic recovery speeds up and stimulus package supports USD and other friendly pairs, AUD, NZD, NOK, SEK will trade higher.
Geopolitical tension in Hong Kong would suffer Australian dollar to loss and Japanese Yen will gain in safe heaven assets.
If you like to receive forex trading signals at best trade setup with chart analysis, subscribe now to the forex signals.
If you like to receive the best forex signals at good trade setup, you can Try free forex signals. (or) if you need additional important trade signals with high accuracy, Join now in Supreme or Premium forex signals plan.
If you want to learn trading from 20+ years expert traders, Join forex trading course online now.
Thank you.