EURUSD Resistance Breakout Analysis
After 4 months, EURUSD has broken the resistance zone Steadily with buyers pressure.
Due to recovery of Covid-19 and the Smooth Brexit deal makes EURO rise up.
EURUSD Reverse from the bottom level of channel
From the year 1978 to till now in 2020, EURUSD is moving in an Uptrend by forming Higher Highs, Higher Lows.
A clear Ascending Channel is formed on EURUSD Monthly time frame chart.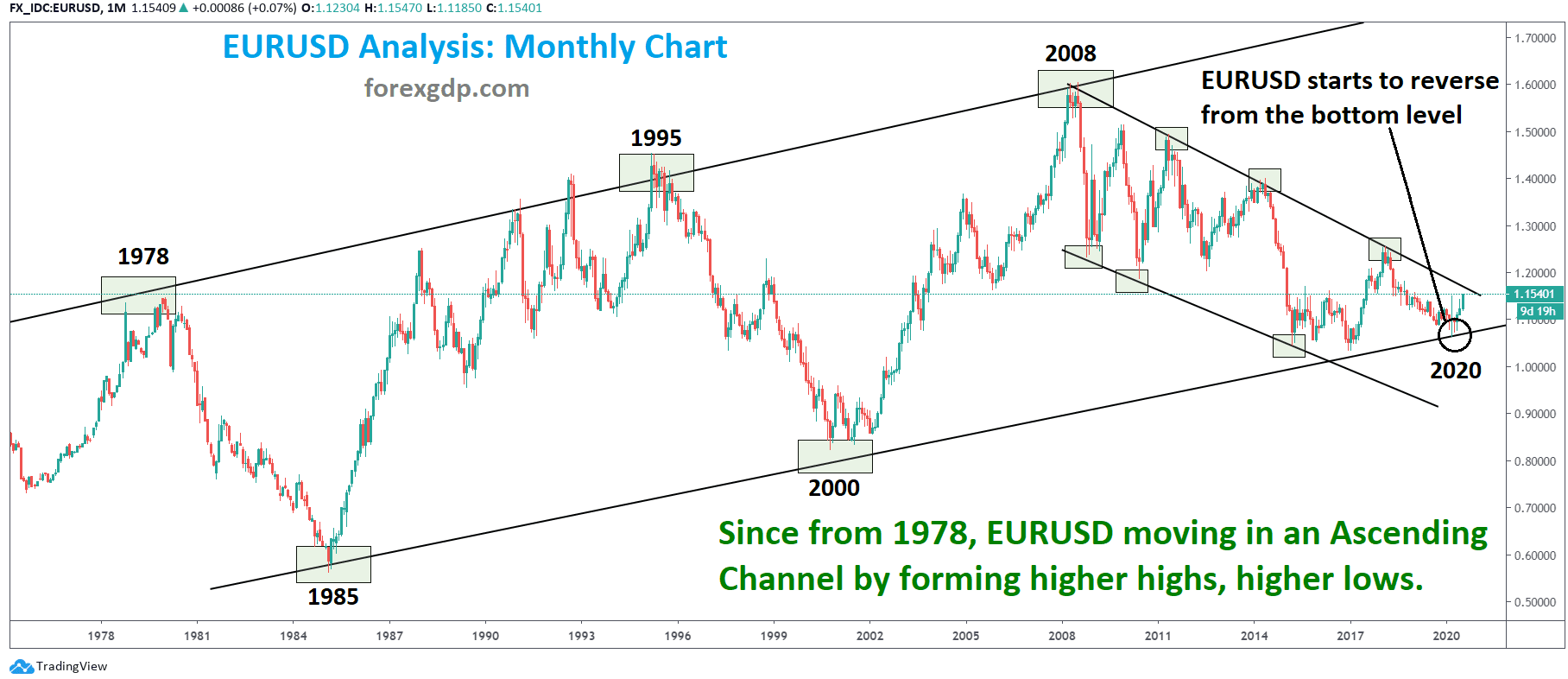 Higher highs formed in 1995 and 2008 before the big financial crisis.
Higher lows formed in 2000 and 2020.
This shows that EURUSD is moving steadily in an Uptrend for more years. 
Now EURUSD starts to reverse from the bottom level of the Ascending channel (check our previous EURUSD historical analysis here).
Soon, it will break the minor downtrend line range which is presented inside the channel.
EU leaders agreed to deal on a recovery fund, under the agreement, European commission will borrow Euro 750 billion using Triple-A debt, and given in Euro 390 billion in Grants and Euro 360 billion in Cheap loans.
GBP is declined due to UK-China tensions on Hongkong treaty suspension,900000 public sector workers in the UK will receive above-inflation pay rises, Russia intervening in UK elections causes investigations against Russia country.
Now vaccine introduced for coronavirus controlling by Oxford university helped the Euro and UK economy to boost up.
Let's take good long term opportunities at this Covid-19 time in most of the currency pairs like EURUSD, GBPUSD, Gold(XAUUSD), Silver(XAGUSD).
We always want you to trade forex market safe with care.
Please Don't trade all the time, trade forex only at best trade setup.
It is better to do nothing, instead of taking the wrong trades.
We are here to help you for taking the trades only at best trade setup.
If you like to receive more best analysis and signals at an accurate time, subscribe to premium or supreme signal plan here: forexgdp.com/forex-signals/
Thank you.