Bitcoin markets have been seeing a lot of action this weekend, as the price of the crypto asset touched another all-time high (ATH) at $28,378 per coin.
The bitcoin total market capitalization has crossed 500 Billion USD today, Bitcoin market cap now is bigger than the Visa company market cap.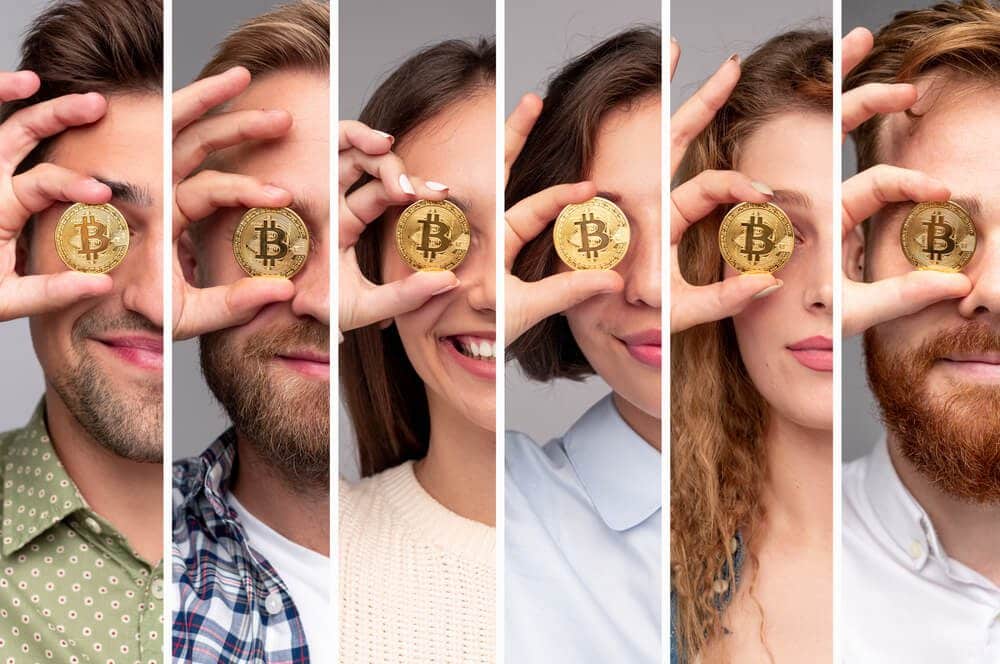 The digital currency Bitcoin is like the 11th largest company globally based on its market cap.
It also beats the market cap of traditional Global Giants like Samsung, Walmart, Berkshire Hathaway (warren buffet's company), Coca Cola and many more.
Bitcoin at the high of Uptrend line
As per the Uptrend line in the monthly chart, Bitcoin price is standing now around the higher high zone of the Uptrend line.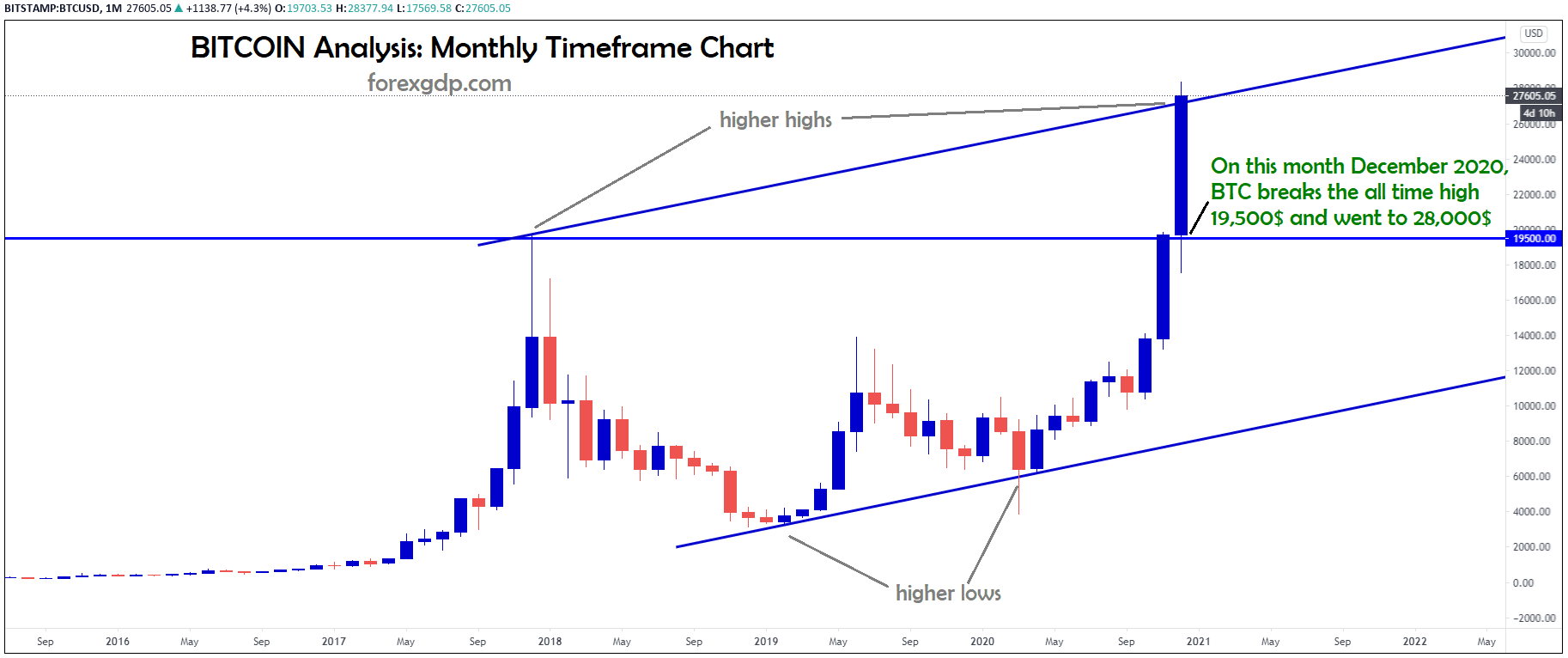 Bitcoin price is climbing up continuously from the starting of covid-19 lockdown in April 2020.
At the end of 2020, Today December 27, 2020, BTC/USD market breaks 28,000$ price mark.
In a technical analysis view, bitcoin has reached a high level in different technical views.
Symmetrical Triangle breakout Target reached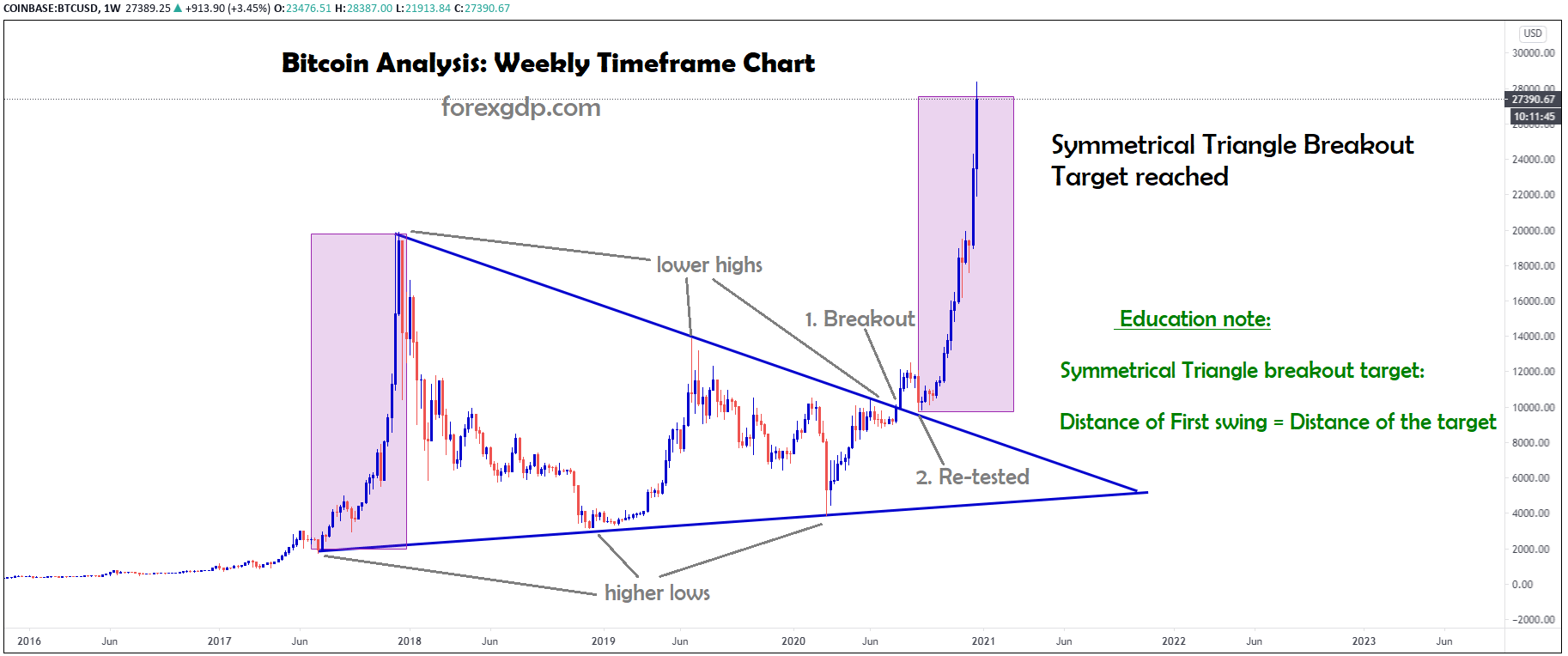 Bitcoin has broken the top level of the symmetrical triangle in the weekly time frame chart.
Now, BTCUSD has reached the target price of the Symmetrical Triangle pattern.
Symmetrical Triangle pattern target is calculated using this formula:
The Distance of the first swing inside the triangle equals to the distance of the target after a triangle breakout.
How to trade the chart patterns? check here.
If bitcoin continues to move up? how much it will rise?
Nobody knows the right answer.
As an anonymous asset, the bitcoin market can be easily manipulated by the largest holders of bitcoins.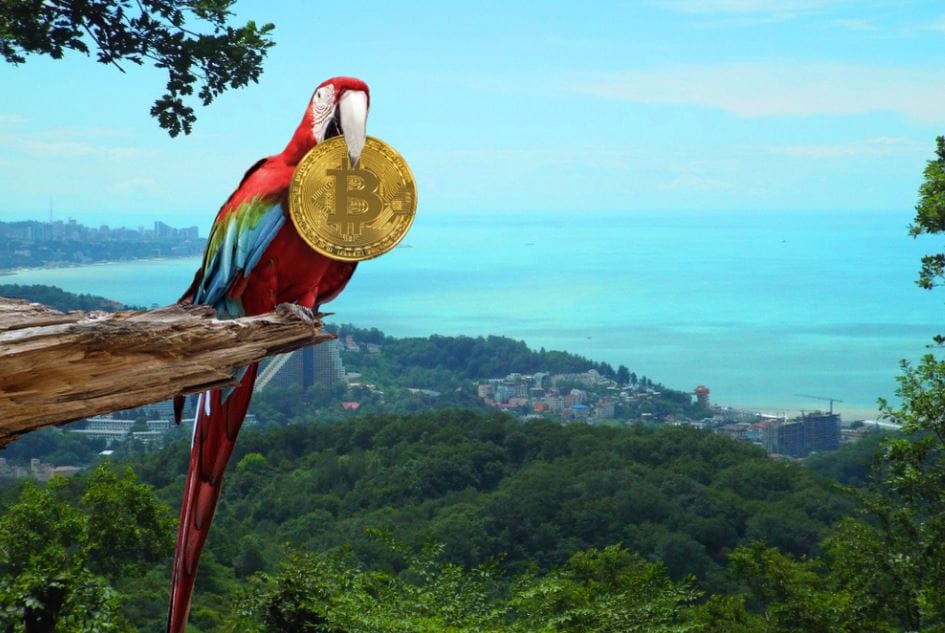 The holders of bitcoin are like this parrot which keeps the bitcoin, can't eat it. but can make it fall at any time. 🙂 
If the largest holder sells their bitcoins, you can see a big market crash. it's a highly manipulated assets with 80% to 90% correction of the trend as per the historical move of bitcoin.
However, As per the technical analysis, bitcoin has reached now a higher zone. if it moves up, it can move only depend on the fundamental aspects up to 32,000 to 35000 USD. But if it falls, it can fall down more in a short time.
Get Each trading signal with Chart Analysis and Reason for buying or selling the trade which helps you to Trade with confidence on your trading account.
Want to boost your profits in trading? Get the best trading signals at an accurate time. Try premium or supreme signals now: forexgdp.com/forex-signals/
Thank you.