Crude oil H4 Time Frame Analysis Market has broken the Descending triangle pattern and Retesting the Broken area.
Where Is Crude Oil Today
It seems as though crude oil is waiting for another major economic crisis in order to raise its rates. For the last couple of days, crude oil has been staying mainly in the 102-103 region which is better than another increase, to be honest. The supply chain shortages are mainly caused by the refusal of Russia to supply oil in dollars and the refusal of the other countries to give up much of their reserve oil supplies.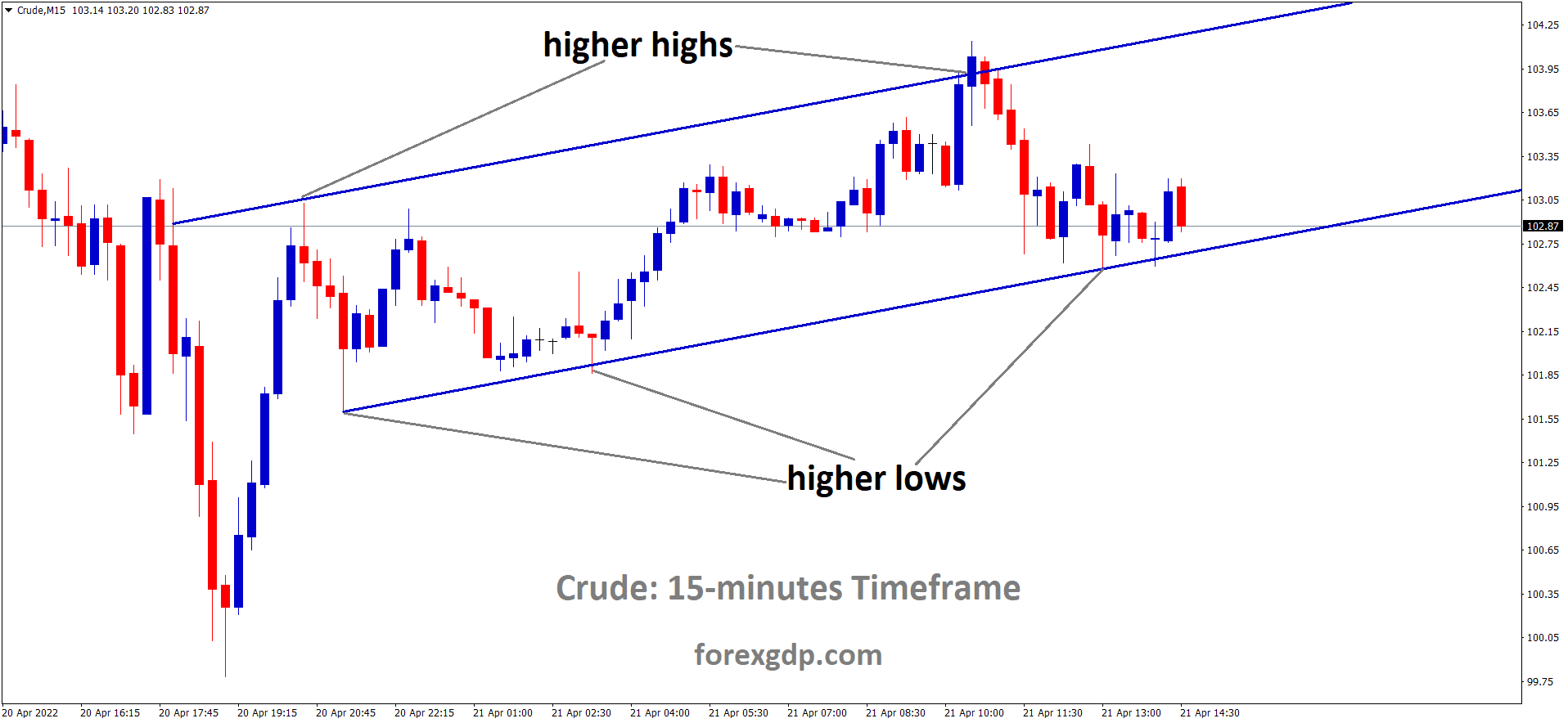 Crude M15 Time Frame Analysis Market is moving in an Ascending channel and the Market has reached the higher low area of the Channel.
It is also caused by a surge in covid cases in Shanghai which is impacting the production and exportation of crude oil. Since matters don't seem to be getting better anytime soon, we may be expecting another price hike in oil which will be harder to control.
Baerbock on German Oil Supply
Slowly but surely, the EU is shutting down its supply of oil and gas from Russia. The EU was the biggest destination for Russian oil. Due to the inhumane military activities it is currently conducting in Russia, much of the world has shut out Russia and placed a sanction on its goods and services. However, this can't be achieved in one day. Germany is one of the few EU countries that is having a hard time stopping its need for Russian oil. Much of Germany depends on it for daily use. It has however been trying to slowly stop the need for Russian oil by making oil contracts with other oil-rich countries such as Qatar.
Annalena Baerbock, Foreign Minister of Germany, has come out in a speech early on Wednesday to discuss Germany's long-term plans in regards to the use of Russian oil and gas. According to Baerbock, "We are completely phasing out Russian energy imports and plan to stop Russian oil imports by the end of 2022. Russia accounted for about 55% of Germany's natural gas imports and 35% of Germany's oil imports last year. An embargo on Russian natural gas will follow the oil ban, and we have previously suggested a mid-2024 target date for an end to Russian gas imports. Our heavy reliance on Russian natural gas may be partially offset by a deal reached with Qatar in March to supply liquefied natural gas to Germany along with increased gas and oil imports from existing partners. We may face significantly elevated prices without Russian energy."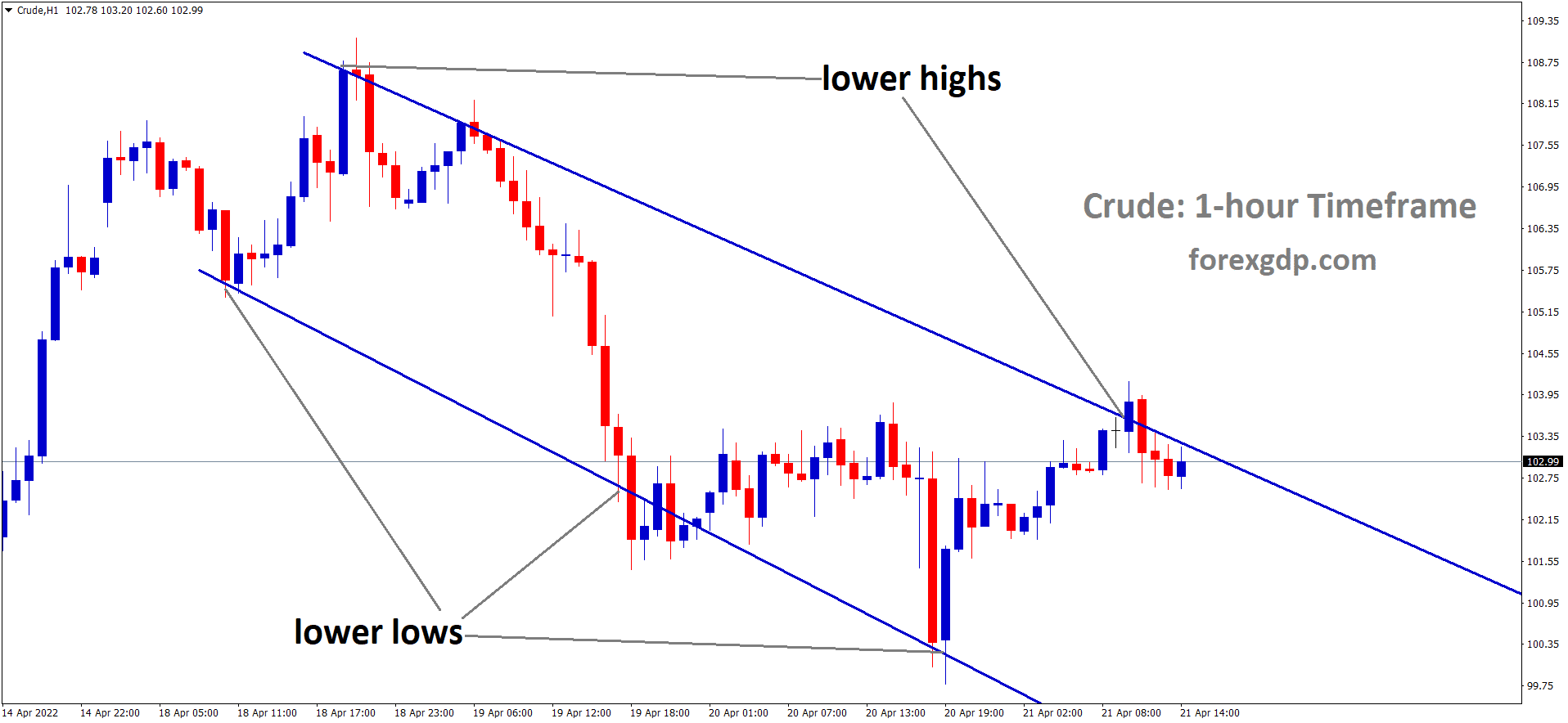 Crude H1 Time Frame Analysis Market is moving in the Descending channel and the Market has reached the lower high area of the Channel.
Shanghai Covid Crisis
Over the course of the last couple of weeks, we've been witnessing Shanghai reenter a period of covid lockdowns. While the rest of the world is finally enjoying the benefits of post-lockdown life where they are returning back to their regular routine, Shanghai is evolving backwards and is recreating covid camps to send the positive patients as the hospitals are almost at full capacity. There is a lot of negativity surrounding the way Shanghai is dealing with the elderly covid patients as it has been revealed that they're not being facilitated due to restrictions that come with their age weakness and memory loss.
Yanzhong Huang, a Fellow at the Council on Foreign Relations has revealed just how serious the situation is in Shanghai. He states, "For the elderly in their 80s and 90s, the risk of them getting cross-infected and dying in these quarantine centers is much higher than having them stay at home and self-isolate. Many of those elderly people suffer from chronic conditions that require special care, which likely won't be provided at quarantine centers." Deputy Governor Zhang Zhitong also revealed the severity of the situation. He states, "For those in prevention areas, we have to continue to ensure that they don't become 'free to fly' areas". Shanghai residents have taken to social media to reveal the inhumanity occurring in the region. One such user states, "I no longer have the strength to complain about the measures that change from day to night," one Jingan resident wrote on social media. "And this is not even a problem worth mentioning among the serious problems Shanghai is facing."
UN Williams on Libyan Oil Politics
Early last week, Libya faced an attack on one of its oil firms and was forced to close down its activities unless it wanted another attack. Ever since that day up to today, quite a few oil firms in Libya have met the same fate and are unable to continue activities out of fear for their lives and the safety of their families. Libya is estimated to be losing several hundred thousand barrels a day in oil production which would've been extremely helpful in the current supply chain shortages. This entire ordeal is due to the political tensions in the country where the country is divided into two sides.
Stephanie Williams, Head of the UN support mission in Libya has taken to her social media to reveal her thoughts on this political crisis in Libya that has now impacted the oil supply around the world as well. Williams reveals, "Today in Tripoli I had a meeting with Prime Minister of the GNU, Abdelhamid Dbaiba, and his team, for which I was joined by Mission Coordinator and UNSMIL OiC Mr. Raisedon Zenenga. I also emphasized the need to refrain from the politicization of oil production while ensuring effective, transparent management and equitable distribution of affiliated revenues. Lastly, I highlighted the importance of maintaining calm on the ground, and of guaranteeing the payment of salaries to all Libyan counterparts, regardless of political or organizational affiliation."
ECB De Guindos Speech
In other news, just yesterday ECB's Kazaks revealed his opinion that we may expect a rate hike till July. This comes as a surprise since previously it seemed as though the ECB had no intentions of tightening its monetary policies for the time being. This speech by Kazaks seemed to have created a snowball effect as now ECB Vice President, Luis De Guindos, has also revealed the possibility of a rate hike by July. Pierre Wunsch, Governor at the Belgian National Bank, has said, "Without any really bad news coming from that front, hiking by the end of this year to zero or slightly positive territory for me would be a no-brainer."