EURUSD Monthly Time Frame Analysis Market is moving in the Descending channel and the Market has reached the Horizontal Support area of the Pattern.
Where is EURUSD Today
Over this past week, we've witnessed EURUSD slowly but consistently drop in its market value. This currency pair has been extremely unstable in light of the inflation crisis in the region as well as the ongoing war between Russia and Ukraine.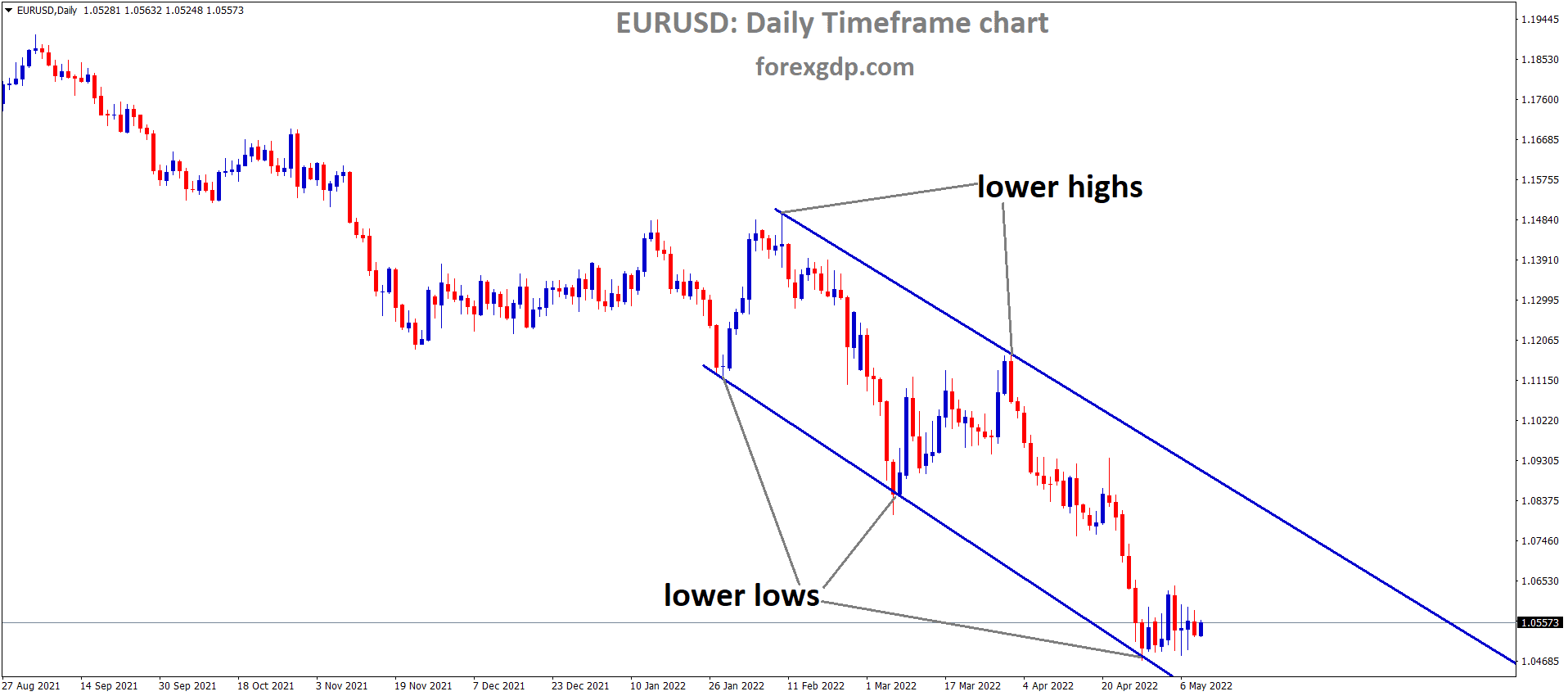 EURUSD Daily Time Frame Analysis Market is moving in the Descending channel and the Market has consolidated at the Lower low area of the Channel.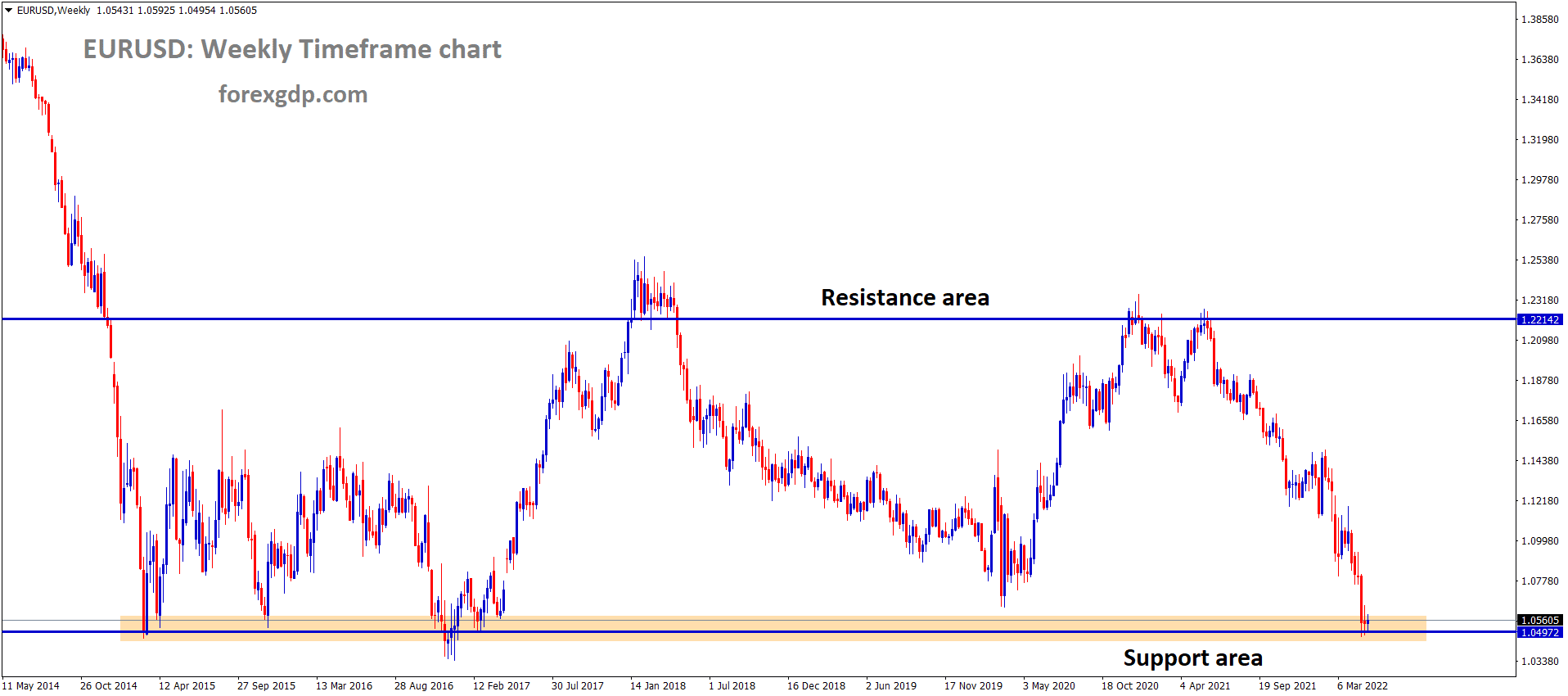 EURUSD Weekly Time Frame Analysis Market is moving in the Box Pattern and the Market has rebounded from the Horizontal Support area of the Pattern.
EURUSD took the brunt of the impact of these events and faced a drop in its market value. It is now teasing around the 1.05 region and it seems as though it may hold in this position for a while before continuing its journey to the next support levels. We haven't seen this area with the EURUSD in about 6 years. The last time we saw it was late 2016. It has truly broken records and we can blame the defense strategies of the ECB for its market conditions.
ECB Nagel Speech
Up until now, the ECB has only been following a defense strategy instead of an offense one. They haven't been tightening their monetary policies to combat inflation like what others like the US and UK have been doing. ECB believed that the inflation issue should solve on its own. However, now that matters are getting worse and inflation doesn't seem to be slowing down anytime soon, several ECB members have come forward with a change of heart. ECB's Joachim Nagel held a speech early on Tuesday where he revealed that he is now in favor of raising the interest rates. He believes that ECB should raise the rates in July in order to combat inflation. The ECB's interest rates have been in the negatives for about 8 years now and is currently at -0.50%. If the ECB decides to raise the interest rates, we might as well be witnessing its rates go in the positive for the first time in quite a while.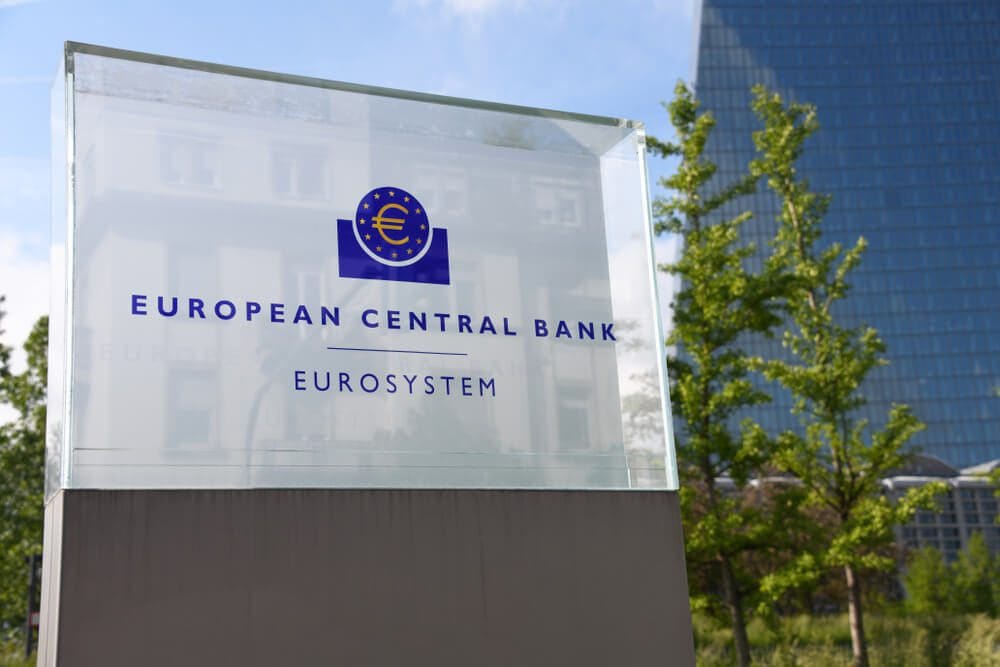 At a conference hosted by the Bundesbank, Nagel spoke about his projections for the monetary policy in the upcoming term. He states, "If both the incoming data and our new projection confirm this view in June, I will advocate a first step (towards) normalizing ECB interest rates in July. (Bond spreads) will be in the future one of the indicators we have to look at, but today I'm not so sure if we really should address this via a special instrument. Quick ECB action was needed because a delay would force the bank to be more abrupt later. The risk of acting too late is increasing notably. The more inflationary pressures spread, the greater the need for a very strong and abrupt interest rate hike. Although inflation is primarily fueled by soaring energy prices, there is disturbing evidence that price growth is gaining momentum and is becoming more widespread. All this suggests that higher inflation rates will prevail in the near future and that inflation expectations could become less anchored."
ECB Muller Speech
There was a ton of confusion and commotion among stakeholders regarding the upcoming monetary decision of the ECB. Certain members were revealing that the ECB should, and most likely would increase the interest rates from July. However, other top members like ECB's Lagarde have been silent and it is unclear what their stance is on the matter. Due to this widespread confusion, ECB's Muller held a speech where he reassured everyone that they will know very soon what decision is going to be made. He states that the ECB will most likely reveal its July plans as early as June which is not very far. The reason this increase would confuse economists is that the ECB previously promised to end bond buys first before increasing their rates. However, if they increase their rates as early as July, that will probably not be possible.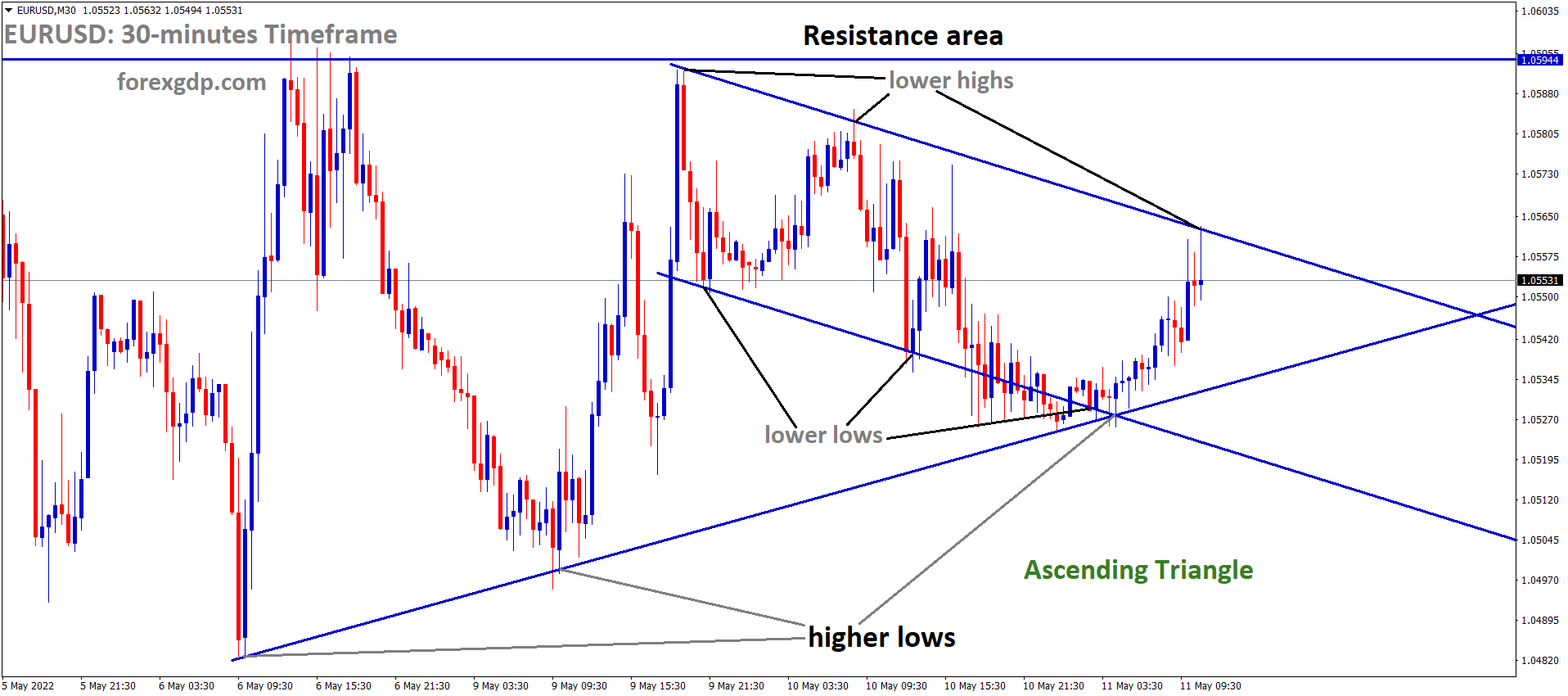 EURUSD M30 Time Frame Analysis Market is moving in an Ascending triangle pattern and the Market has Fallen from the lower high area of the minor Descending channel.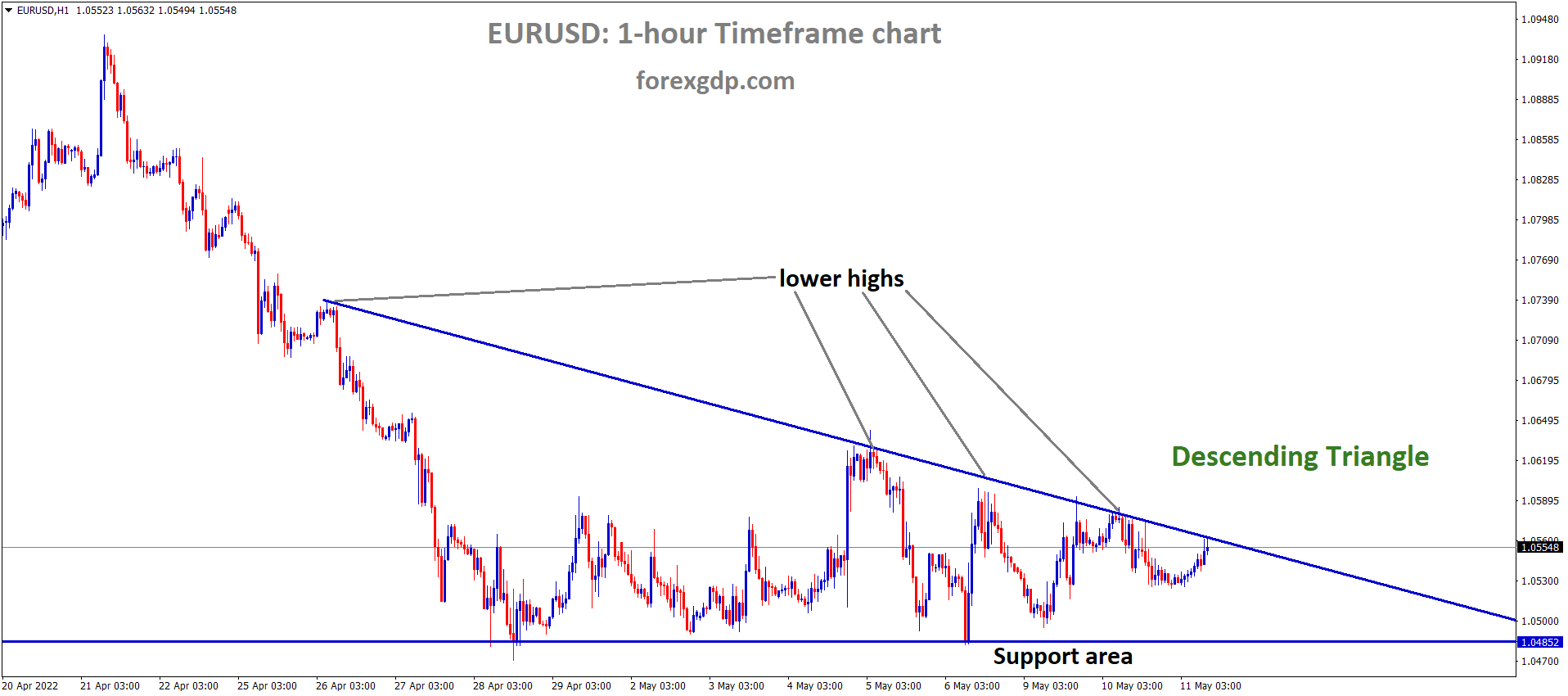 EURUSD H1 Time Frame Analysis Market is moving in the Descending triangle pattern and the market has reached the Lower high area of the Pattern.
In his speech, ECB Muller addresses the confusion among stakeholders regarding the interest rate decision. He reveals, "The European Central Bank should raise interest rates from record lows in July but could already outline its rate expectations for the coming months at its June 9 meeting. We could even discuss if we should end purchases a few weeks earlier. The real issue is interest rate increases and we shouldn't have much of a delay there either. The recent data confirm that the monetary policy stance is not appropriate given where inflation is and given inflation expectations. I'm not sure we should be deciding on interest rate hikes then (in June). But perhaps we could indicate our expectation for interest rates. From my perspective, we could focus the following meeting (on July 21) on interest rates."
Ukraine Fights Back
Up until now, the only narrative we've all been seeing is that Russia attacks Ukraine while Ukraine just bears it and suffers. However, little do people know that Ukraine fights back as well. Just early on Wednesday, it was revealed that Ukraine successfully destroyed the Russian forces at the Black Sea. They had a couple of air defenses as well as vessels stationed at the Black Sea. Ukraine used Bayraktar drones to target this Russian fleet and bring them down. This was an act of defense and was much needed as Russia was just about to use this fleet of air and water defenses to enter the port cities of Ukraine and take over. Although there are other places like the Snake Island where Russian forces are still battling to gain control, this was a big win at the Black Sea and definitely showed the Russians that Ukrainians can fight back.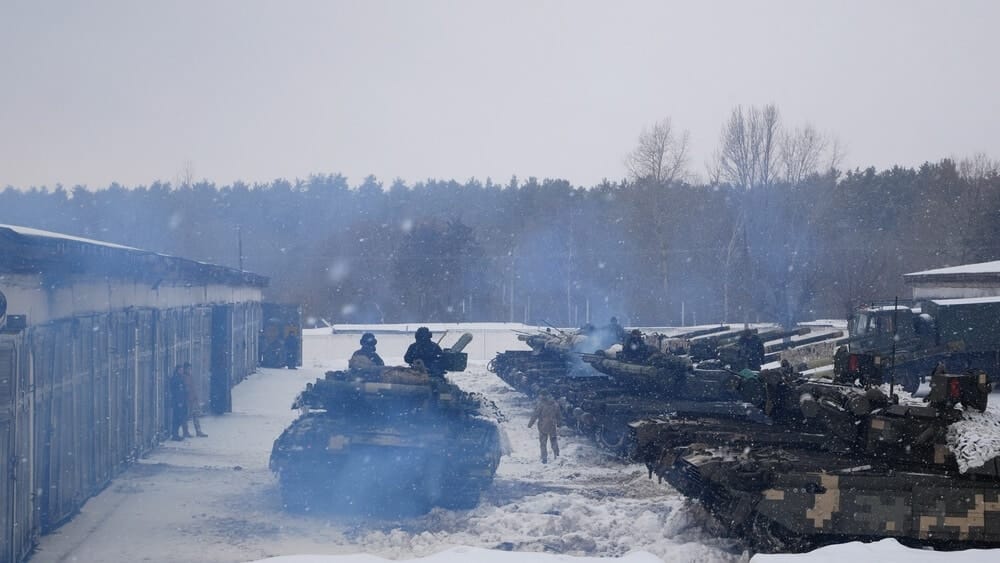 The UK's Defense intelligence recently released a statement that details the events of this day. It states, "Fighting continues at Zmiinyi Island, also known as Snake Island, with Russia repeatedly trying to reinforce its exposed Garrison location there. Ukraine has successfully struck Russian air defenses and resupply vessels with drones. Russia's resupply vessels have minimum protection in the western Black Sea following the Russian navy's retreat to Crimea after the loss of the Moskva. Russia's current efforts to augment its forces on Snake Island offer Ukraine more opportunities to engage Russian troops and attribute material. If Russia consolidated its position on Snake Island with strategic air defense and coastal defense cruise missiles, it could dominate the northwestern Black Sea."