EURUSD is moving in the Descending channel and Market has rebounded from the Horizontal support area of the market.
Where Is EURUSD Today
The EURUSD currency pair is finally recovering following a long week of bearish market conditions. Looking at each of the time frames, it is evident that this major pair is currently entering bullish market conditions as a result of the recent school shooting in the US. We can see that every now and then, the pair seems to fall slightly before recovering back above hot waters.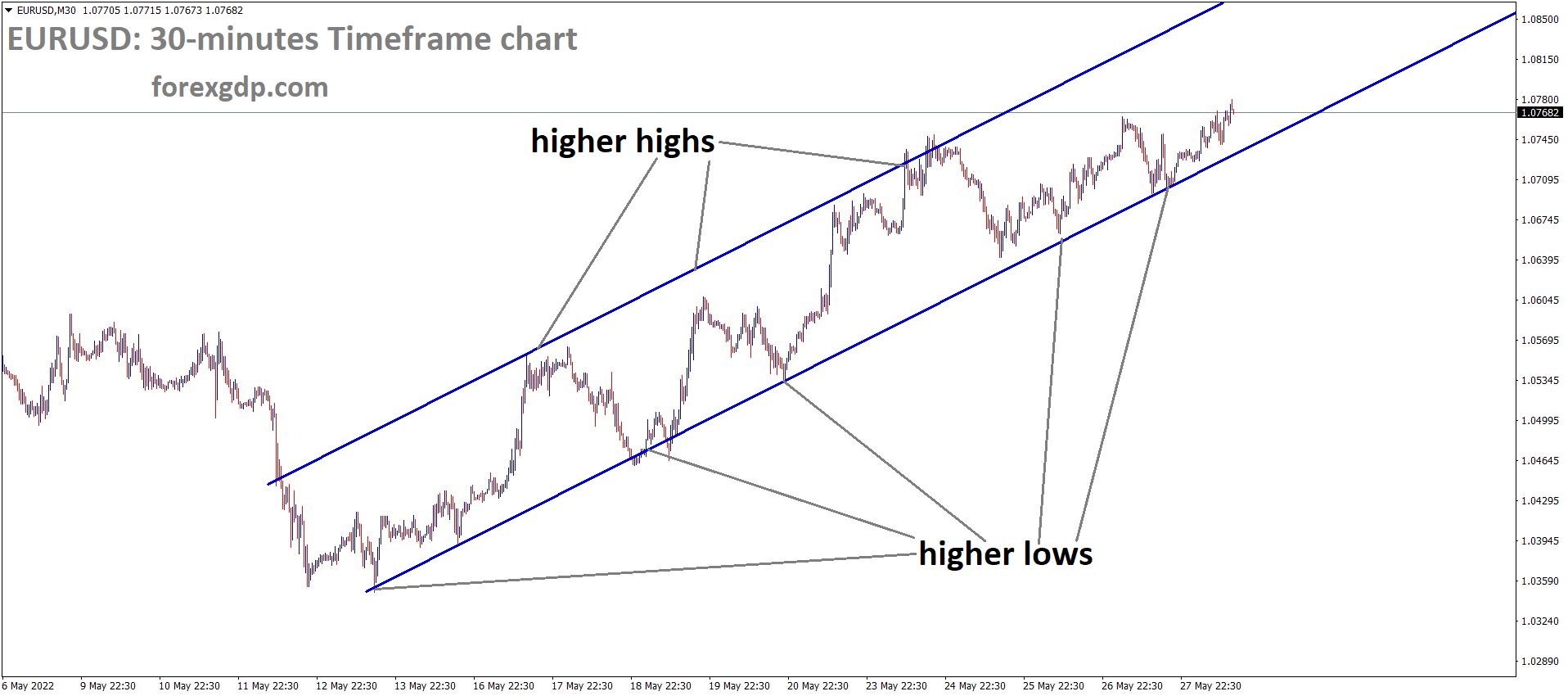 EURUSD is moving in an Ascending channel and Market has rebounded from the higher low area of the channel.
Just today, we have seen the EURUSD pair fall as low as 1.072. However, it has since slightly recovered again and is now teasing around the 1.076 region. At the moment, it seems as though this pair may continue to rise or at least hold at resistance for now. It is very unlikely that this pair will begin a downward trend into bearish markets.
Russian Sanctions Compromise
These past couple of months we've been hearing how the EU has been trying to sanction the importation of Russian products in order to hurt their economy. However, it's been a couple of months and they haven't been able to do so. The main reason for this hindrance is that the EU can only sanction Russian products if all 27 of the EU states agree to do so. However, a couple of EU states have been unable to agree to this sanction, especially Hungary. These states believe that without the importation of Russian oil, their countries will collapse without any energy supply. Since they've been making no progress, the EU has agreed to come to a compromise and state that they'll sanction all Russian products except crude oil in an attempt to win the votes of Hungary and other states. However, it is unclear why these states have yet again rejected to sanction Russian products despite having no reason to do so anywhere. Every day it is becoming more evident whose side everyone is on and this is paving the way for a potential war within the EU itself in the near future.
Analysts at Reuters have come out stating, "Other elements of the latest package of sanctions include cutting Russia's biggest bank, Sberbank, from the SWIFT messaging system, banning Russian broadcasters from the EU, and adding more people to a list whose assets are frozen. According to a draft of the summit conclusions, leaders will also back the creation of an international fund to rebuild Ukraine after the war, with details to be decided later, and will touch on the legally fraught question of confiscating frozen Russian assets for that purpose. The leaders will pledge to accelerate work to help Ukraine move its grain out of the country to global buyers via rail and truck as the Russian navy is blocking the usual sea routes and to take steps to faster become more independent of Russian energy. The draft showed leaders would explore ways to curb rising energy prices, including the feasibility of introducing temporary price caps, cutting red tape on rolling out renewable sources of energy and investing in connecting national energy networks across borders to better help each other."
US School Shooting
One of the biggest market movers this week has definitely been the recent school shooting in a small-town school in Texas. The gunman was a student who first killed his grandmother to obtain the rifle before making his way to the school and killing several students and teachers. There were barely any survivors. This recent school shooting was once again a wake-up call to the US government to finally make some gun reforms in order to prevent this from happening again. This school shooting was one of the several hundred that already happened this year. Despite all these school shootings, it seems as though the US government is still not willing to give up the right to own a gun. They still believe it is crucial for protection despite it being used for quite the opposite.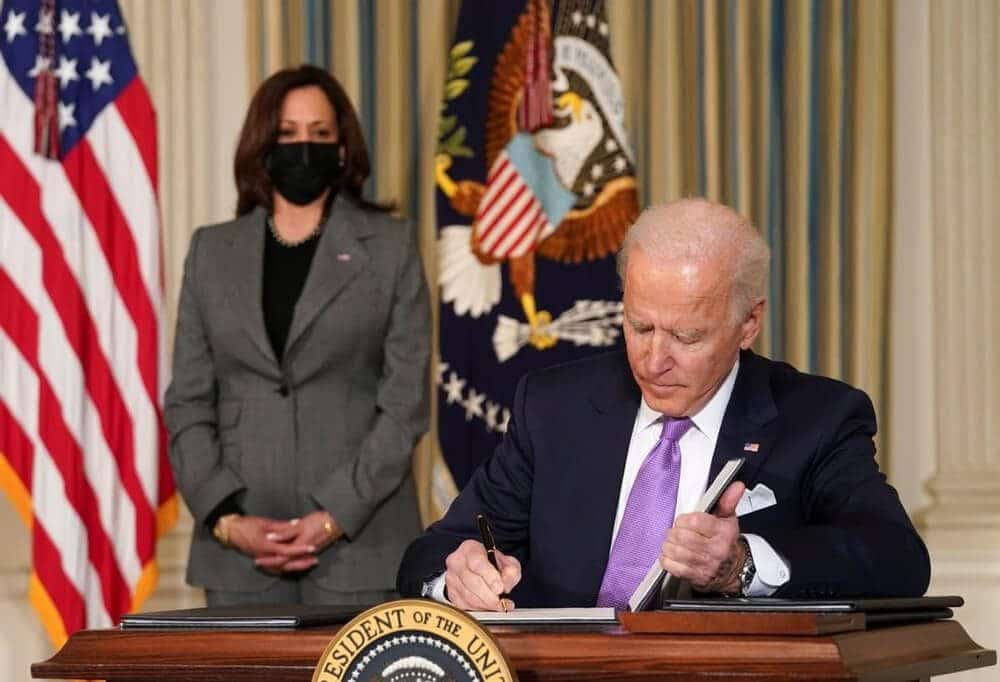 Analysts have been following this story and reveal, "The on-site commander, the chief of the school district's police department, believed the gunman was no longer an active shooter but was instead barricaded inside and that children were no longer at risk, a Texas state official said last week. The Uvalde shooting has once again put gun control at the top of the nation's agenda, months ahead of the November midterm elections, with supporters of stronger gun laws arguing that the latest bloodshed represents a tipping point. Biden, a Democrat, has repeatedly called for major reforms to America's gun laws but has been powerless to stop mass shootings or convince Republicans that stricter controls could stem the carnage. Leading Republicans like U.S. Senator Ted Cruz of Texas, former President Donald Trump, and Abbott have rejected calls for new gun control measures and instead suggested investing in mental health care or tightening school security."
Russia Lowers Interest Rates
In a surprising turn of events, Russia is one of the first countries to be able to finally reduce their interest rates from 14% to 11% as their inflation crisis is being brought under control. This comes as a shock to most economists as, despite the several sanctions placed on this European superpower, Russia has somehow still been able to come out at the top, leaving behind major world dominators like the US and UK. The US is still struggling to bring its inflation under control despite consistently increasing its interest rates. Meanwhile, Russia just minds its business, and it's already doing so much better than them.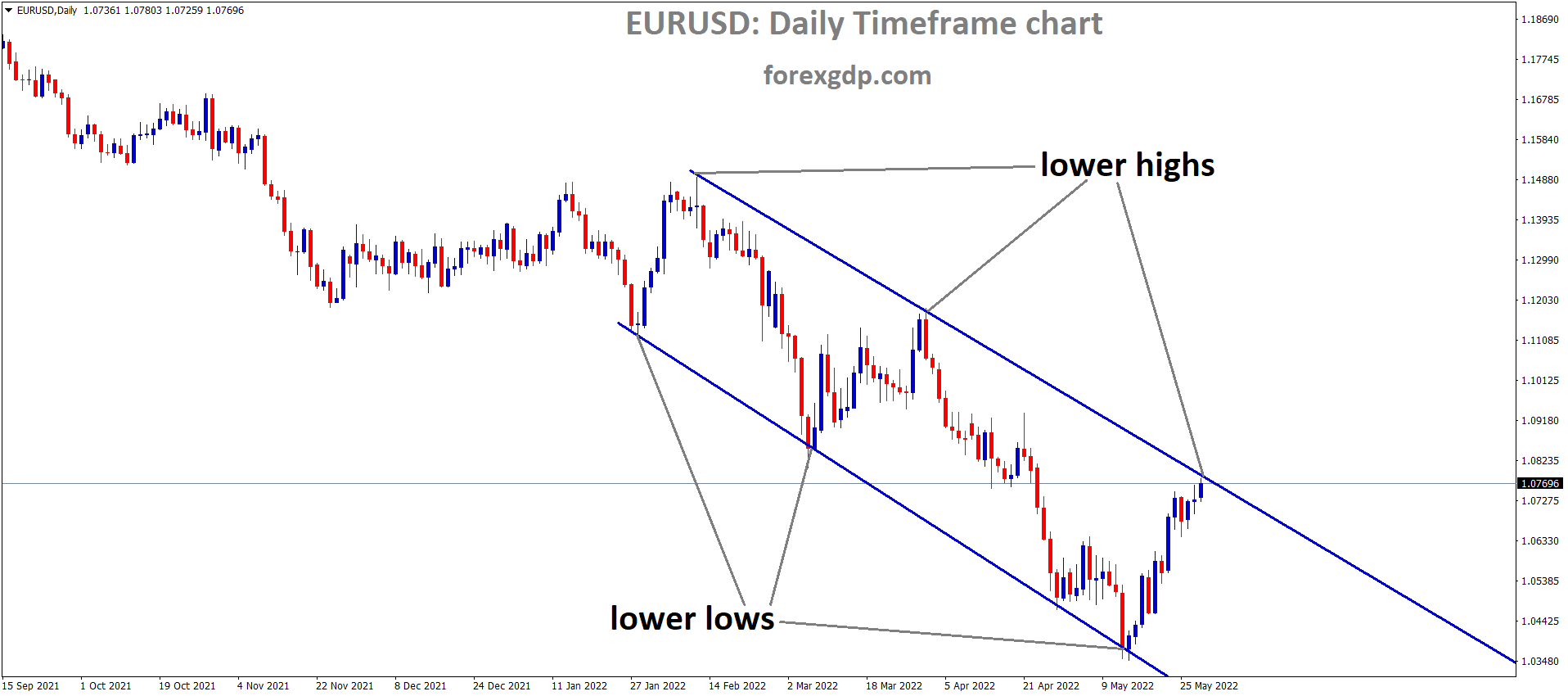 EURUSD is moving in the Descending channel and Market has reached the Lower high area of the channel. 
Economists have explained the current status of the Russian Roubles quite well. They state, "The ruble's surge has primarily been a function of the country's current account surplus, which has widened sharply since the war started. Revenues from exports of oil and gas have surged as the war itself has driven markets to incorporate a big geopolitical risk premium into prices. Imports fell 50% in April, as western companies rapidly scaled down their businesses in Russia. Central bank Governor Elvira has said she expects the economy to undergo a period of structural transformation from the second half of this year as prewar inventories of key imports are depleted. Even without a full boycott of its oil by the European Union, the sharp reduction in regional demand has caused domestic crude production, the backbone of the economy, to fall by over 1 million barrels a day in April."
---
Don't trade all the time, trade forex only at the confirmed trade setups.

Get more confirmed trade setups at Premium or Supreme plan here: https://www.forexgdp.com/buy/