EURUSD Daily Time Frame Market is moving in the Descending channel and the market has rebounded from the lower low area of the Channel.
Where is EURUSD Today
The EURUSD currency pair is quite unpredictable today as we're seeing no real trend or patterns on its charts. It is slightly bearish if we look at the longer-term but as of today, it is being very unstable as it jumps and drops quite frequently. This movement has a lot to do with the Feds rate hike decision which is pulling the pair towards support levels, and the ongoing war in Ukraine which is pulling the pair towards resistance levels.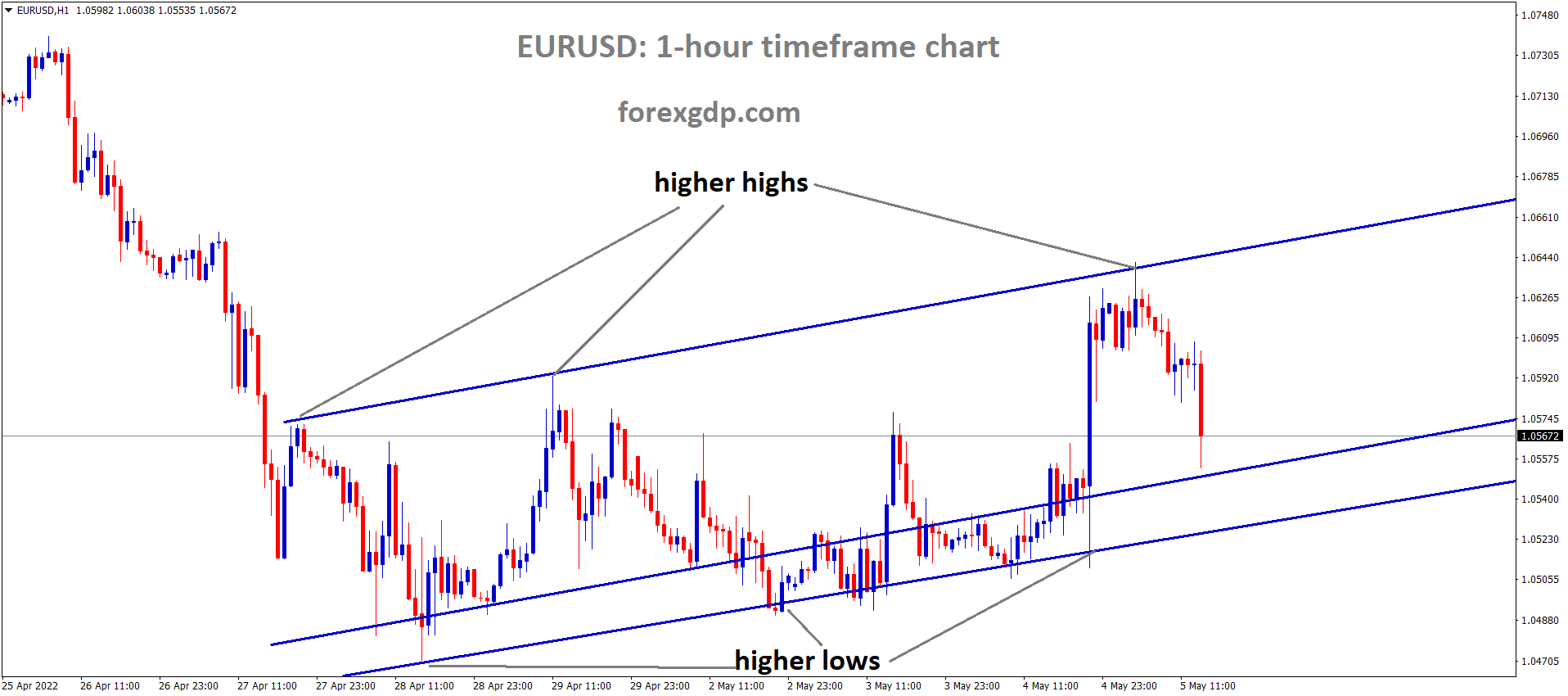 EURUSD H1 Time Frame Market is moving in an Ascending channel and the Market has reached the higher low area of the Minor line of the Ascending channel.
As of right now, EURUSD is teasing around the 1.05 mark with no real hints as to where it is planning on shifting. Traders are recommended to hold positions as of right now until we figure out which direction this major currency pair is planning on moving.
Fed Rate Decision
Early on Wednesday, it was revealed that the Feds finally decided to raise their interest rates. In doing so, they managed to deliver the biggest rate hike in over two decades. This was much needed in order to finally combat the ongoing inflation crisis in the country. The Feds raised their interest rates by 50 basis points. This was already expected by analysts and economists worldwide as several members of the Feds had come out with statements these past few weeks where they were hinting towards a rake hike with a likely increase by 50 basis points. This caused the FOMC's benchmark interest rate to increase from the range of 0.25%-0.5% to 0.75%-1.0%. The Feds Chairman, Jerome Powell, was definitely the entire reason this hike was predicted and even established. He pushed for a rate hike in order to combat the crisis. Powell believes that we may still need to further increase the rates by 75 basis points in order to finally bring inflation to a stand-still. Analysts are now expected this increase to occur in the upcoming terms.
Following the decision of increasing the interest rates, the Feds had come out in a statement which states, "In support of these goals, the Committee decided to raise the target range for the federal funds rate to 3/4 to 1% and anticipates that ongoing increases in the target range will be appropriate." David Wagner, Portfolio Manager at Aptus Capital Advisors, had revealed his thoughts on this rate hike. He states, "We're going to see longer-lasting and higher than expected inflation for quite some time because of the China problem, it's not going away in the near term. They're not going to get rid of that policy." Chief Market Strategist David Keller at StockCharts revealed what he believes to be the reasoning behind this rate hike. He states, "Investors are warming up to the reality that a lot of the bull market phase that we're arguably coming out of was in no small way driven by the Fed liquidity. As the Fed seeks to rein in accommodative monetary policy measures — that many argue have played a big role in the more decade bull run in risk assets — investors are facing a reset or new normal, that has roiled equities so far this year."
ECB Interest Rate Decision
The ECB is yet to follow pursuit in increasing their interest rates as done by other countries like the US and UK. They are still following a more dovish approach to inflation and believe that it should all resolve itself one way or the other without the need of increasing interest rates. This is causing the inflation problem to become unbearable for the majority of the population. While prices of daily goods have significantly increased, wages are still at the same rate which is causing people to lose more money with the same lifestyle than they were previously. These pleas by the people of the EU are falling on deaf ears as the ECB has yet to reveal their plans for the change in monetary policy for the upcoming term. Analysts and economists eagerly await any further hints by the members of the ECB on what they plan on doing to combat inflation.
ECB board member Isabel Schnabel had come out in a statement revealing, "The data are backwards-looking and we need to pursue a forward-looking monetary policy. So we can't afford to wait until a wage-price spiral has already set in before responding. We need to act." Deutsche Bank had also come out stating, "There is anecdotal evidence that companies are already paying some kind of inflation compensation on top of collectively agreed pay. There is a clear risk that our current forecast of an annual 3.5% rise in 2022 effective (German) wages might be too low." BNP Paribas has also revealed, "Like the Fed, the ECB is behind the curve and thus is playing catch up, even if the ECB is unlikely to move as quickly or as far as the Fed. Wage growth is quickly gathering momentum."
Ukraine Victim's Rescue
While Russia has yet to bring an end to the war crimes it is committing in Ukraine, more and more civilians are paying the price. Russia failed to capture the capital of Ukraine, Kyiv, despite bombing the city till nothing was left but rubble. It then decided to move on to Mariupol where it continued to do the same atrocities. Several neighboring towns and villages also paid the price as they were destroyed and their people killed. Although several sanctions have been placed on Russia, they still fail to see that even if they are going to win this battle with Ukraine, they have still forever damaged their reputation in the eyes of the international community. Therefore, Russia has yet to realize it has lost itself in greed.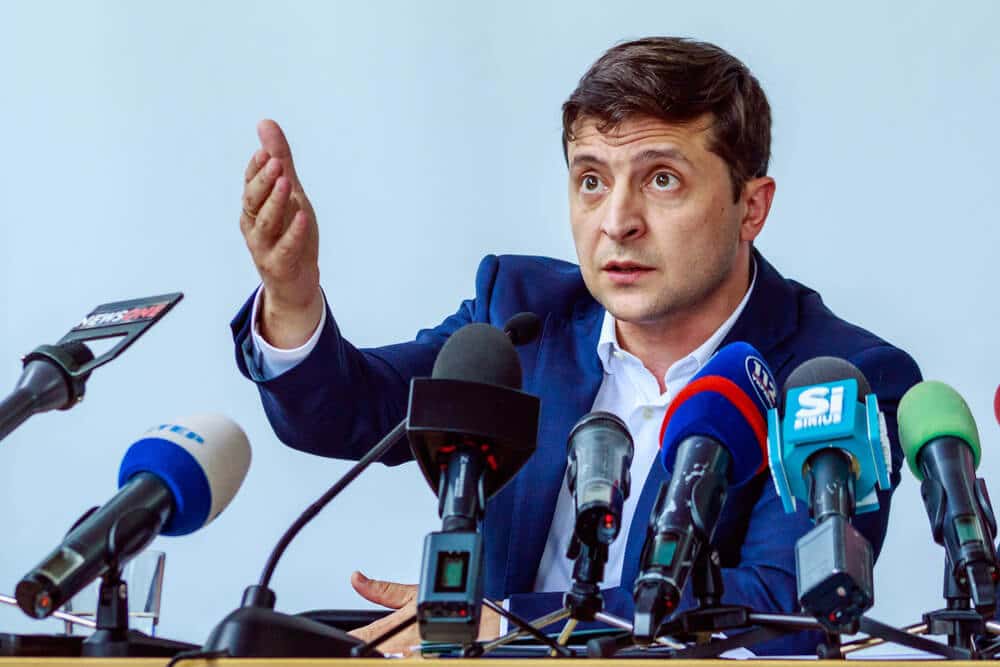 Ukraine's President, Zelenskyy has been very active on all media platforms in order to spread the atrocities being committed by Russia. In a recent statement, he reveals, "It will take time simply to lift people out of those basements, out of those underground shelters. In the present conditions, we cannot use heavy equipment to clear the rubble away. It all has to be done by hand. God forbid more shells hit near the bunkers where the civilians are. Mariupol has been an important target in Russia's efforts to cut Ukraine off from its Black Sea grain and metals export routes, as well as to link Russian-controlled territory in the east of the country to Crimea, seized by Moscow in 2014."