Only 71 days more for US presidential election. Nov 3, 2020 is the US election date.
Polls taken after three-day event indicate that MR. Biden's support was higher after the DNC concluded.
EURUSD reached the lower high of the downtrend
After EURUSD moving up continuously, now EURUSD is forming Lower highs, Lower lows in 1-hour time frame chart.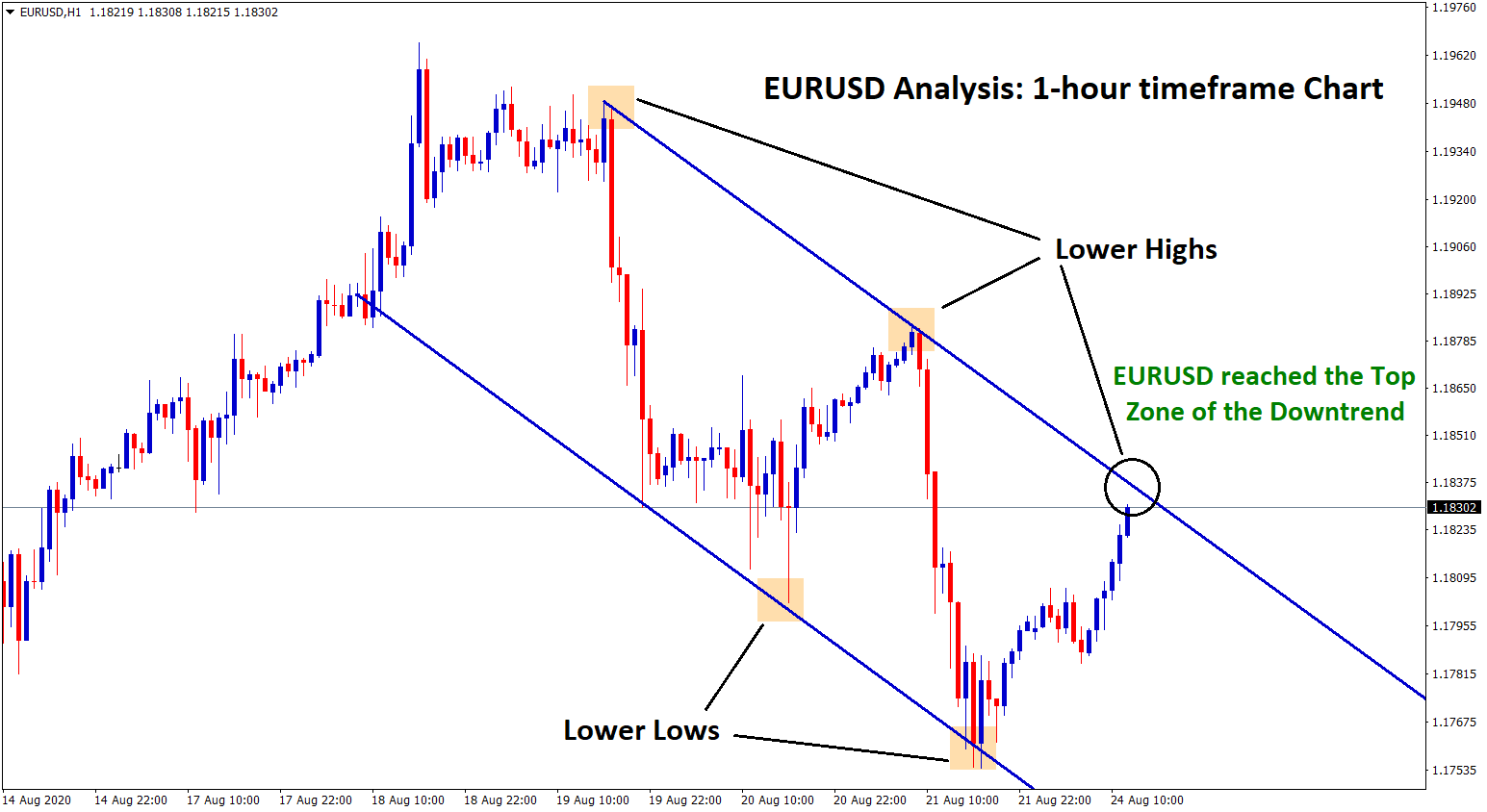 Now, EURUSD has reached the top zone of the Downtrend line for 3rd time.
If this downtrend line is strong enough, we can see a fall from this top zone (lower high) of the down trend line.
Trump's speech generating support every day

Now markets eye for Republican National convention that is going to takes place on August 24-27. Trump's speech on every day is generating more support for his side. US dollar has paused the gains and going to move by the speech convention.
Dollar weakness determined by Jackson hole's symposium this week.
The US Food and Drug administrations on Sunday explained that it has issued emergency use approval for the use of blood plasma from recovered COVID-19 patients as a treatment option for certain patients. , This will be helpful for Corona cases to cure as soon as possible.
Trump on Sunday told, the possibility of decoupling the U.S. economy from China as part will impact china in global trade and advanced technology.
FED Chairman Jerome Powell & Co shows interest on economic tools that will be taken to control or wait and see approach which is expecting by investor in September month monetary policy outlook.
Get Each forex signal with Chart Analysis and Reason for buying or selling the trade which helps you to Trade with confidence on your account.
Please Don't trade all the time, trade forex only at best trade setup.
It is better to do nothing, instead of taking wrong trades.
We are here to help you for taking the trades only at best trade setup.
Start to receive the forex signals now: forexgdp.com/forex-signals/