Gold: Delta Variant
Gold is still consolidating at the support zone and higher low level of Ascending channel.
Gold Prices have seen Sideway range market 1820-1780$, as FED meeting outcome fears. Stronger than Q2 earnings of Corporate makes stronger view of FED tapering stimulus soon in the table.
On another side the Delta variant made a significant rise in All over the World; the US was also little impacted by Delta Variant; if Cases increases more, then the Demand US Dollar will be go down.
10-year Bond Yields moved down to -1.0%, and other currency pairs made lower against US Dollar.
Gold demand is now sluggish due to China demand for Gold is now slower as Q2 GDP data disappointment from China.
US DOLLAR: Consumer Confidence report
USDCHF has formed a descending Triangle pattern in h4.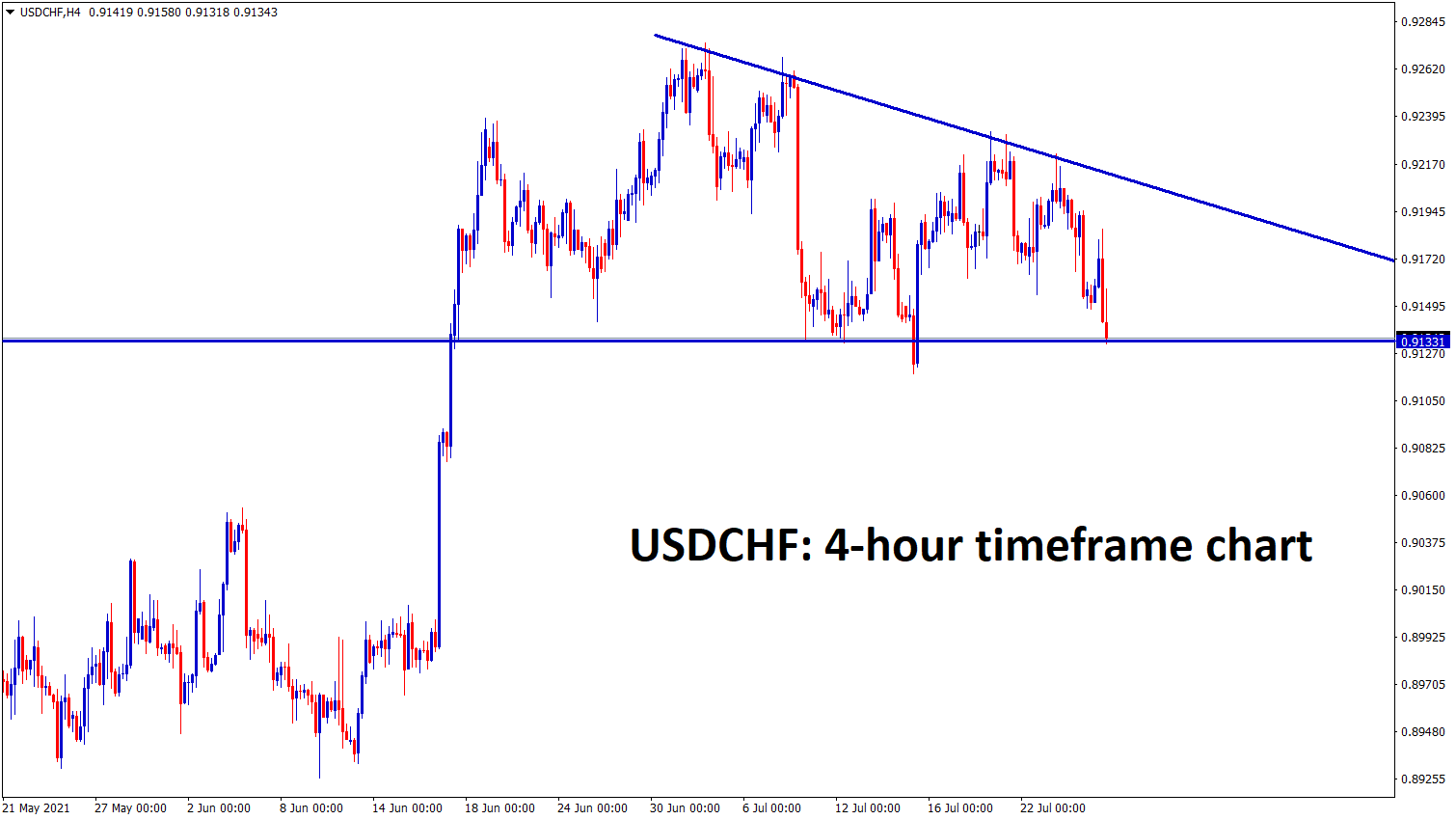 EURUSD is ranging and it's trying to break the top of the falling wedge pattern.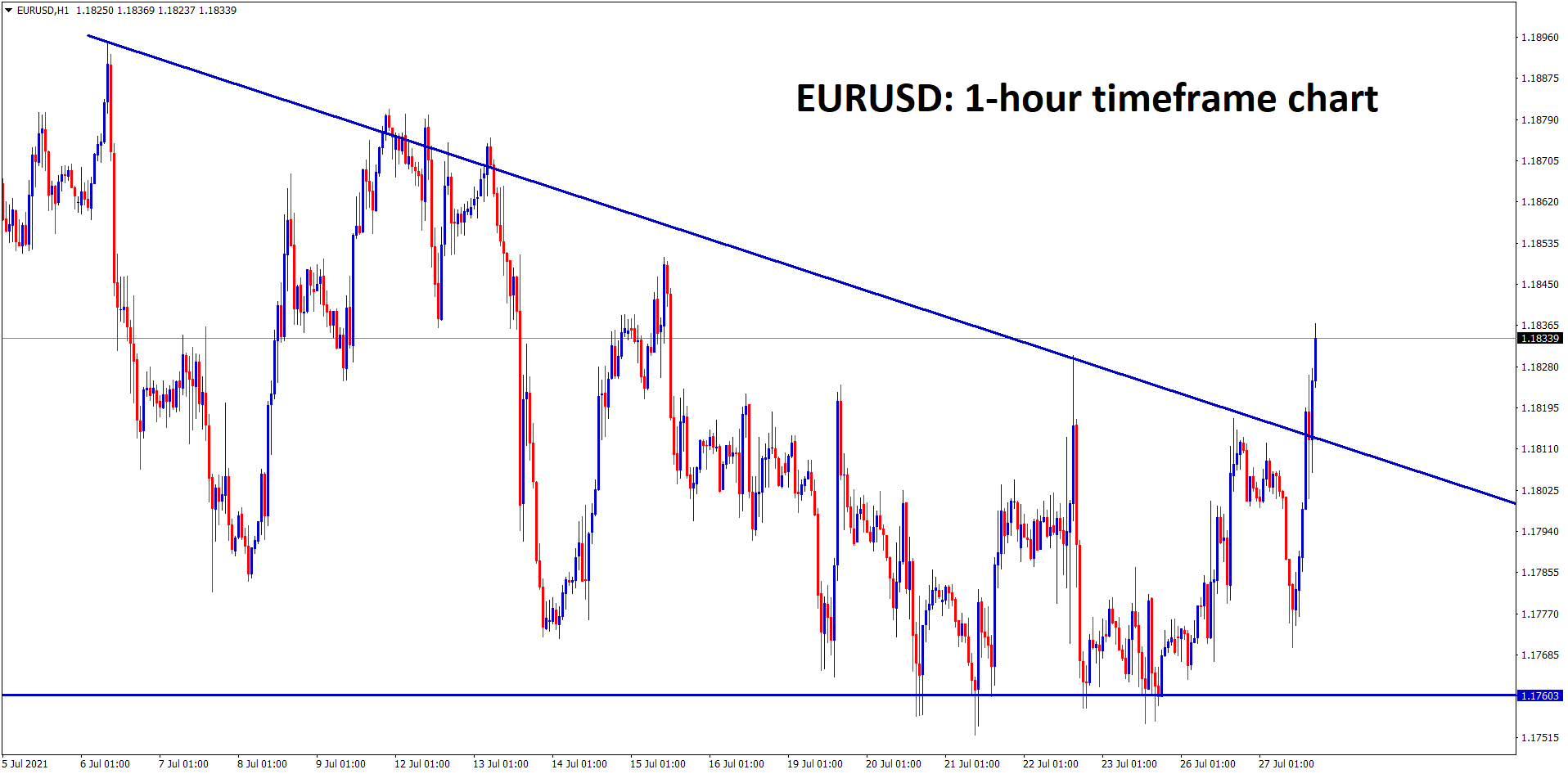 US Dollar slightly higher ahead of FOMC meeting Tomorrow.
Today Michigan consumer confidence is on the table; more positive numbers will boost US Dollar up, reverses if negative data is printed.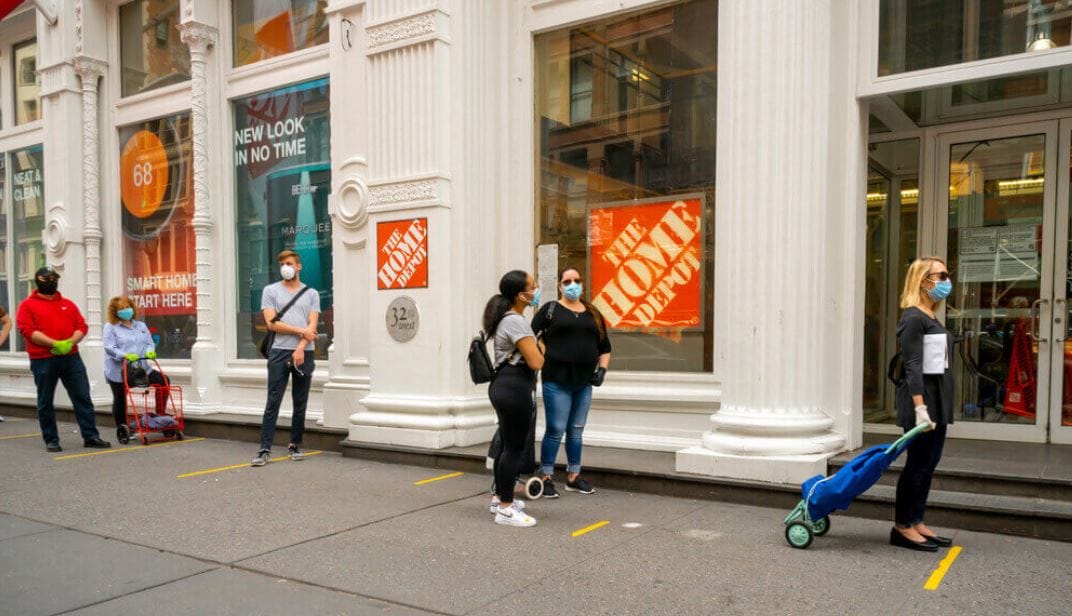 US Dollar is mainly now driven by inflation data and Delta variant issue. Inflation shooting up higher as Producer prices mismatch between Demand and supply needs.
And more Demand after Lockdown is tough to produce in a single day as the same order should be dispatched, Because of Raw material costs are higher than the Pre-Pandemic level.
Now FED will concentrate on the unemployment rate and Inflation rate as two eyes; once the unemployment rate came down, then the Economy shines from Losses.
FOMC meeting
USDCHF pair made ranging market as 0.91-0.93 level from last one month.FOMC meeting outcome will give the Breakout of a sideways market, and Swiss Franc plays a safe currency to store as Valuable currency in Delta variant spread fears.
This week Consumer confidence data and Core Durable Goods data to publish will decide the direction of USDCHF at month-end.
Any changes in policy settings of FOMC meeting will impact USD Dollar to Volatile this week if same speech sustains then Stability performed in US Dollar.
Swiss Franc remains stronger as Slower Vaccination rollouts process in Swiss zone.
EURO: ECB meeting outlook
EURCHF hits the higher low level of an uptrend line and lower low level of Descending channel.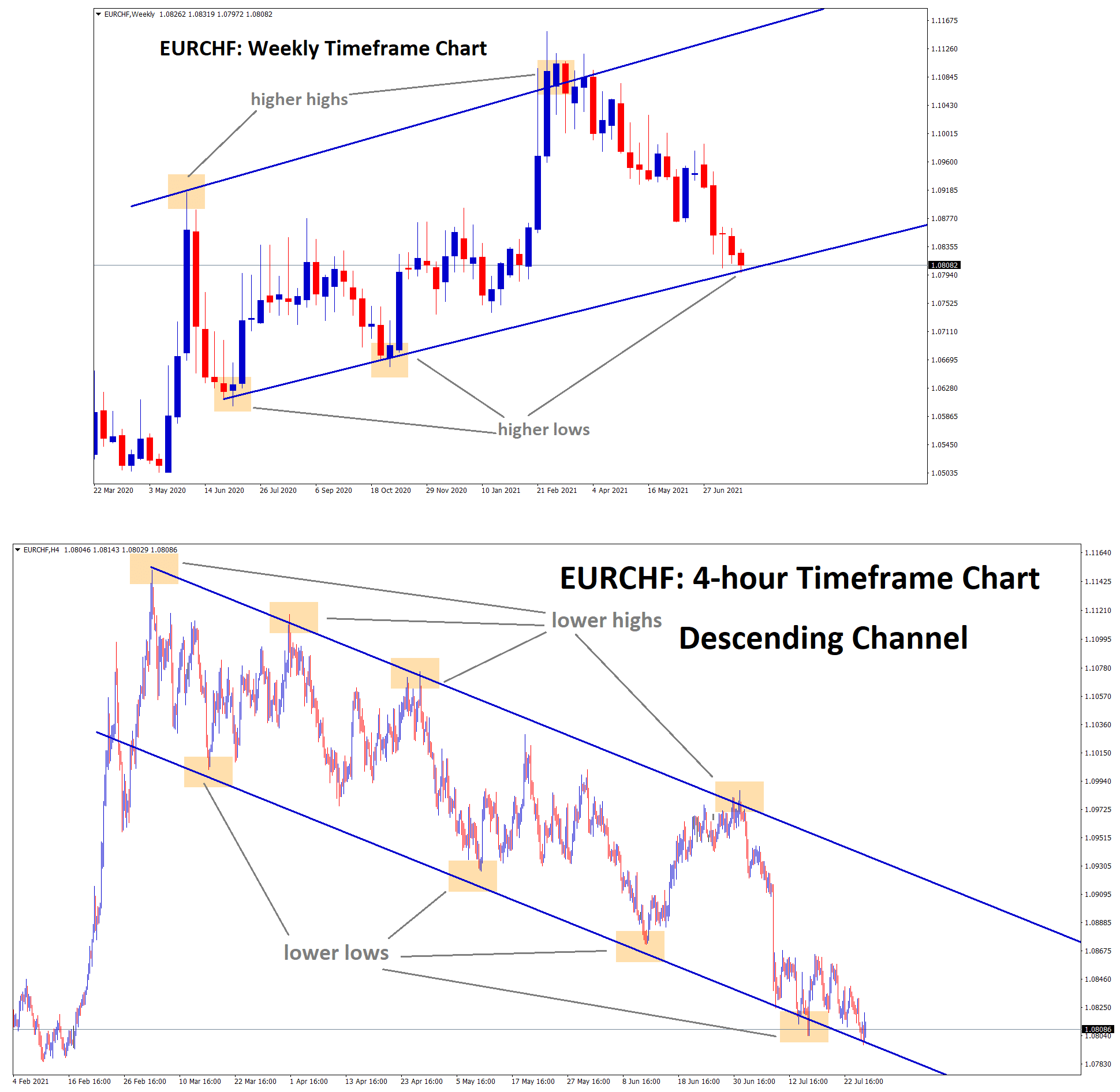 Latest ECB monetary policy meeting updated as Refinancing long-term operations, asset purchase programmed and reinvestment policies.
ECB plays a more accommodative stance on policy settings as delta variant is a coming issue for the economy. Any scaling back assets purchases will impact the economy from recovery, So tapering of assets is not required until 2024 ECB said.
And Eurozone is now in trouble in Domestic data from Germany, and Industrial production much fell as Retail sales slowdown.
Once production picked up, labour shortages came down, and the economy does well in the upcoming days.
UK POUND: UK PM Johnson rejected NI Protocol
GBPCHF is moving in a descending channel, wait for the breakout or reversal confirmation.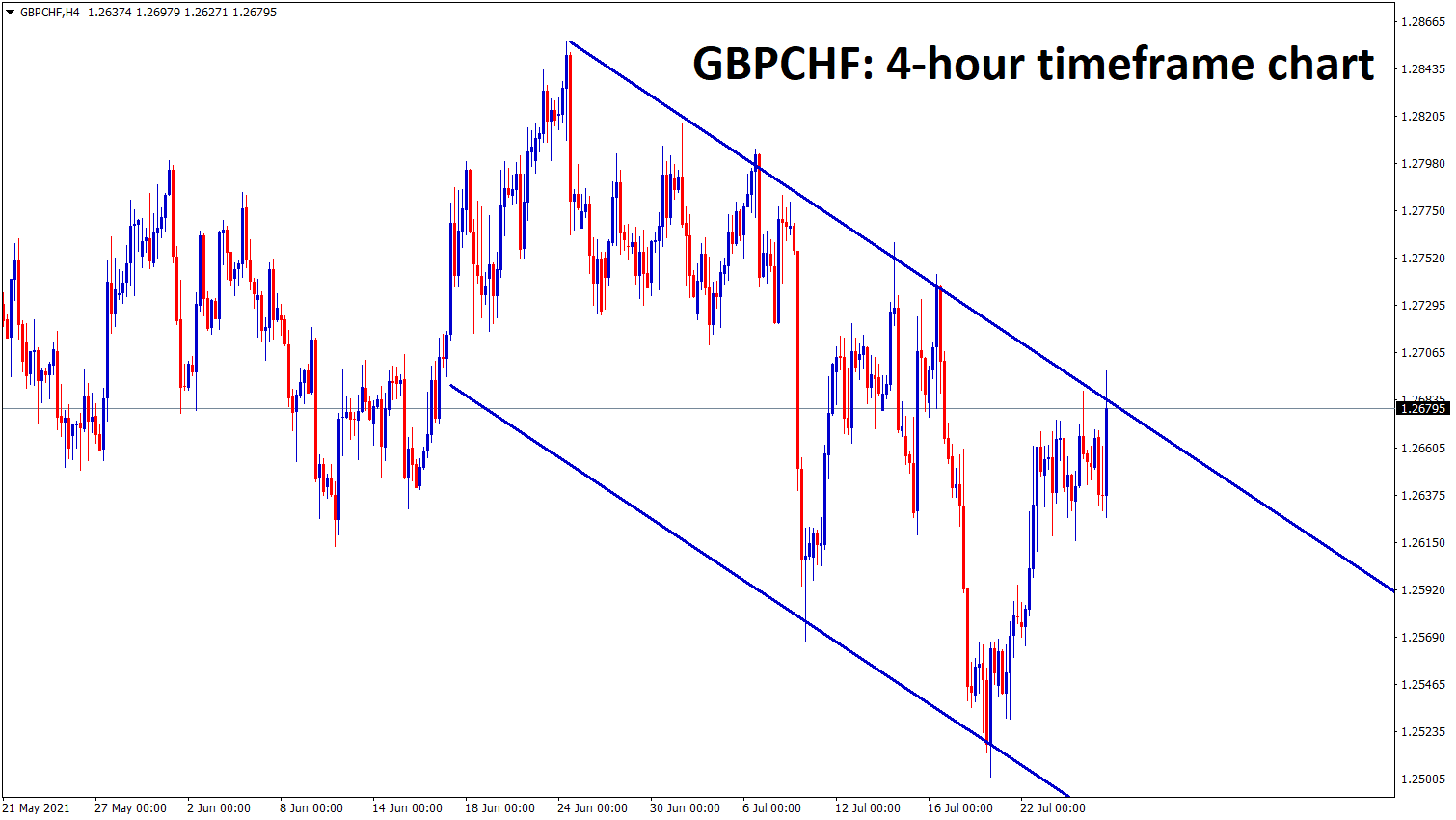 GBPNZD is moving in an uptrend channel range and it reached the resistance level now.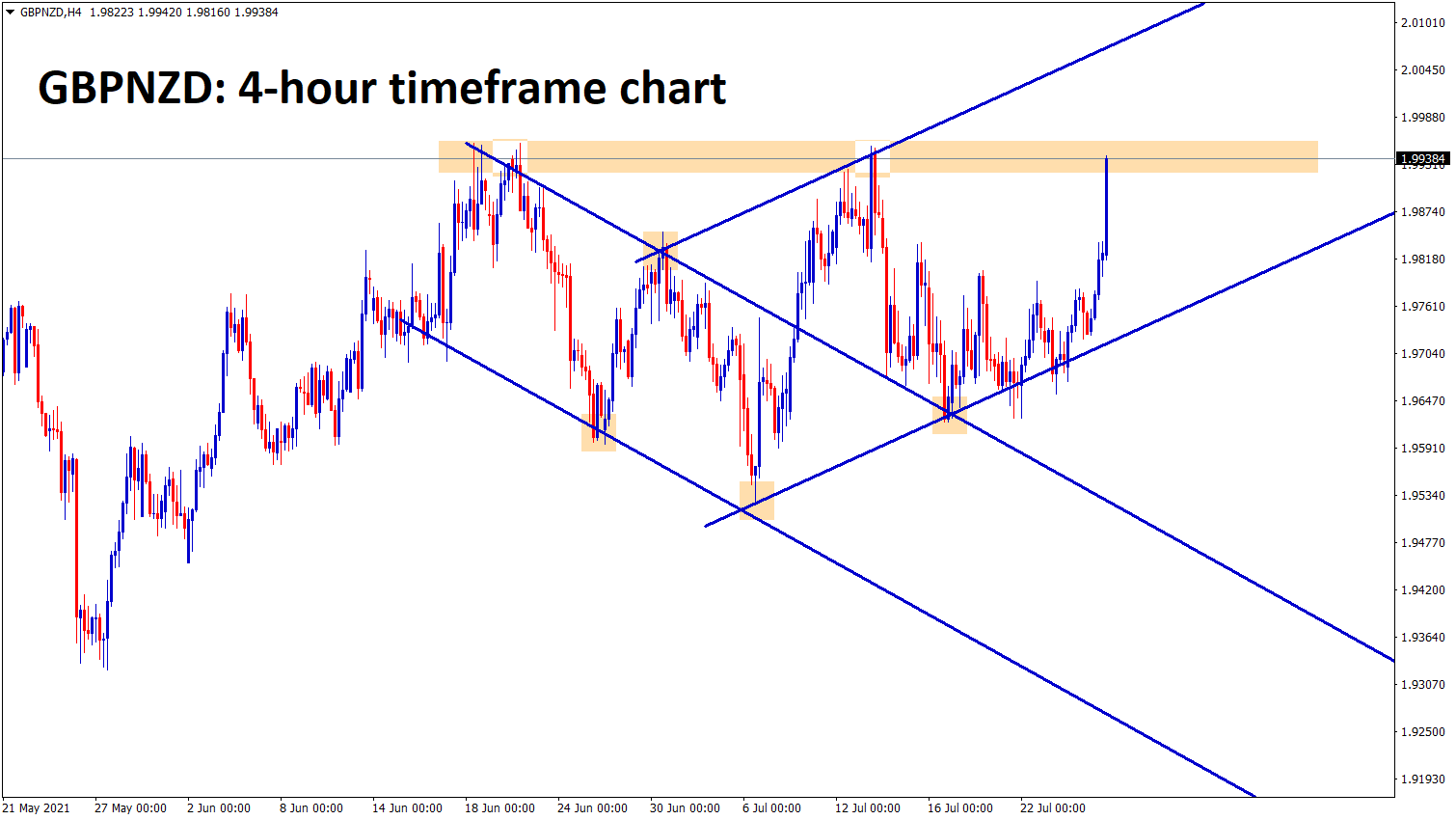 UK PM Johnson rejected the plan of EU assignment on Northern Ireland Protocol issue last day. This makes tensions surrounds Post Brexit deal.
And Delta variant is a major issue in the UK now, as freedom release from UK Government announced last week will be arrested by coming 2 to 3 weeks as Delta variant increases in the UK.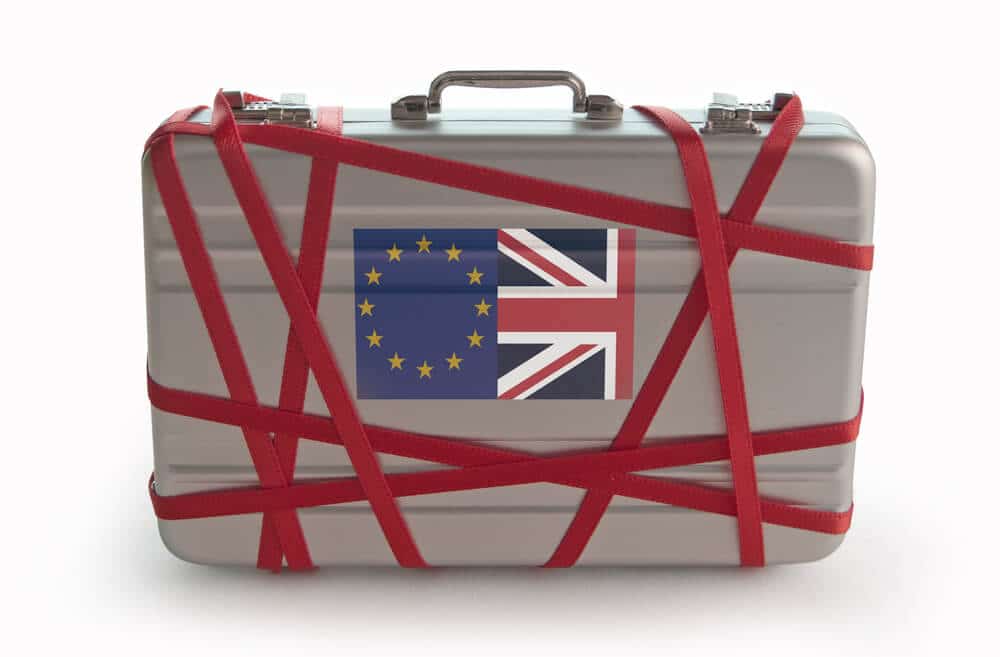 Northern Ireland issue is a major impact on Britain if PM not signed the deal with the EU.
Post-Brexit Deal will now be incomplete if the UK does not do the sign, EU will take further action against the UK to compensate for the Northern Ireland Protocol.
Bank of England Policymaker speech
Bank of England Policymaker Gertjan Vlieghe said the current monetary stimulus is appropriate for several years. Not tightening is needed until the economy is stable.
Inflation makes higher is not transitory, and more monetary stimulus will issue and rates may be decreased to -0.50% to -0.75% is possible.
We are not out of control from pandemics, and we are in control to handle the pandemic economy in a safe way to reach our economic goals.
Canadian Dollar: Domestic data
EURCAD is moving in an uptrend line in the 4hour chart.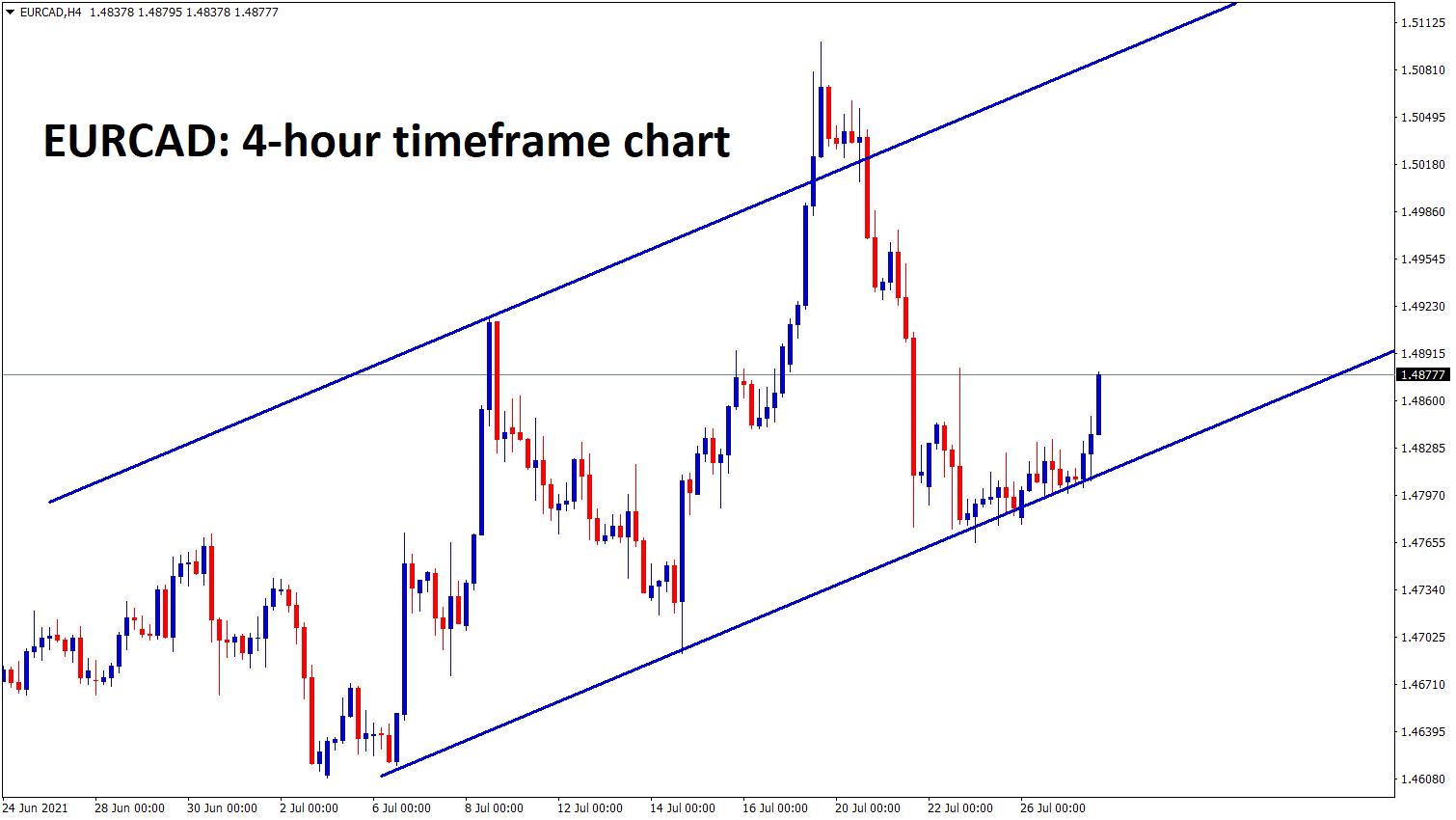 Bank of Canada announced tapering assets in the July meeting but not much support for the Canadian Dollar.
And core consumer price index for Canada is scheduled for this Wednesday.
US New Home sales were declined last day to 6.6%, with an expected increase of 3.5%.
Now Wednesday FOMC meeting is the full focus for the Canadian Dollar to fall or rise based on Comments from FED Powell.
US Treasury 10-year yield fell 1% last day will Favour for Counter currencies.
Oil Prices were slower as Demand slower around the Globe as Delta Variant increases.
Japanese Yen: Governor Kuroda Speech
USDJPY is moving between the channel ranges for a long time.
CHFJPY is moving up and down between the support and resistance ranges.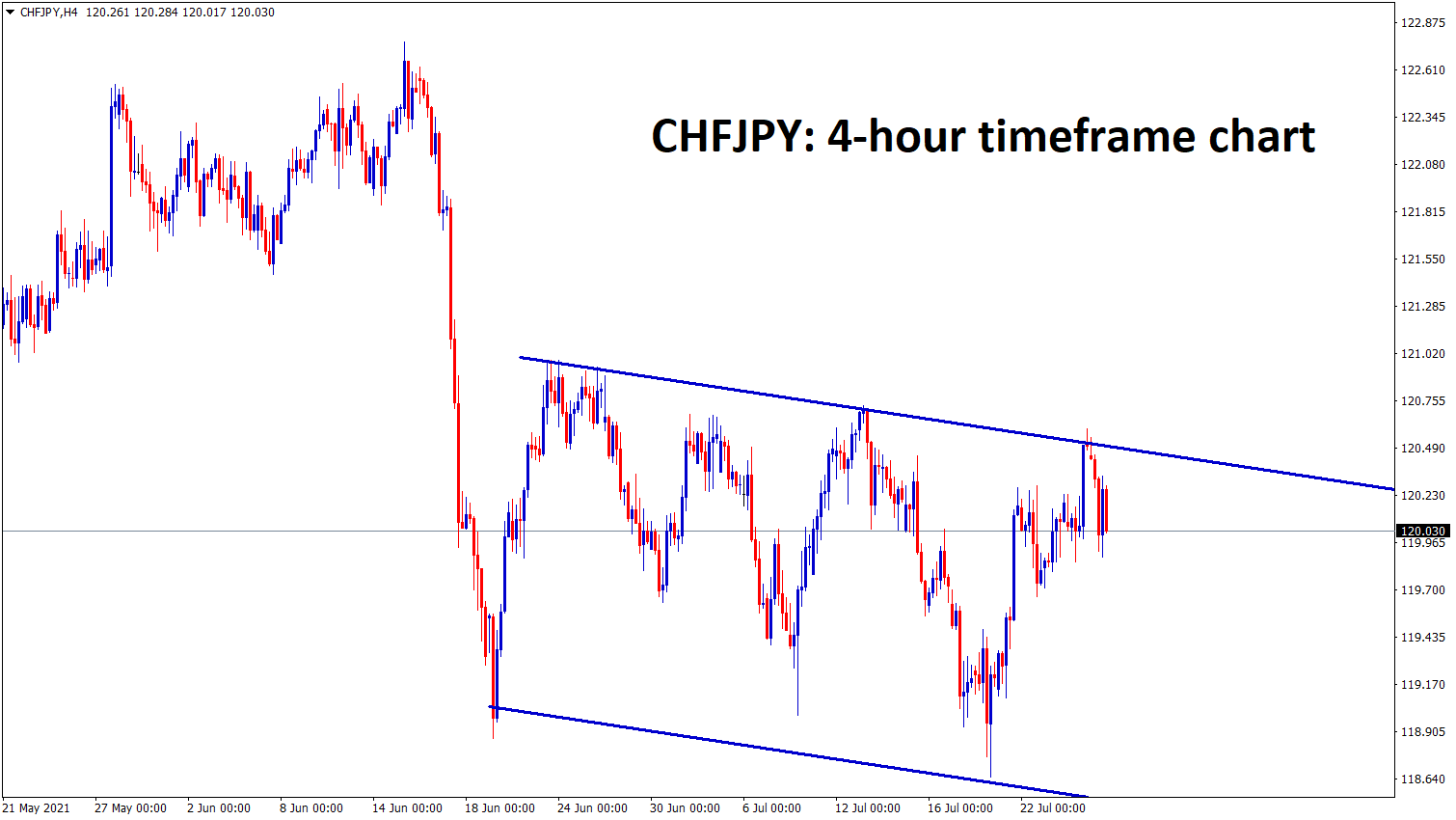 Bank of Japan Governor Kuroda said an Inflation target of 2% will be achieved soon and not going to deflation point.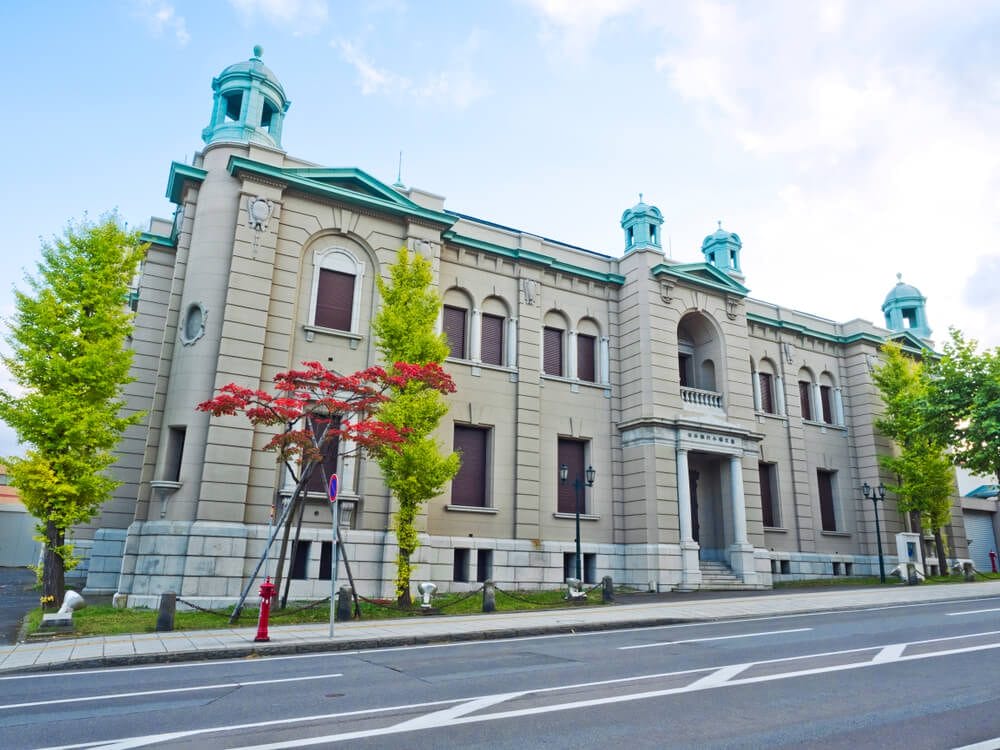 Bank of Japan Monetary policy will not affect the Inflation to lower level and green bonds not aiming to buy on Priority basis and Not Prioritizing Green bonds in corporate bond buying.
Climate policy will not affect the inflation goal of 2%.
Japanese Yen made stronger after Comments from Bank of Japan Governor posted.
Australian Dollar: China tariffs on Australian imports:
AUDCAD is consolidating at the strong support zone – wait for the breakout from this small consolidation zone.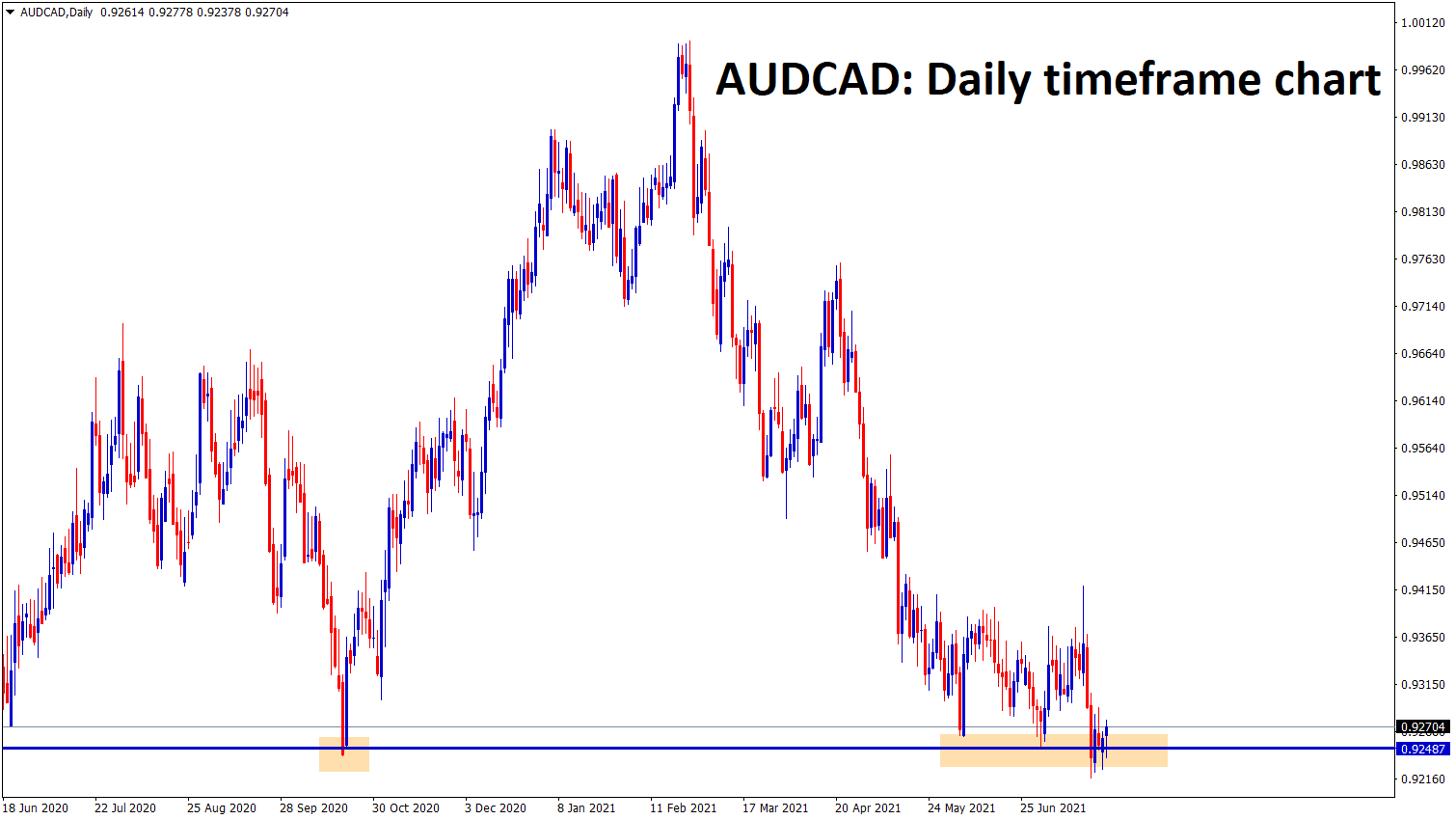 USD made lower as the Support level of 0.73 reached last week.
Deltas Variant cases spread in Australia makes imposed lockdown in a most populous cities like Victoria, New South Wales and Sydney.
China made tariffs from Australian imports, and many materials from Australia is denied through taxable issues.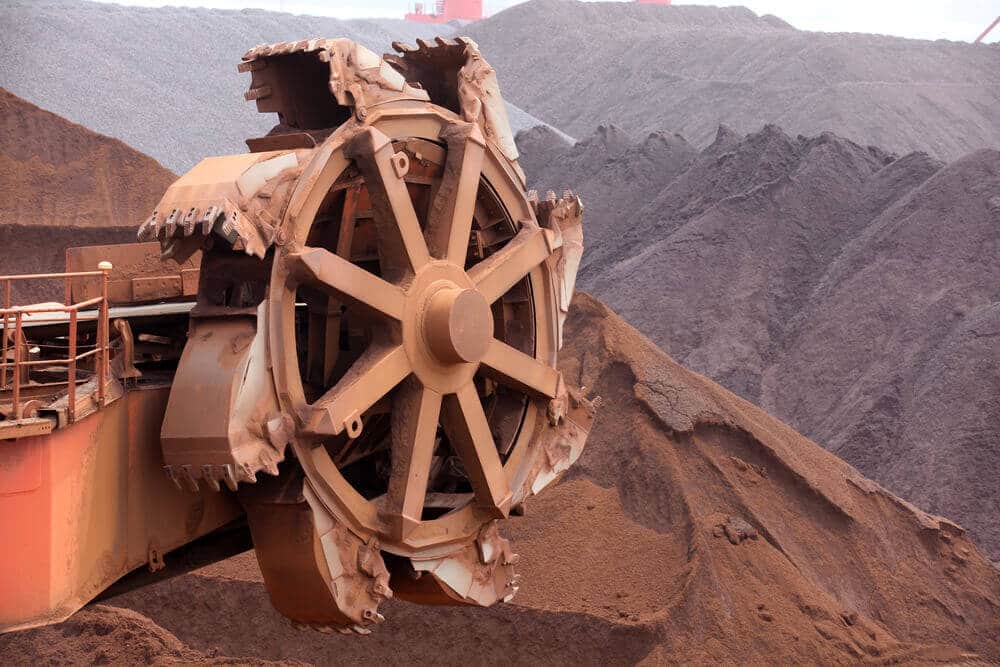 Iron ore is the Product only high consumable by China, and other Products are taxable; due to this, Export revenue is much fall facing in Australia.
Now Delta variant spread makes People afraid of spending, Schools and Entertainment.
New Zealand Dollar: FOMC meeting Forecast
NZDUSD has formed major and minor descending Triangle pattern, wait for the breakout from the minor triangle pattern.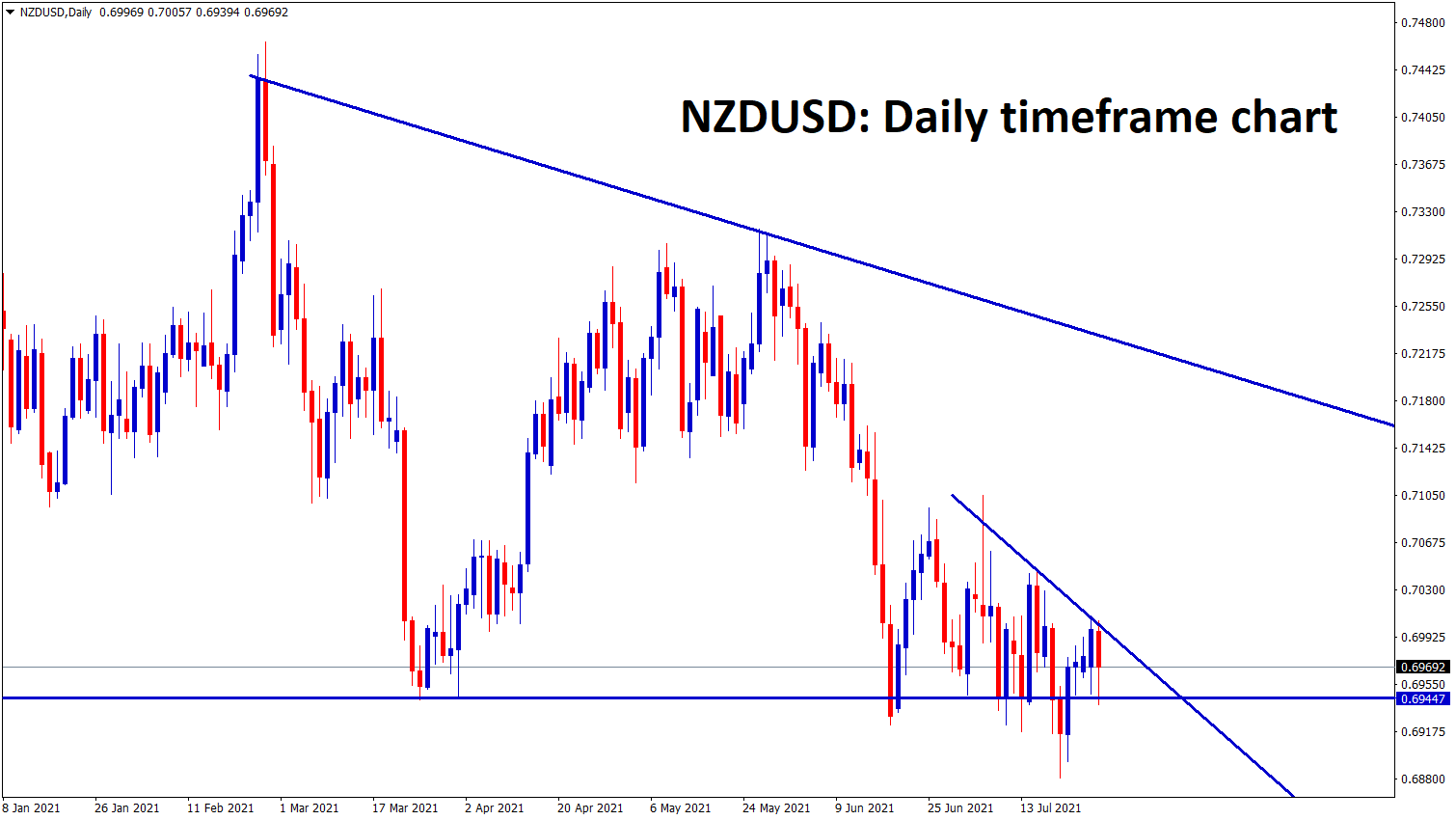 New Zealand Dollar made higher and moved inside range-bound market of 0.69-0.71 level, FOMC meeting outcome will give the trading market after long sideway market persists.
RBNZ is the only central bank that announced the rate hikes would be in 2021 end. Tapering assets is also started by removing large scale asset purchases in the July monthly meeting.
US Dollar now makes or break area, and New Zealand Dollar already corrected 6 months to 6% from January 2021.