US dollar remains neutral against all ASEAN currencies due to more corona infections in the US. 
Rising cases in the US may bring down GDP growth slow in 2020 and 2021 also sees gloomy look. US COVID-19 cases increases in Texas city and Texas governor halts reopening of the economy.
Recent stimulus growth is temporary growth for the US, but jobless claims is a key driver for USD.
US NON-FARM PAYROLLS (NFP) report upcoming data will influence Gold prices, FOMC commented increase its treasury securities and mortgage-backed security at least at the current pandemic to recover.
FOMC continues to utilize its balance sheet and the economy will slowly recover in the second half of 2020 as per Jerome Powell told on last week. the policy remains low and changed until 2022 which is favour for the economy. In coming months FED will continue to asset purchases until pandemic slowdown.
In JULY 29 as per investors view, fiscal support for households, businesses, may be insufficient, and contraction of Fed reserve balance sheet is temporary, and liquidity will be more cost of spending in a pandemic is lower than normal.
Overall expanding balance sheets of the US will favour for alternative assets.
EURUSD Historical Analysis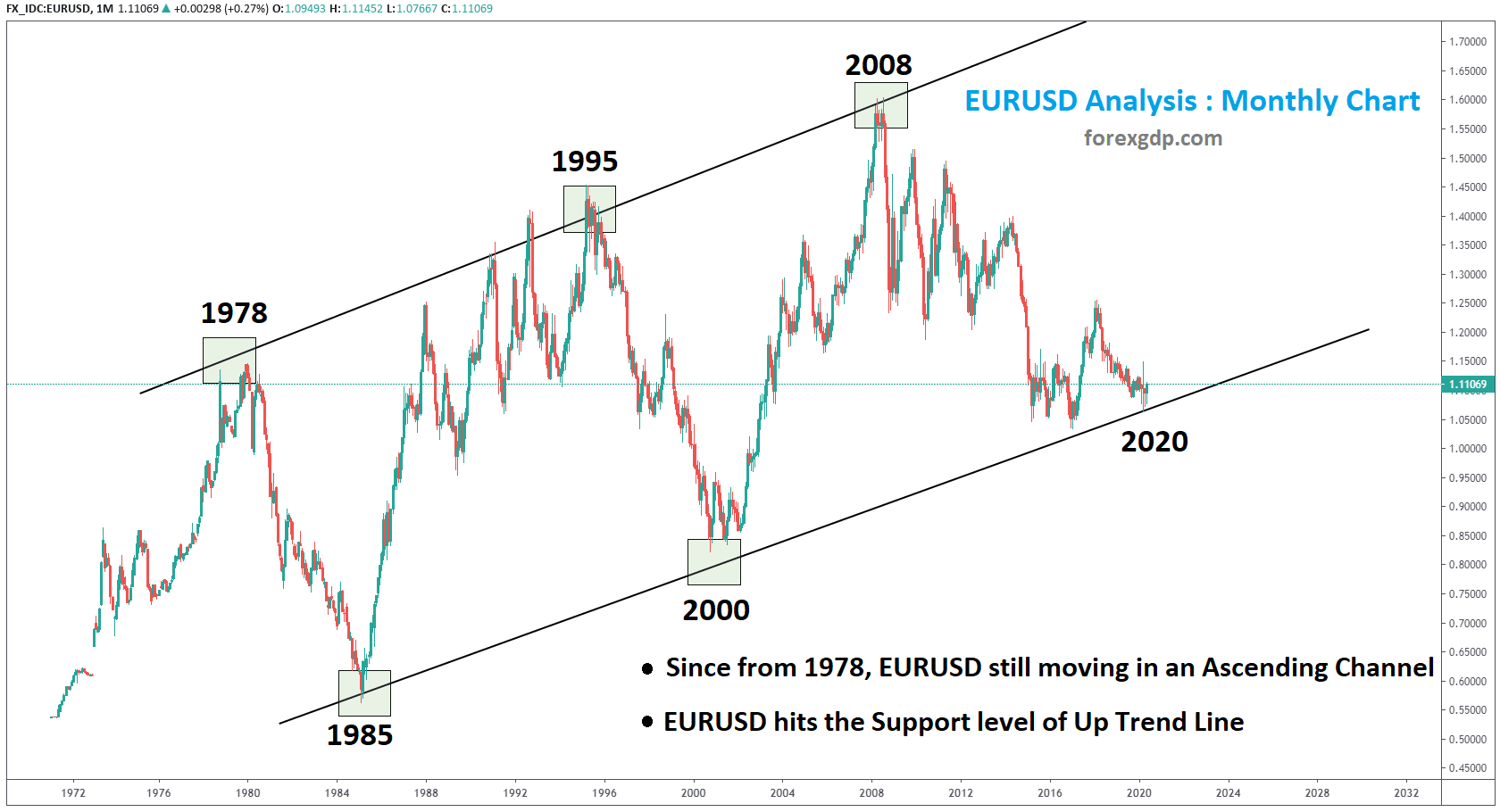 📍Since from 1978 to till now in 2020, EURUSD is moving in an Uptrend by forming Higher Highs, Higher Lows.
📍A Clear Ascending Channel is formed on EURUSD Monthly Time frame chart.
📍Higher highs formed at 1978, 1995 and 2008 before the big financial crisis.
📍Higher lows formed at 1985, 2000 and 2020.
📍This shows that EURUSD is moving steadily in an Uptrend for more years.
📍Long term investors keep buying more at this Higher Low of Ascending Channel.
European Countries Supporting well to keep EUR stronger
Germany announced 450 billion euros to support for the second wave of pandemic crisis in Europe country.
Funds are used from public finances in Germany and budget surplus in the last few years in Germany helped those funds for a stimulus package for Europe and none of the other countries has made such thing.
Germany required mutual understands with EU and integration required in the long term by this stimulus package added to the economy.
This fund is German 13% GDP of funds donated and last France given 3% of GDP funds to stimulus package for COVID 19 recoveries.
The overall German stimulus package is good for the economy and Europe to move to recover from larger debts. hence the German stock index was rose to 48% since Feb 2020lows.
The Australian dollar is in risk sentiment of the second wave of COVID 19 and Chinese data helped the Aussie dollar to move higher.
RBA comments on low signalling of strengthening Aussie dollar and 0.70 price is the risk to retain that price.
Singapore is now going on local general elections and the ruling people action party remains to win in this election as per the report, If this 2020 year, they win, it will be 15th consecutive win for the ruling party since Singapore's independence.
USD IDR rose ahead of yesterday local debt monetization hearing of Bank of Indonesia, hence Indonesian rupiah becomes selling pressure in coming days
$16 trillion worldwide debt causing $200 trillion debt by year-end record high level, this leads to higher savings rates, support for equities.
The Second half of 2020 further stimulus liquidity added to the economy, In the US M2 money supply has risen to $3 trillion so far this year $18 trillion by Federal reserve system.
Save your time on analyzing the market and take your trades only at good opportunities available in the market.
If you want to receive forex trading signals at best trade setup with chart analysis, subscribe now to our forex signals.