Gold: SPDR Gold trust shows a higher increase in Buyers Volume
This week, US Secretary of State Anthony Blinken and Russian foreign minister Sergei Lavrov are meeting each other for Ukraine matter Discussion.
XAUUSD Gold price has reached the Resistance area of the Box Pattern and broken the Descending triangle pattern.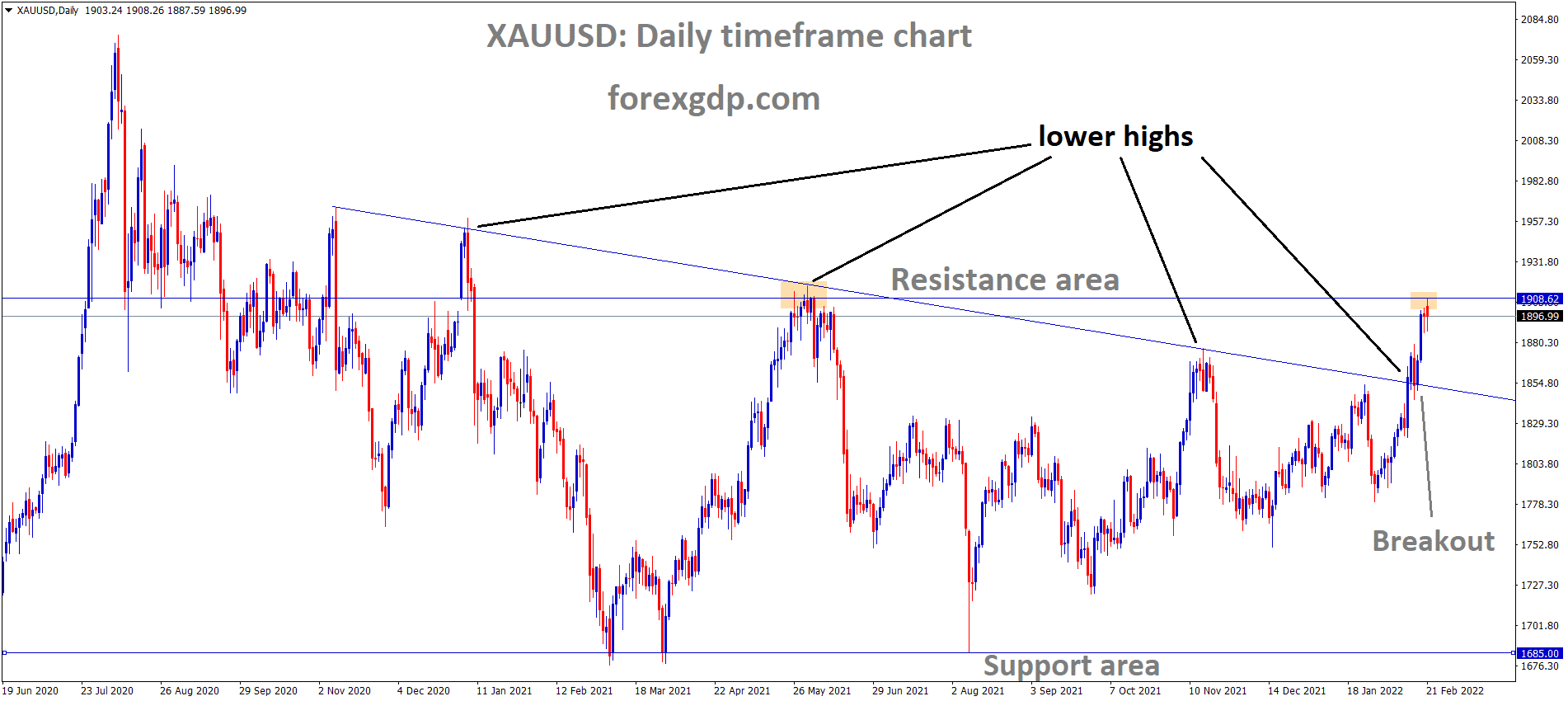 Gold shares in SPDR Trust world's Largest ETF's show an increase in Outstanding shares as 1.6 million last week and 2.7 million in the previous week.
And Year to Date, a total of 16.9 million New GLD shares have been created, and reports show are Rising demand for Gold as Geopolitical risks heighten.
Last week Friday, US President Joe Biden and Russian President Vladimir Putin Both agreed to Diplomatic talks next week for Ukraine matter.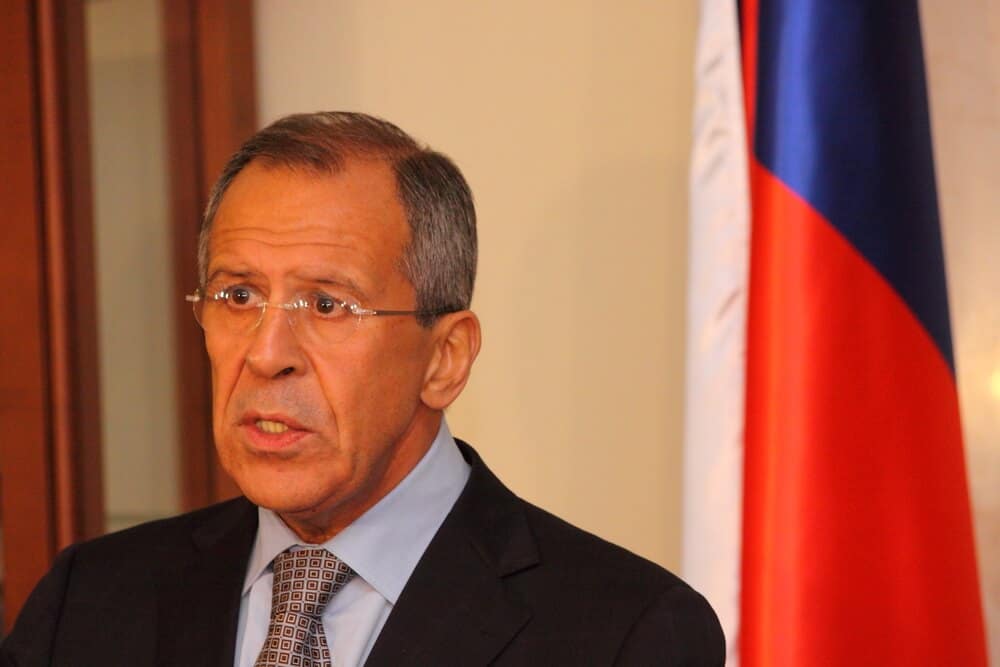 And Fe Watch Tool shows 25-50Bps rate hike voted for 84.7%, and the Remaining Lower percentage Voted for 50-75 Bps rate hike in March.
US Dollar: US President made initial sanctions against Russia if the invasion started
USDCHF is moving in an ascending channel and the market has reached the higher low area of the channel.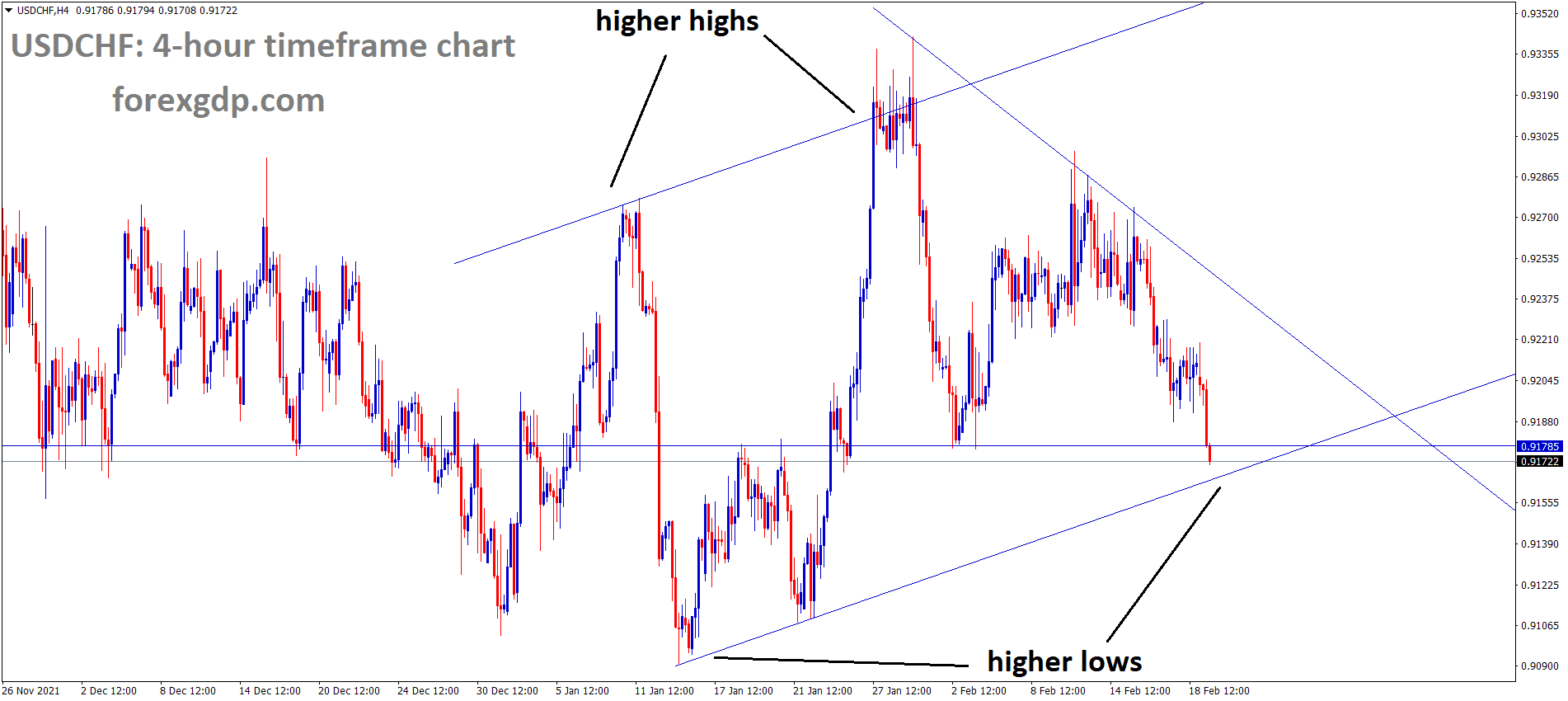 US Joe Biden has prepared the sanctions list like Barring Banks transactions from Major Russian Banks.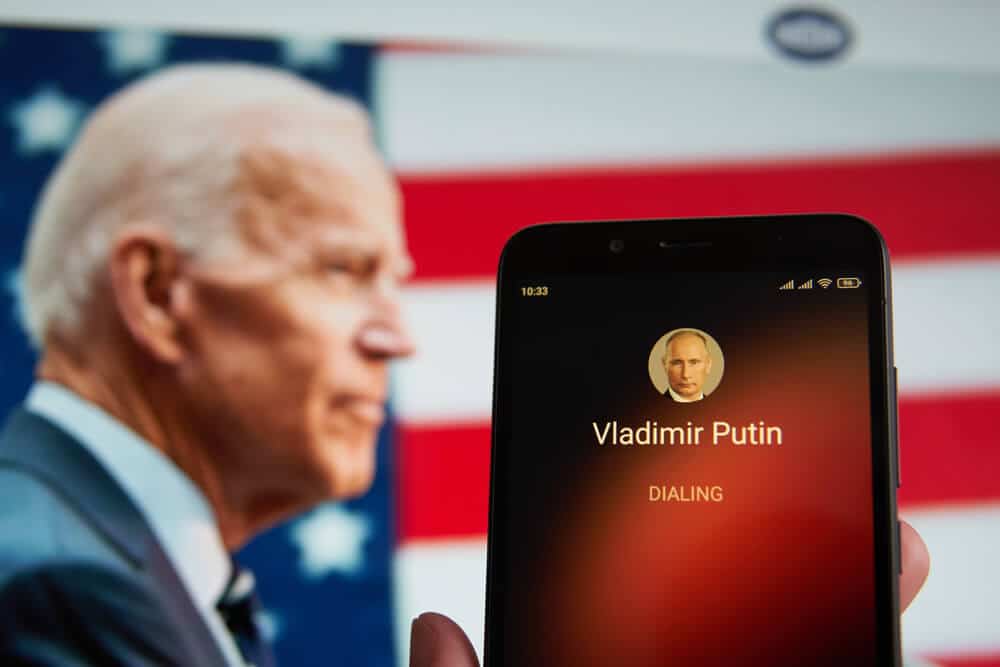 It would be Banning Trade deals with Americans and Freezing their US Assets.
And This made more Powerful Attacks for Russia on Trade Side.
So Compromise deal is expected between Russia and Ukraine is heavily expected.
EURO: China Foreign minister Speech
EURUSD is moving in the Descending channel and the market has consolidated at the lower high area of the channel.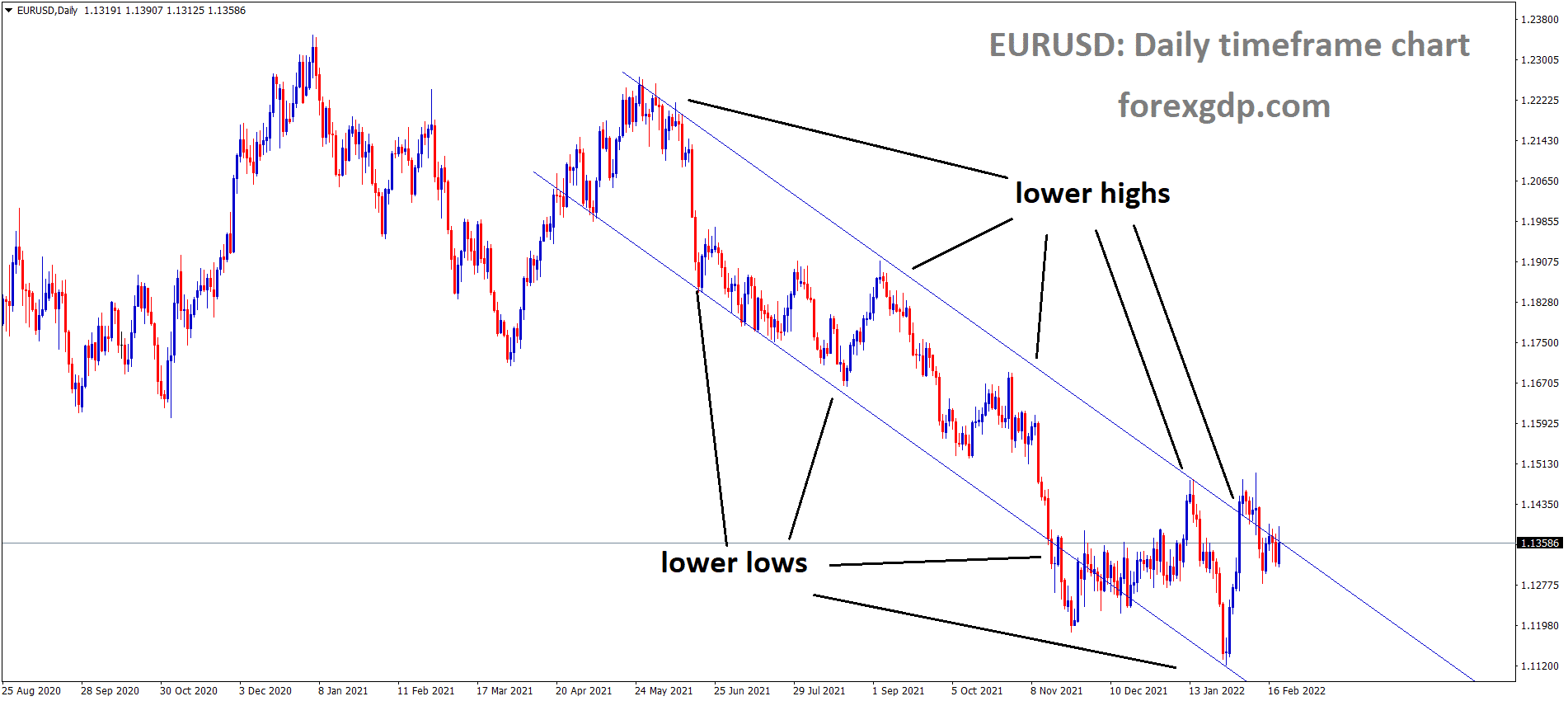 Euro can now Breathe a little because the US and Russia have decided the Diplomatic talks between them for the Ukraine Crisis.
And Chinese Foreign minister said Any Country have own independence, Sovereignty and Territorial integrity, so no one has the right to invasion. China has already Support with Russia in recent days.
Trade between the two countries will have nearly $147 billion in 2021 and up by 36 per cent from the previous year.
And now China is waiting for the Russian invitation for Help if any war is made against Ukraine.
Compromise is the Smooth deal is expected from Global nations.
UK Pound: Bank of England Monetary policy Forecast
GBPUSD is moving in an ascending triangle pattern and the market has fallen from the resistance area of the pattern.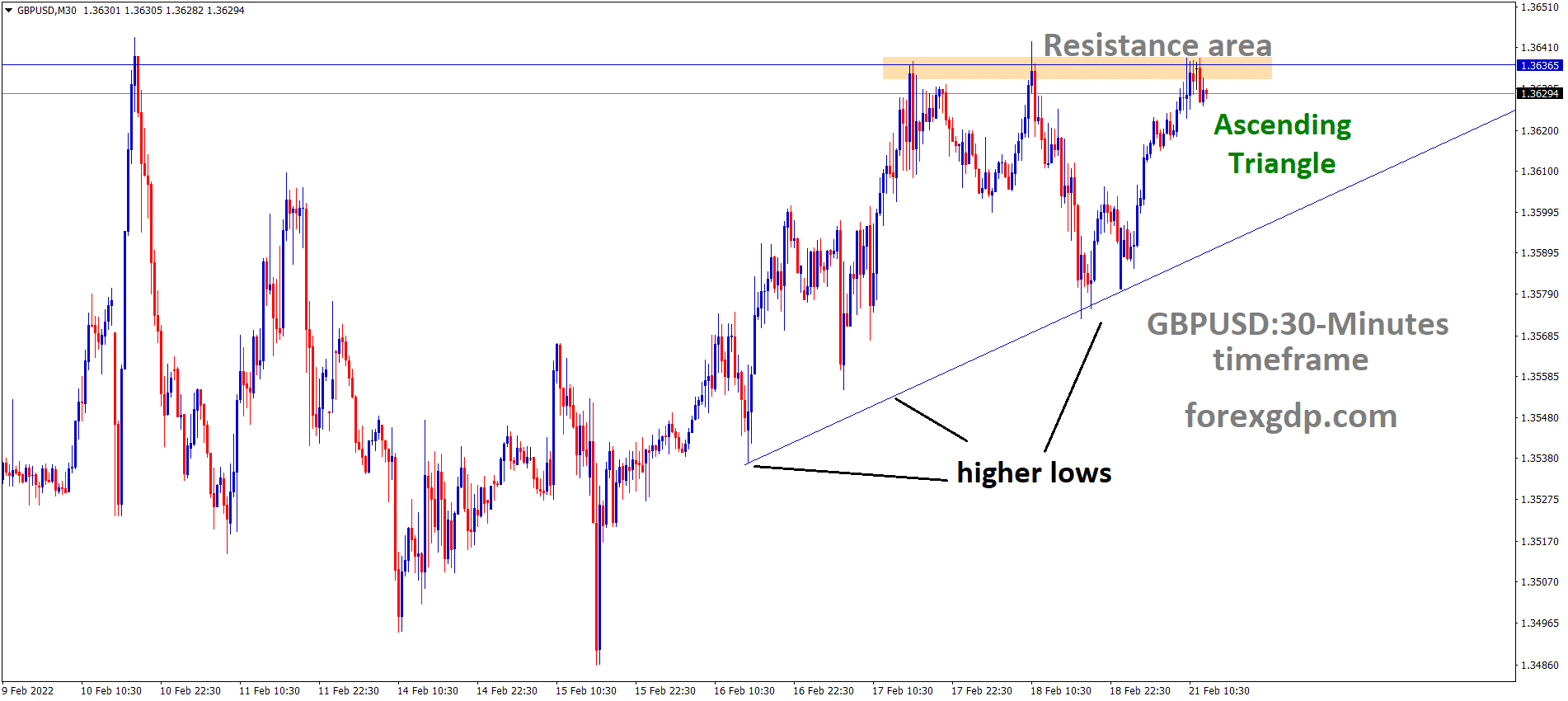 Bank of England once again disappoints 50 bps rate hikes in March month all analysts expected.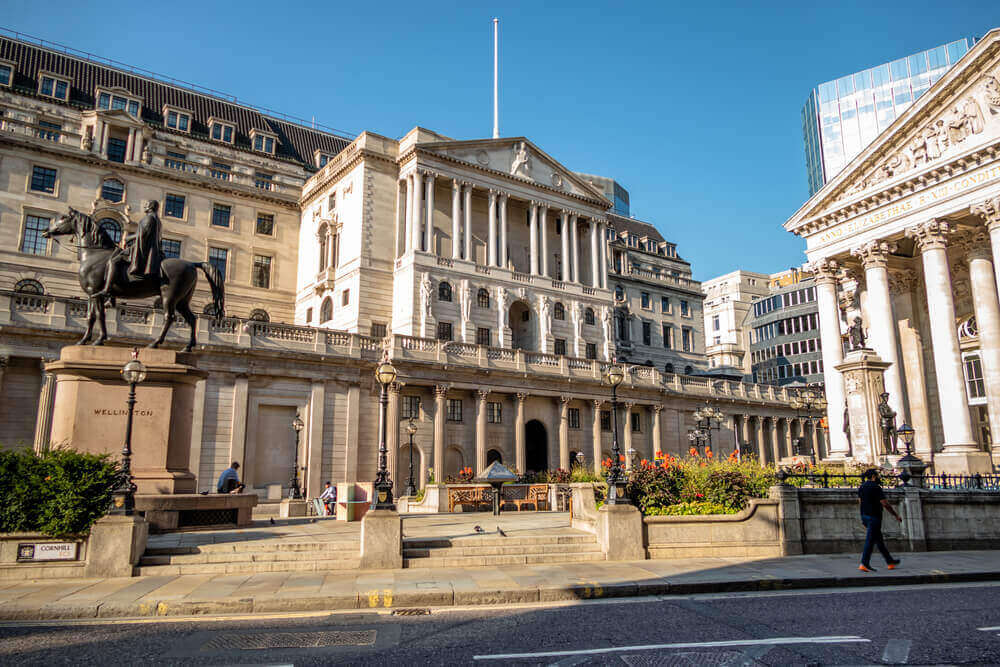 And Federal Reserve meeting is happening on March 15-16 next month, and any rate hikes will be reflected in the March 17 meeting of the Bank of England monetary policy.
G10 currencies one by one Rate hikes are doing and we expected Bank of England maintain the same rate in next meeting is possible.
Canadian Dollar: Russia war fears made Oil prices soar to high
GBPCAD is moving in the Descending triangle pattern and the market has reached the lower high area of the pattern.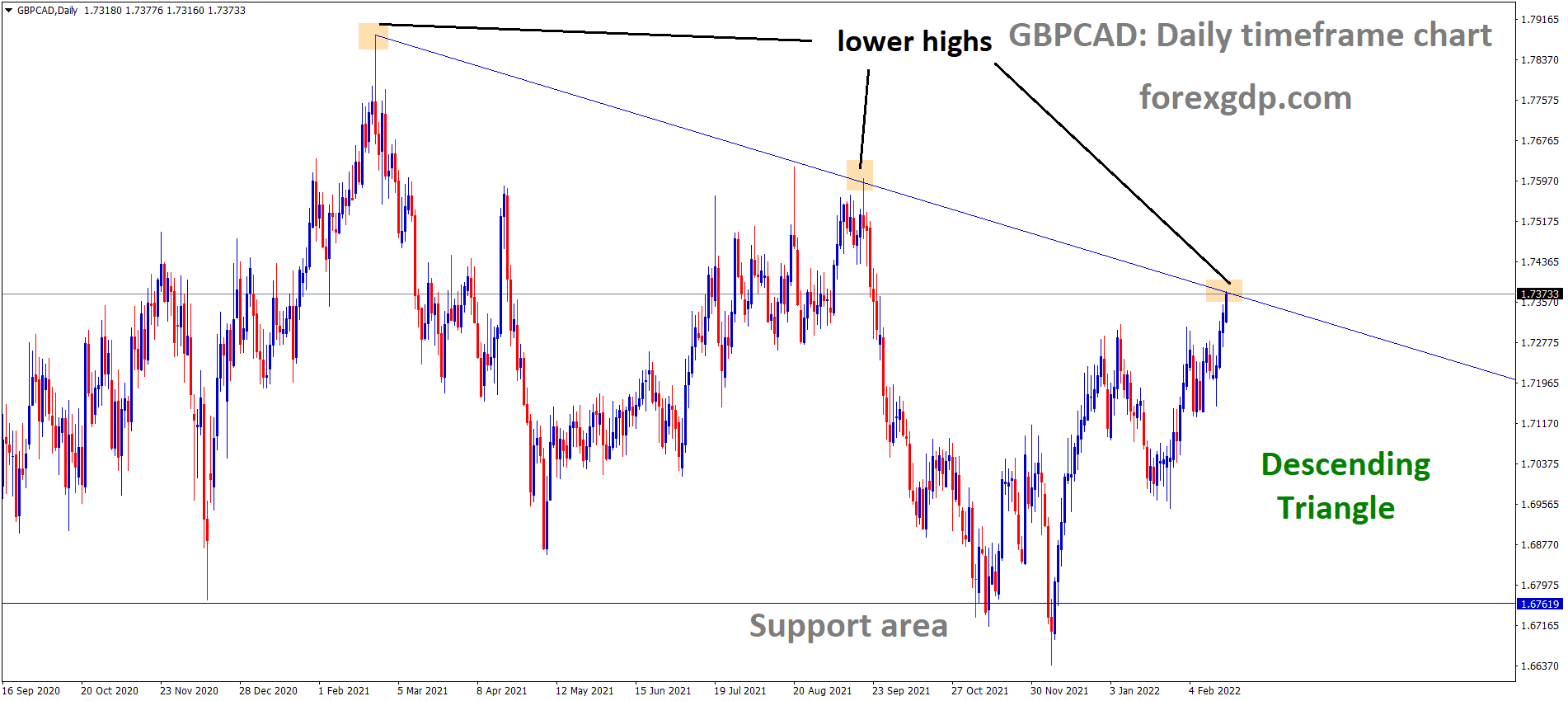 Russia is the Second largest Crude oil Exporter, and if it invaded Ukraine, oil disruptions might occur in European regions.
And Natural gas is abundant supply from Russia to European countries through Nord 1 stream Pipeline system.
Now US President Joe Biden has prepared the Sanctions against Russia if war starts.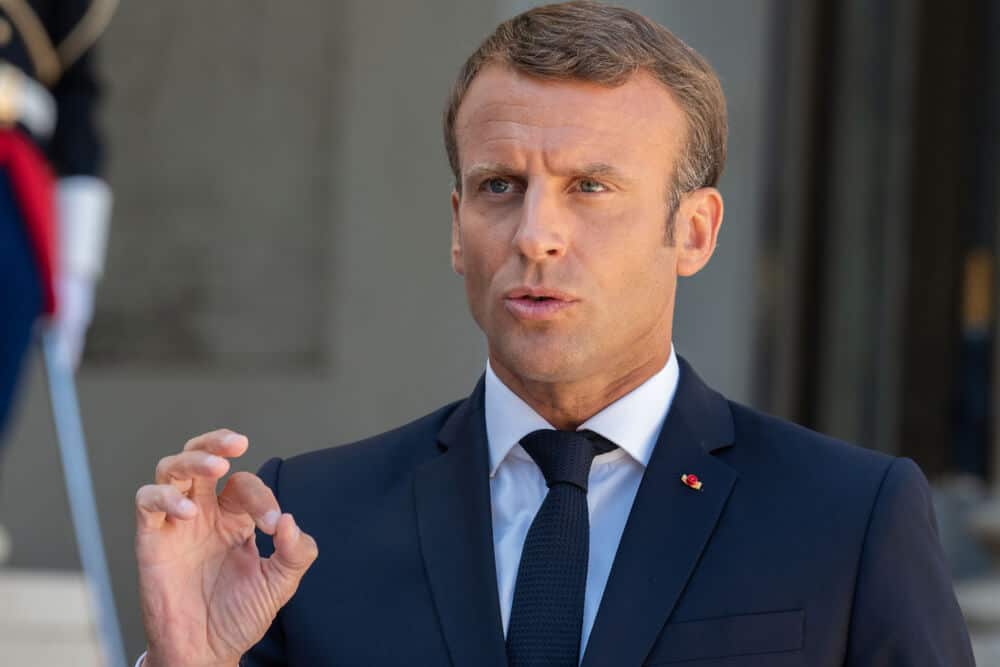 And French PM Macron said that two leaders of the US and Russia would meet soon next week; before that, Two foreign ministers will meet this week.
Saudi Energy minister speech
Saudi Energy minister Prince Abdulaziz Bin Salman said at the Energy conference meeting conducted in Riyadh on Sunday, OPEC+ and its allies must work together to maintain Oil price stability in the longer term.
And We have to maintain a proper structure building approach to maintain stability in Oil prices from all members participating in OPEC nations and OPEC+ Group members.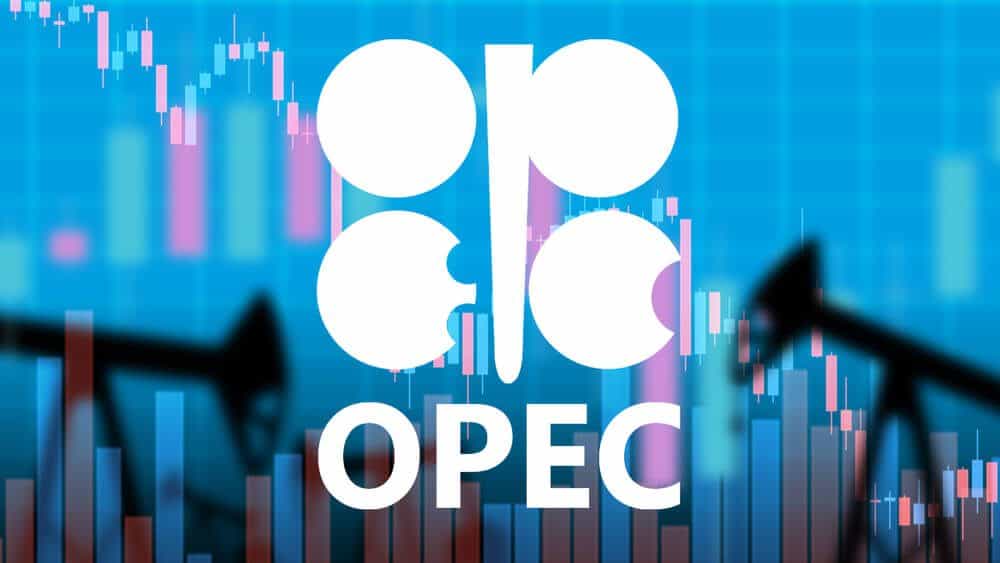 Without Goal settings, there will be an imperfection in our Oil prices.
And At the same event, Iraq oil minister Ihsan Abdul Jabbar said the Whole energy market would be benefitted if OPEC+ sustained a fair agreement deal has put in OPEC+ meeting conference. If not maintained, then Energy prices would be imbalanced.
Japanese Yen: Japanese PM Kishida Speech
USDJPY has broken the Rising wedge pattern or Ascending channel pattern.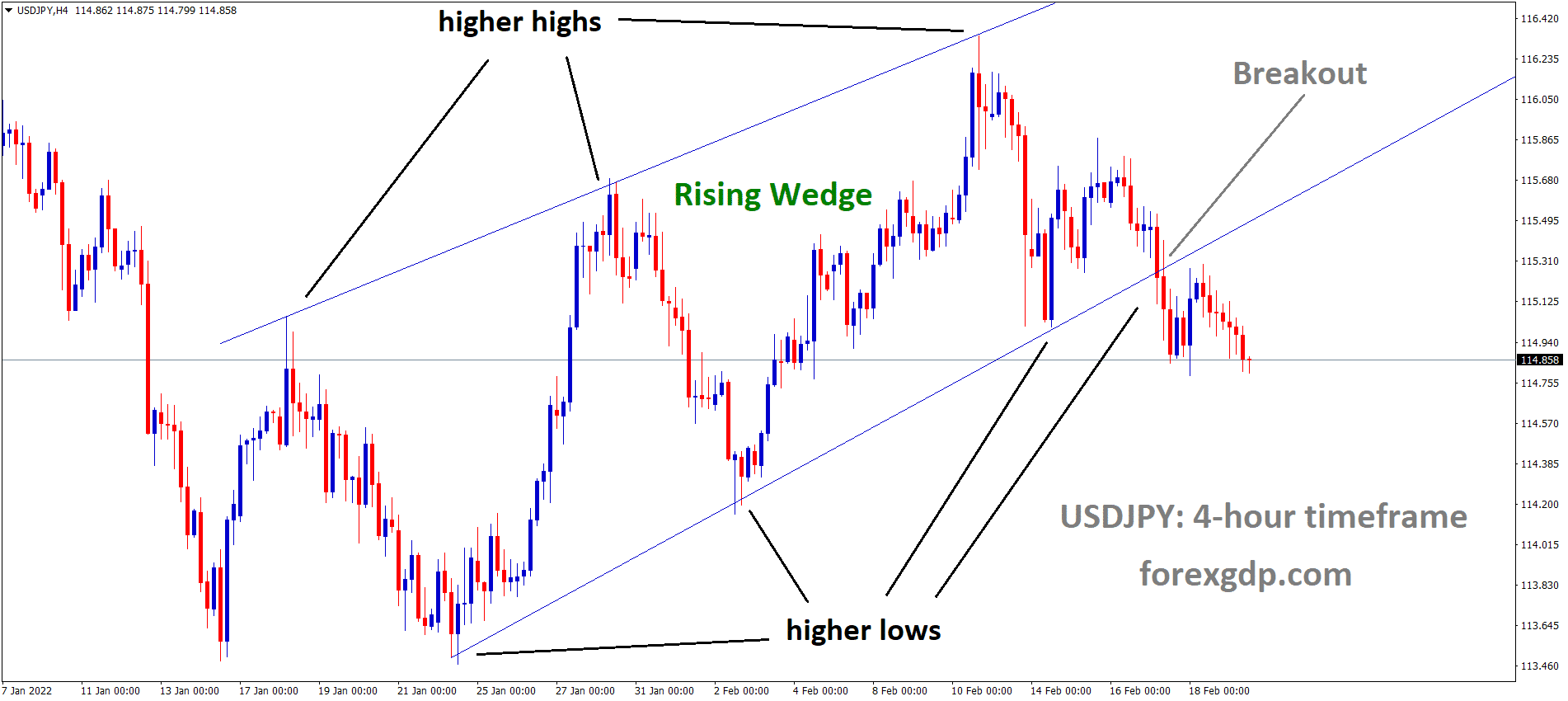 Japanese Yen makes lower as Easing more monetary policy settings to bring the inflation rate to 2% target.
Since the Japanese GDP picked up and Employment Growth has picked up due to easing more restrictions for Business in Japan.
And Japanese PM Kishida said Geopolitical tensions could be made some disruptions in Energy sources, and anything can happen in uncertain periods.
Soon we expect some compromise deal will be made between US and Russia on the Ukraine matter.
Australian Dollar: Reopening of Boundaries made Support for AUD Currency
EURAUD is moving in an Ascending channel and the market has reached the higher low area of the triangle pattern.
People Bank of China has kept the interest rate unchanged at 3.7% intact and Higher than expected CBA manufacturing and Services PMI keeps AUDUSD higher side.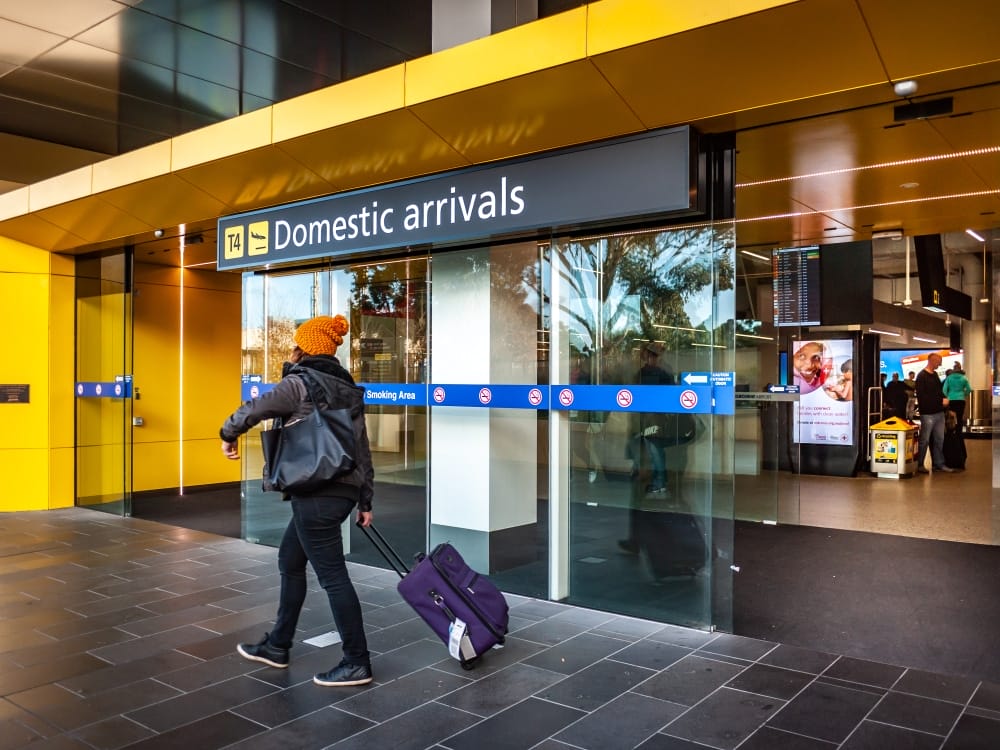 At home, the fully reopening of the international Boundaries for Vaccinated Travellers makes the Australian Dollar higher after Two years. Gap for easing restrictions.
And On Wednesday, Australia's Q4 Wage Price index is essential for the Next RBA meeting key points to consider for rate hike bets.
New Zealand Dollar: RBNZ meeting Forecast
AUDNZD is moving in an Ascending channel and the market has rebounded from the higher low area of the channel.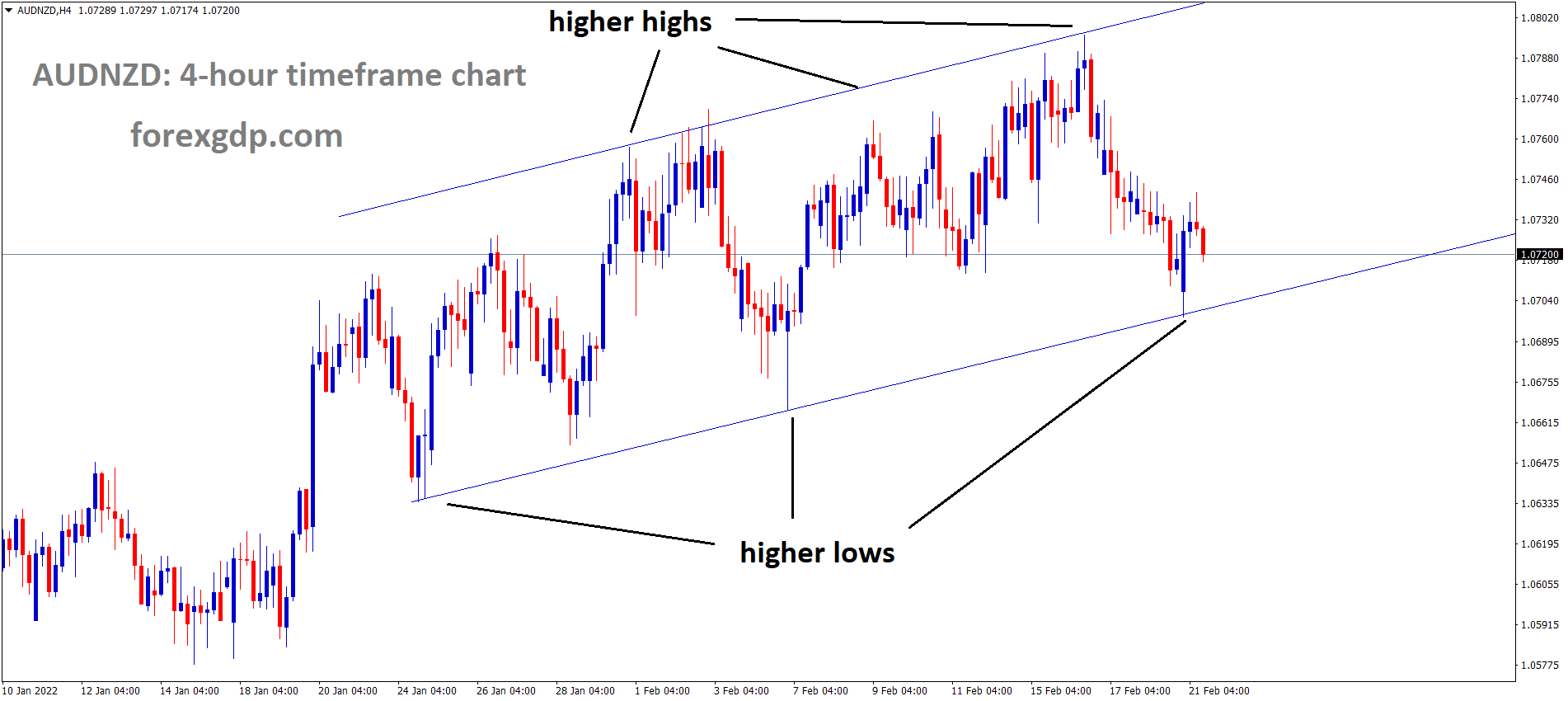 RBNZ interest rate decision The first time will happen this year on Wednesday; rate hikes is 25 bps 1.00%is expected from 0.75%. The inflation and Labour data posted higher numbers, and RBNZ commits to hike the interest rates.
Russia and Ukraine Tensions made Riskier currencies lower, and now a Correction from the Bottom has been made.
This year seven times rate hike is expected, and at least 2.00 to 2.25% in interest rate will be made.
Swiss Franc: Russia and Ukraine war fears made support for Swiss Franc
GBPCHF is moving in the Descending channel and the market has consolidated at the lower high area of the channel.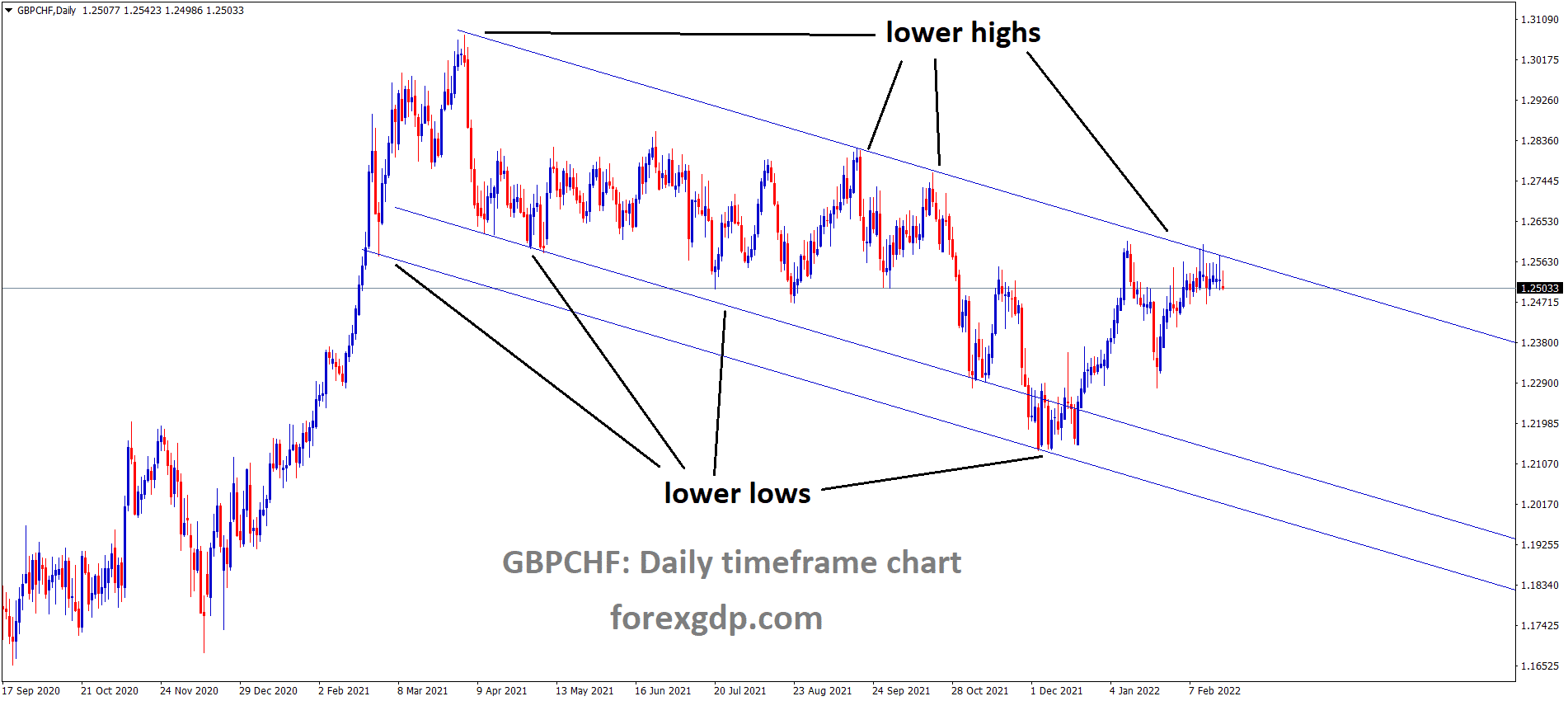 US Joe Biden prepared the sanctions for Russia, Barring US Financial institutions from Accessing Russian Bank if Russia invaded Ukraine.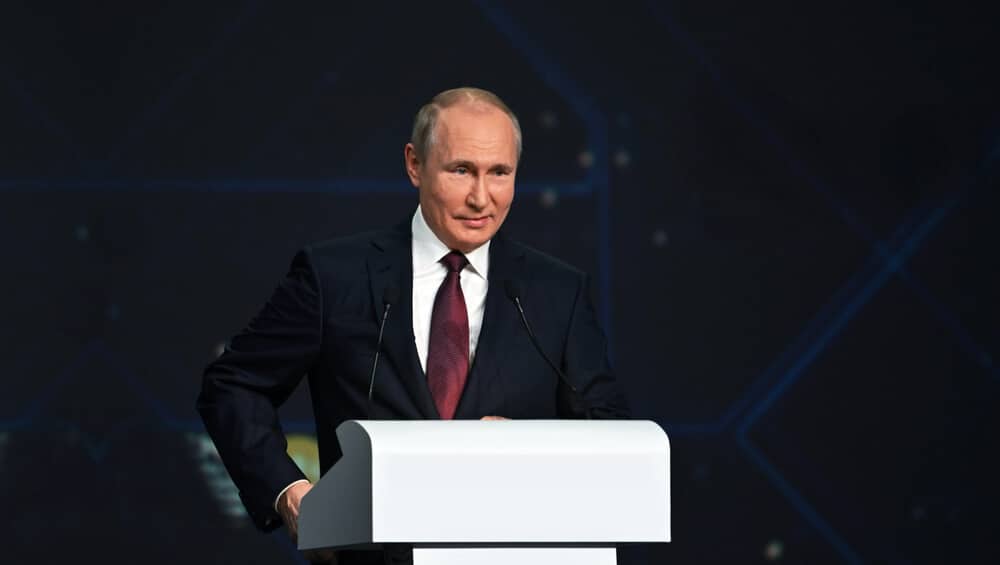 The Two countries have cooled off because Russian President Putin agreed to Diplomatic talks between Ukraine and Russia.
Swiss Franc is one of the Safe Haven currencies and makes Volatility high during uncertain moments session.
This time war fear makes investors choose the Swiss Franc as the most stable currency during War times since Second World War.
---
Don't trade all the time, trade forex only at the confirmed trade setups.

Get more confirmed trade setups at Premium or Supreme plan here: https://www.forexgdp.com/buy/