Oil price war – Opec secures record global oil cuts under US pressure
On Sunday, Saudi Arabia and Russia Ended their oil price war by making the biggest oil production cuts in history, following pressure from US president Donald Trump to support the energy industry at this coronavirus pandemic.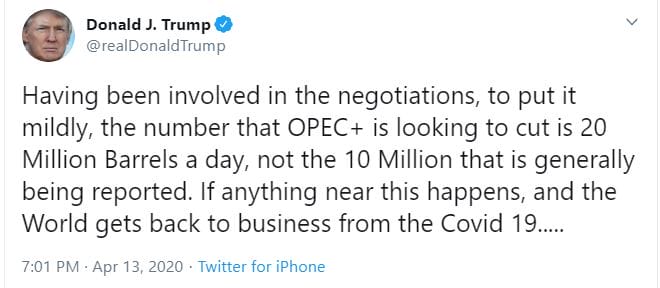 A big hope given to US oil and brent oil for moving up.  Thousands of jobs in Oil industry will be saved by this massive production cut as per Trump tweeted (click here to see trump tweet)
Opec announced it would cut 20 million barrels a day in oil production in May and June. it's nearly 20% of global supply.
In order to stabilize gloabl crude oil markets, they continue to have lower reductions until April 2022.
Boris recovered from Covid-19 will give Positive Impact on GBP
UK Prime Minister Boris Johnson recovered from Covid-19 and plan to resume parliament this week. It makes positive impact on GBP, Great Britain pound will get stronger.
UK Finance Minister Rishi Sunak says "UK's GDP may fall upto 30% due to amid coronavirus crisis".
We can expect uncertain volatility on GBP pairs. Take your trades always with stop loss for safety of your trading account.
Please Don't trade all the time, trade only at best trade setup.
It is better to do nothing, instead of taking wrong trades.
We are here to help you for taking the trades only at best trade setup.
If you want to learn trading from 20+ years expert traders, Join forex trading course online now.
If you like to receive forex signals at good trade setup, Try our free forex signals service to get latest news updates.
If you want more forex signals try our Premium or Supreme forex signals plan.
Thank you.
Regards,
Forexgdp Team.