"Coronavirus Risk Scan by Apollo hospital is designed to decrease the paranoia by generating a risk score based on your current symptoms. This will clear your doubts on whether you have or are likely to contract the novel," Apollo hospitals tweeted. This is the best free coronavirus online test developed by Senior doctors so far.
How to find difference between Coronavirus and General health illness? click here to check.
This free online coronavirus test help users can assess whether or not would they require to visit a physician or get tested physically.
Click on Test now image to take your free test
The risk-assessment test is an AI designed module based on advice from the World Health Organization and the Union Ministry of Health and Family Welfare India.
The Coronavirus Risk Scan is made up of eight questions ranging from age, gender, symptoms exhibited including sneezing sore throat and dry cough, current body temperature, travel history, past illness and conditions such as diabetes, lung diseases, kidney diseases and high blood pressure to the progression of symptoms exhibited if any.
The test then provides insights by risk scoring the answers to these questions. Users can get to know the chances of having contracted COVID-19 from low, high to medium. It also suggested the actions required to be taken in case of a high or medium score.
Apple Voice assistant Siri is guiding users step by step depend on their Q & A.
Apollo's risk scanner is not the only tech solution that helps users asses themselves and decides if they need testing. Apple on Saturday updated it voice assistant Siri for Apple users in the US.
Siri will provide a step by step guide to users who ask questions that are different variations of "Siri, do I have the coronavirus?" The solution is also based on advice and guidelines by WHO. If a person shows severe symptoms, they will be prompted by Siri to call 911.
Over 472,529 confirmed cases of COVID-19 have been reported across the globe according to media reports.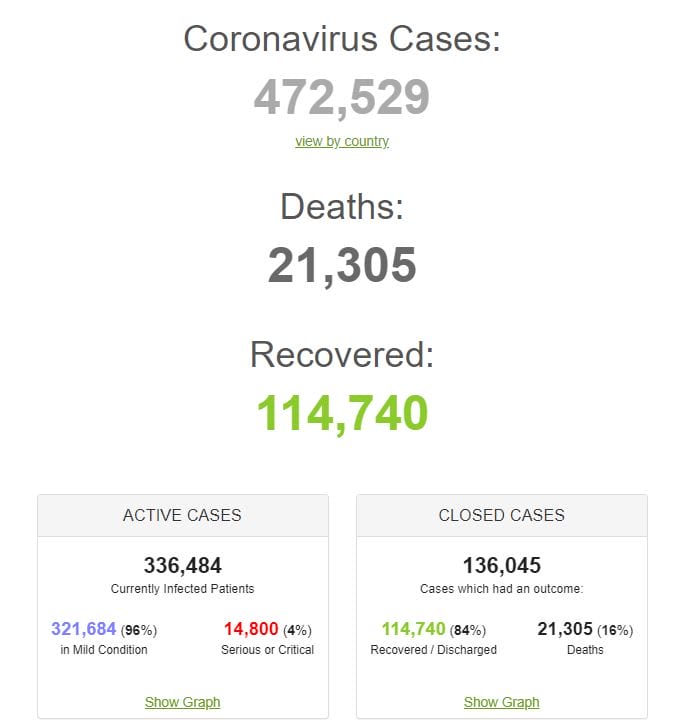 Prevention and Precautions – Basic protective measures
Be aware or Educate yourself with the latest updates on the following websites : WHO 
Most people who become infected experience mild illness and recover, but it can be more severe for others. Take care of your health and protect others by doing the following:
Wash your hands frequently

Regularly and thoroughly clean your hands with an alcohol-based hand rub or wash them with soap and water.

Maintain social distancing

Maintain at least 2 metre (6 feet) distance between yourself and anyone who is coughing or sneezing.

Avoid touching eyes, nose and mouth

Our hands touch many surfaces and can pick up viruses. Once contaminated, hands can transfer the virus to your eyes, nose or mouth.

Practice respiratory hygiene

Make sure you and the people around you, follow good respiratory hygiene. This means covering your mouth and nose with your bent elbow or tissue when you cough or sneeze. Then dispose of the used tissue immediately.

If you have fever, cough and difficulty in breathing, seek medical care early

Stay home if you feel unwell. If you have a high fever, moderate to severe cough and difficulty in breathing and it is worsening in short period of time, seek medical asistance and call in advance.
All traders, Please Stay safe and Strong !
Let's break the chain of Coronavirus spread !
God bless you !
Are you interested in receiving best stock markets, forex, commodity market updates subscribe to our free notifications now.
Don't trade all the time, trade only at Best Setup. Join Free now. Let result speaks on your trading account. Start to receive the forex signals now: forexgdp.com/forex-signals/