Gold Breakout Analysis
Gold has raised to the historical high of $1980/Ounce.
It has crossed the $1920 high created in the year 2011.
The big investors are in the Gold, soon If investors start to take profit, we can expect a Correction on Gold.
But the Gold Trend Reversal happens only if the big investors close their Buy trade positions.
Gold has formed an Ascending Triangle Pattern by creating Equal highs and Higher lows in 1-hour time frame chart.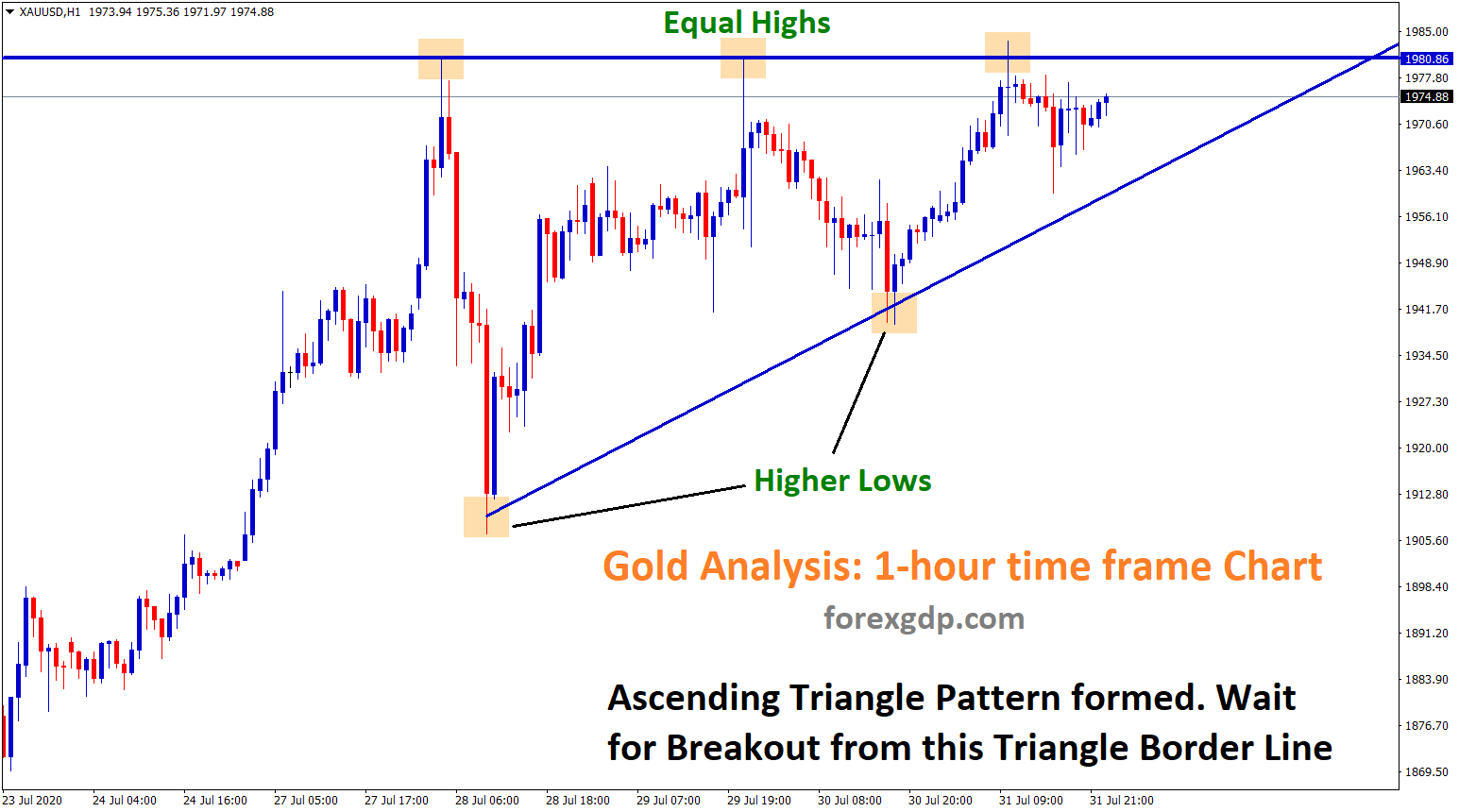 Let's wait for the breakout from this Triangle Borderline for Catching big movement on Gold.
How to trade the Chart Patterns? Read here the complete guide with example charts.
We are Expecting Gold to raise until the US Economy gets stable from this Pandemic situation.
US Dollar Continues to get Weak
The dollar slumped last week and moved to the weakest month in 10 years due to continuous spread of coronavirus in US and failure of US lawmakers to agree on a new round of stimulus package.
Dollar index declines against six other currencies, Dollar Index was down 0.4% at 92.648 and it's near to New 2 year low, GBPUSD up 0.3% at 1.3135. EURUSD post big monthly gain in 10 years was up 0.4% at 1.1898
Due to FED Powell statement on the economy, coronavirus cases increase in mid-June and consumptions will decline and sending the economy to downwards.
US GDP data contracts 32.9% shows clear economy weakness on the US dollar. latest stimulus measures are contracted by US President Donald Trump over election concerns, unemployment payment also expired on last week Friday.
According to John Hopkins University US reported 4.5 million COVID 19 cases and states like Florida, Arizona reported a record increase in new deaths for a third day.
Please Don't trade all the time, trade forex only at best trade setup.
It is better to do nothing, instead of taking wrong trades.
We are here to help you for taking the trades only at best trade setup.
Start to receive the forex signals now: forexgdp.com/forex-signals/