Crude Oil is moving in an Ascending channel and the market has reached the higher low area of the channel
Where Is Crude Oil Today
The crude oil charts are quite unstable today as a result of the recent news where we found out that Shanghai is again neck-deep in COVID cases and France is now looking to oil as a gas alternative.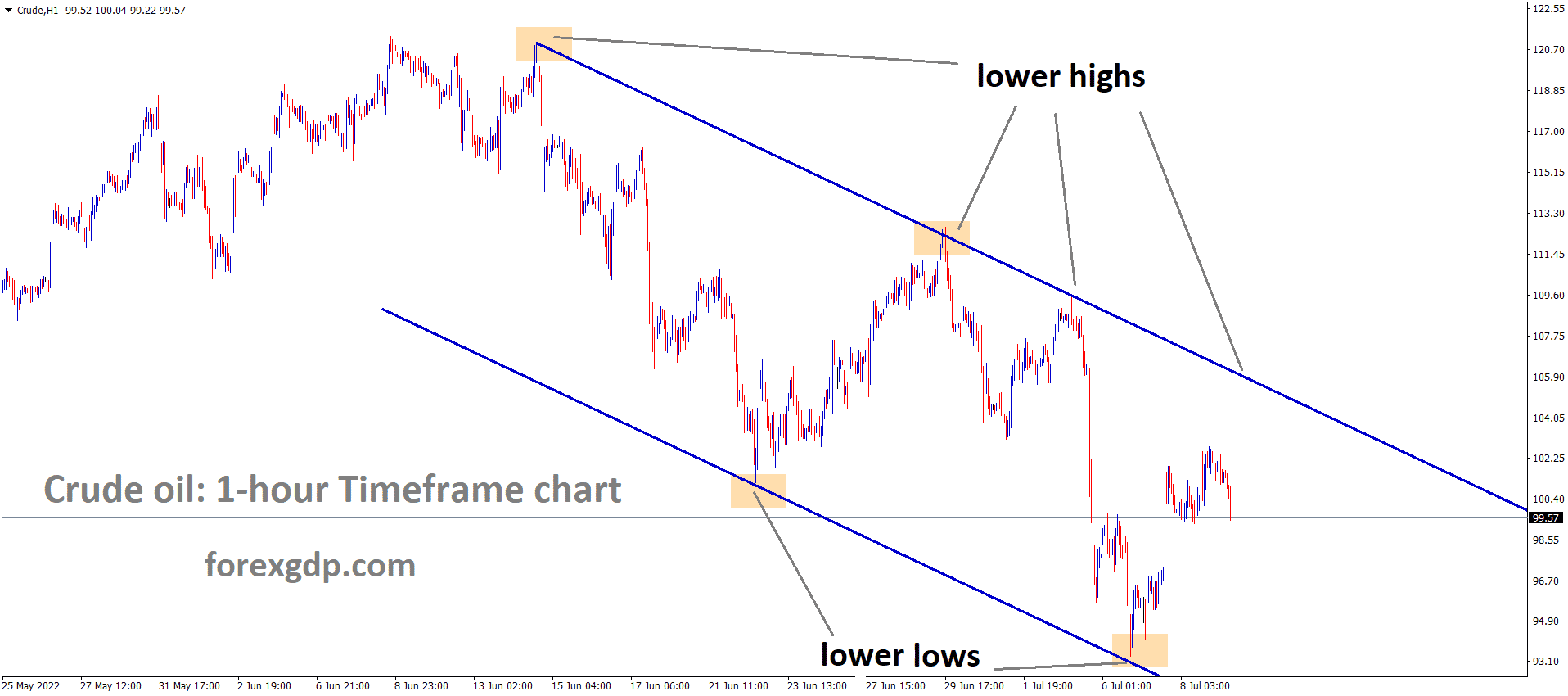 Crude Oil is moving in the Descending channel and the Market has rebounded from the Lower Low area of the channel.
As a result of these releases, the crude oil market faced a sudden instability in its value and is now teasing around the 102.0 region. We may continue to see this market be unstable throughout the day.
China COVID cases
While the world has basically completely gotten rid of dangerous levels of COVID cases, China is still struggling to do the same. Every few months we are seeing news that China is hit again with a surge of cases and is struggling to have them under control. Most of the time these surges happen in Shanghai and this is exactly the case this time as well. The reason why this is important to the world is that China is a big consumer of oil. If China faces another lockdown due to the surge in COVID cases, there wouldn't be many cars on the street or other businesses that run on oil. These activities would be temporarily slowed or closed completely. When this happens, oil would be in low demand in China which would cause oil prices globally to fall.
Zhang Mengying from Investing reveals, "Oil was down on Monday morning in Asia as investors are worried about oil demand as Shanghai discovered the first case of the highly infectious COVID-19 variant. The number of COVID-19 cases for July 10 in China had climbed from the previous day, spurring concerns about potential lockdowns after Shanghai reported the first case of the highly infectious BA.5 omicron sub-variant on Sunday. On the supply side, the market is still keeping an eye on Western sanctions to cap Russian oil prices, while Russian President Vladimir Putin warned that further sanctions could lead to catastrophic consequences in the global energy market. The market is also watching the maintenance of the Nord Stream 1 pipeline, the biggest single pipeline carrying Russian gas to Germany, due to run from July 11 to 21. Markets are worried the shutdown would be extended over the war in Ukraine."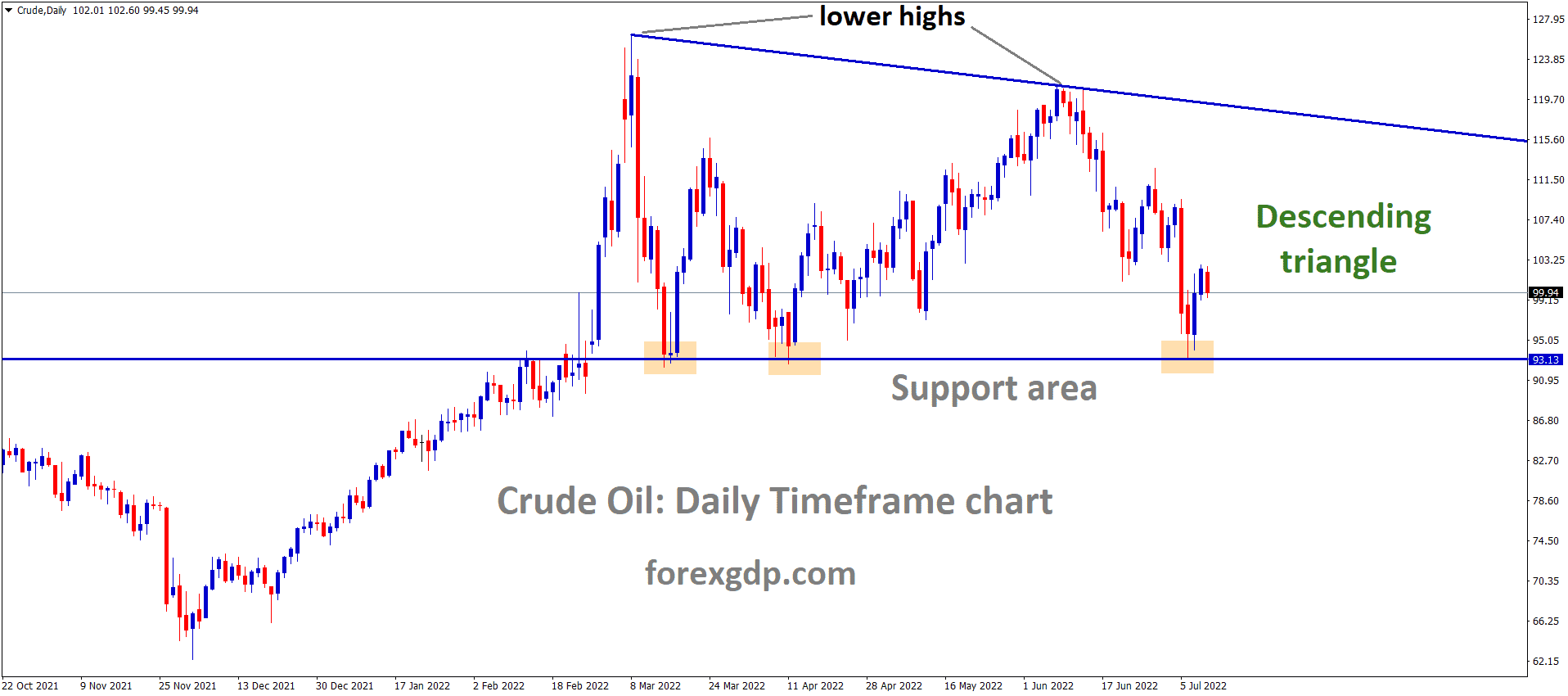 Crude Oil is moving in the Descending triangle pattern and the Market has rebounded from the horizontal support area of the Pattern 1
France Oil Demands
Seeing that the war in Ukraine by Russia is not improving whatsoever, France is now looking for alternatives for nonrenewable energy as they are slowly realizing that Russia is not a safe source to rely on. France is currently getting their gas supply from Russia. However, this supply is significantly reducing every day. France previously had a lot of items running only on gas. However, they have now modified them to run on gas, oil, and coal. This is because France believes that although they may face a gas shortage, there is no way they can face an oil shortage. Only time will tell how true this statement will become.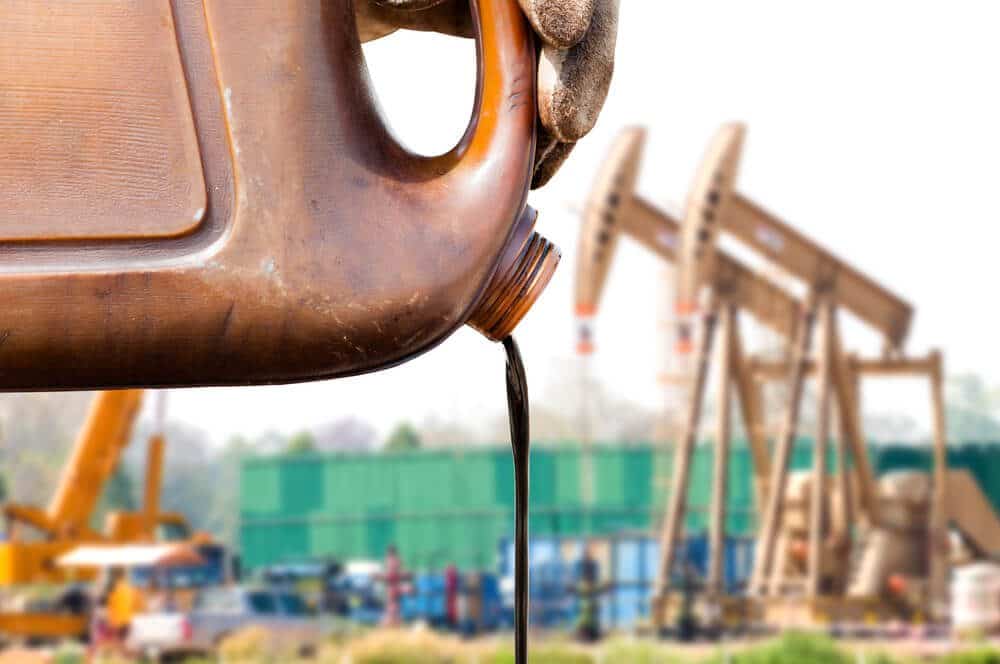 Mathieu Rosemain from Reuters reveals, "France's energy-intensive companies are speeding up contingency plans and converting their gas boilers to run on oil as they seek to avoid disruption in the event any further reduction in Russian gas supplies leads to power outages. Gathered over the weekend at a business and economics conference in southern France, several top executives said they were preparing for possible blackouts. It takes days to start up tire production at a manufacturing plant, making it essential to maintain a steady energy supply. Russia in June reduced flows through the Nord Stream 1 pipeline, its main route for shipping gas into western Europe, to 40% of capacity. Politicians and industry are concerned there will be further supply constraints linked to Russia's invasion of Ukraine, which Moscow describes as a special military operation."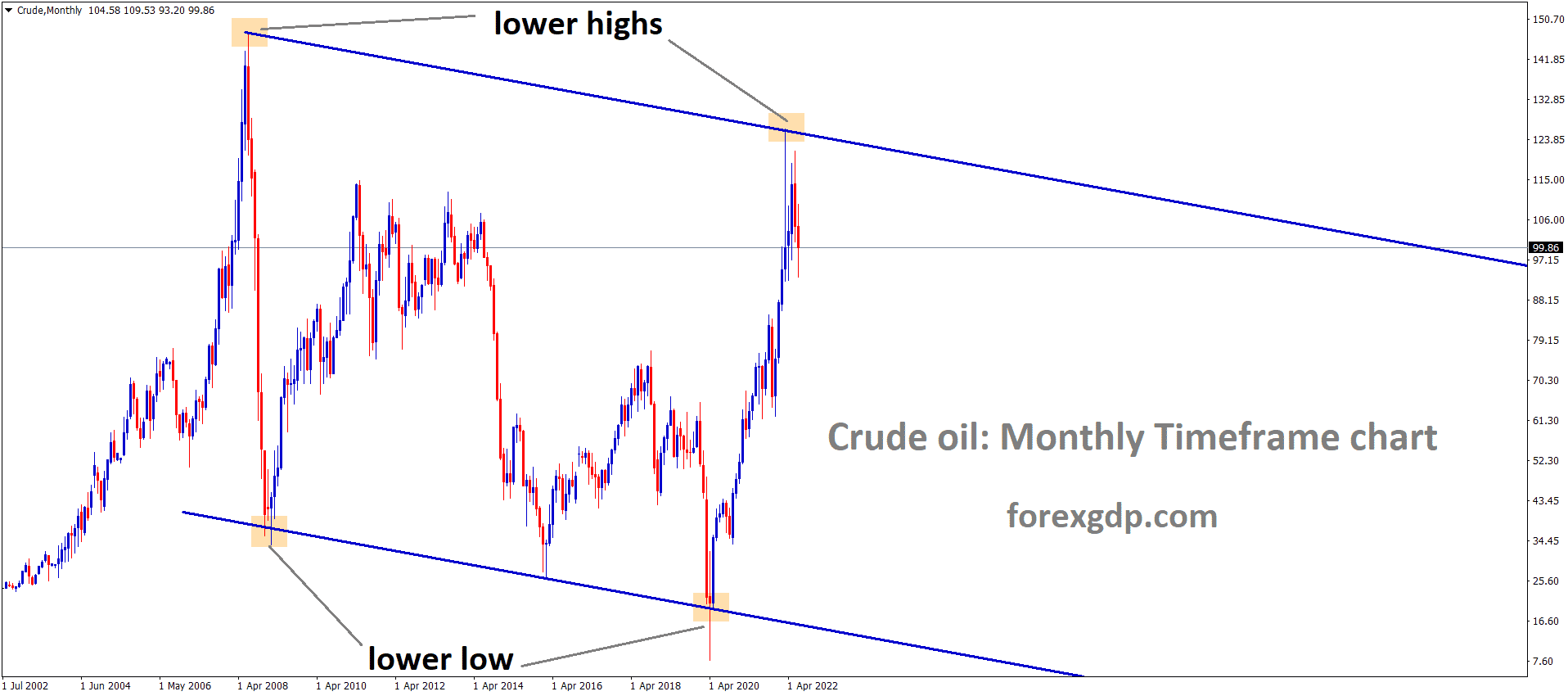 Crude is moving in the Descending channel and the Market has fallen from the Lower high area of the channel.
Feds Brainard Speech
The Vice Chair of the Feds, Lael Brainard, recently held a speech at the Bank of England where she discussed price stability and the crypto markets. She reveals, "Stablecoins represent a second area with a heightened risk of spillovers. Currently, stablecoins are positioned as the digital native asset that bridges from the crypto financial system to fiat. This role is important because fiat currency is referenced as the unit of account for the crypto financial system. Stablecoins are currently the settlement asset of choice on and across crypto platforms, often serving as collateral for lending and trading activity. As highlighted by large recent outflows from the largest stablecoin, stablecoins pegged to fiat currency are highly vulnerable to runs. For these reasons, it is vital that stablecoins that purport to be redeemable at par in fiat currency on demand are subject to the types of prudential regulation that limit the risk of runs and payment system vulnerabilities that such private monies have exhibited historically."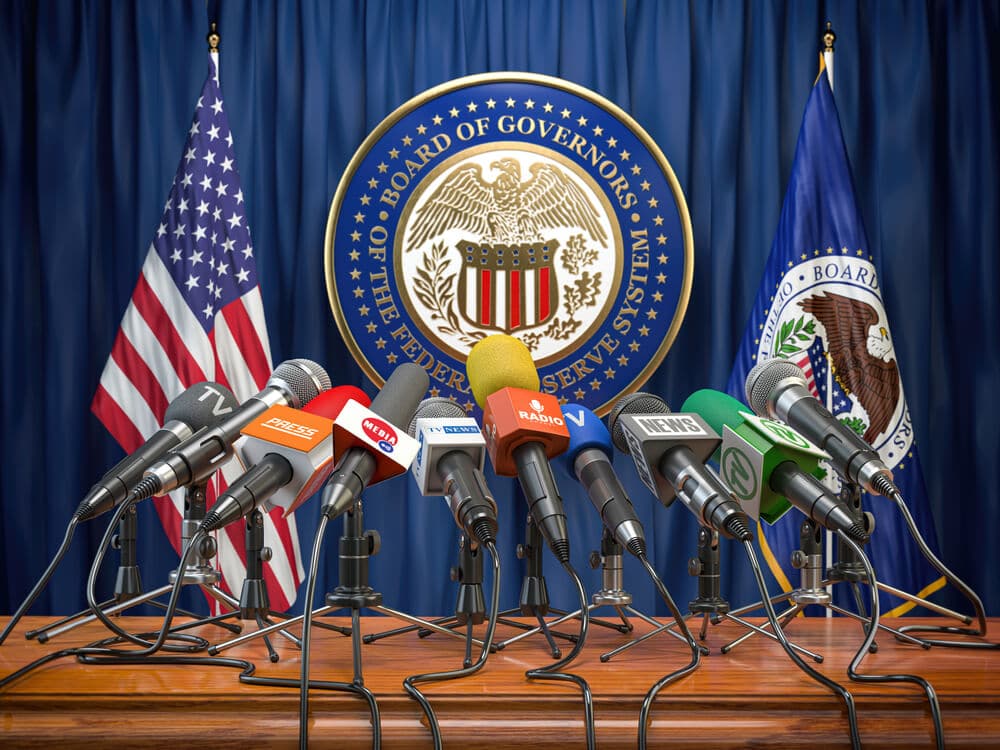 She further states, "Given the foundational role of fiat currency, there may be an advantage for future financial stability to having a digital native form of safe central bank money—a central bank digital currency. A digital native form of safe central bank money could enhance stability by providing the neutral trusted settlement layer in the future crypto financial system. A settlement layer with a digital native central bank money could, for instance, facilitate interoperability among well-regulated stablecoins designed for a variety of use cases and enable the private-sector provision of decentralized, customized, and automated financial products. This development would be a natural evolution of the complementarity between the public and private sectors in payments, ensuring strong public trust in the one-for-one redeemability of commercial bank money and stablecoins for safe central bank money. So as these activities evolve, it is worth considering whether there are new ways to achieve regulatory objectives in the context of new technology. Distributed ledgers, smart contracts, and digital identities may allow new forms of risk management that shift the distribution of costs. Perhaps in a more decentralized financial system, new approaches can be designed to make protocol developers and transaction validators accountable for ensuring financial products are safe and compliant."