Gold: US President plan of BBB has no chances to pass in year-end
Gold prices are edged lower at the resistance area of 1815$, and US Domestic data performed well last week as US FED action on tapering of assets.
XAUUSD Gold price is moving in the Box Pattern and the market has reached the previous resistance area of the Box Pattern.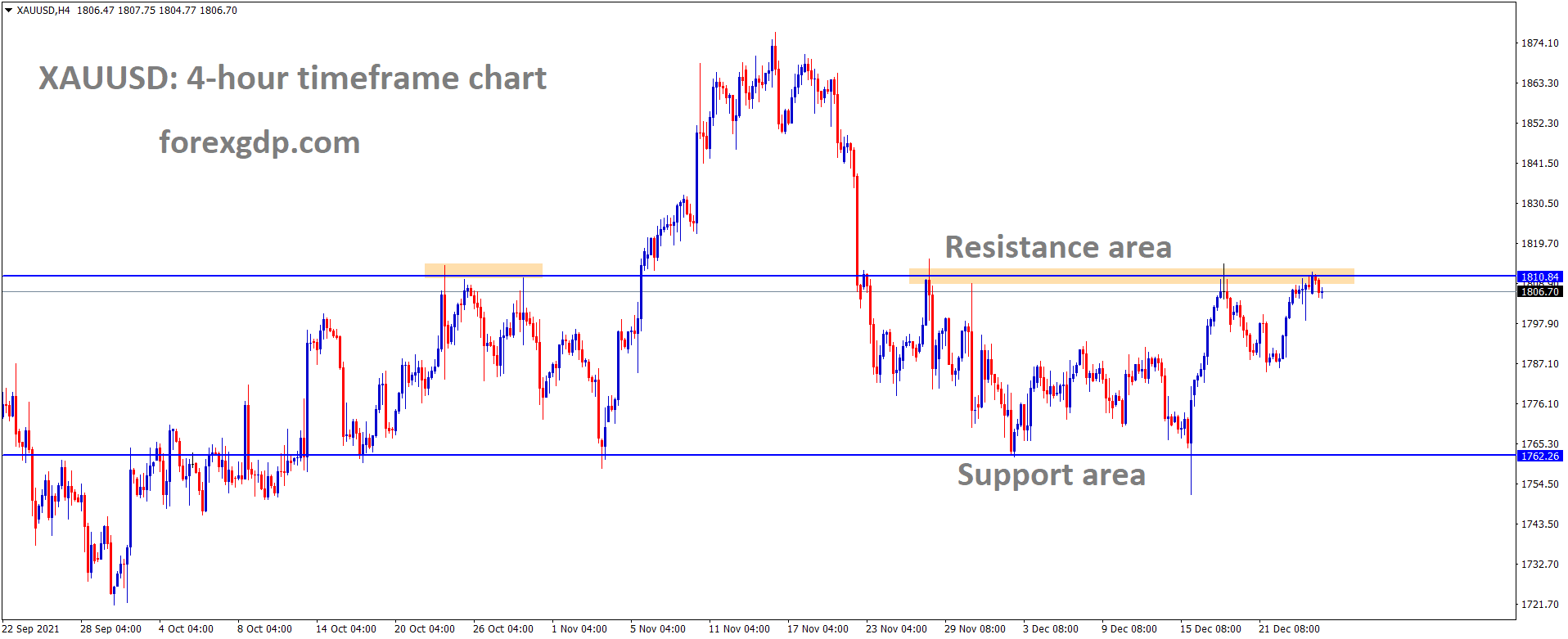 US PCE index rose to a decade higher to 5.7%, and US Jobless claims displayed 250k in line with expectations.
US FED actions on tapering in asset purchases make gold prices go down.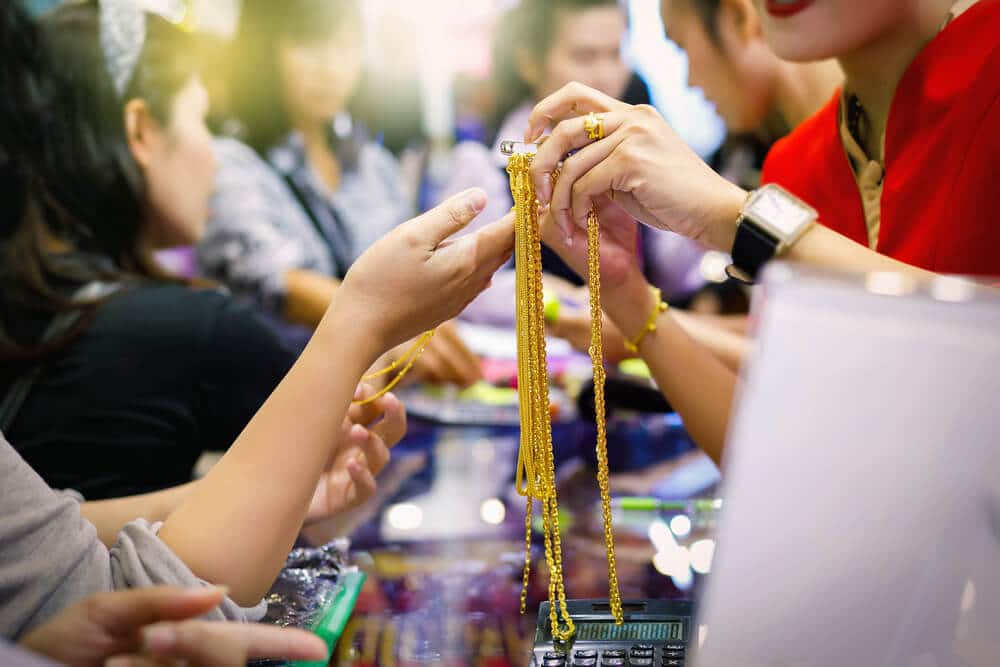 Inflation countermeasures taken by FED is aggressive and makes support for US Economy to develop more.
US Joe Biden plan of BBB has not been passed and rejected by US Senate Joe Manchin, who is the same party as Joe Biden.
So now more stimulus is required to build back economy to stronger if BBB bill is passed otherwise US Dollar weaker back to support area.
US Dollar: US Retail sales grew up by 8.5% this year
USDJPY is moving in an ascending channel and the market has reached the higher high area of the channel.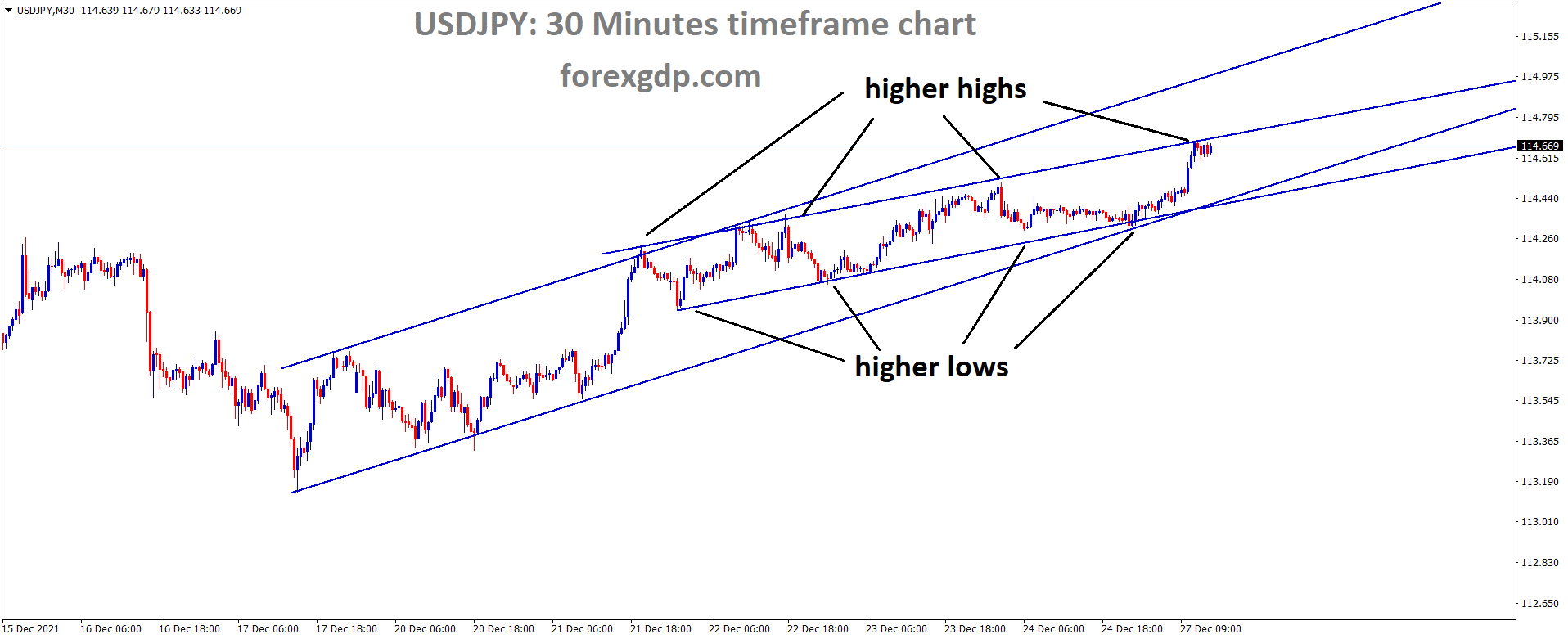 US Retail sales grew by 8.5% during this year's holiday season of November 1 to December 24.
More Spending plus is added in E-commerce sales than direct sales in shops.
And Holiday E-commerce sales grew up by 20.9% of Total retail sales this year, as Mastercard reported.
US E-Commerce sales jumped to 11% this year's holiday season; Covid-19 pandemics situation makes customers purchase in offline mode.
US VP Kamala Harris speech
US VP Kamala Harris said I am a tiebreaker and Tie Vote; I have to Favour US President Joe Biden BBB plan for America.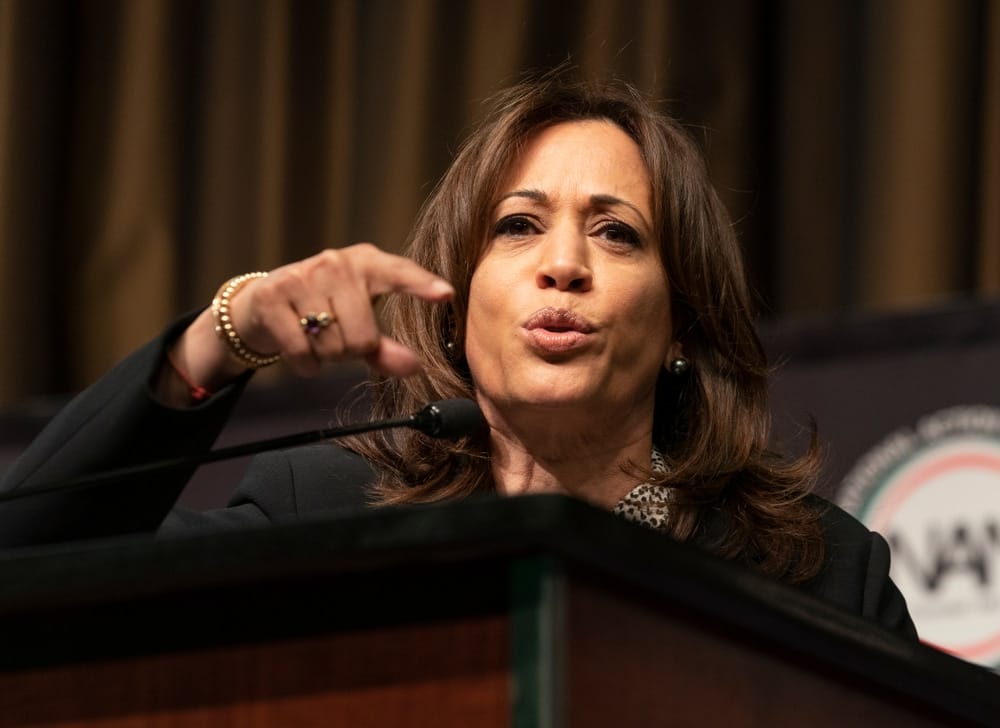 US Public-facing more inflation on Cost of Goods and we soon counter to inflation higher numbers in the economy.
And also US VP commented that US and Russia are in direct talks about Ukraine.
Goldman Sachs reported Senate will approve manufacturing and supply chain bills to pass and not approve for the BBB plan of Joe Biden and extension of the child tax credit system.
EURO: ECB won't do rate hikes in 2022
EURUSD is moving in an Ascending channel and the market has rebounded from the higher low area of the channel.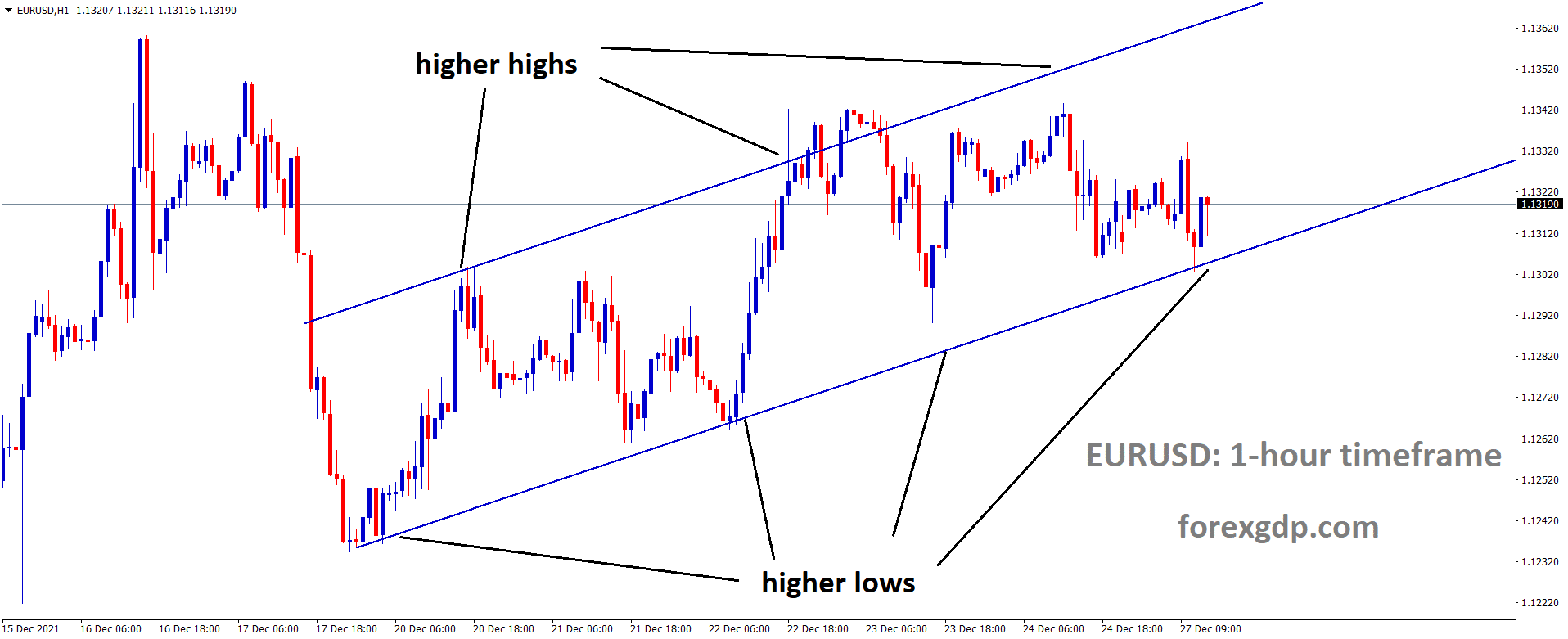 ECB did not do tapering or rate hikes in 2022 compared to FED in the US.
ECB has to maintain European countries in huge population when compared to half of the people in the US.
So, Funds are more in the US than in the EU, so people and the country economy will wake up sooner with stimulus.
And US Economy is steadied compared to the old economy, but the EU cannot come to an old economy stance as soon as possible.
The vast population makes more variant spread, and more tightening restrictions will give more money spending for the EU.
UK POUND: UK inflation data makes highest in a decade
GBPUSD is moving in an uptrend line and wait for the confirmation of breakout from this descending triangle pattern.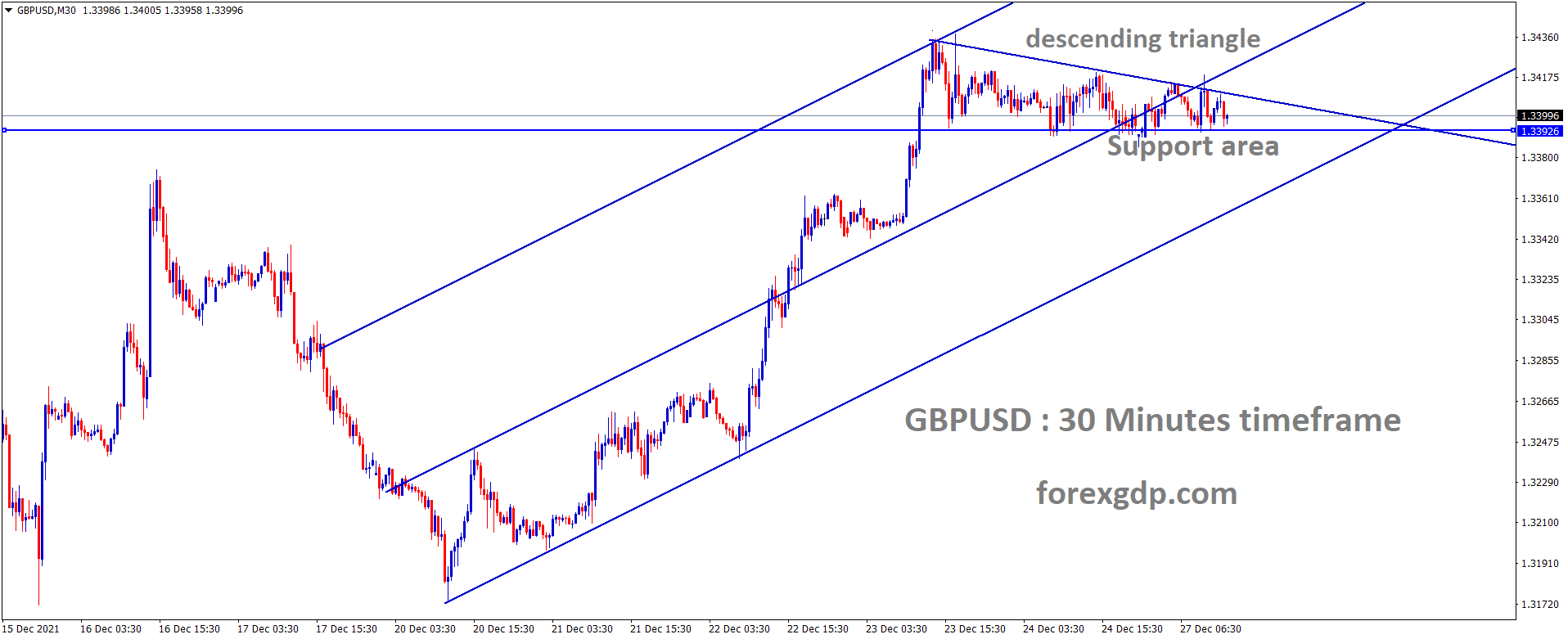 UK Inflation data shows 5.1% every year, a decade-long high since September 2011.
And Bank of England hikes 0.15 basis points to 0.25% in December month, appreciating UK Pound from lows.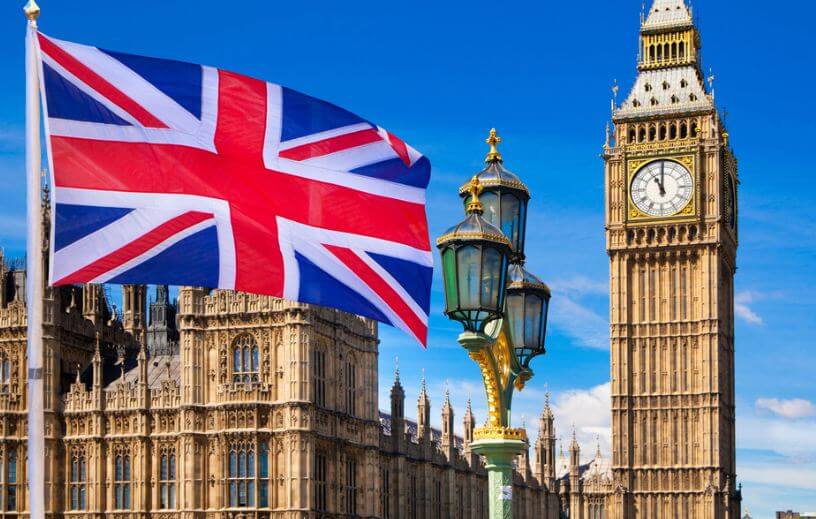 Unemployment declined to 4.2%, and the employment rate rose to 75.5% is a welcome one for England.
Bank of England ended the furlough scheme in September and will further tighten the monetary policy in the coming quarters.
The inflation rate at 5.1% is more than double the target of 2% focused by the Bank of England.
Canadian Dollar: Oil prices support CAD
Crudeoil has reached the lower high area of the Descending channel and resistance area of the Ascending triangle pattern.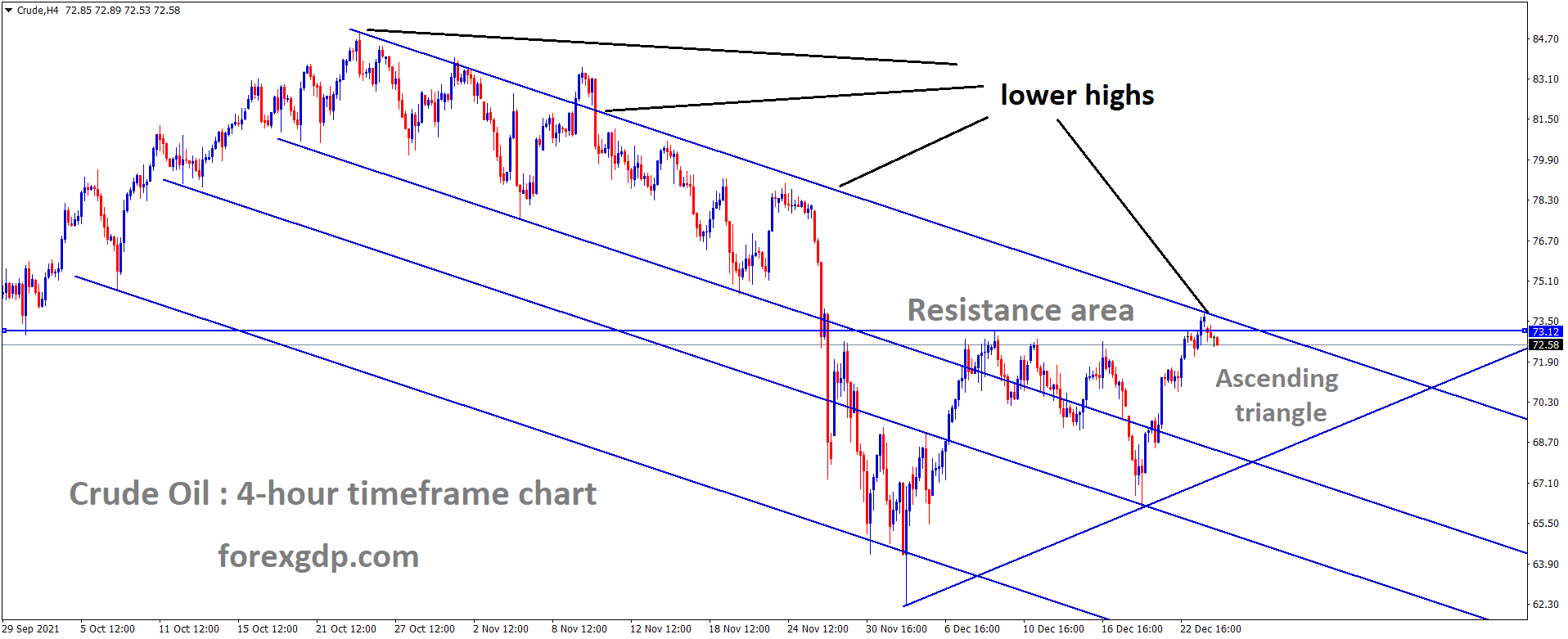 Canadian Dollar shows some strength after a deep correction of 8-10% from the start of the Year 2021.
Now Canadian Dollar supports with last week. Oil prices rose to some resistance areas.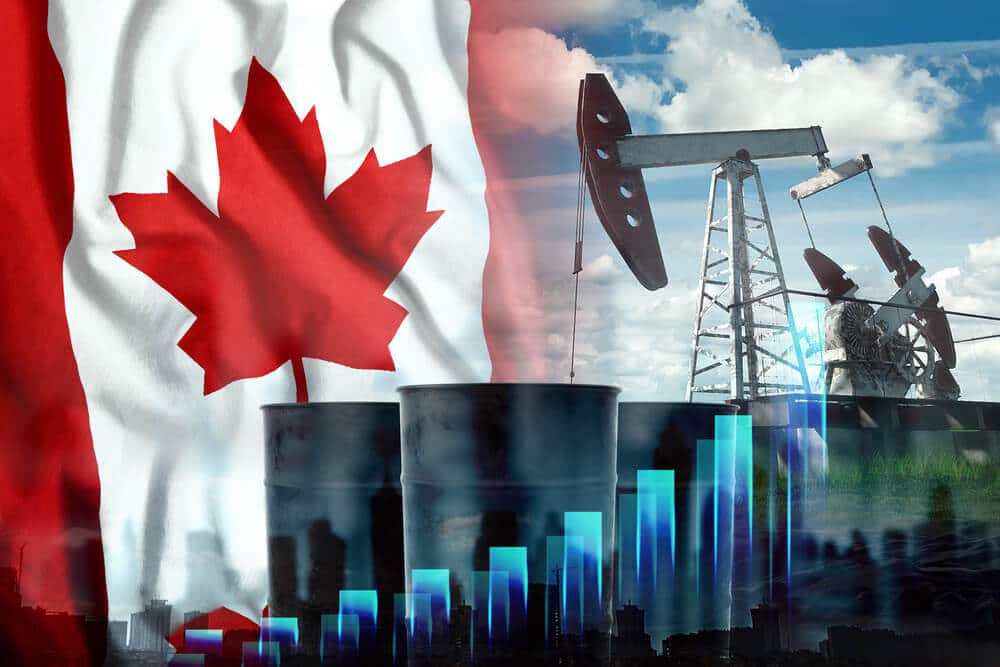 USDCAD fell from the 1.2900 area to 1.2850 last week due to some Oil prices lifted higher in the market.
Bank of Canada will do rate hikes in the next meeting of February 2022, and tapering assets will also keep at the end of next year.
US FED will be expected to rate hikes three times in 2022.
Japanese Yen: JPY Forecast of 2022
CADJPY is moving in the Descending channel and the market has reached the lower high area of the channel.
Japanese Yen have a weaker pace in 2021 against US Dollar and Swiss Franc, but see some good gains against riskier currencies like AUD, NZD and CAD.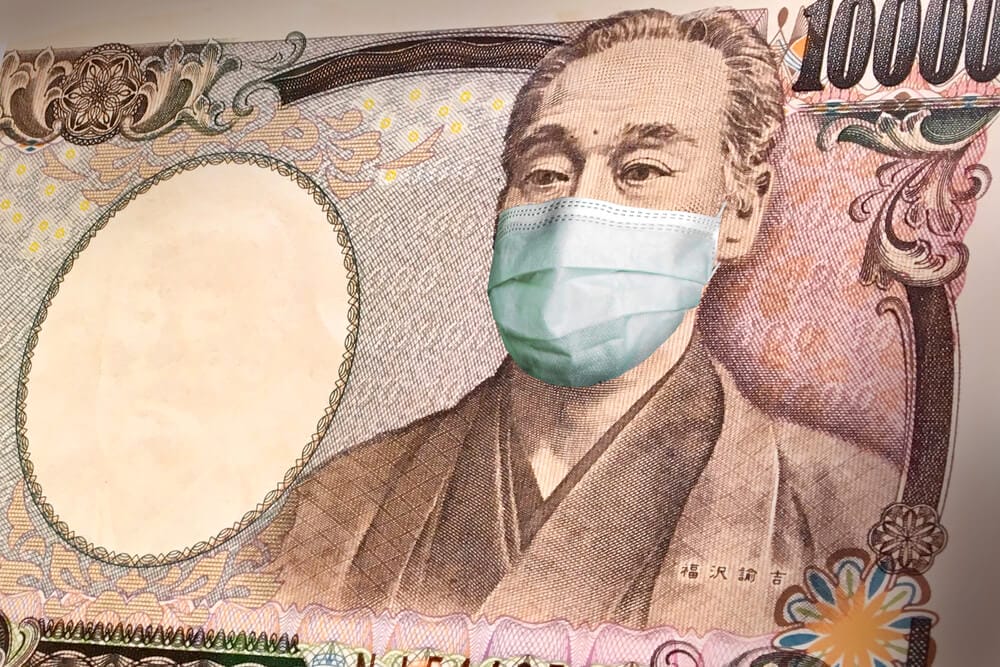 Japanese PM Kishida added 980Billion Dollar stimulus to the economy to wake up from the pandemic.
Bank of Japan forecast that the Japanese economy will do better in Q4 of 2021.
US FED going to rate hikes in the second half of 2022 and tapering will be completed in march 2022.
Australian Dollar: US PCE index came at higher than expected
AUDUSD is moving in an Ascending channel and the market has fallen from the higher high area of the channel.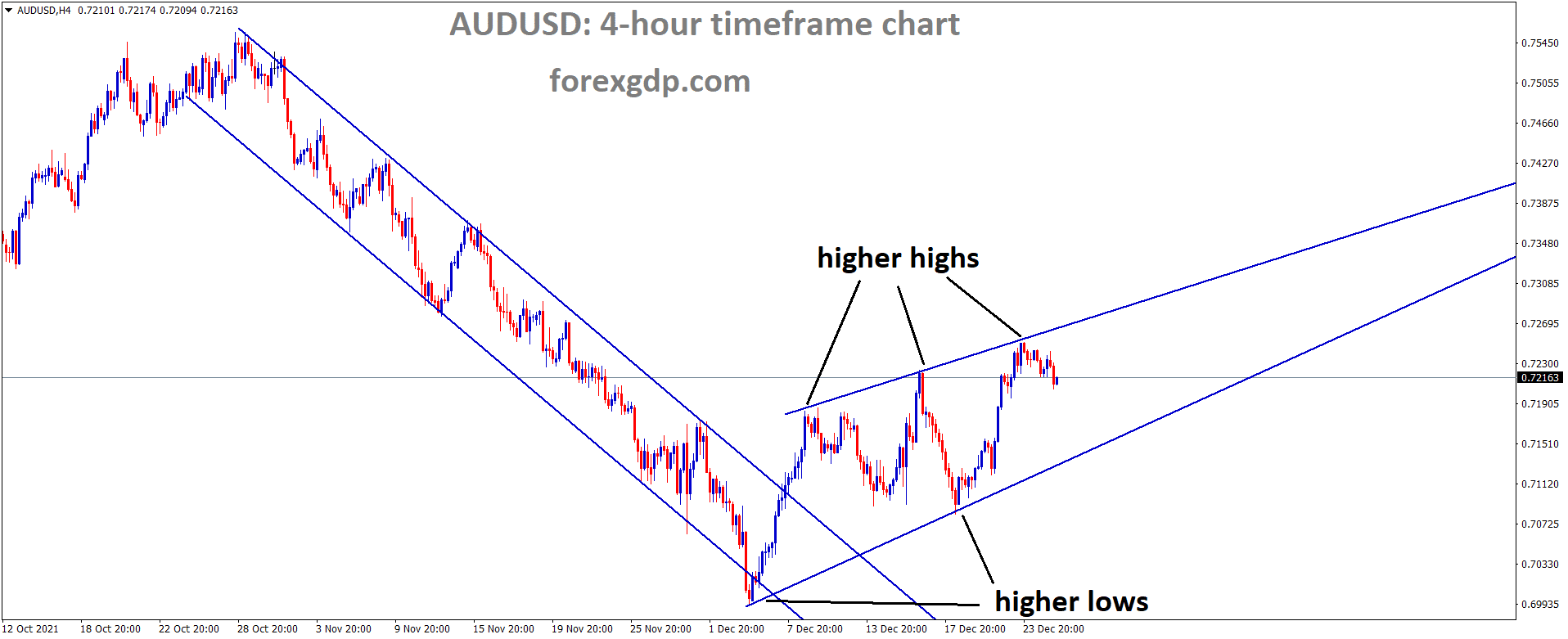 Australian Dollar keeps a little bit higher today and compared to the last 2 month declined due to US Domestic data performing well.
Australian PM Scott Morrison commented public must have common senses to use for gathering in public and avoid the spread of covid-19 without putting lockdown another time.
People must follow the rules of Covid-19 with common knowledge and wear masks, and a third dose booster will be available in February.
US PCE index came at 5.7% higher than expected, showing the US Economy facing a higher cost for Goods purchasing.
New Zealand Dollar: NZ Border reopening from next year February 2022
EURNZD is moving in an Ascending channel and the market has fallen from the higher high area of the channel.
New Zealand Dollar makes it more sensitive to the Omicron variant spread in China.
And New Zealand Border restrictions are reopening from February onwards as Severity is low from Omicron virus, and casualties are very mere numbers from Omicron variant.
So, markets are playing well with Omicron variant drama to pull back all financial markets to buy on dips more.
And there is a New Zealand Domestic data schedule this week due to the New year and Christmas festivities.
Swiss Franc: SNB have higher deposits from Investors
USDCHF is moving in the Descending triangle pattern and the market has rebounded from the support area of the triangle pattern.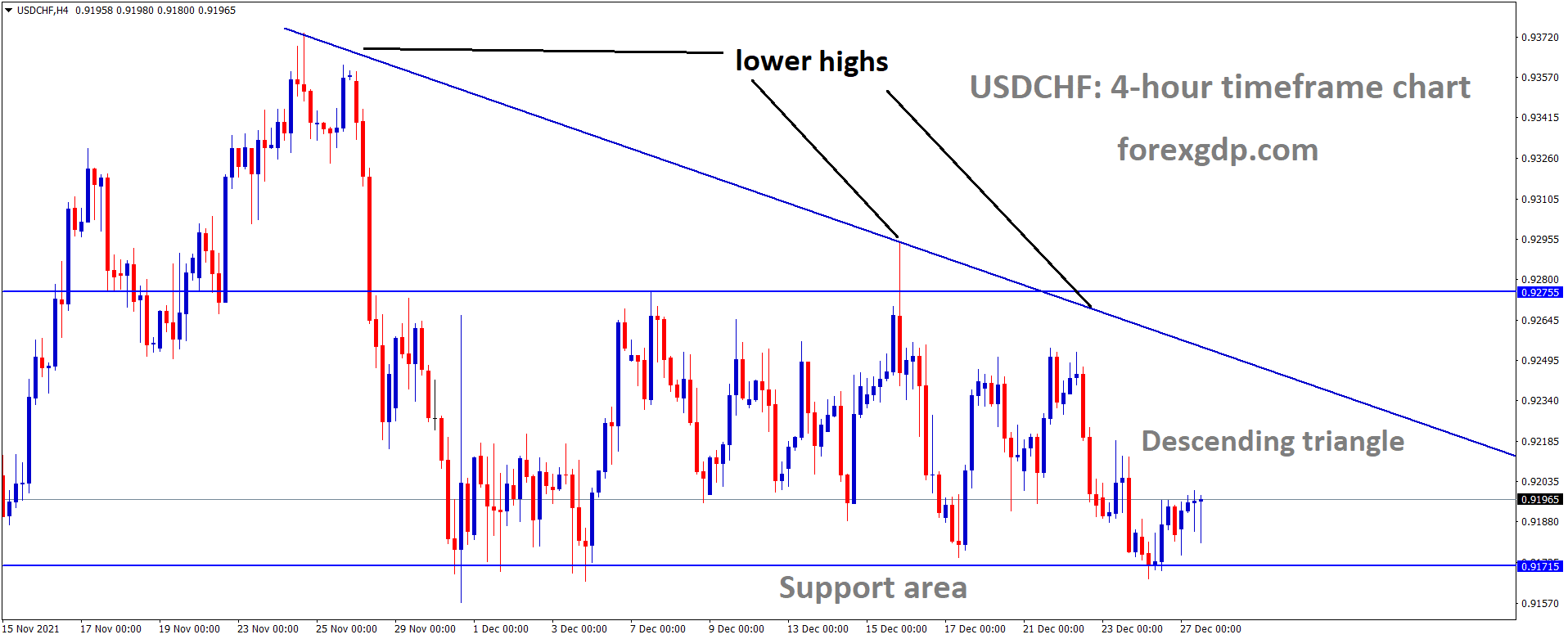 Swiss Franc is more benefitted by Omicron variant spread, and SNB has higher deposits from investors in Bank due to uncertainty prevailing in markets.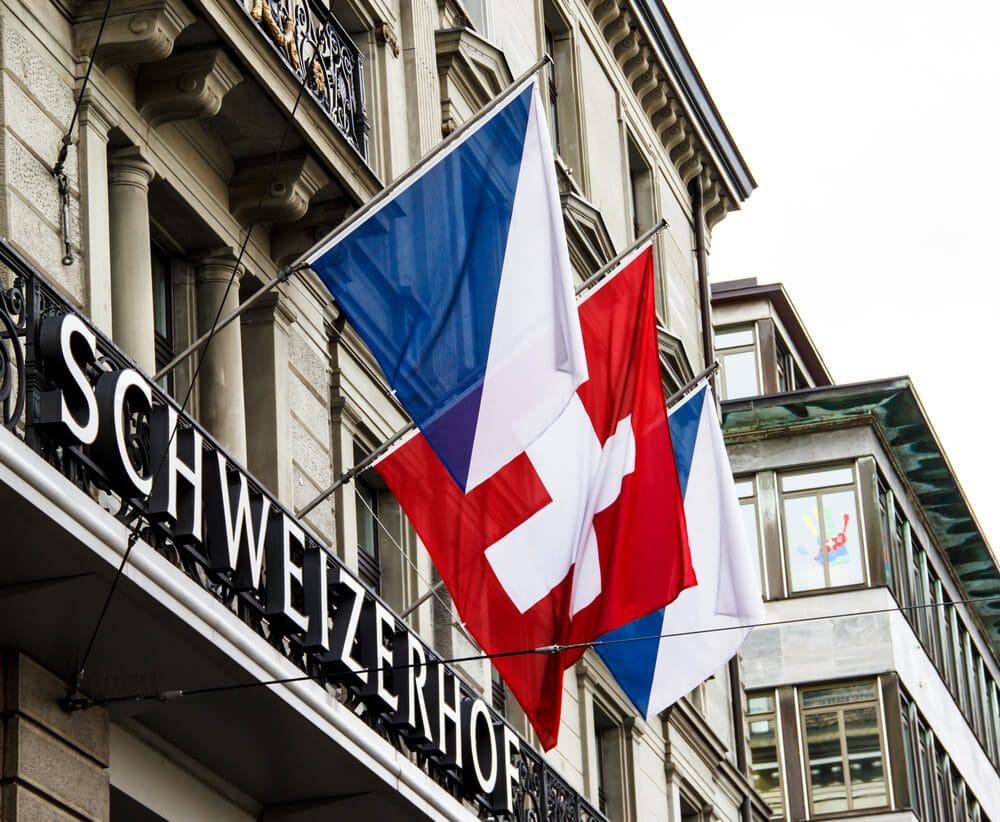 But US Dollar keeps higher against the Swiss Franc from the start of 2021, and next year Swiss Franc keeps appreciating against US Dollar is more expected.
SNB is now planning for currency intervention to cut the values of Swiss francs in the market; exporters in Switzerland faces more competition against importers.
---
Don't trade at your free time, instead trade the markets only when there are confirmed trade setups.

Get confirmed trade setups here: https://www.forexgdp.com/buy/