EURUSD has reached the Bottom area of the Symmetrical triangle pattern.
EURUSD This Past Week
EURUSD is among one of the many currency pairs that have experienced extreme market volatility in the past couple of months due to the economic crisis that has taken over the entire world. If we look at the chart for EURUSD, we'll notice that it has been constantly fluctuating within small time frames.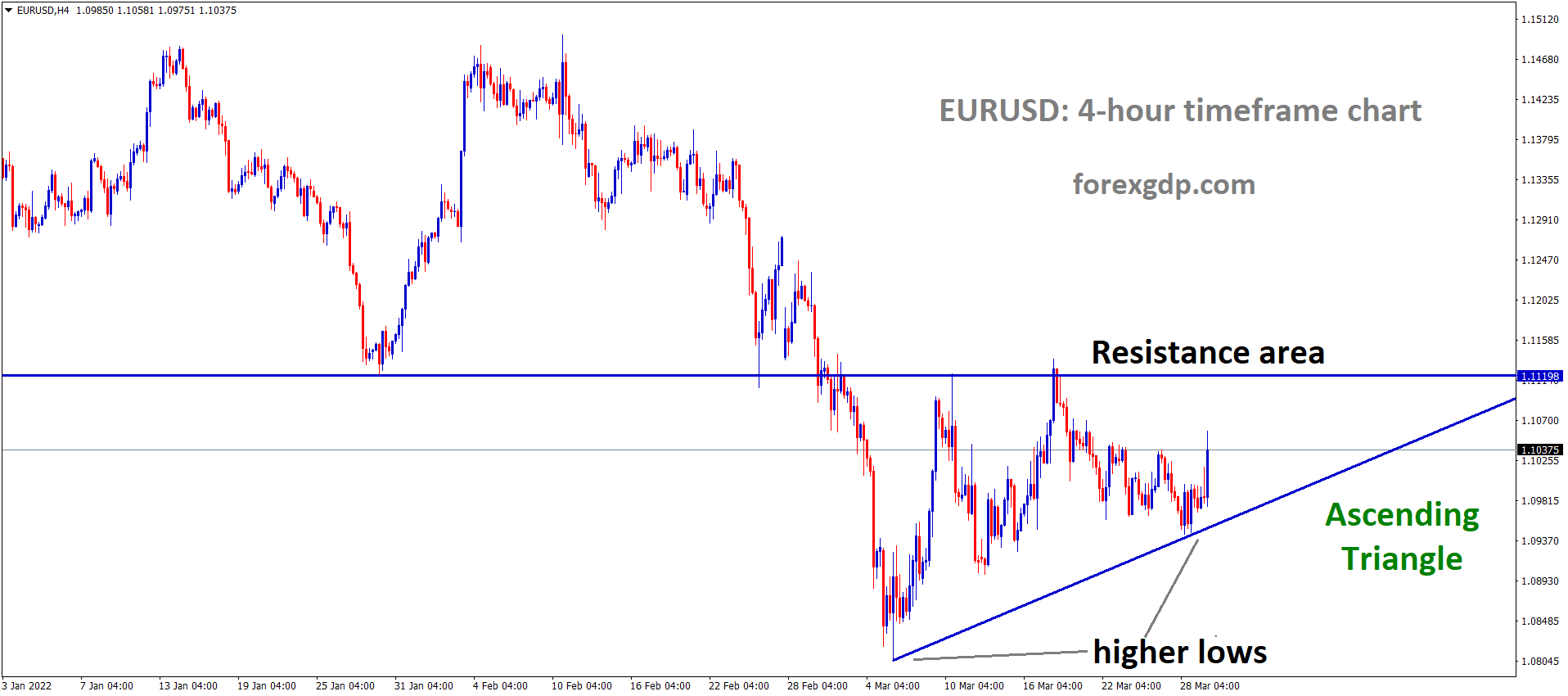 EURUSD has rebounded from the higher low area of the Ascending triangle pattern.
This major currency pair would reach really high levels and really low levels, all within the span of a few days. This past week alone we've witnessed this pair reach heights of around the 1.104 mark and lows of around the 1.094 mark. This great amount of fluctuations can be contributed to the ongoing war between Russia and Ukraine where we're constantly receiving updates of either a ceasefire or that the conditions have gotten much worse. It can also be contributed to the inflation crisis surrounding both the United States and the European Union. Let's dive into what's been impacting EURUSD today.
ECB Philip Speech
Early on Monday, Philip Lane, Chief Economist at the European Central Bank held a speech where he discussed some key details regarding the ongoing inflation crisis in the region. The inflation rates have become quite unbearable for the average household, especially this past month. The cost of living has significantly gone up and people are having to decide between paying rent and eating a full meal. This is quite alarming and isn't being taken as seriously as it should be. Philip held a speech in order to address these issues.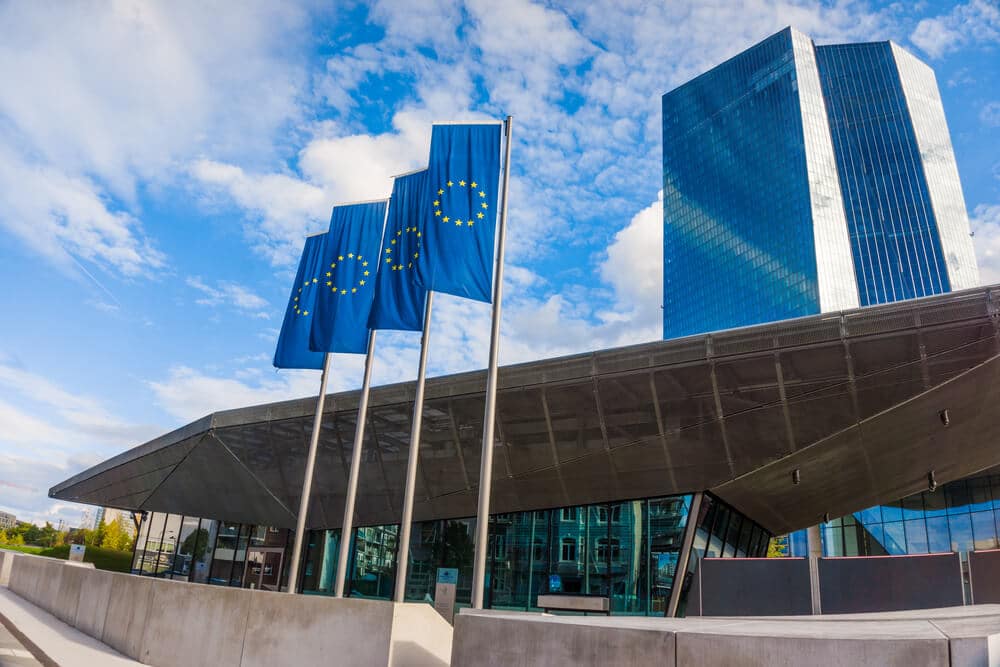 In his speech regarding inflation numbers, Lane states, "We tend to focus on the overall inflation rate for the year. We have it at 5.1% for the year. It's above that number now and it will be above that number for the next few months, but we think it will start to come down. It will be a little bit above 2% next year and fall back to 1.9% in 2024. When we say inflation next year will be around 2%, it doesn't mean prices are going to fall but it does mean that this momentum will level off. With that 50% increase in the price of oil in recent months, we do think that between now and the summer, inflation will continue to climb. The exact design of how you implement measures will vary country by country."
Regarding the impact of inflation on Households, Lane states, "From a macro-economic point of view, if someone on a high income has to pay more for their energy, they may just reduce their savings rate. For those on a low income, they don't have savings to fall back on. They will reduce their consumption which hurts the economy. For workers trying to make reasonable pay agreements, there has been this surprise inflation, people have seen a loss of their living standards and that does have to be a factor in wage negotiations. People on lower incomes have less spare cash and they spend a bigger fraction of their overall weekly spending on food and energy. There may be a role for broad-base measures on a temporary basis. What's happened has happened pretty quickly and in a large-scale way. I think it's reasonable to have temporary measures to allow the economy to adjust but I think the main focus should be targeted measures."
Russia-Ukraine Update
We are now in the second month of the war between Russia and Ukraine. Negotiators from both countries are going to be meeting in Istanbul in order to discuss terms for a possible peace agreement. This is going to be the first time both countries are sitting down for negotiations in two weeks. Russia is currently under high pressure due to several sanctions placed on them by the international community. The EU recently placed sanctions on the importation of Russian oil and gas. This has severely impacted the Russian economy. At this rate, the Russian economy is going to collapse due to not being able to make any profits from one of their biggest industries. This is mainly why they are now open to negotiations with Ukraine once again.
Feds Powell Speech
The Feds Chairman, Jerome Powell held a speech earlier last week where he discussed the monetary changes that they were going to impose in order to combat inflation. Despite this speech occurring about a week ago, it is still high on the minds of several analysts and traders worldwide.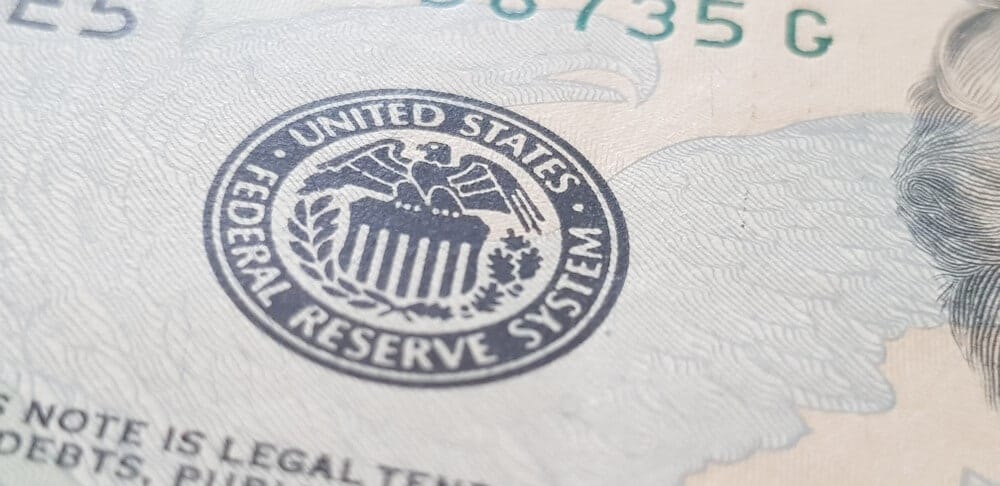 Powell stated his plans on increasing the interest rates by 0.5% instead of the usual 0.25%. He explained how this was the only way to get one step ahead of the inflation crisis in the country. This speech has single-handedly revived the USD and brought it above hot waters. This speech is the main reason why the EURUSD faces moments of downfalls in its charts.
EURUSD Today
EURUSD started the day pretty normal with no movements out of the ordinary. It was mainly stable while moving around the same market rates. However, midway through the day it got into a pretty great mood and decided to shoot upwards.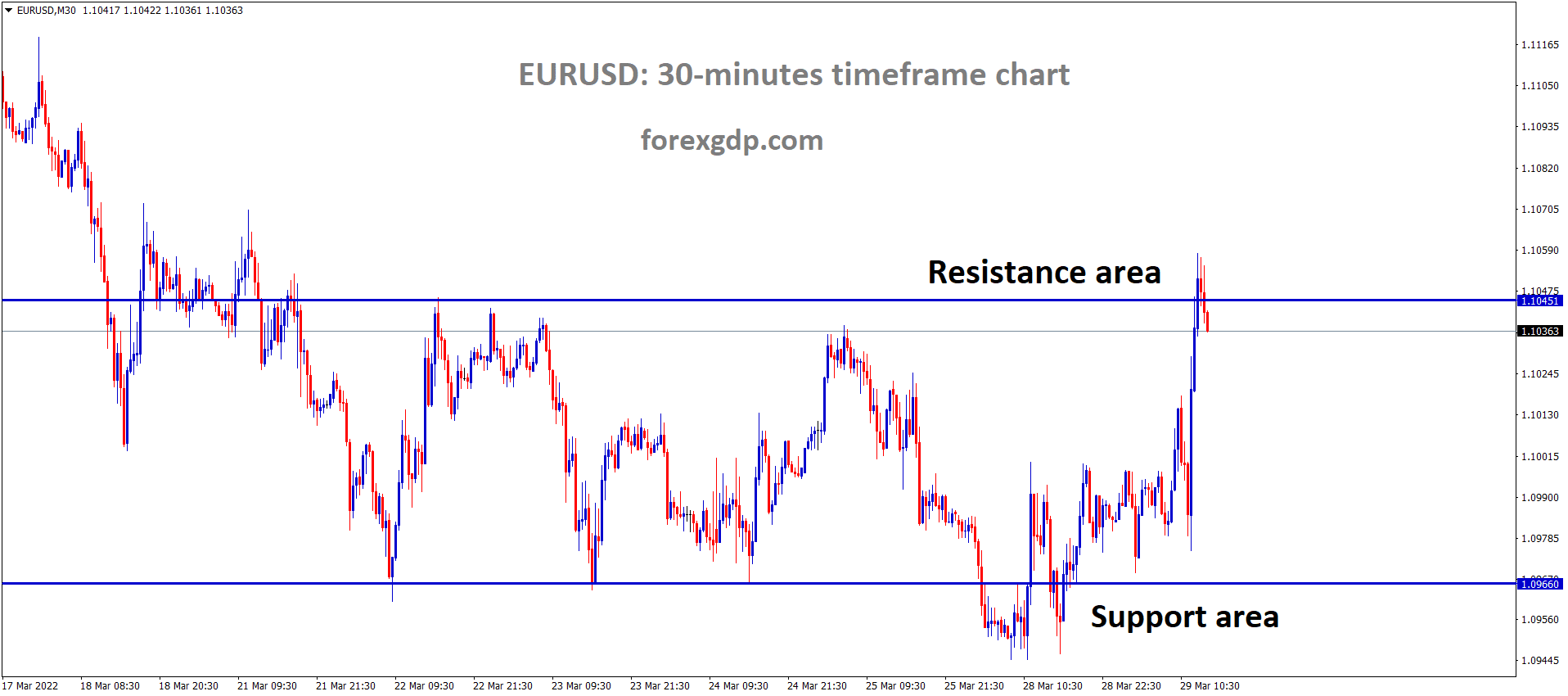 EURUSD Time Frame Market has Fallen from the Top area of the Box Pattern.
This was completely unexpected for this major currency pair which has previously only been struggling to stay above support levels. EURUSD had reached heights of 1.105 today which is a weekly high for this major forex pair. The main reason contributing to this jump is the speech by ECB Philip held early on Monday. We can also give credit to the peace talks being held in Istanbul as the reason why this currency pair is in a good mood. EURUSD is currently teasing around the 1.104 point and it is currently unclear how long it's planning on staying in this good mood.
Upcoming Important Events
There are a couple of events happening today which aren't major but still require being looked at just in case anything major is revealed. The U.S. Consumer Confidence levels will be revealed today which will indicate the level of consumer spending in the economy. The U.S. JOLTS Job Openings report will also be revealed today which will indicate the number of vacant jobs in the country. These reports are a great measure of the economic conditions in the country.