The race to win the French Presidential election has came to an end with Emmanuel Macron and Marine Le Pen.
First, let see, How French Election works ?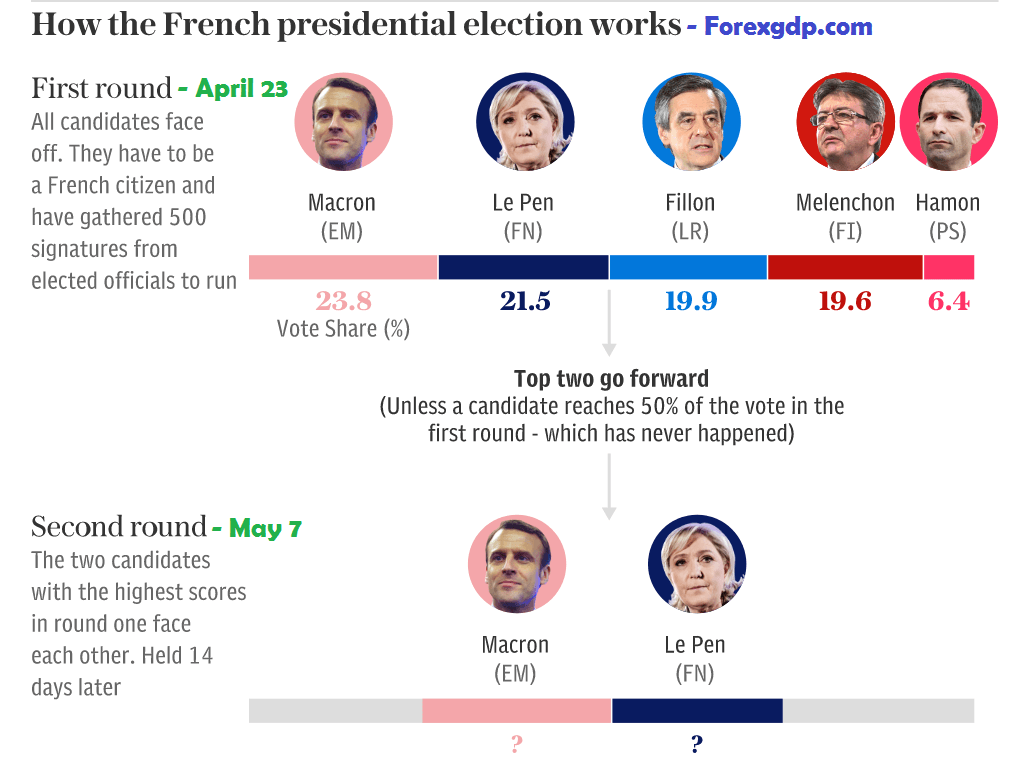 Result of First Round held on April 23, 2017 :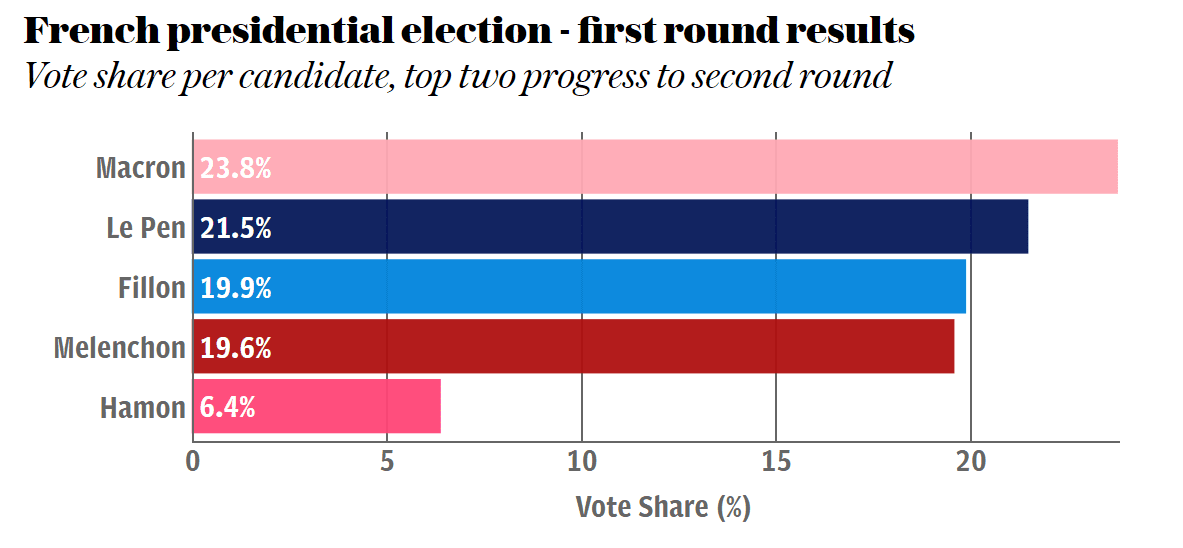 What will happen in the Second round ?
A word of caution: just because a candidate won the first round, it doesn't mean that they're going to win the presidency.
Candidates are pitted against each other twice in the election, with the first round of the vote taking place on April 23.
The top two candidates will face off in a second run-off on May 7.
Of the nine elections since the first direct presidential election in the Fifth Republic in 1965, three have seen the winner of the first round lose out in the second. This led to the elections of Valéry Giscard d'Estaing in 1974, François Mitterrand in 1981 and Jacques Chirac in 1995.
Who have more Chances to win this Election ?
Emmanuel Macron is still the bookies favourite to become president and also average of the polls showing him considerably ahead of Le Pen.
For those who have lost faith in political polling, asking people who are prepared to put their money where their mouth is the best way to predict elections.
After a big events such as Brexit and Donald Trump Victory, now many of them start to believe the Political betting markets can better predict elections result, than polls conducted by TV Channels and News Papers.
According to the popular betting website Coral, shows that, Emmanual Macron have more chances to win when comparing to Marine Le Pen.
Click here to check the live result of Political betting market.
Emmanuel Macron hacked emails:
French media ordered by electoral commission not to publish about hacked content of messages. A 9GB gigabytes of data were posted on a profile called EMLEAKS to an anonymous document sharing site under two days before the final vote.
While French election rules forbid the media from publishing the emails, they also ban Mr Macron or his team from commenting on or denying any allegations.
The cyber attack came after repeated allegations of Russian interference in elections across Europe and the US, with Mr Macron previously targeting state media including Russia Today and Sputnik for spreading "fake news" to damage his campaign.
Mr Macron has filed a legal complaint over the reports, which were raised by Ms Le Pen during a heated television debate.
Vladimir Putin has dismissed allegations of interfering in foreign elections including the US and Germany, hitting out at unproven "rumours".
"We never interfere in other countries' politics and we want no one to meddle in ours," the Russian President said during a tense press conference with Angela Merkel.
Whatever the result is, On Monday May 8, we can expect most of the EURO markets will open with Gap.
Let's wait for the big moves on EUR pairs next week.
Save your time on Analyzing the market, Start to trade Forex market in a technical ways with the help of Forex Experts team.
Don't Trade forex all the time, trade forex only at good opportunities available in the market.
Check live Free forex signals now.
To increase your trading profits, read this below topics:
How to trade profitably using Chart Patterns?
Low risk, High reward trading strategies
How to get rich trading forex market?
Most predictable Currency Markets
If you want to learn more successful trading techniques with free mentorship support, you can purchase the forex trading video course.
Thank you.