Those who are more or less familiar with currency trading probably know OctaFX. It is a global broker providing online trading services worldwide since 2011. 7.5 million clients worldwide have been using its services to achieve their financial goals.  Since its foundation, OctaFX has won more than 45 international awards in finance. It looks legit, however, some questions are yet to be answered. So, is OctaFX legal? What are the services they provide? After all, is OctaFX a scam or a reliable broker? To answer these questions, we've compiled cold facts in our OctaFX review. Let's take a closer look together.
Summary
So, what is OctaFX? Primarily they are known as a Forex broker that offers a variety of trading instruments, including currency pairs, indices, commodities, and cryptocurrencies. OctaFX is powered by MetaTrader 4 and MetaTrader 5 trading platforms renowned for their security and compatibility with both desktop and mobile across all popular operating systems. Traders may also use the OctaFX Trading App, which is available on Google Play and App Store for free.
As a Forex broker, OctaFX is distinguished by some of the most appealing trading conditions in the market, with no swaps and the lowest spreads in the industry. The broker also offers a copy trading option, which allows copying professional traders' actions and thus learning to trade and making additional income simultaneously. On top of that, there is a dedicated mobile app for this—the OctaFX Copytrading App.
Considering all that advanced functionality and the high rating of all apps, this may hardly be a scam broker aimed at one-time gains. Nevertheless, some people on the internet still consider OctaFX a scam. Let's dive deeper to make it clear whether it's true or not.
Pros and cons
As with any broker, there are some advantages and disadvantages to trading with OctaFX. Let's name them.
| | |
| --- | --- |
| Pros | Cons |
| 11 years in the market | Does not accept clients from specific countries, including the U.S. |
| No swaps, no deposit/withdrawal commissions, low spreads | No individual stocks available for trading |
| 1:500 Forex market leverage | |
| Availability of сopy trading | |
| Wide range of trading instruments (FX, indices, commodities, crypto) | |
| MT4, MT5 for all platforms and devices, OctaFX mobile apps | |
| Free trading tools, expert analytics, educational materials | |
Open Free OctaFX Trading Account now
Trading Platforms and assets
OctaFX is powered by MT4 and MT5, which have a reputation for being some of the most profound trading platforms. MT4 represents the best choice for those who have just started trading. In comparison, MT5 features in-built tools for a deeper technical analysis and professional trading experience.
Assets
As a broker, OctaFX offers more than 70 trading instruments, including:
commodities
stock indices
With OctaFX, users can trade CFD on 10 stock indices, including Dow Jones, NASDAQ, Nikkei, and others. However, there are no stocks available for trading as of now.
Account types
There are two types of trading accounts available with OctaFX. The first, MT4, is designed for habitual traders. It is minimalistic and easier to use. This trading platform perfectly fits novices. The more advanced MT5 is distinguished by a wider variety of trading instruments and enhanced maximum trading volume. Experienced traders usually choose MT5.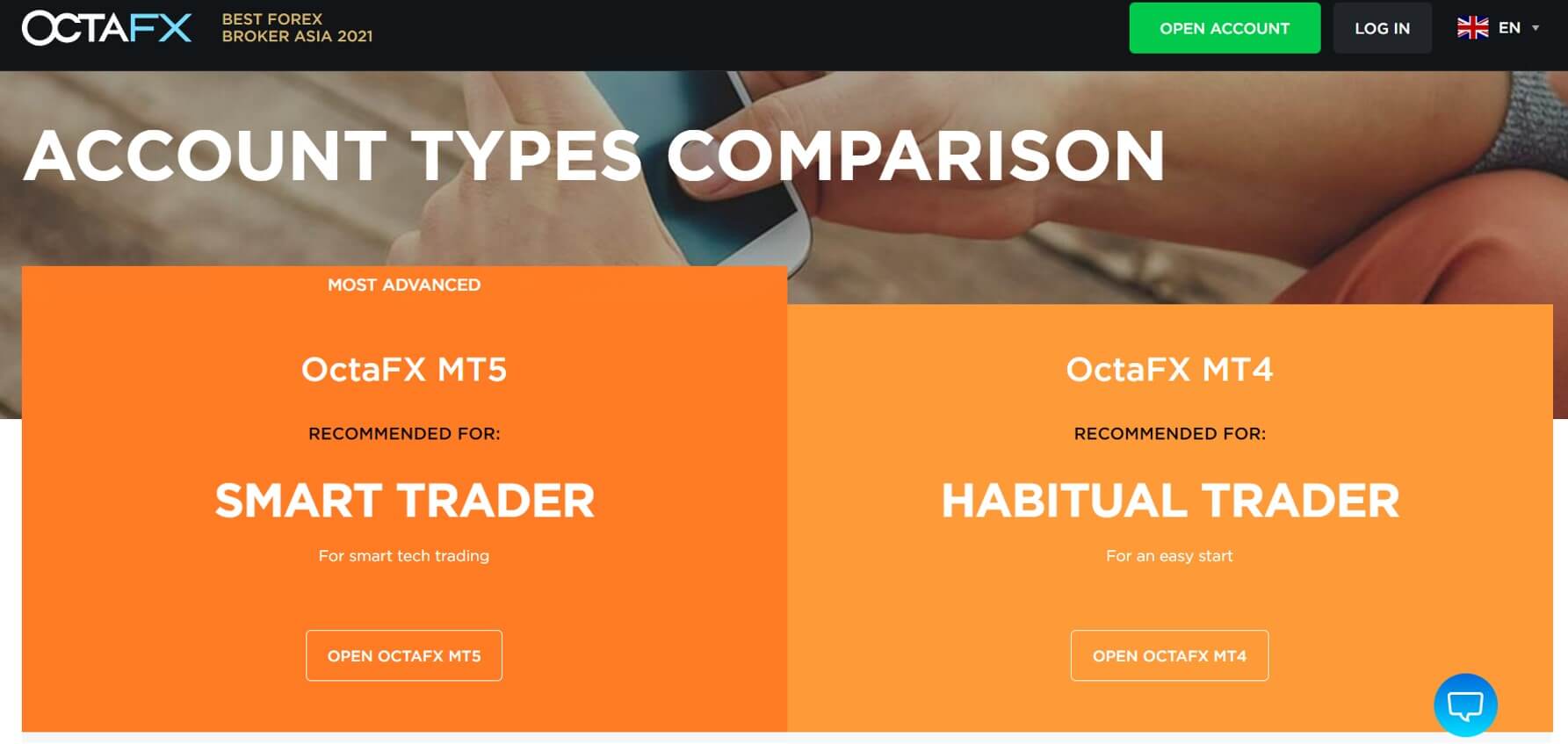 To open an account with OctaFX, traders should provide their name and email, create a password, and submit some personal information. Generally, the OctaFX login process is simple and only requires the email address and the password.
Trading apps
Apart from MetaTrader 4 and MetaTrader 5 OctaFX has its genuine trading and copy trading applications for Android and iOS. With these free apps, clients can trade, access analysis tools, and manage their accounts. The Copytrading App, in particular, stands out for giving an ability to copy the actions of professional traders. This option is especially valuable for those who want to learn currency trading and start making additional income simultaneously.
Regulation and security
OctaFX is operated by Octa Markets Incorporated, which is registered in Saint Vincent and the Grenadines. That enables the broker to offer higher leverage, certain beneficial trading conditions and bonuses, which most local regulators do not allow.
Nevertheless, the broker implements comprehensive security measures, such as segregated accounts and negative balance protection, to comply with international regulation standards.
Bonuses and promotions
OctaFX offers several attractive bonuses and promotions. They include engaging contests where participants can win high-end gadgets, smartphones, genuine merch packs, and other lucrative prizes. OctaFX also features a loyalty program, where traders can exchange their traded lots for gifts. There is also a 50% deposit bonus and other options. On top of that, the broker offers a free status program that provides traders with benefits, such as trading signals, accelerated transfers, lower spreads, and more.
Free education
OctaFX offers an extensive educational program consisting of regular webinars, tutorials, and articles on the basics of Forex trading. The broker also has its blog with articles for those who want a more in-depth view of the financial markets and trading.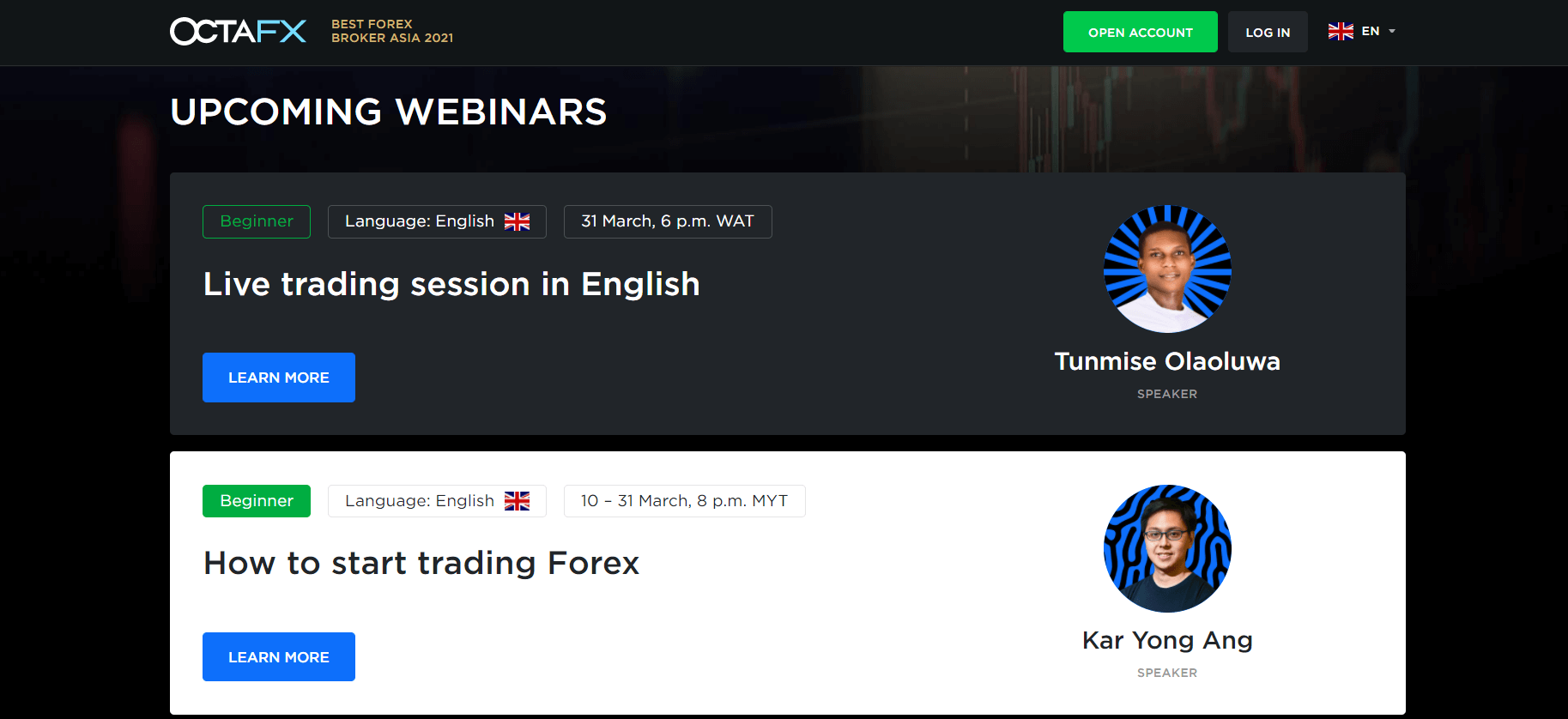 Customer support
The company's customer support team works 24/7 and speaks Bengali, Chinese, English, Hindi, Indonesian, Malay, Portuguese, Spanish, and Thai. Clients may address it via the following channels:
The postal address of the broker is Suite 305, Griffith Corporate Centre, Beachmont, Kingstown, St. Vincent and the Grenadines.
Payment methods
OctaFX offers a variety of payment options that may vary depending on the particular country. Here's the list of some payment methods the broker provides:
India: local banks, Visa, Neteller, Skrill, Bitcoin
Indonesia: local banks, Visa, FasaPay, Bitcoin, Help2Pay
Malaysia: local banks, Visa, Neteller, Skrill, Bitcoin, Help2Pay, Billplz
Pakistan: local banks, Visa, Neteller, Skrill, Bitcoin, Billplz
South Africa, Nigeria: local banks, Visa, Neteller, Skrill, Bitcoin, Billplz.
Copy trading
One of the most interesting services the broker has to offer is the OctaFX Copytrading. With this tool, traders can copy actions of professionals to diversify their portfolios and earn an additional income. Copiers can choose master traders based on gain, number of copiers, commission, trading pairs, profit factor and order directions, as well as many other factors.
Spread, commission, and leverage
Trading instruments provided by OctaFX have some of the lowest spreads in the industry. The spreads for both the MT4 and MT5 accounts are floating and start at 0.6 pips. OctaFX does not charge any deposit/withdrawal commissions. However, there is a markup on the spreads. Clients using the MT5 account do not have to pay swaps, while the MT4 account users will have to pay this commission when they hold their orders open overnight.
Leverage provided by OctaFX varies across trading instruments. For all currency pairs (except for ZARJPY), the maximum leverage is 1:500. Other instruments can be traded with the following leverage:
1:200 for metals
1:100 for energies
1:50 for indices
1:25 for cryptocurrencies.
Is OctaFX scam or legit?
This OctaFX scam review aims to give a clear view of the broker and the services it provides. We hope, with these insights, anyone interested in OctaFX trading opportunities could decide whether to invest in them or not. The broker has been operating for 11 years so far. More than 7.5 million users have traded in the financial markets using their platforms and mobile apps. Therefore, it is doubtful that the 'OctaFX scam' is a correct evaluation of its activities. However, whenever you consider trading Forex and CFDs, do your research first and carefully study the risks.
Conclusion
OctaFX  is a legal broker that has the right to provide financial services in almost every country in the world. However, it does not have an Indian licence, as it strives to avoid limitations of the scope of its activities. Since its foundation in 2011, the broker has won over 45 international financial awards, indicating its worldwide approach.
OctaFX offers beneficial trading conditions, such as low spreads, an account option with no swaps, and no deposit/withdrawal commissions. Nevertheless, the broker has fewer trading instruments than some of its competitors, especially regarding stocks.
Overall, the OctaFX platform is secure, user-friendly, and well-designed. It offers many opportunities both for beginners and professional traders.